Baguettes are pretty much synonymous with France. You can't go to Paris and not have one! In this guide, find out where to get the best baguettes in Paris.
---
Pro Tip: Planning where to eat on your trip to Paris? Bookmark this post in your browser so you can easily find it when you're hungry in the city. Check out our guide to Paris for more planning resources, our top Paris tours for a memorable trip, and the best French foods to eat in Paris.
Where To Get the Best Baguettes in Paris
Along with cheese and wine, bread is one of the most famous French culinary delights. It's an integral part of French culture—so much so that the French government has created specific laws about bread production called the Décret Pain.
The law states that traditional baguettes have to be made on the premises where they're sold and can only be made with four ingredients: wheat flour, water, salt, and yeast. They also can't be frozen at any stage or contain additives or preservatives.
Baguettes normally sell for a little over a euro, so you don't have much of an excuse not to try one on your trip. One easy way to taste authentic French baguettes is on our Le Marais Food Tour. We'll take you to some of the best spots in the city. If you want to explore more on your own, we've got you covered too. Get ready to waltz into a bakery and request Une baguette, s'il vous plait! Here's where to get the best baguettes in Paris.
Pro Tip: Always look for a sign or sticker on bakery storefronts that reads Artisan Boulanger. This seal of authenticity guarantees that the bread was baked fresh in that bakery and that you're not accidentally heading into a shop that sells bread made elsewhere.
Already in Paris? Book a last-minute food tour or tickets to the hottest museums.
Not ready to book a tour? See if Paris tours are worth it.
Maison Julien-Les Saveurs de Pierre Demours
Bakery | 17th Arr. | Baguette Tradition | Winner of Best Baguette in Paris
Did you know there's a yearly competition to determine the best baguette in Paris? Well, there is and this bakery was awarded the best baguette in Paris in 2020!
We recommend ordering a baguette tradition here, which is a bit thicker than a regular baguette and normally darker in color. This will have a tastier crunch to it, and you can guarantee it'll be handmade the old-fashioned way.
The winner of the Best Baguette in Paris competition gets to serve as the official supplier of baguettes to the Elysées Palace in Paris, home of the French President. If these baguettes are good enough for the French President, you better believe they're worth a stop!
Address: 13 Rue Pierre Demours
La Maison d'Isabelle
Bakery | Latin Quarter | Baguette Isabelle | Voted Best Croissant
You'll find La Maison d'Isabelle on Paris' Left Bank, in the Latin Quarter. A few days a week, the Maubert Market, one of the oldest and most authentic outdoor markets in Paris, takes place right in front of the bakery.
They make their own yeast here, which creates an incredibly fresh taste. Their traditional baguette, called the Baguette Isabelle here, costs only one euro. On a side note, this bakery was voted best croissant in 2018, so you'll want to pick up one of those along with your baguette when you stop by.
Address: 47 Boulevard Saint-Germain
Our Best Guided Tours of Paris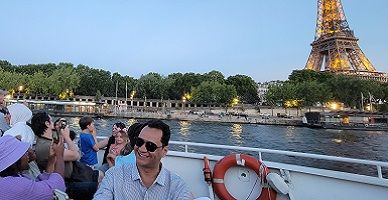 Likely to Sell out
Privileged Access Eiffel Tower Night Tour With Seine River Cruise
Sometimes the most amazing moments happen by chance. Other times, they are orchestrated by professionals. Our Eiffel Tower tour takes you on a cruise down the Seine River for incredible views of Notre-Dame and the Eiffel Tower. Champagne included, of course. Then you'll be guided to the Eiffel Tower, skip the long lines, and head up the elevator to the second floor for a night to remember.





See Prices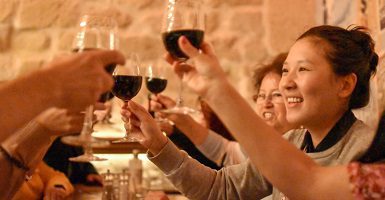 Top Selling
Ultimate Taste of Paris Food Tour in Le Marais
Embark on a culinary journey in Le Marais—one of the hippest neighborhoods in Paris. Most food tours in Paris offer cheese and wine, but we include a full, sit-down meal! Enjoy a feast of French cheeses, oysters, street food, boeuf bourguignon, crème brûlée, and more. This 3-hour food tour combines the best of Paris' culinary heritage and you won't find a better deal out there!





See Prices
Not ready to book a tour? Check out our best Paris tours to take and why.
Le Grenier à Pain
Bakery | Montmartre | Winner of Best Baguette in Paris
This is a great bakery where all products are made on-site and fresh daily, as they should be. Le Grenier à Pain is actually a chain, with about a dozen locations in Paris.
This location is our favorite and ranks as our top spot for baguettes in Montmartre, one of the must-see neighborhoods in the city. It's previously won the competition for the best baguette in Paris and with good reason!
Address: 38 Rue des Abbesses
Du Pain et des Idées
Bakery | 10th Arr. | Established in 1875 | Pain des Amis
We admit to cheating a bit on this one since our recommendation at Du Pain et des Idées is not actually for their baguette. Instead, it's their Pain des Amis, which literally translates to "bread of friends" and is actually now a registered trademark.
While its full recipe hasn't been disclosed, it's renowned for its thick, crunchy crust and fluffy interior, with somewhat of a nutty taste. It's unlike anything you've ever tasted and is one of the top breads to taste in the city.
Du Pain et des Idées is one of the most well-known bakeries in Paris. They dedicate themselves to being a true boulangerie. Unlike most shops, they only produce bread and a few breakfast pastries like croissants, but no pastries such as cakes, pies, and the like. The bakery itself has been there since 1875 and has maintained its historic look, which adds to the charm when picking up your bread.
Address: 34 Rue Yves Toudic
Poilâne
Bakery | 6th Arr. | Third Generation Ownership | Signature Loaf
Poilâne's flagship store has been at this location since 1932, when baker Pierre Poilâne established it. Since then, it's been passed down in the family and is now on it's third generation of Poilâne ownership.
Over the years, this has become one of the most famous bakeries in Paris. Like Du Pain et des Idées, while they have great baguettes, their star bread is actually their signature loaf.
It's made with four ingredients: sourdough, stone-ground wheat flour, water, and sea salt from Guérande. Each loaf receives a brand with a large letter P, and each one weighs about four pounds, so get ready to chow down!
Address: 8 Rue du Cherche-Midi
L'Essentiel Mouffetard—Anthony Bosson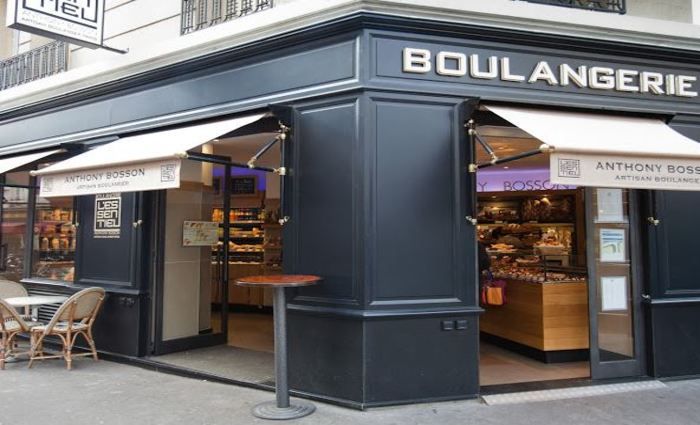 Bakery | 5th Arr. | La Flûte Bosson | Runner Up Best Baguette in Paris
This bakery earned second place in the Best Baguette in Paris competition in 2020. They've created their own version of the traditional baguette, called La Flûte Bosson, which has a mixture of a sweet and slightly sour taste.
This type of baguette is made with minimal yeast, so it can also be preserved longer than most other baguettes. Also, they spend more than 24 hours preparing the dough for this recipe, so it's safe to say they care about quality.
Address: 2 Rue Mouffetard
Maison Lardeux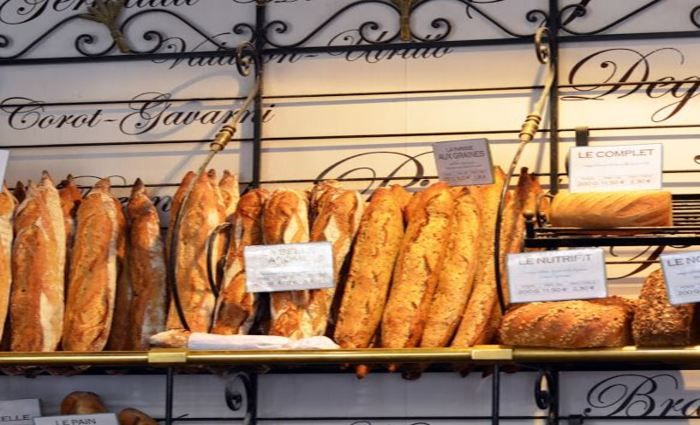 Bakery | 18th Arr. | Baguette Tradition
This is an excellent bakery run by owners Jean-Philippe and Tatiana Lardeux. Jean-Philippe has been working in bakeries since he was sixteen years old, and his experience shows.
While they have various types of bread for sale, we recommend going with the standard baguette tradition as always. The bakery has a few solid deals, such as a croissant and an espresso for €2.
Address: 63 Rue Caulaincourt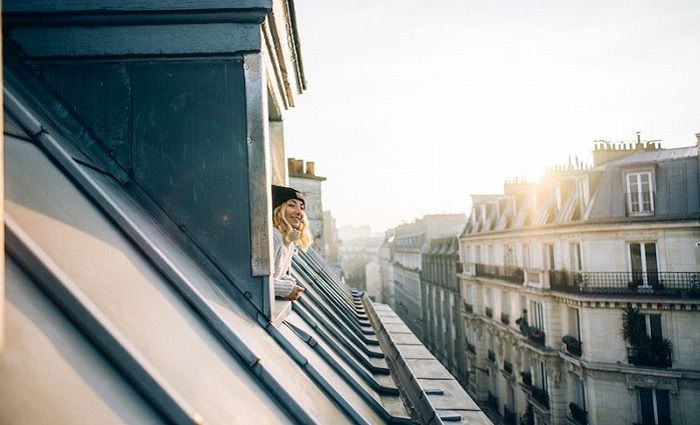 Find the best places to stay
Where To Stay in Paris
With a city as magnificent as Paris, it can be hard to find the perfect hotel at the perfect price. Explore the best hotels and places to stay in these incredible neighborhoods in Paris.