The Ponte Vecchio is one of the most recognizable bridges in Europe and just footsteps from the Uffizi. It is even connected to the Uffizi by the Visari Corridor created by the Medici. If you are in the area and hungry you are probably nervous about stepping into a tourist trap. For this reason, we've deployed our local guides and created this list of the best restaurants near Ponte Vecchio in Florence.
---
The 10 Best Restaurants and Places to Eat Near the Ponte Vecchio
The Ponte Vecchio is a segmented arch bridge crossing the Arno river and is easily Florence's most famous bridge. It is footsteps from Piazza Signoria and the Uffizi located in the center of Florence. It is built from stone and connects two roads; Via de' Giucciardini and Via Por Santa Maria. It also connects another more secret road; the Vasari Corridor.
The Vasari Corridor was built by the Medici to connect their home, Palazzo Pitti, with their office and Florence's governmental center, the Uffizi and Palazzo Vecchio. The bridge started as a general commercial center where you could purchase almost anything but mostly meat and produce. Later, the Medici pushed forward a referendum stating you no longer sell meat or produce for aesthetic reasons.
While the change was likely met with angst by many farmers, it eventually did what the Medici hoped it would. Sellers of gold moved in and Florence became known more for luxury goods. Today, you can still purchase gold on the Ponte Vecchio and while you can no longer purchase food there, you can definitely get a great meal nearby.
Osteria Cinghiale Bianco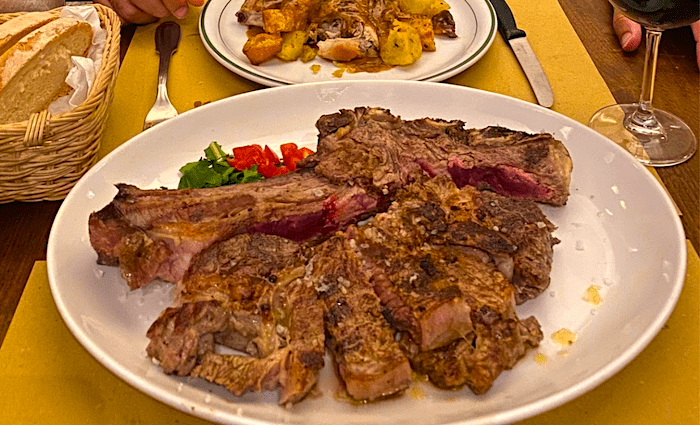 €€ | Tuscan & Florentine Cuisine | Family Friendly
An Osteria originally was a place you could bring your own food too. Sound strange? Instead of serving food, they'd function more like a low-key bar and serve wine or charge for table service only. They later evolved to having a daily changing menu with one of two options of warm cheap food. Today, they are much more elaborate but Osteria Cinghiale Bianco has that traditional feel and hearty dishes. This is why we've recommended Cinghiale Bianco for almost ten years.
At Cinghiale Bianco, they serve traditional Tuscan and Florentine dishes. It is probably the most traditional restaurant near Ponte Vecchio in Santo Spirito which makes it a great choice. It is on the Oltrarno side of Ponte Vecchio near the Pitti Palace.
Address: Borgo S. Jacopo, 43
Hours: Daily 7 – 10:30 pm | 12 – 2:30 Sat & Sun
Konnubio*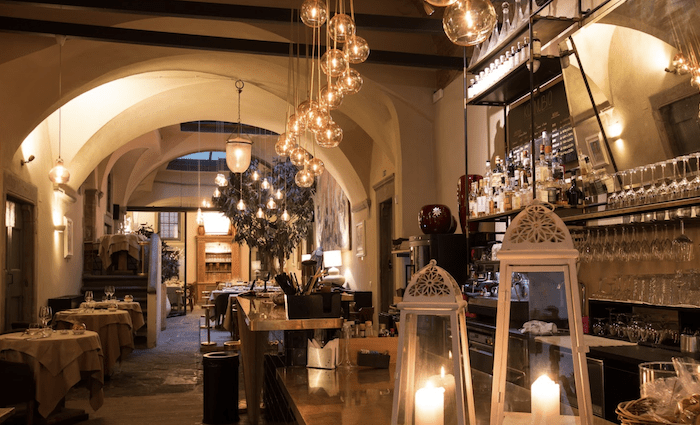 €€€ | Contemporary | Beautiful Interior | Michelin Star
Chef Beatrice Segoni has really earned the Michelin Star with Konnubio. When you walk in you'll know two things. First, you will walk out of this restaurant more relaxed than when you walked in. And second, that you will eat really well.
This is a professional dining experience that you'll really want to mentally prepare for and enjoy. You can tell they spend significant time and attention on the ingredients which they cook with. Everything is done to perfection which makes it a pricey but easy choice 10 minutes walking from Ponte Vecchio.
Address: Via dei Conti, 8r
Hours: 7 – 10pm
Most Popular Florence Tours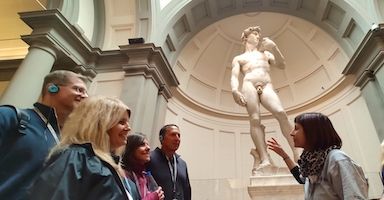 Best-Selling Tour
Florence Walking Tour with Statue of David
Michelangelo is considered the greatest Renaissance artist and the David statue is widely known as his masterpiece. Join our English-speaking guide as you skip the line at the Accademia Gallery to see David. Then venture out to see the center of Florence including the Duomo (outside), Baptistry Doors, leather market, and Ponte Vecchio. Admissions included.





See Prices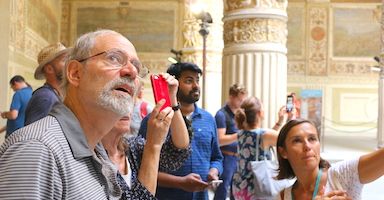 Top-Rated Tour
Skip the Line Uffizi Gallery Tour
The Uffizi Gallery is the most-visited museum in Florence for good reason. Join our licensed, English-speaking Uffizi guide for a journey through the Medician Renaissance. Learn all the stories behind the very art that brought our world out of the darkness as you look upon pieces like the Birth of Venus. All admissions included.





See Prices
Gurdulù Gastronomia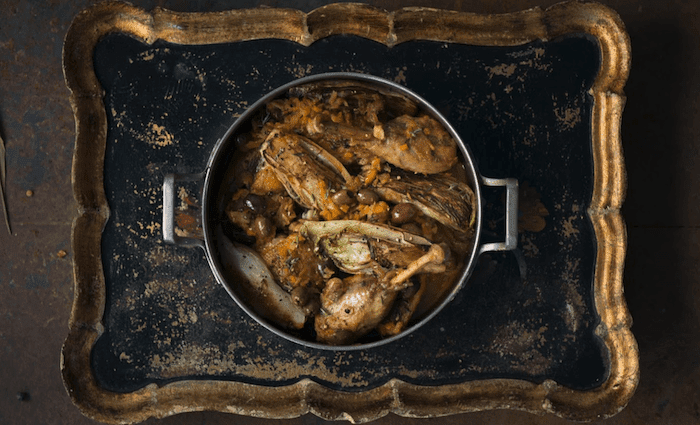 €€€ | Contemporary Tuscan | Outdoor Garden Seating
I am a sucker for contemporary restaurants and Gurdulù is exactly that. Chef Entiana Osmenzeza has created a very cool dining atmosphere and her dishes reflect the space. Osmenzeza has taken traditional Florentine and Tuscan dishes and executed them in a contemporary fashion that creates a dining experience that will be remembered.
I highly recommend this for dinner or even drinks as they make incredible cocktails. You can come here after walking across the Ponte Vecchio or make a journey to Santo Spirito just for this restaurant.
Address: Via della Caldaie, 12R
Hours: 10:30 am – 9:30 pm | Closed Wednesday
Trattoria dall'Oste Chianineria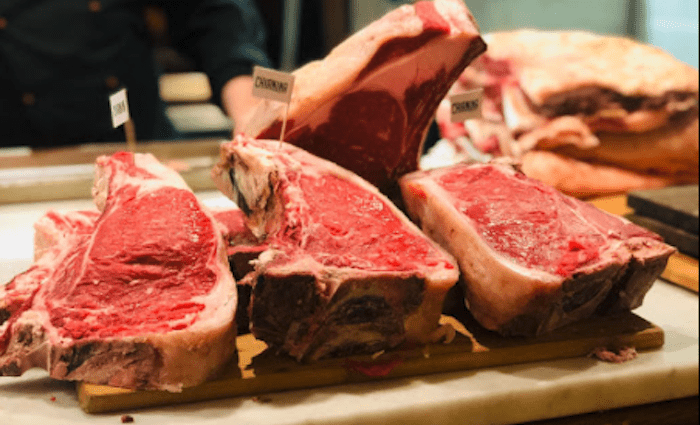 €€ | Florentine Steak House | Carnivore Lovers
If you have read through a few of our lists on best places to eat in Florence you are probably starting to understand that beef is a big part of the diet. I recommend you take advantage of that as well. While Italian food is one of the greatest cuisines on Earth, eating pasta two meals a day can get a little boring after day nine.
Trattoria dall'Oste Chianineria is considered one of the best steak houses in the city and its a few blocks from the Duomo. It is a great choice for a hearty lunch after visiting the Duomo or a wonderful and long dinner.
Address: Via dei Cerchi 40
Hours: 11 am – 10:30 pm
Il Santo Bevitore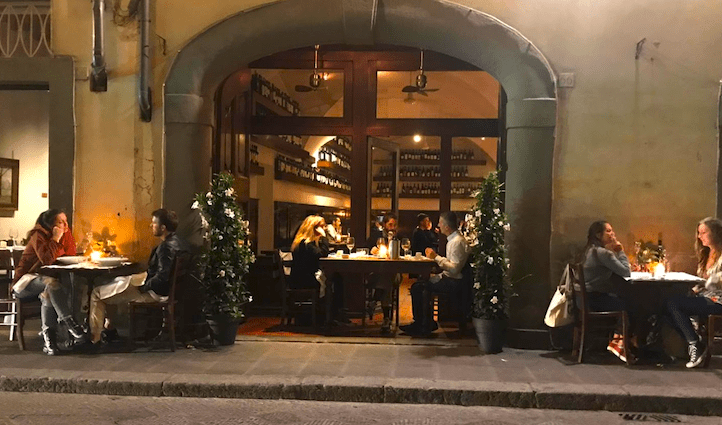 €€ | Some Outdoor Seating | Contemporary
It's hard to understand how Il Santo Bevitore manages to create contemporary Tuscan dishes, present them so well and do it all for reasonable prices but I am happy they do! This little gem also has a great atmosphere which makes it a fantastic spot for a group of friends to have dinner and drinks in Santo Spirito!
Address: Via Santo Sprito, 64r
Hours: 12:30 – 2 pm | 7:30 – 11 pm | Dinner Only Mondays
Da Gherardo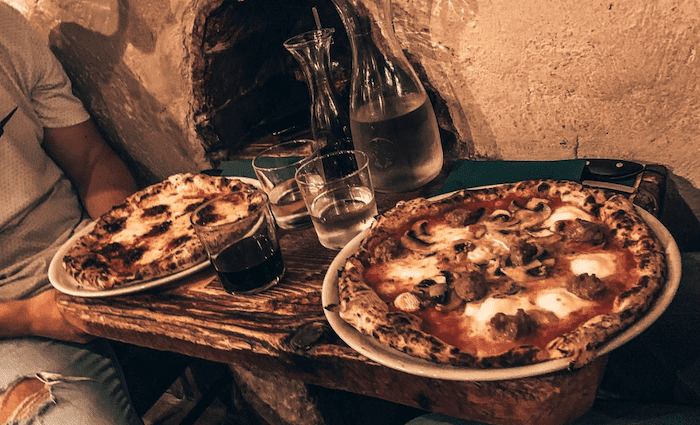 € | Pizza! | Family Friendly | Dinner Only
Da Gherardo is possibly the best pizza place in Florence and very likely the best in Oltrarno. It is among the best because the food is great, the prices are low and the atmosphere is no-frills. Above all, they use high-quality ingredients which is why they have so many great reviews.
They also have created a super authentic feel mostly because they are authentic people. This is why it is definitely my top pizza restaurant choice near Ponte Vecchio.
Address: Borgo S. Frediano, 57R
Hours: 7 – 11 pm | Closed Tuesday
Trattoria Giovanni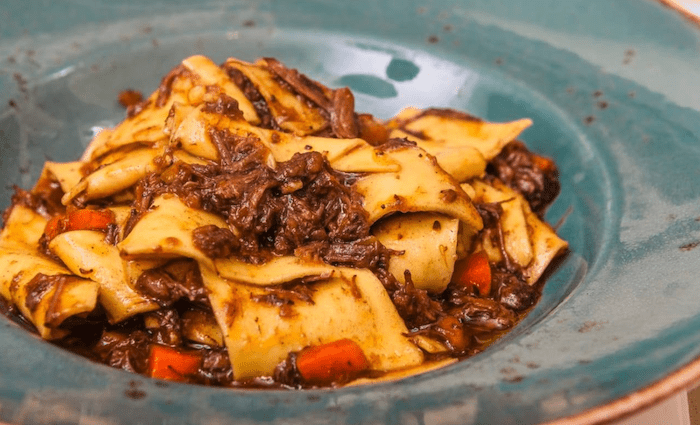 €€ | Traditional Tuscan | Family Friendly
This little hallway of a restaurant has some of the best reviews I have ever seen. That is probably because they have really good food at a really good price. That and amazing Tiramisù.
Address: Via Sant'Agostino, 38
Hours: 12 – 3pm | 7:30 – 10 pm
Coquinarius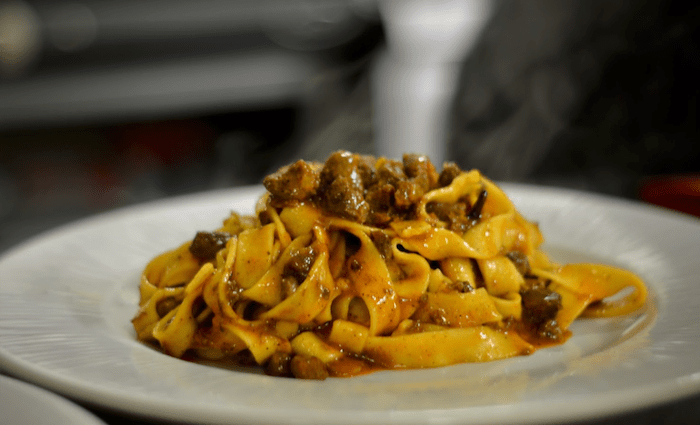 €€ | Tuscan | Restaurant with Extensive Wine List
I really love this restaurant due to how authentic it is. They are not just a restaurant in the center of Florence near the Duomo. They have another location in Fiesole which is a small hill-top town outside of Florence. This means they have to focus on their cuisine and not rely on their central location.
Both restaurants have a similar menu while the restaurant in Fiesole has a much much better view. If you eat at the Florence location you may just find yourself taking a quick trip to Fiesole for a scenic lunch the next day!
Address: Via delle Oche, 11
Hours: 7 – 11 pm Tues – Sat | Noon – 3pm Sat & Sun
Tours of Chianti and Florence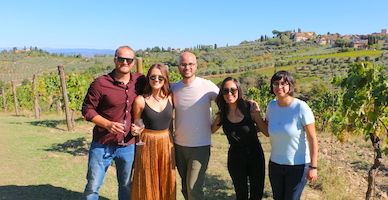 Top-Rated Experience
Chianti Day Trip from Florence with Vineyard Lunch
Want to have an epic experience in Tuscany? Remove the guesswork and the hassle of transportation by joining us on a day trip to Chianti from Florence. You'll enjoy time in the enchanting cities of Siena and San Gimignano with lunch and wine tastings too. Make your Tuscany day trip one to remember!





See Prices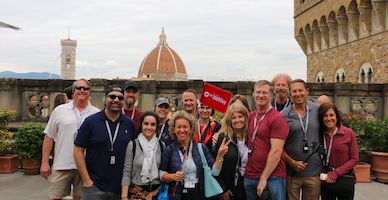 Best-Selling Tour
Florence in a Day Combo Tour with David & Uffizi
This tour is your best value in Florence. See Michelangelo's David statue in the Accademia Gallery with a licensed guide before exploring the Uffizi Gallery. You'll also have plenty of time to see the outside of the Florence Cathedral, Baptistry Doors, Ponte Vecchio, and more. All your skip-the-line admissions are included along with an English-speaking guide.





See Prices
Le Cappelle Medicee Ristorante Enoteca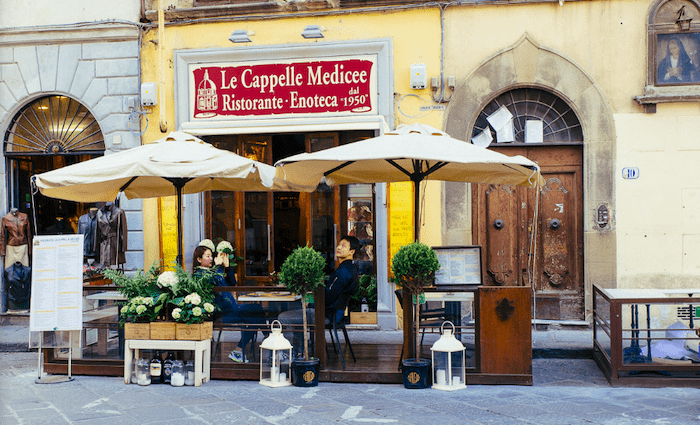 €€ | Restaurant and Wine Bar | Outdoor Seating
This one of those places you'll eat lunch at then end up coming back for dinner or after dinner for a drink. Why? Because it has lovely outdoor seating, good service and high quality food and wine. It has a traditional but elegant interior design that will make you feel comfortable enough to order that dangerous second bottle of wine after dinner!
It is in a main piazza and a tiny bit touristy but they have decent dishes at a euro or two more than the back alley restaurant with 10 times the view. This makes it an easy choice for me. The menu is priced pretty decently, to be honest. This makes it one of our favorite restaurants with outdoor seating near Ponte Vecchio.
The name comes from its location right outside the Basilica of San Lorenzo – patron saint of Lorenzo dè Medici. Many of the Medici are entombed a few meters away from the restaurant in the Medici Chapel which is what this restaurant is named after.
Address: Via del Canto dei Nelli, 30
Hours: 8am – Midnight Daily
La Terrazza Continentale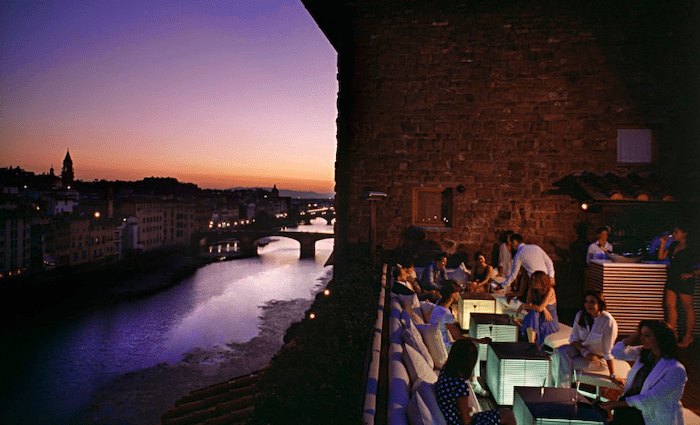 €€€ | Drinks with a View | Terrace Seating
Drinks almost always taste better with a great view and the people at Ferragamo understood that when they opened Terrazza Continentale. If you are looking for refreshments after visiting Ponte Vecchio or going on a Uffizi Tour definitely check it out. They have a more than the modest view of Florence which makes it our favorite rooftop bar near Ponte Vecchio.
Address: Vicolo dell'Oro, 6
Hours: 5 – 11pm Daily
Florence a magnificent city full of beautiful art and architecture, but the most interesting details are hidden under the surface. We run 5-star rated guided tours of Florence with passionate licensed guides. They truly make the city come alive.