Dreaming of a trip to Florence and want to get a head start on planning? We don't blame you! The city is one of the most beautiful and popular destinations in Europe with a huge amount to see and do. In this guide, discover the top things to do in Florence for a memorable.
---
Pro Tip: Planning what to do on your trip to Florence? Bookmark this post in your browser so you can easily find it when you need it. Check out our guide to Florence for more planning resources, our best Florence tours for a memorable trip, and how to see Florence in a day (with itinerary).
---
---
---
---
The Best Things To Do in Florence, Italy
The birthplace of the Renaissance has a lot to offer visitors, from magnificent artworks to impressive architecture, rich history, beautiful countryside, and delicious food and wine. Taking a guided tour is often the easiest way to experience a bit of everything in a city like Florence.
A good mix of fun activities will make your trip that much better. In this guide, discover the top things to do in Florence with links to other useful content that will not only further inspire you but also help you plan and reserve tickets for your visit.
Our Best Tours of Florence at a Glance
---
---
1. See the Greatest Sculpture on Earth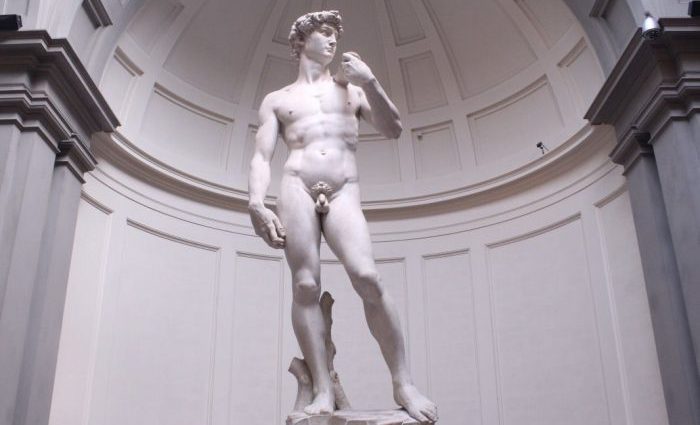 ---
Known officially as Galleria dell'Accademia di Firenze, the Accademia is a small art museum with Michelangelo's David as its focal point. Unlike its rival, the Uffizi Gallery, the Accademia has a very small collection of works, which makes it unique.
Michelangelo sculpted David from a block of marble abandoned by other artists who described it as "unusable." Michelangelo was not only able to work with it but sculpted what is arguably his masterpiece.
He famously described David as "trapped" in the marble. It is a humble way to describe sculpting. In Michelangelo's mind, David always existed inside that block of marble and it was his mission to free him.
You can also see four unfinished statues by Michelangelo, which sort of frame the corridor that leads up to David. There are works by other great artists, including Sandro Botticelli, as well as many other top things to see at the Accademia.
Getting tickets can be difficult. We offer a guided tour of Florence that includes a stop at the Accademia to see the David, which also visits many of the main sites in the city led by a local English-speaking guide. You can also see our guide on how to visit the Accademia for more info.
Address: Via Ricasoli, 58/60 | Hours: Tues – Sun, 8:15 am – 6:50 pm; Closed on Mondays | Admission: €12 (Regular Ticket) + €4 online booking fee; €2 (Reduced Ticket); Free for under-18s.
---
Not ready to book a tour? Check out our article on the best Florence tours to take and why.
---
2. Explore Italy's Most Famous Museum: Uffizi Gallery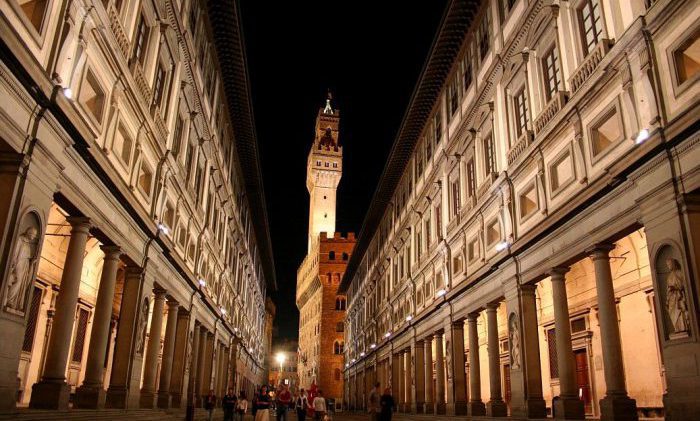 ---
The Uffizi Gallery is Florence's premier art gallery and houses one of the greatest collections of Italian Renaissance artwork on Earth. It was built in the 16th century as an office building for the Medici. The name Uffizi translates to "offices," which was its original purpose. The structure, designed by Giorgio Vasari, was completed in 1581.
Formally declared a museum open to the public in 1865, 0ver 4 million visitors enter the Uffizi each year, which makes it the most ticketed attraction in Florence. The Renaissance, by definition, gave birth to a new era of art, architecture, and culture. Florence was the epicenter of the period and it spread throughout Italy and Europe.
What makes this gallery so popular is the fact that Florence birthed the Renaissance, and much of that artwork is in the Uffizi Gallery. Today, you can see some of the world's greatest artworks, including the Birth of Venus and La Primavera by Sandro Botticelli. This is an absolute must for visitors to Florence.
With so many top things to see in the Uffizi, we highly recommend a guided tour of the Uffizi to bring the museum and the artwork to life. If that's not in the budget, check out our museum guide on how to visit the Uffizi Gallery with info on tickets, hours, and more.
Address: Piazzale degli Uffizi, 6 | Hours: Tues – Sun, 8:15 am – 6:30 pm; Closed on Mondays | Admission cost: €20 (regular ticket) + €4 online booking fee; €2 (reduced ticket).
---
---
3. Explore Tuscany in a Vintage Fiat 500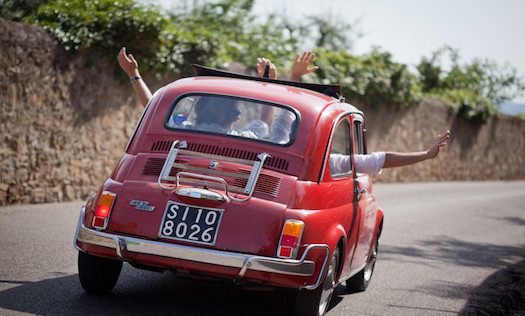 ---
We've all got that image of Italy, the quintessential Italy. Rolling green hills, a girl in dark sunglasses and a head scarf, a 1960's Fiat 500 growling as it struggles up another hill. Well, we can provide the Fiat 500 and the rolling green hills, but you'll have to bring your headscarf.
You have two options here. With the first, you'll get to drive your own Fiat 500 as you follow a guide around Tuscany. This option is excellent for the gearheads who want the experience of driving one of these vintage vehicles on the very roads they were designed for.
With the second, you sit back and let the guide drive for you. I'll be honest, on the roads themselves, it isn't as fun. But when you stop for lunch, being the passenger has its advantages as you sip on a cold glass of wine with your traditional Tuscan lunch.
Both options lead to unforgettable experiences. But which one to take? Well, that's up to you!
---
---
4. Walk Across Ponte Vecchio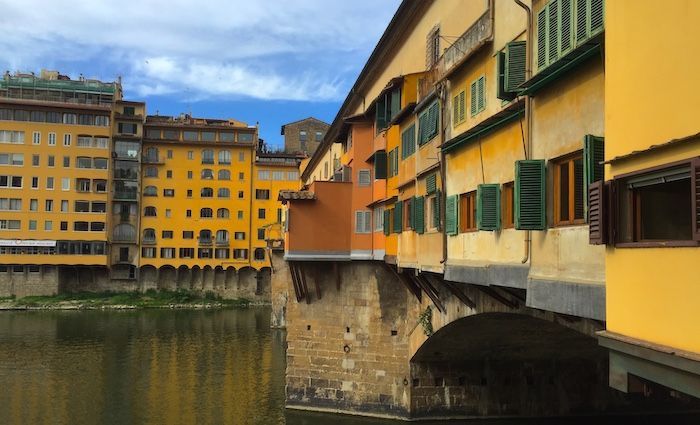 ---
Ponte Vecchio is an excellent example of a medieval bridge, and what an impressive structure it is! The construction is completely from stone archways that support the weight of the bridge, its visitors, and the shops. Built on either side of the bridge, these shops add to its uniqueness.
What few people realize, though, is that there's a secret passage the Medici built on top known as the Vasari Corridor. The Vasari Corridor is an incredible structure. The Medici, who practically ruled the Republic of Florence, built a hallway to connect their home, Palazzo Pitti, with the town hall, Palazzo Vecchio.
Today, the bridge is occupied by jewelers and generally overrun by visitors looking to purchase something from "on top of Ponte Vecchio in Florence," which I admit is pretty cool to say. The jewelers are not there by chance, either.
This bridge used to be inhabited by farmers of all sorts, but the Medici spread the idea that these types of shops made the bridge and city look fit only for peasants. The farmers were forced out as a result, and eventually, a decree in 1595 excluded them. If you want to hear more about its fascinating history, our tour of the Accademia, also featured below, includes a visit to Ponte Vecchio.
Address: Ponte Vecchio
---
Not ready to book a tour? Check out our Florence Guide for more info.
---
5. See the Duomo and Climb Brunelleschi's Dome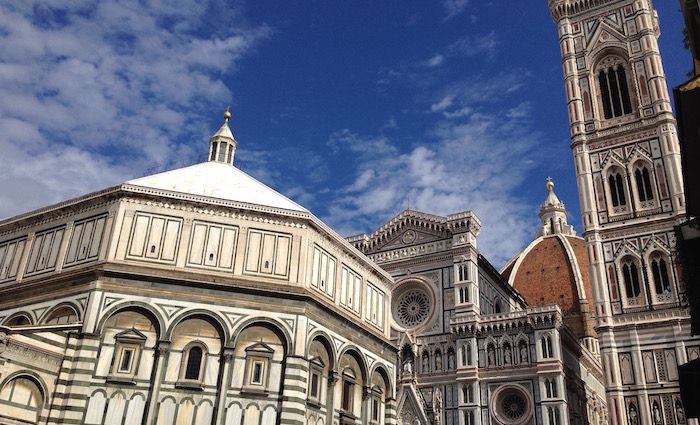 ---
The Florence Cathedral is a must-see attraction, and it's very difficult to miss. It's located in the center of town and is visible from much of the city. The cathedral's name is the Cattedrale di Santa Maria del Fiore—the Cathedral of Saint Mary of the Flower—which may refer to the Giglio or Red Lily/Iris, the flower and symbol of Florence.
The name Santa Maria del Fiore is seldom used in Italy, though, and most simply refer to it as Il Duomo. The Duomo is designed in a very Tuscan/Florentine style with its green and white marble that brings life to its facade and surfaces. It differs greatly from the Basilica of Rome in many ways. For example, it is completely detached from other buildings, so you can walk all the way around it.
The dome, its crowning jewel, was the first of its size since the Pantheon. Many thought it couldn't possibly be done, but the Medici family pressed on, and Filippo Brunelleschi brought it to realization.
By far the most famous moment in this cathedral's history was the murder of Giuliano dè Medici on Sunday, April 26, 1478, by the Pazzi family, who attempted to dethrone the Medici from power. The plan was to murder both Giuliano and Lorenzo the Great, but they failed to kill Lorenzo and were banished from Florence.
Address: Piazza del Duomo
Not ready to book a tour? Check out how to visit the Florence Cathedral for more info.
6. Stand Before the Gates of Paradise (Bronze Doors)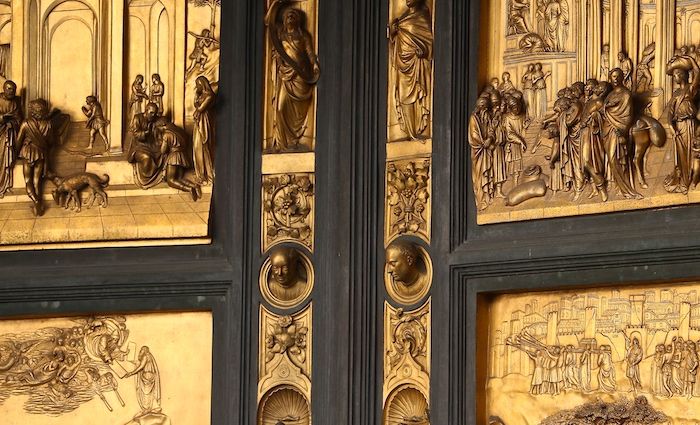 ---
You'll find the famous Baptistry Doors of Florence at the Baptistry of St. John in Florence, which is directly in front of the Florence Cathedral (Il Duomo). It's so close to the Cathedral and has such a similar design that it appears to be the same structure; however, it is an independent church considered to be a minor Basilica.
The structure is one of the oldest in Florence, dating back to the late 11th century. The building is famous for its bronze doors designed and constructed by Lorenzo Ghiberti over 27 years.
Michelangelo described the doors as the Gates of Paradise, which is how the doors are known today. Vasari, one of Florence's greatest artists and art critics, described them in his book "Lives of the Artists" as "undeniably perfect in every way and must rank as the finest masterpiece ever created."
Why was everyone in such awe of them? Ghiberti innovated with new use of space that brought life and character to the doors. Today, they attract many visitors and are considered a masterpiece that helped define the Renaissance.
Address: Piazza San Giovanni
---
7. Dine at Mercato Centrale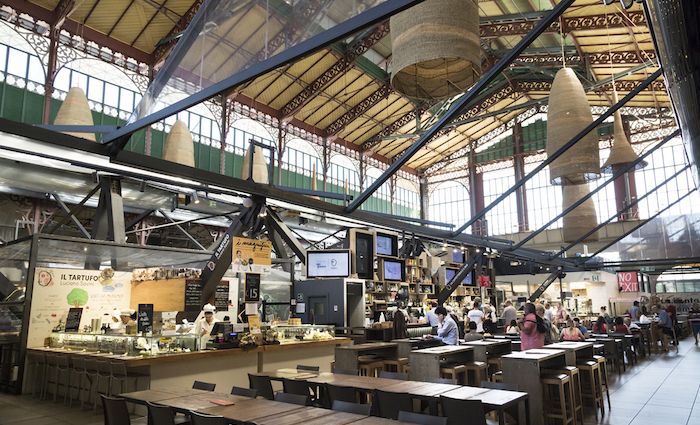 ---
Mercato Centrale, as you may have guessed, is the central market of Florence. It has a mishmash of things from panino places to butchers and even beeswax. The complex has two floors that are very different.
On the first floor, you'll find traditional Italian-style Stahl vendors. You'll be able to get all types of Italian produce and meats and even eat at Osteria-style restaurants. Head up the escalator and go from the 16th-century Medici part to the 21st century on the second floor.
Once on the second floor, you'll find the types of places our current Italian youth enjoy—modern and cool. It's filled with hyper-focused restaurants that serve particular types of food cafeteria-style. You grab food, sit down, eat, and clean up after yourself.
Surrounding Mercato Centrale, there are really touristy and cheap covered markets. While there are some decent items in these markets, I mostly look to avoid them. That said, if you've never been to a European outdoor market, it's a cool experience you should check out. Just keep your wallet safe in every sense of the word.
Pro Tip: I would personally eat downstairs at Da Nerbone since it is a quintessential part of eating in Florence. Then, go upstairs to grab your coffee and consider it for lunch the next day if you're in town.
---
8. Explore Florence by Bike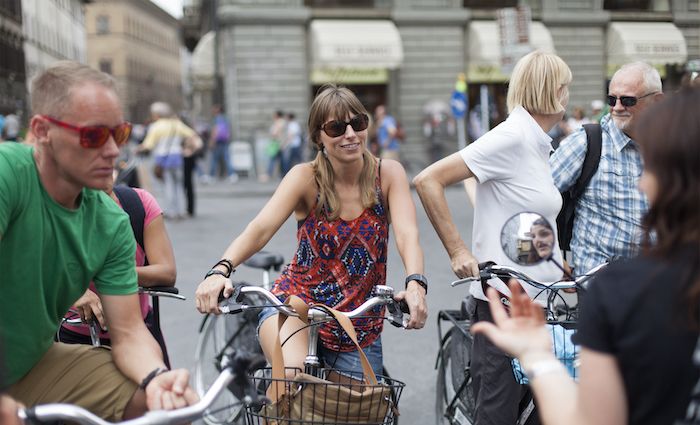 ---
Florence is an extremely walkable city, which makes it perfect for a bike tour. Cruise across the cobblestone streets and see the small piazzas across the historical center of this mostly flat city and hit all the main outdoor attractions in the morning or afternoon.
Not ready to book a tour? Check out our article on the best Florence tours to take and why.
---
9. Breathe in the Lilacs at Giardino Bardini (Bardini Gardens)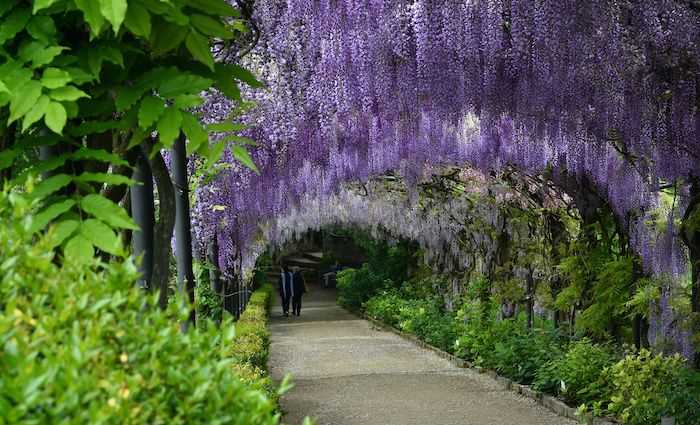 ---
Oltrarno is the Florentine equivalent of Rome's Trastevere neighborhood, which is a sort of bohemian district. Admittedly, Oltrano is less bohemian than Trastevere but similarly quiet due to its location. The word Oltrarno means "the other side of the Arno river", which keeps things quite literal!
It is home to some really cool viewpoints of Florence, including the Bardini Gardens. Very few people venture to see this Florence attraction, which makes it a real treasure. The gardens are part of a Renaissance villa of the Bardini family.
These curated gardens are home to phenomenal views of Florence and are famous for two main attractions. The first is a wisteria tunnel best viewed during the summer bloom starting in April and ending around October. The second is a long medieval staircase that carries you to one of the best views of the city.
Address: Costa San Giorgio 2 | Admission: €10 for adults, free for 17-year-olds and under
10. Hop on a Vespa in the Tuscan Countryside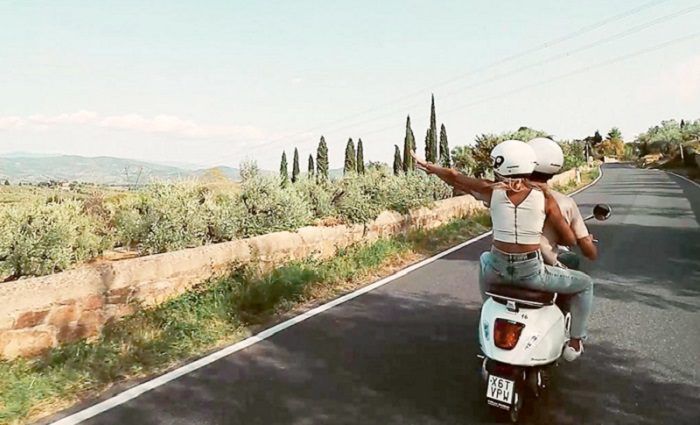 ---
The Vespa is as synonymous with Italy as pizza, Michelangelo, and gondolas, which means you'll be doing yourself a disservice by not riding one. There are two ways to achieve this. First, get picked up by an Italian player with a Vespa or join a Vespa tour. We recommend the Vespa tour!
Luckily, Florence is a really cool small town. You won't realize it until you get there, but one second you are in the middle of what feels like a bustling town, and the next minute you're surrounded by vineyards.
Take a super-memorable Vespa tour that not only allows you to cruise around quiet backroads but also stops at vineyards and small towns along the way. It's a great way to have a typical Italian experience and see the Tuscan countryside.
---
Not ready to book a tour? Check out our article on the best Florence tours to take and why.
11. Rub the Boar's Nose (Il Porcellino)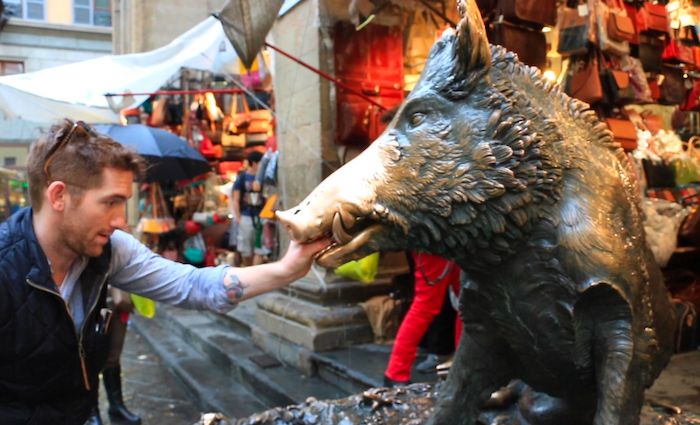 ---
Il Porcellino in Mercato Nuovo is a bronze copy of a bronze copy of a Roman marble copy of a Greek bronze statue of a wild boar. Hard to digest? Let me explain.
The Greeks liked creating statues out of bronze and were undoubtedly superior to the Romans when it came to creating art. The Romans were superior warriors, and when they conquered Greece, they underwent Hellenization, which basically means they started to act more like the sophisticated and artistic Greeks. They would make marble statue copies of the Greek bronze statues, often melting the bronze to make weapons.
The Medici Family procured the Roman marble copy in the 17th century, and they, or another family, commissioned Pietro Tacca to create a bronze copy of the statue and turn it into a fountain.
The fountain was very popular and, like many fountains, it has been surrounded by superstition. For such a small monument, it is hard to believe, but amongst locals, this is a top Florence attraction. I've read extensively online, and many writers cover the superstition incorrectly. Luckily, I am Italian and know the story well.
Rubbing the boar's nose has very little to do with the tradition but is now almost obligatory to get the boar ready for what is next. You should put a coin in the boar's mouth and let it roll off its tongue into the water below. There is a very fine grate over the water system, and if the coin falls through, it brings good fortune.
Address: Piazza del Mercato Nuovo
---
Not ready to book a tour? Check out our article on the best Florence tours to take and why.
12. Plan a Trip To the Leaning Tower of Pisa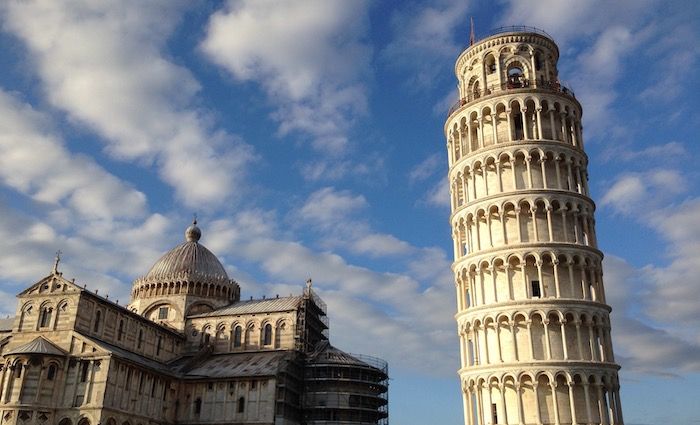 ---
The Leaning Tower of Pisa is a beautiful structure that would likely be famous even if the foundation had been poured correctly, but the fact that it was built incorrectly makes it a must-see. The tower leans 5.5 degrees or about 15 feet, according to Britannica, and thanks to some restoration projects in 1999, it will hopefully never fall.
The tower takes its name after its hometown, Pisa, which is just over an hour from Florence by train and car. If you're just going to the tower, the train is the best option, and you can take a taxi from the train station to the tower.
You'll have to reserve tickets a few weeks in advance if you want to climb the tower, which is something I recommend doing. If you want to streamline the day, we have a great day trip from Florence to Pisa that includes transportation and tickets.
Pisa is only a 4-hour stop so our trip includes a visit to Vinci. Yes, the hometown of Leonardo da Vinci. Da means "from", so you could call him Leonardo from Vinci if you want. The stop includes admission to the Da Vinci Museums and, finally, a stop in Piazzale Michelangelo for the best view of Florence.
---
Not ready to book a tour? Check out our Where to Stay in Pisa guide
13. Go To Cinque Terre for the Day (or Longer!)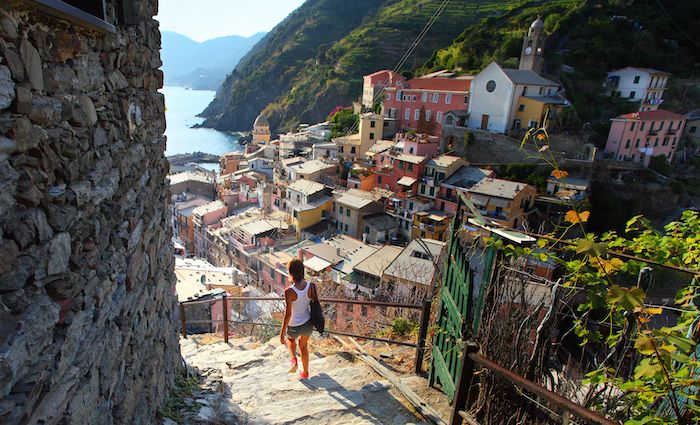 ---
Cinque Terre, one of Italy's most celebrated and no longer hidden "hidden treasures," is about a 2.5-hour journey from Florence. This makes it a great day-trip option, although we recommend spending a night or two there. Understandably, vacation time has its limits, and Italy has many things you'll want to see.
If you are unfamiliar, Cinque Terre consists of five principal towns and a few other smaller towns that are connected by one road, a train, and lots of hiking trails. The area is quaint, colorful, and as all-natural as it gets. Italy has abundant laws protecting the area to preserve its original charm, which is why so many people want to come and visit. It's a blast from the past.
You can stay here for a few days, in which case check out where to stay in Cinque Terre. If not, you can cruise out here for the day on our Florence to Cinque Terre day trip.
---
Not ready to book a tour? Check out Where to Stay in Cinque Terre
14. Eat and Hang Out in Santo Spirito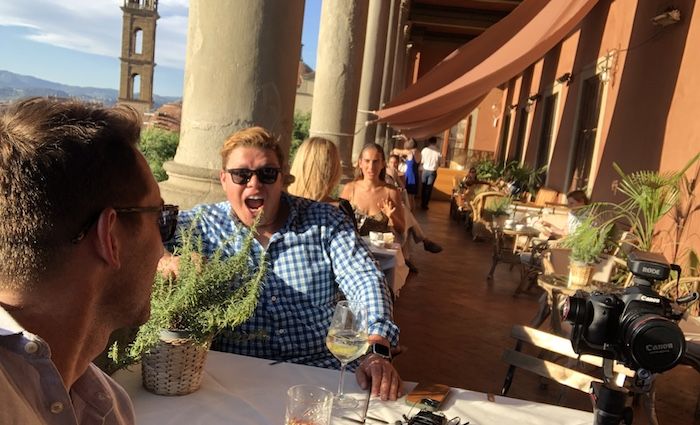 ---
Santo Spirito is a lively district of Florence home to shops, restaurants, and some pretty cool places to have a drink or two. No trip to Florence is complete without visiting this area, especially since it is home to the famed palace of the Medici dynasty.
While this is definitely a bucket list item for Florence, visiting Santo Spirito is all about getting a meal and drinks while in the area. I highly recommend heading to Gurdulu Gastronomia for a meal if you want unique dishes and Osteria Cinghiale Bianco for the classics. I also would highly recommend making a reservation at La Loggia Rooftop Bar for some refreshing libations.
You can experience Florence's Santo Spirito district like a local on our food tour, which will give you an authentic taste of Florence's exquisite food and wine in this lively local neighborhood.
---
Not ready to book a tour? Check out our Florence Guide for more info.
15. See Florence from the Arno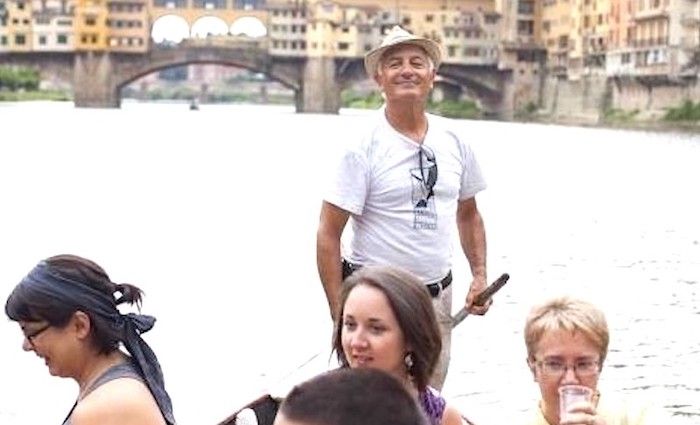 ---
Venice is not the only city in Italy with its very own taxi-like boats! That's right, Florence has a type of boat known as a barchetti. While they are not as common as Venice's gondolas, they achieve the same purpose.
With a glass of wine and soft drinks included, this one-hour experience is a great way to see Florence from a different vantage point. On the Arno river, you'll glide under the iconic Ponte Vecchio, which has spanned the Arno for over eight centuries.
---
Not ready to book a tour? Check out our article on the best Florence tours to take and why.
16. Take in the Brancacci Chapel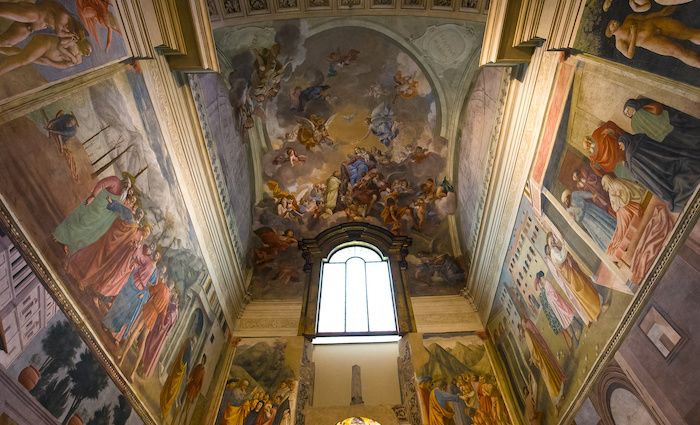 ---
While it is definitely not a museum, the Brancacci Chapel is the kind of place you walk into and immediately understand you are somewhere important. The chapel is named for the silk merchant financially responsible for its creation, Felice Brancacci.
If the chapel was located inside the Vatican Museums, it would likely see millions of visitors per year as the Sistine Chapel does. It is actually referred to as the "Sistine Chapel of the Early Renaissance." While not a Florence museum, it is influential, important, and among the top of our list of recommendations.
While Brancacci is credited for the chapel's existence, the artist responsible is known simply by the name Masaccio. He is not a painter who would be mentioned in conversation today; however, the likes of Michelangelo and Da Vinci would have mentioned him on a daily basis.
Masaccio started working on the chapel underneath Masolino da Panciale. Eventually, though, the student would become the teacher, and Masaccio is credited for most of the chapel.
Why is it special?
It is the first great work of art of the quattrocento (the 1400s). The chapel elaborated on a style Giotto started a hundred years prior with the Scrovegni Chapel and other works. Basically, artists began considering the perspective of the viewer and other Earthly elements, such as light coming in while painting. This was something the Romans were doing as early as the first century A.D. with the Arch of Titus but was lost in time when Europe went into darkness after the barbarians took over.
The chapel shows scenes from the Old and New Testaments in glorious color. Pay close attention to the faces and general energy each individual figure carries. Prior to this, figures acted as groups and, in Masaccio's work, they feel and look like individuals. You may see one figure show signs of anger next to another with signs of grief, for example.
Address: Piazza del Carmine 14 | Hours: Fri, Sat, Mon, 10 am – 5 pm; Sun, 1 pm – 5 pm; Closed Tues, Wed, Thurs. | Admission cost: €4.50
17. Sip Wine from an Ancient Wine Door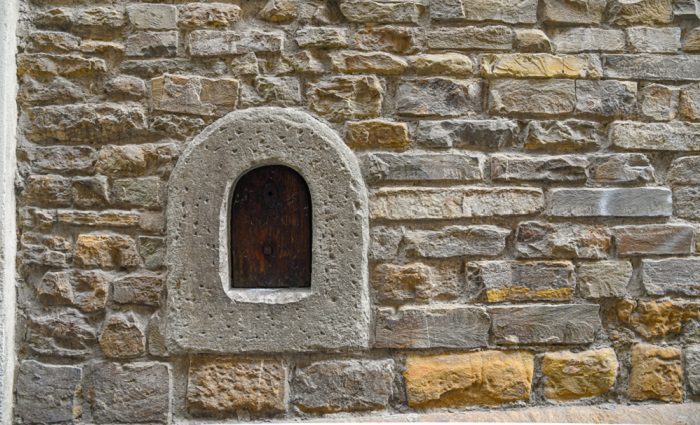 ---
Chances are you've heard of the famous wine doors in Florence. They're a super unique thing that you'll primarily only find here in Florence. Their history dates back to the 1500s when nobles were allowed to sell their wines directly to customers without having to pay taxes or own a store.
Their use exploded during the plague in the 1600s when people preferred to limit contact with each other. All you had to do was knock on the door, and a servant would refill your bottle or provide you a new one upon payment. Easy peasy.
As you wander the city, I recommend keeping an eye out for the many wine doors you can find here in Florence. Most are not in use but several are. And one of them even serves gelato from it instead of wine! I've included a few places that use their wine windows below.
Address: Babae | Vivoli (pastry/gelato shop) | Osteria Belle Donne
18. Splurge on a Tuscany Safari from Florence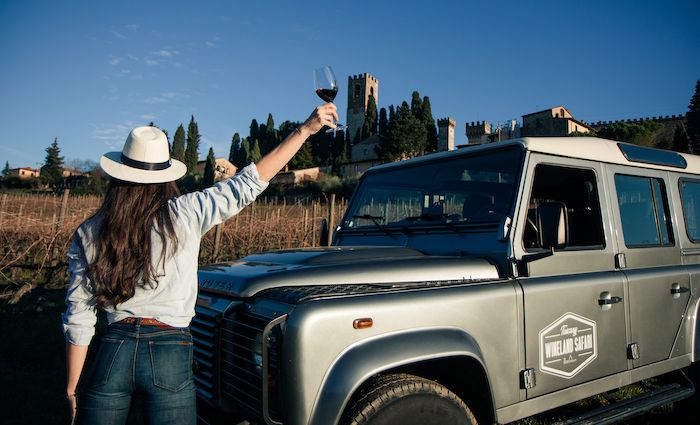 ---
While the price is a bit higher than your average tour, this experience is one-of-a-kind. Instead of a tour bus or even a luxury van, you'll jump into an iconic Land Rover and traverse the Tuscany countryside. You'll find yourself going from paved roads to vineyard trails in no time.
The Tuscany safari tour is a unique experience that will make your trip that much more memorable. The tour includes a pick-up in Florence, a stop at a vineyard with wine tasting, a wine-filled picnic, and various stops in Tuscan towns, including a medieval castle. It's a great change of pace from exploring cities and getting out into the wine country beyond Florence.
---
Not ready to book a tour? Check out our Florence Guide for more info.
19. Eat Pappardelle al Ragù di Cinghiale
---
Pappardelle are long thin noodles normally of an egg base. They are hearty and filling. A popular Florentine and Tuscan dish, Ragù di Cinghiale is made from wild boar (pork). Easily one of my favorite dishes in Italy, this is a hearty pasta dish that is full of the types of flavor that only wild game can bring.
But what is a ragù? Beef, pork, onion, carrot, celery, and tomato are the main ingredients of a ragù, which is a popular Italian recipe with different variations throughout the peninsula.
A ragù is not a jarred tomato sauce brand. In Italy, the only tomato sauce that comes from a jar is something called polpa or passata, which is basically tomatoes that are already broken down into their liquid form, ready to be cooked with other ingredients. However, no self-respecting Italian would purchase pre-made tomato sauce.
Pappardelle al Ragù di Cinghiale is a must-try dish while visiting Florence. If you're keen to try other authentic Florentine dishes, check out all our local Florence food tours.
Where to get it: Osteria Cinghiale Bianco
---
Not ready to book a tour? Check out our article on the best Florence tours to take and why.
20. Soak in the Sunset in Piazzale Michelangelo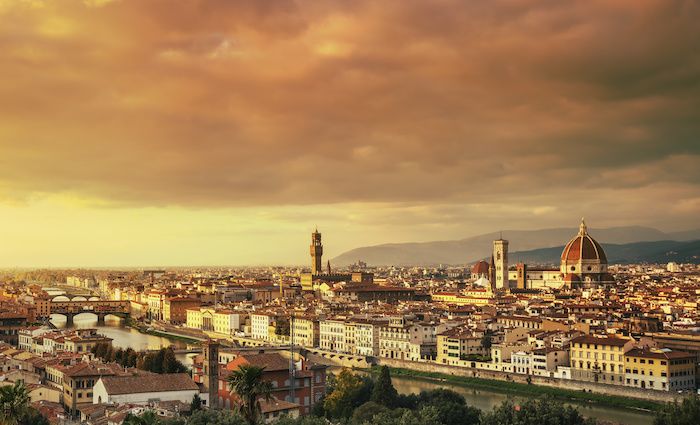 ---
Have you ever seen one of those incredible pictures of Florence and the Duomo and wondered where it was taken? The answer is Piazzale Michelangelo. Named after the famed Renaissance sculptor himself, with a replica of David in bronze at its center.
You can enjoy the view during the day, but the best time to go is in the evening. If the conditions are right, you'll see one of the world's best sunsets. If you're up for it, go up a bit higher and see the amazing Abbey of San Miniato al Monte.
Address: Piazzale Michelangelo
21. Devour a Bistecca Fiorentina on a Food Tour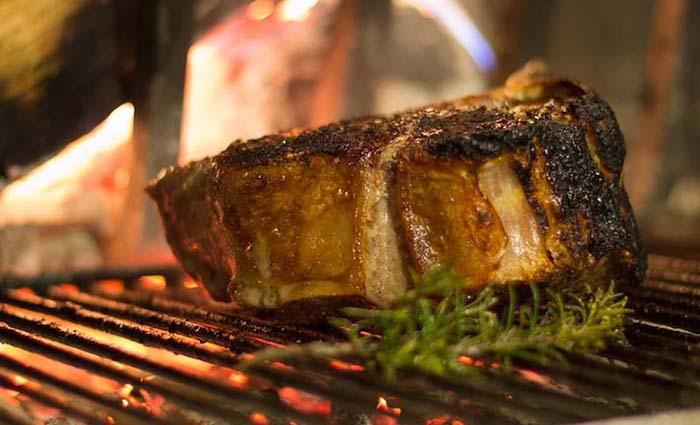 ---
The bistecca Fiorentina is what it sounds like—a Florentine steak. The cut of meat can be veal or from a heifer (a cow that has not birthed a calf). Also, it must be taken from the Chianina breed of cattle that have origins in Siena. Before ordering this steak, you should know it is commonly served rare.
Like most Italian recipes, there is no fancy marinade to bring flavor to the dish. The flavor comes from the high-quality cut of meat and the salt, which brings the flavor forward. To be a "Fiorentina", the steak must be grilled over hot coals with the bone-in, like the American T-bone. The authentic bistecca Fiorentina has four main ingredients: steak, salt, pepper, and EVOO.
Where to get it: Try the awesome Bistecca Fiorentina in our food tour in Florence—it's an amazing experience. We make updates and changes to our food tours annually to make sure they are of the highest quality.
---
Not ready to book a tour? Check out our Florence Guide for more info.
22. Try Vernaccia di San Gimignano at a Tuscan Vineyard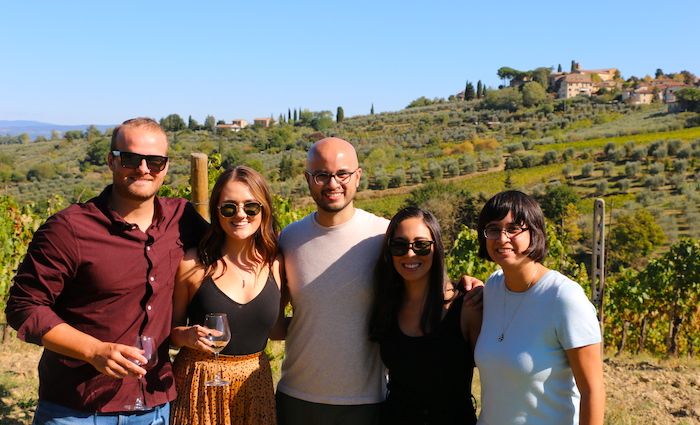 ---
Vernaccia is named after the grape it is produced from. It has been grown and produced most commonly near San Gimignano in Tuscany since the Renaissance. Vernaccia is normally a strong wine with a bouquet of saffron, flower, and honey. It's a powerful grape with a distinctive flavor that locals love.
Where to get it: Just about any restaurant in Florence, but we have a small group day trip to Chianti that goes to Siena, San Gimignano, and a vineyard in Chianti for lunch. Vernaccia is on the menu!
---
Not ready to book a tour? Check out our Florence Guide for more info.
23. Check Out the Abbey of San Miniato al Monte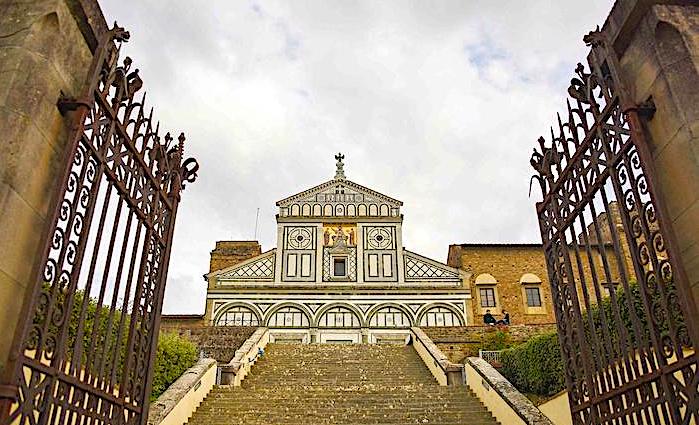 ---
This is one of those sites that most people overlook when they visit Florence. It's perched on one of the highest points of the city, so the views are amazing. If you are going to visit Piazzale Michelangelo for an awesome view, I highly recommend you go up a bit higher and see this amazing abbey.
The legend about San Miniato is pretty cool. Minas (later San Miniato) was an Armenian prince who served under Emperor Decius (Emperor 249-251). Once the Emperor heard Minas was a Christian, he had him executed by beheading, after which Minas supposedly picked up his head and walked to his hermitage—the location of the present-day church.
Address: Via delle Porte Sante, 34 (Cemetery of Porte Sante)
24. Walk Through the Garden of the Iris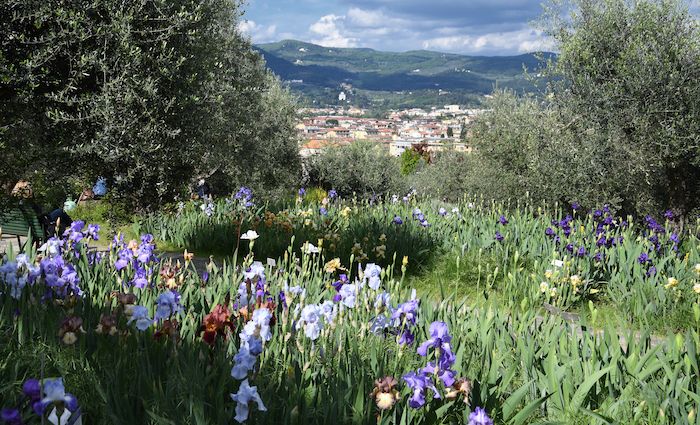 ---
If you happen to be in Florence from April 25th to May 20th, this is a must. The crest of Florence is known as the Giglio, which is inspired by the iris—an abundant flower in Florence.
This garden is magical and an extremely local thing to do in Florence. The iris are beautiful flowers that live cohesively with an olive grove. When you're there, you'll have a beautiful view of Florence and wonderful aromas. Also, you won't find many tourists here!
Address: Viale Michelangiolo, 82
25. Try Lampredotto and Trippa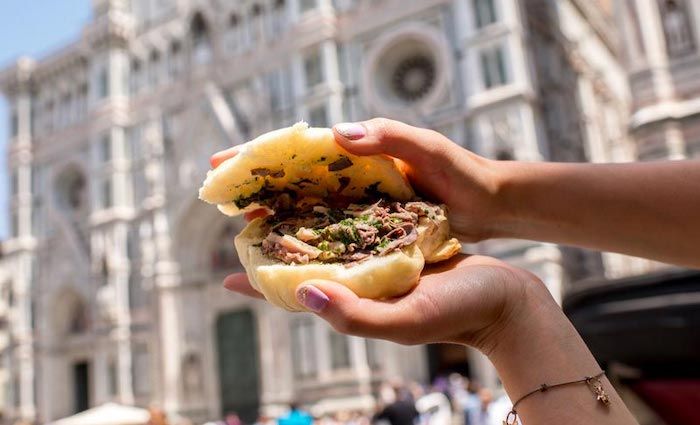 ---
Do you consider yourself daring? If so, find a great Lampredotto stand and have a sandwich prepared from the fourth stomach of a cow. This dish likely came about by poorer families experimenting with the less desirable and cheaper parts of the animal.
The result is lampredotto. Today, it's a local favorite street food commonly served as a sandwich. Some will say it's delicious, while others cringe at the sight of it. You'll only know if you try it!
Where to get it: Chiosco del Lampredotto.
---
Not ready to book a tour? Check out our article on the best Florence tours to take and why.
26. Visit the Giardino delle Rose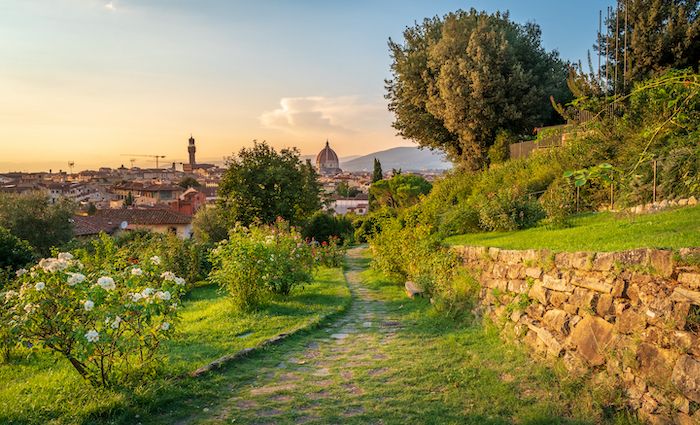 The Rose Garden in Florence was created as part of a late 19th-century commission to develop the left bank of the Arno River, also referred to as Oltrarno. It was designed by an architect named Giuseppe Poggi in 1865 and is home to over 400 species of roses.
It is free to enter and features a wonderful view of Florence. You can easily walk through it on your way to or from Piazzale Michelangelo, a must-see viewpoint in Florence.
Address: Viale Giuseppe Poggi, 2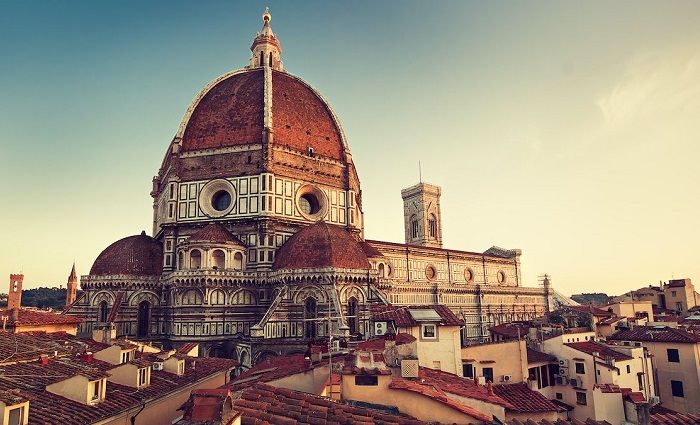 Find the best places to stay
Where To Stay in Florence
Florence has a small historical center packed with iconic landmarks to explore. Plan where to stay in the best neighborhoods in this beautiful city.