Accademia is the 2nd most visited museum in Florence and the main attraction, David by Michelangelo, is considered one of the most important works of art ever created. That said, is there anything else to see inside Accademia? How about a $16 million dollar violin? If you are looking for a list of things to see at Accademia in Florence this article is for you.
---
Pro Tip:  Bookmark this article on your phone internet browser this way you can quickly retrieve it in Florence. Also, if you want to get more out of your visit join one of our small group tours of Florence that include Accademia.
Accademia Gallery Tickets
Hours: Tuesday – Sunday, 9 am to 6:15 pm (Closed Mondays)
Admission: 8€ per adult | Free for under 18
Address: Via Ricasoli 58/60, Florence, Italy
For more detailed information about entering and reserving for Accademia, see our article Visiting Accademia: Everything You Need to Know
Top 6 Things to See in the Accademia Gallery of Florence
Admittedly, Accademia is a very small museum and the main reason to go is Michelangelo's David. For this reason, many people enter, take a look at David, and leave.
If you are going to spend the money on admissions to get inside Accademia you may as well poke around and see what else is inside. In fact, there are many other noteworthy works of art inside.
For this reason, we reached out to our knowledgeable guides who know everything there is to know about this quaint museum to put together this list of the top things to see at Accademia.
6. Hall Of Colossus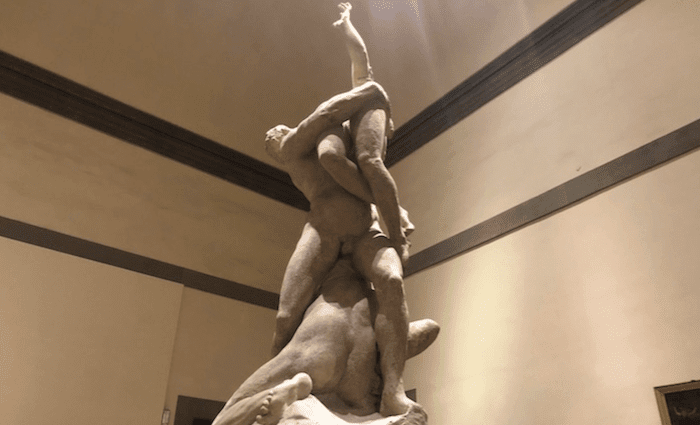 Hall of Colossus is the most significant collection of relevant artwork in Accademia not including David. The center piece is Giambologna's Rape of the Sabines. A heavily use and incredibly significant historical scene from Antiquity. It is a wonderfully baroque statue ripe with passion.
Rape of the Sabines:
The Rape of the Sabines Women, also known as the Abduction of the Sabine Women, is as heavily debated as it is depicted in art. The most commonly accepted version is that the Roman population was mostly formed by male outcasts and wonderers and happened to be majority male. They needed women to expand their population.
Romulus is said to have first attempted to form treaties with other nearby tribes to increase their female population but it was not met openly. This forced Romulus to take more drastic action. He decided to basically throw a party or festival and invite neighbors. Apparently the Sabines really enjoy a good festival and the entire population attended. This was good for the Romans as they were planning to abduct the Sabine women.
At some point, Romulus stood up and gave the signal and the Romans moved in on the Sabine women. They abducted all the virgins with the exception of one married woman, Hersilia, which is a whole other story. This made the Sabine men unhappy – all their daughters had been taken. War erupted which lasted long enough for the Sabine women to accept their Roman husbands.
Legend has it that in the beginning of the "big" battle between the Sabines and Romans the Sabine women stood in the middle between their husbands and kin begging for the bloodshed to end. And they were successful. Treaties were signed and they lived in peace for a while.
The Rape of the Sabine Women is the beginning of western European civilization which makes it an extremely important event. This is why it is painted so often. It also opens a primordial debate – how do our beginnings effect who we are today?
Giambologna's statue, Rape of the Sabines Women, is the most widely celebrated depiction of the event. There are hundreds of paintings and sculptures depicting the event but Giambologna's seems to come out on top. Due to its significance, the original version is in the Loggia dei Lanzi which is the covered area with many sculptures in Piazza della Signoria. What you see in the Hall of Colossus is a plaster model used in construction.
Left Wall Paintings:
"Trinity" by Alesso Baldovinetti depicts the holy trinity between God, Jesus, and the Holy Spirit.
"Trebbio Altarpiece "by Botticelli commissioned by Lorenzo di Pierfrancesco Medici.
"St. Stephen, St. James, and St. Peter" by Domenico Ghirlandaio which is considered the greatest painting of the six on the left wall.
Right Wall Paintings:
"Assumption of the Virgin" by Perugino which is a panel painting featured in the center with rounded top. It shows the Virgin Mary ascending into heaven.
"Resurrection" by Raffaellino del Garbo depicting Jesus leaving the tomb.
"Deposition" by Filippino Lippi which is a brilliant work showing Christ being removed from the cross after his death.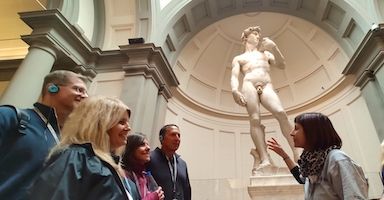 Best Selling Tour
Florence Walking Tour with Statue of David
Michelangelo is considered the greatest Renaissance artist and the David statue is widely known as his masterpiece. Join our English speaking guide as you skip the line to Accademia and see David. Then venture out to see the center of Florence including the Duomo (outside), Baptistry Doors, Leather Market, and more. Admissions included.





See Prices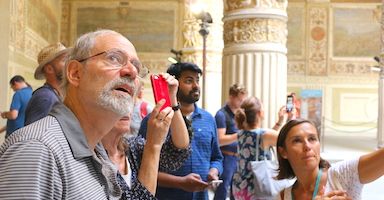 Top Rated Tour
Skip the line Uffizi Gallery Tour
The Uffizi Gallery is the most visited museum in Florence for good reason. Join our English speaking licensed Uffizi guide for a journey through the Medician Renaissance. Learn all the stories behind the very art that brought our world out of the darkness. All admissions included.





See Prices
5. Hall Of Prisoners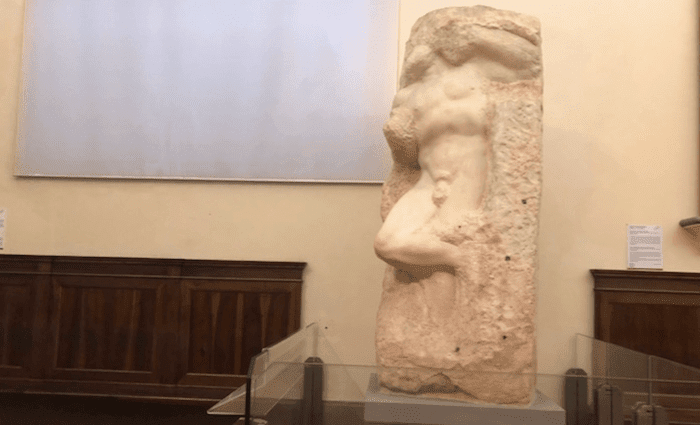 Michelangelo was quite the artist and took his craft very seriously which is why the Hall of Prisoners is so important. Nobody would labor over a statue for three years without passion. As you may have read, he didn't feel he was the creator of this artwork. He felt more like the liberator and technically he's correct. The statues already exist in the block of marble – he is simply the guy that gets them out. The hallway leading to his masterpiece is lined with his failures. Unfinished statues that didn't make it out.
Referring to them as prisoners is both literal and figurative. They are trapped in marble but they were actually intended to be statue of prisoners holding up columns for the tomb of Pope Julius II. The tomb, commissioned by the pope to Michelangelo, was intended to showcase 40 statues in a massive structure built for the St. Peter's Basilica. Unfortunately there were some budget cuts and then the pope died which placed this tomb on the back burner.
It was finally finished by Michelangelo in 1545 but placed in St. Peter in Chains church which is nearby the Colosseum. It is much smaller than intended but the centerpiece, Moses, is one of Michelangelo's crowing achievements. Pope Julius II never laid to rest inside either – he is buried inside the Basilica of St. Peter.
4. Gipsoteca Bartolini
Just around the corner from Accademia is Florence's very own art academy. Much of the reason why Accademia was open in its rather obscure location was to be close to the University where young artists trained to become masters. This is also part of the reason why the Gispoteca Bartolini is so interesting.
Lorenzo Bartolini was a 19th century sculptor that became quite famous in Florence. He sculpted prominent Italians, Russians, English and basically anyone who could afford his work. The Gipsoteca does not show his finished works but instead his plaster or clay models he used to create these works.
Bartolini was also a professor at the art academy and the Gipsoteca is a recreation of his workshop. You'll see hundreds of busts along with a few statues and paintings from him and his student. 19th-century nobility along with other masters like Brunelleschi are featured. It is cool to walk through this room and understand the origins of sculpting.
3. Florentine Gothic Art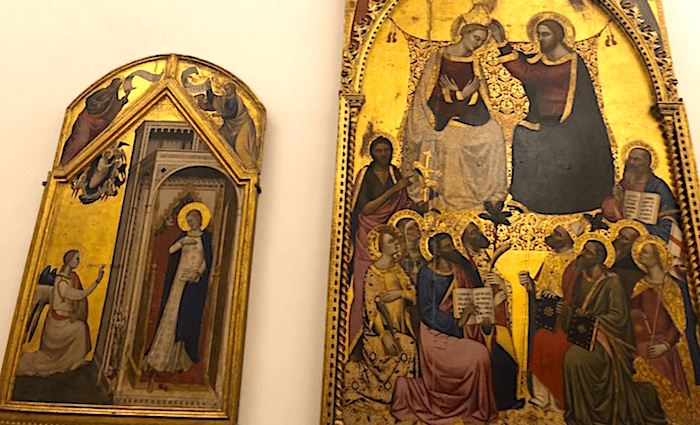 The Florentine Gothic Gallery is spread out over three rooms and dedicated to the 13th and 14th centuries. It houses many gothic alter pieces that are adorned with gold. This means they will be brilliant and over the top.
You will usually hear the name Gothic or Byzantine referring to artwork produced during the middle ages. This is because the style in Italy was copied from the Byzantine empire which was still extremely powerful and influential during the medieval period. If this period of art work interests you then there are a few patterns that you will notice.
Firstly all of the artwork is religious. The middle ages are also known as the "age of faith" and nowhere is that more obvious than in the artwork. The paintings were almost always commissioned for a church and usually over the altar. Unlike the Renaissance, the goal was not an ideal beauty, but an overwhelming display of piety.
Secondly the figures are completely off. What I mean is the bodies do not reflect what real people looked like neither in by means of dimension or fullness of features. You will notice that they are always two dimensional.
Thirdly there is no perspective. This means that the paintings rarely show any depth at all. Compared to Renaissance paintings where there are multiple levels, here there is only one level and everyone fits on that same level overlapping each other.
Finally the halos around their heads look like gold plates. Due to the fact that they couldn't ( or wouldn't) use depth in the painting, in order to show someone who was holy, their idea of a halo was a golden plate. Again, once we get to the renaissance, this disappears and the halo as we know it today appears.
As a lover of Renaissance art, I don't value gothic art as much as I should. That said, the room deserves a walkthrough. Keep an eye out for Bonaguida's "Tree of Life" panel that shows Christ on the crucifix which doubles as the tree of life. You'll also find a detached fresco by Giotto di Bordone which deserves a look.
It is unlikely you will recognize many names in these three rooms but it is important to see how artwork changed in drastic ways from the 14th into the 15th century.
2. Museum/Hall Of Musical Instruments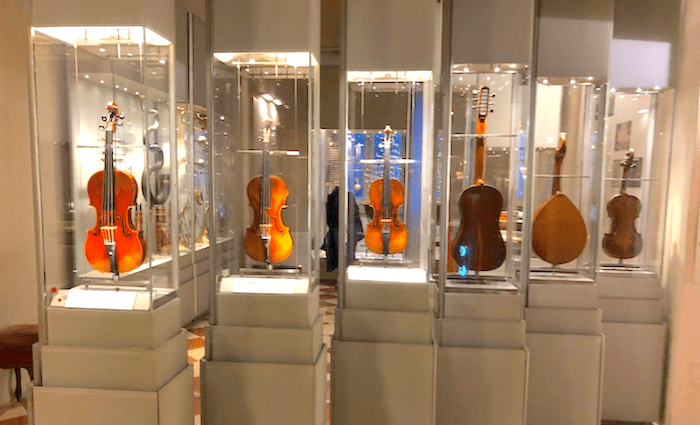 Did you play the violin growing up? If so, the Luigi Cherubini Hall of Musical Instruments in Accademia may be a nice stop beyond the David statue.
In the 17th century lived a man by the name of Antonio Stradivari who produced musical instruments unmatched for centuries. His instruments were so amazing that his following became an unmatched legacy. Today, Mechanical honing of instruments has eventually led to better sound projection but Stradivarius, the name in which his instruments are referred to, have exploded in value.
In modern times, a Stradivarius viola has sold for $16 million dollars. The Museum of Musical Instruments contains 3 Stradivarius including a viola tenor and a cello from the Medicean collection of instruments – their coat of arms decorate both instruments.The viola is reportedly unchanged from the day it was first played which means it may be the most expensive instrument on the planet.
You'll also find a room dedicated to the invention of the piano which was invented for the Medici in 1720. It was invented in 1720 by Bartolomeo Cristofori. The harpsichord existed prior to the piano which was its evolution.
All in all, you'll be able to come up close and personal with not only some of the most expensive instruments in history but many of the same ones that would produce beautiful sounds for the Medici.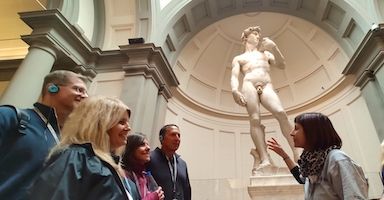 Best Selling Tour
Florence Walking Tour with Statue of David
Michelangelo is considered the greatest Renaissance artist and the David statue is widely known as his masterpiece. Join our English speaking guide as you skip the line to Accademia and see David. Then venture out to see the center of Florence including the Duomo (outside), Baptistry Doors, Leather Market, and more. Admissions included.





See Prices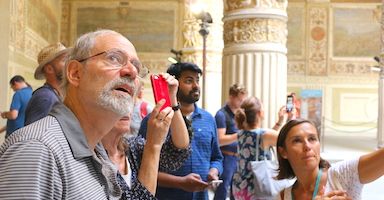 Top Rated Tour
Skip the line Uffizi Gallery Tour
The Uffizi Gallery is the most visited museum in Florence for good reason. Join our English speaking licensed Uffizi guide for a journey through the Medician Renaissance. Learn all the stories behind the very art that brought our world out of the darkness. All admissions included.





See Prices
1. Michelangelo's David (The Tribune)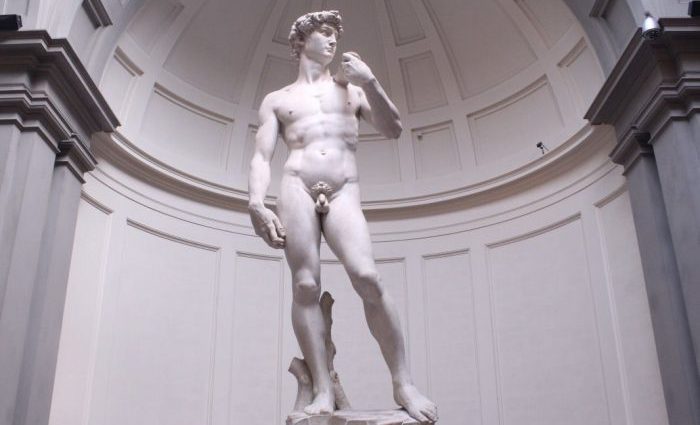 David vs Goliath:
History and religion are bound together and forced apart all at the same time. This means that much of our account of history, especially BCE history, comes from religious books. Specifically it comes from the Bible. At the same time, we must work to separate a historical account, the existence of figures such as David or Jesus as King and rebel, from their religious account, favored by God to be King and son of God.
The story of David, true or not, is one of the greatest and most widely referred to stories in ancient literature. This is likely due to Goliath's size compared to David. Imagine a gigantic man who may have reached 6 feet 9 inches, in a time where males averaged 5 feet and 6 inches.
Goliath was so much larger than everyone else that according to the ancient text of Saul, he came out daily for 40 days, morning and evening, to challenge the Israelites. Not to all-out war, but single combat, which was a way to settle a dispute with less bloodshed. Eventually, one champion from each side fights to the death and the victor's army wins.
Saul was the King of the Israelites at the time and should have fought Goliath but didn't. Saul feared Goliath. At a time where religion and the will of God or gods dictated so much, Saul's fears brought despair to his soldiers and people. David, a shepherd, finally accepts the challenge and Saul reluctantly agrees. Saul offers David his armor but David declines. Instead, David brought his staff, sling, and five stones.
David was a farmer and sheep breeder who likely had to protect his crops from small animals such as rabbits in order to survive. He may have also had some run-ins with wolves trying to take his sheep. In those cases, the sling was the preferred weapon, and David would have practiced religiously to ensure he could protect his livelihood.
David used his sling to defeat Goliath with one of his fives stones landing square in Goliath's forehead knocking him straight to the ground. David cut off Goliath's head, and the battle was over. Michelangelo's David portrays David in the moment after victory where David felt larger than life.
David would take the kingship from Saul soon thereafter stating, "When a lion or bear come and attacked his father's (God) sheep (people), he battled against it and killed it."
The Sculpture Described:
What is so incredibly amazing about this sculpture is how life-like it is. In fact, nothing had ever come close in the past and arguably ever again. This is because of the painstaking detail that you'll see when visiting David. Michelangelo's depiction of muscle mass, the circulatory system, and human-like features leave you in awe. The structure of his face and eyes are so detailed that images of them close up look real.
Michelangelo was working with a block of marble that Antonio Rossellino worked with some 25+ years prior but backed out citing the marble was poor quality. In stepped Michelangelo who took over the project in 1501 and took it very seriously. In fact, there is a quote where Michelangelo describes his work which has likely "evolved" over the years. He basically says that his work is not genius – he simply removes all the material that is not David as the statue is already locked inside.
Symbolism:
David holds a sling in his left hand draped over his shoulder. This is a detail Michelangelo needed to include to identify the statue as David but it also may be a structural element. In his right hand, he holds an object which is likely a stone – he was carrying five going into battle. David's body is more a reflection of his confidence after winning the battle against Goliath. You'll see that he exudes confidence from his eyes and form.
For all of the reasons above, David is the main attraction of the gallery and without argument, the most sought-after sculpture in Florence – copies of David are all over Florence. Michelangelo "freed" David from his marble prison in three years. A very short amount of time for a statue which was immediately greeted as the greatest statue Florence has seen. It was brought to Piazza della Signoria where it found its home for hundreds of years until 1873 when it was placed in the Accademia Gallery and the original was replaced by a copy.