Are you interested in seeing Michelangelo's David at Accademia in Florence but unsure if you should do a solo visit or tour? The museum that houses David is tiny, making this a valid question. This article will explain when and how it is worth joining a tour of Accademia to see Michelangelo's David!
---
Pro Tip: Planning your visit to the Accademia in Florence? Bookmark this post in your browser so you can easily find it when you need it. Check out our comprehensive Accademia Gallery guide for more planning resources, our best Accademia and David tours for a memorable trip, and how to see Florence in a day (with itinerary).
Where Is the Statue of David?
Michelangelo's David is situated inside of Galleria dell'Accademia in Florence, Italy. You can read more about how to visit David and Accademia Gallery in this annually updated article on how to visit Accademia in Florence.
Is It Worth It To Do a Tour of Accademia?
Short Answer: Yes, a tour is worth it. Check out some deals on tours of Accademia and Michelangelo's David.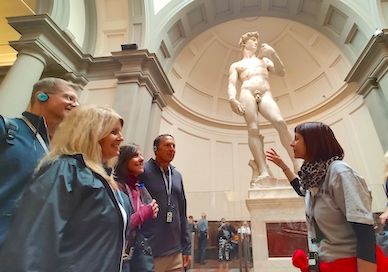 Accademia Galleria is a small museum in Florence near one of Europe's oldest art schools. While there are other noteworthy works of art inside the Galleria dell'Accademia, David is most definitely the crowning jewel by leaps and bounds.
There is a good argument that if you read up enough on David that you don't need a tour of Accademia, and it is a valid point. The most significant benefit of doing a tour is learning about the artwork. Tours also make sure you find all the most essential works inside a gallery. In Accademia, you won't have that problem because you walk in and make a left, then a right, and boom—there is David.
So why do so many people book tours to get inside?
First of all, getting inside Accademia is both difficult and intimidating. Then you have to acquire tickets which can often sell out. And you'll need to weave through the confusion outside to get inside. An experienced traveler can do that on their own, but there's also an advantage to booking a gallery tour with other attractions included.
Skip-the-Line Tickets
So the lines won't be as long as you'll see at the Louvre, but it's still a nice perk to have skip-the-line tickets to Accademia Gallery. This eliminates the confusion outside if there are lots of people trying to get in the right line. A guide with skip-the-line tickets can make this a smooth and quick process.
Small Group Tour
Accademia isn't a large museum, so joining a small group tour is ideal. It ensures you won't miss out on your guide's explanations or get lost in a crowd. We design small group tours specifically so your guide can interact more with each person.
After-Hours Access
If you enjoy seeing museums after most of the public has already left, then you'll appreciate our after-hours tours. You can explore many popular museums, like Accdemia, with late-afternoon access when it's much quieter.
Not ready to book a tour? Check out our Accademia Guide for more resources.
What Is the Right Accademia Tour for You?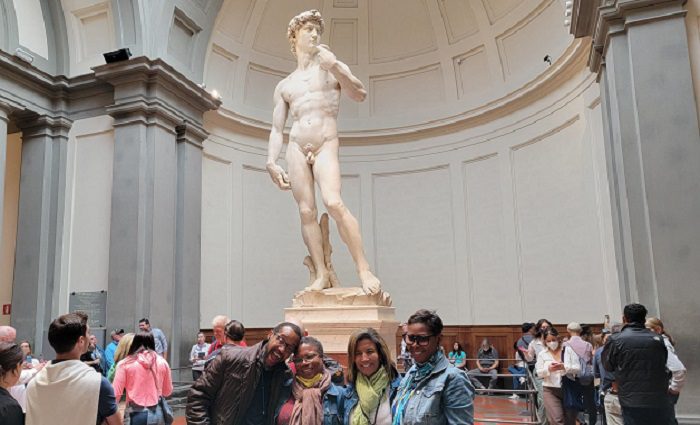 Now that you know a tour of Accademia is worth it, check out our offers. We run several tours of Accademia in Florence but each is different. Many visit the Florence Duomo, but some even climb up the dome to see one of the best viewpoints in Florence. Click the button below to see all our tours of David or read more on Florence to plan the best vacation in Florence.
Make the most of your trip to Florence by getting to know the most beloved sites in a single day. With skip-the-line tickets and a fun, local guide, you can breeze through the Accademia and Uffizi galleries, see the Florence Duomo, and get to know the famous Ponte Vecchio. You'll also enjoy stops at the neighborhood where Dante grew up and learn about the Medici family who shaped Florence into the city we know today.
See tour itinerary, price, and description
If you're just looking for a quick, guided tour of Accademia Gallery to see Michelangelo's famous David statue without the crowds, book this one! Since this tour starts in the evening, you'll appreciate that there are fewer crowds. Not to mention, an hour and a half is the perfect amount of time to spend with a passionate guide who will make sure you know cool stories about the art found in this gallery. (And why David's feet are rather oversized!)
See tour itinerary, price, and description
Spend just half a day exploring the best that Florence has to offer. With stops at the Duomo, Ponte Vecchio, and Accademia Gallery to see David, you'll get tons of value out of this walking tour of Florence. In fact, you'll also see Dante's neighborhood and Piazza della Signora before you head off on the rest of your adventures in Florence.
See tour itinerary, price, and description
What's more iconic than climbing to the top of the famous Florence Duomo to see the Renaissance city from the best view? Don't wait to book this tour of the dome and secret terraces of the Florence Cathedral. If you're a more active traveler, it's the perfect way to get to know Florence's beloved cathedral and explore areas that the general public aren't allowed to see.
See tour itinerary, price, and description
For those who prefer an experience tailored to their needs or interests, a private walking tour of Florence and Accademia Gallery is just the thing. Enjoy more engaging time with a guide who is focused on you and your interests. You'll explore Accademia Gallery, the Florence Duomo, Ponte Vecchio, and much more on this private tour of Florence.
See tour itinerary, price, and description
Not ready to book a tour? Check out our Accademia and David Guide for more resources.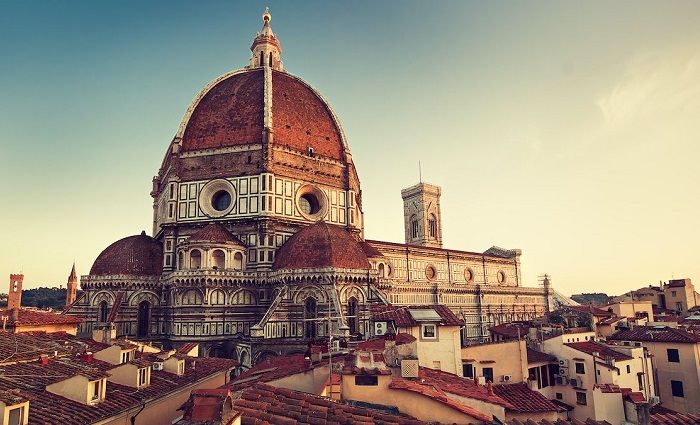 Find the best places to stay
Where To Stay in Florence
Florence has a small historical center packed with iconic landmarks to explore. Plan where to stay in the best neighborhoods in this beautiful city.