Millions of people visit the Uffizi each year to see the wonders of the Medici and Florentine art collection. You are already off to a great start by researching things. Little things like purchasing Uffizi tickets or a guided tour in advance will make your trip much more enjoyable and we'll explain all your options!
---
Florence is a city with thousands of years of deep history. Local guides help bring this history to the surface and will make your trip more memorable. Check out our Florence tours and Uffizi tours which have excellent reviews from customers.
Uffizi Gallery Hours & Ticket Prices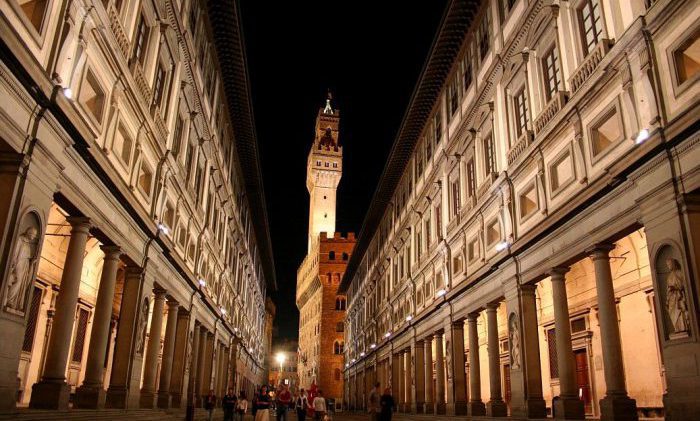 Uffizi Gallery Hours
Mondays: CLOSED
Tuesday- Sunday: 8:15a.m. – 6:50p.m. (ticket office closes at 6:05p.m. and the museums start closing at 6:35p.m.)
CLOSED for holidays: January 1st, May 1st, December 25th
Uffizi Gallery Admission
If you consider that the Uffizi Gallery sees millions of visitors a year, it's almost guaranteed that there will be a long queue at the entrance. Then again, if you visit during the low season, you might be lucky enough to just walk in. It's unwise to expect this though, the situation is unlikely. Here are three ways to see the Uffizi Gallery without standing in line.
Ticket Prices Online: 16,50€ for adults, 10,25€ reduced ticket. To find out if you qualify for a reduced or free ticket, consult the website.
If you want to make the most of your time in Florence, book your Uffizi tickets in advance. This way, you can pick a time and date on the official Uffizi Gallery website.
Please note: if you book your tickets online there's an additional 4€ fee.
Although you might still have to stand a short queue to collect your tickets, it's still much quicker than waiting in the general line.
Going alone can have its benefits, but nothing will be more memorable than going with a passionate local guide. Needless to say, it removes the guesswork!
How Long to Budget for Your Uffizi Gallery Visit
Short Answer: 2 to 3 hours
The Uffizi Gallery has a wealth of famous artwork across multiple floors. You can see Raphael, Botticelli, Michelangelo, Caravaggio and many more all within a few feet of each other. That said, the Uffizi Gallery is not nearly as expansive as the Vatican Museums or Louvre.
Two to three hours is a good amount of time to spend inside for anyone who appreciates artwork. Like any museum filled with significant and famous artwork, it should be visited with a local guide.
Uffizi Gallery Tour Options
We're a tour company so we'll obviously recommend tours but we started The Tour Guy for a reason. Tours can be amazing and our reviews support that. Passionate local guides focus on the historical importance of art and how it played into our cultural heritage. They'll explain everything from the artist's life, the patron who commissioned (paid) the artwork and the journey the art took. Art that has lasted 500 years has hung on many walls and seen many things!
12 Things You Should See in the Uffizi Gallery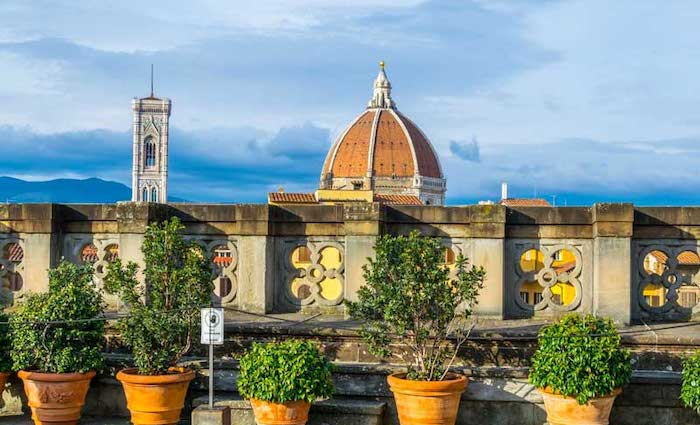 Uffizi literally translates to offices in Italian. A very literal name was given to this historic structure by the Medici Family. They used it likely as a place for commercial dealings (banking) and to run the government. Florence was a republic but it was common knowledge that the Medici got their way through cronies. The system wasn't bad for Florence as the Medici pulled not only Florence but all of Europe out of the darkness.
The Uffizi Gallery is connects to Palazzo Vecchio (government) and Palazzo Pitti (Medici home) via a series of corridors. Most famously the Vasari Corridor that runs along the Arno river, across Ponte Vecchio and to the Pitti Palace. Giorgio Vasari created the corridor which took his name.
The Medici decorated their offices with art and sculptures just like their home. The Gallery was open publicly in 1765 but was officially became a museum in 1865. In 2019, over 4 million visitors entered the Uffizi Gallery. Hopefully, you are one of them in 2021! If so, see our list of the famous artwork you need to see in the Uffizi Gallery.
–
12. Balcony Overlook the Duomo
The Uffizi Gallery does not just contain art but is art itself. It also has an incredible view to see some of Florence's greatest works of architectural art – although the city could even be defined as one large masterpiece as a whole like many other Italian cities. There are numerous signs and indicators leading to the "Bar" inside the Uffizi. You can follow them for a coffee and an incredible viewpoint. The picture featured above.
–
11. Portraits of the Duke & Duchess of Urbino by Piero della Francesca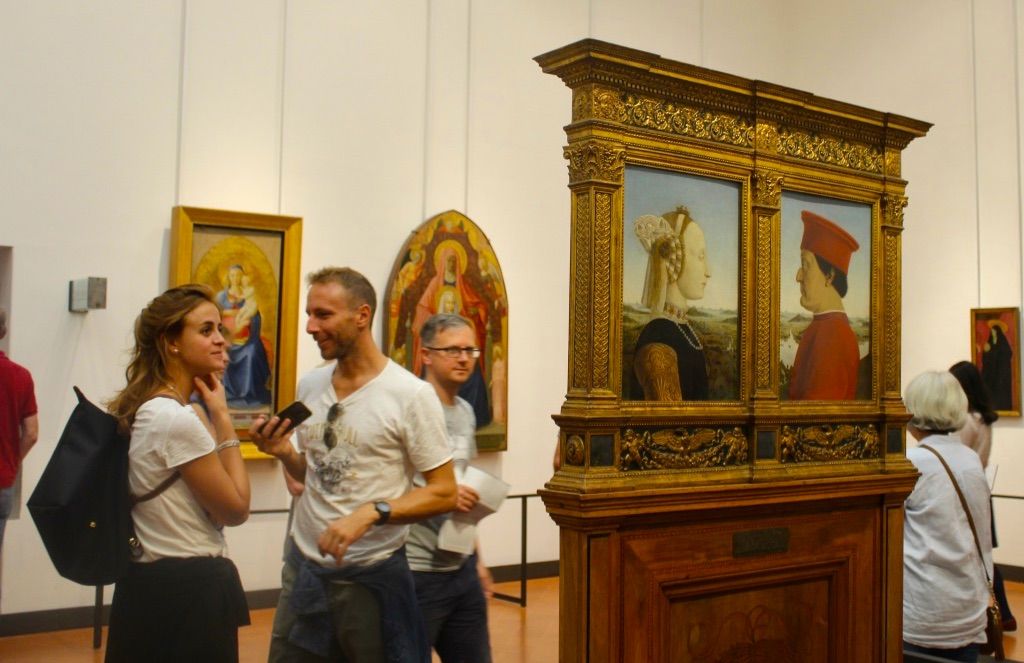 This is a very interesting and peculiar oil on a wood painting depicting a very powerful couple, Federico da Montefeltro and Battista Sforza. The Sforza family ruled Milan for hundreds of years. The painting dates back to the late 15th century and is in fantastic condition. It is a two-sided painting, which is very rare, so make sure you take a look at the back. It features a horse-drawn carriage and a unicorn-drawn carriage that is intended to the allegories of triumph.
Location in the Uffizi: Hall #7
–
10. The Ognissanti Madonna by Giotto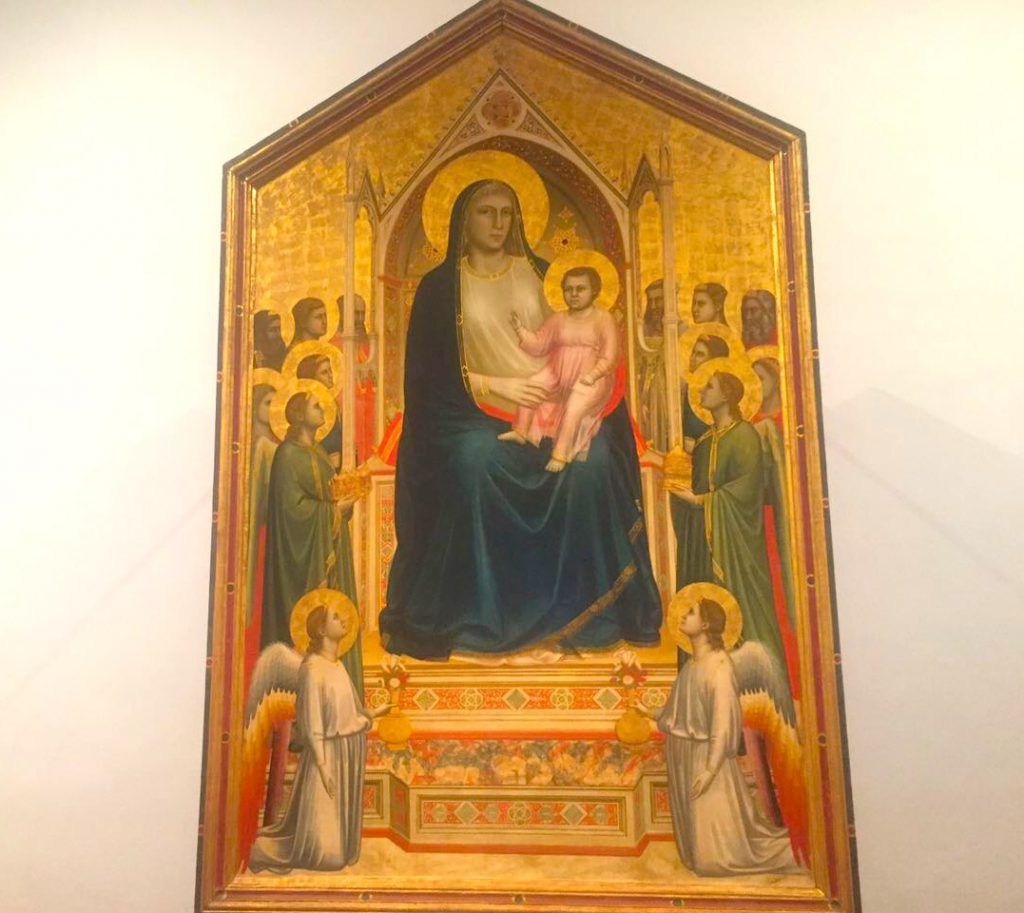 Giotto was one of the most influential artists leading up to the golden era of the renaissance. His Ognissanti or Madonna Enthroned was painted by Giotto di Bondone in the late medieval period (proto-Renaissance) and is on a wood panel. Although this is not the first appearance, Giotto is the first western-European artist to depict 3-dimensional figures. What he did was considered highly innovative at the time and was a catalyst for artists like Botticelli and Michelangelo.
Location in the Uffizi: Hall # 2 dedicated to Giotto & 13th/14th-century art
–
9. Medusa by Caravaggio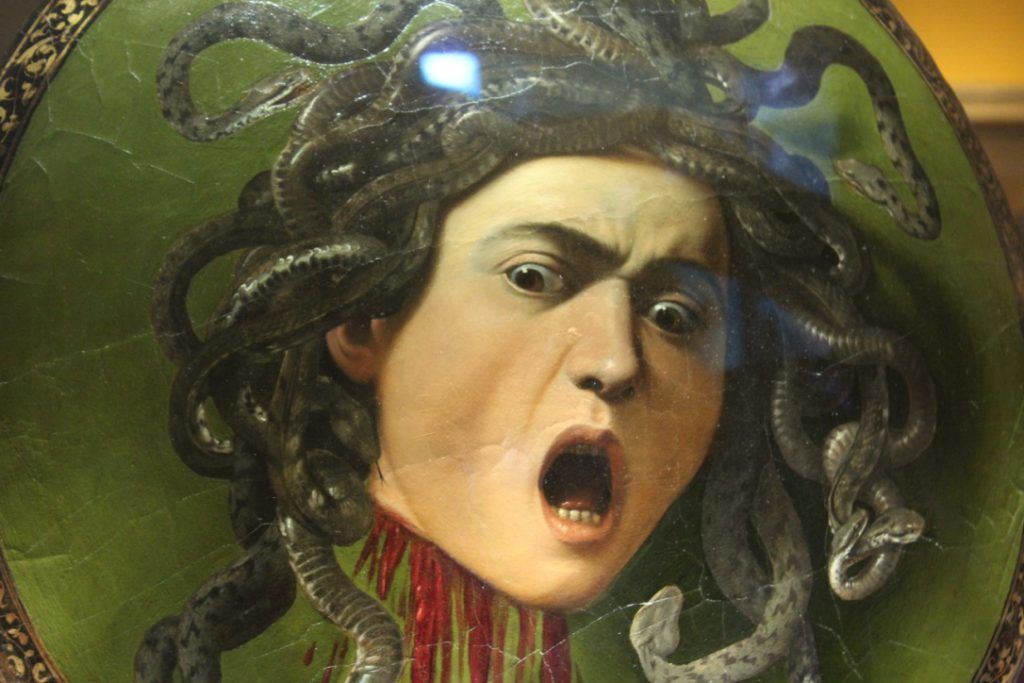 Caravaggio was sort of the Quentin Tarantino of the baroque period. He painted grotesque gripping artwork that turned heads. His Medusa is no exception. It was commissioned by Cardinal Francesco maria Bourbon de Monte in 1597 who then gave it to the Grand Duke Ferdinando I de' Medici as a gift (or maybe re-gift?)
Location in Uffizi: the Medusa shield in the Hall #90 dedicated to Caravaggio.
–
8. Venus of Urbino by Titian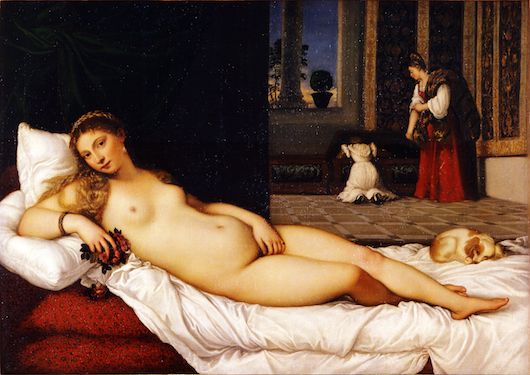 The Venus of Urbino was completed by Titian in 1538, commissioned by the Duke of Urbino, Guidobaldo II Della Rovere. The painting was a gift from the Duke to his young wife.
It represented the allegory of marriage; eroticism, fidelity, and motherhood. The eroticism is evident in the representation of Venus, the goddess of love. The dog at her feet represents marital fidelity, while the girl looking through the chest in the background represents motherhood.
Location in Uffizi: Venus of Urbino by Titian is in the Hall #83.
–
7. Self-Portraits by Rembrandt
Rembrandt was a very important figure as he carried the Italian renaissance north and was a key figure in the Dutch renaissance. He lived during the 17th century and has two self portraits. First as a young man and another as a mature man. He followed the path of Caravaggio painting in a chiaroscuro method to draw attention to key dramatic features. You'll find several Rembrandt paintings housed in the Uffizi including The Old Rabbi.
Location in the Uffizi: Hall of Rembrandt (49)
6. Doni Tondo (The Holy Family) by Michelangelo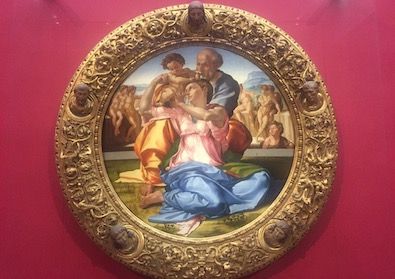 Doni Tondo or The Holy Family is one of a literal handful of free-standing (panel) paintings Michaelangelo worked on and apparently the only panel that was completed.
It was commissioned by a merchant Agnolo Doni to commemorate the birth of his child. It's a beautiful work of art that commemorates a sort of golden era for Rennaissance art in Florence.
Location in Uffizi: Hall 3
–
5. Medici Venus attributed to Praxiteles
Venus or Aphrodite is a highly sculpted mythological figure due to what she represents – beauty. The Medici Venus is a 1st century BC copy of a Greek sculpture. This was common as the Romans gravitated towards Greek art – everyone did. The sculpture was taken into ownership by the Medici and attributed to Praxiteles but there is little foundation for that. The base says it was sculpted by the son of Apollodorus but that is not true. Regardless, it is a beautifully done sculpture that was undoubtedly admired by Botticelli and Michelangelo.
Location in Uffizi: Hall of Tribunes
–
4. Annunciation by Leonardo da Vinci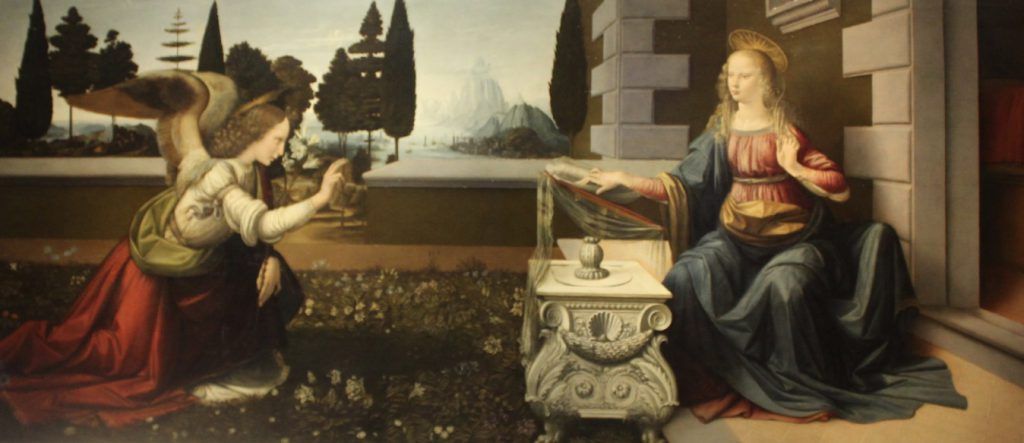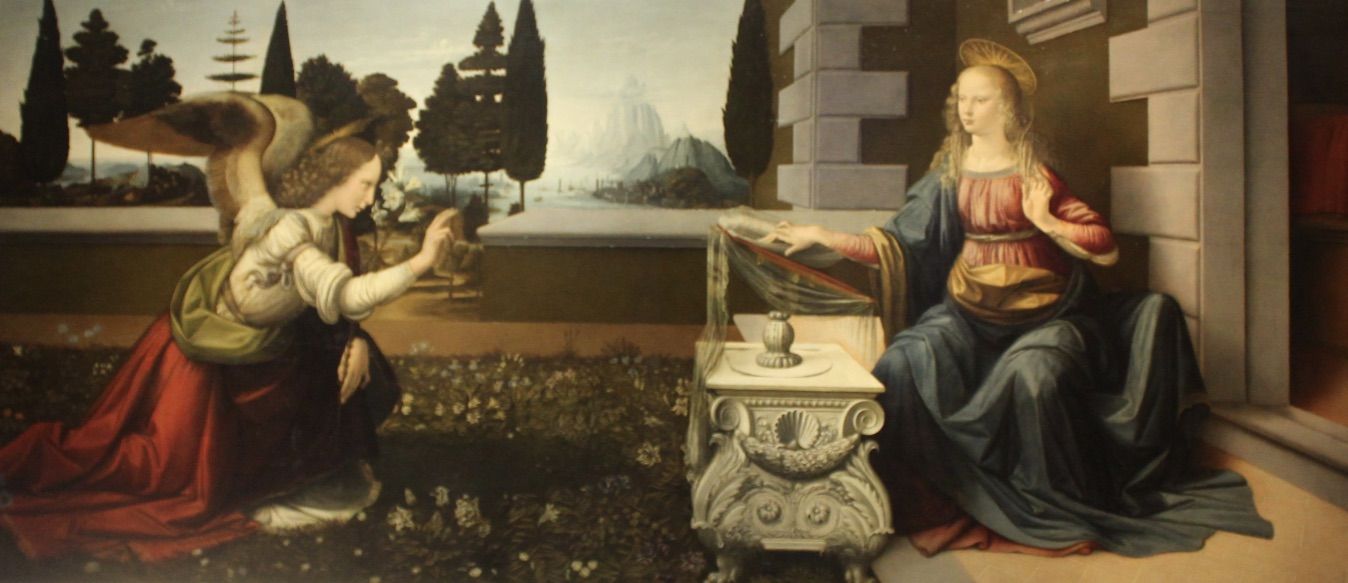 The Annunciation was painted by Leonardo Da Vinci and Andrea del Verrocchio around 1472-1475. The painting depicts the moment Angel Gabriel announces to the Virgin Mary that she will conceive and give birth to a son to be named Jesus, "Son of God".
Location in Uffizi: Hall #15.
–
3. Madonna del Cardellino by Raphael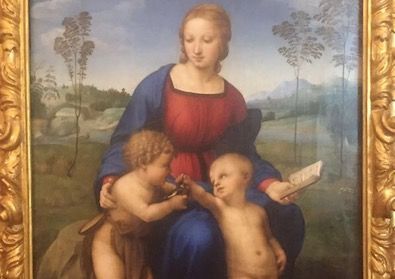 The Madonna del Cardellino or also known as Madonna of the Goldfinch was painted by Raphael (Raffaello in Italian) in 1506 as a wedding gift for his friend Lorenzo Nasi. Looking at the painting, the Madonna is shown young and beautiful. She is clothed in red and blue, the red signifies the passion of Christ and the blue signifies the church.
Location in Uffizi: Hall #66.
–
2. La Primavera by Sandro Botticelli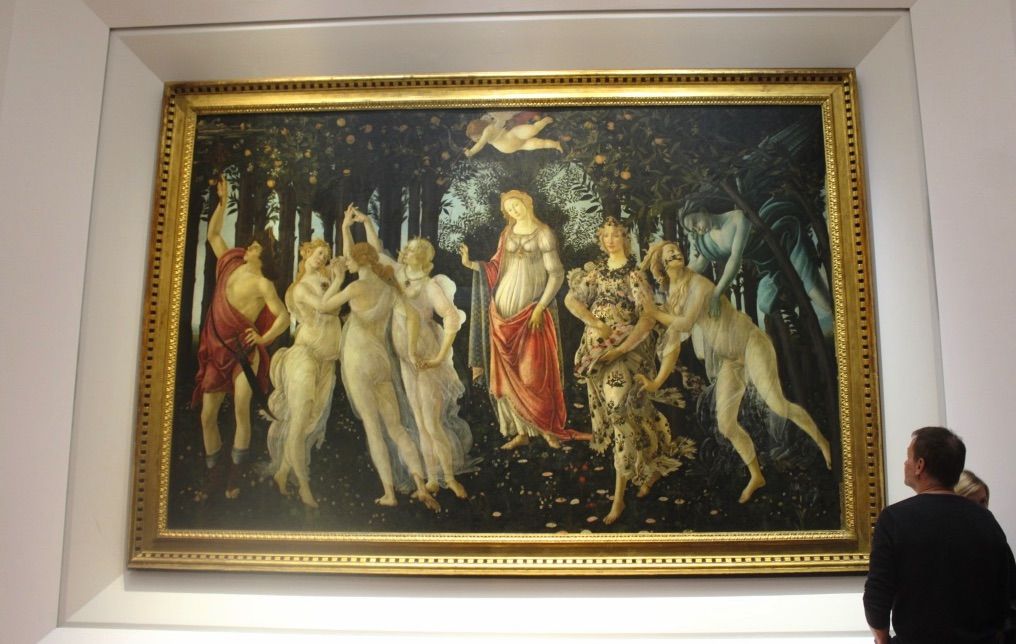 La Primavera or Spring in English is considered to be one of the greatest paintings ever produced. That statement goes far beyond its beauty and artistic expression. La Primavera defied the oppression of artistic expression which arguably could have inspired a massive leap forward in art history. Some of the greatest artists that would ever live followed the career of Boticelli.
Location in Uffizi: Hall of Botticelli (10-14)
–
1. The Birth of Venice by Sandro Botticelli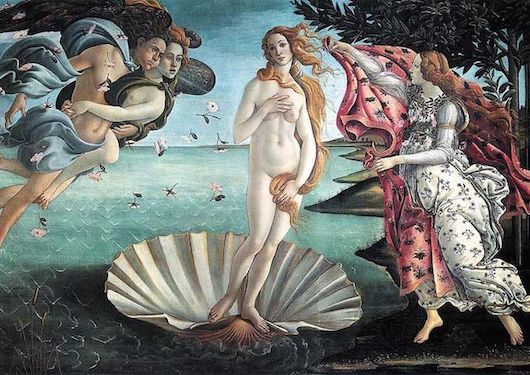 The Birth of Venus has become one of the world's most famous Renaissance masterpieces.It was painted by Sandro Botticelli between 1482 and 1485 for the Medici family.
In the painting you can observe Venus, the goddess of love, standing on a seashell in the center. To the right of her, Zephyr, the god of the west wind is blowing her to the shore. There, Pomona, the goddess of spring, is waiting with a cape to clothe the newborn deity.
Learn more about it's history on our more comprehensive article on what to see at the Uffizi or on a guided tour of the Uffizi.
Location in Uffizi: Botticelli Rooms (10-14)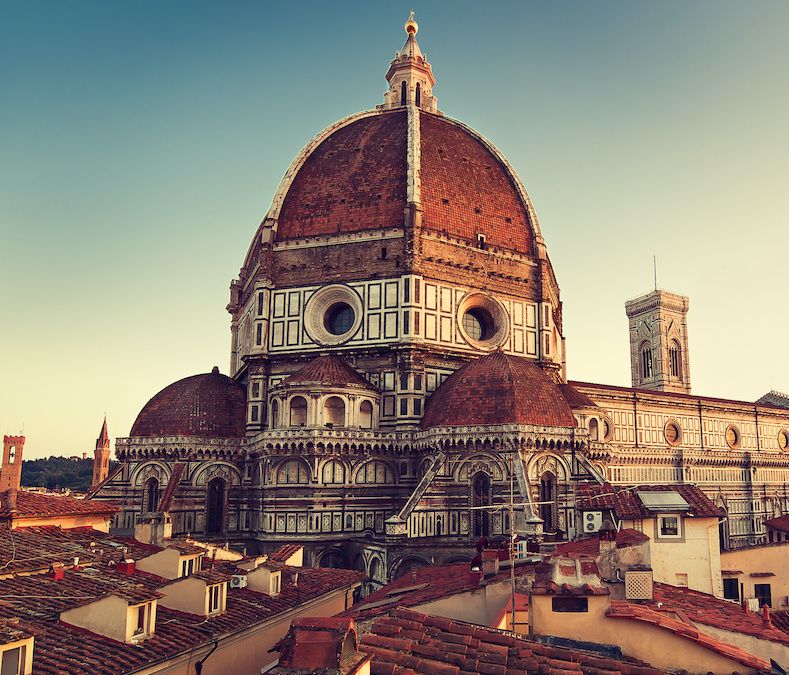 Find the best places to stay
Where to Stay in Florence
A great hotel at a great price has become the norm in this the internet era. Our article explains what area are the best in Florence so you can get a great deal on the perfect location!
Where to Eat Nearby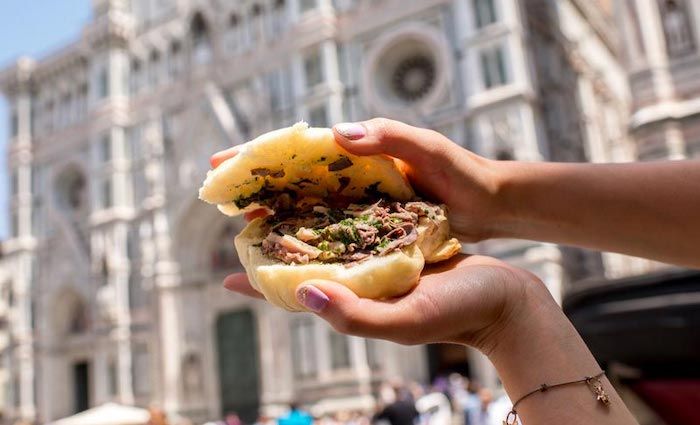 Exploring the Uffizi Gallery and generally walking around in Florence will build up an appetite. The below four recommendations are vetted and check all the boxes. A pizza place, sandwich place, sit-down restaurants and rooftop bar. What else could you need in Florence after your Uffizi tour?
Osteria All'antico Vinaio (€) – possibly the most famous sandwich shop in all of Italy. You can even get a glass of wine to wash it down. Mostly standing room.
Gustarium (€) – It's pizza, it's quick, it's good, it's cheap, and it's close to the Uffizi – why are we still talking?
Osteria del Porcellino (€€) – Looking for a sit down meal before or after the Uffizi? Get all your traditional Florentine/Tuscan dishes here.
La Terrazza Continentale (€€€) – just want a drink? This rooftop is likely where I would go.
How to get to the Uffizi Gallery
The Uffizi Gallery is extremely easy to find in Florence. All the roads in Florence lead to the general area so you will happen upon it without trying. It is located off of Piazza della Signoria which is home to Palazzo Vecchio. Palazzo Vecchio is literally connected to the Uffizi by an arched bridge over Via della Ninna.
The backside of the Uffizi ends at the Arno river which is visible from inside the Gallery. This is where the Vasari Corridors start which connect the Uffizi to the Pitti Palace.
Address: Piazzale degli Uffizi, 6
Florence is a city with thousands of years of deep history. Local guides help bring this history to the surface and will make your trip more memorable. Check out our Florence tours and Uffizi tours which have excellent reviews from customers.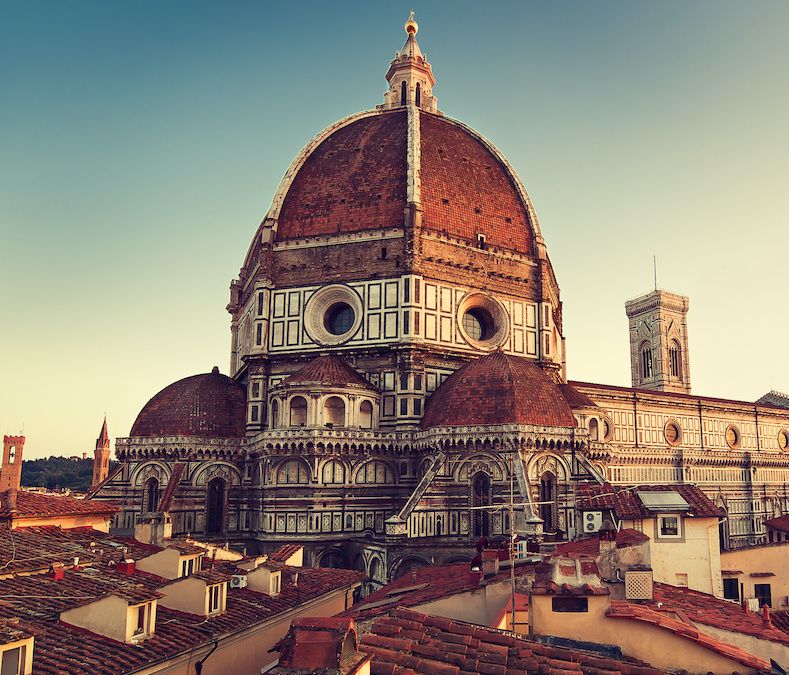 Find the best places to stay
Where to Stay in Florence
A great hotel at a great price has become the norm in this the internet era. Our article explains what area are the best in Florence so you can get a great deal on the perfect location!