Near the Uffizi and looking for a bit to eat but unsure if you're standing in front of an authentic Trattoria or a tourist-trap? If that's the case, this list was created by locals from Florence and features the best places to eat within a short walk from the Uffizi Gallery.
---
Top 9 Places to Eat and Drink Near the Uffizi in  Florence
The Uffizi Gallery is Florence's greatest museum due to the high concentration of high-renaissance artwork inside. This is because it was built by the Medici who were some of the greatest art patrons the world has ever known. That is why the Uffizi attracts almost 5 million visitors each year which means you can easily walk into a tourist trap nearby.
No worries – we run a ton of tours in Florence and employ plenty of Florentine tour guides and locals to run our operations. So we asked our people in Florence to put together a list of the best places to eat near the Uffizi and this is what we got.
All'Antico Vinaio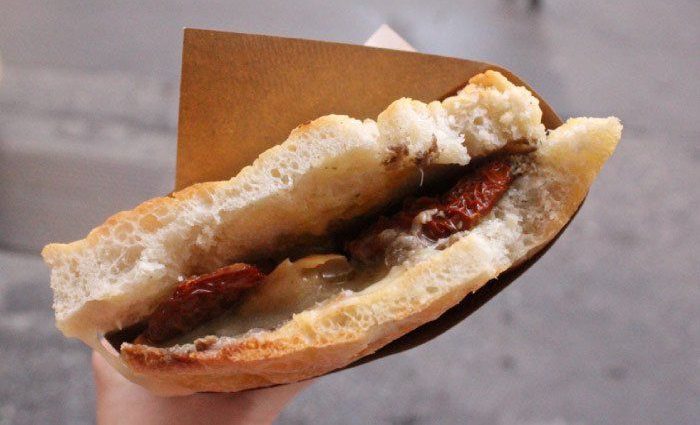 € | Panino/Sandwich | Three Minutes from Uffizi
Located three minutes away from the Uffizi Gallery, the Italian restaurant All'Antico Vinaio is one of the places you have to try once you've finished with your art journey.
You can either opt for a quick schiacciata (typical Florentine pizza) stuffed with all the delicious Italian cheeses and hams at the takeaway restaurant or if you want to sit and relax, try out the adjacent restaurant with the same name. In both places, you will find there is homemade food (from bread to cheese), a very relaxed and funny atmosphere and Italian attitude, take a look and make room in your belly!
Address: Via de' Neri 76
Hours: 10:30 AM – 11 PM |
Trattoria Antico Fattore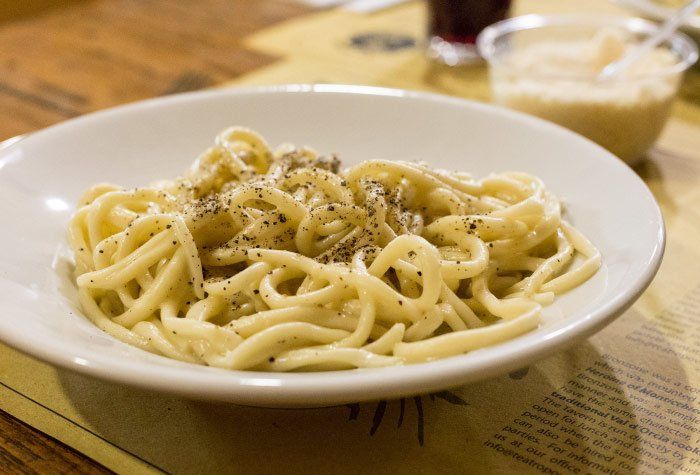 €€€ | Traditional | Two minutes from Uffizi
Founded in 1865, Trattoria Antico Fattore was the restaurant chosen by painters, authors, and political figures throughout the centuries. The founder, Giulio, used to sit and have a glass of wine with his guests while discussing and serving them some good food. That was a long time ago, but the tradition of personal service has not been lost.
They also serve traditional Florentine cuisine so if you want to try some pasta like the typical pici alla buttera or the Florentine ribollita, this is the place to go if you are looking for a meal near the Uffizi.
Address: Via Lambertesca, 1
Hours: 12 PM – 3 PM, 7 PM – 10:30PM
Tours of Chianti & Florence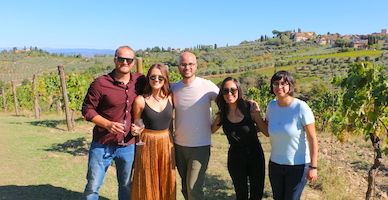 Top Rated Experience
Chianti Day Trip from Florence with Vineyard Lunch
Want to have an epic experience in Tuscany? Remove the guesswork and logistics by joining us on a day trip to Chianti from Florence including Siena. Transportation, lunch, and lots of wine included!





See Prices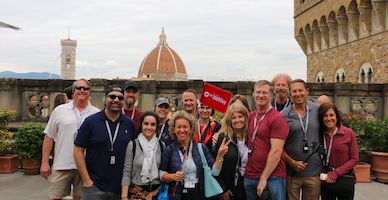 Best Selling Tour
Florence in a Day Combo Tour with David & Uffizi
This tour is your best value in Florence. See Michelangelo's David statue in the Accademia Gallery with a licensed guide and the Uffizi Gallery. It also visits the Florence Cathedral (outside), Baptistry Doors, Ponte Vecchio, and more. All your admissions are included to skip the lines and visit these great museums with an English speaking guide.





See Prices
Osteria Vecchio Vicolo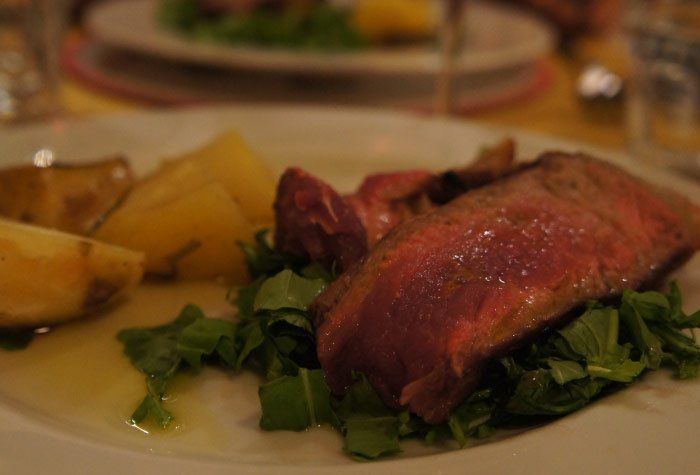 €€ | Steak/Pasta/Seafood/Pizza | Two Minutes from Uffizi
In Italian, Vicolo means a tiny street, like those that you might easily find in Florence. This osteria aims to recreate exactly that kind of atmosphere, giving the impression of eating outside while they're eating in a restaurant.
The Vecchio Vicolo Osteria is located in Via Lambertesca and its menu is filled with Florentine specialties, such as the giant Florentine steak. The staff is lovely and ready to share some Florence history with their guests.
Address: Via Lambertesca, 16
Hours: 12 PM – 11 PM
Osteria del Porcellino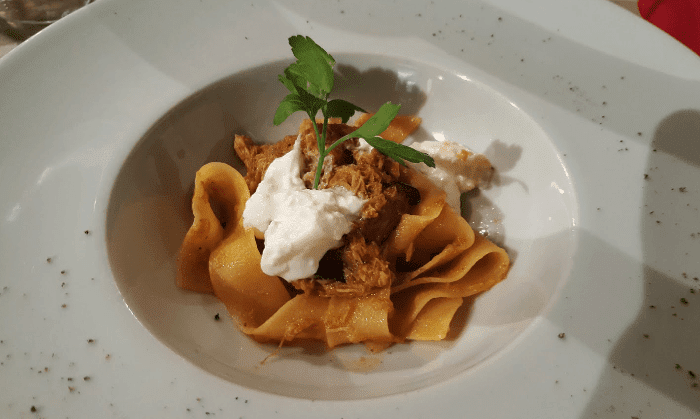 €€ | Traditional Florentine | Outdoor Seating
This little gem is named after Florence's famous statue of a wild boar that has woven itself into local folklore. Since they chose such a traditional symbol for their name they chose traditional recipes for their menu. Not to mention, great prices on all the a-typical Florentine dishes you should try while in the city.
You can get nice cuts of meat, pasta dishes, apps, and great desserts all at a good price. They have a large menu so there will be something for everyone.
Address: Via Val di Lamona, 7r
Hours: Noon – 11 pm Daily
Gucci Osteria da Massimo Bottura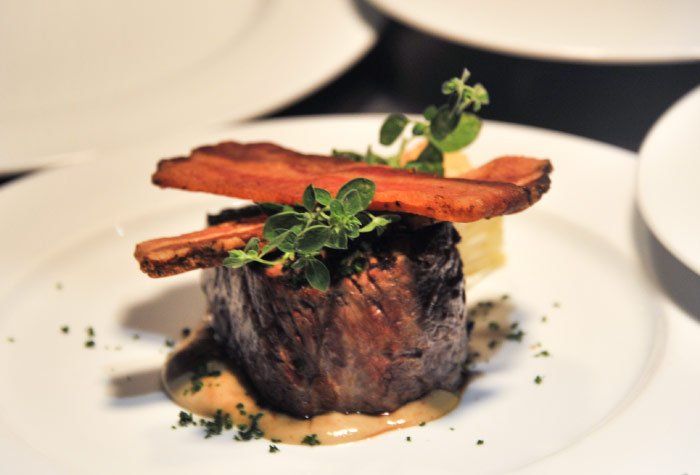 €€€ | Contemporary
If you are willing to try something more gourmet, but still typical Florentine cuisine, you might find the Gucci Osteria appealing. And yes, this restaurant is owned by Gucci which makes it more unique (and expensive). Gucci chose chef Massimo Bottura, the Italian rule breaker is known for his innovative ideas, to create their menu and deploy high-end flavor.
Bottura is, in fact, able to change tradition but somehow still be traditional. This restaurant is open for lunch and dinner and will be a memorable place to eat footsteps from the Uffizi.
Address: Piazza della Signoria, 10
Hours: 12:30 PM – 3 PM, 7 PM – 10 PM
Gustarium Piazza al Taglio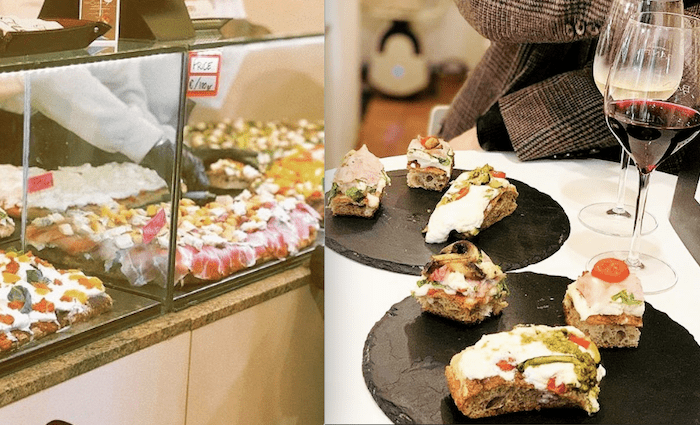 € | Creative Pizza | Some Tables and Standing Room
This is one of my favorite places to go for a quick snack since they have so many unique options and a relaxed atmosphere. Lunch in Florence does not always need to be a long sit-down affair. That is why Gustarium is a great post-Uffizi choice. You could pick a selection of pizza, maybe a glass of wine, eat and go!
Address: Via dei Cimatori, 24r
Hours: Noon – 3:30 Tuesday – Sunday | Open 7 – 10 pm Friday & Saturday
Ristorante dei Frescobaldi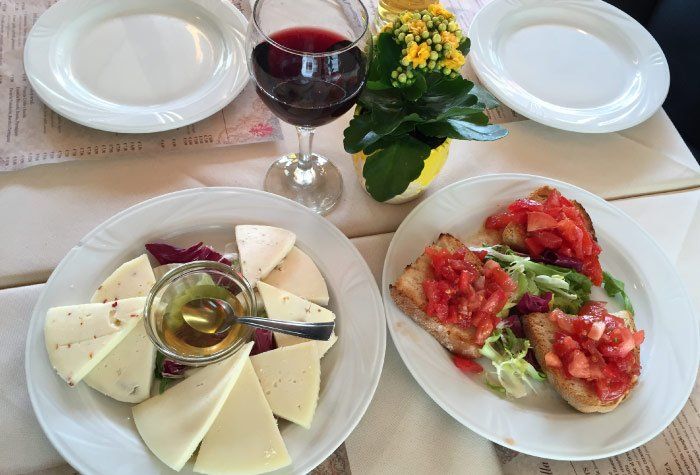 €€€ | High-End | Outdoor Seating
Probably one of the oldest restaurants in Florence, Ristorante dei Frescobaldi is still owned by the Frescobaldi, an ancient aristocratic Florentine family. Their philosophy is simple and it aims to maintain a vivid memory of their ancestors, the Frescobaldi marquis. From starters to wine, everything is made respecting Florentine tradition and products so, you might not be in a better place to try out some Tuscan food.
Address: Piazza della Signoria, 31 | Tel:+39 055 284724 |
Hours: 12 PM – 11 PM
Trattoria Roberto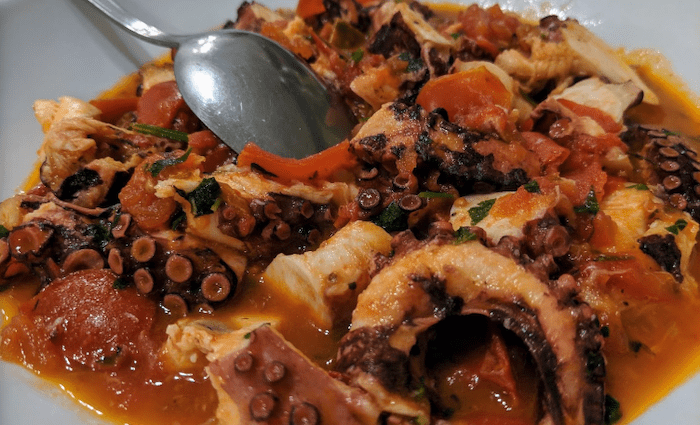 €€ | Authentic No Frills
The key to a great restaurant in Florence is high-quality ingredients cooked from traditional recipes and served by family. That is what makes this a nice little gem right along side of the Uffizi Gallery. Priced on the low end of the spectrum but fresh ingredients make this the perfect stop for an easy meal.
Address: Via dei Castellani, 4
Hours: Noon – 3pm | 7 – 10:30 pm | Closed Wednesday
Check Out Our Top Florence Activities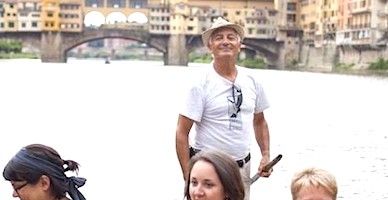 Top Rated Tour
Florentine Gondola Boat Tour
With an expert storytelling guide and local skipper, join this unique boat cruise experience. Hop onboard one of 4 remaining original Barchetti. Florence's answer to the Gondola, enjoy a memorable boat cruise down the Arno River. Sit back and relax as you take in the stunning sites along Florence's famous waterway. Glide under the Ponte Vecchio, taking in the iconic bridge that has spanned the Arno for over 8 centuries. Drinks and Refreshments Included.





Starting at €55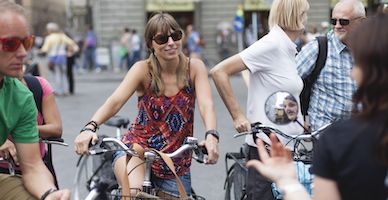 Likely to Sell Out
Florence in a Half Day by Bike Tour
With a local storytelling guide, strap on your helmet and hop on board for Florence's Best Bike Tour. Ride past the top sites of the city including the Duomo and Ponte Vecchio. Discover the cobblestone alleys and small piazzas across the historical center and across the river in Oltrarno. See the best of the Renaissance capital by bike before capping off the day with a delicious gelato.





Starting at €39
La Terrazza Continentale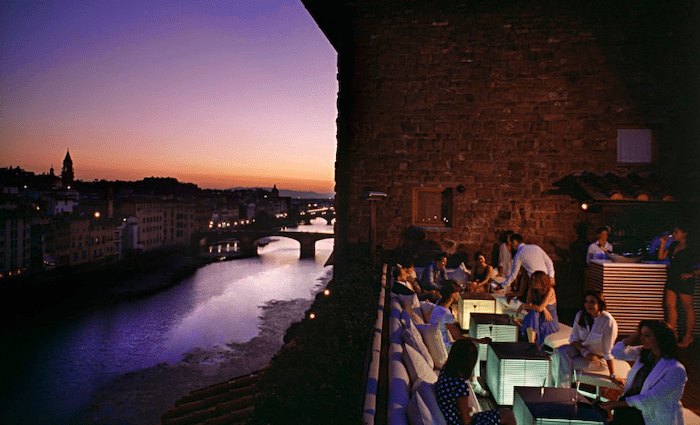 €€€ | Drinks with a View | Terrace Seating
Drinks almost always taste better with a great view. If you are looking for refreshments after your Uffizi Tour definitely check out La Terrazza Continentale. They have a more than modest view of Florence!
Address: Vicolo dell'Oro, 6
Hours: 5 – 11pm Daily
The idea of combining some good food with art masterpieces seems appealing, doesn't it? If so, you should take a look at all the Florence tours we offer to make this experience unforgettable! You could even try our food tours in Florence since they are such a unique way to experience the local culture.
---
I Want More Italy!
If you want us to arrange the entertainment in Florence (and beyond!), contact our Trip Planning Team to coordinate an unforgettable Italian experience.
Check out our YouTube video and step-by-step guide about how to do Florence in a Day. If you'd rather let us guide you, check out our Florence tours.