If you've never visited Chicago, you might not know how incredible the food scene is here. But major food sites frequently rave about the delicious food and flavors found only here in Chicago. Ok, so there are crossovers everywhere, but really, there is nothing like a Chicago deep-dish pizza or an Italian beef sandwich. Once you've tasted them, you'll never want to leave. So keep reading to discover the top foods to try in Chicago this year!
---
11 Must-Try Foods in Chicago
Deep-dish pizza. Is there anything more comforting (and filling) than a cheese-filled, deep-dish pizza piled high with freshly made sausage or pepperoni? I submit, there is not. Although, perhaps the Italian beef sandwich or a bowl of borscht comes in as close seconds. Most of all, Chicagoans are passionate about where their favorite food can be found.
Actually, there are so many incredible foods to eat here in Chicago that it's hard to narrow them down for this list. But you'll find sweet treats, hearty barbecue, warm Indian foods, and a rich Polish dish that will help stave off any chill from our often-present wind. Here's our list of the top foods to try in Chicago.
Pro Tip: Bookmark this article on your phone browser! That way you can pick out the spots that best suit your trip and are close to one of the best hotels in Chicago too.
11. Chicken Momo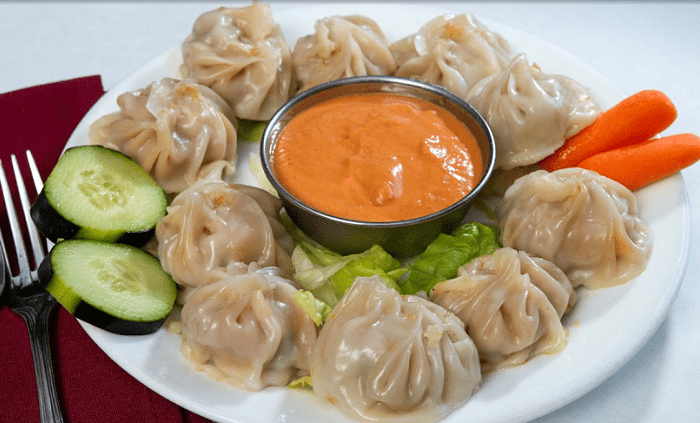 Some people just love spicy. And for travelers looking for a bit of heat, Devon Street is the place to go. This street on the north side of Chicago features food from across the subcontinent. Prominent cuisines include Indian, Pakastani, and Nepalese. And while the neighborhood features Indian spice and décor shops and hookah, though it's worth a visit for the food alone.
But much as I love spicy curry, what really stands out is their chicken momo. These chicken dumplings are filled with flavorful chicken and spices, served with a hearty tomato chutney.


Where to get it: Nepal House
Already booked a hotel? With free cancellation, there might be a better deal out there.
10. A Churro in Pilsen
You'll want to visit Pilsen but not just for the food. This neighborhood is home to the National Museum of Mexican Art, an abundance of street art, and jaw-dropping murals. And it's where you'll find fantastic churros. My personal recommendation is Xurro. You can order a plain churro or go bold with a stuffed churro, churros with ice cream, or a churro ice cream sandwich. There's really no wrong choice when it comes to churros at Xurro. And they're best served with their signature hot chocolate.

Where to get it: Xurro
9. Slam-Dunk BBQ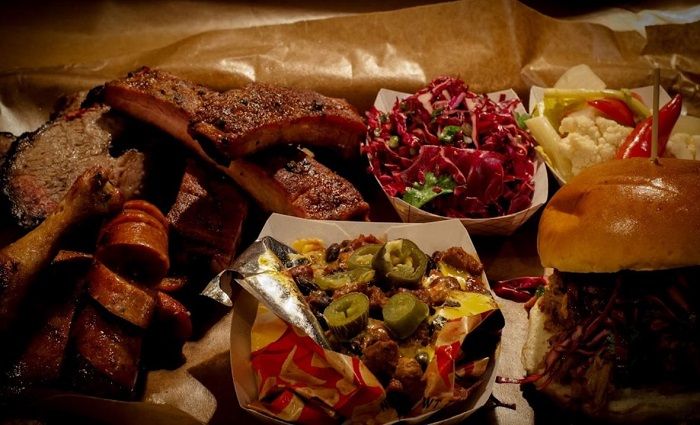 Texas, Kansas City, and North Carolina have carved a name for themselves as top barbecue meat destinations, but Chicago holds its own. You can easily find fantastic, melt-worthy brisket, rib tips, or burnt ends throughout the Windy City.
It's hard to choose just one spot, but if you head over to Green Street Smoked Meats, you won't go wrong. It's a cool old warehouse-style restaurant with down-home yet swanky ambiance. The brisket is just incredible, but so are the jalapeno cheddar hot links and beef short ribs. Mmm, excuse me while I head over there now.

Where to get it: Green Street Smoked Meats

8. Borscht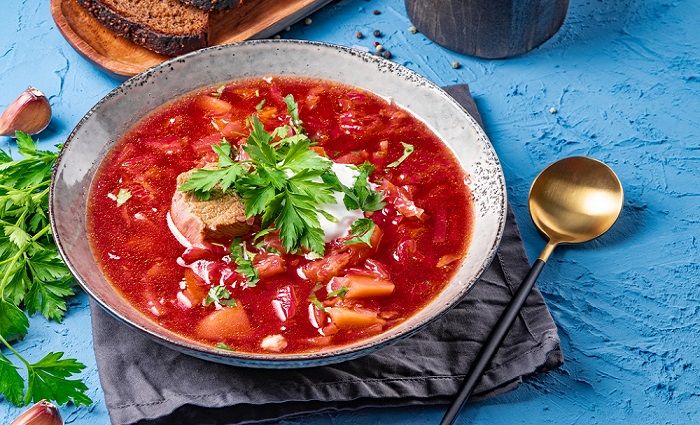 There's nowhere quite as Polish as Chicago—except, maybe Poland obviously. But with a massive Polish population in Chicago, there's bound to be some amazing food, which is why visitors absolutely must grab some Polish classics. As someone with a long Polish heritage, I can say that Podhalanka has the best Polish food in Chicago.
For those looking to take in a distinctively Chicago experience, and dive into the legacy of Polish Americans, you'll want a bowl of rich, red borscht soup. It tastes ten times better than it sounds. Promise.
Where to get it: Podhalanka
7. Empanada Central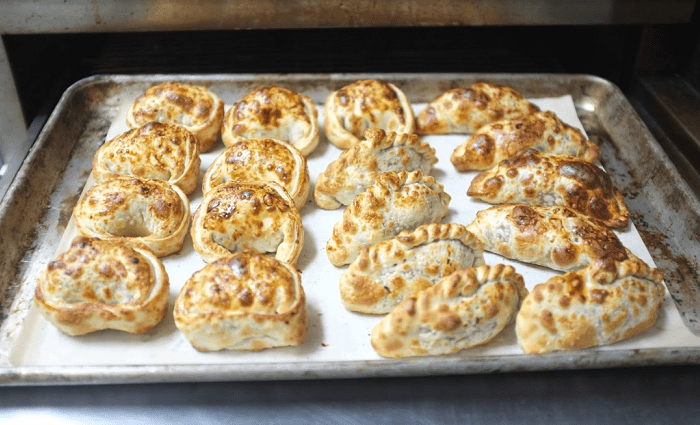 Fried dough with meat or sweet fillings. It's a simple combination, but when it's done well, it's unforgettable. And Chicago certainly provides plenty of empanadas. In Lakeview, the empanada corridor (Southport Avenue) features multiple empanada spots lined up in a row.
I recommend Cafe Tola. Stop in for some amazing meat and veggie empanadas as well as a delicious horchata lattè. Then compare with Empanada 5411 nearby since they're easily a runner-up.
Where to get it: Cafe Tola or Empanada 5411
6. BBQ Pork Buns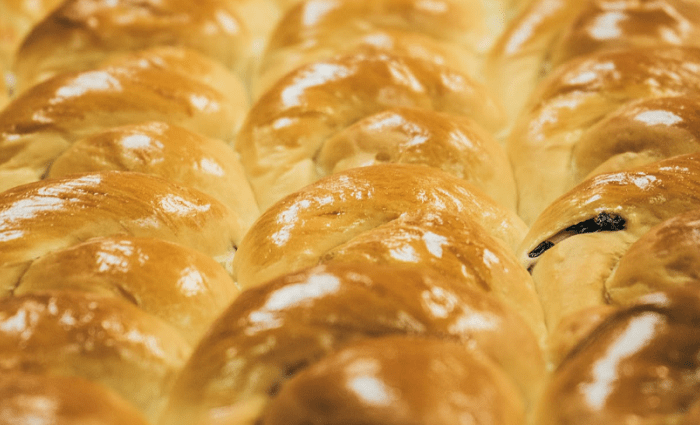 I highly recommend a trip to Chinatown. With the water taxi as a part of the CTA public transit service, hopping on a boat is as easy as taking a bus. So when you arrive in Chinatown, you'll find various food options. But no matter what, head to Chiu Quon Bakery & Dim Sum. It's an unassuming bakery, but their dumplings are cheap and delicious.
I recommend the BBQ pork steamed dumpling for a full burst of flavor. But whatever you choose, plan your order, then order an extra. You'll be glad you did.

Where to get it: Chiu Quon Bakery
Already booked a hotel? With free cancellation, there might be a better deal out there.
5. Caramelized Apple Pancakes
With fantastic nightlife, it's pretty feasible to wake up closer to midday in Chicago, which means brunch is a popular thing to do here. If you're looking for the best spots to grab brunch to cure your hangover—or grab mimosas to create your next one—Chicago delivers.
The best spot for Chicago brunch is definitely Bongo Room. And our recommendation is their decadent pancakes and French toast. Their caramelized apple pancakes with delicious mousse on top will linger in your memory long after you leave.

Where to get it: Bongo Room
4. Classy Bologna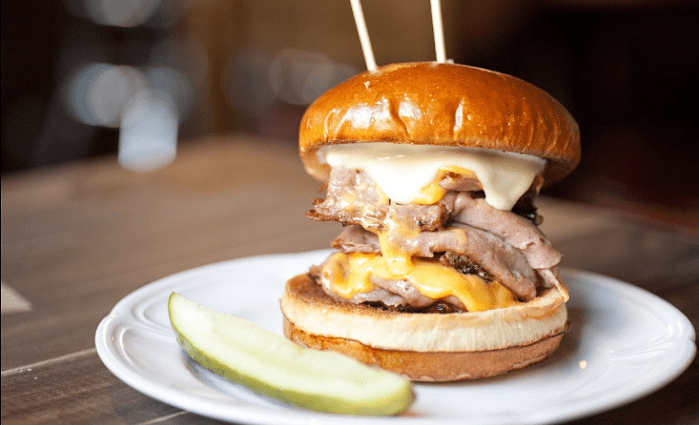 Looking for the food center of the city? Head to Fulton Market. In these few blocks downtown, Chicago's best restaurants compete to provide the best eats. It might not sound world-class, but trust me, you'll want to try the bologna sandwich at Au Cheval, a cozy, upscale diner. This house-made bologna takes the diner experience up a notch (or three), while you enjoy intimate vibes in this luxe little corner of Fulton Market.

Where to get it: Au Cheval
3. A Chicago-Style Hotdog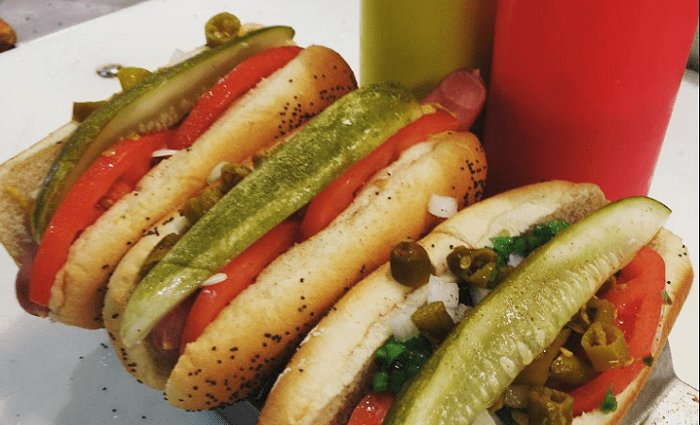 It's in the name. The Chicago Style hotdog is the staple of the city. Loaded high, each one is made with a beef frank, mustard, onions, relish, tomatoes, hot peppers, and just a smidge of celery salt. (And we can't forget the dill pickle spear!) Cheap and delicious, this is the meal that fueled the construction workers building skyscrapers, and the financial experts who worked inside.
For the best in Chicago, you'll want to check out Red Hot Ranch or Devil Dawgs. And even vegans and vegetarians will love Devil Dawgs' veggie-based options.

Where to get it: Devil Dawg's
2. Italian Beef Sandwich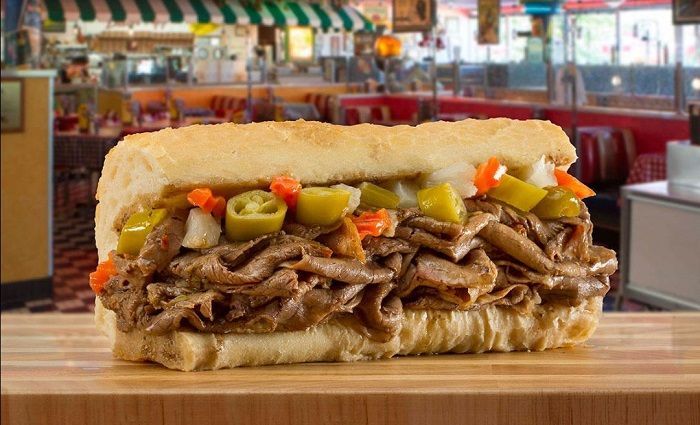 You might get wet on this ride. Chicago is known for its Italian beef. With a sizeable Italian American population who love their pepper-mix called giardiniera, it's no surprise. This is why there are dozens of spots boasting the best Italian beef in the city.
But experts know that when it comes to this sandwich the real question isn't "Where?" it's "How?" Specifically: dry, wet, or dipped? You'll be asked with every order. It's how you decide if you want no gravy, light, or heavy gravy smothering your delicious beef sandwich.
There are a few great spots in Chicago for Italian beef and everyone has their favorite spot, but I'm a fan of Portillo's. They also have phenomenal milkshakes and chocolate cake. Otherwise, you could also check out Johnnie's Beef for a great sandwich plus some Italian ice.
Where to get it: Portillo's or Johnnie's Beef
1. Deep-Dish Pizza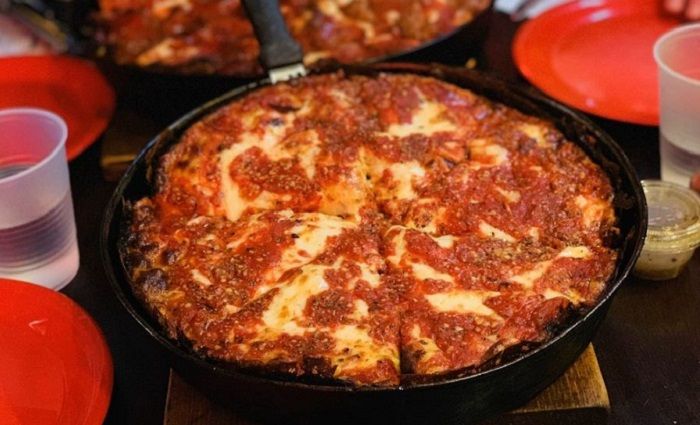 Chicago-style deep-dish pizza. No trip to Chicago would be complete without it, which is why it's the top food to try in Chicago. For a pizza pie—with a heavy emphasis on the "pie"—you'll want to try this local specialty. With a thick crust, piled high with cheese, and sauce on the top, a slice or two is a whole meal. But you might love it so much that you'll eat three to four slices.
Lou Malnati's has been around for years, but you won't find top quality at every location, so choose wisely. You can also head to another old staple with consistent quality: Pequods. My recommendation is to grab a deep-dish cheese pizza. It might be simple, but when you're eating this thick pizza pie, you definitely won't find it plain.

Where to get it: Lou Malnati's, Pequods, or Gino's East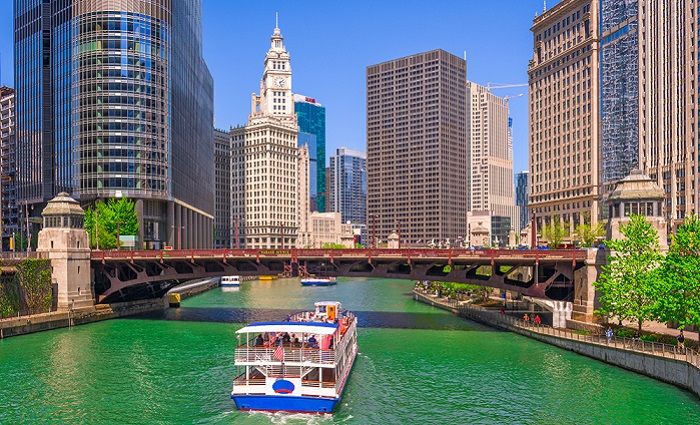 Find the best places to stay
Best Hotels in Chicago
Stay at some of the coolest luxury and mid-range hotels in Chicago, including the iconic flat-iron building. We've put together the best hotels in Chicago for your convenience.