A trip is all about the destination, but a vacation? That's all about where you stay. And with a few iconic neighborhoods, incredible food, and amazing museums, Chicago is certainly a spectacular destination. But let's make sure you also know the best hotels in Chicago. Each option on our list is worth considering because a great hotel experience is central to any great vacation.
---
Our Partnership with Booking.com. If you like our content, please book by clicking on our Booking.com links. The price is the same for you, and we get a small commission that helps support our blog. We've partnered with Booking.com because they have the most options, great prices, and a solid loyalty program. Just about every hotel is on Booking so our recommendations are not incentivized.
The Top 12 Hotels in Chicago
Chicago is a world-class city, and that means it features its fair share of world-class hotels. And with incredible competition for tourists' attention, the best Chicago hotels don't just offer exceptional service, they absorb you as a part of the city.
With great locations and historic buildings, the best hotels offer modern amenities inside some of the unique facades Chicago is known for. That's why this list brings together a collection of Chicago's best hotels for any budget.
There are options that will help you recreate the decadence of the Roaring Twenties, and some cheaper listings so you can enjoy all that Chicago has to offer, even your budget feels more like the 1930s. Here are our best hotels in Chicago.
The Drake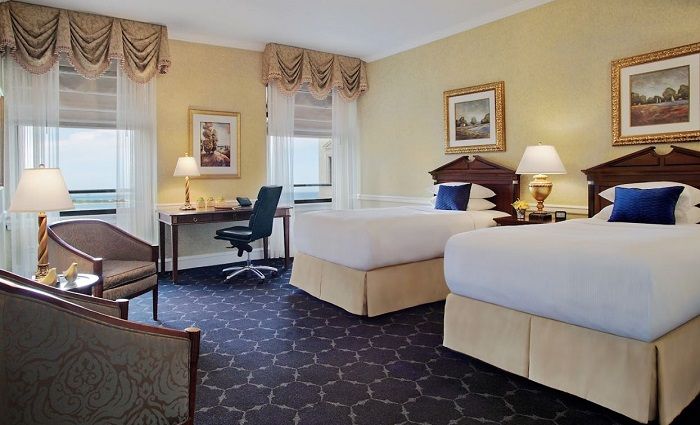 $$$+ | 5 Star | Chicago Classic | Lake Access | Afternoon Teatime
Are you a fan of teatime? The Drake is Chicago's pre-eminent hotel. Along the Magnificent Mile next to Lake Michigan, The Drake's location is second-to-none. And when you walk inside, you'll feel it.
The Drake has a regal elegance and a daily teatime that has host icons such as Bing Crosby, Walt Disney, George Gershwin, and Charles Lindbergh. So join the storied history of the Drake, where legends like Marilyn Monroe and Joe DiMaggio have stayed in past years.
You'll be able to slow down and relax within walking distance of the bustling city center.
The Robey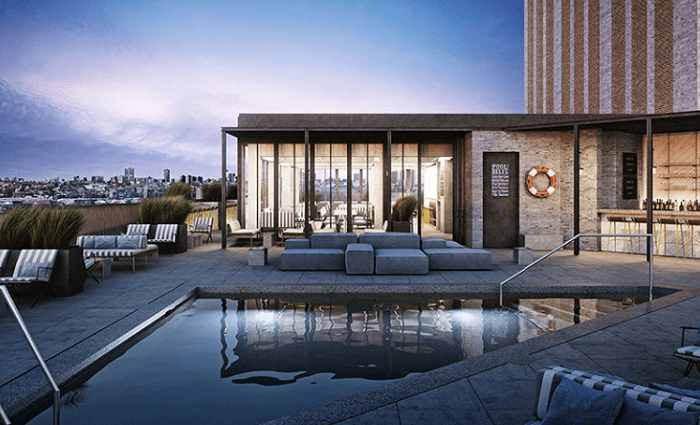 $$+ | 4 Star | Rooftop Pool | Historic Chicago Architecture
The Robey stands out. Literally. In the middle of trendy Wicker Park, The Robey towers above everything else in the vicinity and offers unmatched views of the Chicago skyline. In this historic triangle building, this hotel features a bar, café, and rooftop pool.
And since it's right across from the Blue line stop, it's a quick ride to O'Hare airport or downtown. The hotel maintains an industrial modern vibe that carries into the rooms (some of which aren't terribly spacious) but they all have lots of sunlight.
Then add the attentive staff and access to multiple gorgeous lounges? The Robey is easily one of the best hotels in Chicago.
The Willows Hotel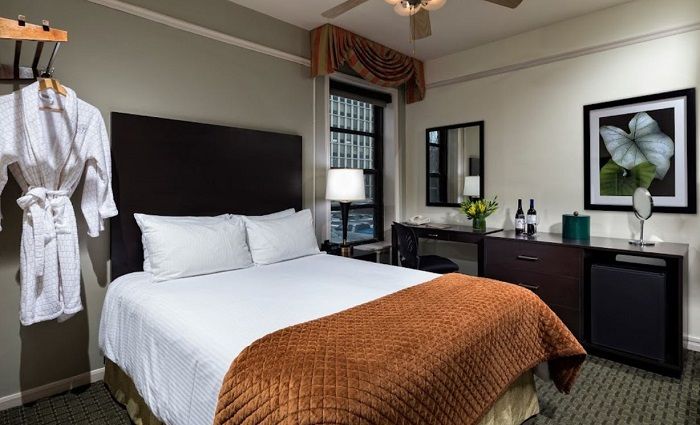 $$ | 4 Star | Eclectic | Excellent Amenities & Location
If you're not looking to break the bank, but still looking for somewhere memorable, you'll want to try The Willows Hotel. This spot in Lincoln Park is a short walk from the Lincoln Park Zoo, but that's hardly the most interesting thing about it.
The vibes in the common areas of this hotel pay tribute to the nearby zoo with bold colors and patterns, which means kids might just love it.
You'll stay in one of 51 rooms or 4 suites, all of which have mini fridges and bathrobes. The Willows takes the atmosphere of a B&B and streamlines it into a quirky and down-to-earth hotel, yet it still has the phenomenal service you'd expect from a top hotel.
21c Museum Hotel Chicago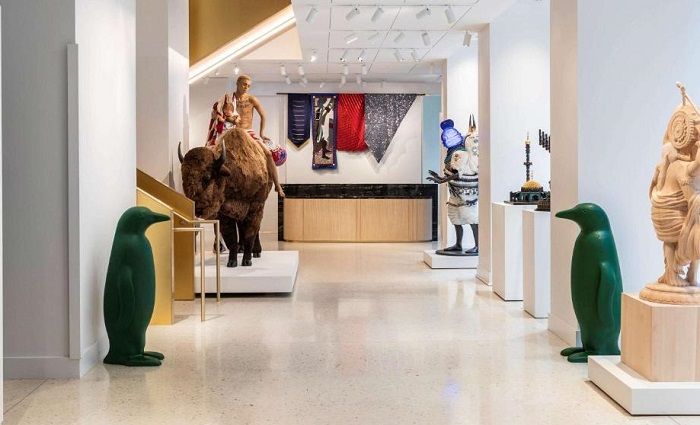 $$$ | 4 Star | Museum + Hotel | On-Site Spa
If you're a museum lover, 21c is probably the spot for you. This modern hotel is gorgeous. The rooms are luxurious, inspired by contemporary art, and feature the standard amenities of free Wi-Fi and a mini-bar, but no mini fridges or microwaves.
But outside of your room in 21c, you'll find the entire hotel is an elaborate art museum featuring contemporary artists. Walking through the dark and moody hallways of this hotel is its own cultural experience. The location is close to Mag Mile and the Field Museum, Shedd, Aquarium, and Adler Aquarium nearby.

Location, photos, and booking
Planning your trip to Chicago? Check out our list of the Top Things to Do and Best Foods To Try in Chicago!
Ambassador Chicago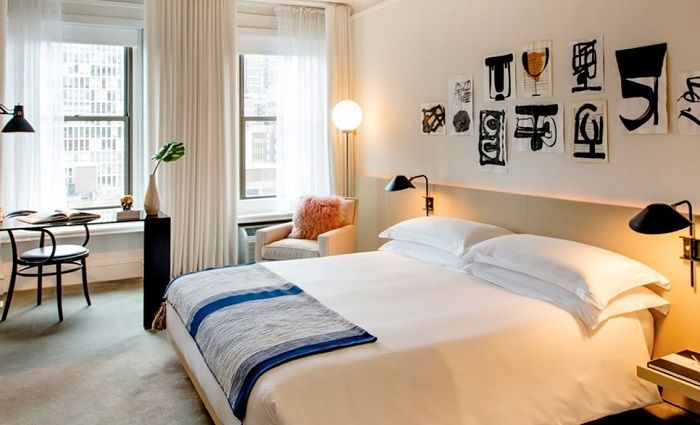 $$$ | 4 Star | Incredible Interior | Coffeeshop, Bar, Restaurant
Ambassador Chicago sits in the Gold Coast neighborhood—one of the most luxurious parts of Chicago. And the moment you walk in, you feel it. With a warm marble fireplace in the lobby, and classic white-on-white contemporary rooms, the Ambassador feels as luxurious as any 5 star hotel. And with an on-site coffee shop, bar, and restaurant, as well as a fitness room, it's everything you'd need.
Not to mention Gold Coast features some absolute gorgeous facades on other buildings. So whether you're inside the Ambassador, or walking the streets of Gold Coast, you'll want to keep an eye on the architecture here.
The Leavitt Street Inn & Tavern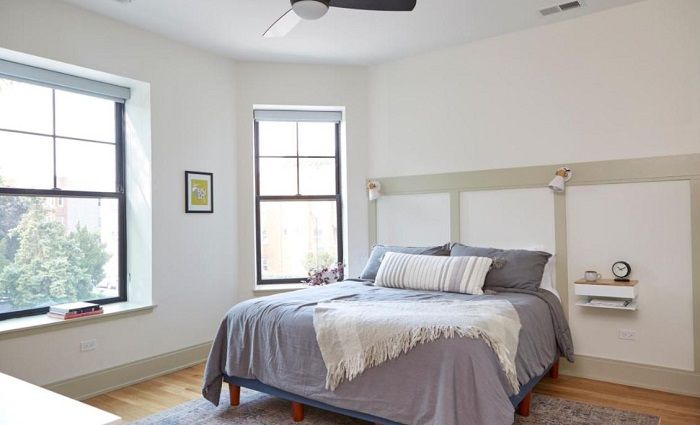 $$ | 3 Star | Upscale Tavern | For Local Vibes
If you've ever wanted to experience a tavern or inn, you might want to try Leavitt Street. This spot is outside of downtown Chicago in nearby Bucktown. You'll find a charming little tavern-style inn with quaint rooms and hardwood floors—only three of them! The word "inn" doesn't quite do it justice though.
Guests can use a shared kitchen, and they have access to a gorgeous terrace. But downstairs you'll find a chill bar with local beers on tap. With the bed and breakfast beerfest setup, Leavitt Street is a perfect spot for a relaxing weekend away.
If you're looking for something non-traditional, or enjoy an upscale hostel sort of feel, this is a brilliant choice to live like a Chicago native.

Location, photos, and booking
Viceroy Chicago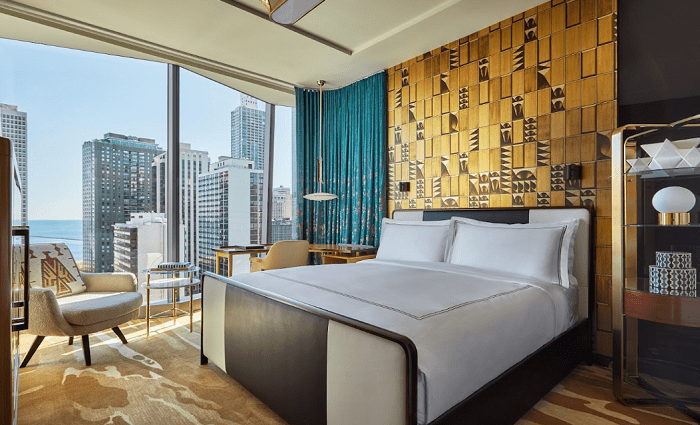 $$$ | 5 Star | Vivid Decor | Rooftop Bar & Pool
It's called Viceroy Chicago, and that's because you'll probably feel like royalty staying here. With absolutely stunning rooms and an art deco feel, this Gold Coast hotel is photo-worthy from every angle. But you probably won't have time for photos since it has a rooftop bar, lounge, and pool.
You'll probably be too busy taking in the incredible views of the city. If you do decide to leave the hotel, you'll find yourself right near Magnificent Mile, as well as a Red Line L stop for easily getting around the city. It's hands-down one of the best hotels in Chicago.
The Publishing House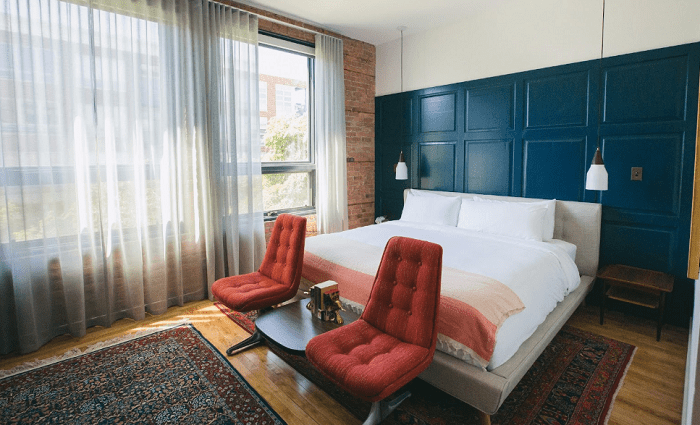 $$$ | 4 Star | Bed & Breakfast | Modern Decor
Oftentimes bed and breakfasts get a reputation for being quaint, old-timey, or rustic. The Publishing House is anything but. Deeply modern with a gorgeous common area, this bed and breakfast offers a bar and shared lounge area right in the middle of West Loop.
This boutique bed and breakfast features a buffet breakfast better than most brunches, and plenty of common areas to socialize. If you're looking for absolute privacy, this might not be the right spot for you. But if you want to up your community vibes game, or you just want to make a new travel buddy, The Publishing House is the place to do it.
Just act quickly, so you can grab on of the 11 rooms here—some of which have deep-soaking tubs!
Warwick Allerton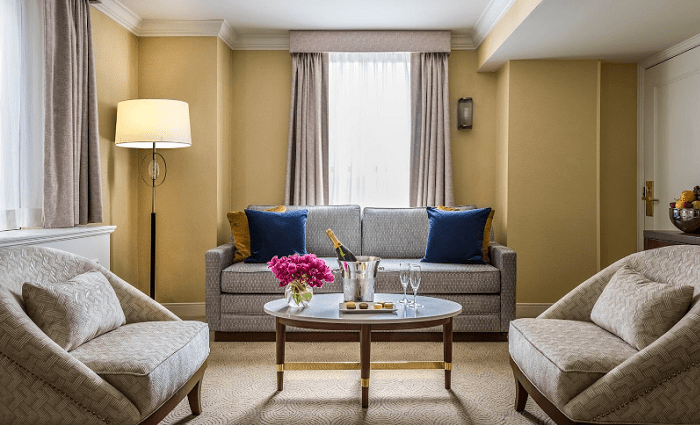 $$$ | 4 Star | Amazing Location | Elegant Old Bones
The Warwick Allerton is a Chicago landmark. Featuring a giant neon sign that dominates Magnificent Mile, anyone who walks the area has spotted this hotel. Sadly, the iconic rooftop bar is no longer open, but the location is still ideal.
With suites that offer sky-high views of the city, the Allerton is ideal for city sightseeing. Most rooms around the beds are a little small, and you'll find some hidden fees, but the marble bathrooms and separate sitting rooms make up for it.
This is a more traditional hotel, where the rooms are comfortable and warm. But you'll love the unparalleled access to the city, and easy navigability just by looking for the neon "Tip Top Tap" sign.
Pendry Chicago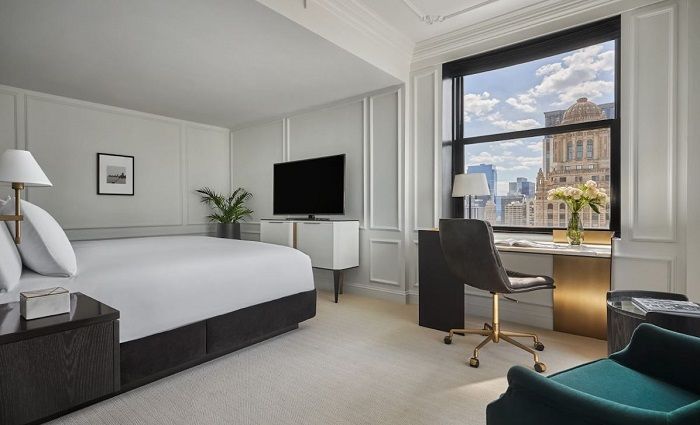 $$ | 4 Star | Old & New | Amazing Location
Pendry is a perfect cocktail of both new and old. Paying homage to old-school Chicago, this hotel features gorgeous architecture and a jaw-dropping interior. Think: gold-toned lobby.
Pendry balances elements of the boutique hotel against the upscale hotel, and it showcases vintage styles in a way that's absolutely brand new. For instance, every Sunday you can join them for tea time where they make cocktails using a tea base.
The rooms themselves are a bit less ostentatious than the lobby, but the views are incredible. If we're honest, the suites are a little bit underwhelming, except for the fact that they're more spacious than many Chicago hotel rooms.
Not to mention, this hotel is also along Magnificent Mile,—just a short walk away from Water Tower Place. Pendry is one of the best hotels in Chicago at a great price.
Hotel ECM2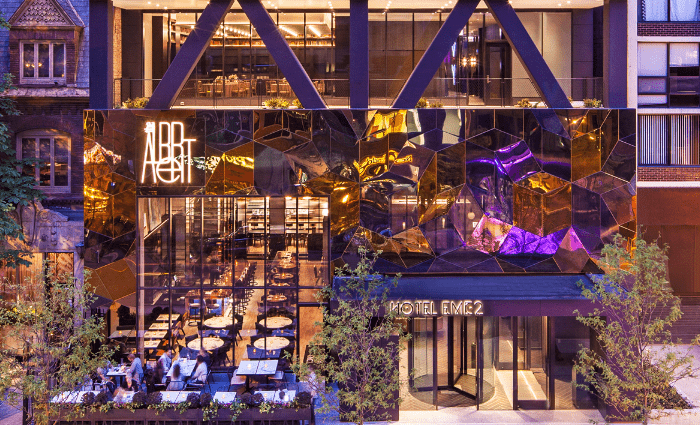 $$ | 3 Star | Massive Pool Deck | $1 Blackjack
This boutique hotel is gorgeous. And with everything themed after Einstein, you might feel smarter after staying here. The restaurant is named The Albert Tavern, and the brunch is pretty top-notch.
You'll love the unique rooms that are dark, swanky, and industrial all in one. The bathrooms are enclosed by glass, but don't worry, you can just pull the curtain for privacy.
But what I find most fun about ECM2 are the robots: Leo and Cleo. These robotic helpers are definitely a gimmick, but alongside the science and technology theme, they make EMC2 feel like you really are living at the cutting edge of technology.
So if you want to have a high-tech vacation, or just stay in an unforgettable boutique hotel in downtown Chicago, choose to be a genius by staying at Hotel EMC2.
Sable at Navy Pier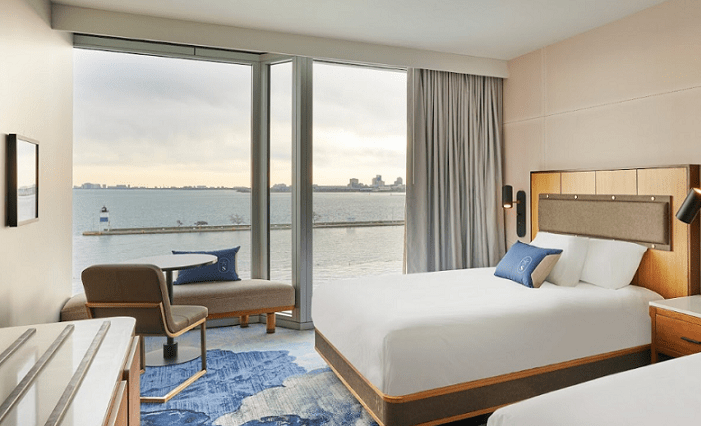 $$ | 4 Star | On the Lake | Skyline Views
Navy Pier is a legendary Chicago spot. With food, shops, a gigantic Ferris wheel, as well as the stream of boats and cruise opportunities, the pier is worth a visit. If you want to make it a centerpiece of your visit with a lakeside view, Sable is the perfect spot.
You'll feel comfortable in a clean, crisp hotel by Hilton with classy decor and traditional amenities, though we do wish they had microwaves and fridges in the rooms. To make up for it, you'll find Chicago Shakespeare Theater, the Children's Museum, and easy access to Mag Mile right outside the hotel.
Best of all, Navy Pier hosts a regular fireworks show (Wednesday and Saturday nights in the summer). If you stay at Sable, you'll be perfectly positioned to view the fireworks and the Chicago skyline glistening in the water.