Visitors to Chicago have an obligation to eat their share of street food, and the Windy City delivers. This is a town known for its Italian beef, and the Chicago-style hot dogs. But it's only possible to eat so many fully-loaded dogs before your stomach starts to churn. Sometimes you just need a real meal, which is why this local foodie has built a list of the best restaurants in Chicago.
---
The Best Places To Eat in Chicago
Visitors to Chicago find themselves faced with a thriving food scene. But for every best restaurant in Chicago with a one-of-a-kind atmosphere and sensational food, there's an equal amount of tourist bait. Since every trip is unique in duration, price range, and mobility, it's important to plan wisely.
That's why this list is here to help you discern what's a premier restaurant and what's just puffery. Whatever you're craving, be it deep-dish pizza, Indian, Greek, or Michelin-star dining, you'll find a memorable place to eat.
Untitled Supper Club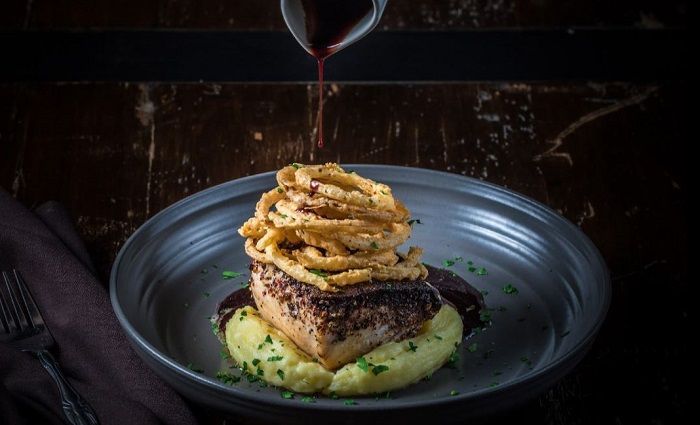 $$ | Jazz Club | Raw Bar | Swanky Speakeasy
Nothing says Chicago quite like a speakeasy. Most of our readers missed the Roaring 20s the first time around. But Untitled Supper Club offers the chance to feel like Al Capone. This underground jazz club, bar, and restaurant, called Untitled Supper Club is a downtown spot to indulge.
Featuring pasta, a raw bar, and steaks, it's possible to eat old-style Italian and not break the bank. Or you can experience the bootlegging lifestyle: order oysters and ignore the price tag.
Address: 111 W Kinzie St, Chicago
90 Miles Cuban Cafe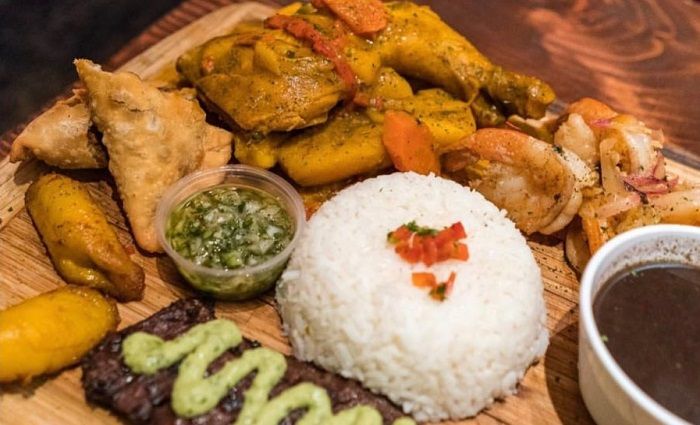 $$ | Authentic Cuban | Creative Atmosphere
Chicago in the winter is not to be trifled with. So when locals are feeling chilly, the response is a trip to 90 Miles Cuban Cafe. Escaping the cold, you'll find this delicious Cuban spot in the hip Logan Square (and one in Roscoe Village).
It features stellar sandwiches, but also authentic Cuban dishes where simple staples, meat, rice, and beans absolutely stand out. That's why if you're looking to beat the cold or stop for a taste of Cuba while you're visiting Chicago, you won't regret heading to 90 Miles.
Address: 2540 W Armitage Ave
Alinea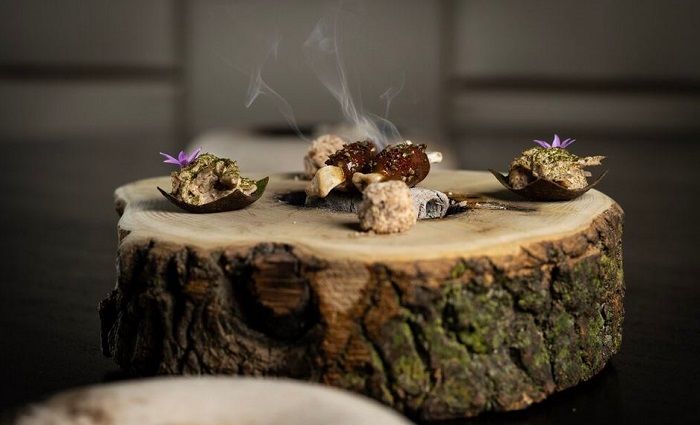 $$$$ | World-Class | Experiential Dining | 3 Michelin Stars
Nothing beats Alinea. This one-of-a-kind restaurant is located in Lincoln Park, and it's worth the trip. Why? Because Alinea is the absolute best Chicago has to offer. Boasting 3 Michelin stars and world-class food, Alinea is premier. Though the price tag is around $400 per person, it's expensive but this is experiential dining taken to the limits.
This inventive tasting menu is aimed at Chicago's "who's who." So if you're willing to spend the money (and plan a reservation), Alinea is an absolute sensation, which is why it's on our best restaurants in Chicago list.
Address: 1723 N Halsted St, Chicago
Kuma's Corner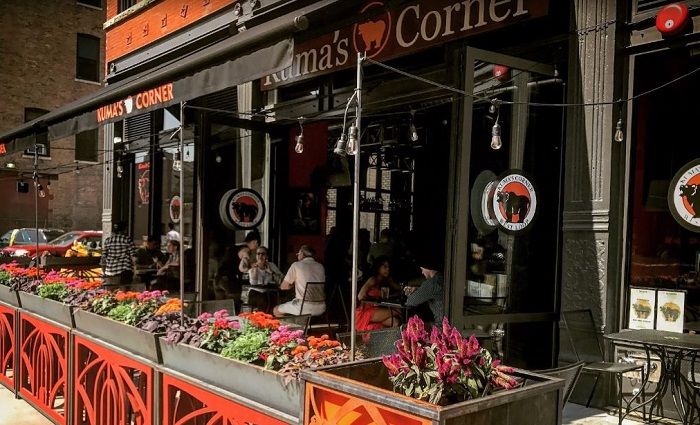 $$ | Heavy Metal Theme | Gourmet Burgers
Not everyone enjoys heavy metal. Personally, I'm not a fan, but what I do enjoy is Kuma's Corner—a heavy-metal-themed burger joint at Fulton Market. They also have a range of local beers on tap. The menu is mid-ranged as far as burgers go, and everything is themed after metal bands.
Burgers include the "Goatsnake," "Black Sabbath," and "Iron Maiden" and the interior has industrial vibes and heavy metal memorabilia. Kuma's is certainly not for the faint of heart, but it's delicious and worth the trip.
Address: 852 W Fulton Market, Chicago
Lou Malnati's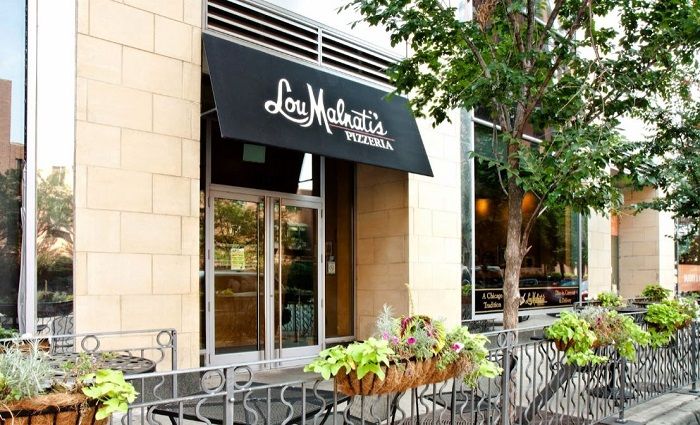 $$ | Deep Dish Pizza | Classic Italian
If you're in Chicago, you've gotta get the deep-dish pizza. Everyone has their opinion about "the right spot." But for locals, there's nowhere quite like Lou Malnati's, though every location doesn't have the best quality. Each pizza runs for around $20, but you won't want more than a few slices. Chicago style is heavy.
You can add toppings or don't. That's right. It doesn't matter that much, because it's all about the cheese. Because if you're a cheese-lover visiting Chicago, you absolutely don't want to miss the deep dish.

Address: 805 S State St, Chicago
Andros Taverna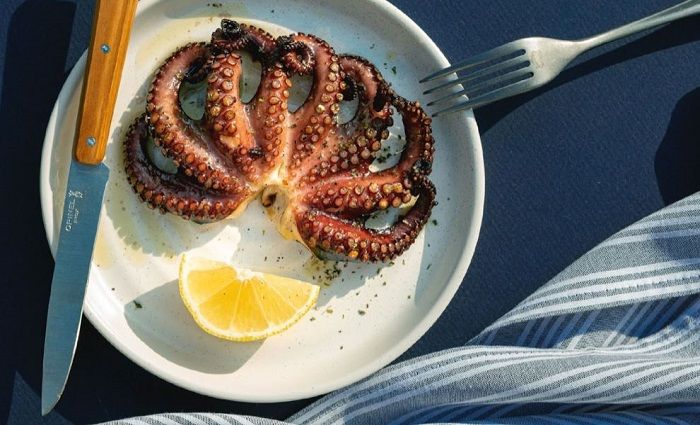 $$$ | Modern Greek | Upscale Ambience
This is not your grandpa's Greek food. Andros Taverna in Logan Square is delicious and distinctively modern. With valet parking, $30 entrees, and amazing appetizers, this isn't a budget meal, but it's absolutely worth every penny.
The Moussaka is creamier than any eggplant you've eaten before. And if you're willing to splurge, order the octopus. It melts in your mouth.
Address: 2542 N Milwaukee Ave
Chicago French Market
$$ | International Cuisine | Lots of Options | Bustling Vibes
French Market is a perfect compromise among cuisines. You'll want to head over to this downtown spot to find small food stands featuring food from around the world. When one person wants empanadas and the other is feeling a lobster roll, French Market solves your dilemma.
I recommend the Cajun food or the lobster rolls. Whether you want cheap, or a little less cheap, French Market comes through.
Address: 131 N Clinton St, Chicago
ROOH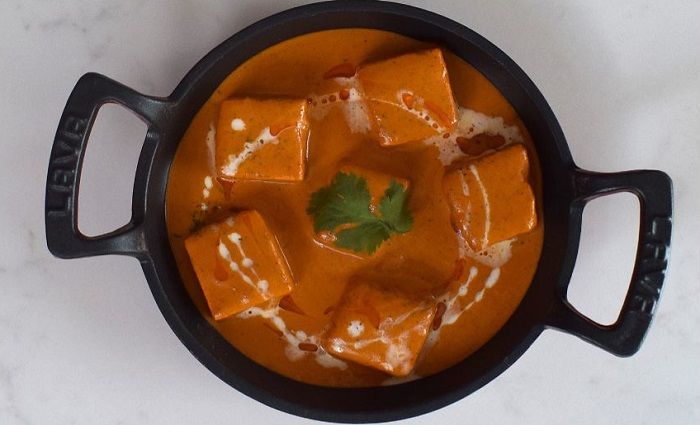 $$$ | Contemporary Indian | Innovative Cocktails
As a huge fan of Indian food, I didn't expect Chicago to offer much. But ROOH is an exception. You'll want to head to the food district at Fulton Market for ROOH's modern take on Indian. At first, I was put off by the price tag—it's a little more expensive than expected at $30 for a large plate—but it's well worth it.
This is Indian food taken up a notch. So if you're looking for authenticity, head to the Little India district near Evanston. But if you want the best in Chicago? Head to ROOH.
Address: 736 W Randolph St
Dr. Bird's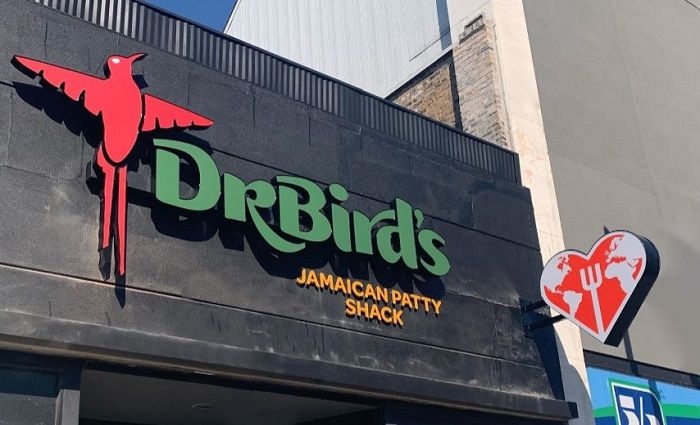 $ | Jamaican Classics | Comfort Food
This spot seems unassuming: the exterior and the cheap prices don't indicate anything special. But Dr. Bird's is a gem. This cheap Caribbean restaurant is the best spot in Wicker Park. With jerk chicken, "Rasta Pasta", tacos and poutine, the menu can seem eclectic, but order whatever you like.
Every item is incredible, and I enjoy the simple dishes. There's nothing quite like their coco rice. And for its price range, Dr. Bird's is cheap for exceptional food.
Address: 1215 N Milwaukee Ave
Mott Street
$$$ | Asian Fusion | Shareable Plates
This is Asian fusion done right. Mott Street in Wicker Park knows its cuisine well. Their menu is built around spectacular shareables for around $25 a plate. It's not that these plates are small, but you'll want to share as they can be very rich.
In my experience, the fire chicken, and brussels sprouts are spectacular. If you come before 7 pm, they also feature the famous Mott Burger, which spawned its own restaurant, Mini Mott.
Address: 1401 N Ashland Ave
Reno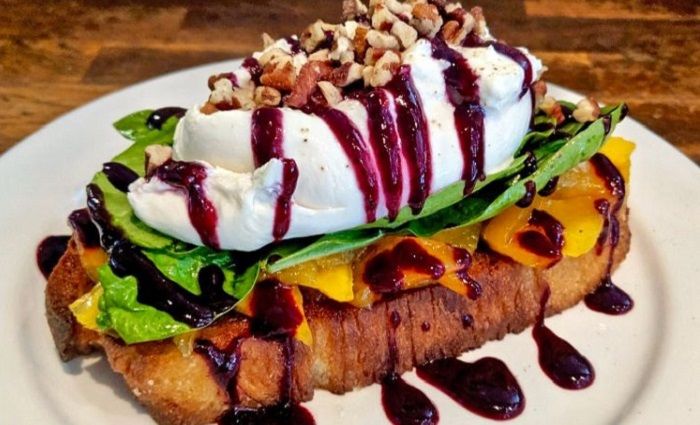 $$ | Trendy Brunch | Wood-Fired Pizza
What more could you ask for than Reno? Their menu features bagels, pizza, sandwiches, and brunch—but not all at once. Depending on what time you visit this Logan Square spot, you'll find a different (equally delicious) menu. This spot is around $20 for dinner, $15 for lunch, and $10 for brunch.
Personally, I recommend the garlic focaccia and the popeye for dinner. Or the Logan sandwich if you pop by for lunch. But honestly, there's never a bad time to visit Reno.
Address: 2607 N Milwaukee Ave, Chicago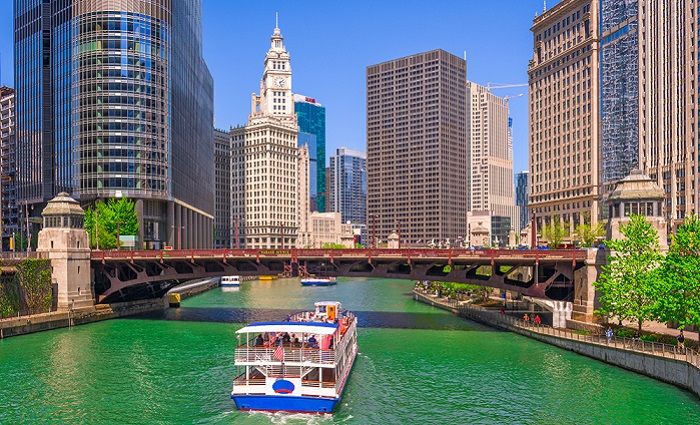 Find the best places to stay
Best Hotels in Chicago
Stay at some of the coolest luxury and mid-range hotels in Chicago, including the iconic flat-iron building. We've put together the best hotels in Chicago for your convenience.