Seville is Spain's fourth biggest city, but it has a real local feel. Each neighborhood has its own vibe, so you'll want to pick the one that suits you to get the most out of your trip. To help with that, I used my local knowledge to create a guide on where to stay on your upcoming visit. It covers four of the most popular districts, each offering a different ambience, so read on to find out where to stay in Seville.
---
Where To Stay in Seville: Best Hotels and Neighborhoods
If you are an active person, Seville is small enough to explore on foot. But if you are short on time, the metro comes in handy. That's why three of the four neighborhoods I have picked have metro stations close by. The exception is Macarena, which is a short walk from the old town and all the main attractions.
The city also has an excellent bus service and taxis are cheap. So, whichever neighborhood you chose, there's no need to rent a car in Seville to see all the best attractions.
Our Partnership with Booking.com. If you like our content, please book by clicking on our Booking.com links. The price is the same for you, and we get a small commission that helps support our blog. We've partnered with Booking.com because they have the most options, great prices, and a solid loyalty program. Just about every hotel is on Booking so our recommendations are not incentivized.
Casco Antiguo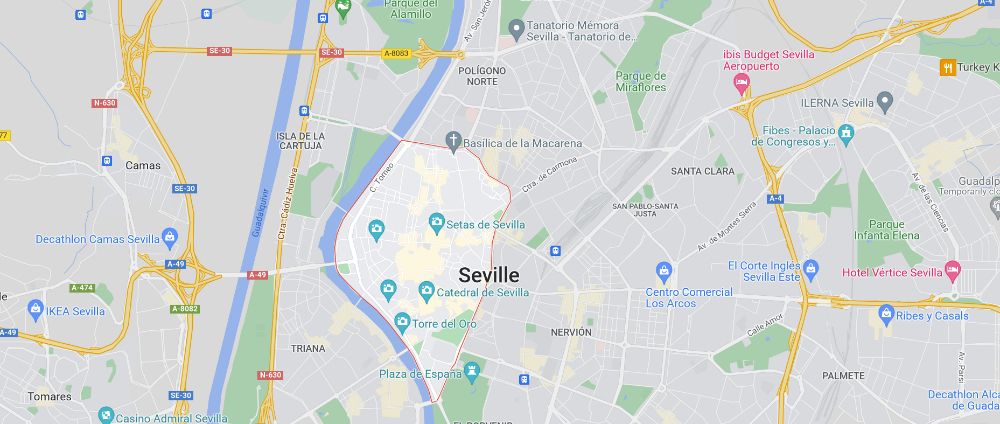 Casco Antiguo is Seville's old town. It covers four square kilometers and hosts some of the city's most famous landmarks. Among the many medieval and Renaissance buildings are the Seville Cathedral and the Alcázar.
There are countless narrow streets to explore. Each is packed with bars where you can enjoy local food and wine. You might even stumble upon an impromptu flamenco performance. The old town is the perfect place to get a sense of everyday Seville life. As it is now, and as it was years ago.
Why I love Casco Antiguo
Sightseeing
Get the Seville vibe
Wandering the old streets
Great restaurants
Gift shops
Attractions in Casco Antiguo
Setas de Sevilla
Seville Cathedral
Seville Museum of Fine Arts
Real Alcázar
Best Restaurants in Casco Antiguo
Dos de Mayo – Local favourite
Cañabota – Michelin-starred fish restaurant
Bodeguita Antonio Romero Origen – Classic Andalusian
Bodeguita Romero – Pringá specialists
Best Hotels in Casco Antiguo:
Hotel Gravina 51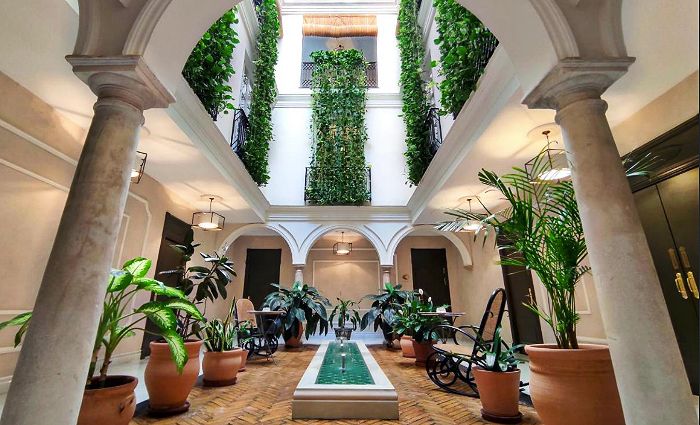 €€€ | 4 Star | Boutique Style | Great location | Attentive service
For a taste of Seville luxury, book yourself into this 18th-century manor house that showcases the finer side of traditional Seville life. There are two stunning patios in the traditional Seville style. Plus, all the amenities you would expect from a 4-star establishment. All the major attractions are within walking distance. Best of all is the service, which is among the most attentive you'll receive in the city.
Basic Hotel Sevilla Catedral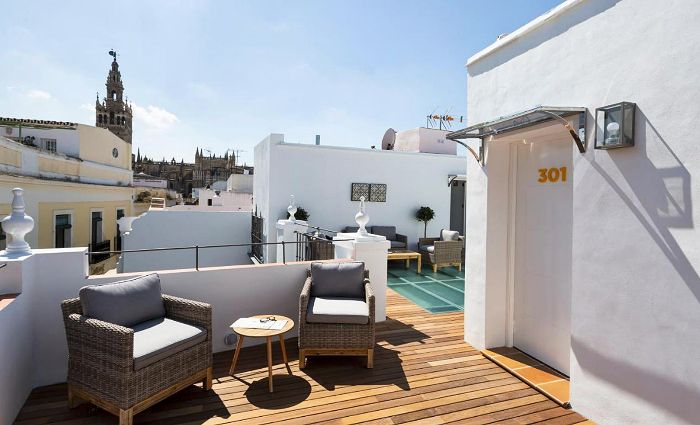 €€ | 1 Star | Modern | Close to Cathedral | Great Price-to-Quality Ratio
Yet another 18th-century reform, but this time in a more modern style. This hotel has a relaxed city ambience and is popular with couples. The location is perfect for those looking to be at the heart of things. And the roof terrace with cathedral views is the perfect space to chill out any time of day.
Hotel Alcántara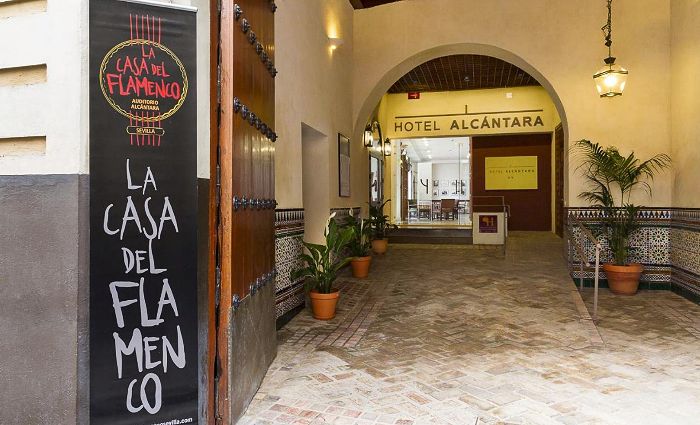 € | 2 Star | Budget Option | Family Run | Live Flamenco Next Door
Hotel Alcántara sits in the Santa Cruz neighbourhood, the old Jewish Quarter. It is a maze of winding streets full of old town charm. The friendly hotel owners also run the flamenco house next door, which has nightly shows. There are patios in traditional Andaluz style, while the rooms are simple and bright. The perfect budget option.
Nervión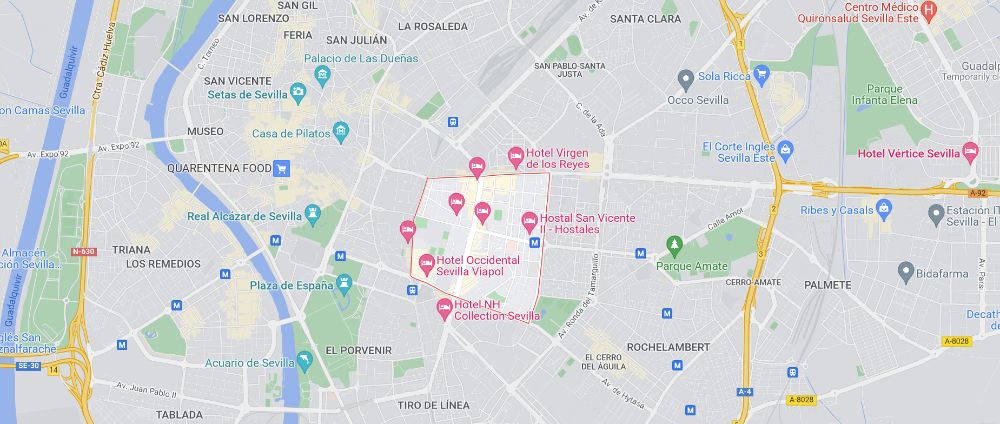 Nervión is a short walk from the old town, but it is also on the metro route, so you can get there and back in minutes. Sandwiched between the city and suburbs, it is an upmarket location. There's excellent shopping in the district with top fashion brands and department stores. There are also fabulous restaurants including Mareaviva, which is featured in our Seville restaurant guide. Also in the heart of Nervión is Estadio Ramón Sánchez-Pizjuán: home of Sevilla FC (football club).
Why I love Nervión
Uptown vibes
Watching Sevilla FC
Shopping
Wine bars
Attractions in Nervión
Estadio Ramon Sanchez Pizjuan – Stadium of Sevilla FC
Nervión Plaza – Shopping Mall
Parroquia de la Concepción Inmaculada – Local church
Jardines de la Buhaira – Moorish gardens
Best Restaurants in Nervión
Flor de Sal – Wine tasting bar
Mareaviva – Seafood
Vineria San Telmo – Creative tapas and extensive wine list
Best Hotels in Nervión:
Torreón Santa Cruz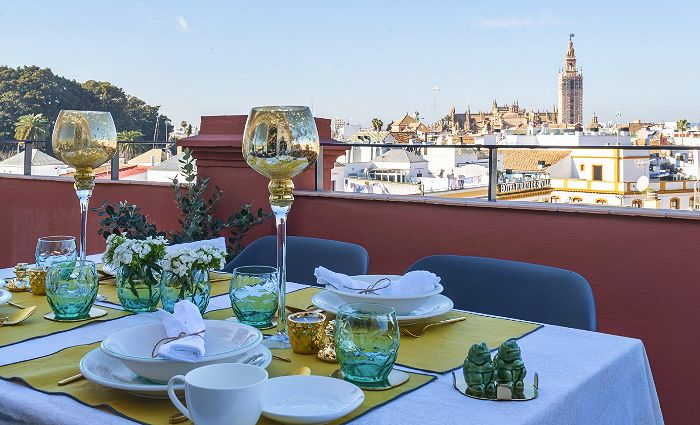 €€ | Apartment Living | 10 Minutes from the Center | Local Vibe
Torreon de Santa Cruz offers luxury apartment accommodation in the heart of the city. The building sits on the edge of the old town, just a 10-minute walk from the cathedral. It offers visitors a different perspective with fantastic views from its terraces. A great option if you want to feel like a well-heeled local on your trip.
Occidental Sevilla Viapol
€€+ | 4 Star | Shopping Outlet | Quiet | Near the Best Transit Stops
For a more luxury option that doesn't cost a whole lot more, try the Occidental Sevilla Viapol. It's the ideal location here in Nervión since it's just across from the shopping outlets, plus the bus and metro lines are here too. Super convenient. You'll find a delicious breakfast, on-site restaurant, and a heated outdoor pool to enjoy after wandering the local shops.
Basic Hotel Doña Manuela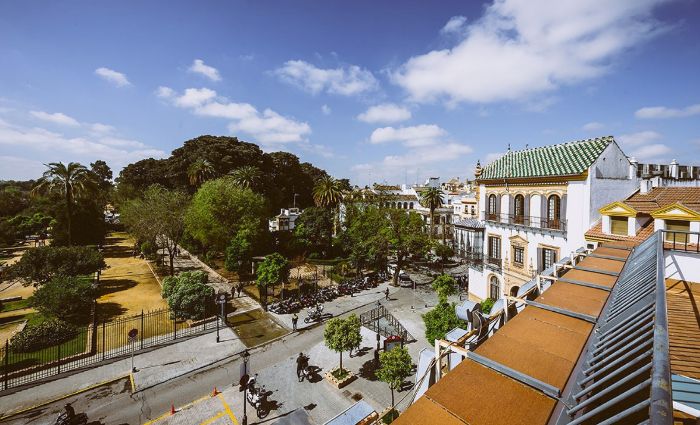 €€ | 2 Star | Laid Back | Park Views | Traditional Style
Hotel Doña Manuela occupies a prime location right where Nervión meets the old town. It oozes tradition but has all the modern amenities. The roof terrace offers stunning views of the Jardines de Murillo, which lead to the Real Alcázar. The rooms are light, spacious, and affordable. And the best of Seville is right on the doorstep. This is 4-star accommodation at 2-star prices.
Hostal San Vicente II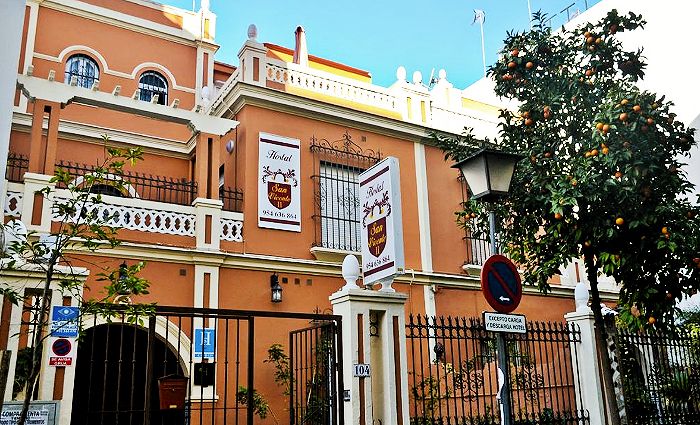 € | 1 Star | Away from the Center | Town House | Family Welcome
Right in the heart of Nervión, Hostal San Vicente II is a town house in the typical style of this upmarket neighbourhood. A stay at this family-run location gives you a different angle on the city. You can live like a local and explore the nearby food, drink, and shopping scene. Or jump on the metro outside your door and be in the old town in five minutes. Spotless rooms at an unbeatable price.
Triana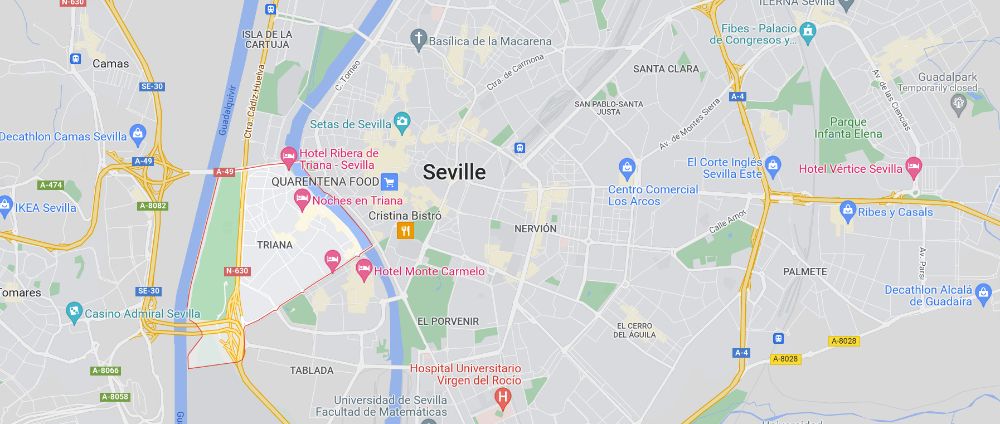 Triana lies across the river from the old town. Locals say entering this neighborhood is like entering a different city. And for many years, the only means of crossing was by boat. Construction of the first bridge finished in the 19th century.
Triana is a down-to-earth neighborhood woth working-class roots. Sailing and pottery were the traditional trades. More recently, the area produced many famous flamenco artists. Highlights include a lively market hall brimming with great eateries. And Calle Betis, a riverside street full of live flamenco and late-night cocktails. Triana is a great place to stay to experience the soulful side of Seville.
Why I love Triana
Flamenco
Cocktails
Partying until sunrise
Ceramics
Attractions in Triana
Puente de Triana – bridge also known as Puente de Isabel II
Mercado de Triana – local market
Cerámica Triana – handmade ceramics
Calle Betis – popular street for food, drink and flamenco
Best Restaurants in Triana
El Sella Triana – Local and Asturian cusine
La Atrayana – Andalusian
Barbiana Triana – Tapas and Sherry
Bar Triana – Creative tapas
Best Hotels in Triana:
Ribera de Triana Hotel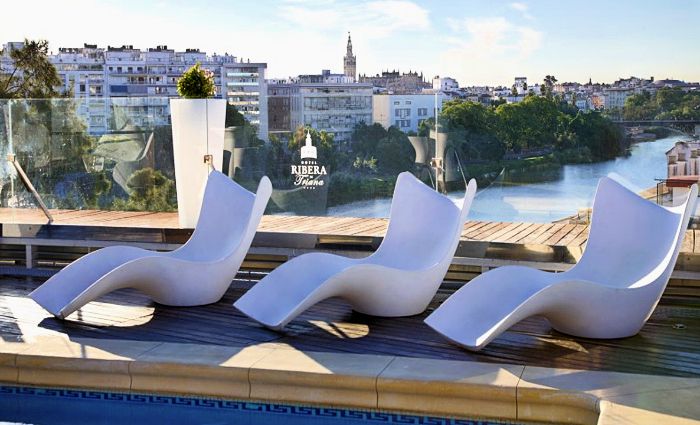 €€ | 4 Star | Riverside Location | Flamenco Area | Affordable Luxury
This hotel is set on the banks of the Guadalquivir river at the entrance to Triana. Some of the city's best night spots are a short stroll away. The building offers city and river views and a relaxed atmosphere. There's a rooftop terrace and cocktail bar, and a spa and fitness room. Decor is modern with a nod to the city's Moorish past. This 4-star package comes at affordable prices.
B&B Casa Alfareria 59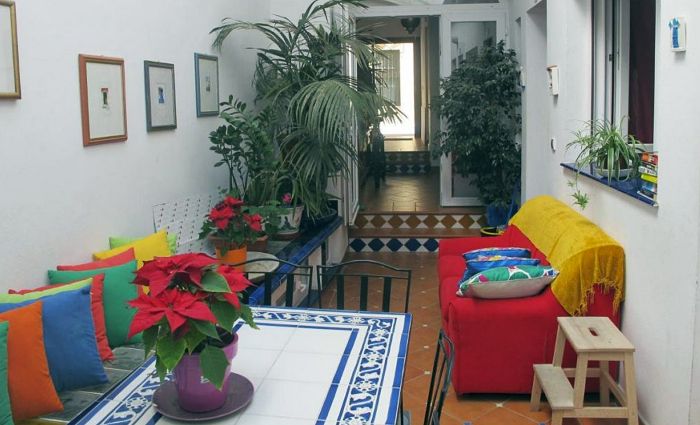 € | Prime Location | Home Away from Home | Fab Breakfast
Staying at this laid-back hostel feels like crashing at a friend's place. If it's a cozy yet chill experience you are looking for, you can't go wrong her. The location is perfect for exploring the best of Seville on a budget. The old town just a short stroll over the bridge, while Triana is at your fingertips. The rooms are immaculate, and the breakfast is exceptional.
Zenit Sevilla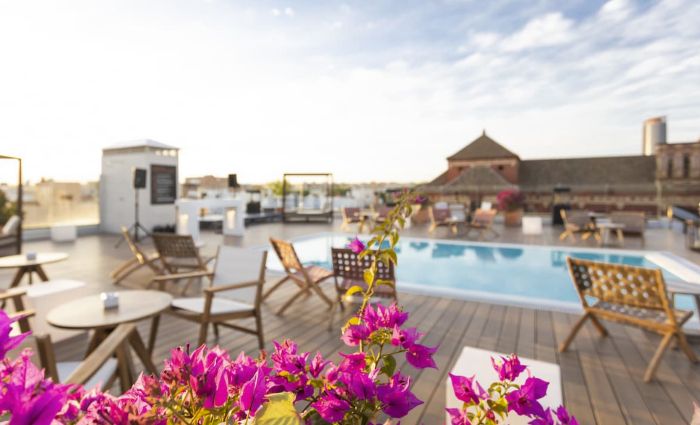 €€€ | 4 Star | Heart of Triana | Well-Equipped | Pool | Best Views in the Area
Hotel Zenit Sevilla is set in the heart of Triana and finished in an Andalusian style with modern touches. The stunning terrace with a pool offers far-reaching views across the river and city. You can also eat traditional Andalusian cuisine in the restaurant. For those looking for a wealth of amenities in a vibrant location, this fits the brief.
Macarena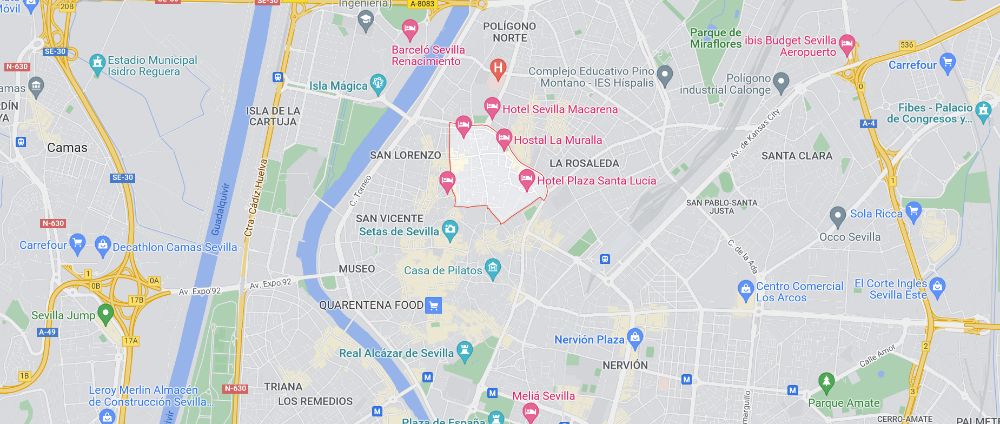 As you approach Macarena from the old town, the ambience changes. The tourist veil lifts as Seville reveals its hip and creative side. This is the area where you'll find vintage shops, record stores, and a buzzing local market hall.
The streets are full of great little bars, many tucked away out of sight. If you are the adventurous type, you'll find some hidden gems you'll want to keep for yourself.
Cultural highlights include the Palacio Marqueses de la Algaba, the Basílica de la Macarena and Monasterio de Santa Paula. There's also a host of art galleries and studios to enjoy.
Why I love Macarena
Off the tourist trail
Arty and creative
Great selection of bars
Vintage shops
Attractions in Macarena
Basílica de la Macarena – Neo-baroque church
Palacio de Las Dueñas – 15th-century palace
Palacio Marqueses de la Algaba – Palace with Mudéjar art
Plaza Alameda de Hércules – ancient square buzzing with bars
Best Restaurants in Macarena
El Rinconcillo – Oldest bar in Seville
El Disparate – Contemporary Mediterranean
La Cantina – Fried fish and tapas
ConTenedor – Spanish with a twist
Best Hotels in Macarena:
Alcoba del Rey de Sevilla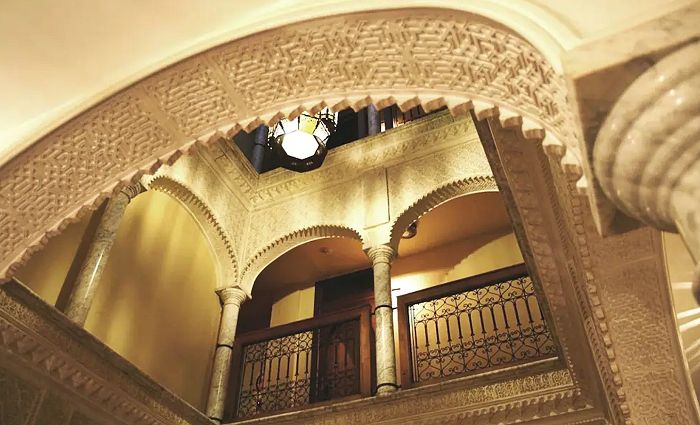 €€ | 4 Star | North African Vibe | Hip Part of Town | Great Tapas Bar
This charming hotel is one minute from the La Basilica de la Macarena in a less tourist-focused neighborhood, giving an authentic feel. According to the owners, poet Al-Mutamid lived in the house a thousand years ago. All the major sites are within walking distance, and the center is only 15 minutes away by bus. The hotel features carved Moorish arches. And it's packed with traditional North African furniture, which is all for sale!
Patio De La Alameda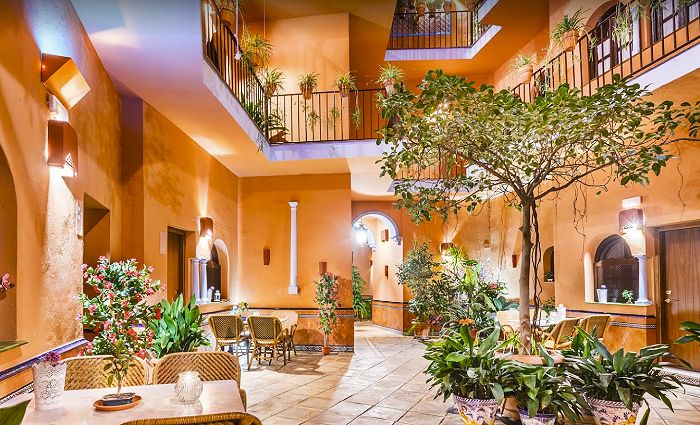 €€ | 3 Star | Bohemian Vibe | Fantastic Local Bars | Less Touristy
This 19th-century palace now hosts a stylish hotel featuring three Andalusian courtyards. Each room is decorated to match. The bohemian vibe of the neighborhood can be felt in the hotel. This is a great corner of town to hang out in the evening. The "chill-out" terrace lives up to its name with views over the Plaza Alameda de Hercules. This is the place to stay if you want to do Seville differently.
The Corner House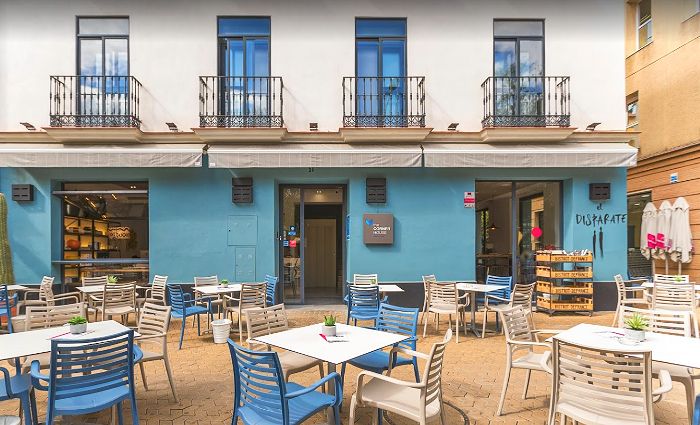 € | 2 Star | Contemporary | Excellent Restaurant | Cool Neighborhood
The Corner House is set next to the 16th-century Plaza Alameda de Hércules. Its quirky and minimalist style fits the neighborhood, which is a local hub of art and creativity. The hotel has gastronomic credentials featuring a Mediterranean restaurant with outdoor space. There's also a bar and a funky rooftop terrace. Cool, welcoming and very comfortable.