The Grand Canyon is one of nature's most majestic monuments that's technically little more than a hole in the ground. Yet millions of visitors flock to this colorful canyon each year. To help you plan your trip, here are the top things to see at the Grand Canyon's South Rim.
---
Pro Tip: Looking for helpful info for your trip to the Grand Canyon? Bookmark this page so you can circle back to it at anytime, and check out our helpful tips for how to get to the Grand Canyon from Las Vegas.
What You Should See and Do at the Grand Canyon's South Rim
First things first. This article is about what to see at the South Rim near the town of Tusayan, Arizona. The South Rim gets about 90 percent of all visitors and is a little easier to visit at 7,000 feet high compared to the North Rim's 8,000 feet. It's accessible all year long, offers a shuttle to top sites, has the most accessible view points, and the most places to eat or stay.
The North Rim is accessible only during spring through early fall and is more challenging to get to if you're coming from Vegas but easier if you're coming from Utah. And if you're in Vegas hoping to get to the Grand Canyon quickly, then just head to Grand Canyon West. It's not officially part of the national park as it's on the Hualapai Reservation, but it's where you can walk the iconic Skywalk over the Grand Canyon.
It would take months to truly take in all of the awe-inspiring lookout points along the South Rim at different parts of the day and night. And a key part of the pleasure of visiting the Grand Canyon is discovering your own favorite lookout points! Of course, there are also mind-blowing trails offering stunning scenery and unique adventures for hikers and mule riders.
What might surprise you is that the Grand Canyon is also home to some remarkable feats of human design and architecture from the fascinating 19th and 20th centuries. But what really takes the cake are the archeological sites that are thousands of years old. Let's dive into the things you have to see at the South Rim of the Grand Canyon.
13. Overlook at Mather Point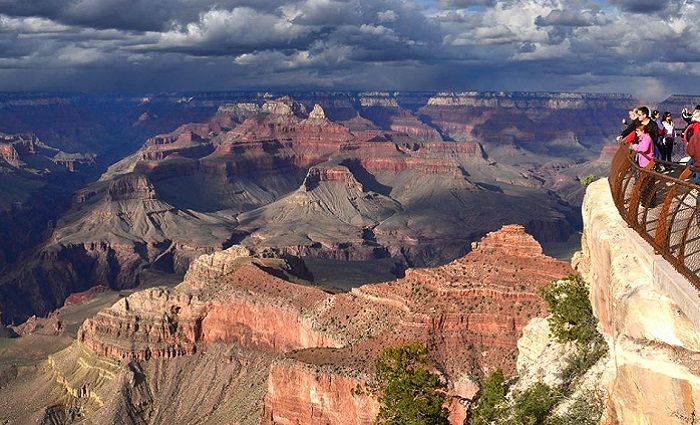 We'll start with a great viewpoint that you can reach soon after entering the national park. Mather Point is a 5-minute walk from the Grand Canyon Visitor Center and AZ-64, which is the entrance road into the park.
On a clear day you can see for miles and miles (up to 60) from Mather Point! This lookout spot is especially recommended when the beautiful colors of an early sunrise or a dusky sunset transform the landscape into unforgettable saffron and gold hues.
According to the National Park Service, Mather Point is named for visionary conservationist Stephen Tyng Mather. A wealthy Chicago businessman, Mather believed that magnificent scenery should be highly considered in creating a national park. This shaped his future directorship of the National Park Service as it grew to include scenic destinations like the Grand Canyon, Shenandoah, Great Smoky Mountains, Mammoth Cave Parks, and many others.
Location: Mather Point
12. The Family-Friendly Grand Canyon Visitors Center
The Grand Canyon Visitors Center is worth stopping at to get to know the history from geology to ancient Native Americans. Plus you can pick up helpful information for hiking, tours, and the shuttle that drives to various points along the rim.
Kids and adults love this visitors center that has a ranger program each afternoon to teach visitors something unique about the wildlife, geology, astronomy, and history of all that can be discovered here. Don't miss the handicrafts area that portrays unique crafts from indigenous cultures and local artisans.
There are interactive exhibits and even a movie theater where you can sit down in a nice air-conditioned theater to beat the Arizona heat. Of course, if you're here in the winter, it will be toasty warm to ward off Jack Frost. Either way, you won't get bored as you learn about the Grand Canyon before venturing off to see the top sites here.
Location: Grand Canyon Visitors Center
Hours: Daily, 10 am – 4 pm
11. Geologist Favorite: Yavapai Point and Museum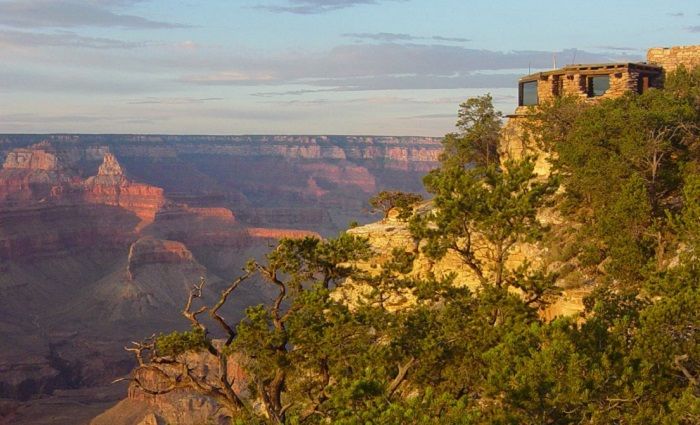 Yavapai Point is also located near the entrance of the South Rim. From here, you just might get the best view of the Colorado River that any overlook offers. This observation point is a favorite of geologists. While you're here, also head into the Yavapai Geology Museum that offers stunning observation points behind glass.
Here you can find a lot of fascinating exhibits about the history and science of the Grand Canyon. Kids especially love the fossil displays and the 3D map of the Grand Canyon. An interactive display shows the different geological layers that make up the canyon.
Parking is available but limited. Additionally, you can also take a shuttle here.
Location: Yavapai Point
Museum Hours: Daily, 8 am – 6 pm
10. The Hidden Oasis of Phantom Ranch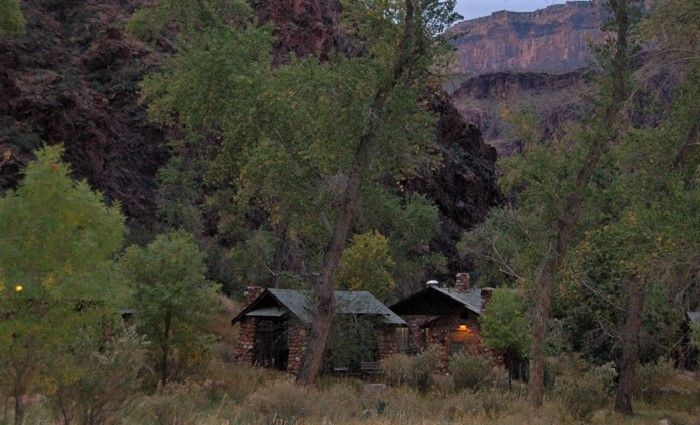 Ok, so technically, you'll just see a glimpse of this green location from the South Rim, but it's definitely worth mentioning. Here's why.
Phantom Ranch is located at the bottom of the Grand Canyon near Bright Angel Creek and is picturesquely surrounded by cottonwood trees—a true oasis in this desert. There are native plants at the ranch like agave, and the remains of an old orchard with peach trees, figs, and olive trees.
Essentially, the ranch is the only lodging (other than camping) below the rim. You can arrive at Phantom Ranch by hiking down the canyon on the Bright Angel or Kaibab trails, by rafting down the Colorado River, or by riding a good old-fashioned mule in a mule train. What an epic adventure!
As you stand on the Rim Trail and look at Bright Angel Trail, there's a good chance you'll see a mule train heading up or down from their stay at Phantom Ranch. Jealous? For many people, a mule tour down the canyon with an overnight stay at Phantom Ranch is the iconic Grand Canyon experience.
If that sounds ideal, you must reserve months in advance. They used to offer dining services to non-guests, but that is now limited to food to-go options as a major renovation begins in the area.
Origins of Phantom Ranch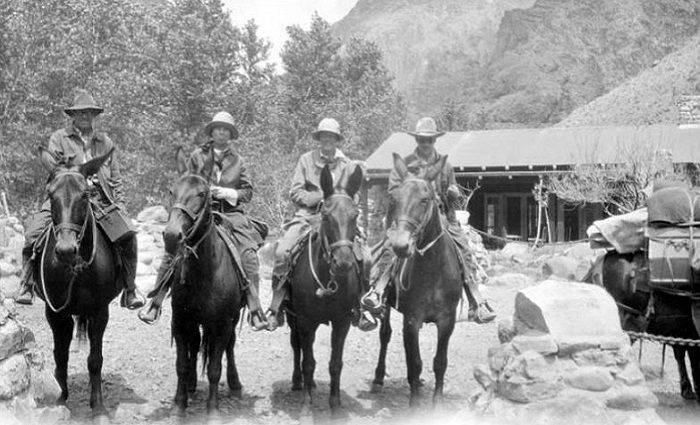 Legendary architect Mary Colter designed these simple, rustic cabins out of stone and wood for the Fred Harvey Company in 1922. According to historian Julie McDonald, Colter's father died in her teens. His death left her mother and ill sister without any support.
Despite their poverty, Colter put herself through art school while supporting her entire family as a teacher. And her dream did come true when she was named chief architect and decorator for the Fred Harvey corporation from 1902 to 1948.
National Parks Service manager Jodi Badley notes that mules have always been part of the tradition of Phantom Ranch. All supplies come in by mule, and everything leaves by mule. Even the mail goes out by mule!
If you are looking for a special souvenir, the mail that goes out of Phantom Ranch has a special mule sticker. Mule tours began at the Grand Canyon in 1887 and have remained popular ever since.
Location: Phantom Ranch
9. Mary Colter's Bright Angel Lodge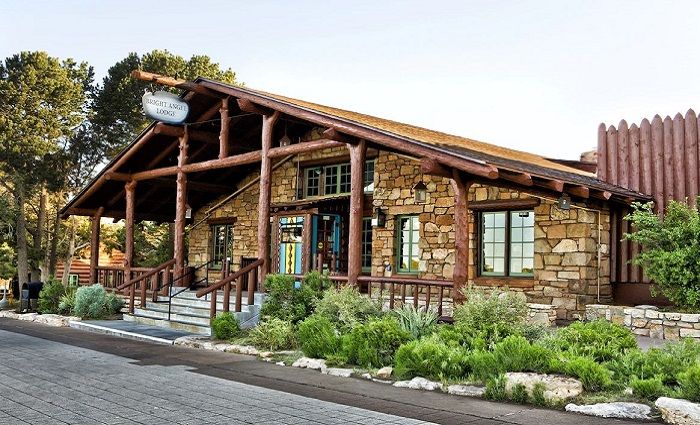 Bright Angel Lodge is a beautiful, historic lodge with a mix of rooms and cabin available. This lodge is in the middle of Grand Canyon Village, just west of the El Tovar Hotel and near the Bright Angel Trailhead. Certainly this is an ideal location for hikers and visitors who can't wait to explore the outdoors.
So why is this lodge on our must-see list of things at the South Rim? The historical importance. Architect Mary Colter also designed this rustic building that opened in 1935! It's one of the 23 buildings she designed across the southwest, using as many native materials and organic elements to blend into the natural surroundings.
Fun fact: She repurposed William "Buckey" O'Neill's cabin as part of this property. You might recognize his name as a famous sheriff and Rough Rider under Theodore Roosevelt's leadership in Cuba.
This lodge intended to offer a more affordable alternative to the grand El Tovar Hotel, which was frequently occupied by celebrities, heads of state, and wealthy tourists. Bright Angel Lodge provided a taste of rustic beauty for everyone.
Mary Colter used materials like adobe, limestone, and hand-glazed logs to create a charming log cabin feeling that you can see inside and out. Today, this lodge continues to offer visitors and families great value on rooms right on the South Rim.
8. The Living Museum at Hopi House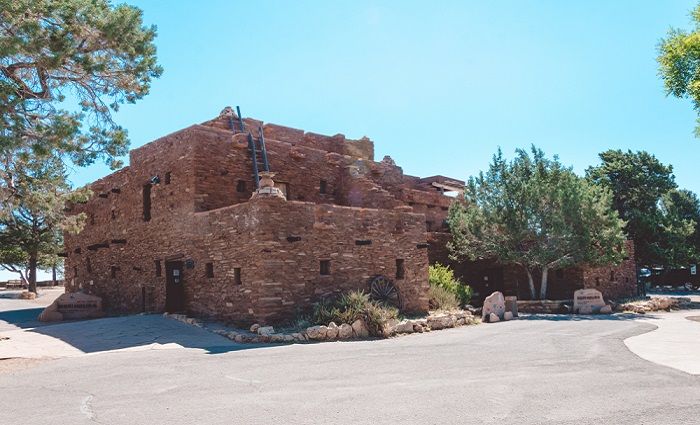 You can easily find Hopi House in Grand Canyon Village near the El Tovar Hotel and the Grand Canyon Railway depot. Hopi House is a unique pueblo style design by Mary Colter. According to the National Parks Service, the Fred Harvey Company commissioned Colter in 1905 to create an "Indian Arts Building."
Colter used many indigenous architectural motifs, materials, and arts in Hopi House, especially unique, organic materials. The Hopi villages on the mesas in Navajo County, Arizona, inspired her greatly, and you'll feel it when you visit.
According to the Encyclopedia Britannica, indigenous people have been living in these Hopi villages since around 1150 AD. They are the oldest continuously inhabited settlements in the United States! Today, you can visit Hopi House to take in the magnificent architecture, history, and art details. If you fall in love with it, you'll appreciate that Hopi House also functions as a living museum with crafts and arts that you can take home with you.
Location: Hopi House
7. Views of the Bright Angel Trail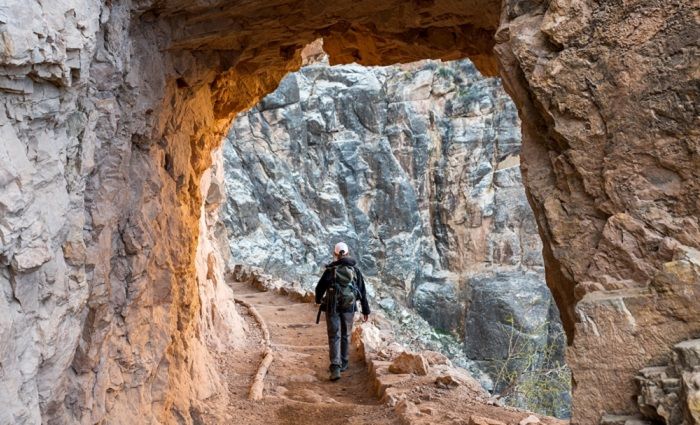 You don't have to be a hiker to appreciate the famous Bright Angel Trail, but it helps. As perhaps the Grand Canyon's most popular hiking trail, the Bright Angel trailhead is easily accessed just west of Bright Angel Lodge in Grand Canyon Village. Parking is 5 minutes from the trailhead or you can take the shuttle from the visitors center.
The indigenous people have used what's now the Bright Angel trail for thousands of years, according to Arizona author Frederick Fichman. However, pioneers began using it in 1891 to reach their mining claims in the canyon. Later, these mining claims and the use of the trail as a toll road became a source of contention between miners, railroad companies, and the federal government.
Hiker and national park guidebook author Eric Henze notes that although this is a popular hike, it is a strenuous one. Altitude sickness, dehydration, sunburn, heat stroke, and oddly enough, squirrel bites, are all experienced by hikers in the Grand Canyon. If you want to do the hike rather than just see it, make sure you're in good shape to handle the elevation change. The views will be worth it!
The trail is well maintained and well-used since it's also the route the mule train takes. Still, it's best to plan your trip at a cooler part of the day or in the spring or fall. The trail is open in winter, but it can be icy.
Things to See on the Trail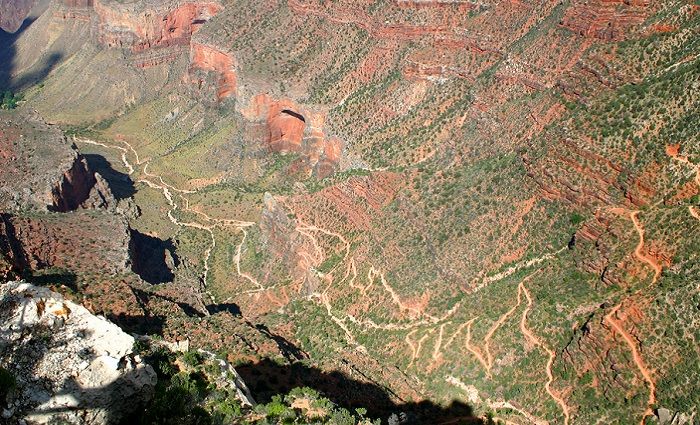 The Bright Angel Trail has a lot of advantages if you want to head down deeper into the canyon. There is a ranger's station halfway down the trail at Havasupai Gardens (formerly Indian Garden). Or another ranger's station at the bottom of the trail at Bright Angel campground.
Moreover, you'll find rest houses are also an ideal place to make a turnaround point or get water. There is a rest house 1.5 miles down the trail, and another 3 miles down the trail. So if you are hiking with families and kids, these are ideal for getting a taste of the trail and heading back up.
Havasupai Gardens campground is a perfect turn-around point, located 3,000 feet below the South Rim (roughly 2 hours down). It's a shady oasis with a natural spring and leafy cottonwood trees. You will find the area is a welcome respite from the arid, desert-like intensity of the canyon. Havasupai Gardens was farmed and inhabited for thousands of years by the Indigenous peoples of the canyon. Now there are tables for picnics, bathrooms, rest benches and water.
Guidebook author Eric Henze reminds us that it's much easier to go down than back up. It's only as ascend the trail that you ultimately realize how steep the elevation change actually is—a 4,314-foot change from top to bottom! Bring twice as much water for your trip back to the rim!
Location: Bright Angel Trailhead | Havasupai Gardens
6. The Historic El Tovar Hotel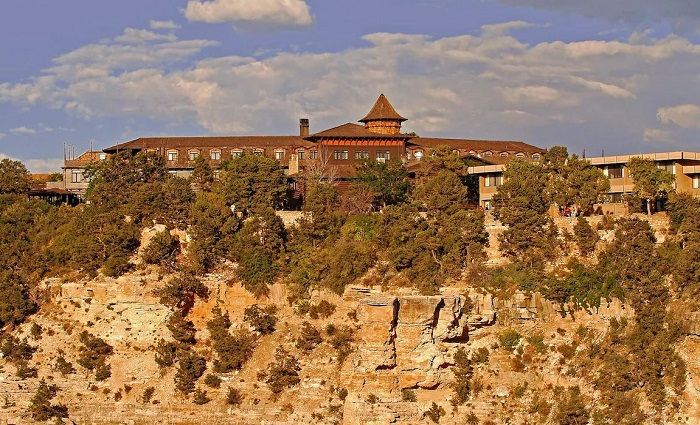 In his book lauding the newly opened El Tovar Hotel, W.H. Simpson wrote, "…not far from the head of Bright Angel Trail, El Tovar commands a prospect without parallel in the world." When you stand at this 1905-built hotel on the edge of the Grand Canyon, you'll feel the same. It's a no-brainer as something you have to see at the Grand Canyon South Rim.
The National Park Service boasts that this historic hotel has seen visitors such as Presidents Theodore Roosevelt and Bill Clinton and visionaries like Albert Einstein and author Zane Grey. When it opened, the 100-bedrooms could hold up to 250 guests—a modern marvel in an era where amenities like water and electricity took serious effort to bring in.
Simpson also notes that the porch had "numerous rocking chairs and small tables, with a push-button handy for ordering light refreshments." Such luxury made this an impeccable resort of its era this far west. Make sure to stop in and absorb the unique rustic grandeur and monumental history of the Grand Canyon. Not to mention the amazing viewpoints from the property!
Hotel Details
The El Tovar hotel is ideal for couples or families with different speeds. If one of you is an up-at-the-crack-of-dawn explorer, this is a great place for you since it's right on the Rim Trail. And if other people in your party are more of a chill-with-a-glass-of-wine type, then you'll find a great compromise here. Those rocking chairs are calling…
You should know the El Tovar hotel is a historic national landmark and short on many modern resort amenities like pools, elevators, and gyms. Rooms are simple and charming for today's standards.
Yet the bonus is that the hotel is right in the middle of Grand Canyon Village. Above all, you are steps away from the park's free shuttles. Unlike the accommodations on the North Rim, the El Tovar hotel is open year round. And anyone can stop in for drinks or a meal!
5. Lookout Studio Observation Point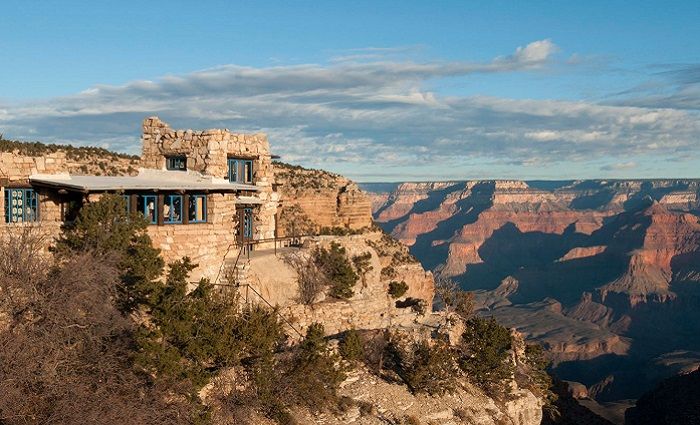 Lookout Studio is just east of Kolb Studio in the heart of Grand Canyon Village. It was built in 1914 as an observation point which happens to still be its primary purpose today—aside from the gift shop. Head to the outside deck for views at the edge of the canyon here.
You'll be struck by the unbelievable views and photo opportunities, not to mention the striking use of irregular stone in the building design itself. Lookout Studio is undoubtedly one of the Grand Canyon's architectural gems. At this point, can you guess who designed this man-made wonder? Yep, Mary Colter.
Lookout Studio is one of eight buildings she designed at the Grand Canyon—all in use today. These include Hopi House, Hermit's Rest, Lookout Studio, Phantom Ranch, Desert View Watchtower, Bright Angel Lodge, and others. Probably more than anyone, Mary Colter is responsible for the iconic look of the Grand Canyon's gorgeous and unique historic buildings.
Pro Tip: Lookout Studio has telescopes for long-range viewing of the Grand Canyon. Be sure to bring a little change with you since they are coin operated!
Location: Lookout Studio
Hours: Daily, 9 am – 5 pm
4. The Ancient Tusayan Pueblo Site Ruins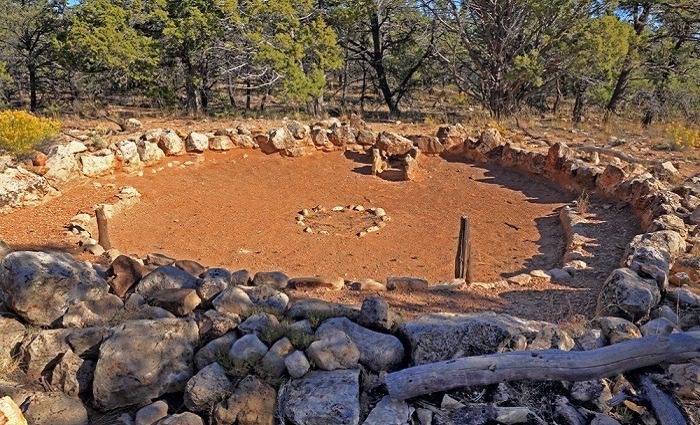 If you're hoping to see some ancient ruins at the Grand Canyon, we have you covered. Actually, the NPS has over 4,000 archeological sites on record here, but the Tusayan pueblo ruins is one of the most important ruins in North America.
You'll find these ruins about 3 miles west of Desert Watchtower. NPS archeologists tell us that tree rings have been used to help determine the age of this site. Their estimate? Around 1185 A.D! The indigenous peoples who lived here are thought to be the predecessors of Hopi and Pueblo tribes in Arizona and New Mexico.
You can walk around the site yourself or take a guided ranger tour. There is a kiva (pictured above), a plaza, and remnants of several rooms to see at this sacred site.
Don't miss stepping inside the nearby museum! You can see archaeological artifacts found here from arrowheads and pottery to household staples. Some artifacts are estimated to be 4,000 years old! The Tusayan ruins are awe inspiring in their scope of time and history.
Location: Tusayan Pueblo Site (often closed in winter)
3. The Adventurous South Kaibab Trail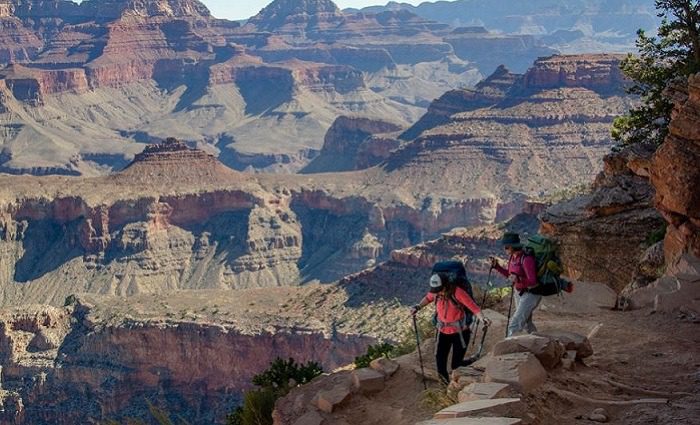 The trail that's not for everyone but worth taking a gander at. Like Bright Angel Trail, the South Kaibab Trail is a popular trail for many outdoorsy visitors. You can get to it by shuttle from Bright Angel Lodge or the Visitors Center.
This is a trail you will love if you are looking for stunning views, if you want to get down to the bottom of the canyon quickly, or if you are an advanced hiker looking for a challenge. You'll see unique, panoramic views of the Grand Canyon on this trail, but it's super steep: 5,000-foot elevation change in 6.5 miles down what's called the Chimney. Not a one day round-trip unless you're in Ironman-style shape!
According to historian Julie McDonald, the National Park Service built the South Kaibab Trail when wily entrepreneur Ralph Cameron demanded hefty tolls to use the Bright Angel Trail during the boom of the mining era. South Kaibab Trail became the second route to descend to the Colorado River in 1925.
This location for the trail was chosen because it gets year-round sun and no shade, which keeps it accessible without snow buildup. This is a major advantage for Phantom Ranch to get year-round supplies. But the lack of shade means that it is easy for hikers to face extreme heat, sun stroke, dehydration and electrolyte loss, especially in the summer.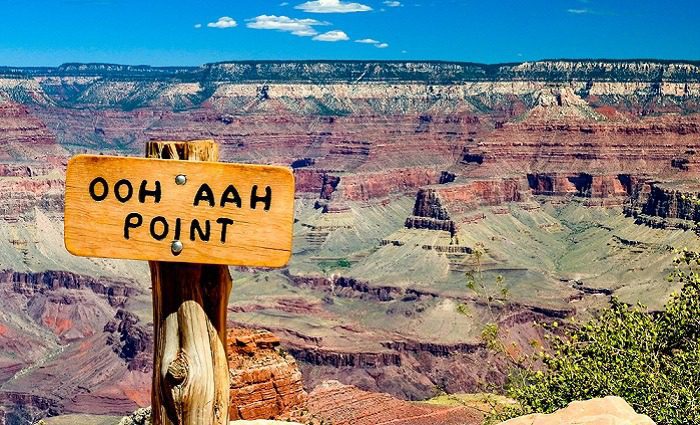 Ooh Ahh Point and Other Turn Arounds
Just want a taste of the trail? There are several stopping points along South Kaibab trail that make great turning around places. Famous Ooh Aah Point is about a 2-mile round-trip hike you can do in a couple hours.
Cedar Ridge is 3 miles out and back and takes about 4 hours. Skeleton Point, which is where most rangers advise day hikers to turn around, is 5.8 miles round trip and should take about 6 hours.
Location: South Kaibab Trailhead
2. The Scenic Desert View Drive and Watchtower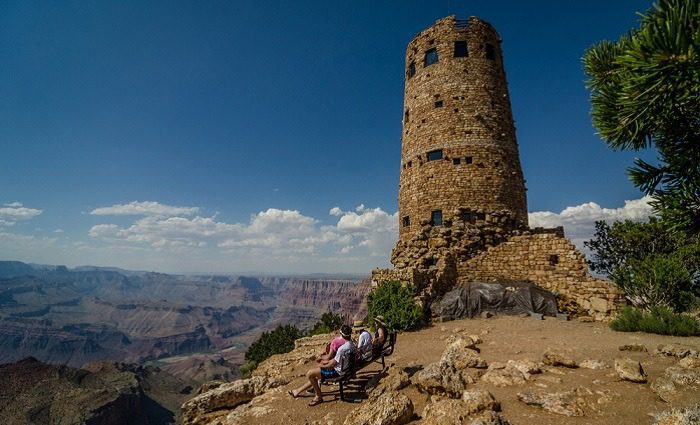 For every traveler whether you're active, have a dog with you, rambunctious kids, or whatever, this scenic drive gives you plenty of things to see at the Grand Canyon's South Rim. Most importantly, it's the only scenic drive on the Grand Canyon's South Rim that private vehicles can use.
It's a beautiful, winding 23-mile drive featuring stunning and unique viewpoints of the Grand Canyon and the Colorado River. Parking is available all along Desert View Drive and there are also pullouts so you can grab as many photos of rocks that you'll ever need.
In contrast to a lot of the attractions at the South Rim, Desert View Drive is usually less hectic since it's the opposite direction from busy Grand Canyon Village. Visitors love being able to soak in so many spectacular view points along the meandering drive. They're away from the crowds and enjoying the picnic spots along the way. But what specifically should you see?
Best View Points on Desert View Drive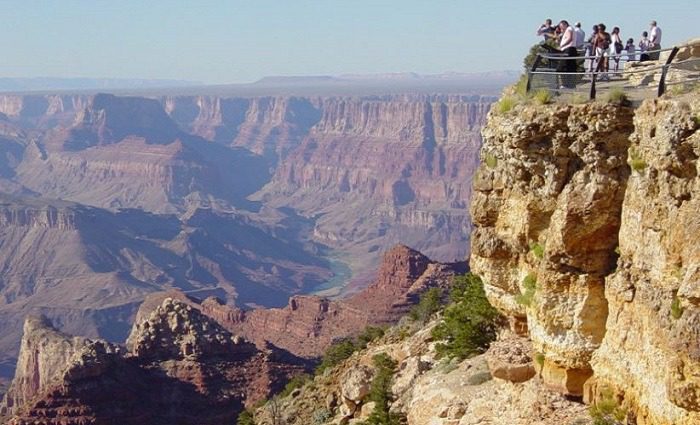 Some of our favorite viewing points on this drive include Yaki Point (no private access), Grandview Point, Lipan Point, Moran Point, Desert Watchtower, and many more.
If you can, venture out at sunrise and again at sunset for some of the most exquisite, unbelievable panoramas and color palettes. Photos taken at different times of day will reflect wildly different colors and perspectives of the immensity of the Grand Canyon.
Yaki Point: You'll have to use the shuttle to get here, but since it's less accessible, you get a quieter experience. It also happens to overlook the Ooh Aah point on the South Kaibab Trail, so stop here if you don't want to hike the trail! Also, see if you can spot the watchtower from here.
Lipan Point: Every view is different, but Lipan Point might have the widest view of all. Bring binoculars to this viewpoint and see if you can spot any wildlife along the Colorado River! You have a straight shot down the canyon from here.
Moran Point: There are multiple plateau layers and jagged cliffs to see here, which means you get variations of colors and shadows. That's why it was named for Thomas Moran, the famous landscape painter who elegantly captured the colors of the American west.
Desert View Watchtower: A well-developed area with food, restrooms, picnic area, and a cool watchtower with a kiva-style center area. If you're lucky, they'll be holding a demonstration here to showcase the indigenous cultures. (And yes, this is a Mary Colter design too!)
1. The Easy-to-Explore Rim Trail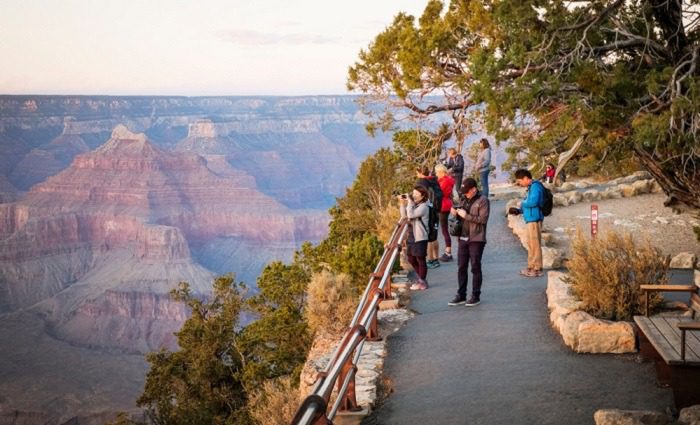 Here's what you really have to see at the Grand Canyon. (Technically, you do it too.) The Rim Trail. This partially paved trail wanders along the edge of the South Rim for about 13 miles from the South Kaibab Trailhead to Hermits Rest. Do you have to walk it all? Nope!
You can easily access the trailhead from any viewpoint in Grand Canyon Village or along Hermit Road. The Rim Trail is partly paved, mostly flat, and offers a bit of shade, a few benches, and tons of spots for viewing this natural wonder. There are shuttle stops along the way, so you can alternate hiking and riding the shuttle (no private cars).
The Rim Trail is an ideal walk if you want to avoid strenuous hiking but still stretch your legs and take in some stunning views of the Grand Canyon. The paved areas on the Greenway portion (Hermit Road section) is accessible for those with limited mobility too. And there are benches and rocks along the way where you can stop to rest your feet and soak in the views. Especially at sunrise or sunset!
During the winter months, there is often enough snow that you can cross-country ski or snowshoe along the Rim Trail. Then you can enjoy the breathtaking stillness of the canyon and trees dusted by glistening white crystals.
For families and kids, biking offers a lot of fun exploration on the Rim Trail. You can bike the paved Greenway portion of the Rim Trail. Rental bikes are available for the family from Bright Angel Bicycle Rentals, at the Grand Canyon Visitor Center.
Location: The Rim Trail