Getting to the Grand Canyon isn't as easy as taking an Uber down the street, but the time and effort are well worth it. Few places on earth match the majesty and immensity of this vast natural wonder. We've compiled the best ways for how to visit the Grand Canyon from Las Vegas.
---
Pro Tip: Bookmark this article in your internet browser if you find it helpful. This way you can circle back to it easily. Also, if you're planning to visit Las Vegas, check out my article on Where to Stay in Las Vegas.
Grand Canyon National Park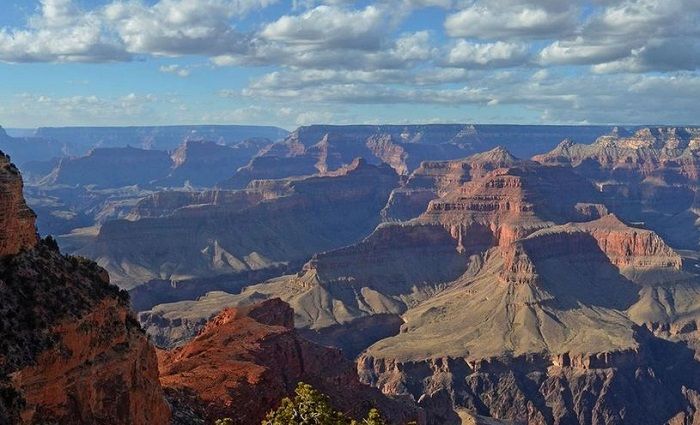 Stretching for 277 miles along the eastern and northern Arizona borders, the Grand Canyon boasts a rugged, colorful terrain that averages 1 mile deep and up to 18 miles wide. The Colorado River runs through the bottom of the canyon which provides the life-supporting nourishment that sustains the desert plants and animals along its river banks.
Millions of geological years of erosion created the beautiful vistas that attract an average of 6 million visitors every year, according to the National Park Service. Make sure you're one of them!
Hikers venture into the canyon to discover new perspectives from below the rim, see fascinating desert life, and explore Native American artifacts. Tourists enjoy the more accessible views from the top of the canyon where vistas surprise at every turn. A trip to the Grand Canyon is the can't-miss adventure for anyone traveling to the Las Vegas region. So, keep reading to make sure you're one of the lucky visitors to make memories at this remote location.
What Areas to Explore at the Grand Canyon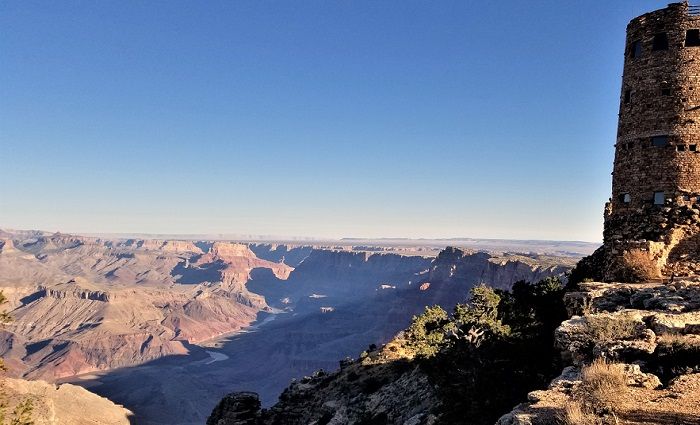 First, you'll need to decide which areas you want to visit when you're planning how to visit the Grand Canyon from Las Vegas. Depending on how much time you have, you can choose to visit the Grand Canyon West area, the North Rim, or the South Rim. Each area has their own unique attractions, and you won't miss a gorgeous view anywhere. If you can, spend a sunrise or sunset on the rim to catch the vibrant desert colors.
Grand Canyon West – the closest area to Las Vegas. You'll find the Grand Canyon Skywalk here, which is the only place you can walk out over the expanse of the Grand Canyon. It's not officially part of the Grand Canyon National Park since it's on the Haulapai Reservation, but the views totally qualify it.
Grand Canyon North Rim – the furthest area from Las Vegas. Fewer than 10% of visitors travel here, so you won't get overwhelmed by tourists. The elevation is 8,000 feet here, so it's often closed in the winter, but summer offers plenty of activities. Also, avid hikers enjoy hiking from the North Rim to the South Rim when it's open
Grand Canyon South Rim – the most developed area of the Grand Canyon. Open year-round, you can stay at campgrounds or lodges here. After you've arrived, enjoy a walk along the paved South Rim Trail at sunset for stunning views.
Getting to the Grand Canyon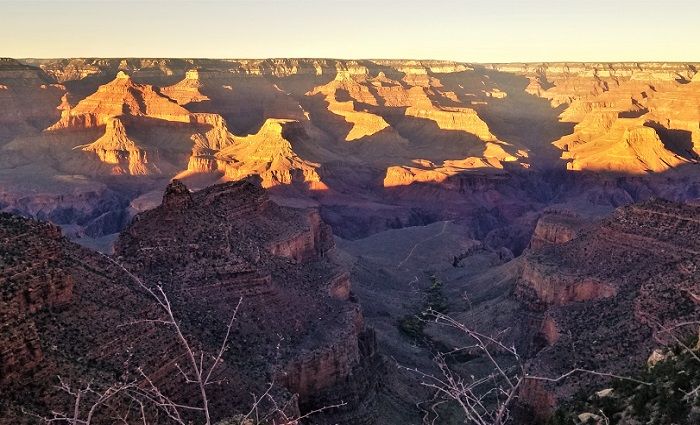 You have four options to visit the Grand Canyon from Las Vegas: car, bus, helicopter, or small plane. There's an option that suits everyone's needs from quick visits to long stays.
How to Drive to the Grand Canyon
If you've flown into Vegas, you can rent a car to head out to the Grand Canyon. This gives you the most options for exploring every aspect of the canyon. To get to any location at the Grand Canyon, you'll head south out of Las Vegas on I-11, then connect onto U.S. Highway 93.
From there, you can choose to visit the Grand Canyon Skywalk on the west side of the Grand Canyon, which is the closest attraction. This trip takes about 2.25 hours by car, so it's a great day trip option if you don't have a lot of time. You can walk to Guano Point after walking 4,000 feet above the Grand Canyon on the Skywalk, or book a river rafting trip.
Alternatively, you can drive to the South Rim, which is the most popular area. This is a longer 4.5-hour drive. From U.S.-93, you'll switch to I-40 in Kingman, Arizona, before taking AZ-64 straight up to the park. You can stay overnight in campgrounds or lodges at Tusayan or Grand Canyon Village, then spend the next day exploring the visitor center, Mather Point, or one of the many hiking trails.
Bonus tip: This route takes you along the original Route 66 highway, so be sure to stop in Seligman, Arizona. It's the town that inspired Radiator Springs in the movie Cars, and it's home to the man who worked to preserve the old highway as a national treasure: Angel Delgadillo.
Lastly, you can also visit the North Rim if you prefer a more remote but stunning area. There are two ways to drive here. You can continue driving from the South Rim to the North Rim for 3.5 hours on U.S.-89. Alternatively, you can drive from Las Vegas directly to the North Rim for 4.75 hours by taking I-15 into Utah before dropping down into Arizona using UT-59, AZ-389, and US-89A to AZ-67.
This route takes you close to other major attractions like Zions National Park and Grand Staircase-Escalante National Monument. Be advised that the North Rim is closed from October to May.
Take a Leisurely Trip to the Grand Canyon
For a scenic route to the Grand Canyon where you don't have to drive, you can book a popular bus tour. This is a great way to make the trek out to the South Rim. You can sit back and enjoy the views while someone else worries about directions. Grand Canyon tours leave daily from the Strip. Some only go to the Skywalk or all the way to the South Rim.
Bus tours take longer (some take up to 15 hours if you're heading for the South Rim), but they can be affordable and relaxing too. Another benefit of a Grand Canyon bus tour is that you'll also see Hoover Dam on your way. Additionally, you'll hear fascinating commentary about the area and sights you see, thanks to friendly the tour bus guide.
The Fastest Way to See the Grand Canyon
Without a doubt, booking a helicopter tour is the fastest and most dramatic way to check out the Grand Canyon. You can book a tour that takes you over Lake Mead and the Hoover Dam, before stopping at Grand Canyon West or the South Rim. Make sure to ask about which destinations each tour will stop at before booking as they're not all the same. You can get to the Grand Canyon in 90 minutes this way and spend several hours exploring the views.
Helicopter tours to the Grand Canyon leave from the Strip or from Henderson, which is closer to the Nevada-Arizona border. Maverick Helicopters, 5-Star Las Vegas Helicopter Tours, and GC flight all operate out of Las Vegas city, but you'll also find Papillion Grand Canyon Helicopters in Henderson. These tours typically start at $200 but average around $450.
And in true Vegas fashion, you could go all out and book a Grand Canyon helicopter wedding. You read that right. There are full wedding packages available to fly you and a select number of passengers to a one-of-a-kind wedding in the Grand Canyon. It's an unforgettable opportunity. Most helicopter tour companies offer this option, so be sure to ask if you're interested!
How to fly to the Grand Canyon
For a more private experience that's faster than driving and more traditional than a helicopter, book a small airplane with a company like Grand Canyon Scenic Airlines. It's also the fastest way to view the North Rim, but the South Rim and Skywalk can also be visited. There are small landing strips at each popular destination.
These airplane tours often include extra excursions upon arrival so you can experience even more of the Grand Canyon. That means your tour could take only a few hours or all day, depending on if you choose to stay close to Vegas or venture to the North Rim.
Private charter planes are less expensive than you might think, so you could see the sights for $200 to $600. Canyon Tours, Grand Canyon Airlines, and Maverick Tours also offer charter flights. Don't hesitate to ask about all the destinations and activities they offer. It's a fantastic all-in-one way to see even more of the Grand Canyon.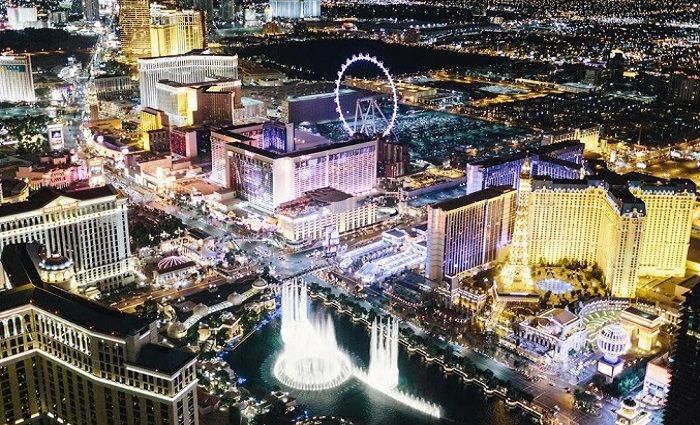 Find the best places to stay
Where to Stay in Las Vegas
Discover some of the most iconic and best places to stay in Las Vegas to make this trip the most memorable of all your trips to the Strip