Las Vegas is an interesting city in terms of getting around. Most of the activities you'll likely be doing are centered around hotels, which is uncommon for most other cities. It's also a wildly popular tourist destination, so finding parking is pretty tricky. Sometimes the best bet is to park your car is at your hotel, but then you have to figure out how to get everywhere else. No worries! This blog post will take all the guesswork out of getting around Las Vegas.
---
Pro Tip: Consider bookmarking this page in your browser so you can circle back to it on your trip. Also, check out our complete guide to Las Vegas to read lots of helpful articles about where to stay and what to do on your vacation!
Top Options For Getting Around Las Vegas

Like many U.S. cities, Las Vegas isn't super walkable. Not only that, but the legendary Las Vegas Strip is famous for appearing like all the hotels are really close together. The reality is that these properties are huge and far away from each other. If you've visited before, you know what we are talking about!
You might think you can easily walk from one end of the Strip to the other in a short period of time, but the Strip's many escalators, walkways and bridges make it a bit more difficult. Not to mention that in the summertime, it's too hot to walk that far!

Of course, there is more to Las Vegas than the Strip. Another popular Vegas location is Fremont Street in downtown Las Vegas, which is worth spending a day or two here as well. This article will go over the best ways to get around both areas, plus Las Vegas in general.
Not ready to book a tour? Read more in our Las Vegas Guide.
Bus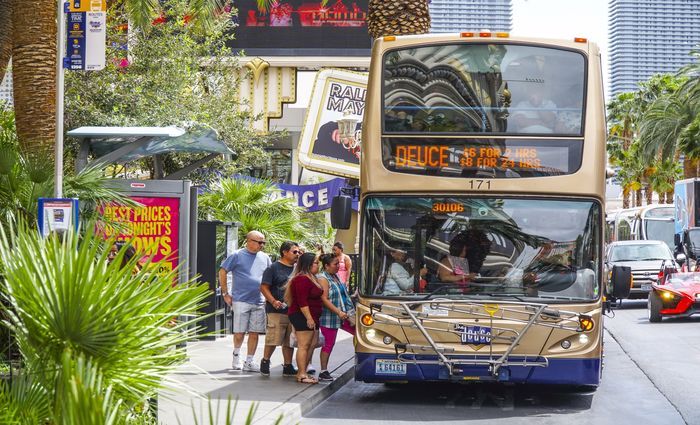 The Deuce is a double-decker bus that takes people up and down the Strip at all hours of the day and night. What's more, the route begins right at the airport, which makes it an invaluable mode of transportation for Vegas visitors.
The Deuce's first stop is South Strip Transit Terminal Bay 14, and then it goes along the Strip dropping off and picking up passengers 24/7. Conveniently, its last stop is on Fremont Street in downtown Las Vegas.

According to its website, the Deuce costs $6 for a 2-hour pass and $8 for a 24-hour pass. Travelers can pay for the Deuce with a credit card and receive a paper ticket, which is dispensed at ticket vending machines found all along the Strip. Alternatively, riders can digitally pay for the Deuce with the rideRTC app.

Going to Fremont Street or downtown Las Vegas? The Downtown Loop shuttle can take you there! It's a free shuttle that operates from 11 am until 6 pm, Sunday through Thursday, and 3 pm until 10 pm on Fridays and Saturday. However, according to its website, it doesn't go along the busy central Strip. However, it does go by the North end of the Strip, stopping at the STRAT Hotel.

Speaking of free shuttles, many Vegas hotels have a complimentary shuttle service to and from the Strip! If you are staying somewhere near the Strip, make sure to ask the front desk about it when you check in.

Monorail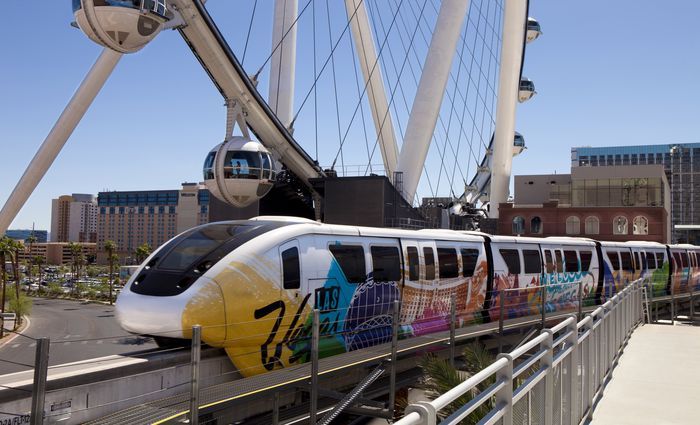 The Las Vegas monorail is another great option for traveling up and down the Strip. However, don't be confused, because there are two monorails! Firstly, there's a free monorail that goes between Mandalay Bay, Luxor, and Excalibur since they are at the most southern end of the Strip. If you're at Mandalay Bay and heading north to the rest of the Strip, this monorail makes stops at both Luxor and Excalibur.
However, if you're traveling south from Excalibur, the tram skips Luxor and only stops at Mandalay Bay. The tram begins running at 10 am on Sunday through Wednesday, and starts at 6 am, Thursday through Sunday. Regardless of the day of the week, it stops its service at midnight.
There's also a Las Vegas monorail that has seven stops near other prominent hotels on the Strip. According to its website, this monorail begins its service at 7 am daily. It stops running at midnight on Mondays, but runs until 2 or 3 am every other day.
During its service hours, the monorail comes every 4 to 8 minutes. It stops at the MGM Grand, Horseshoe Las Vegas (formerly Bally's), Caesar's Palace, Sahara, and several others. Check out their full schedule for a complete list of the stops! This monorail costs $5 for a single ride, and $13 for a 24-hour pass. It's a great deal!
Bikes and E-Bikes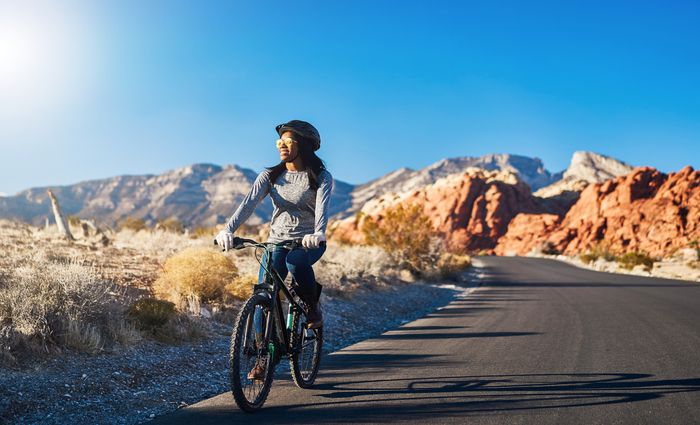 If you plan to visit a nearby conservation area while in Vegas, such as Red Rock Canyon, a bike may come in handy. There are many places around Las Vegas that offer bike rentals. However, please note that Vegas has some laws about e-bikes, and they are not allowed to go more than 20 miles per hour.
It's also important to note that if you're staying on the Strip, but want to do some biking in the mountains, you'll need to rent a car to get out there. It's about 19 miles just to get from the Strip to the Red Rock Canyon Conservation Area.
In addition, Vegas can get extremely hot, particularly in the summer. If you will be visiting Vegas around that time, we suggest that you save the biking for the winter when it's cooler.
Rideshare Services and Taxis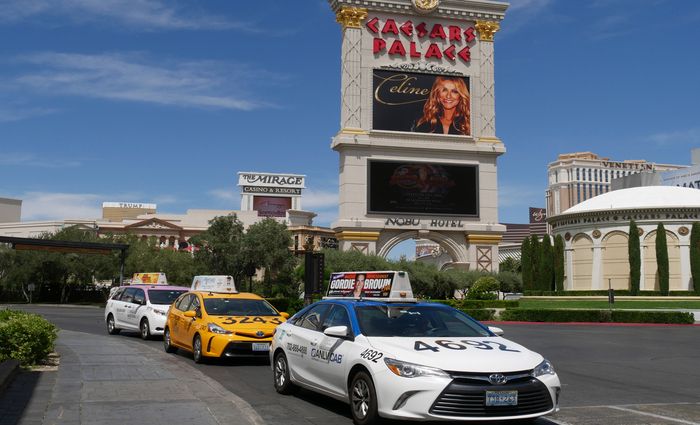 Taking a rideshare service like Uber or Lyft is a popular way to get to different hotels along the Strip, as well as other parts of Vegas. However, please note that you can only use a rideshare service on the Strip from a specific hotel. That means you can't jump into an Uber on the street in front of a hotel or store.
In addition, every hotel on the Strip has a designated pickup and drop-off point to make it easier to get in and out of your rideshare car without all the traffic. As an FYI, the Strip is blocked off to cars on big days such as New Year's Eve. Keep this in mind if you will be in town during a special event so you can strategically plan where to stay!

Taxis are another popular way for travelers to get around Las Vegas. Every hotel has a designated taxi stand. Please keep in mind that the taxi stand is typically located in a different part of the hotel than the rideshare pickup area!
Walking
Another popular way to get around Vegas is good ol' walking. However, like we said before, please note that hotels on the Strip appear a lot closer together than they are. Additionally, if you are walking in the Vegas summer heat, don't forget to hydrate with water!
The heat and distance certainly don't stop most people from walking the Strip as its an iconic thing to do in Vegas at night. But you might plan your evening so you take a taxi or rideshare to the area you'd like to walk, then just walk a short distance as you explore places like the Bellagio Fountains, the Eiffel Tower, and more.

In addition, please also note that the north area of Vegas, around Fremont Street and surrounding areas, can be a little bit dodgy at night. Always walk with a friend, and keep your wits about you! If you're unsure about the safety of an area, we suggest taking a rideshare or taxi.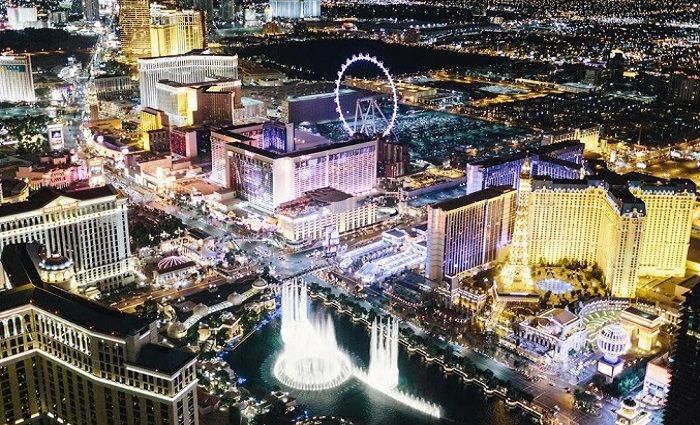 Find the best places to stay
Where to Stay in Las Vegas
Discover some of the most iconic and best places to stay in Las Vegas to make this trip the most memorable of all your trips to the Strip