Finding the right hotel in Los Angeles can make your trip even more memorable. Los Angeles is home to hotels with impressive views, luxurious ambiance, impeccable service, hot party vibes, and rooftop pools. This list of the best hotels in and around Los Angeles includes the absolute best places to stay in LA.
---
Top Places To Stay In Los Angeles
What makes this list so great is the range of hotels we've included: everything from luxuriously expensive to low-cost hotels where you'll still feel comfortable during your stay in Los Angeles. We have four categories:
Our Partnership with Booking.com. If you like our content, please book by clicking on our Booking.com links. The price is the same for you, and we get a small commission that helps support our helpful blog content. We've partnered with Booking.com because they have the most options, great prices, and a solid loyalty program.
The Best High-End, Expensive Hotels Around Los Angeles
For the discerning guest with a hefty disposable income, spending a few thousand dollars on a hotel stay around the City of Angels is easily done and totally worth it. Without a doubt, the best options are found in the luxe Beverly Hills neighborhood, but there are other excellent choices around the area too.
High-end, expensive prices: Expect to pay around $600+ per night for standard rooms in these hotels. Most of these hotels have epic suites or penthouses which can cost up to tens of thousands of dollars. Prices obviously vary throughout the year, so click the link to see current prices for your specific dates. Deals below the standard price can be found sometimes!
Four Seasons Hotel Beverly Hills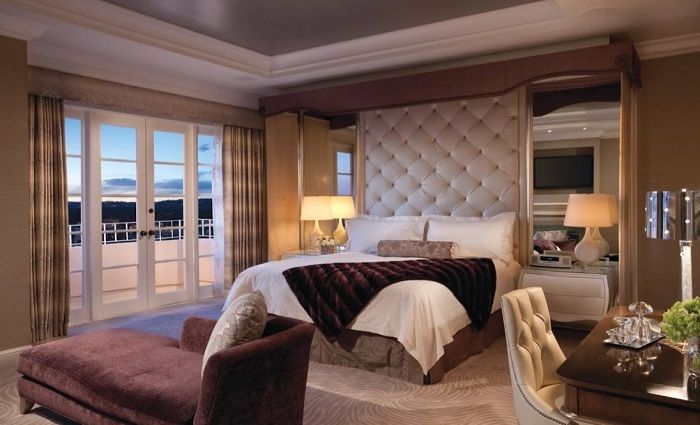 $$$$ | 5 Star | Lush Gardens | Pool, Spa, and Salon | Quiet and Secluded
With darling French doors leading to private balconies in every room, you'll feel serenely relaxed in this luxe hotel that entices you to enjoy the cool California evenings. Here you're surrounded by lush gardens for tranquil energy, and many rooms have great views of Hollywood Hills. This posh hotel sits just a few blocks from Rodeo Drive where you can shop to your heart's content at stores like Gucci, Harry Winston, Hermès, Ralph Lauren, and of course, Tiffany & Co. A stay at the Four Seasons truly promises ultimate luxury.
Shutters On The Beach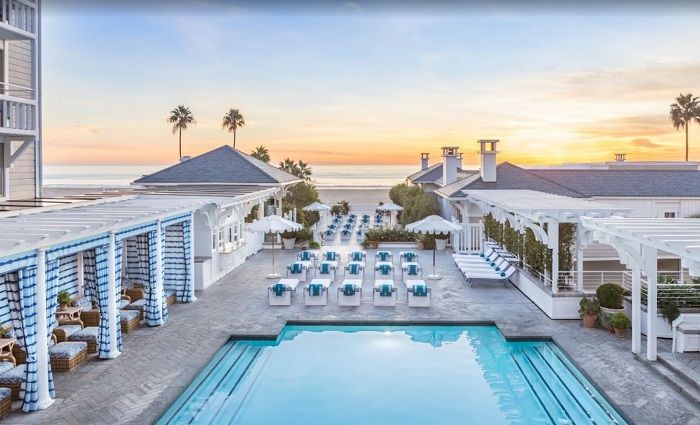 $$$$ | 5 Star | Trendy and Chic | Beachfront Luxury | Family Fun
For incredible beachfront luxury, Shutters on the Beach is the best option without a doubt—and for good reason. The lobby is inviting with its fireplace and pianos, the pool is stunning, they have bikes available, the spa is wonderful, it's close to the pier, and the rooms are dreamy and luxurious. Convinced yet? We promise it's everything you're hoping for when it comes to the best hotels in and around Los Angeles.
The Beverly Hills Hotel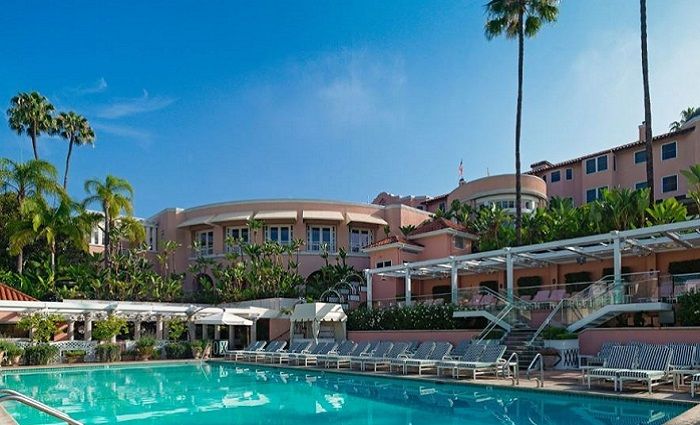 $$$$$ | 5 Star | Exceeds Expectations | Stunning Pool and Spa | Iconic Landmark
Beverly Hills city practically built itself around this iconic Pink Palace, and it's worth every penny. It stands above the competition thanks to the helpful and attentive staff who believe that cost is irrelevant when exceeding guest satisfaction. You can choose to stay in a room, suite, or bungalow that's elegantly decorated for comfort. The Polo Lounge often caters to celebrities, too, so keep your camera ready. A stay at the Beverly Hills Hotel won't be forgotten.
The Ritz-Carlton Los Angeles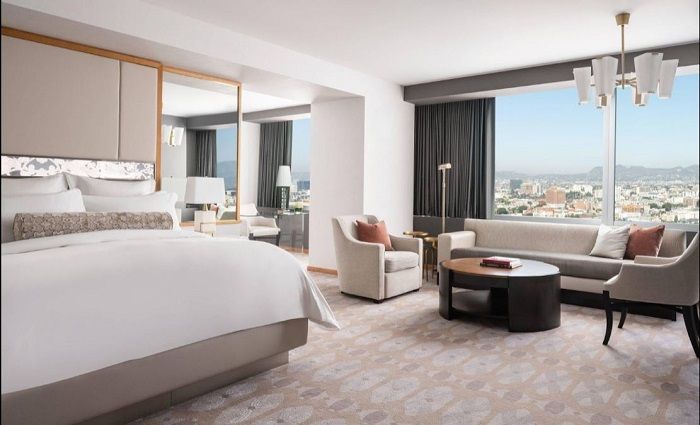 $$$$ | 5 Star | Elegantly Opulent | Rooftop Pool | Indulgent Spa | Couples and Business
It's not impossible to find a great deal at this high-end, expensive hotel in downtown Los Angeles. The decor is luxurious yet tasteful, the spa is tranquil, the rooftop pool is stunning, and the marble bathrooms are incredible. We love that they offer a Saturday wellness yoga class before heading out to explore the city, too.
You're close to all the action in downtown at this hotel since you're across the Staples Center and a short ride from the Fashion District. The Club Executive Suite is as comfortable and luxurious as you'd expect for a few thousand dollars per night.
Viceroy L'Ermitage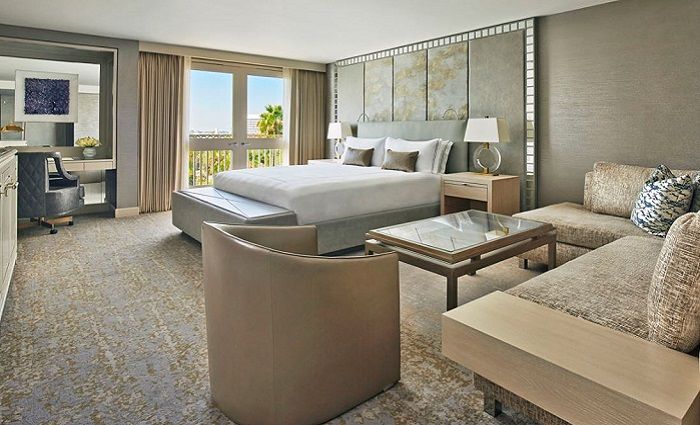 $$$$ | 5 Star | Stunning All-Suite Hotel | Rooftop Pool | Tesla Charging Stations
Close to the action, yet just off the busy streets, you'll find the magnificent Viceroy L'Ermitage Hotel in Beverly Hills. The spacious all-suite rooms and dressing rooms are renowned for making guests feel at home—possibly more so! The lobby is filled with art pieces to capture your attention, and the rooms are tastefully modern but warm. You're just minutes away from Rodeo Drive at this hotel, so you're well-positioned to get your shopping done before lounging at the rooftop pool.
Waldorf Astoria Beverly Hills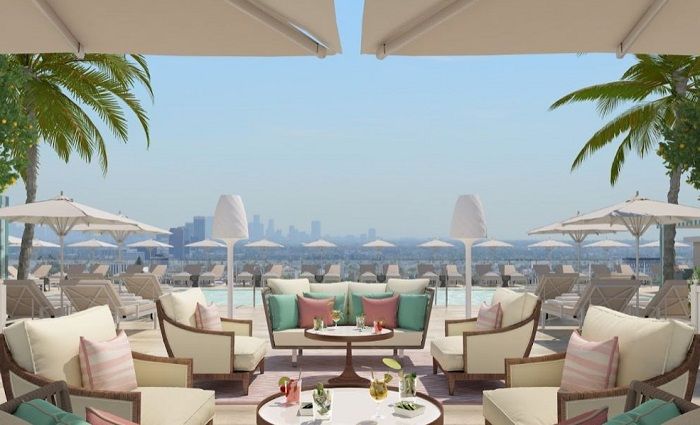 $$$$$ | 5 Star | Lavish Yet Serene | Rooftop Pool | Spa and Salon
As a recent Forbes 5-star winner, the Waldorf Astoria maintains its position as a top luxury hotel in Beverly Hills, perfectly located on the corner of Wilshire and Sunset. Guest satisfaction and relaxation are paramount here, which is why you'll find the high-end House of Bijan and James Perse stores on-site. The three-story lobby wows as you enter, but so will the 360-view rooftop pool and the world-renowned La Prairie Spa. Enjoy French-American cuisine after you indulge in a day at the spa or salon.
Here are a few more impressive high-end, expensive hotels to consider:
Fairmont Century Plaza Los Angeles | $$$$$ | Beverly Hills
The Maybourne Beverly | $$$$$ | Beverly Hills
Casa Del Mar | $$$$ | Santa Monica
The Best Fairly Expensive Hotels In Los Angeles
Rooms at "fairly expensive" hotels won't cost as much as the previous category, but you can still expect to spend close to a thousand dollars for a three-night stay. You'll find these awesome hotels all around the LA area as well, so you'll have plenty of options depending on your plans. These hotels are almost on par with the high-end hotels in many respects, so they're definitely worth the value.
Fairly expensive prices: In this category, expect to find hotels in the $400 to $600 per night range. You'll get incredible amenities, views, and comforts at these prices. Obviously, prices will vary, so click the link to see current prices for your trip.
JW Marriott Los Angeles L.A. Live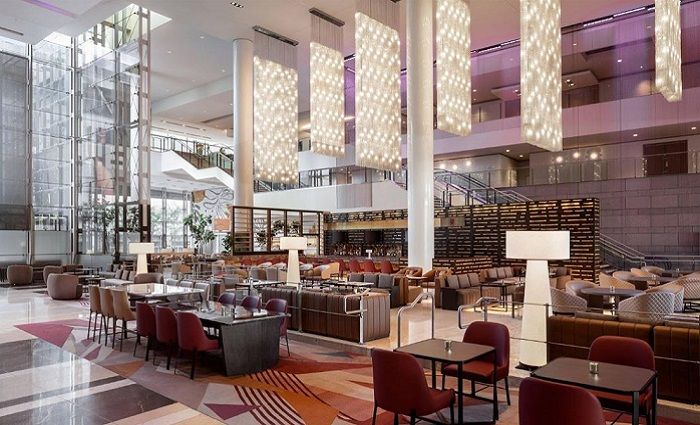 $$$ | 4 Star | Rooftop Pool | 24-hour Room Service | Tranquil Spa
A JW Marriott hotel rarely fails to impress, so be sure to consider this as one of the best hotels in downtown Los Angeles. The rooms are chic and comfortable for couples and families and the lobby and dining areas are remarkable. You'll have several restaurants and bars to choose from but make time to eat at the incredible Fleming's Prime Steakhouse at the end of the block.
This hotel is perfectly located near the Staples Center entertainment venue and barely a mile from the Walt Disney Concert Hall.
Santa Monica Proper Hotel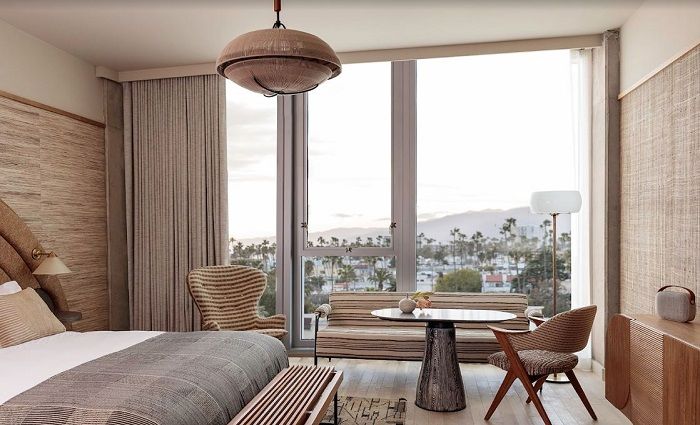 $$$ | 5 Star | Cool, Stylish Luxury | Rooftop Bar and Pool
Santa Monica Proper takes coastal California luxury to a whole new level. Cool, beachy, bohemian neutrals are incredibly inviting in each room. The location is just about perfect: you're just minutes from the popular beach and the Third Street Promenade, but you have spectacular views from the rooftop pool of the surrounding valley, beach, and mountains.
Make sure you eat at the Calabra restaurant on the roof. It's considered the best rooftop restaurant in Santa Monica.
Kimpton La Peer Hotel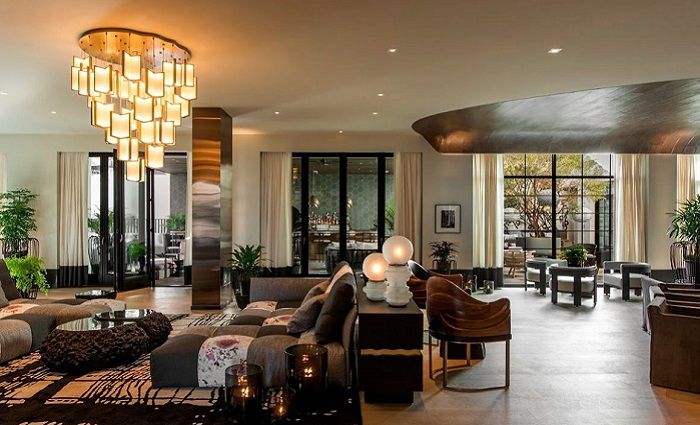 $$$ | 5 Star | Posh Yet Modern | Rooftop Pool | Complimentary Yoga
With upscale art and posh, modern designs, you'll feel like a million bucks during your stay here at the Kimpton La Peer in West Hollywood. It's luxuriously casual with welcoming vibes. For guests who enjoy staying active and healthy on vacation, be sure to use the complimentary bikes, yoga, sound bath, and meditation classes. It's everything WeHo is known for in one hotel.
Loews Santa Monica Beach Hotel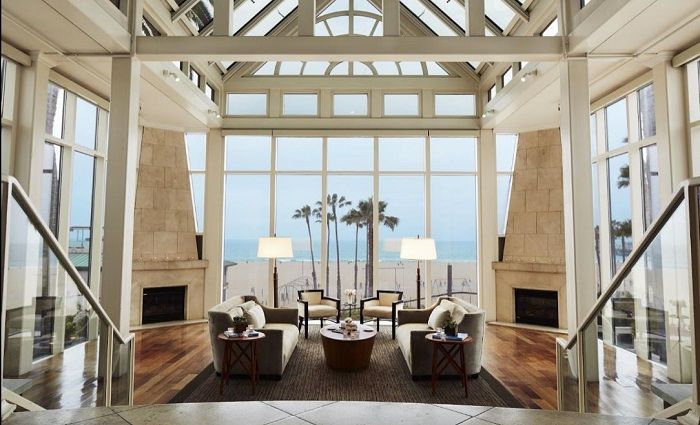 $$$+ | 5 Star | Grandiose Architecture | Spacious Rooms | Beachfront Elegance
This hotel continues to hold the AAA Four Diamond Rating, so you're sure to have excellent service and rooms. As you enter, take a moment to be wowed by the magnificent atrium-style windows in the lobby that offer spectacular views. This hotel is laid out so that guests can find plenty of nooks to spend the day indoors or outdoors.
Book a facial at their spa before heading out to the nearby Third Street Promenade for an evening of entertainment. Or relax on the pool deck next to one of the cozy campfire pits at sunset.
Sunset Marquis Hotel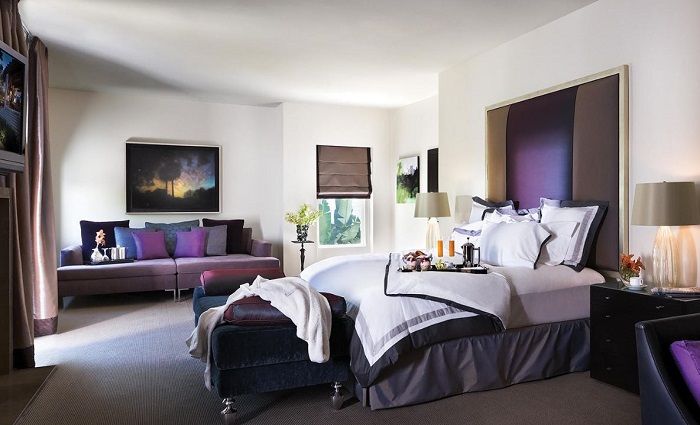 $$$+ | 4 Star | Chic and Trendy | Private Elevators and Kitchens | Incredible Value
Guests get a lot of bang for their buck here at the Sunset Marquis where every room is a suite or villa. This hotel is tucked away on a cul-de-sac just off Sunset Strip, so you're close to all the shopping and entertainment you could want. Or you can opt to stay at the hotel for a spa treatment and an afternoon on the relaxing pool deck. Just don't skip breakfast on the patio that totally has fairy tale vibes.
Check out these other great hotels in this price range:
The West Hollywood EDITION | $$$+ | West Hollywood
Viceroy Santa Monica | $$$ | Santa Monica
Palihouse Santa Monica | $$$ | Santa Monica
The Best Mid-Range Luxe Hotels Near Los Angeles
The mid-range luxe hotels on our list probably include the most common price range of hotels in and around Los Angeles. There are too many to even add to our list, but we've made sure to include some of the best options. You'll find iconic hotels used in movies or even a sweet B&B near the beach.
Mid-range lux prices: This range of hotels will cost between $250 to $400 per night, though it's not uncommon to find a deal below that as well. Prices will obviously vary, so click the link to see current prices.
The Westin Bonaventure Hotel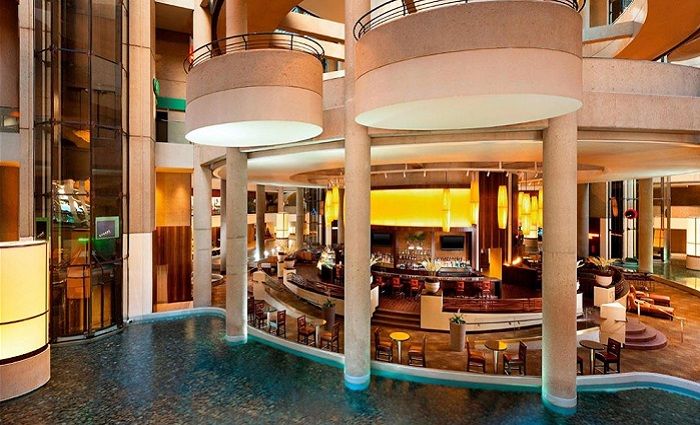 $$+ | 4 Star | Elegantly Modern | Iconic Skyline Towers | Business and Couples
The Westin Bonaventure stands as an iconic tower of high-end rooms in a hotel that boasts elegant luxury at every corner. You'll definitely want to head to the 35th floor for panoramic views of the city as you dine the award-winning LA Prime steakhouse. Soak in some rays at the newly renovated pool for a relaxing afternoon.
This hotel is conveniently located near the Walt Disney Concert Hall and just a 10-minute drive from Dodger Stadium. As a fun fact, The Westin has been used as a backdrop hotel in many films like Vice, Interstellar, and The Dark Knight Returns.
Petite Ermitage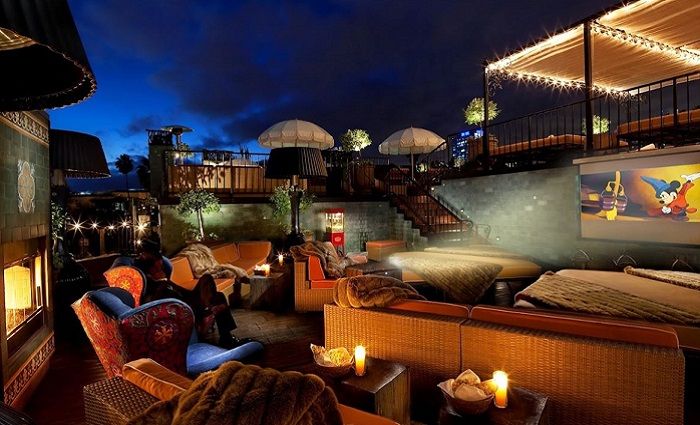 $$$ | 4 Star | Euro-Bohemian | Saltwater Pool | Cozy Yet Elegant and Romantic
We can't get enough of how enchanting this whimsical yet chic hotel is. Every space is filled with perfectly coordinated decor that's totally inviting and impossible to resist. Take a walk through the gardens, enjoy a rooftop outdoor movie, or take a relaxing dip in the saltwater pool.
Your bed comes with luxurious linens and goose-down pillows for a restful night's sleep. And finally, you can enjoy California Mediterranean cuisine at the hotel restaurant that uses local, organic ingredients.
InterContinental Los Angeles Downtown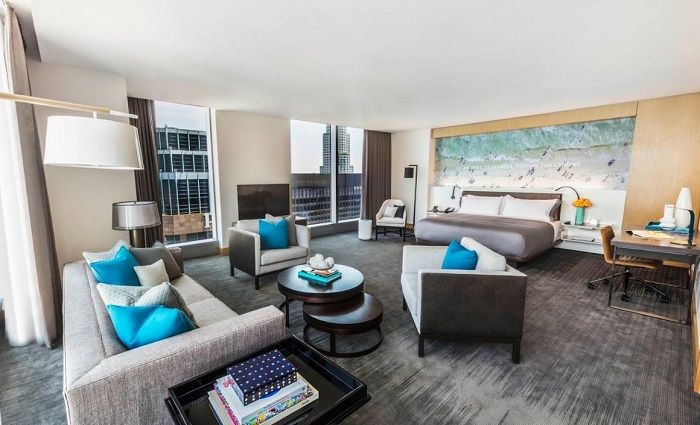 $$ | 4 Star | 360 Views | Immaculate, Contemporary Decor | Perfect for Couples
Excellence is the name of the game at the InterContinental. You'll be drawn in by the stunning entrance of glass and sweeping wooden panels before heading up to the 70th-floor sky lobby. Yep! The lobby is 70 floors up to wow you as you check in. The rooms have similarly breathtaking views, and the Spire 73 bar rivals many other luxe rooftop bars. You're centrally located to the top destinations of downtown LA here, too.
Channel Road Inn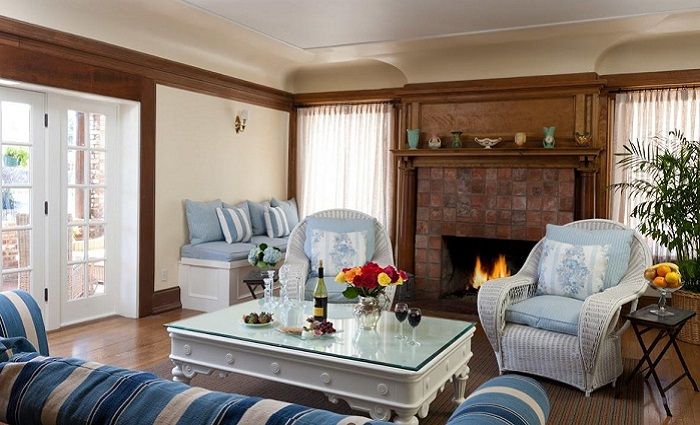 $$$ | 4 Star | Charming and Cozy B&B Vibe | Intimate Getaway | Boutique Luxury
If you're up for a cozy experience at one of the best boutique hotels in Santa Monica, then stay at this charming property where you awaken to a home-cooked breakfast buffet each morning. No continental breakfast at a chain hotel compares.
Several rooms come with partial-ocean-view balconies, but they're all totally comfy and indulgence in a B&B kind of way. Head to the beach in the morning and come back for free wine and hors d'oeuvres each afternoon.
Mondrian Los Angeles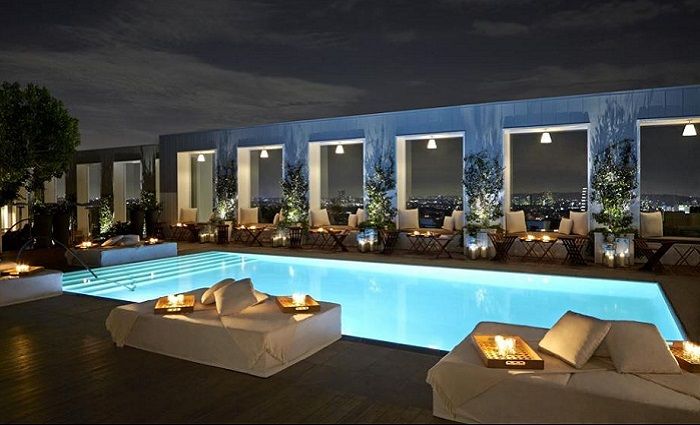 $$$ | 4 Star | Design Eye-Candy | Swoon-Worthy Rooftop Pool | Contemporary Luxury
Stay at this ultra-contemporary hotel that has touches of whimsy throughout. Located right on Sunset Strip, it exudes all the pomp and circumstance you'd expect. What's unique about this Holylwood hotel is that it pays homage to the roots of Hollywood using design elements that subtly remind us of Alice in Wonderland.
We love the 30-foot mahogany lobby doors and the mushroom-inspired front desk. It's truly unique Hollywood glamour. And the chic rooftop Skybar and pool is totally Instagramable.
Here are a few other excellent hotel options:
Mr. C Beverly Hills | $$$ | Beverly Hills
Sheraton Grand | $$+ | Downtown LA
The Hollywood Roosevelt | $$$ | West Hollywood
Andaz West Hollywood | $$$ | West Hollywood
The Best Low-Cost Hotels In And Around Los Angeles
The great thing about staying in Los Angeles is that you can find some incredible hotels unique to the LA area for a great deal. These aren't your super budget motels, but rather they're truly comfortable, trendy, and surprisingly luxurious hotels in their own way. If you're heading to LA and just want a great hotel that isn't a sketchy budget motel, then this is the list for you.
Low-cost prices: These hotels are priced between $125 and $250 per night on average. Since prices do vary, click the link to see current prices.
The Hoxton Downtown LA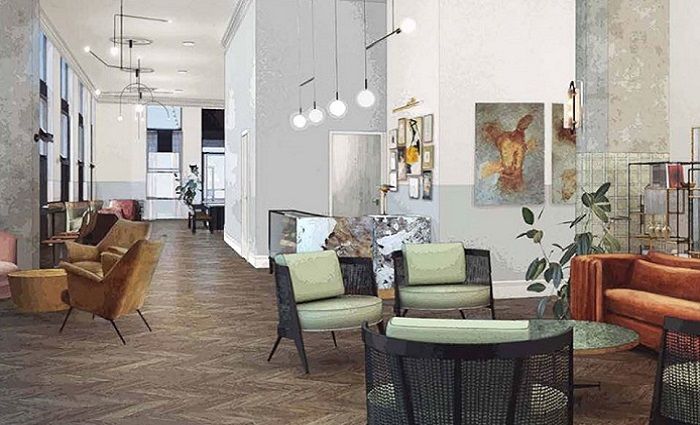 $$ | 4 Star | Artistically Contemporary | Social Scene | Business, Couples, Friends
You'll love the Hoxton if you're into unique hotels that exude a different kind of vibe. The Hoxton has tastefully updated 1920s-inspired decor and plenty of space for interacting with other like-minded guests. We really love how the lobby is incredibly inviting just like the neighborhood bistro that's casually classic. It should cost more than it does, which makes it quite a steal to stay at.
Freehand Los Angeles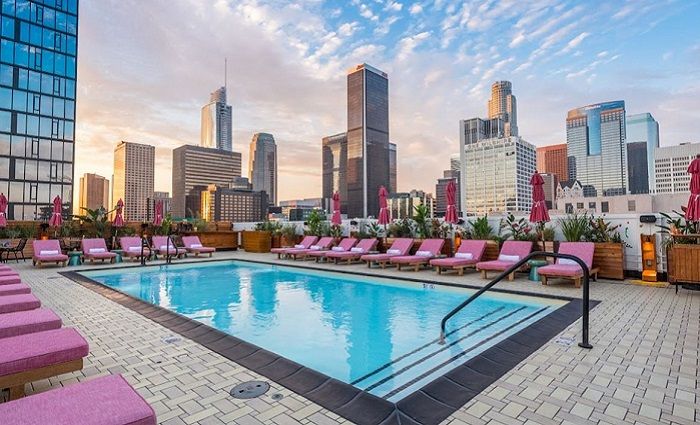 $$ | 4 Star | Affordably Chic | Rooftop Pool | Millennial Haven
All the social hipsters and millennials flock to the Freehand for good times and great vibes. It's a hot social scene of digital nomads, busy corporate climbers, and vacationing hipsters. The rooftop pool is chic and has weekend DJ sets to keep the vibes high.
We love that the rooms are Art-Deco inspired as a fun change from some traditional hotel decor. Onsite coffee and pastries in the communal workspace lobby keep you going all day.
Hotel Figueroa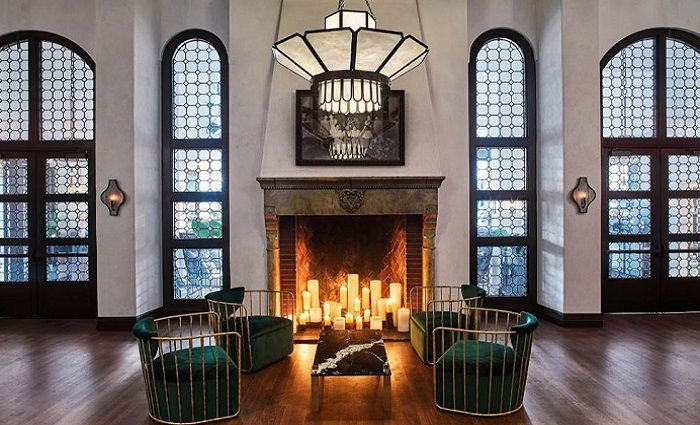 $$ | 4 Star | Spanish-Mediterranean Decor | Boutique Luxury | Romantic and Artsy
The Hotel Figueroa is a treasured gem in Los Angeles: luxury and boutique with unique Spanish-Mediterranean vibes at a great price. You'll find impeccably selected art and architecture in every space here, including the rooms.
Each comfy room invites you to relax in style, but the outdoor pool will entrance you to stay all day and forget the bustling city around you. The location is also ideal: within walking distance or a short Uber ride of everything in downtown.
Mama Shelter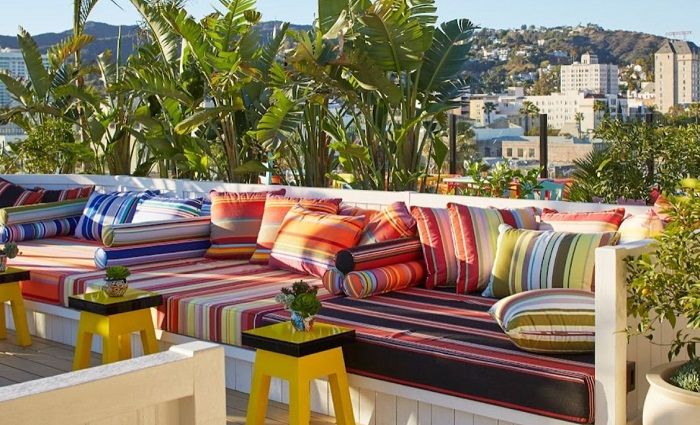 $$ | 4 Star | Chic and Swanky | Social Scene | Community Vibes
This hotel is almost as quirky as its name, but don't let that dissuade you from considering this incredible hotel. You'll find an award-winning rooftop restaurant, indoor bar, and even a communal game room where you can make new friends. It's a smaller hotel, but that's what makes it so inviting. All of the rooms have king-size beds to get lost in as you dream the night away.
Check out these other awesome low-cost hotels:
Hollywood Celebrity Hotel | $$ | West Hollywood
Beverly Hills Marriott | $$+ | Beverly Hills
Coast Anabelle Hotel | $$ | Burbank (not far from Universal Studios)