Times Square is known for its bright lights, flashy billboards, and endless entertainment. It's the busiest area in New York City probably because it's such a tourist destination. If you're making the trip, you'll want to have a plan of action. Here are our top things to do around Times Square.
---
Everything You Need to See and Do at Times Square
There is no place like Times Square. From the famous naked cowboy to the costumed characters (looking at you, Spiderman), the Broadway shows and the notorious ball drop on New Year's Eve, this New York City destination is one of a kind—and then some.
Times Square is located in Midtown and borders 42nd to 47th Streets from Broadway to Seventh Avenue. The subway stop you'll need is Times Square–42nd Street/Port Authority Bus Terminal station and has almost every line connected to it.
This area can be overwhelming since there is so much to do and see here, which is why we have a helpful guide to steer you in the right direction. Here are the top things to do around Times Square right now!
15. Grab a Slice at Joe's Pizza
Joe's Pizza pretty much serves up the best slice in the city. The location at Times Square is an outpost of the original in Greenwich Village that's been serving those traditional New York slices with the thin crust since 1975 thanks to its founder Joe Pozzuoli.
When you visit, you'll have to wait in line no doubt, which isn't anything different from the original location, but it's well worth it. We say the cheese pizza is the best, and what these guys are known for, but there are other options to choose from too, such as the white pizza or Caprese.
You can also get a full pie but that's not always as easy to walk around with while checking out the sights.
Address: 1435 Broadway, New York
14. Stay at the Only Hotel with a Rooftop Pool in Times Square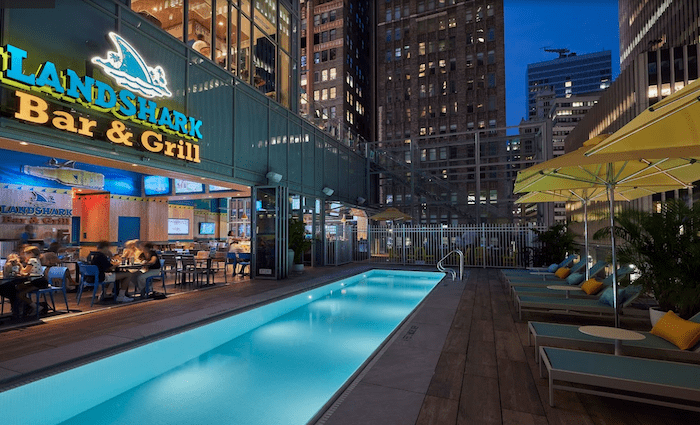 Staying at Margaritaville Resort Times Square is sort of like being on a tropical getaway without leaving New York City. One of the reasons is because of the rooftop pool deck—the only one in Times Square. You can sip on a fruity, frozen cocktail while lounging by the pool, thinking you're in the topics until you look around and see those impressive city views.
The restaurant serves up a solid happy hour with $7 margaritas all week long, which is a steal for this area. You'll also be able to check out a large replica of Lady Liberty herself while dining here. You can't miss this whopping statue. It's sort of the centerpiece in the dining area.
13. Take a "Broadway for Beginners" Walking Tour
If you're new to the city and all of the shows that it offers, you'll want to sign up for the Broadway for Beginners walking tour with Broadway Up Close. On the tour, you'll get to explore the history of Broadway and all the theaters that hold these spectacular shows.
Your guide will tell you how Broadway shows first come about and what it takes to put them on in the Big Apple. You'll even get to hear about some of the alleged ghosts that continue to haunt theaters today!
The great thing about this tour is the experienced guide. They are usually a local actor and have plenty of personal stories to share as well, giving you a rare inside look into the theater world like never before.
Address: 208 W 41st St, New York
12. Listen to Live Music at Victor's Cafe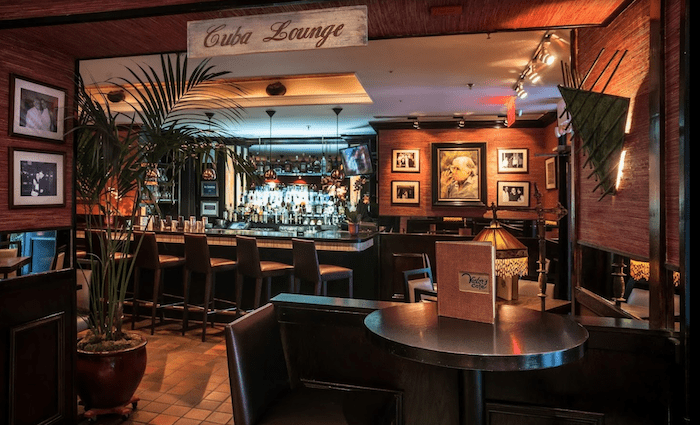 When we want to pull up a chair at a bar for a classic mojito served with a side of live music, we go to Victor's Cafe. Here, you'll get a chance to listen to the Latin jazz band Son de Cuba Band while you sit back and relax in the restaurant's fun Cuba Lounge.
It's best to try and get here early as it can get crowded quickly after 5 pm. Before that, you can usually nab a spot in the lounge pretty easily. You can also order food off the dinner menu while in the lounge, and the waitstaff is well prepared to get you in and out before your Broadway show starts.
Address: 236 W 52nd St, New York, NY
11. Laugh Out Loud (for Free!) at The Late Show with Stephen Colbert
Some of your favorite late-night television shows are filmed in NYC. Anyone who watches "The Late Show with Stephen Colbert" at home will surely want to see him in person. When you visit Times Square, you can—for free!
You'll need to go online here to find a time slot first, which can be difficult since these shows are usually nabbed up quickly. But there is a waitlist you can get on for the day you want if needed. It's best to try and get these tickets as early as possible to avoid missing the date you want.
And if your favorite late-night host is Jimmy Fallon, you can also grab free tickets to "The Tonight Show." Find those tickets here.
Address: 1697 Broadway, New York (Colbert) and Rockefeller Plaza, New York (Fallon)
10. Hang out at Bryant Park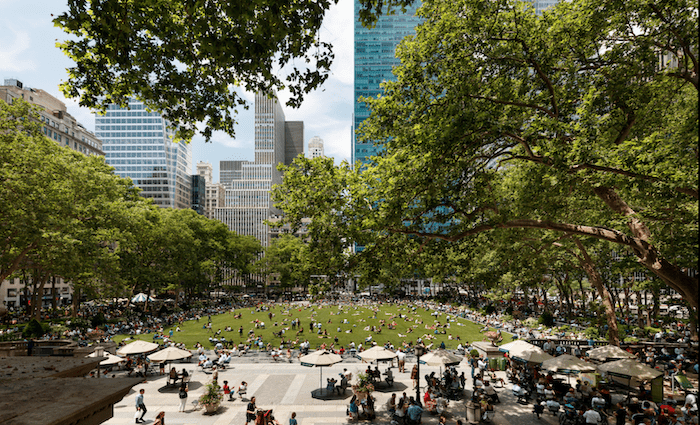 Bryan Park a massive strip of greenery located in the middle of 40th and 42nd Streets. It's a great spot to sit on the lawn to catch some sun or enjoy a cold beverage under an umbrella. It's also home to the summer movie night series where films are projected on a large screen for free!
In the winter months, this is the place to do your holiday shopping at the outdoor market where you'll find unique artisan gifts for everyone on your list. There's also a pop-up bar and food hall serving up hot drinks and more, along with a decked-out Christmas tree and a popular ice skating rink to practice your triple axel.
Address: New York, NY
9. Check Out Some Art at The Museum of Modern Art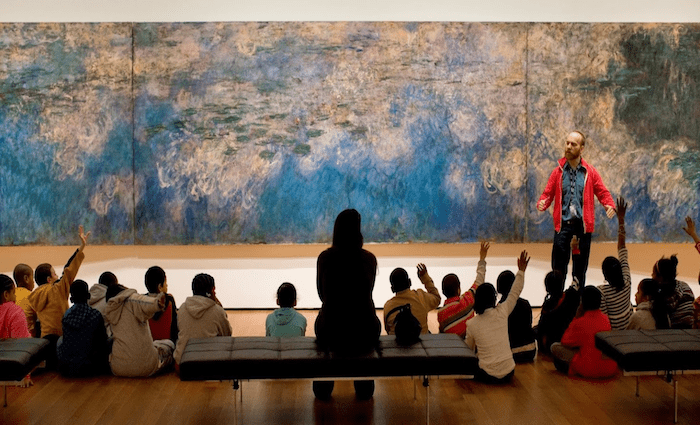 The Museum of Modern Art (MoMA) is a pretty short walk from Times Square and definitely worth checking out if you're into the artistic and creative things in life. Known as one of the biggest modern art institutions of its kind, you'll have plenty to explore here.
There are collections that date back to the 1800s and work from artists all around the globe. The museum also holds a lot of cool, artsy events, including film screenings and live performances.
You'll need to get a ticket in advance before visiting the museum and prices differ between members (adults usually start at $25) and non-members. However, your tickets give you full access to all the special exhibits and galleries so it's worth really taking your time to explore.
Address: 11 W 53rd St, New York, NY
8. Feel Festive Year-Round at A Christmas In New York Store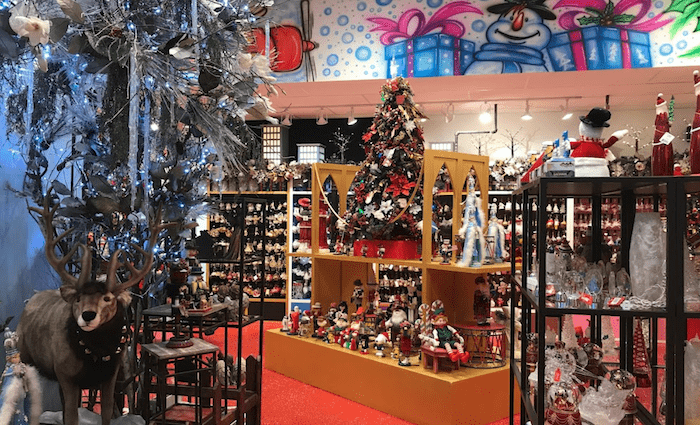 Christmas lovers can rejoice! Times Square has a festive store just for you. The Christmas in New York – Times Square shop is decked out in everything Christmas. You'll find shelves full of Santa figurines and floors covered in elaborate Christmas trees.
And you don't have to worry about only seeing this store during the holidays either as it's open year-round! For those who love Christmas, it's never too early to get new tree trimmings.
Address: 730 7th Ave, New York, NY
7. Check Out Your Favorite Celebrities Made of Wax at Madame Tussauds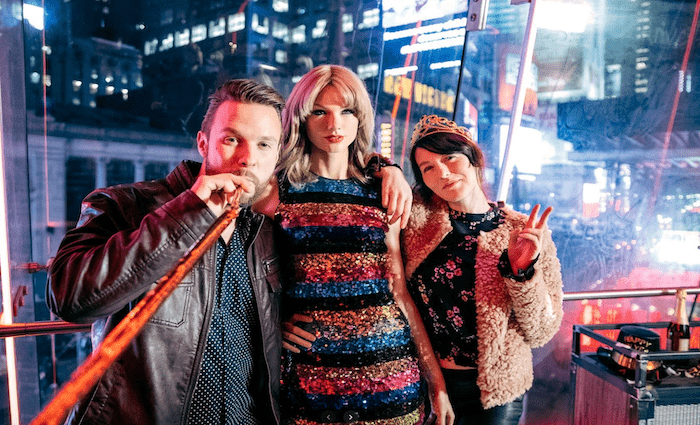 For those who wish they could meet their favorite celebrities in person, stop in at Madame Tussauds New York. They aren't the real thing of course, but they are the next big thing. These life-size wax figures are pretty cool and look just like the real thing.
Plus, you're allowed to take all the photos you want with all the celebrities you choose. Who doesn't want to snap a selfie with a fake Taylor Swift? And Dwayne Johnson just has his own figure revealed in NYC too.
There are five floors of wax figures to discover along with the MARVEL Universe 4D cinema that makes you feel as though you're in the room with your favorite superheroes. Kids and adults alike will love exploring all the celebrities here.
Address: 234 W 42nd St, New York
6. Cruise Around in a Theater Bus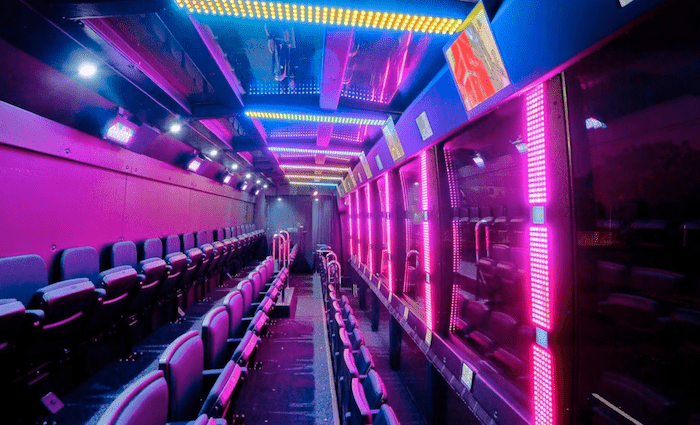 Times Square is home to plenty of touring buses, but nothing beats The Ride NYC. This bus has a built-in theater with stadium seating and floor-to-ceiling windows. You'll cruise around the area watching the street performers from your seat while your hosts (who are usually comedians) add in some humorous commentary along the way.
Of course, this wouldn't be a tour without seeing some of the city's most notorious landmarks. You'll be able to catch sight of Rockefeller Center, Radio City Music Hall, and the Empire State Building without ever leaving the bus.
Address: 259 W 42nd St, New York, NY
5. Get Your Chocolate Fill at M&M's New York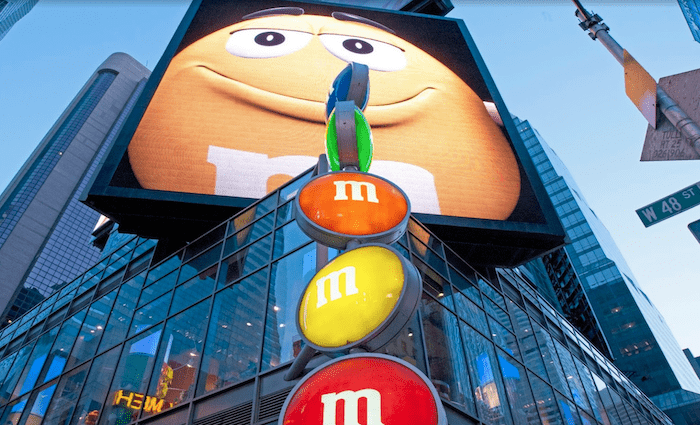 For all those candy lovers out there, M&M's New York is the store for you. This enormous space of 25,000 square feet offers a huge variety of everyone's favorite chocolate candy on all three levels. Yes, three. There are even New York-themed candies and an option for you to create your very own M&Ms.
It's a colorful shop with lots to explore and of course, plenty of merchandise to purchase and character statues to see, including an M&M dressed as the Statue of Liberty. It wouldn't be Times Square without that!
Address: 1600 Broadway, New York, NY
4. See the City From the 86th Floor at the Empire State Building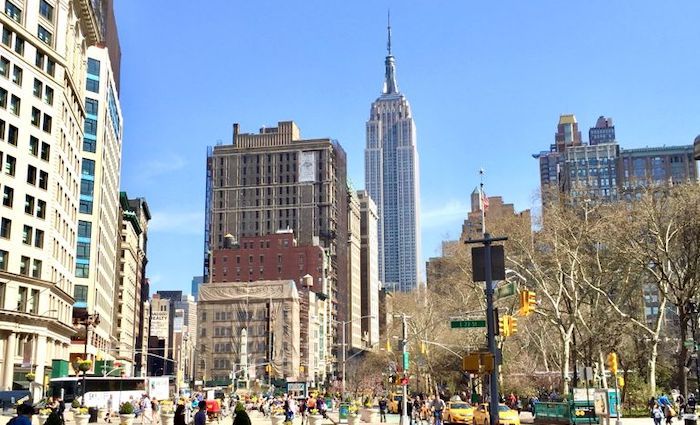 If you really want to see the city, you have to see it from the Empire State Building. Head up to the 86th floor where there is an open-air observation deck that boasts 360-degree views of New York and more. Some days, if the weather permits, you can also see the surrounding areas, including getting peeks of Jersey and Delaware.
You won't be able to visit without purchasing a ticket first which can start at $44 per adult. So be sure to plan ahead before making your way over and get that ticket well in advance.
Address: 20 W 34th St, New York
3. Experience a Broadway (or Off-Broadway) Show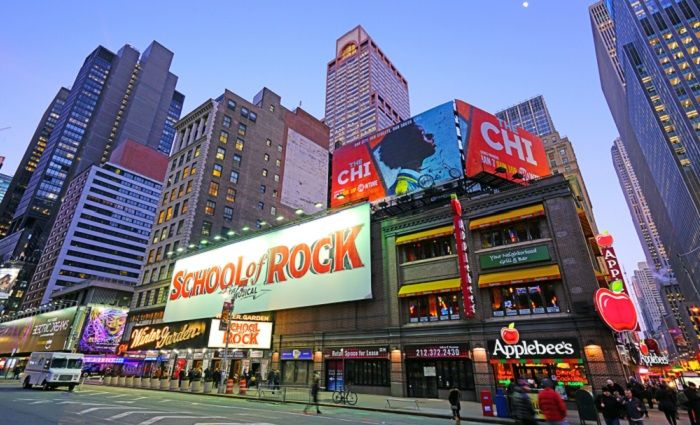 There really is only one city to experience the best live theatre and it's New York. When you're visiting Times Square, you're right within the theater mecca. You can have your choice of a Broadway musical, such as "Hamilton" or an Off-Broadway show like "Little Shop of Horrors."
Both types of productions are fantastic with the only real difference being the theatre size itself. Hint: a theatre with less than 500 seats is usually considered Off-Broadway. Either way, you won't be disappointed by the talent this city has to offer on the stage.
Address: Theater District, New York
2. Enjoy Live Entertainment at Radio City Music Hall
Radio City Music Hall is home to the popular holiday special, "The Christmas Spectacular Starring the Radio City Rockettes." So if you're in Times Square during the holiday season, you'll want to catch this show. However, this music hall has plenty of other live entertainment all year long, too. You can choose to catch a stand-up comedy act from a celebrity comedian to a concert by one of your favorite artists (hello, Lady Gaga and Tony Bennett).
This hall has been around for a long time and is considered the biggest indoor theatre around. This massive space also doesn't have any columns to get in the way of your view of the stage. No matter where you sit, you'll see everything perfectly.
Address: 1260 6th Ave, New York, NY
1. Roller Skate (or Ice Skate) at Rockefeller Center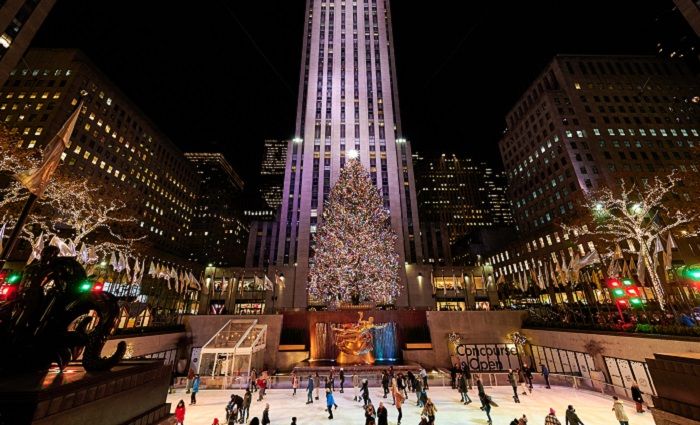 During the holiday season, Rockefeller Center is home to the city's ginormous Christmas tree and the ice skating rink placed perfectly below it. We know most people go here to don their winter skates, which is acceptable by any means. But when it's not in season, there's also another option: indoor roller skating.
Flipper's Roller Boogie Palace is brand new and comes from the popular Hollywood rink from the late 70s. This new version in New York has a similar funky 70s vibe that helps match its history and makes this space different than your traditional roller rink. It's also open all year long so you don't have to worry about the change of seasons changing your plans.
Address: 45 Rockefeller Plaza, New York, NY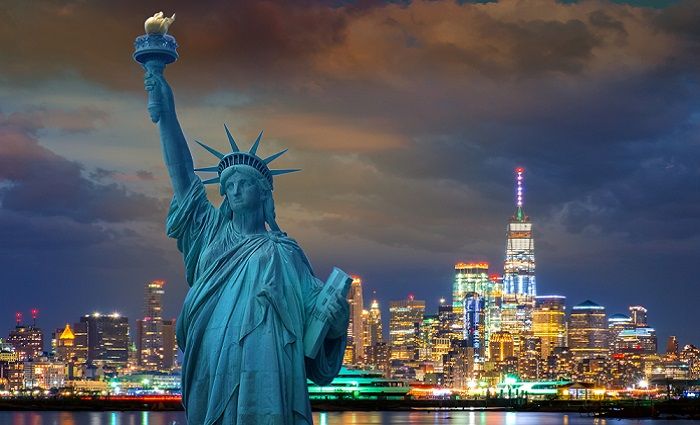 Find the best places to stay
Where to Stay in NYC
New York City is the center of the universe to those who adore this iconic city. Choose the best neighborhood to stay in as you plan your upcoming trip to the Big Apple.