Finding a hotel in Times Square can feel like you're hunting for a needle in a haystack. Sure, there are plenty to choose from, but not all of them are great. Since this is a tourist destination, these hotels can often be pricey and may not offer as much as you'd like, including space to move around. This can be especially challenging when traveling with others. We created a useful guide to the best hotels near Times Square to help make the search a little less strenuous.
---
The Top Hotels and Places to Stay Near Times Square
Times Square is one of the busiest neighborhoods in New York City and for good reason. Travelers flock here from all over at all times of the year to partake in the various entertainment (and touristy) options. There's anything from Broadway shows to ice skating, giant candy stores, and costumed characters who will take a photo with you. For a price of course. Check out everything this area has to offer with our favorite things to do around Times Square guide.
If you're visiting New York City to enjoy Times Square, you'll likely want to stay around here for easy access to all of your entertainment plans. But Times Square is also home to a major transportation hub: Times Square–42nd Street/Port Authority Bus Terminal station. Almost every subway line is connected to it so traveling to other neighborhoods is also a cinch.
Finding a hotel in Times Square is not always easy since there are so many options and a lot of them cost too much for what they offer (or don't offer). Some of our favorites are actually a few minutes from Times Square. That's where this guide comes in. Read on to find out about the best hotels near Times Square.
Our Partnership with Booking.com. If you like our content, please book by clicking on our Booking.com links. The price is the same for you and we get a small commission that helps support our blog. We've partnered with Booking.com because they have the most options, great prices, and a solid loyalty program. Just about every hotel is on Booking so our recommendations are not incentivized.
Margaritaville Resort Times Square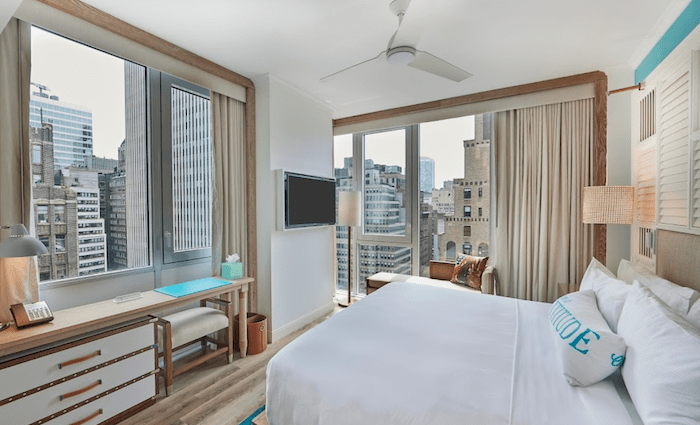 $$ | 4 Star | Tropical Getaway | Rooftop Pool
Margaritaville Resort Times Square is pretty new to the area but it's already making kind of a—excuse our pun—splash. It opened back in 2021 and brought with it the only outdoor pool in the area.
And the pool is located on the rooftop so you'll have some great views of the city and all the billboards of Times Square. You'll also love the restaurant if not for the cheap margaritas during the weeklong happy hour, but for the massive replica of Lady Liberty located in the dining room.
As for the guest rooms, expect a nautical theme that gives off that cool, serene feel. There's a rain shower that will relax you and a mini-fridge to keep all your drinks chilled. But one of the major draws these rooms have is the soundproof windows. You can view the bustling city below from your windows but you won't have to hear any of the honking.
TRYP by Wyndham New York City Times Square / Midtown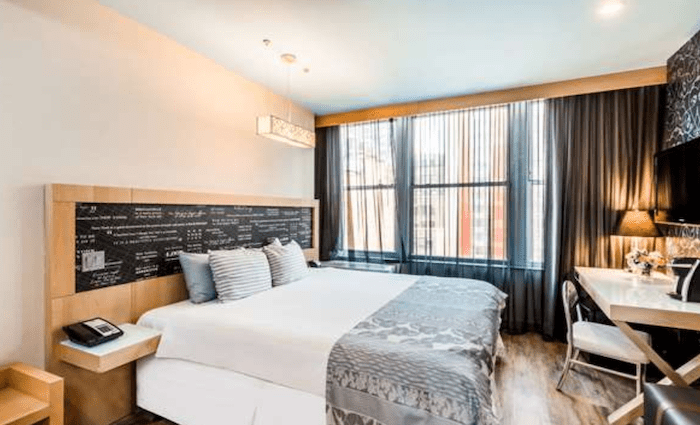 $$$ | 4 Star | Comfy and Roomy | Home Theater
If you want to be right in the middle of Midtown and Times Square, TRYP Wyndham is the right choice. Here, you're close to anything from Madison Square Garden, to Byrant Park, and the Empire State Building. You're also right near Penn Station which makes commuting anywhere within the city, Long Island, and Jersey a breeze.
The rooms are pretty decent simply because they provide a good amount of space. The 10-foot-ceilings are nice while bunk beds and pull-out sofas offer additional places to sleep for guests.
You can opt for a room with its own kitchen and private bedroom or go bigger with a room that comes with its own fitness equipment and a home theater in case you want to stay in for a night.
Dream Midtown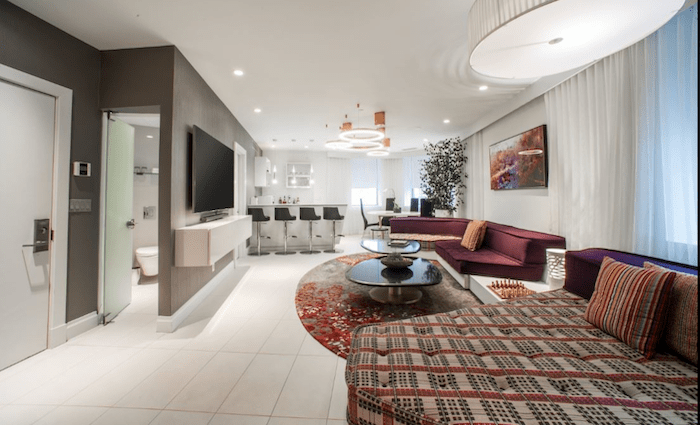 $$ | 4 Star | Entertaining | Bowling Lane
Anyone who has tickets to a show at Carnegie Hall will surely appreciate staying at Dream Midtown. This hotel is just a quick walk to the concert hall and other major local attractions that include the espionage museum Spyscape.
The hotel is flashy and fun, and dare we say, dreamlike? It's housed in an 1895 beaux-arts building and decked out in funky decor. The rooms are colorful and comfortable and come with one marble shower bathroom—the suites often come with two!
And if you need anything, you can text the staff 24/7. There's a restaurant on-site, a cocktail lounge, and a game room with a bowling lane and a 5,000-gallon fish tank. Don't forget the rooftop terrace that is open year-round with views of Times Square.
JW Marriott Essex House New York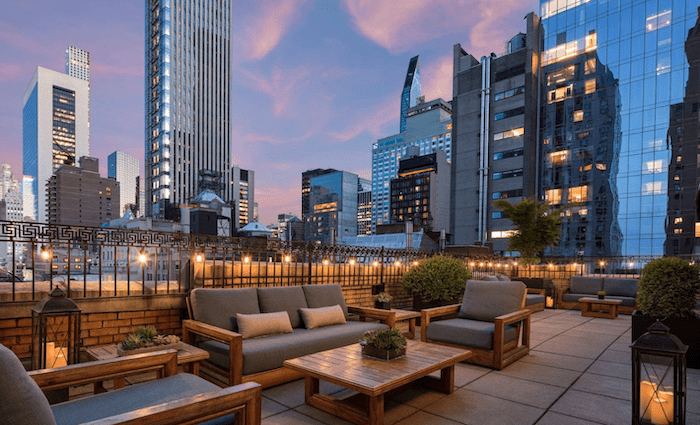 $$$$ | 5 Star | Elegant Stunner | Private Terrace
The JW Marriott Essex House New York is a city landmark in hotels. It's located in an art deco building that dates back to 1931 and has a coveted location facing Central Park. The views at this place are stunning. It's also close to Lincoln Center and Columbus Circle, but still not a far walk from the center of Times Square, making it an ideal location for taking in a show or for shopping.
The hotel itself is elegant and rich. From the crystal chandeliers to the silver leaf decor, you'll feel fancy here. The rooms are nice but the suites are better. They come with not one bedroom but two and their own private terrace that overlooks the park. There are even options for connecting rooms if needed. The dining option here is SOUTHGATE Bar & Restaurant which serves American cuisine inside a classy space, so it's great when looking to impress on a date or important gathering.
Room Mate Grace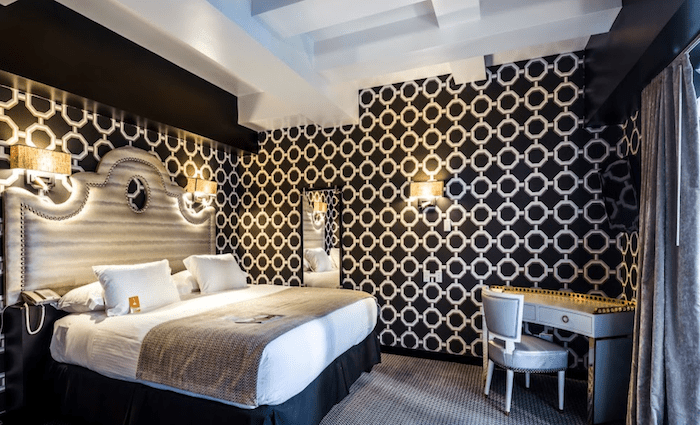 $ | 3 Star | Affordably Fun | Free Breakfast
When you want to be in the heart of Times Square without spending too much money on your stay, Room Mate Grace is the right way to go. The rooms won't cost a lot but are pretty spacious, and there's an option to accommodate three people.
You have your choice of a standard bed or bunk bed if you want to get in touch with your childhood summer camp days. We kind of love how offbeat the decor can be, mixing gold headboards with trippy wallpaper that looks like something straight out of Alice in Wonderland.
The daily continental buffet breakfast is served until noon and the indoor pool kicks the kids out at 5 pm for the adults to play. There's also a sauna right next to the pool area which makes for easy relaxation (especially after a few cocktails).
Hotel Shocard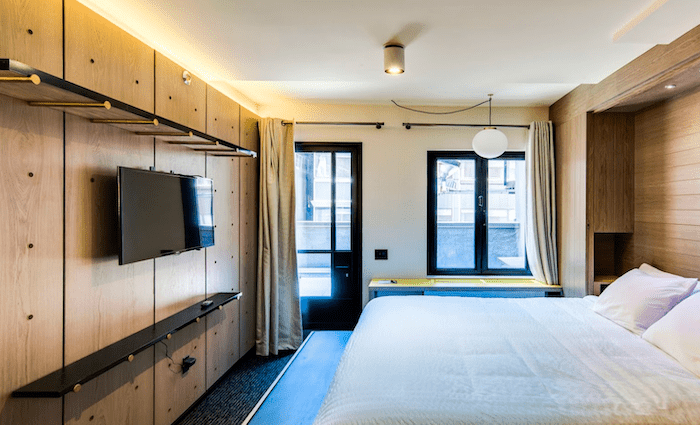 $$ | 3 Star | Theater Haven | Personal Marquee Message
Any hardcore Broadway fan can appreciate Hotel Shocard. This hotel is located in the Theater District so it's just a skip away from all the theaters. But what makes this hotel special is its love of theater. You can find unique packages that include having your own personal message lit up on their marquee. Hello, Dolly!
The rooms are pretty standard although they do come with rain showers. However, the penthouse suites have their own private terraces overlooking the city. The subway is about a minute away but the hotel also offers a limo service if you prefer to get around in style. But if you're looking to stay close, be sure to try Gleason's Tavern located in the hotel which offers everything from cocktails to breakfast, and a whole lot of people watching.
Ink 48 Hotel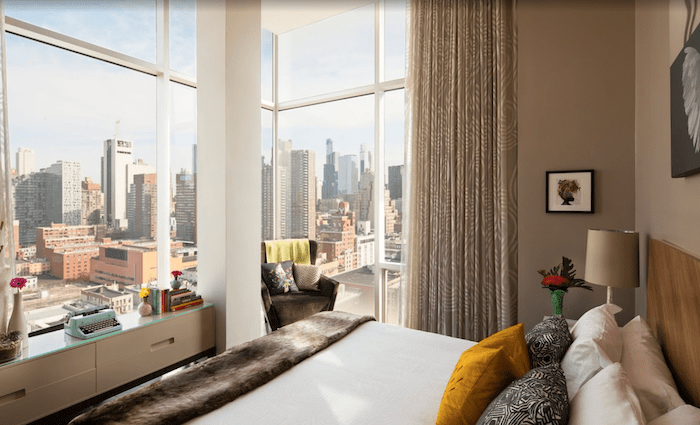 $$$ | 4 Star | Industrial Chic | Private Window Seats
Located in Hell's Kitchen, Ink 48 Hotel has a lot to offer including being close enough to Times Square without being right on top of it. You'll have your option of hitting up the Theater District or making your way over to Hudson Yards. Either area is close and easy to get to.
The hotel is housed in a former printing factory which gives it some interesting flavor that is both industrial and stylish. Here, you'll find incredible views of the city and the Hudson River especially when you head up to the super-sleek rooftop bar.
The guest rooms are cute and breezy with some offering charming window seats. Studios can provide more space with a living area that has a bistro table while the suites have anything from floor-to-ceiling windows to a private balcony, both overlooking the river.
Freehand New York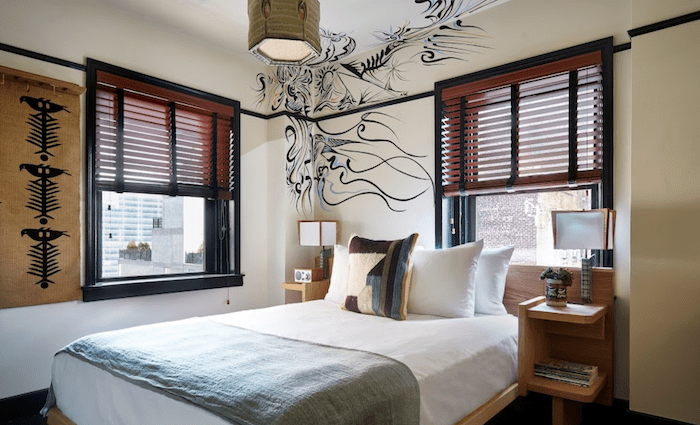 $$ | 4 Star | Happening Hotspot | On-Site Cultural Events
Freehand New York is all about the local art scene. It sits in the former George Washington Hotel where many musicians and writers used to hang out and today, it's just as sought after.
The property has its own cultural events that happen throughout the month, ranging from workshops to concerts. There's also the Latin American restaurant Comodo and Broken Shaker cocktail lounge that are definitely worth trying. But if you want to head out to Times Square, you can get there in less than 15 minutes.
The guest rooms range in size and space but are all very comfy and appealing. You have your choice of a standard room with a queen or king bed or a triple that holds three bunk beds. There is also the quad option with two sets of twin bunk beds for when you're traveling with the kids. The apartment-style suites are more spacious but super cozy with a perfectly-dressed living space that comes with city views.
Ace Hotel New York
$$$ | 4 Star | Hip Hangout | Lobby Bar Happy Hour
The Ace Hotel New York has a cool vibe all around. It's decked out in dark woods and darker leathers, which makes it feel hip but also sophisticated, too. The lobby bar is equally approachable and serves more than craft brews and cocktails. There's breakfast served here in the morning then an all-day menu of comfort food like burgers or spaghetti. Plus, there's a happy hour during the week until 7 pm.
The rooms can be small but are kind of hip with funky art murals and retro furniture. If you need more space there is always the loft suite with a built-in banquette, old-school full-size refrigerator, and possibly even a guitar. Because why not?
Made Hotel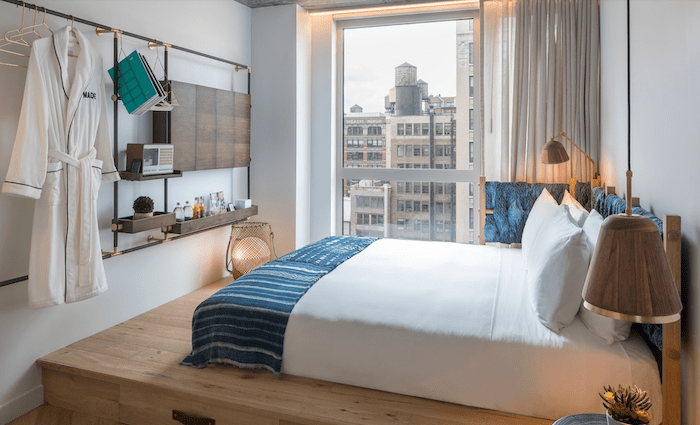 $$$$ | 4 Star | Bright and Charming | Free Coffee and Pastry
You'll find Made Hotel in the always-happening NoMad district where you can get to Times Square in a few minutes by car or subway. When you walk in here you feel like you're at home. It's casual but trendy without trying too hard. It's bright and airy with lots of greenery all around the property and pops of colorful prints that create a space you actually want to be in.
Speaking of, when you stay here you can score a free cup of joe, something sweet, and your morning newspaper every day. We're not mad about that. The rooms are nice to look at with their light wood accents and floating shelves. The bigger rooms, such as the studios and superiors, offer views of the city and stone sinks in the bathrooms that are were carved by hand.
The Empire Hotel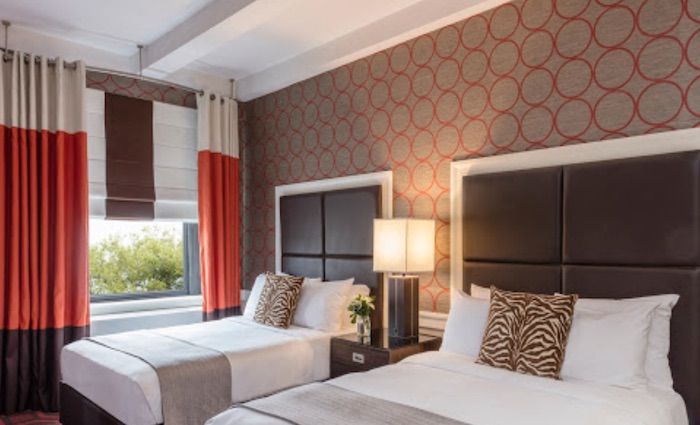 $$ | 4 Star | Ideal Location | Wet Bar
You have the best of the entertainment world when you stay at The Empire Hotel. Choose from hitting up Lincoln Center for the Performing Arts, Metropolitan Opera, and the New York City Ballet. Of course, if you're aching to get to Broadway, that's not too far either—less than a 10-minute drive.
There's a rooftop pool and bar along with the on-site restaurant P.J. Clarke's, which is a classic that's known for its raw bar. The rooms are creative with an art deco flair that meets a mid-century modern vibe.
Expect patterned wallpaper combined with dark woods and animal print pillows. All the rooms look similar but the suites are obviously much larger, with some coming with a wet bar and walk-in closet.
The Lexington Hotel, Autograph Collection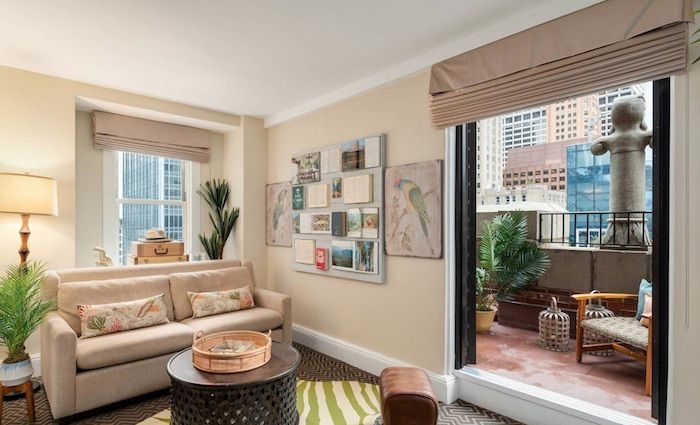 $$$ | 4 Star | Reliable Comfort | Themed-Suites
The Lexington Hotel, Autograph Collection in Midtown is an oldie but a goodie. It has a lot of history, including once being the place Marilyn Monroe and Joe DiMaggio called home in the 50s. It was also known to have live hula performances back then. Fast forward to today and this place is still quite popular with travelers thanks to its consistency over the years.
The rooms are simple and pretty standard with very little space, although some come with small workplaces. When you upgrade to a suite you can get a bedroom and spacious living area that comes with a pull-out sofa. Some suites even come with their own themes, such as the Norma Jean Suite where Marilyn Monroe and Joe DiMaggio stayed, and the Hawaiian Room which was the very space where those hula performances took place years ago.