Central Park is an exciting part of your NYC experience since it has so much to do. It is an 882-acre green space surrounded on all sides by skyscrapers, which makes it so unique. There are tons of things to see and you could definitely spend a few days fully exploring the park, but this is a great itinerary for anyone visiting NYC for the first time!
---
This Central Park walking itinerary takes 45 minutes if you rush, but I recommend spending 90 minutes. However, if you stop at Sheep Meadow, Loeb Boathouse, or Tavern on the Green you could easily spend half a day or more. My recommendation is not to rush as you may see a 9-year-old playing an electric guitar, and you'll want to stop and soak it in! New York, New York baby!
12. Gapstow Bridge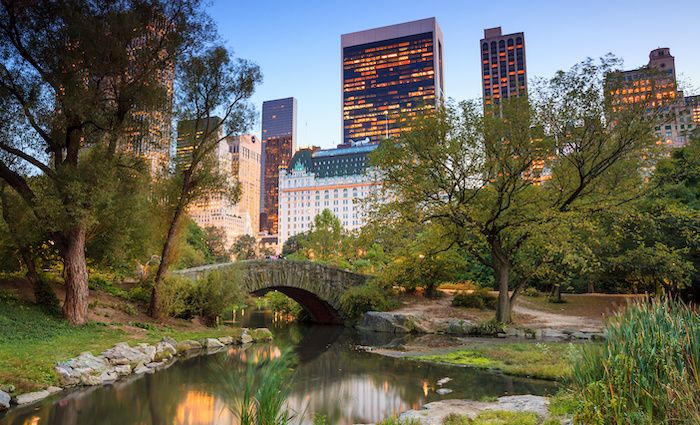 Gapstow Bridge is an iconic stone bridge over The Pond in Central Park. According to the Central Park Conservancy, it is one of 30 total arches and bridges in Central Park and one of the original 27 bridges—24 of which remain today. It is a beautiful and peaceful bridge that adds to the park's pedestrian route which is part of what makes the park so amazing. It was designed by one of the original architects of the park, Calvert Vaux.
11. Delacorte Clock
The Delacorte Clock looks pretty simple at first glance, but every 30 minutes from 8:00 am to 6:00 pm, this clock plays popular children's tunes for the entertainment of all those around. It is not only the melodies that make this clock an attraction. A band of animals are in charge of the live music as they dance around like a giant cuckoo clock. A definite must-see for anyone with kids.
The clock is located atop an archway between the Tisch Children's Zoo and Central Park Zoo.
10. Central Park Zoo
The Central Park Zoo is not an extensive zoo with tons of animals, but it is a cool thing to do in the city if you have kids. They have penguins, grizzlies, several varieties of monkeys, and snow leopards which are the main event. If you want a truly legit zoo experience, you should visit the Bronx Zoo, but this is a cool stop if you are looking for something to do without much commotion.
9. Tavern on the Green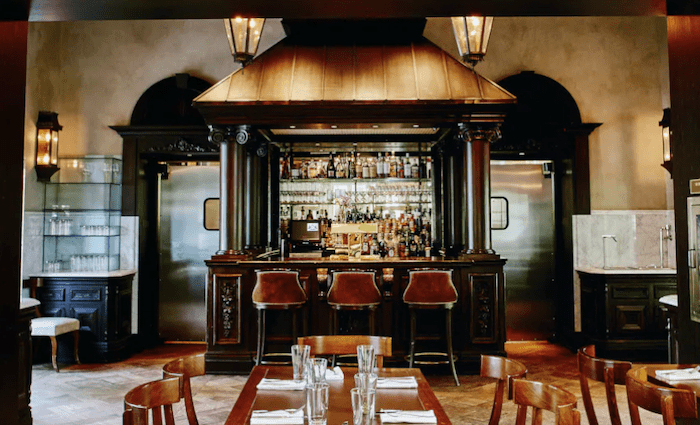 At this point, you might be famished and in need of a drink or a meal. I know when I am on vacation, anytime is a good time for either a coffee or a drink and Tavern on the Green is a NYC classic stop.
What started as a sheepfold in 1870 (hence Sheep Meadow) became a restaurant in 1934 and expanded in its glamor in throughout the 40s and 50s. In 1976, Warner Leroy, grandson of Harry Warner of Warner Bros, reignited the Tavern into a cultural focal point in NYC for the rich and famous, according to their website.
Some of the iconic movies filmed here are "Wall Street" (Michael Douglas and Charlie Sheen) and "Ghostbusters" (Bill Murray and Dan Aykroyd).
8. Sheep Meadow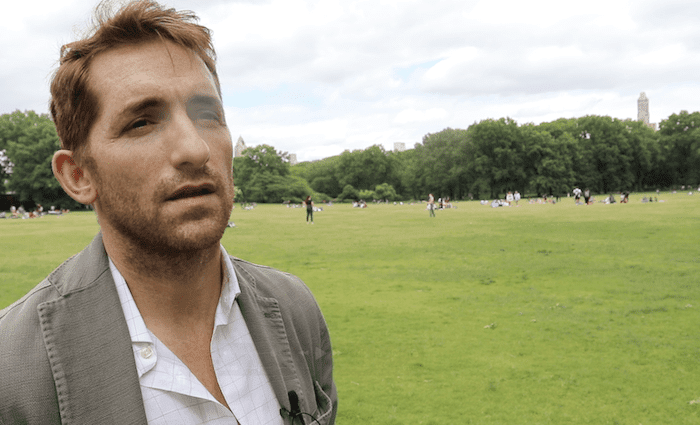 Sheep Meadow could not have a more literal name since it was designed to give the thriving city a country-like elegance. A hundred years ago, sheep grazed here during the day, manicuring the grass, and spending the night on the spot where we now find Tavern on the Green. Today, it is beautiful space occupied by people enjoying some sun, playing frisbee, or just hanging out.
7. Strawberry Fields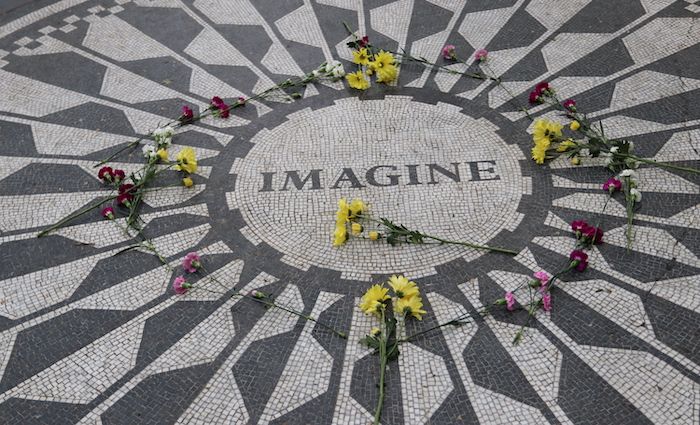 Sheep Meadow is commonly occupied by tourists and visitors, which doesn't mean it isn't nice—quite the opposite. Strawberry Fields, on the other hand, is a 2.5-acre memorial to John Lennon who notoriously was shot in NYC. The entrance to the park is close to where John Lennon lived and was murdered.
It is a sad story and Strawberry Fields brings calmness and positivity to this tragic moment. Lennon's lasting impact was so profound that a local resident of NYC named Gary Santos visited the memorial mosaic (pictured above) and decorated it with flowers for 19 years.
6. The Mall and Literary Walk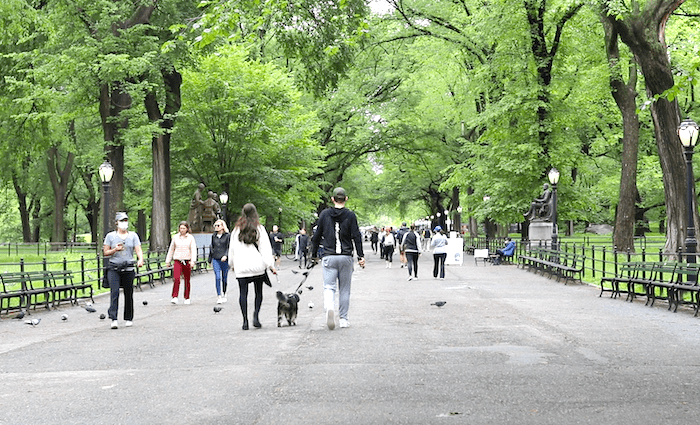 The Mall is a large path lined by American Elm Trees and is part of the original park's design. It is a high-traffic street lined with vendors, artists, street food, and lots of hustle and bustle. It leads up to Bethesda Terrace, which is the heart of lower Central Park. This might be the most iconic walking strip in the park as it's often filmed in movies.
5. Bethesda Terrace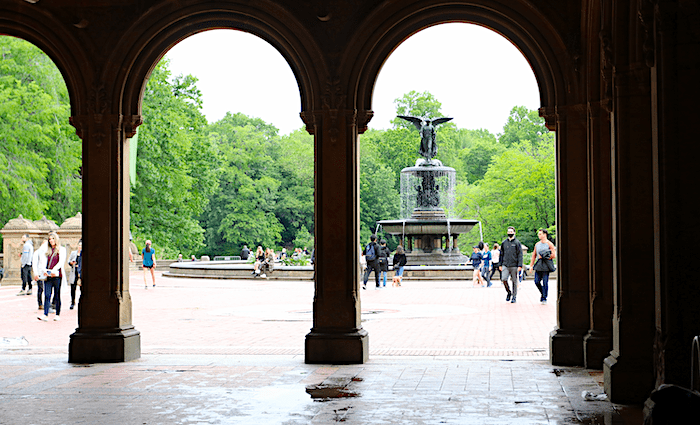 Bethesda Terrace is the most built-up portion of the park, architecturally speaking. It is a massive terrace supported by archways that form tunnels below the terrace. It's also been the location of choice for many shady meetings in television and film.
The list is too long to mention, but a Wall Street favorite movie called "Billions" features a meeting between Chuck Rhodes (Paul Giamatti) and a crooked doctor. It is a happening part of the park where you can almost always find musicians busking and lots of action!
4. Bow Bridge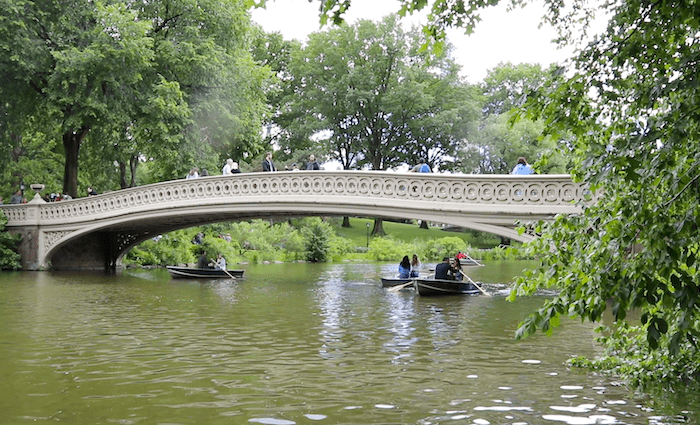 Bow Bridge is arguably the most beautiful bridge in Central Park. It was built in 1862 and has a 60-foot arch that slopes so gently that is a wonder of engineering. It's not one to miss, so definitely walk across this Victorian era bridge, but also make a point to take a look from a distance since it is such an elegant piece of architecture.
The bridge encompasses the European influence on NYC that you rarely see in this day and age.
3. Loeb Boathouse
Looking for some food, drink, and activities? Loeb Boathouse is a super cool spot in central park which is why we saved it for almost last. Definitely stop here and rent a boat, race a remote-control boat, and get a drink! And if you don't want to power the boat yourself, opt to ride a gondola with a gondolier who may even serenade you as if you're floating through a Venetian canal.
Loeb Boathouse is the only other restaurant in Central Park, but it's perfectly located on the east side of the lake. It lines up with about 74th Street, though the closest park entrance is actually on 72nd Street.
2. Alice in Wonderland Bronze Statue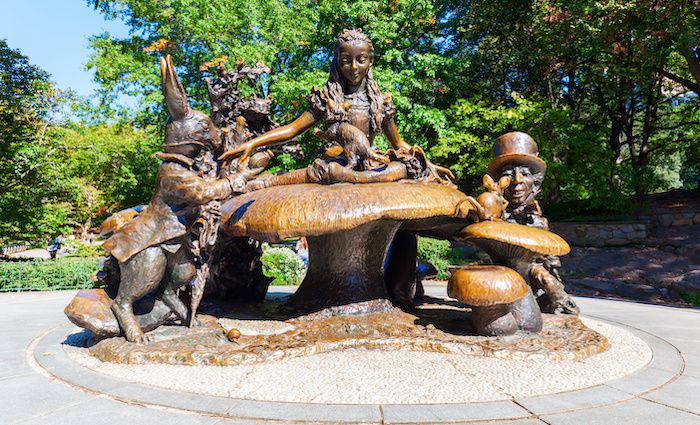 This is obviously a cool attraction for anyone who knows the story of Alice and her wonderland, which is everyone, but it's particularly fun for kids. This sculpture was also a gift from George Delacorte (like the clock above) who must have enjoyed bringing happiness to children. It was added in 1959 and has been a focal point of the park ever since. (Yes, your kids are allowed to play on the statue!)
1. The Met (The Metropolitan Museum of Art)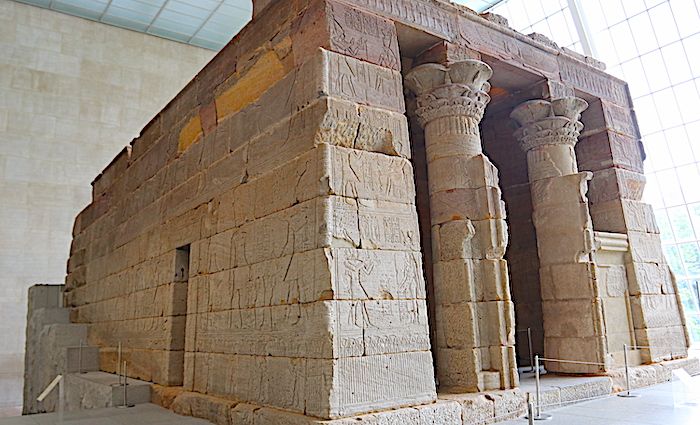 No visit to NYC is complete without seeing the Met. I definitely recommend it as a final stop of your Central Park adventure, but fill your stomach up first! You'll want to dedicate at least 3 hours to exploring the MET, and I highly recommend taking a guided tour of the Met. Don't believe me? Read these top reasons why a guided tour of the Met is absolutely worth it.
Why? Tour guides in NYC are passionate and have a fun way of conveying information that you just can't get when walking the museum yourself. They elevate your experience by adding context and make it more memorable!
Here are some great articles on the Met:
Not ready to book a tour? Find out why a guided tour of the Met is worth it.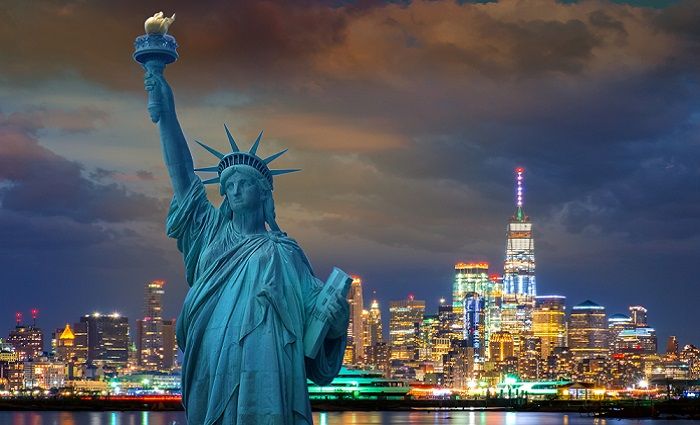 Find the best places to stay
Where to Stay in NYC
New York City is the center of the universe to those who adore this iconic city. Choose the best neighborhood to stay in as you plan your upcoming trip to the Big Apple.