Golden Gate Park is one of the most well-known places in San Francisco. But you might wonder how to spend an afternoon here. You may be surprised to find out that Golden Gate Park is enormous, full of museums, and close to many restaurants. You could spend a full day in Golden Gate Park and still not experience everything it has to offer! Keep reading to discover our favorite things to do in the Golden Gate Park.
---
Pro Tip: It's easier to organize your trip when you have all your resources in one place. Bookmark this post along with our San Francisco Guide for more planning resources, our best San Francisco tours for a memorable trip, and how to spend 3 days in San Fran (with itinerary).
The 13 Best Things To Do and See in Golden Gate Park
Did you know Golden Gate Park spans for 1,017 acres? It's also full of lakes, meadows, and even a field full of bison! This park is also home to many famous museums, and every summer, Outside Lands Music Festival takes place in the park. This festival welcomes some of the world's biggest musical artists.
In addition, every October, there's also a free music festival in the park called Hardly Strictly Bluegrass Festival. Even when there's not a festival going on, Golden Gate Park is a great place to spend an afternoon.
There's no shortage of activities and things to see. Let's go over our favorite attractions in this iconic park that's an important part of San Francisco! We also have awesome suggestions for other things to do around San Francisco, our favorite day trips, and helpful info for getting around the city.
Not ready to book a tour? Find out if San Francisco tours are worth it.
13. Meander Through the Garden of Shakespeare's Flowers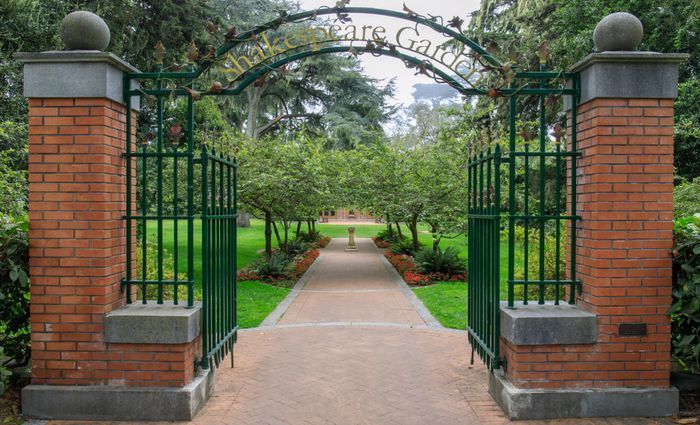 Also referred to as Shakespeare Garden, this is a must-visit for all Shakespeare fans! This idyllic garden is full of flowers and other plants that William Shakespeare discussed in his plays.
The garden is home to more than 200 plants, many of which have a plaque with a relevant quotation about the flower from Shakespeare's work. You can walk along the path, read the plaques, and stop to rest at any of the many benches in the park.

There's also a bust of William Shakespeare located at the far end of the park, although it's sometimes removed by park officials. The space can be rented for weddings and other large events, but when it's not reserved, it's also a great place for a more secluded picnic.

Address: 335 Martin Luther King Jr Dr, San Francisco
12. Have a Park Picnic with Sandwiches from Lucca Food Deli & Wine Shop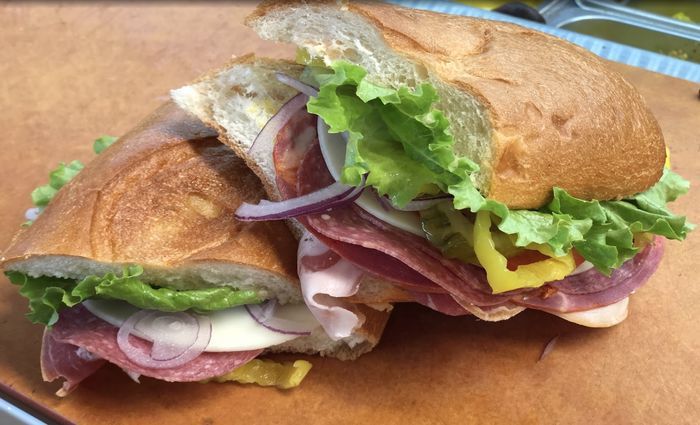 One of the best activities to do in Golden Gate Park is to soak up the sunshine and have a simple picnic! If you have kids, plan your picnic in Mother's Meadow, which is a grassy area with a playground for children.
You can enjoy a picnic with your family, and your kids can play when they're done eating. Mother's Meadow is a short walk from Lucca Food Deli & Wine Shop, an unassuming deli that's city-renowned for their sandwiches. They also have chips and other snacks for sale.
Please note that Lucca Food Deli & Wine Shop is on Irving Street and not to be confused with Lucca Delicatessen, which is a different deli in another part of the city.

Address: 1899 Irving St, San Francisco
Popular San Francisco Tours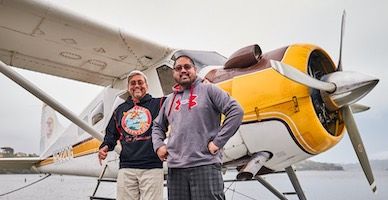 Best Selling Tour
Morning in Marin: Muir Woods, Seaplane, and Sausalito Ferry Tour
A VIP experience with a local storytelling guide. With hotel pickup included from San Francisco, begin your day in style. Head to the Muir Woods before the crowds and spend an hour amongst thousand-year-old Giant Sequoia trees. Next, hop onto a seaplane, take in the beauty of the bay, and see the top sights from above. Once landed, enjoy a locally-sourced lunch in Marin. The day ends in Sausalito for free time to explore before ferrying back to San Francisco.





Starting at $449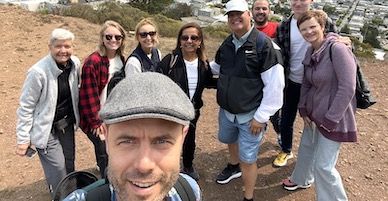 Likely to Sell Out
San Francisco in a Day Tour with Golden Gate Bridge and Alcatraz
In a small group, hop on board and see San Francisco with a local expert. Visit the Golden Gate Bridge, the Twin Peaks, and countless hidden gems on this full-day exploration. The last stop of the day is Alcatraz. Embark the ferry and see the stunning surroundings of San Francisco Bay before reaching the infamous prison. Once you disembark, enjoy the famous Cellhouse Audio Tour where you can explore the entire prison and island. Hotel Pickup Included.





Starting at $179
Not ready to book a tour? Find out if San Francisco tours are worth it.
11. Stay in a Victorian Mansion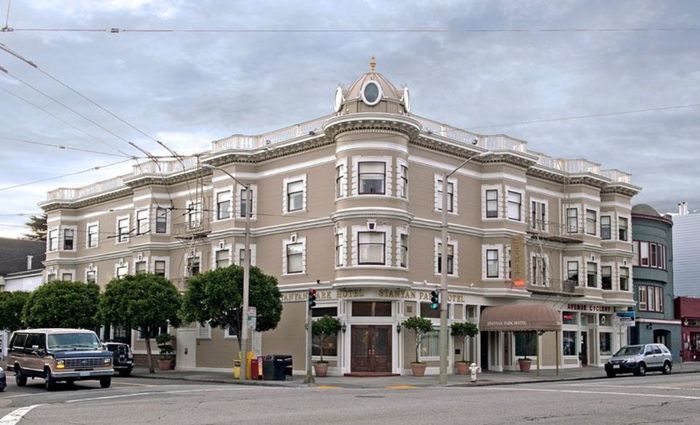 You might love the Golden Gate Park so much that you want to stay nearby. While there aren't a ton of options nearby, this old Victorian treasure is one to consider. Located in the famous Haight-Ashbury neighborhood, Stanyan Park Hotel is right across from Golden Gate Park.
This quaint hotel has 36 rooms, and is set in a historic Victorian building. Most of the rooms are spacious, and the suites include a small kitchenette which is a bonus that many urban hotels don't have! Some of the rooms also have views of Golden Gate Park. If you love Victorian vibes and a vintage look, this is a great place for you to stay.
If you're driving here, parking is generally very difficult to find in San Francisco. However, there is a parking garage about a block away from the Stanyan Park Hotel, and it costs around $25 for 24 hours.

Location, photos, and booking (affiliate link)
10. Visit a Colorful Tulip Garden at the Dutch Windmill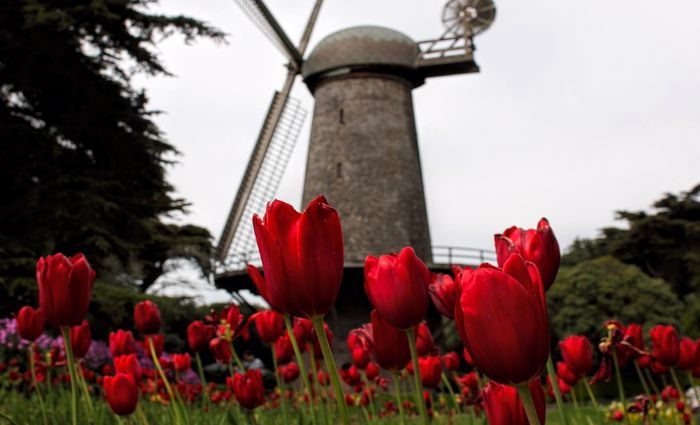 As you near the part of Golden Gate Park that's close to Ocean Beach and Great Highway, you may notice a giant windmill. Originally intended as an irrigation system, the Dutch Windmill is now a landmark and photo op. It's also surrounded by the Queen Wilhelmina Tulip Garden!
Named after the late queen of the Netherlands, this garden provides a colorful backdrop for photos during tulip season. The tulips begin to bloom in the spring, and are usually in full bloom by April. There are benches in the area, so you and your family can relax while envisioning that you've almost stepped into a tulip field in the Netherlands.

Address: 1691 John F Kennedy Dr, San Francisco
9. Have Lunch with a View at Park Chalet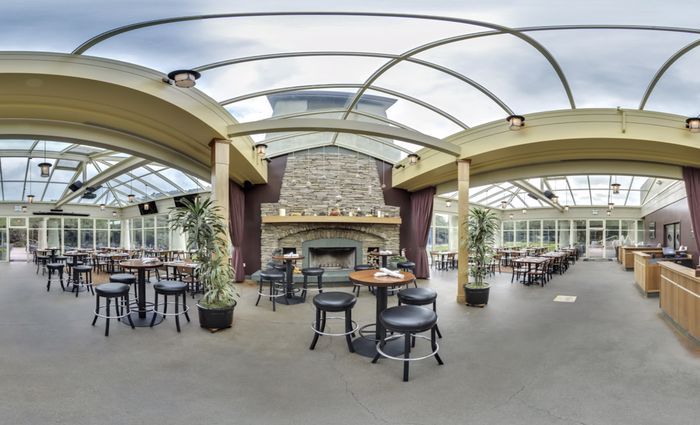 Located next to Golden Gate Park, this restaurant is also only a 15-minute walk to Ocean Beach. This means that while you're eating, you get awesome views of both the park and the beach! Patrons of Park Chalet love the calamari, as well as the Bloody Marys.

Guests also commend Park Chalet for the speedy, friendly service. It's a great place to bring your children, and they even have a kids menu! They're also dog-friendly, so you can bring your furry friends.

Address: 1000 Great Hwy, San Francisco
Not ready to book a tour? Read more in our San Francisco Guide.
8. See the Park's Wild Bison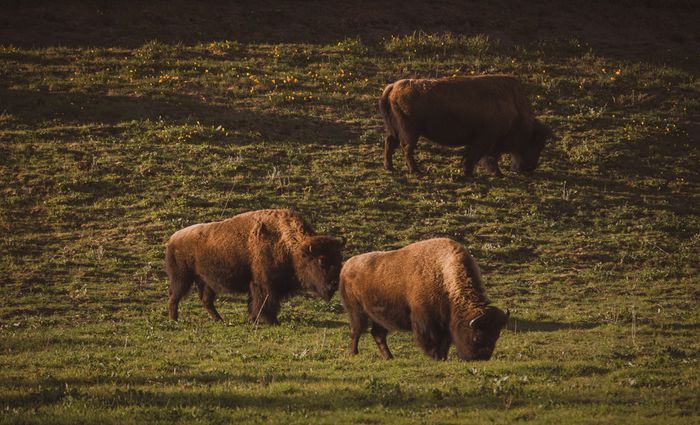 You read that correctly! Golden Gate Park is home to a paddock full of wild bison! Although the San Francisco Zoo is about a 15-minute drive from the park, they also care for the wild American bison that call this paddock home.
The paddock is a large grassy space for the bison to roam, and it's fenced in. People have gotten in trouble for bothering the bison, so we suggest you keep your distance, but they are certainly fun to observe! It's not every day that you see wild bison roaming in a public park, so the bison paddock is a cool photo op.
Address: 1237 John F Kennedy Dr, San Francisco
7. See a Global Collection of Artwork at the de Young Museum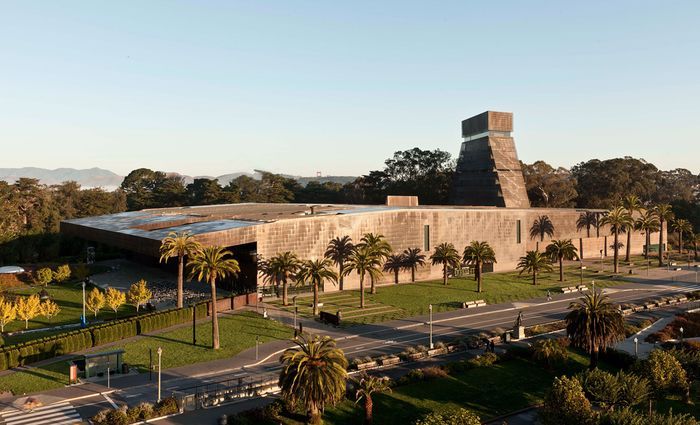 Built in 1895, the de Young Museum was is considered one of the two fine arts museums in San Francisco. (The other one is the Legion of Honor Museum, which is not located in Golden Gate Park.) The de Young Museum is home to textiles, sculptures, paintings, and artifacts from several countries all over the world.
This museum is free to Bay Area residents every Saturday, as a cool perk for locals. It's also free to the general public on the first Tuesday of every month. It costs $15 for adults, $12 for seniors, and $6 for students with a student ID.

The de Young Museum is extremely close to the famous California Academy of Sciences (further down on this list). If you wanted to do a "museum crawl" and visit multiple museums in one day, you can do so with these two museums!
Address: 50 Hagiwara Tea Garden Dr, San Francisco
6. See the Park from a Different Angle on the SkyStar Wheel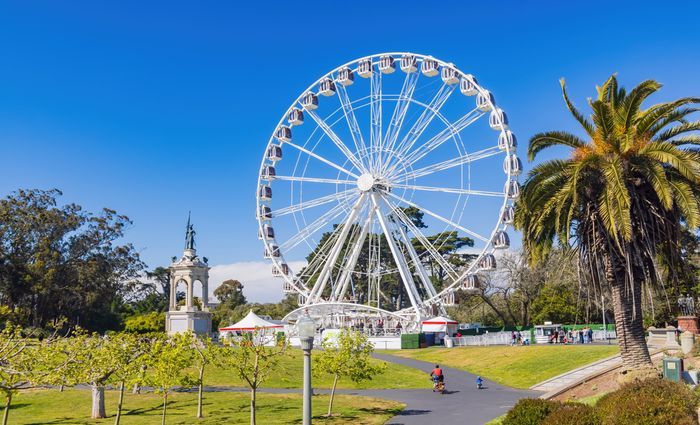 Located a short walk from the California Academy of Sciences, the SkyStar wheel provides amazing views of Golden Gate Park. This Ferris wheel allows you to see the park from 150 feet high in the air. Visitors especially love to ride it at night because the wheel lights up and makes a magical experience.

The SkyStar wheel is open from noon until 10 pm on weekdays, and 10 am until 10 pm on Friday and Saturday. Its Sunday hours are 10 am until 8 pm. Tickets cost $18. Riding the Ferris wheel is a great activity to do with your kids or for a date night!
Address: 1 Bowl Dr, San Francisco
5. Explore the Conservatory of Flowers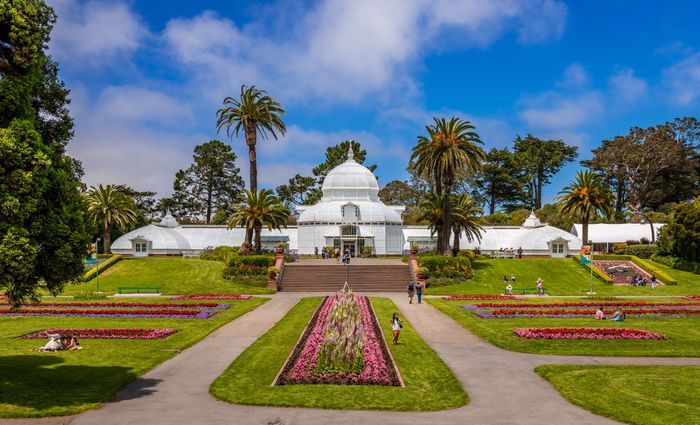 Known as the oldest building in Golden Gate Park, the Conservatory of Flowers was built in 1879 and features many different species of flowers from all over the globe. The stunning, colorful array of flowers is truly a sight to behold. We suggest taking a guided tour through the conservatory, so you can learn all about the different plants and where they come from.
It costs $10 for adults to enter the conservatory, $4 for youth and seniors, and $2 for children. The Conservatory of Flowers is fun for the whole family and a great place to take photos. Also, there is a large grassy area out front where you and your family can relax after exploring the conservatory. It's easily a top thing to do here in Golden Gate Park.

Address: 100 John F Kennedy Dr, San Francisco
4. Paddle Boat on Stow Lake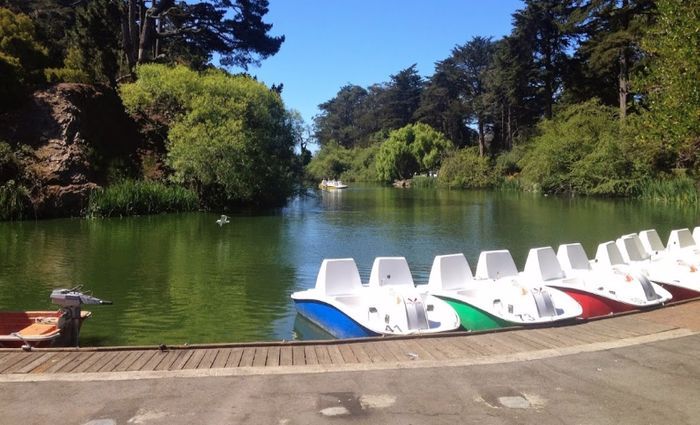 Stow Lake is a beautiful spot for picnics, walks around the lake, or to look at wildlife! This gorgeous lake is home to many ducks, other types of birds, and even turtles! The lake is dotted with picnic tables and is a popular spot for families to enjoy an afternoon in the Golden Gate Park.
Also at the lake is Stow Lake Boathouse, where you can rent paddle boats to enjoy time on the lake itself! With a price range from $26 to $45 an hour, the boats are a fun way to get some exercise and have a relaxing day on the water. For an additional $5 fee, you can bring your furry friends as well!
Address: 50 Stow Lake Dr, San Francisco
3. Visit The Oldest Public Japanese Garden In The U.S.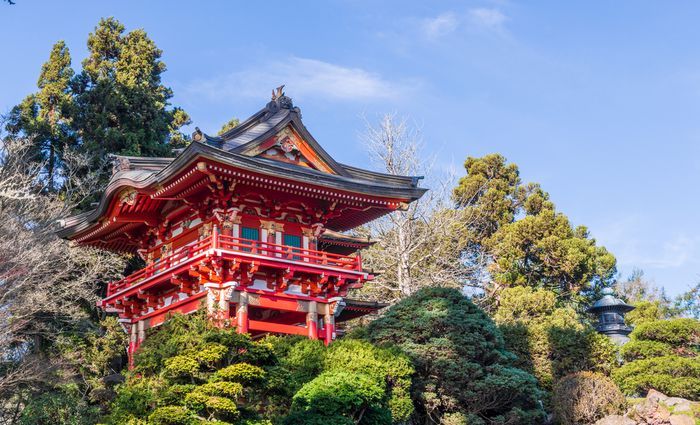 Not only does Golden Gate Park have lakes, bison, and museums, but it also houses the oldest public Japanese garden in the U.S.! The famous Japanese Tea Garden spans for five acres. It was initially created in 1894 as a "Japanese Village" exhibit for the California Midwinter International Exposition. However, back then it was only one acre!
Today inside the Japanese Tea Garden, you can meditate and enjoy a cup of tea in the tea house, hang out in the pagoda, or take pictures on the drum bridge. Admission is $10 for adults, $7 for kids and seniors, and free for children under 5. Please note that pets are not permitted to enter the garden.

Address: 75 Hagiwara Tea Garden Dr, San Francisco
2. Take a Segway Tour Around the Park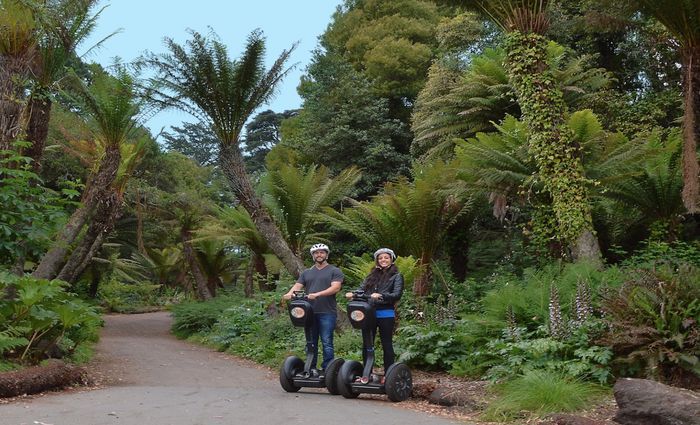 Golden Gate Park is so big that it might be hard to see it all. For this reason, we recommend seeing it on wheels! Taking a bike or Segway tour around the park is a great way to explore the park and see everything it has to offer. What's more, tours are usually led by a guide who can tell you cool information about the park and help you learn about its history.
In addition, Segway tours are also a great way to meet other travelers as well as get some exercise. Walking through the whole park would take around 2.5 hours, so it will also save you time to explore it on wheels instead.

1. Visit a Living Rainforest at the California Academy of Sciences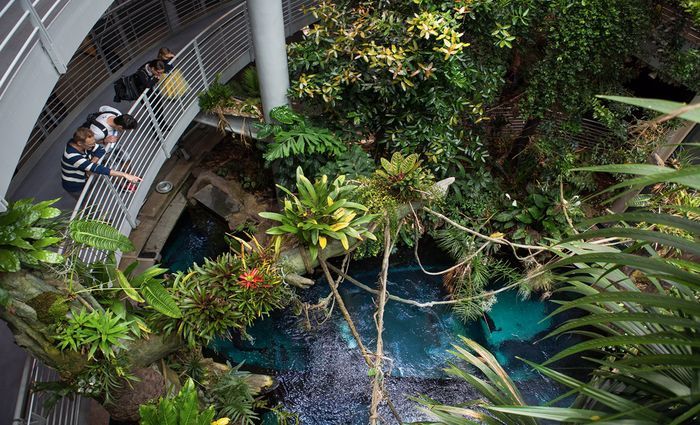 The California Academy of Sciences is one of the largest natural history museums in the whole world, so of course it's one of the top things to do in Golden Gate Park! It includes the famous Osher Rainforest exhibit, which is the largest spherical rainforest exhibit in the world. The rainforest exhibit is full of butterflies, birds, reptiles, and other types of animals!
What's more, the entire Academy itself is home to more than 46 million different species of plants and animals. In addition to the aquarium, it also includes the Steinhart Aquarium (home to 40,000 animals), and the 75-foot-tall Morrison Planetarium. Ticket prices are between between $33 and $37 for adults, and free for children under 3.
Additionally, every Thursday night, visitors aged 21 and up are invited to explore the Academy after dark for the NightLife event. This event includes special exhibits and a bar.
Address: 55 Music Concourse Dr, San Francisco
Not ready to book a tour? Find out if San Francisco tours are worth it.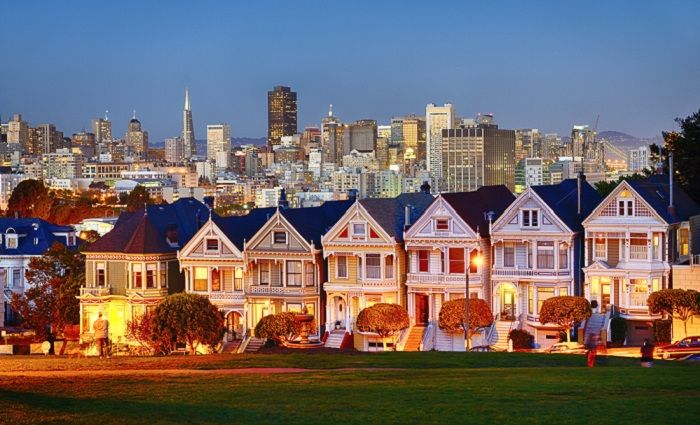 Find the best places to stay
Where To Stay in San Francisco
Make the most of your visit to San Francisco by choosing to stay in the best neighborhoods for seeing all this iconic city has to offer. You'll love our hotel recommendations.