Everyone knows that San Francisco is a great city for foodies. What's more, it's also home to some iconic "adult" beverages that you must try! Even if you'll only have one or two drinks while in San Francisco, make sure they are from this list!
---
9 Alcoholic Drinks You Have To Try in San Francisco
San Francisco is known for its nightlife. Sure, it's no Las Vegas, but it still has its own collection of bars and nightclubs that are "so San Francisco." From awesome views to quirky themes, San Francisco has some unique places to go for a memorable evening.
Similarly, some of these bars and nightclubs are the birthplace of some iconic cocktails and other drinks! We rounded all of these different libations up into one easy-to-read list. Regardless of if you prefer a Mai Tai or a martini, you are sure to find your perfect beverage on this list. Friendly reminder to please drink responsibly, pace yourself, and drink lots of water!
9. Cable Car Cosmo from Sam's Cable Car Lounge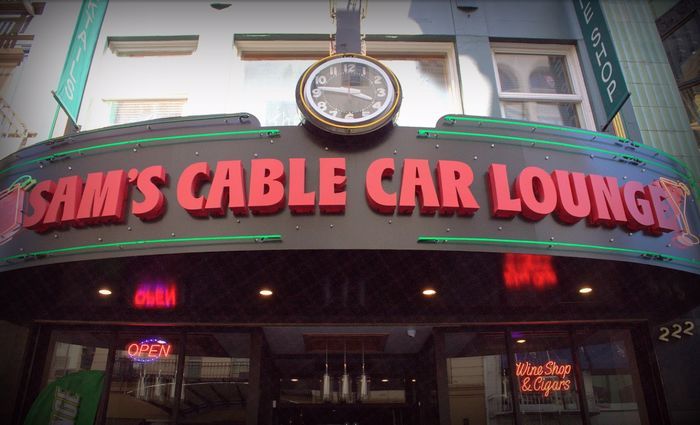 You've probably heard of the Cable Car Cocktail, San Francisco's signature drink. Legend has it that this spiced rum drink was created by the legendary bartender Tony Abou-Ganim at the Starlight Room. Well, the Starlight Room was renamed to Lizzie's Starlight, but sadly, shut down indefinitely.
So, we thought the second-best choice was to get a Cable Car Cosmo at Sam's Cable Car Lounge! This iconic bar is also located at Union Square, just like the Starlight Room used to be. The Cable Car Cosmo contains blue curaçao as well as blueberry vodka. Bottoms up!
Where to get it: Sam's Cable Car Lounge
8. 1934 Zombie at the Tonga Room (or Any Drink in a Pineapple)
Located inside the Fairmont Hotel, the Tonga Room is a must-visit tiki bar in San Francisco. It even has a moat with a floating band for entertainment! What's more, they feature strong rum drinks that will make you think you're on a tropical island.
Their menu claims that their 1934 Zombie drink was treated by the "Godfather of Tiki." Made with several different types of rum, this drink is not for the faint of heart. Alternatively, you can opt for one of their Mai Tais or any other tiki drink.

Most importantly, whatever drink you get it, make sure you get it in a pineapple! Everyone knows that every drink tastes better when sipped from a pineapple. Please note that the bar is free to enter for Fairmont guests, but everyone else must pay an entry fee.
Where to get it: Tonga Room & Hurricane Bar
7. Boozy Milkshake from the Ice Cream Bar
What's better than milkshakes? Boozy milkshakes, of course! Of course, San Francisco boasts many wonderful places to get this adults-only sweet treat. However, one of our favorites is at The Ice Cream Bar!

Located in San Francisco's Cole Valley neighborhood, The Ice Cream Bar serves many yummy desserts. Although we have tried most of them, few beat the boozy milkshakes. We love the Fortunato's Reviver, with sherry and caramelized honey.
Where to get it: The Ice Cream Bar
6. Huge Margaritas at the Latin American Club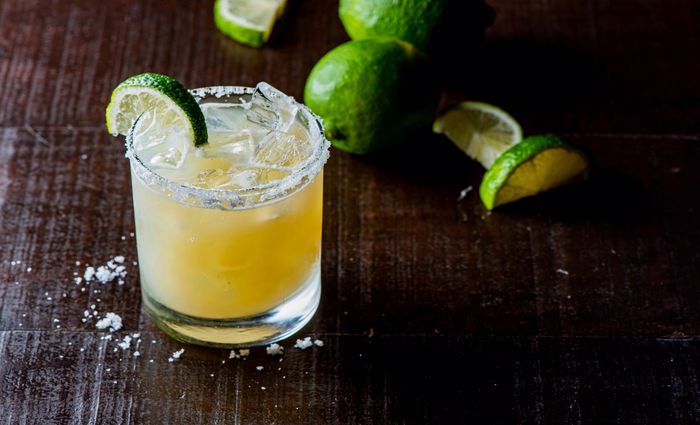 The cozy Latin American club is a Mission District staple. It frequently features live music and is known for its fun decorations and lively atmosphere. Although on the smaller side, this classic bar is popular for one main thing: Its margaritas. Not only are they tasty, but they definitely give you bang for your buck! You'll only need to drink one or two of these to get the night going.

When you've finished your margaritas and taking in the decor, the night isn't over yet! You can then enjoy the live music at Latin American Club or head next door to El Valenciano for Spanish food and dancing the night away.
Where to get it: Latin American Club
5. Mai Tai at Li Po Cocktail Lounge
Located in Chinatown, Li Po Cocktail Lounge is a two-floor local spot with famed Mai Tais. Both Li Po Cocktail Lounge and its Mai Tai were made famous when Anthony Bourdain famously stopped in during a layover in 2012. After that, everyone wanted to visit Li Po, and you should too!

This lively dive bar is a great spot to start the night. The Mai Tai is definitely on the sugary side, but you won't need more than one or two anyway. When you're finished with your iconic cocktail, you can explore the rest of Chinatown or the nearby North Beach neighborhood. When you're at Li Po, remember to check out both floors of the bar!

Where to get it: Li Po Cocktail Lounge
4. A Martini at Top of the Mark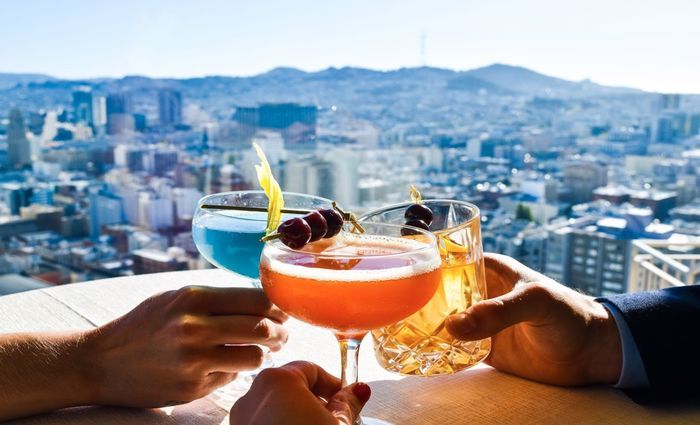 Although we haven't been able to confirm the rumor that Top of the Mark is the home of the martini, they certainly do make a great one here! This iconic hotel bar has become known for its martinis. Top of the Mark is located, well, at the top of the Intercontinental Mark Hopkins Hotel, as the name would suggest.
What's more, it offers a spectacular view of the whole city! We suggest going at sunset for unforgettable city views, awesome pictures, and tasty martinis. Don't forget to grab a picture for Instagram!

Where to get it: Top of the Mark
3. Rum Coconut at Dolores Park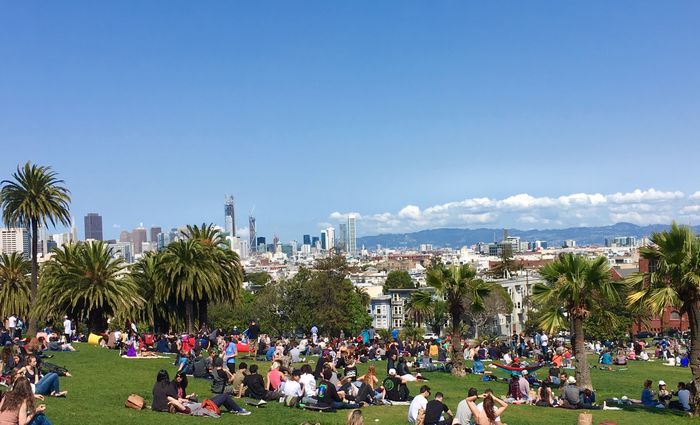 You can't get much more San Francisco than the rum coconuts. These iconic rum-filled coconuts have become a San Francisco staple over the years. They're available at Dolores Park, a popular spot for locals to hang out. Please note that there's no specific bar they can be purchased at. Instead, they're sold by "the coconut man."
The identity of the "coconut man" has changed over the years, but you'll know him when you see him. There are plenty of people roaming Dolores Park selling blankets and other items. Therefore, if you happen to spot the coconut man while sitting at Dolores, make sure you buy a rum coconut while you can!

Where to get it: Mission Dolores Park
2. Anchor Steam Beer at Anchor Brewing Co.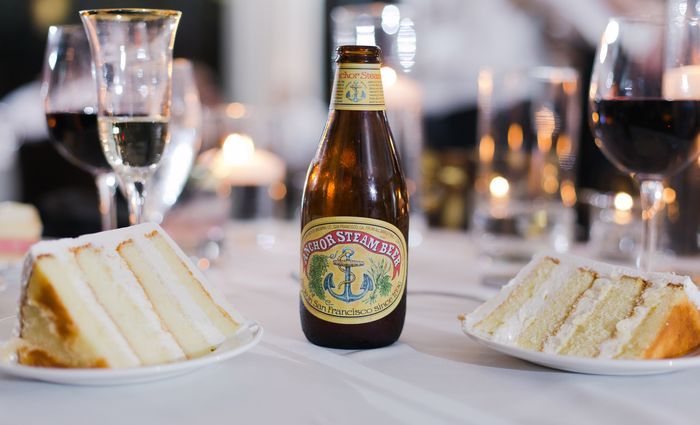 Take a tour of this iconic San Francisco brewery and sip on its namesake! According to its official website, Anchor Brewing Company has been making beer in San Francisco since 1896. As their website explains, Anchor Steam Beer is named such because of the fermentation methods for beer in the 19th century.
Due to the lack of refrigeration, beer had to be fermented outside. Allegedly, the cool San Francisco air caused the fermenting beer to cool down too. As this happened, natural steam would start rising from the brewery rooftop, which gave this spot its namesake. Therefore, enjoying an Anchor Steam beer at Anchor Brewing Co. is an iconic SF activity. Cheers!
Where to get it: Anchor Brewing Company
1. Irish Coffee at the Buena Vista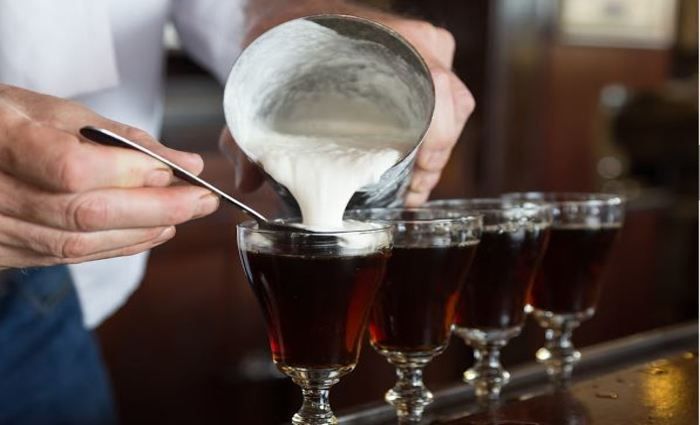 The Buena Vista is a restaurant, but the real star is the Irish coffee. Allegedly, they have been serving it since the 1950s. People literally come from all over the Bay Area to have some! This no-fuss, old-school bar has a great classic vibe to it. What's more, it's super fun to watch the Buena Vista employees make the Irish coffees with speedy expertise!
In addition, the Buena Vista is very close to Fisherman's Wharf, and right outside of a cable car stop. What's more, it's only a few minutes walking distance from the photo op Umbrella Alley. If you only have one drink in San Francisco, it should be this one!

Where to get it: The Buena Vista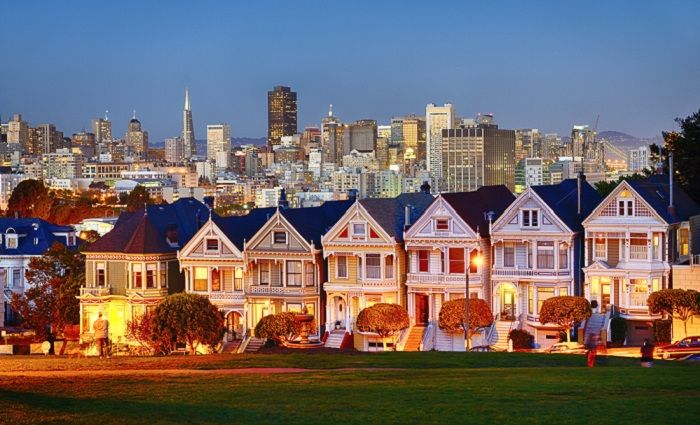 Find the best places to stay
Where to Stay in San Francisco
Make the most of your visit to San Francisco by choosing to stay in the best neighborhoods for seeing all this iconic city has to offer. You'll love our hotel recommendations.