San Francisco is full of well-known attractions and landmarks. Therefore, we know it might be difficult to pick what to see on your trip there. We pulled together a list of the most famous landmarks in San Francisco. Keep reading to find out what they are!
---
Pro Tip: It's easier to organize your trip when you have all your resources in one place. Bookmark this post along with our San Francisco Guide for more planning resources, our best San Francisco tours for a memorable trip, and how to spend 3 days in San Fran (with itinerary).
San Francisco's Most Iconic Landmarks You Should Visit
Do you know all the different landmarks you can see in San Francisco? Everyone knows about the famous hills, Golden Gate Bridge, and the cable cars. However, some people may not know what there is to explore aside from those things. Luckily, San Francisco is full of landmarks to explore, learn more about, and take photos of.

For starters, San Francisco is home to the most crooked street in the world. Also, did you know you can find wild parrots in San Francisco? Or that there is a cathedral that looks just a hint like Notre Dame from the front? Continue reading to find out about these and other famous San Francisco landmarks!
Please note that parking at popular destinations within San Francisco can be next to impossible. Especially on the weekends or warm days, we recommend taking public transportation, a bike or a ride share service like Lyft. The parking issue is one of the many reasons that we suggest booking a tour in San Francisco in order to experience all of the different landmarks.
Not ready to book a tour? Find out if San Francisco tours are worth it.
15. The Ferry Building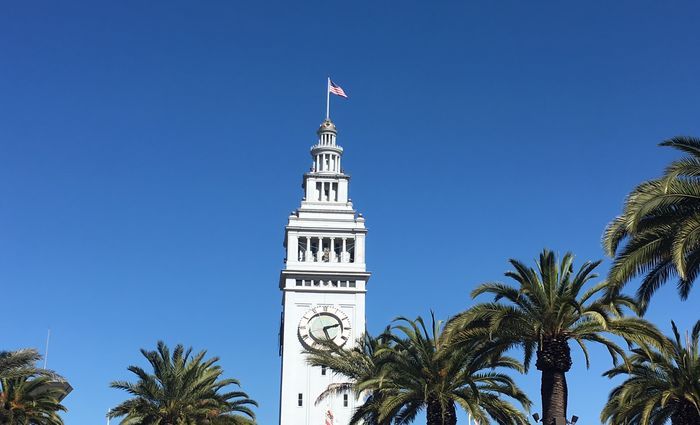 As the name would suggest, the Ferry Building is a key transportation hub for ferries traveling through San Francisco. According to the Ferry Building website, this landmark has been a San Francisco institution since the 1890s. These days, it is also home to a marketplace full of vendors selling local ice cream, cheeses, candles, and other artisan goods.
What's more, on Tuesdays, Thursdays, and Saturdays, it also features a wildly popular Farmers Market. From the Ferry Building, you can see the stunning Bay Bridge as well. Make sure to stop by at night so you can see the bridge all lit up!
Address: 1 Ferry Building, San Francisco
14. Grace Cathedral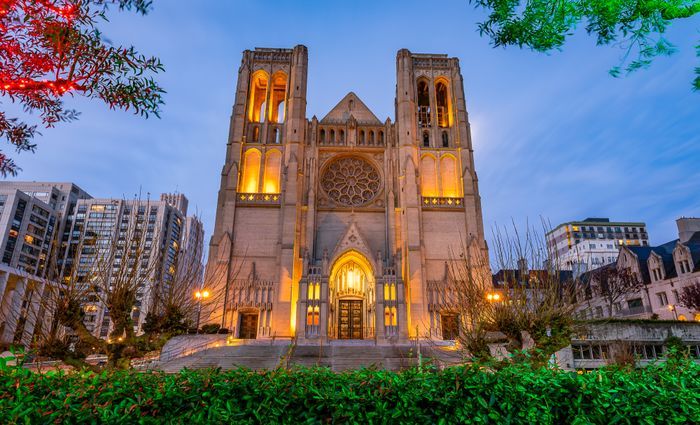 The beautiful Grace Cathedral is known for its gorgeous architecture and stunning stained glass windows. However, it also houses something more unusual. Grace Cathedral features two labyrinths—one outdoors and one indoors. The outdoor labyrinth is free to the public and can be accessed at any time.

As for the indoor one, the church uses it to host yoga sessions and other events. Grace Cathedral is a popular place for tours, which cost between $12 and $20 with a docent, according to its website. Visitors are also welcome to simply walk in and take a look Monday through Saturday from 10 a.m. until 5 p.m.
Address: 1100 California St, San Francisco
Popular San Francisco Tours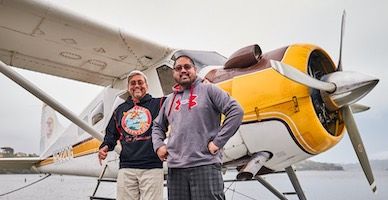 Best Selling Tour
Morning in Marin: Muir Woods, Seaplane, and Sausalito Ferry Tour
A VIP experience with a local storytelling guide. With hotel pickup included from San Francisco, begin your day in style. Head to the Muir Woods before the crowds and spend an hour amongst thousand-year-old Giant Sequoia trees. Next, hop onto a seaplane, take in the beauty of the bay, and see the top sights from above. Once landed, enjoy a locally-sourced lunch in Marin. The day ends in Sausalito for free time to explore before ferrying back to San Francisco.





Starting at $449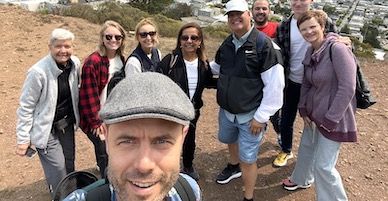 Likely to Sell Out
San Francisco in a Day Tour with Golden Gate Bridge and Alcatraz
In a small group, hop on board and see San Francisco with a local expert. Visit the Golden Gate Bridge, the Twin Peaks, and countless hidden gems on this full-day exploration. The last stop of the day is Alcatraz. Embark the ferry and see the stunning surroundings of San Francisco Bay before reaching the infamous prison. Once you disembark, enjoy the famous Cellhouse Audio Tour where you can explore the entire prison and island. Hotel Pickup Included.





Starting at $179
Not ready to book a tour? Find out if San Francisco tours are worth it.
13. Fisherman's Wharf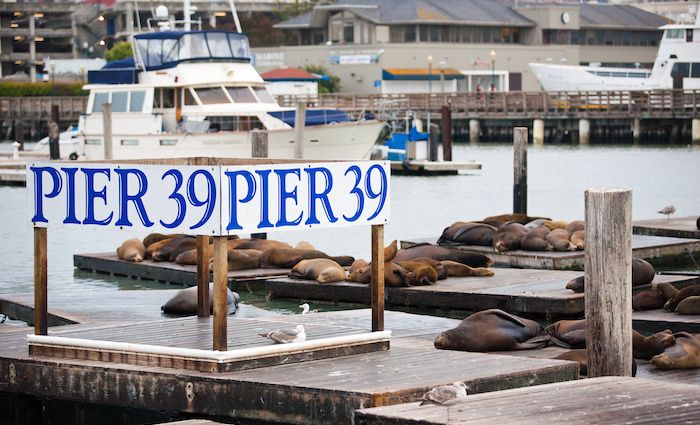 Fisherman's Wharf is one of the most popular visitor destinations in San Francisco by far. According to its official website, many of San Francisco's fishing boats dock there, which has basically made Fisherman's Wharf world-famous for its fresh seafood.

Although Fisherman's Wharf is free to enter (if you can find parking), many of the most popular activities there involve shopping and eating. Families love to visit the the many souvenir stores to find something fun to bring home. Getting clam chowder in bread bowls is another popular thing to do on the Wharf, as is stopping at one of the many seafood restaurants for seasonal Dungeness crab.

What's more, Fisherman's Wharf is a great spot to simply walk around and people watch. Magicians often have free magic shows by the carousel that are fun for the whole family. Additionally, it's always fun to watch the sea lions play and push each other into the Bay.
Address: The Embarcadero, San Francisco
12. The Presidio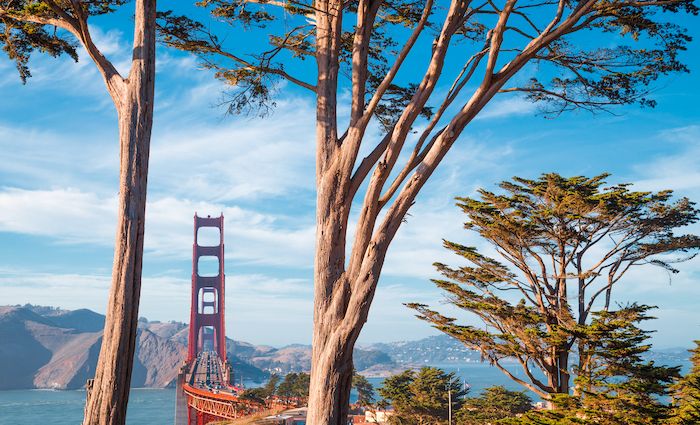 As a former US Army post, San Francisco's Presidio area spans for 1,491 acres, according to the official website. There's so much to do and see in the Presidio, including many well-known hiking trails (we like Lover's Lane!) and bike paths. While strolling around the area, you'll also spot several natural outdoor art installations by the famous artist Andy Goldsworthy.

What's more, you'll find the famous Chrissy Field here. Popular among locals, Chrissy Field is a great place to relax, run around with the kids, and look at the beautiful Golden Gate Bridge. Both the Golden Gate Bridge and Baker Beach are located in the Presidio. Additionally, the Presidio is also where you can find the Walt Disney Museum! Tickets to the museum cost between $15 and $25.
Address: The Presidio
11. Transamerica Pyramid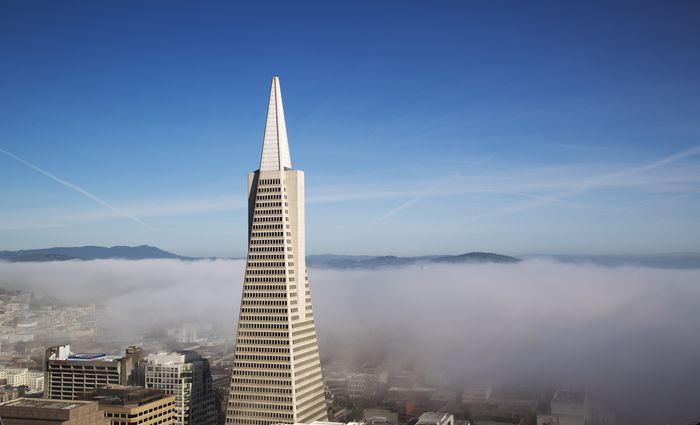 If you've spent any time in San Francisco's Financial District, you have definitely noticed the enormous triangular building that towers over the rest of the city. Known as the Transamerica Pyramid, this building is visible from most spots in the city.
Since it's an iconic part of the San Francisco skyline, this tower is frequently included in tours. However, you likely will not be able to go to the very top as the Transamerica Pyramid is filled with mostly offices. Not to worry—there are other epic San Francisco landmarks from which you can get a good view of the city, and we will go over them in a bit!
Address: 600 Montgomery St, San Francisco
10. Palace of Fine Arts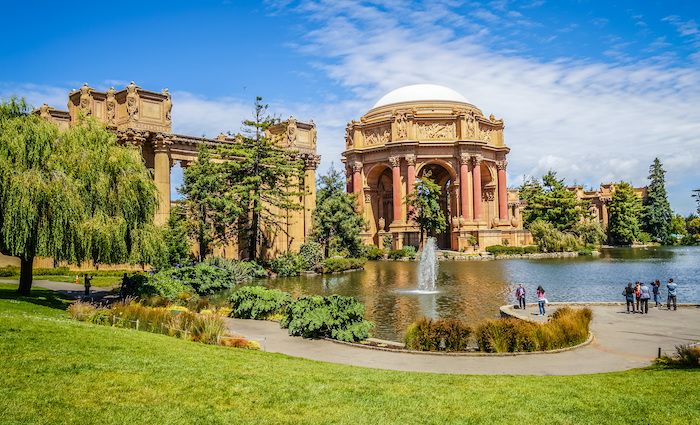 You've definitely seen the stunning Palace of Fine Arts in photos before. According to its website, it was built in 1915 and was originally intended to be used for The Panama–Pacific International Exposition—a world fair.
When the fair occurred, the palace was used to showcase different pieces of artwork. Although The Panama–Pacific International Exposition only occurred once in 1915, the Palace of Fine Arts is still rented out for conferences, concerts, and other events today.

Outside the Palace of Fine Arts is a beautiful lake teeming with fish and ducks. It's an idyllic spot to stop for a leisurely stroll or a picnic. The Palace of Fine Arts also a popular location for weddings. Clearly, it's a great backdrop to take Instagram photos to document your San Francisco vacation!
Address: 3601 Lyon St, San Francisco
9. Ghirardelli Square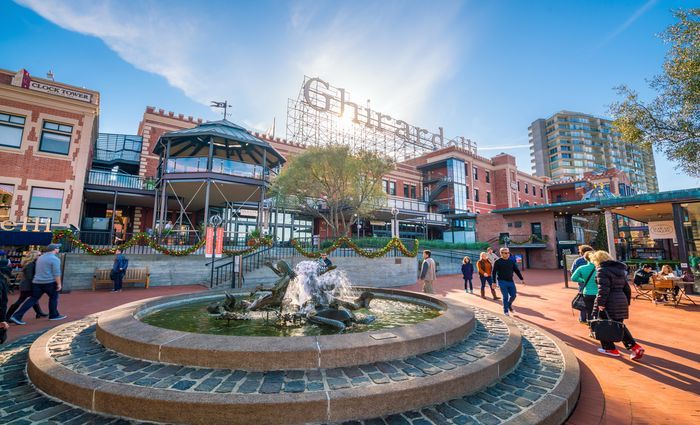 You've absolutely heard of (or tasted!) Ghirardelli Chocolate, San Francisco's most famous chocolate brand. Although there are several places around the city to purchase the chocolate, the most iconic one is—hands-down—Ghirardelli Square! You can take a tour inside and see where the chocolate is made or snap a photo under the famous lighted Ghirardelli sign outside.
What's more, Ghirardelli Square is also home to many restaurants and places to shop, which just adds to how fun this famous San Francisco landmark is. Of course, when you are at Ghirardelli Square, you'll have to try the chocolate as well. Or even better, the famous Ghirardelli ice cream sundae!

Address: 900 North Point St Ste F301, San Francisco
Not ready to book a tour? Read more in our San Francisco Guide.
8. Lombard Street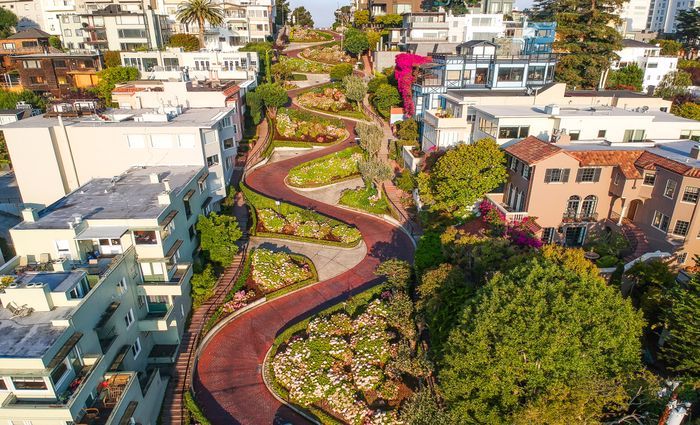 As promised, here's the part about the most cooked street in the world (according to Guinness World Records)! It's no secret that San Francisco is full of some of the steepest hills you've probably ever seen. Lombard Street naturally evolved due to the steepness of the hills and the encroaching buildings.
Comprised of eight different 180-degree angle turns on one of San Francisco's famous hilly streets, this twisty street is a well-known spot for photos. As you can imagine, Lombard Street is also a popular stop on many tours of San Francisco. There's really nothing else like it!
Intrepid tourists often attempt to navigate down this street and all of its turns. Make sure to hold on tight!
Address: 1070 Lombard Street, San Francisco
7. Coit Tower and Telegraph Hill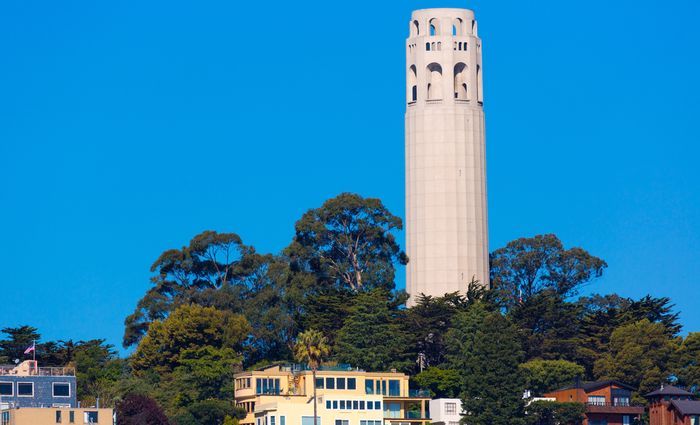 Another well-known fixture of the San Francisco skyline is Coit Tower, which is situated on Telegraph Hill. Located in North Beach, this white cylindrical tower was built in 1933. According to the San Francisco Parks and Recreation website, it was named after Lillie Hitchcock Coit.
When she passed away in 1929, she donated a lot of money to the city, saying that she wished for it to go towards building something beautiful. And that is exactly what happened!

What you might not know is that there are murals located inside the tower's base that were painted in 1934, according to the official website. From the observation deck at the top of Coit Tower, visitors enjoy a 360-degree view of the city!
To enter Coit Tower and see the view from the top costs between $2 and $7 for children, and between $7 and $10 for adults. Seniors are $4. As for Telegraph Hill, it is home to San Francisco's flock of wild parrots! If you look closely, you may be able to see them in the photo above!

Address: 1 Telegraph Hill Blvd, San Francisco
6. Baker Beach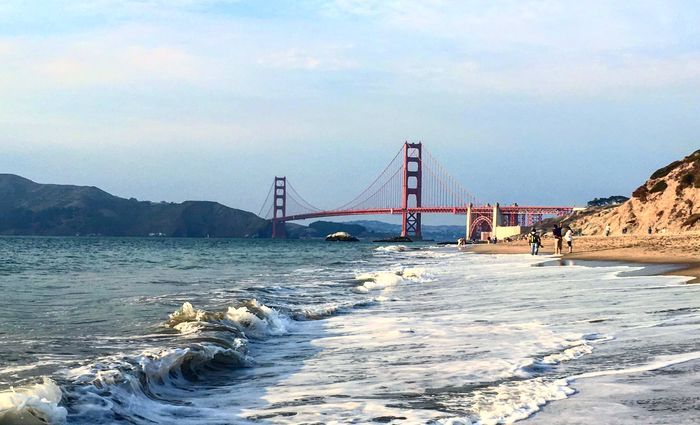 Though it might be less famous than Ocean Beach, Baker Beach provides visitors with an opportunity to see the Golden Gate Bridge up close—and from the ocean, which is pretty cool. Located in San Francisco's Richmond District, Baker Beach is full of families, dogs, and people playing sports on sunny days.
Baker Beach is also a popular place to watch the sunset. Due to the many permanent bonfire pits that are dotted along the sand, it's also a well-known spot for bonfires and s'mores.

What's more, Baker Beach played a surprising role in history. According to the Golden Gate National Parks Conservancy, the army built Battery Chamberlin a short walk from the beach in 1904. The original cannon in the battery is now gone, but it intended to protect the minefields during wartime. However, it was replaced with a cannon that replicates the original one. It is not in use, but you can still check it out today.
Address: Baker Beach
5. Fort Point National Historic Site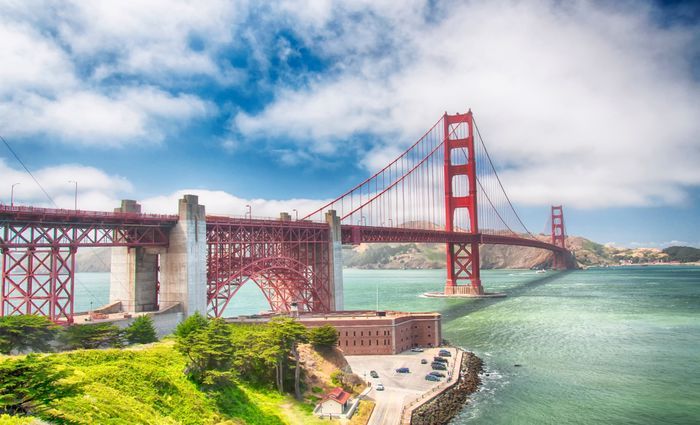 Fort Point was built in the 1800s by the US Army Engineers. According to the National Park Service, Fort Port was intended to be part of a defense system to protect the San Francisco Bay. Impressively, it was built in a style of military architecture that is not found anywhere else nearby.

Although intended for use during the Civil War, it was never used during that war. Instead, Fort Point was in use during World War II. Now, it is known as a National Historic Site and is famous for its architecture. Today, Fort Point is a popular spot for hiking, biking, and guided tours.
Address: Long Ave & Marine Dr, 201 Marine Dr, San Francisco
4. The Painted Ladies at Alamo Square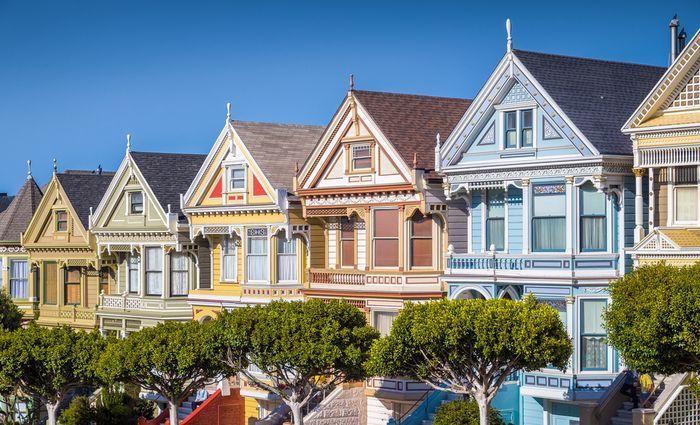 Nicknamed the "Painted Ladies," these colorful Victorian mansions were featured in the opening credits for the TV show "Full House." Contrary to popular belief, the house that the Tanner family lived in was actually not one of these, but instead, it was a house in the Pacific Heights neighborhood. Located on Broderick Street, that house is simply referred to as "The 'Full House' House."

However, the Painted Ladies' appearance in the show's credits make these iconic houses a frequently-visited location. Also, these iconic houses are located at Alamo Square Park, which is a well-known spot for picnics, dog watching, and seeing a spectacular view of the city. These beautiful homes are easily the most darling of all the famous landmarks in San Francisco.
Address: Steiner St &, Hayes St, San Francisco
Not ready to book a tour? Find out if San Francisco tours are worth it.
3. Lands End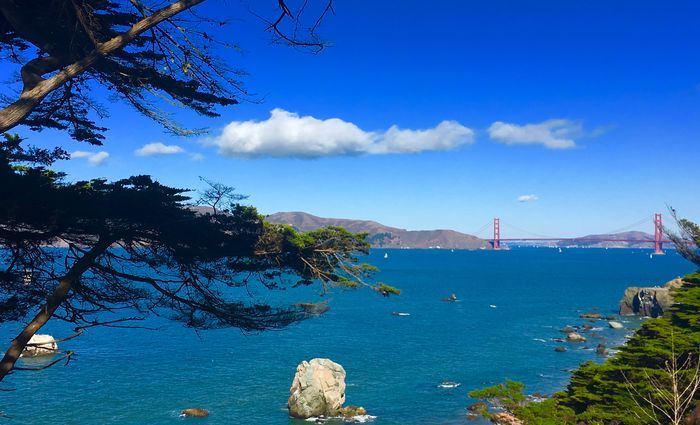 Lands End provides some of the best hiking in San Francisco, and it's conveniently found in the Golden Gate National Recreation Area. Visitors can hike along the trail and gaze out onto the ocean and the Golden Gate Bridge. Lands End is free to enter, and a great place for picnics, dates, and to get your daily exercise in.

What's more, when visiting Lands End, you can also visit Sutro Baths! This was a popular ocean pool aquarium and public bath house, but the Sutro Baths were destroyed by fire in the 1960s, according to the National Park Services website. Today, the area of Lands End is a popular spot to walk, take interesting photos, and look out onto the Bay.
Please note that Land's End is located in the Richmond District, which is prone to fog. Therefore, the bridge may not always be super visible. Even when it's hard to spot the bridge, visitors love to follow one of the many trails down to the beach below. See if you can find the Lands End labyrinth!

Address: 680 Point Lobos Ave, San Francisco
2. Alcatraz Island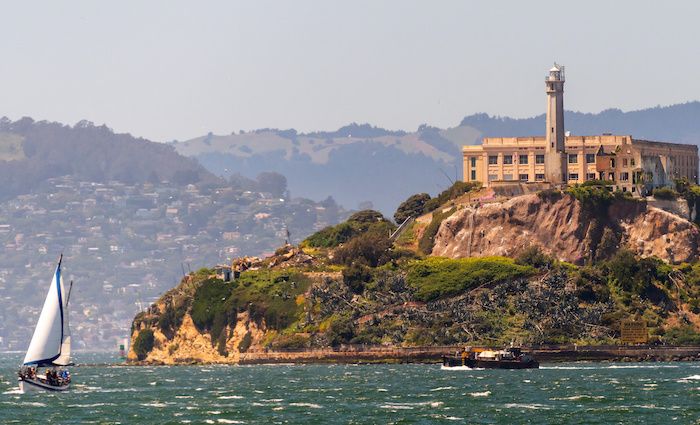 You probably already know that Alcatraz Island housed the most infamous prison in the United States: the Alcatraz Federal Penitentiary. However, the prison shut down in 1963, sending its prisoners elsewhere. Today, both the prison and the island have become incredibly most popular tour destinations in San Francisco. As the previous home of famous criminals such as Al Capone and the original Machine Gun Kelly, Alcatraz has an extensive, fascinating history.

What's more, the island is located in the middle of the scenic San Francisco Bay. Because of this, it is even more of an iconic place to visit to get some of the best views of the Golden Gate Bridge and San Francisco. Every ferry ride to Alcatraz Island departs from Pier 33, near Fisherman's Wharf, so you can hit two landmarks in one!

Pro Tip: Alcatraz is an extremely popular tour destination, so we strongly recommend booking your tickets to Alcatraz Island at least a few weeks ahead of time! Alcatraz tickets can sell out even months ahead of your tour date, especially during the summer and other peak tourist times during the year,!
Address: Pier 33, San Francisco
Not ready to book a tour? Read more in our San Francisco Guide.
1. The Golden Gate Bridge Welcome Center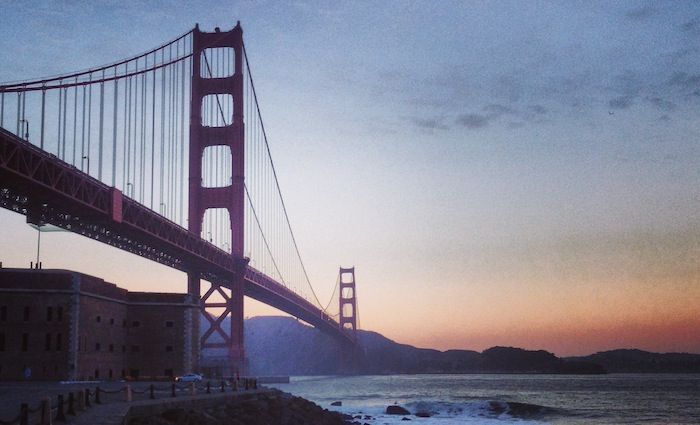 Is there a San Francisco landmark more iconic than the Golden Gate Bridge? We think NOT! At the Golden Gate Bridge Welcome Center, you can learn all about the bridge and its history. You can even get a cup of coffee at their attached café.
What's more, right in front of the Welcome Center is one of the absolute best vantage points for photos. Then, you can walk, drive or bike across the Bridge for some amazing views of San Francisco and the quaint nearby town of Sausalito.
Address: Golden Gate Bridge, Coastal Trail, San Francisco
Not ready to book a tour? Find out if San Francisco tours are worth it.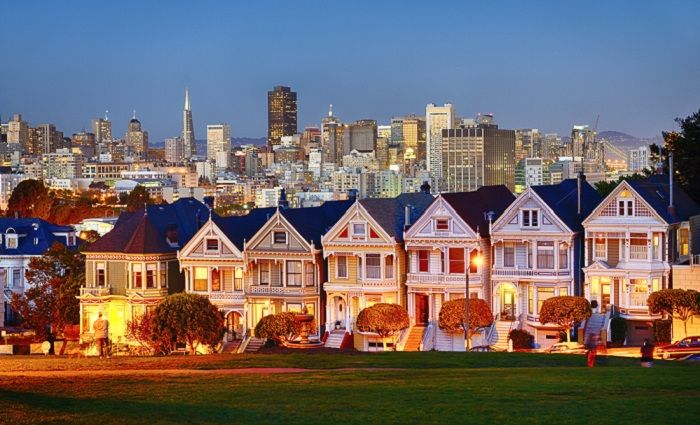 Find the best places to stay
Where To Stay in San Francisco
Make the most of your visit to San Francisco by choosing to stay in the best neighborhoods for seeing all this iconic city has to offer. You'll love our hotel recommendations.