San Francisco is one of the top destinations for families in the U.S. However, there are lots of hotels in the city to choose from, and not all of them are good for families. So, we compiled a list of our favorite hotels in this iconic city for your family vacation! No matter what you plan to do in San Francisco, you'll find the the best family-friendly hotels in San Francisco on this list.
---
Pro Tip: It's easier to organize your trip when you have all your resources in one place. Bookmark this post along with our San Francisco Guide for more planning resources, our best San Francisco tours for a memorable trip, and the top things to do in San Fran.
Popular Family-Friendly Hotels Near San Francisco
If you're hoping for a five-star luxury hotel experience in San Francisco, you can still get that with the fam in tow. The City by the Bay has many hotels for all different budgets, situated close to many different attractions.
Families heading to San Francisco need a centrally located hotel, kid-friendly amenities, and large, spacious rooms. A pool is nice, too. We've scoured the city to find these 11 hotels that are perfect for all budgets and activities.
You'll find hotels that have something specifically designed with kids in mind—we're talking goodie bags, beach balls, and kid-oriented tea parties! You might find some of these great hotels on our other San Francisco hotel article as well, but every hotel here was hand-picked for a good family vacay. Keep reading and let's plan your family getaway with the best family-friendly hotels in San Francisco!
Our Partnership with Booking.com. If you like our content, please book by clicking on our Booking.com links. The price is the same for you, and we get a small commission that helps support our blog. We've partnered with Booking.com because they have the most options, great prices, and a solid loyalty program. Just about every hotel is on Booking, so our recommendations are not incentivized.
Hotel Fairmont Heritage Place – Ghirardelli Square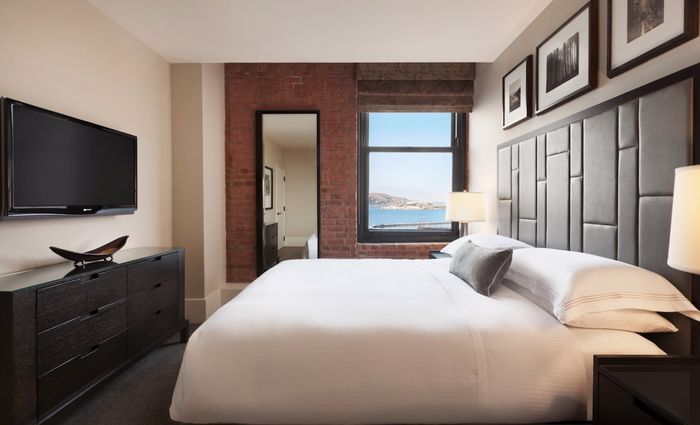 $$$$ | 5 Star | Babysitting Services Available | Great Location | Spacious Rooms
Located behind Ghirardelli Square, every room in this hotel is a suite, so the rooms are spacious and perfect for families. Cribs are also available upon request. The rooms also have air-conditioning for rare hot days—they don't happen very often here, but they can happen!
If you get a room with a balcony, you and your family will also be treated to spectacular views of the Golden Gate Bridge as well as Alcatraz.

The location itself is great because not only is it close to the famous Ghirardelli Chocolate shop and factory, but there's also a large grassy area your kids can run around in. For the adults, there's shopping and wine tasting (and, the factory is awesome for all ages). There's also many restaurants nearby, and a brand new mini golf course! Not to mention the amazing city view from the Square.
Not ready to book a tour? Find out if San Francisco tours are worth it.
Hotel Del Sol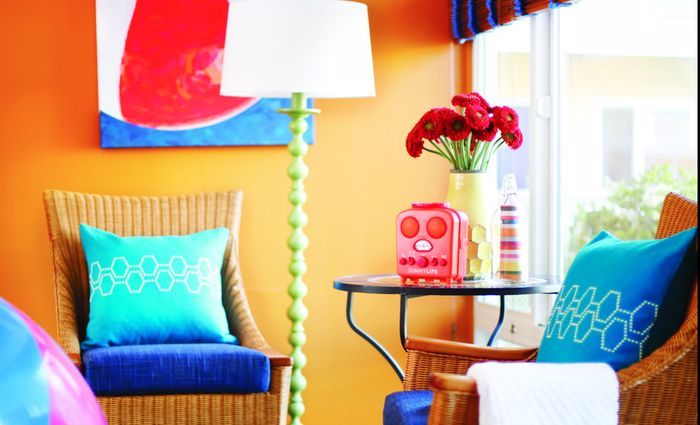 $ | 4 Star | Spacious Rooms | Free Breakfast | Treats For Kids

Families love this cute boutique hotel in the Marina District because of the spacious, clean rooms, and heated courtyard pool. Guests also praise the friendly staff and hail Hotel Del Sol as one of the more affordable hotels for families. The hotel also has family suites, which come with bunk beds and a kitchenette!
The outdoor swimming pool is heated, and staff has been known to provide beach balls and sunglasses for free for kids! Breakfast is free every morning, and they have coffee, tea, and apples available in the lobby at all times as well.
The Marina District is a trendy neighborhood full of shops and restaurants. There's also a park just a 10-minute drive from Hotel Del Sol for kids to play in. The Marina is also about 10 minutes from downtown San Francisco, if you want to stay close by without actually staying in a noisy downtown area.
Omni San Francisco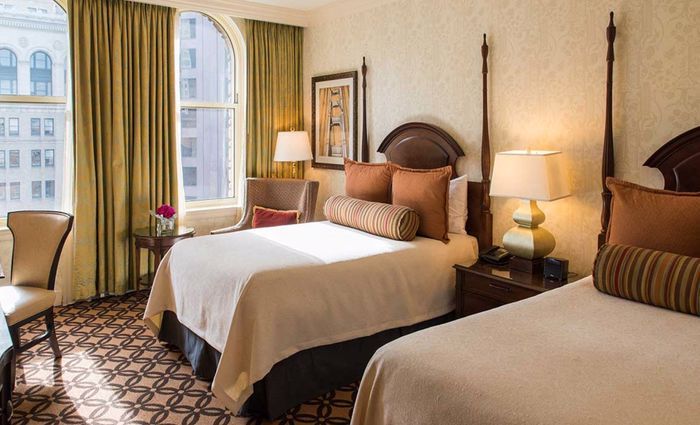 $$$ | 4 Star | Babysitting Services Available | Activity Backpacks for Kids | Connecting Rooms Available
Located right in the middle of Financial District, Omni San Francisco has clean, spacious rooms. Connecting rooms are available upon request, as are babysitting services. Omni is known for its friendly service, which is helpful as a family-friendly hotel in San Francisco.
Our absolute favorite thing about this hotel is that when you check in with kids, they provide activity backpacks for children with activity books, crayons, games, and binoculars! They also have robes in the rooms. The only downside to this hotel is the lack of a pool, but they make up for it with their family-friendly room service. There are also mini fridges available and a restaurant on site.
Orchard Garden Hotel – Chinatown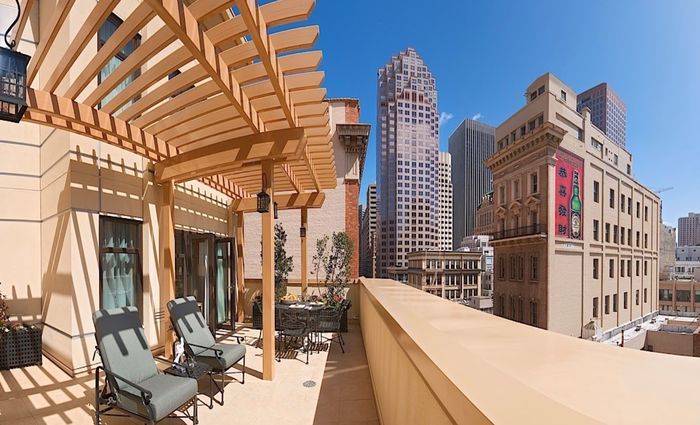 $$ | 4 Star | Cribs Available Upon Request | Rooftop Access | Comfy Beds
This Chinatown hotel has a cute rooftop with views of the city. The rooms are clean and spacious, and guests rave about the comfortable beds. The rooms come with air-conditioning, and there are mini-fridges available in the rooms upon requests. Cribs are also available for the rooms if you inquire at reception, but these may cost a fee.
There is also an organic restaurant, Roots, on-site. Please note that parking is difficult to find in San Francisco, and so like many other hotels, parking is not included at the Orchard Garden Hotel. Paid parking is available a block away in a separate parking garage.

The hotel is very close to Dragon's Gate, and all of Chinatown's restaurants and souvenir shops. It's also about a 5-minute drive to the Embarcadero Waterfront and the Ferry Building, which has kid-friendly shops and a farmer's market on the weekends.

Location, photos, and booking
Kimpton Alton Hotel Fisherman's Wharf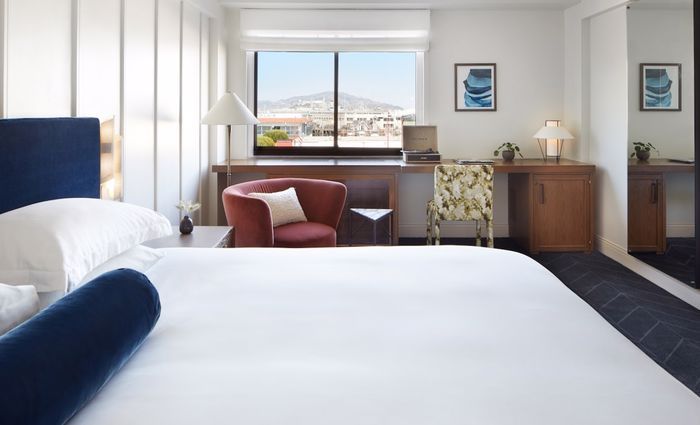 $$$ | 4 Star | Free Cribs Upon Request | Babysitting Services Available | Goody Bags for Kids
We love Fisherman's Wharf for family-friendly hotels in San Francisco! This area is close to the water, and surrounded by restaurants that are good for families. On the pier, there's a carousel and people doing kid-friendly magic shows. There are many shops nearby, and kids also love looking at the sea lions.

In this neighborhood, one of our favorites is the Kimpton Alton Hotel. Located close to Ghirardelli Square & Pier 39, this hotel gives kids apple juice and treats upon check-in! There are also mini-fridges in the rooms, and complimentary cribs available upon request.
The hotel also has puzzles and board games available to children to play with, and scooters that kids can borrow! The clean rooms have views of either the Bay, Coit Tower, or the iconic Transamerica building.
Not ready to book a tour? Read more in our San Francisco Guide.
Westin St. Francis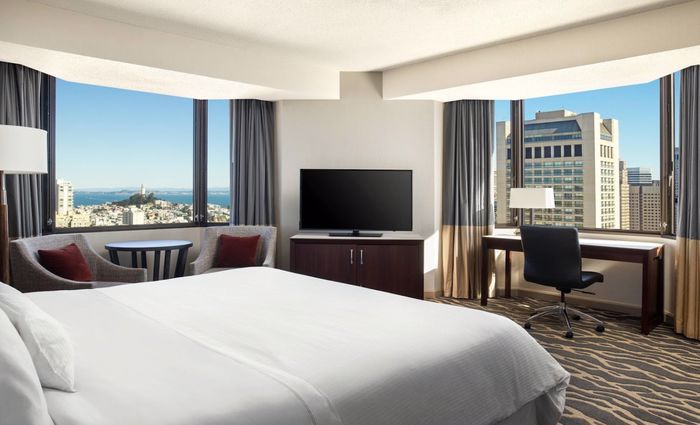 $$$ | 4 Star | Events For Kids | Large Rooms | Goody Bags for Kids
This massive, iconic hotel is located right on Union Square, close to restaurants, shopping and photo ops.This is a beautiful hotel and more affordable than many other big-name chains. They also host "dolly and me" children's tea events, but it's worth calling ahead to make sure they have an event scheduled during your planned stay.
The Westin has also been known to give goody bags to kids at check-in! This historic hotel also provides mini-fridges, cribs, and rollaway beds available upon request. There's also an Italian restaurant on-site, and some rooms have great views of the city and the bustling activities of Union Square. The rooms are big, which is good for accommodating families, and there are also special family and deluxe rooms available.
Hyatt Regency San Francisco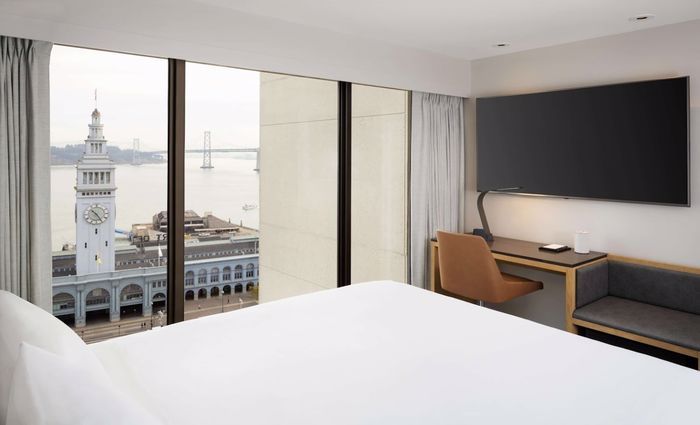 $$$ | 4 Star | Over-the-Bay Views | Babysitting Services Available | Crib Available
When you stay here, the Embarcadero Waterfront and the Ferry Building are literally outside your front door! You and your family will love the spacious and modern rooms here too. When you're not relaxing in the room or exploring the Embarcadero, you can enjoy the Eclipse Restaurant and Lounge, if you prefer fine dining on-site.
Babysitting services can be arranged, and there are extra beds and cribs available upon request in suites. The rooms also come with air conditioning, and there's an on-site convenience store in case your family needs to pick anything up last minute

Planning your visit to San Francisco? Make sure to use our list of top things to do in San Francisco!
The Suites At Fisherman's Wharf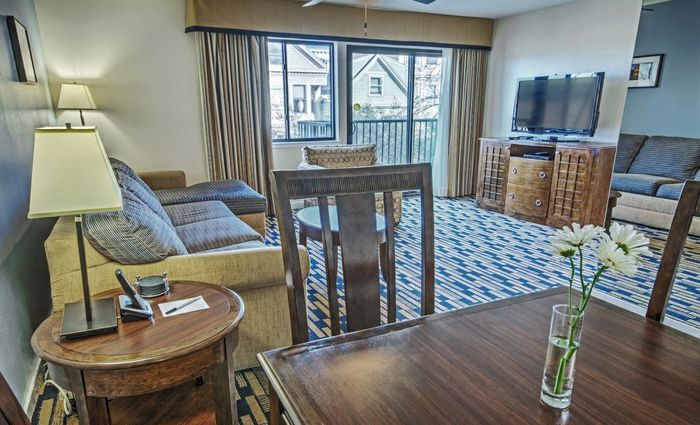 $$$ | 3 Star | Babysitting Services Available | Large Suites | Great Location
Located one block walk from Ghirardelli Square and two blocks from Fisherman's Wharf, this hotel includes large suites equipped with kitchen amenities. There's a rooftop patio that guests can relax on, and babysitting services are available upon request. Families love the clean, spacious rooms.
Please note that as with much of San Francisco, there is limited parking. If you can find space at the hotel, it's $35 a night. However, this hotel is in a very walkable area, and it's also super close to the iconic San Francisco cable cars! The Suites at Fisherman's Wharf are also located a three-minute walk to Umbrella Alley—a brand new, kid-friendly photo opp!
Marriot Marquis – SoMa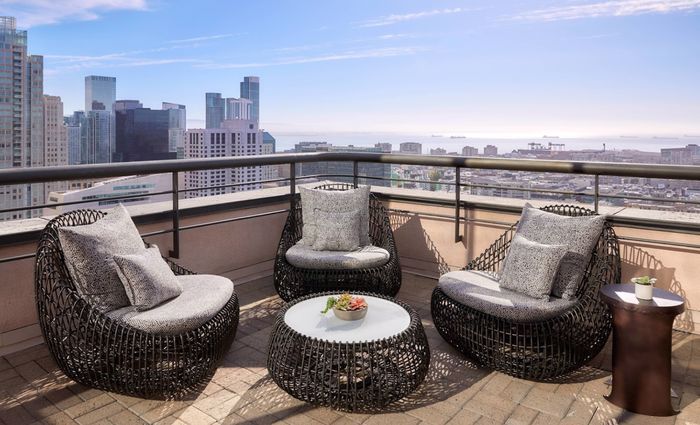 $$$ | 4 Star | Good Views | Complimentary Cribs | Great Location
If your family is planning on checking out the Yerba Buena Center for the arts or the Museum of Modern Art, this is a great hotel to stay at! It includes rooms that can sleep up to four people and complimentary cribs. The rooms are clean, spacious, and modern.
Please note that there are not microwaves in every room, but there is a microwave in the lobby. Most rooms do have a small fridge, as well as an awesome view. They also provide complimentary cribs for children if your family needs them, which easily makes it one of the best family-friendly hotels in San Francisco.

Location, photos, and booking
Argonaut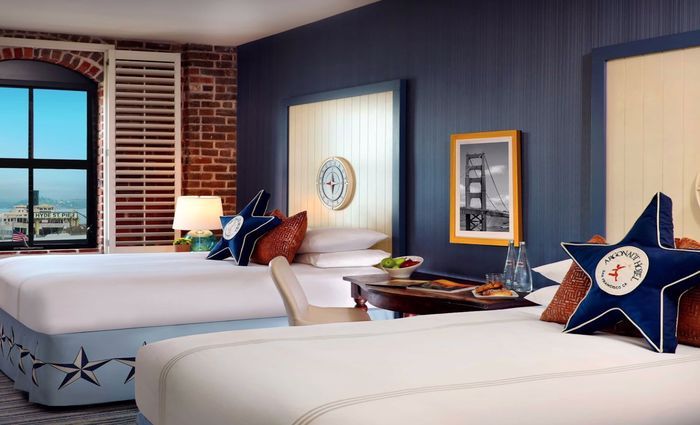 $$$ | 4 Star | Nautical Themed | Free Bike Rentals | Great Location
We know, we know. Another hotel by Fisherman's Wharf, but that's because it's just one of the best places in San Francisco to stay with a family! The Argonaut is a cute, nautical-themed hotel with spacious, comfortable rooms. Many of the rooms come with a great view as well.
There's a seafood restaurant on site, the Blue Mermaid, that your family can eat at as well. The best part of the The Argonaut is that it provides complimentary bike rentals for the whole family to make it easy (and affordable) for you to explore the area!
Hotel Drisco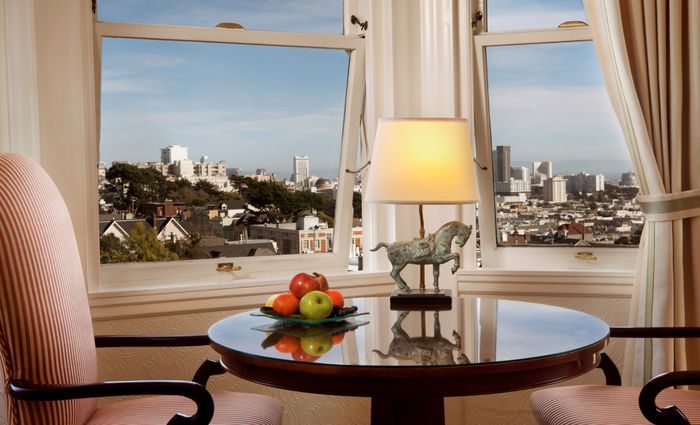 $$$ | 4 Star | Kids Movies Available | Two Blocks from the Presidio | Free Bike Rental
Hotel Drisco is located in the peaceful Pacific Heights neighborhood, inside of an Edwardian building built in the early 1900s. Well-known for its gourmet continental breakfast, afternoon wine and cheese tasting, this hotel also boasts highly attentive staff.
And since it's close to the Presidio, they also offer bike rentals for your convenience. You can either reserve the bikes ahead of time as part of your hotel package, or rent them for free when you arrive.

This hotel also offers kids movies on Blu-Ray, and it has in-room streaming capabilities. If you have Netflix on your phone, you can play it on the TV in your room—just ask for a cable at the front desk! Also inside the room, you and your family can enjoy the comfy pillow selection, goose down comforters, and even a sleep machine if needed. They really treat you like family here.
Not ready to book a tour? Find out if San Francisco tours are worth it.