The Los Angeles area is one of the top family destinations in the United States, thanks to Disneyland and the miles of beaches to enjoy. LA is the city of entertainment, and it doesn't disappoint. But many travelers choose to vacation closer to a beach or near Disneyland. Wherever you prefer to make your temporary home base, we have the best family-friendly hotels in Los Angeles on our list.
---
Our Partnership with Booking.com. If you like our content, please book by clicking on our Booking.com links. The price is the same for you, and we get a small commission that helps support our blog. We've partnered with Booking.com because they have the most options, great prices, and a solid loyalty program. Just about every hotel is on Booking, so our recommendations are not incentivized.
The Best Kid-Friendly Hotels Near Los Angeles
The need for a kid-friendly hotel doesn't mean you can't stay somewhere luxurious. In fact, Los Angeles has hotels all around the area that are kid-friendly and meet most budgets. Families heading to LA need a centrally located hotel, kid-friendly amenities, and plenty of sleeping arrangement options.
This list of the best family-friendly hotels in Los Angeles includes hotels that meet or exceed these expectations. And while many of our other LA hotel articles focus on the immediate Los Angeles area, this list includes a few other hotels near Anaheim and Huntington Beach so you can choose the best family-friendly hotel that's located near your biggest vacation plans.
Fairmont Miramar Hotels & Bungalows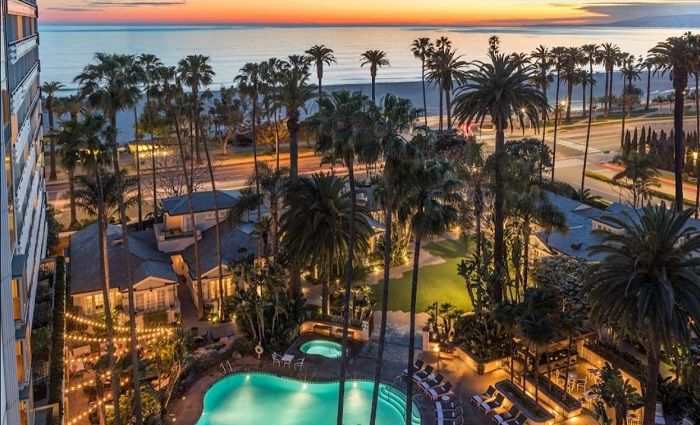 $$$ | 4 Star | Almost Beachfront | Babysitting Services Available | Bicycle Rentals
The Fairmont Miramar sits just across the street from Santa Monica Beach. You can choose from rooms, suites, or full bungalows to house your family here. Adjoining rooms are available on request, and laundry and dry cleaning is available through valet. During the summer months, Fairmont provides kids with their own beach toys, games, and activities.
Adults can also use the volleyballs or boogie boards, or just take a comfy beach chair and enjoy the butler service that brings snacks, drinks, and towels. Otherwise, you can rent cruiser bicycles to explore the Santa Monica boardwalk. If you need babysitting services, make sure to arrange it ahead of time so they can connect with one of their local, vetted child care services.
Loews Santa Monica Beach Hotel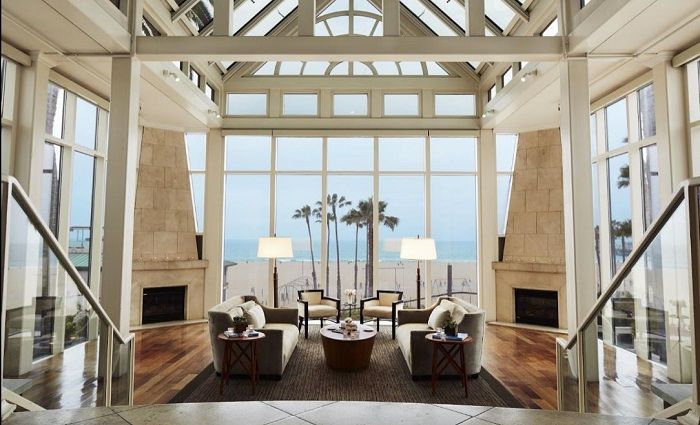 $$$+ | 5 Star | Spacious Rooms | Beachfront Elegance | Kid Amenities
Loews Santa Monica Beach Hotel is located across from the beach and the famous Santa Monica Pier. The whole family can enjoy a day at the beach, then a night at the pier riding the Ferris wheel and playing fun carnival games. As for the hotel, Loews thoughtfully offers nightlights, cribs, and even child-proofing kits and crayons if you forgot yours.
The restaurant offers activities while they wait for their kid-friendly entrees, and the concierge has kid-friendly activity recommendations to keep you busy throughout your stay. This hotel is also on our top luxury hotels list, so adults are sure to enjoy a relaxing stay here, too.
The Garland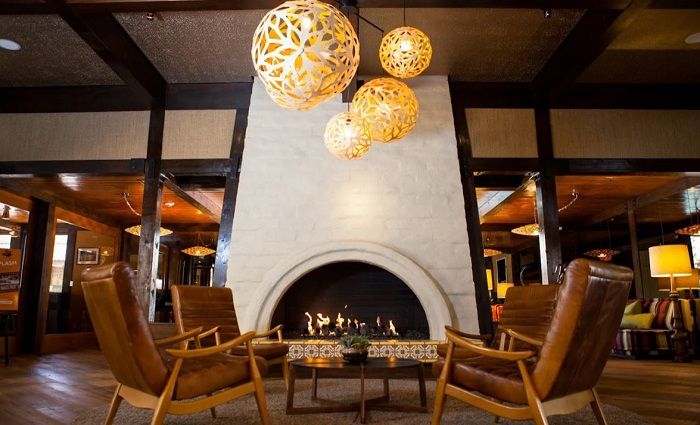 $$ | 3 Star | Boutique Fun | Family Friendly | Close to Universal Studios
Having just re-opened again, The Garland ranks high on the list of boutique hotels that are also super family-friendly. For a little extra space, ask about booking one of their suites that has a separate living area with bunk beds (some suites have two TVs, too). It's perfect for larger families who need a little extra space that also includes a fridge.
On weekends, the hotel offers a movie night at the pool, which makes a great way to unwind after a day of exploring LA. They also have a fun lawn and family games you can play together or with other hotel guests. And they usually have fun activities for everyone planned throughout the week, as well as brochures of family-friendly activities to do in the area around Studio City.
Magic Castle Hotel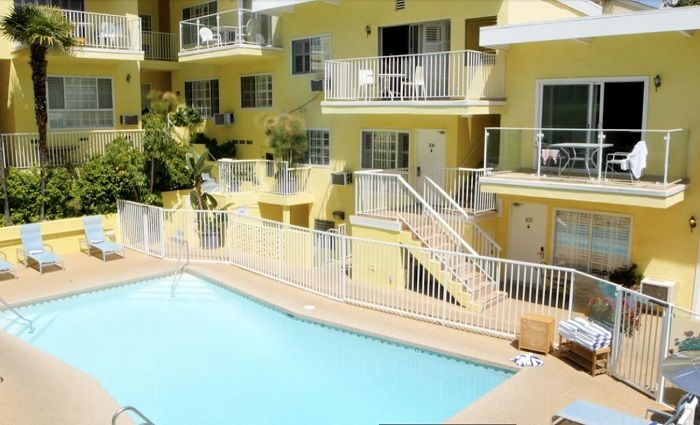 $$+ | 3 Star | Surprising Find | Near Hollywood Attractions | Tons of Amenities
The Magic Castle Hotel in West Hollywood continues to surprise guests with their amazing amenities and accommodations. For larger families, enjoy the option to book a full apartment that sleeps up to six people. Not only that, but you can have free, full-sized candy, chips, and cookies all day long. Free. Full-sized. Candy. It's a kid's dream come true—though possibly a parent's nightmare.
At the 24-hour pool, simply use the red phone to order a popsicle delivery poolside. Or take advantage of the laundry service at no extra charge. All of this comes at an incredibly low price compared to other family-friendly hotels in Los Angeles. We almost hate to let out the secret of this awesome place.
Beverly Wilshire, A Four Seasons Hotel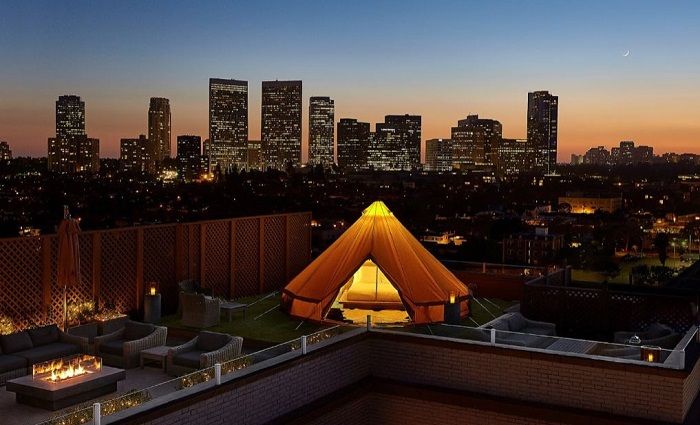 $$$$$ | 5 Star | Beverly Hills Luxury | Rooftop Pool & Patio | Accommodating Staff
Almost no request is impossible for the staff at Beverly Wilshire to accommodate with a little time. AAA batteries, nightlights, curling iron, whatever is needed to make your stay more comfortable can be found. The rooms and bathrooms here are incredibly spacious, most have mini-fridges (or one can be requested), and roll-away beds and cribs are available upon request.
Every room has a DVD player, and kids can choose from a library of family-friendly movies to watch. As a bonus, the room service menu even includes options for babies, kids, and tweens who may not be ready for more exciting food pairings from the Wolfgang Puck restaurants.
Heading to Los Angeles? We've put together a list of great day trips from Los Angeles plus where to stay around LA.
Omni Los Angeles Hotel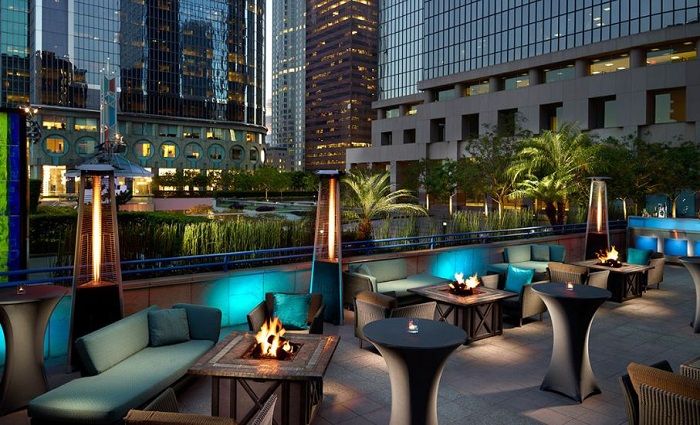 $$+ | 4 Star | City Oasis | Child Care Services | Affordable Luxury
A stay at the Omni gets you downtown luxury at a fraction of the price of many luxury hotels. The check-in process at this hotel is what really leaves an impression for family travelers. Kids receive their own snacks and treats at check-in, but even better, the family will find milk and fresh cookies waiting in the room.
Roll-away beds are available upon request, and most rooms have mini or full-sized fridges. You can also request adjoining rooms if you have more than four people in your family. And if you have teens on a swim team, they might love the heated lap pool.
Hyatt Regency Huntington Beach Resort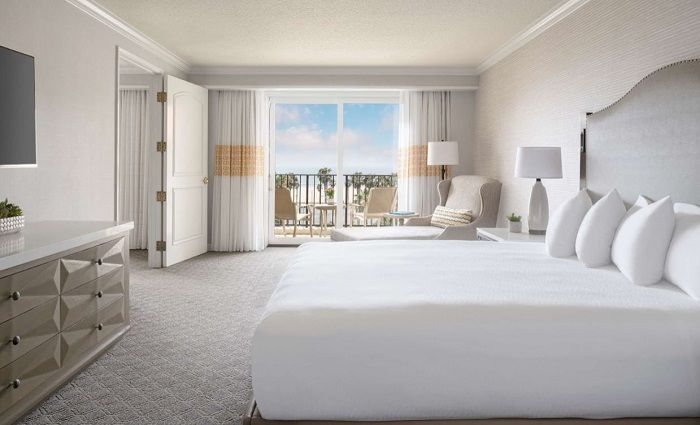 $$$+ | 4 Star | Resort-Style Property | Waterpark Onsite | Oceanfront Fun
With Spanish-inspired architecture, this resort makes for an impressive stay. It's the perfect place for small families or family reunions. Play all day on the miles of beaches just across the pedestrian bridge, splash in the small, onsite water park, roast s'mores at the fire pits, or head over to Disneyland for the day.
You might even want to ask about bike and surfboard rentals or the one-on-one mermaid experience. The suites are spacious and offer one, two, or three bedrooms, but even the standard rooms are larger than most, and most of them come with mini or full-sized fridges.
Fairfield By Marriott Anaheim Resort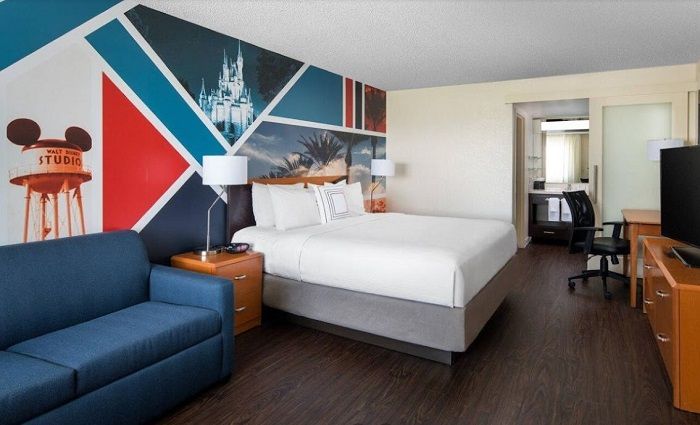 $$+ | 3 Star | Disney Themed | Game Room | Onsite Pizza Hut
Located across from Disneyland, the Fairfield by Marriott offers great value at a great price. The rooms are thoughtfully themed to match Disneyland, and there are fridges and plenty of connecting rooms available to accommodate families. Roll-away beds and cribs are available upon request.
The whole family will love unwinding after a day on their feet at the outdoor, heated pool and whirlpool. Kids and even adults will also love the game room if they still have the energy to burn. And all-day dining is available on the third floor at Pizza Hut, Seattle's Best Coffee, and The Market. If you prefer, order in from Panera Bread next to the hotel for a nicer meal.
Howard Johnson by Wyndham Anaheim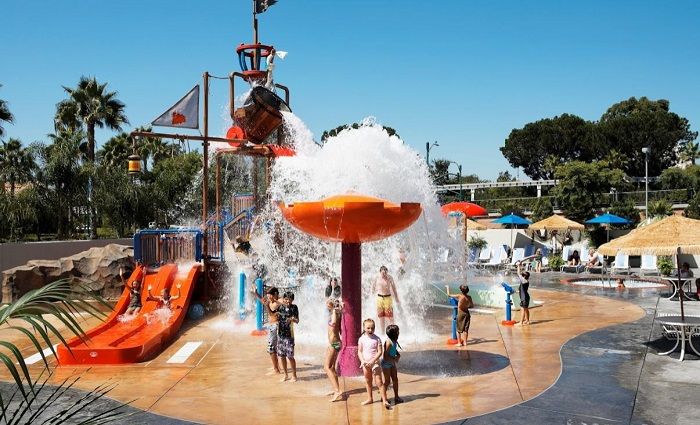 $$+ | 3 Star | Waterpark and Splashpad | Game Room | Across from Disneyland
Get more for your money at the Howard Johnson Anaheim Resort. Not only do you get comfortable rooms at a great price right across from Disneyland, but you also get an entire waterpark and splash pad for kids to enjoy. Depending on your room location, you might even get to watch the Disneyland fireworks from your balcony!
Several of their rooms also have bunk beds so you can fit families of five in one room, but adjoining rooms and suites are also available. Mini fridges and microwaves are available, and the TVs have Hulu, Pandora, HBO, Nick Jr., Disney+, ESPN, and Golf channels. Some suites even include an X-box, and coin-operated laundry is available.