As you explore all that Los Angeles has to offer, you'll need to refuel yourself from time to time. Fortunately, LA is home to some incredible restaurants. Cuisines like Mediterranean, Korean, Thai, Middle Eastern, Italian, Chinese, and the staple Mexican food exist on seemingly every corner. Our list of the best restaurants in Los Angeles will keep you satisfied whether you crave vegetarian food, steak, or sweet delights.
---
Pro Tip: Bookmark this page to stay on top of the best restaurants in Los Angeles! We update it often to make sure we've got something for everyone on the list. You'll find family friendly restaurants, spots for foodie friends, and places for couples as well.
The 13 Best Places To Eat in Los Angeles
The Los Angeles area includes many popular cities where delicious food can be found. Explore West Hollywood delights, Beverly Hills indulgence, or culinary fusions in downtown or Santa Monica. Wherever you go, you're sure to find a restaurant that surprises you. If you have special food preferences, LA caters to just about everyone.
Most restaurants have excellent vegetarian options and many have gluten-free choices as well. But it's not hard to find restaurants and cafes that cater specifically to vegan, dairy-free, gluten-free, or other dietary needs as well. And of course, if fine dining is your thing, then Los Angeles has you covered. After you've picked your top places to eat in Los Angeles, be sure to browse our list of things to do in LA too!
The Edmon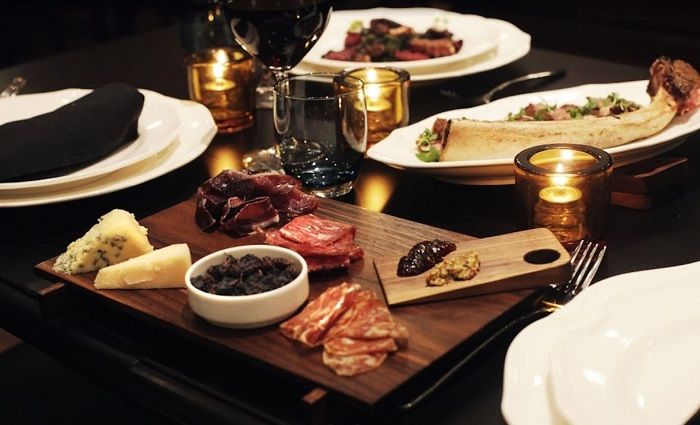 $$ | American | Swanky Art Deco | 21 and Over Only
We love The Edmon. It's totally swanky and posh without the usual price tag. You'll find this gem near West Hollywood on Melrose Avenue in the original Hollywood Historic Hotel. The interior is warm and inviting—almost dreamy—near the bar, otherwise, head out to the grassy courtyard where you can dine under classic Italian lighting. They often have live music playing as well, which is a nice touch. And their underrated bonus is the free parking nearby—a luxury in LA.
Address: 5168 Melrose Ave, Los Angeles, CA
Hours: Tuesday – Thursday, 5 pm – 11 pm; Friday – Saturday, 5 pm – 12:30 am
Petty Cash Taqueria and Bar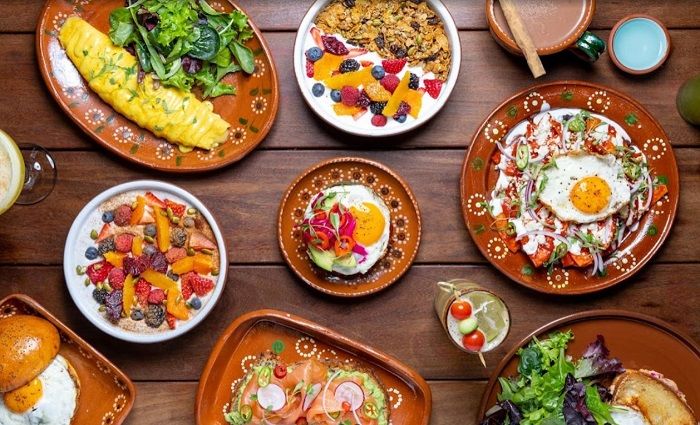 $$ | Mexican Food | Hip Vibes | Great for Groups
Petty Cash Taqueria encourages community vibes with their long bench, picnic table seating. But that's best for sharing chips and salsa anyway. However, we won't judge if you eat the entire bowl of chips (and amazing guac) yourself. The Al Pastor tacos should hit your list of top items to order here. We recommend pairing them with an unbelievable margarita during happy hour as well. Just be sure to plan ahead since they have limited hours and it fills up fast.
Address: 7360 Beverly Blvd, Los Angeles, CA
Hours: Tuesday – Thursday, 5:30 pm – 9 pm; Friday – Saturday, 5:30 pm – 10 pm
Sqirl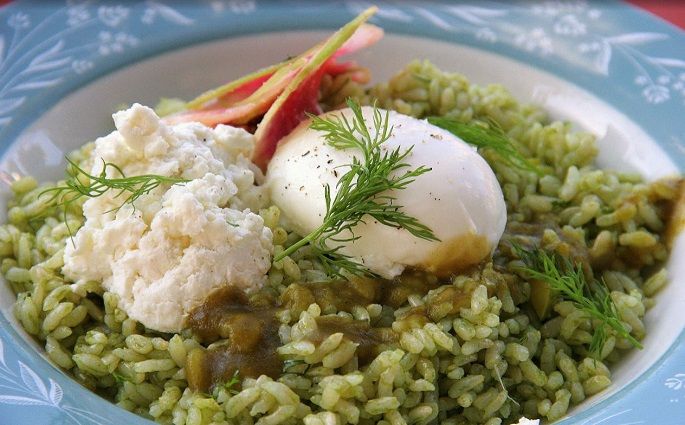 $ | Global Fusion Cuisine | Hip, Fresh, Homemade
What started as a pantry for unbelievable jams and nut butters has grown into a cult-following for cafe-loving foodies who love to taste fresh food with global inspiration. Sqirl is all about healthy indulgence. Brioche french toast smothered in crème fraîche, Scottish salmon sorrel rice, or a fresh kabbouleh. You'll want to buy a crisp French baguette and a bottle of wild blackberry and Meyer lemon jam (if it's not sold out) to take home!
Address: 720 N Virgil Ave #4, Los Angeles, CA
Hours: Open daily, 8 am – 8 pm
Eataly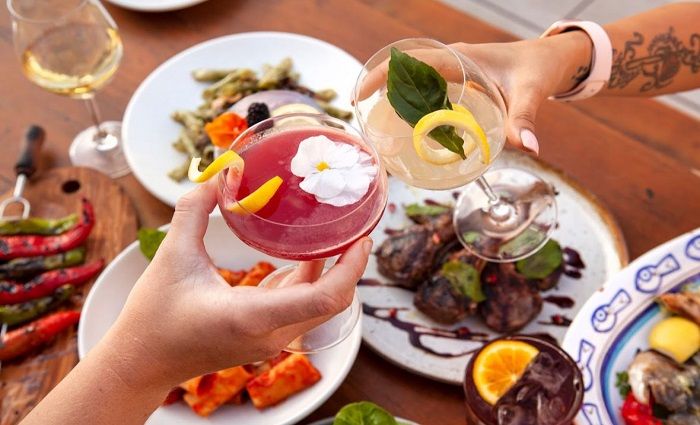 $$+ | Italian Market and Restaurants | Rooftop Restaurant | Family Friendly
To be fair, Eataly isn't just a restaurant. It's a 67,000-square-foot Italian experience in the Westfield Century City shopping mall. Inside this three-story emporium, you'll find restaurants, cafes, sweets, and market places including an Italian butcher shop. Choose to eat Napoli-style pizza at La Pizza & La Pasta or head to the rooftop restaurant Terra where you can dine on local ingredients made fresh on a wood-fired grill.
Address: 10250 Santa Monica Blvd, Los Angeles, CA
La Pizza & La Pasta Hours: Monday – Wednesday, 11 am – 9 pm; Thursday – Friday, 11:30 am – 9:30 pm; Saturday, 11 am – 9:30 pm; Sunday, 11 am – 9 pm
Terra Hours: Monday – Friday, 11:30 am – 3 pm, then 5 pm – 10 pm; Saturday – Sunday, 10:30 am – 3 pm, then 5 pm – 10 pm
Eataly Hours: Sunday – Wednesday, 8:30 am – 9 pm; Thursday – Saturday, 8:30 am – 10 pm
Providence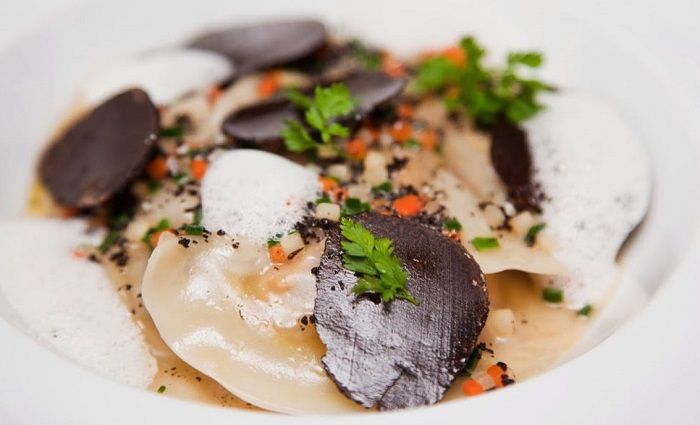 $$$$ | 2 Michelin Stars | Seafood Specialties | Cuisine Fusion
Providence has ranked as one of the best restaurants in Los Angeles for over a decade, which is just part of why they've earned two coveted Michelin stars. The chef uses wild-caught seafood from American waters as often as possible to create dishes that blend California cuisine with Mediterranean or Asian flavors. And as you'd expect, the staff expertly helps you choose a perfectly paired wine with your meal. Don't skip dessert! It's a decadent house-made Hawaiian chocolate with smoky pecan gelato and speculoos crumb.
Address: 5955 Melrose Ave, Los Angeles, CA
Hours: Tuesday – Friday, 6 pm – 9 pm; Saturday, 5:30 pm – 9 pm
Zinc Cafe, Market & Bar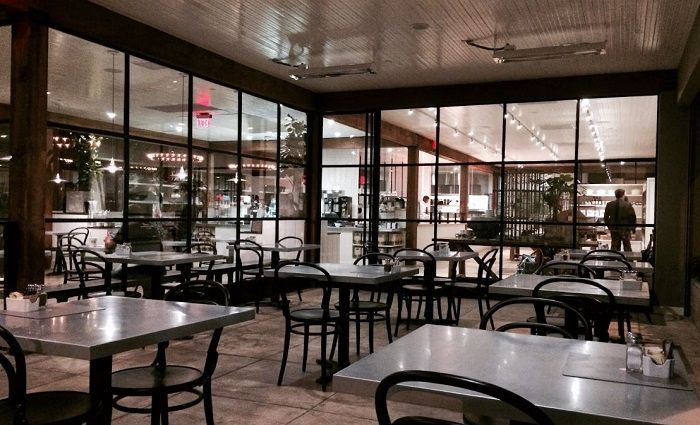 $$ | Vegetarian Cuisine | Fresh and Laid-back Vibes
For a casual, airy atmosphere, head over to Zinc Cafe in the Arts District. It's the perfect place to grab brunch or dinner in a spot that feels super local. Vegetarians love this menu that's filled with tasty pairings from omelettes to the popular french toast. Even their meat-eating friends love eating here! You can also shop at their pantry that's filled with local foods and treats to enjoy at home.
Address: 580 Mateo St, Los Angeles, CA
Hours: Open daily, 10 am – 8 pm
Bowery Bungalow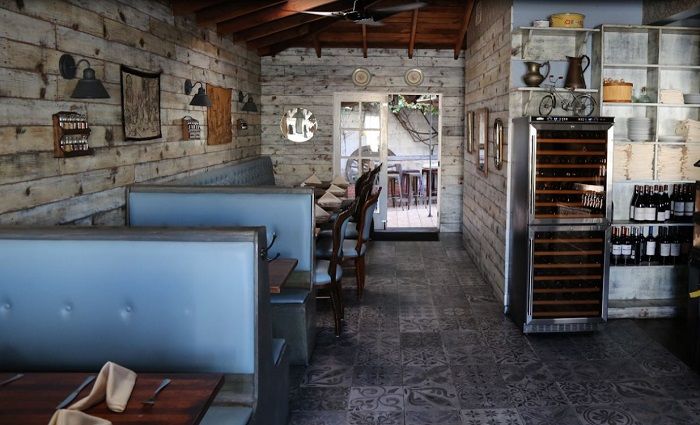 $$ | Middle Eastern Cuisine | Inviting Cottage Atmosphere | Rich, Intense Flavors
Bowery Bungalow may not have a Michelin star, but they hold a coveted spot on the list of recommended restaurants from Michelin's bib gourmand list. You can dine inside or head to the backyard for a more festive eating space. One of the best items on the menu is their babganoush that's paired with smoked eggplant and coal-roasted shishito peppers for some heat. Be sure to try the chocolate pot de creme that's topped with delicate lavender whipped cream.
Address: 4156 Santa Monica Blvd, Los Angeles, CA
Hours: Wednesday – Sunday, 6 pm – 11 pm
Wanderlust Creamery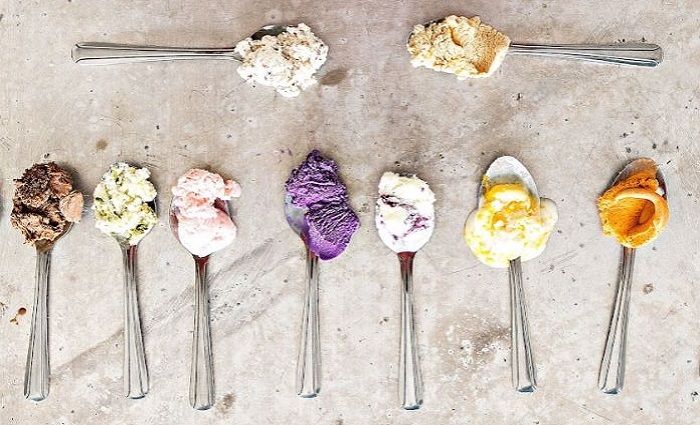 $ | International Ice Cream Flavors | Fresh and Fast
Wanderlust loves to try new flavors based on ingredients from countries around the world like Britain, Thailand, the Philippines, or Brazil. These flavors have a lighter sweetness than traditional rich American ice cream, and you may notice it tastes more subtle, just as you'd find in other countries. Be sure to order your scoops in the ube cone! The sticky rice and mango creation is a top favorite, however, don't be afraid to try their limited seasonal flavors too!
Address: 609 Lincoln Blvd suite b, Venice, CA; or near Beverly Hills 7920 W 3rd St, Los Angeles, CA
Hours: Open daily, 1 pm – 11 pm
CUT by Wolfgang Puck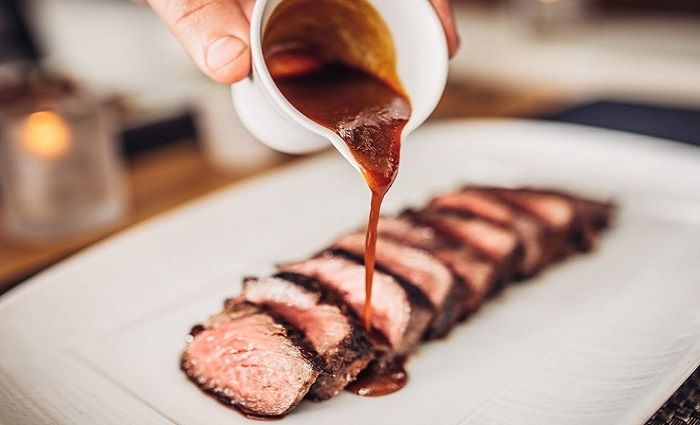 $$$ | 1 Michelin Star | Tasty Steakhouse | Luxurious Yet Casual Vibes
Located inside the decadent Four Seasons in Beverly Hills, you'll find Wolfgang Puck's modern restaurant: CUT. This Michelin star steakhouse is as posh as you'd expect yet it's not pretentious, which makes it a great place to enjoy a relaxing meal of impressive food. The Waygu beef always ranks high on the menu as a favorite but so do the Maine scallops. If you time it right, you may even enjoy some live music during your meal at one of the best restaurants in Los Angeles.
Address: 9500 Wilshire Blvd, Beverly Hills, CA
Hours: Tuesday – Thursday, 5:30 pm – 10 pm; Friday – Saturday, 5:30 pm – 11 pm
Din Tai Fung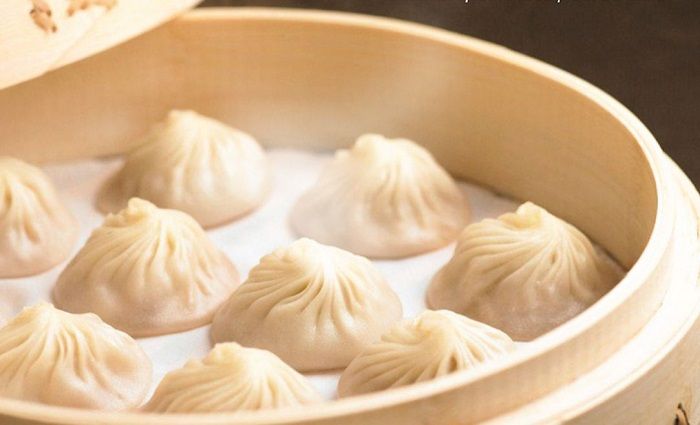 $$ | Dim Sum Deliciousness | Casually Classic
For dim sum lovers, a stop at Din Tai Fung is a must. Get your name on the waiting list, do a little shopping at the Century City mall, then chill at your table as you fill your belly with incredible blue and snow crab bao buns, spicy wontons, and unbeatable dumplings. The vegan dumplings are worth raving about too.
Address: 10250 Santa Monica Boulevard #2400 Level 2, Los Angeles, CA
Hours: Sunday – Thursday, 11 am – 9:30 pm; Friday – Saturday, 11 am – 10 pm
Socalo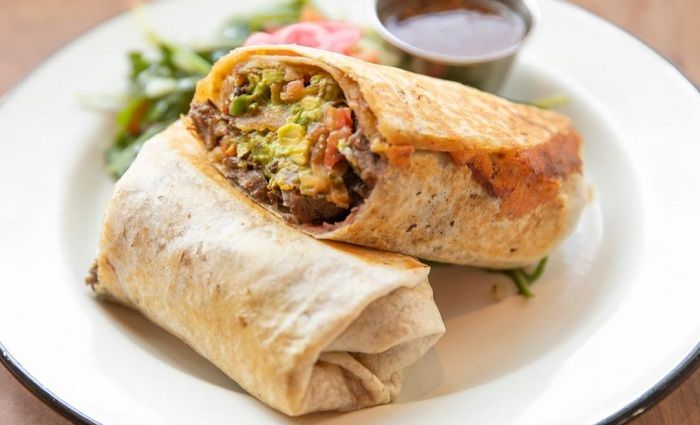 $$ | Fresh Mex | Laid-back Beach Vibes
Mexican food is a staple of Californians thanks to the close heritage across the Mexican border. This tasty part-organic restaurant in Santa Monica will surprise you with the rich comfort menu that also includes light fare like a raw seafood bar and plenty of gluten-free and vegan options. The tomahawk pork carnitas include a tasty blend of meat, herbs, mojo sauce, grilled peaches, and shallots that is unforgettable. Hit them up on Taco Tuesday for specials!
Address: 1920 Santa Monica Blvd, Santa Monica, CA
Hours: Tuesday – Thursday, 11:30 am – 9 pm; Friday, 11:30 am – 9:30 pm; Saturday, 9:30 am – 9:30 pm; Sunday, 9:30 am – 7:30 pm
Perch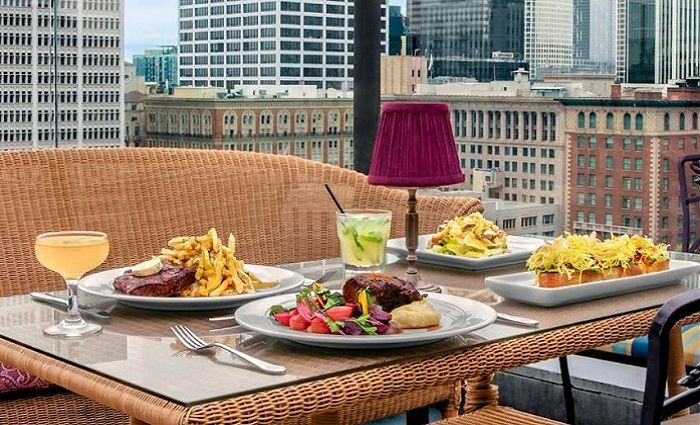 $$$ | French Dining | Rooftop Restaurant and Bar | Live Jazz
Perch is appropriately named. The views from this 15th-floor, indoor and outdoor restaurant rival most locations in the downtown LA area. We love the live jazz music that keeps the night scene lively without going overboard. The French menu is just casual enough for low-key California, while still being exquisite enough to remain French. Try the Boeuf Bordelaise at dinner or the crab Benedict at weekend brunch.
Address: 448 S Hill St, Los Angeles, CA
Hours: Monday – Wednesday, 4 pm – 1 am; Thursday – Friday, 4 pm – 2 am; Saturday, 10:00 am – 3:30 pm, then 5 pm – 3:30 am; Sunday, 10:00 am – 3:30 pm, then 4 pm – 1 am
Porto's Bakery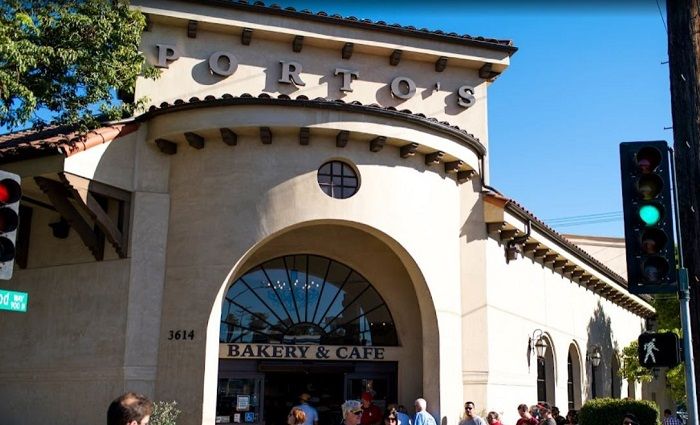 $ | Cuban Cuisine | Bustling Cafe | Long Lines for Pastries
French bakeries can step aside here. (Gasp!) There's a reason why every Porto's Bakery location has top reviews from tens of thousands of customers. Their pastries really are to die for. That's why hungry people queue up morning, noon, and evening to get their beloved cheese pastry rolls and other Cuban delights. The line for the cafe is usually shorter, so hop in to grab a Cuban sandwich, beef stew, or pork tamale. For anyone who has already fallen in love with their food, Porto's now ships their most popular items (empanadas, cheese pastries, and cakes!) so you can bake them at home to enjoy Porto's from anywhere!
Address: 3614 W Magnolia Blvd, Burbank, CA (near Universal Studios)
Hours: Monday – Thursday, 7 am – 8 pm; Friday – Sunday, 6:30 am – 8 pm