Even if you've never been to San Francisco, the chances are high that you've still heard of Fisherman's Wharf. This area is full of seafood restaurants and family-friendly entertainment options. For this reason, Fisherman's Wharf is one of the most popular destinations for travelers to San Francisco. If you want to stay in a busy area that's fun and safe for the whole family, take a look at our list of hotels near Fisherman's Wharf!
---
The Best Hotels and Places to Stay Near Fisherman's Wharf
Fisherman's Wharf is easily one of the most iconic destinations in San Francisco. For starters, this area has made San Francisco famous for its seafood. Between clam chowder and seasonal Dungeness crab, much of San Francisco's most popular food dishes are seafood, and some of the best seafood restaurants in the city are found at Fisherman's Wharf.
According to the official website of Fisherman's Wharf, many of San Francisco's fishing boats dock here, thus giving it its seafood fame. Of course, there are many other cuisines to be enjoyed at Fisherman's Wharf aside from seafood!

Aside from eating, Fisherman's Wharf is a great place for shopping or people watching. The area is full of souvenir shops, and magicians often have free magic shows on the streets that are fun for the whole family. Additionally, it's always fun to watch the sea lions play and push each other into the Bay. What's more, it's close to many other fun attractions as well.

The area features the highest concentration of activities for families with children within the city, according to the official website of Fisherman's Wharf. For this reason, if you're in San Francisco with the fam, Fisherman's Wharf is a great place to stay! Read on to learn our recommendations for the best Fisherman's Wharf hotels.

Pro Tip: Heading to San Francisco with your children and open to staying in other neighborhoods? Make sure to read our blog post all about the best hotels in San Francisco for families!
Here's What You Need To Know:
Parking in San Francisco is almost impossible in general. However, parking in busy areas of the city is even worse! For this reason, we suggest using public transportation to get around San Francisco. Alternatively, you can use bikes or a ride share service. If you do have a car with you, expect limited parking spots and high parking garage fees. Check out our blog post on how to get around San Francisco!
Our Partnership with Booking.com. If you like our content, please book by clicking on our Booking.com links. The price is the same for you and we get a small commission that helps support our helpful blog content. We've partnered with Booking.com because they have the most options, great prices, and a solid loyalty program.
Why I Love Fisherman's Wharf
Wide assortment of restaurants
Close to the sea
There's always something going on
Has a great view of Alcatraz
Easily walkable
Close to fun attractions, such as Madame Tussauds Wax Museum and Musée Mécanique
Attractions Near Fisherman's Wharf
Madame Tussauds San Francisco
Musée Mécanique (the arcade featured in The Princess Diaries)
Cable car stops
Boudin Museum (take a tour of the famous bread factory!)
Aquatic Park (walkabout that juts into the sea)
The Cartoon Art Museum
Ghirardelli Square
The Buena Vista (famous for its Irish coffees for the adults in your group)
Best Restaurants Near Fisherman's Wharf
Best Hotels Near Fisherman's Wharf
Hotel Zoe Fisherman's Wharf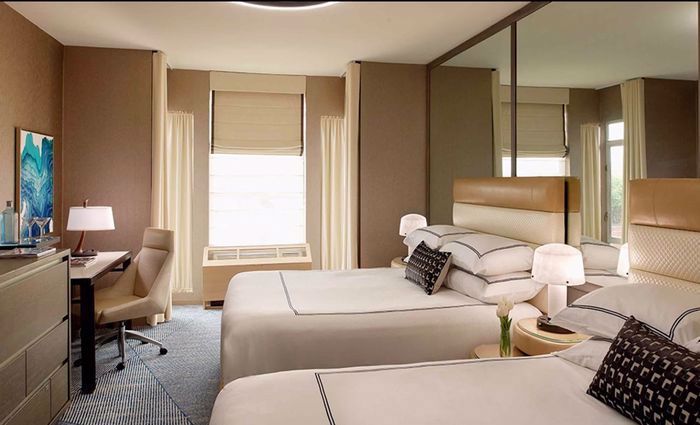 $$$ | 4 Star | Attentive Staff | Cozy Hotel With Cute Patio
At Hotel Zoe, the staff goes out of the way to make sure you have a great experience. This cozy hotel has a patio, where you can enjoy nice days. The clean, spacious rooms are trendy and modern. What's more, the rooms include large bathrooms with good lighting.
Hyatt Centric Fisherman's Wharf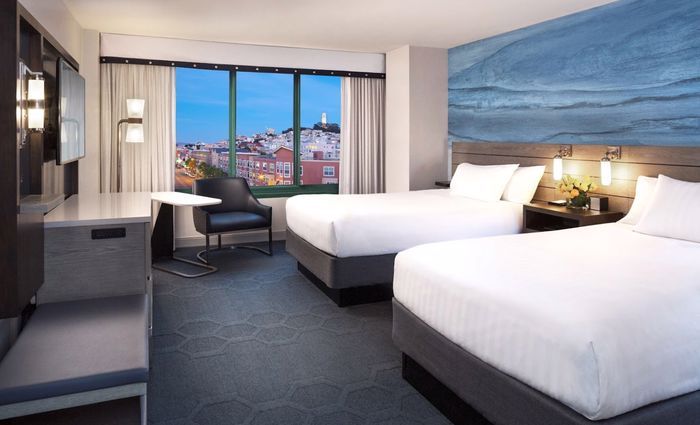 $$$ | 4 Star | Heated Pool | On-Site Restaurant
Hotels with pools are hard to come by in San Francisco, so the heated pool at Hyatt Centric Fisherman's Wharf is a great feature! What's more, there are many restaurant options nearby, but there's also a restaurant on-site. As for the rooms, they feature comfortable beds, and some have a good view.
Argonaut Hotel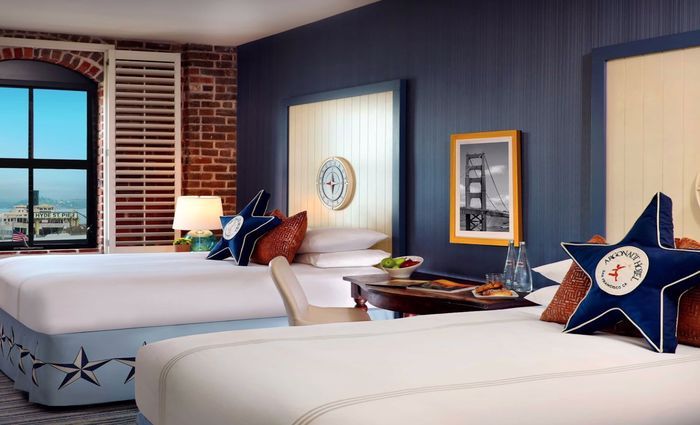 $$$ | 4 Star | Nautical Themed | Free Bike Rentals
The Argonaut is a cute, nautical-themed hotel with spacious, comfortable rooms. Many of the rooms come with a great view as well. What's more, there's a seafood restaurant on site, the Blue Mermaid! However, the best part of the The Argonaut is that it provides complimentary bike rentals!

Location, photos, and booking
Marriott Vacation Club Pulse, San Francisco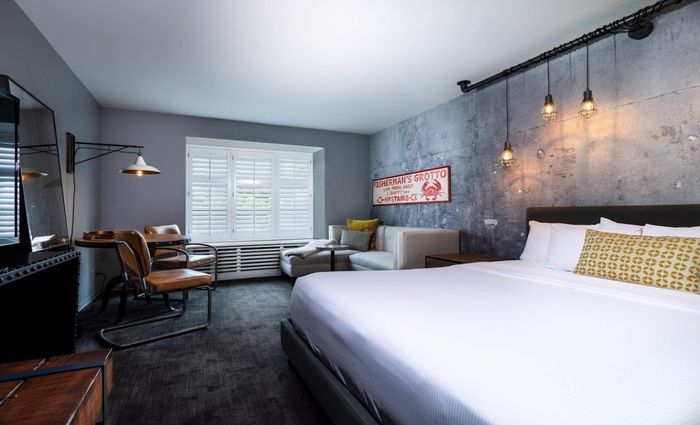 $$$ | 4 Star | Outdoor Courtyard with Games | New Hotel
This is a newer Marriott property, and guests have been loving the location. The rooms are spacious and modern with comfortable beds. One of the best features this property has to offer it its cool outdoor courtyard with games for guests! The courtyard closes at 9:00 pm to ensure a quiet environment on the hotel property.
Hotel Caza Fisherman's Wharf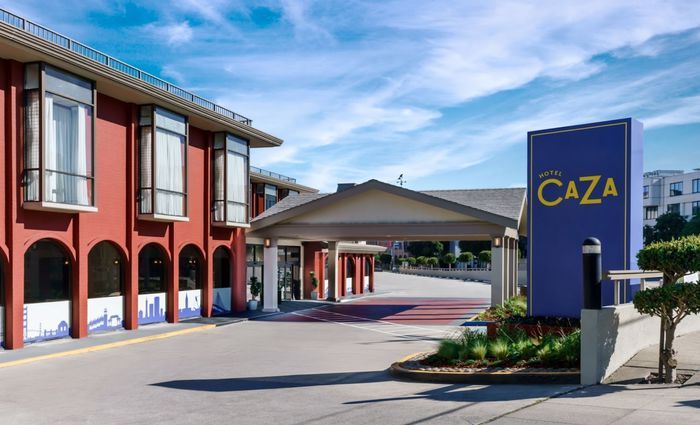 $$$ | 4 Star | Free Milk and Cookies | Outdoor Heated Pool
Remember how we mentioned that it's rare to find hotels with pools in San Francisco? Not only does Hotel Caza have an outdoor heated pool, but they also offer free milk and cookies to their guests in the evenings! What's more, the rooms are spacious and comfortable, and many of them have an awesome view of the city.
Hotel Fairmont Heritage Place – Ghirardelli Square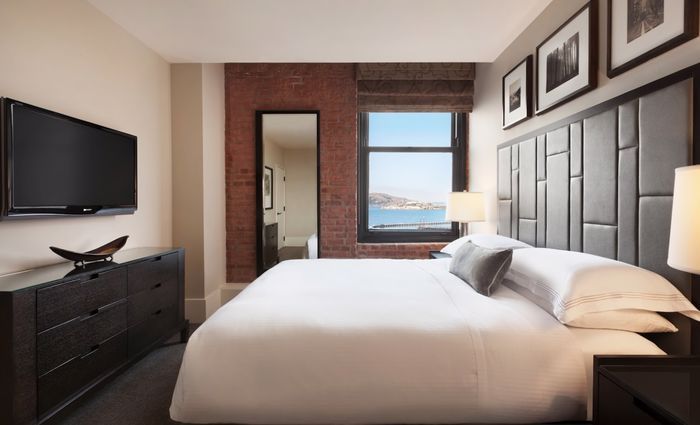 $$$$ | 5 Star | Babysitting Services Available | Spacious Rooms
Located behind Ghirardelli Square, every room in this hotel is a suite, so the rooms are spacious and perfect for families. Cribs are also available upon request. The rooms also have air conditioning for those rare hot days. This hotel provides babysitting services, making it a great pick for families. It's easily one of the top hotels near Fisherman's Wharf.
Courtyard by Marriott Fisherman's Wharf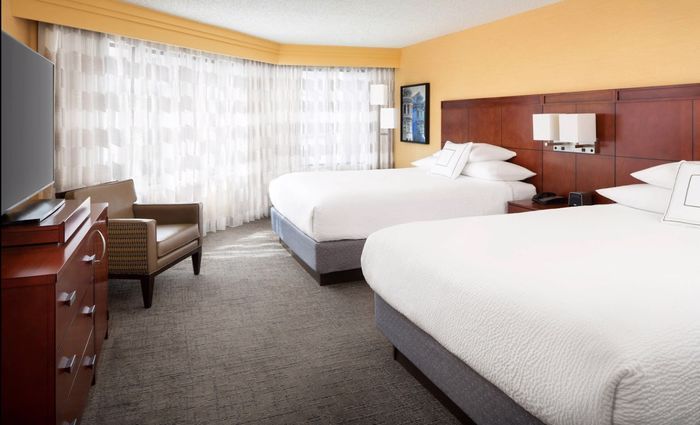 $$ | 3 Star | Attentive Staff | Comfortable Beds
Guests staying at this property get access to a nearby parking garage for $40/day, which for SF standards is pretty decent (don't say we didn't warn you about the parking situation here!) While it maybe a bit more basic than some of the others on this list, this hotel has friendly, attentive staff and a top-tier location. What's more, the beds are comfortable, and you get all the basic in-room amenities.

Location, photos, and booking