San Francisco isn't exactly known for its warm and sunny weather. However, there are still some days you'll wish you had a pool! Especially if you're traveling with children, you'll probably want to book a hotel with a pool so they can entertain themselves for a while. It's rare to find a hotel with a pool in San Francisco, but some do exist. Read on to find our picks for the best hotels with pools in San Francisco.
---
Pro Tip: It's easier to organize your trip when you have all your resources in one place. Bookmark this post along with our San Francisco Guide for more planning resources, our best San Francisco tours for a memorable trip, and the top things to do in San Fran.
Coolest San Francisco Hotels with Pools
Did you know San Francisco is so accustomed to fog that the locals even gave him a name? They call him Karl the Fog, and he even has his own Twitter account! Because Karl tends to show up unannounced, many hotels in San Francisco don't have a pool. However, there are still a few that do! Don't worry—Karl doesn't always appear.

Although San Francisco isn't known for having a lot of hotels with pools, we do have a few that we love. Between luxury 5-star stays to a quirky-yet-cute boutique hotel, we've rounded up a few of our favorite places in the city to splash and relax. Keep reading to discover our choices for the best hotels with pools in San Francisco!
Our Partnership with Booking.com. If you like our content, please book by clicking on our Booking.com links. The price is the same for you, and we get a small commission that helps support our blog. We've partnered with Booking.com because they have the most options, great prices, and a solid loyalty program. Just about every hotel is on Booking so our recommendations are not incentivized.
Hotel Del Sol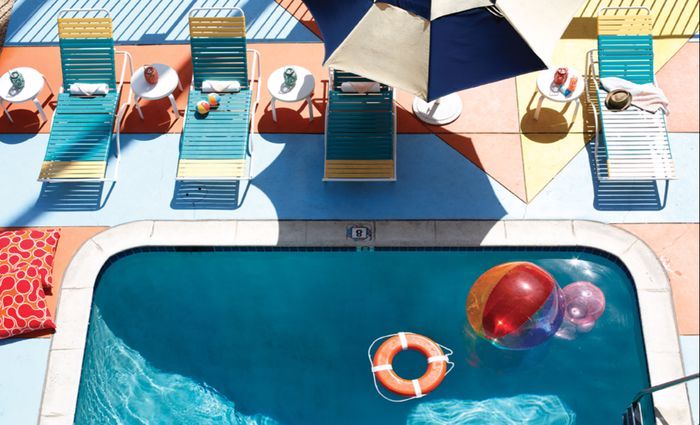 $ | 4 Star | Heated Courtyard Pool | Free Breakfast | Free Beach Balls
This cute boutique hotel in the trendy Marina District is one of our favorite hotels in San Francisco for families. Hotel Del Sol is affordable, with spacious rooms and even bunk beds in the suites. The best part, though, is the heated pool in the courtyard! The friendly staff has also been known to give beach balls and sunglasses for kids, which is a huge perk if you have little ones in tow.
What's more, there's free breakfast every morning for guests, plus there is coffee and tea available in the lobby at all times. The Marina District is full of many restaurants and shops as well, so you won't be bored in this area.
Hotel Caza Fisherman's Wharf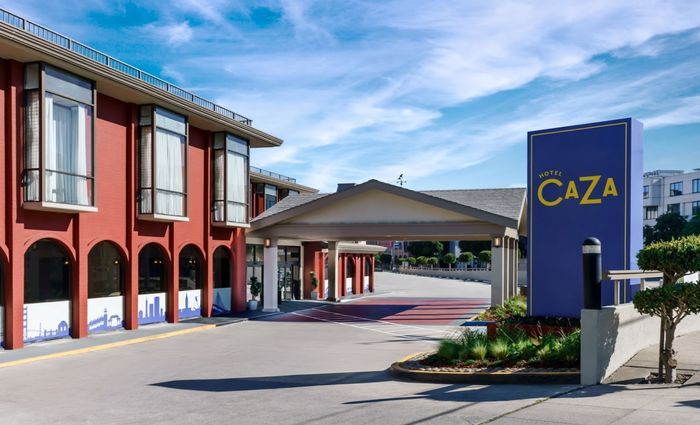 $$$ | 4 Star | Amazing Location | Free Milk and Cookies | Outdoor Heated Pool
This family-friendly hotel is within walking distance to many iconic San Francisco locations. You can easily walk to Pier 39, North Beach, and Chinatown! Hotel Caza has an outdoor heated pool and a family-oriented lounge area. This way, your kids can play in the pool while you relax. They also have a game room which is fun for the whole family.

Hotel Caza also offers free milk and cookies every evening, which is a huge perk. This hotel also boasts friendly staff who communicate with you via text message (if you want!). As for the rooms, they're spacious and comfortable. Many of them also come with an awesome view of the city.

Location, photos, and booking
Hotel Nikko San Francisco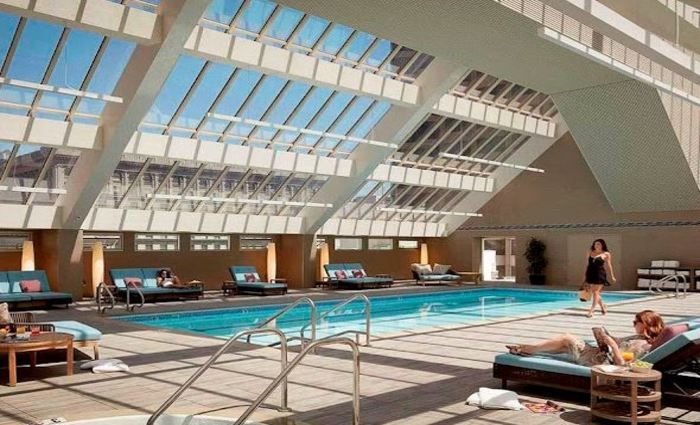 $$$ | 4 Star | Adults-Only Indoor Pool | Robes and Slippers Provided
If you're looking for a San Francisco hotel with a pool for a romantic getaway, Hotel Nikko is the perfect place. Their heated indoor pool is adults-only. Additionally, the upscale rooms come with lots of different amenities to make your stay memorable—heated toilet seats anyone? Also provided are cozy bath robes and slippers for you to slip into after a day lounging by the pool.

After your pool dip, the on-site sauna and hot tub should be able to warm you up! In case they don't get the job done, there's also a fireplace on the fifth floor. If you get hungry, you can visit Azu for some upscale Japanese food onsite.

Location, photos, and booking
Handlery Union Square Hotel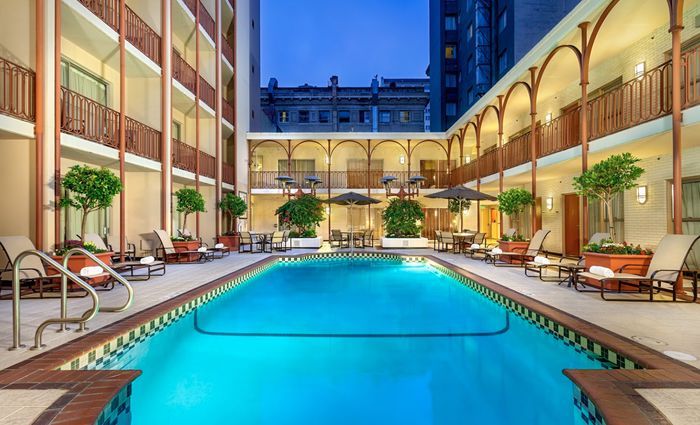 $$ | 3 Star | Heated Outdoor Pool and Lounge Area | Great Workout Room
This centrally-located hotel boasts an outdoor heated pool that you can relax in after a long day of sightseeing. It also comes equipped with lots of pool deck furniture to lounge on. For guests who want to visit the gym, Handlery Union Square Hotel boasts an excellent workout room as well.

Guests love this hotel for the amenities, as well as the friendly staff and excellent customer service. The rooms are clean with comfortable beds, and many have a view of the pool. This hotel is within walking distance to, of course, Union Square. It's also close to many cable car stops.
Phoenix Hotel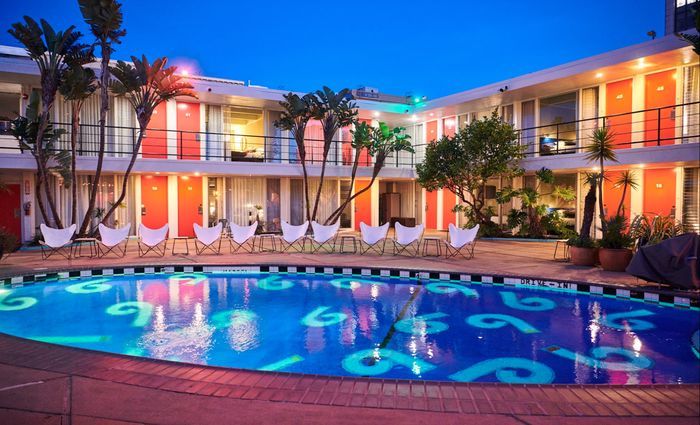 $$ | 4 Star | Lively Atmosphere | Fun and Funky | Heated Pool
We'd be remiss to leave the Phoenix Hotel off our list! The heated, colorful pool is the star of the show at this rock 'n' roll boutique hotel. Once home to Neil Young, the Phoenix Hotel hosts events around the pool sometimes. Otherwise, it's often full of guests just taking a dip or laying out. Guests love to chill in the courtyard and admire the hotel's retro decor. The spacious, clean rooms are a bonus!
Please note that the Phoenix Hotel is located in San Francisco's Tenderloin district, which is very central to downtown San Francisco. However, it is not an area for the faint of heart. If you're used to cities and tend to stray from the beaten path a little, the location likely won't bother you.
Hilton San Francisco Union Square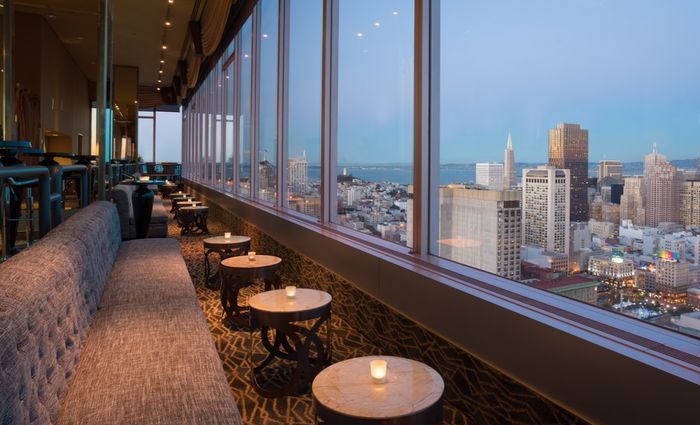 $$$ | 4 Star | Outdoor Pool & Hot Tub | Rooftop Bar with Stunning Views | Lounge Area
The Hilton San Francisco Union Square boasts clean rooms with amazing city views. Additionally, they have an outdoor pool and hot tub to soak in after a long day. What's more, the pool features a lounge area to relax and chill in. Guests also love the excellent fitness room!

As you know by now, a hotel with a pool in San Francisco is hard to come by. However, the outdoor pool and hot tub is probably the second-best feature of this hotel. So what's the first? It would have to be Cityscape Lounge!
Although it's closed for remodeling at the moment, this rooftop lounge is set to reopen in September 2022. With stunning views and creative cocktails, it's definitely a great place to hang out when you're done with your pool day.

Location, photos, and booking
InterContinental San Francisco, An IHG Hotel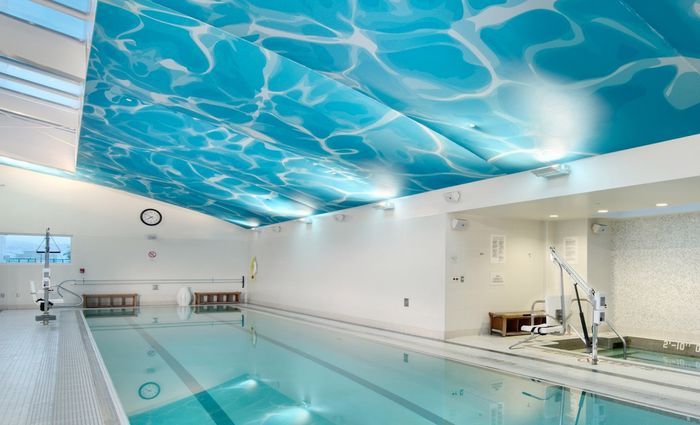 $$$ | 4 Star | Indoor Pool | On-site Restaurants | Modern Rooms
InterContinental San Francisco is a centrally-located hotel with options for on-site eating and an indoor pool! Although the pool is more of a lap pool, it's still a great place for those who want to exercise while on vacation.
Children are permitted to use it as well. The rooms are modern, and the hotel is centrally located in San Francisco's SoMa district. If you're planning to visit the San Francisco Museum of Modern Art while in the city, this hotel is a short 7-minute walk away!
Please note that this is a separate hotel from the InterContinental Mark Hopkins. That is the sister hotel, but is located about 20-minutes away on foot and lacks a hotel pool, though it is an elegant 1920s building.

Location, photos, and booking
Not ready to book a tour? Find out if San Francisco tours are worth it.