One of the largest metro systems in the world, both in terms of length of track and number of people transported, the New York City subway system can seem like a confusing maze for those just visiting the city. Taking taxis everywhere you go might seem like a good idea, but the metro system is a faster and cheaper option (and also one of the coolest ways to see the city)
Finding a Station
As you're walking through the city, you'll likely notice subway stops popping up out of the sidewalk. You'll note on the signs some information that will be helpful to you as you make your way through the city. In large white letters at the top of the sign, you'll see the name of the station. Just below the name of the station, you'll see the letters and numbers of the lines that that station services. 
Below that you'll see the direction you'll be taking at that entrance. Usually that will be demarcated by either "uptown" or "downtown", but also will often say the name of the Borough near the end of that line, such as The Bronx to the North or Brooklyn to the East.
One point of confusion that a lot of visitors have is when they do not see a direction on one of these subway signs: that means that that entrance has access to both sides of the platform, and therefore both directions of the line. 

"Don't take it too personally if people push past you on the platform. If you're from the city you don't like to waste your time " – Kelsea Weinstein, NYC Local
Getting a Ticket
At most stations, you'll be able to purchase a metro pass at one of the MTA ticket kiosks at the station. Depending on the length of your trip, and whether you plan on coming back to the city soon, there are a few options for you to choose from here. 
There is no day pass option for the New York subway. So if you're not planning on spending a long time in the city, then you should purchase a Pay-Per-Ride metrocard. This will cost $1 for the card, and then you can add as much money as you'd like. Every ride on the subway costs $2.75, though transfers are free if you don't leave the station.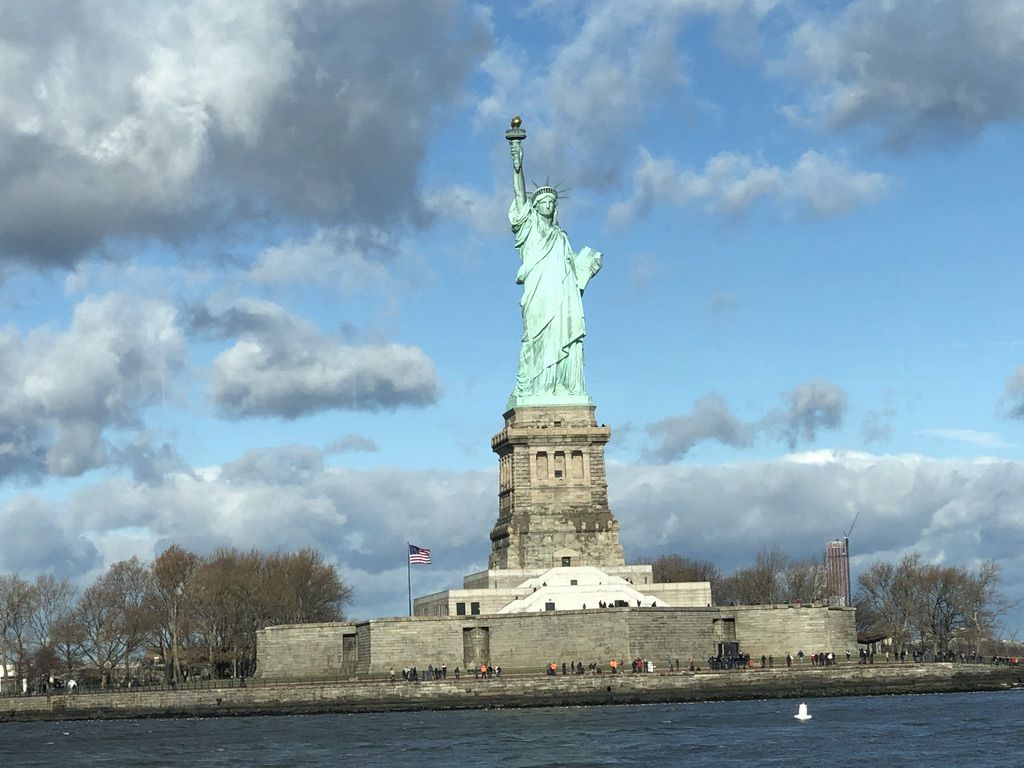 There is also a single-ride option that costs $3, but it's really not worth it unless you know that you won't be taking more than one subway ride on your New York trip. It's definitely an option though if that's the case for you.
If you're planning on spending longer (and traveling a lot on the subway) then the unlimited ride options are a great choice. The MTA offers a 7-day and 30-day option for $33 and $127, respectively. Even if you're not spending a full week in the city, the 7-day option is worth it after 11 rides. If you're heading all around the city, there's a good chance that you'll ride the subway plenty more than that. 
Catching a Train
When you've found your stop, and make your way downstairs, you'll come upon a turnstile gate. While you may spot some folks hopping the turnstile, this is a local tradition and not one for visitors. Instead, you'll want to slide your Metrocard (with the black bar facing you) through the scanner until you hear a beep and the sound of the turnstile unlocking. The screen will let you know how much money has been taken off your card, and your current balance. Then just push your way through and to the platform. 
"If your card doesn't scan, just give it a few more tries. A lot of those gates are really finicky" – Jason Sherman, NYC Local
Some stations are more straightforward than others, but in general you should be able to see signs pointing you towards your train. You'll want to make sure you're heading in the right direction though. For platforms servicing both directions, make sure to stand on the side marked with the direction you're heading in. It will use the same language ("uptown" or "downtown") that you'll see on the sign on the street.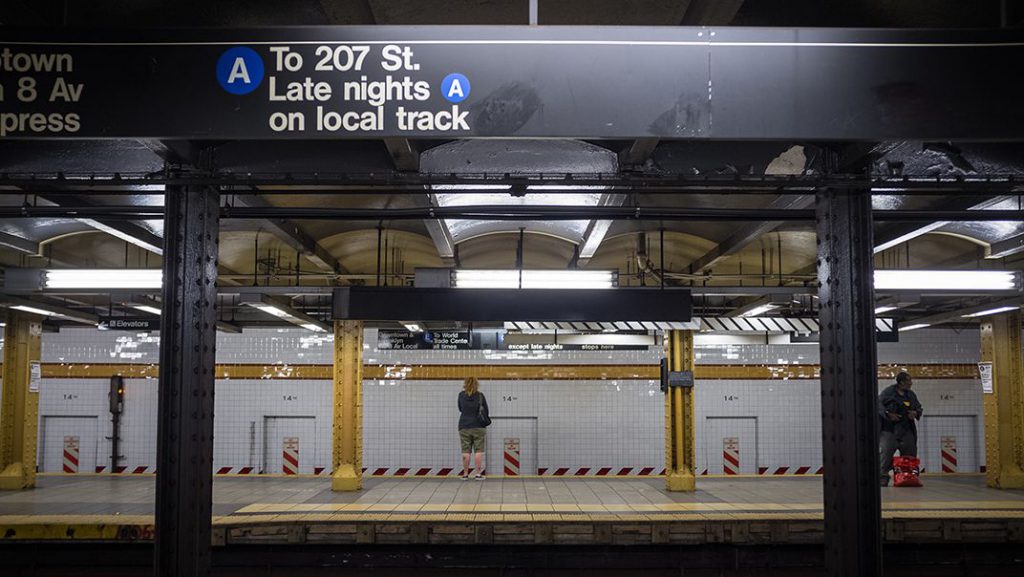 If you're traveling during late night service (which is between midnight and 6 A.M.) the signs above the platform will tell you if that platform is still in service. If not, it will say which train you can take as an alternative.
Hopefully all goes well and you find your train. If not, then feel free to ask one of the many MTA employees and guards who can help you find where your platform is. 
Riding on the Subway
Once your train arrives, it's only polite to step aside and let the passengers off. Then you can step inside and try to find a spot. Depending on the line and where you pick it up, the train may or may not be packed. If there's a spot to sit, feel free to sit down, but try to keep your bags by your feet and not on the seats to leave room for others.
If there isn't a spot to sit, you can grab hold of one of the overhead metal bars or poles to keep yourself steady. It can be a pretty bumpy ride, so you'll want to hold on tight. On a packed train, you might have to reevaluate what you consider your personal space: New Yorkers don't care much about bumping into others on a packed train.
There are a few ways to know if your destination station is coming up. The easiest is to note where you are on the line indicator, which shows where the train is and the upcoming stops. You'll be able to see how many stops away your destination is. Furthermore, a digital sign will read the name of the line, the direction, as well as the next stop. They'll also announce it on the intercom, but it can be hard to hear, especially in a crowded car. 
When you've gotten to your destination, note the orange light glowing near the exit doors. That will indicate which side of the train that the doors will open on. Try to make your way to that door as politely as possible. People will usually move to let you through. Once the doors open, take a step off onto the platform. And just like that, you've arrived! Follow signs for the exit and keep on with your New York City adventure!
If you're planning your next NYC trip, then you should definitely check out our tours of the Statue of Liberty and Ellis Island, as well as our Metropolitan Museum of Art tour. All our guides are licensed experts on the history of the city and are the best way to see the city!