New York City is a popular travel destination for good reason. There is plenty to see and always something to do for tourists and locals alike. If you're planning a trip to the city, you'll want to hit up all the best spots. We've rounded up a list of the 15 places you can't miss on your trip to NYC.
---
Pro Tip: Planning what to do on your trip to NYC? Bookmark this post in your browser so you can easily find it when you're in the city. See our guide to New York City for more resources to help you plan. Also, check out our article on how to spend three days in NYC.
Coolest Places You Have to Visit In New York City
New York City definitely beats to its own drum. New Yorkers keep it real and there's an energy here unlike in any other city. No wonder people from all over the world love it (or love to hate on it).
The cool thing about New York is there's something here for just about everyone. Tourists can expect to do a variety of activities from sightseeing the main attractions to picnicking in the best parks. There are live shows to check out and killer restaurants to eat at. Get ready for a good time when you hit up the coolest places you can't miss on your trip to NYC.
15. Step Inside a Speakeasy: Bathtub Gin
Walk into the Stone Street coffee shop in Chelsea and you'll think it's just a crowded place to grab your favorite cup. But if you walk all the way through the shop to the back door, you'll find a hidden speakeasy called Bathtub Gin. Decked out in dark wood and 1920s-inspired decor, this is the place for gin and tonics.
You won't go hungry here either with a food menu that features beef tartare, Crudo, and cookies. What we really love is the live entertainment. Just about every day of the week there's a range from live music to burlesque shows.
Address: 132 9th Ave
14. Head To the Rooftop of Mr. Purple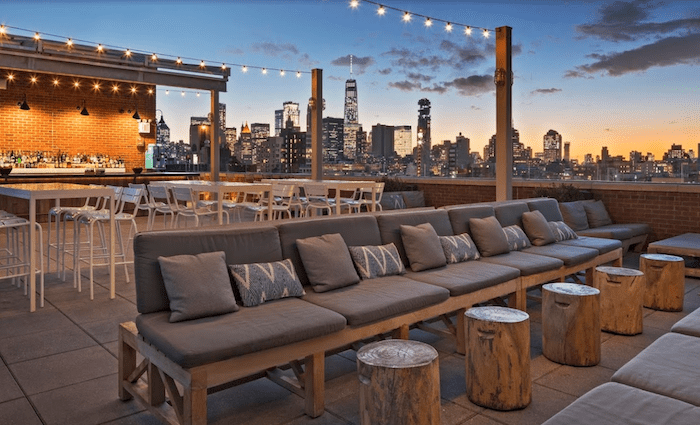 New York is home to some of the coolest rooftop bars, and Mr. Purple is just one of many. Head over to Hotel Indigo on the Lower East Side and make your way up to the roof. You may need to wait in line to get in, but we think it's worth it. Here, you'll find the funky indoor/outdoor lounge with incredible views of the city. There's a pool, too, but if you're not a hotel guest, you'll have to pay to use it.
This is also the perfect place to enjoy one of their many cocktails. Choose anything from the classics to the specialities, but we're really all about the frozen hot chocolate with vodka.
Address: 180 Orchard St 15th floor
13. Get a Slice at Joe's Pizza
Joe's Pizza is known for offering the best slice in the city. The original outpost in Greenwich Village has been around since 1975, but you can also grab a slice in the Times Square location before or after a show.
No matter the location, you'll likely have to wait in line. But once you take that first bite you'll see why the line is always so long. You can't go wrong with the cheese pizza, but there are other options to choose from too, depending on your preferences. While these pieces are big, you can also opt for a full pie if you're super hungry.
Address: 1435 Broadway
12. Spend Time in Bryant Park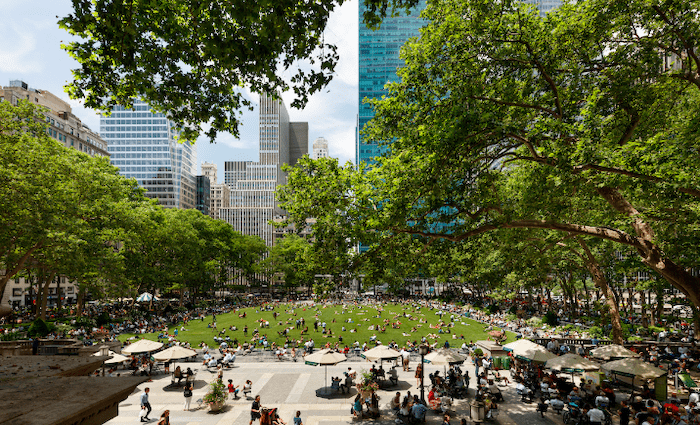 Bryant Park is a massive outdoor space located in the middle of 40th and 42nd Streets. Grab a blanket and head to the lawn to catch some sun. If you're here during the summer, be sure to check out the free movie night series where films are projected on a large screen.
During the holiday season, there's a large outdoor market with unique artisan gifts. A pop-up bar and food hall serve up hot drinks, but nothing beats that famous Christmas tree and a popular ice skating rink.
Address: Bryant Park
11. Laugh Out Loud at the Legendary Comedy Cellar
New York City is home to some of the best comedy acts and the Comedy Cellar is the place to see them. The club first came about in 1982 by Golden Globe Winner Bill Grundfest and has housed some of the best of the best in stand-up. Before you go, be sure to make a reservation as this place can fill up quickly.
Above the Cellar, you'll find Olive Tree Cafe. This restaurant has been serving a mix of Middle Eastern and American cuisine since 1969. It's a great spot to eat and doodle on the chalk tables. It's also the place where famous comedians tend to dine. Just sayin'.
Address: 117 MacDougal St
10. Discover the American Museum of Natural History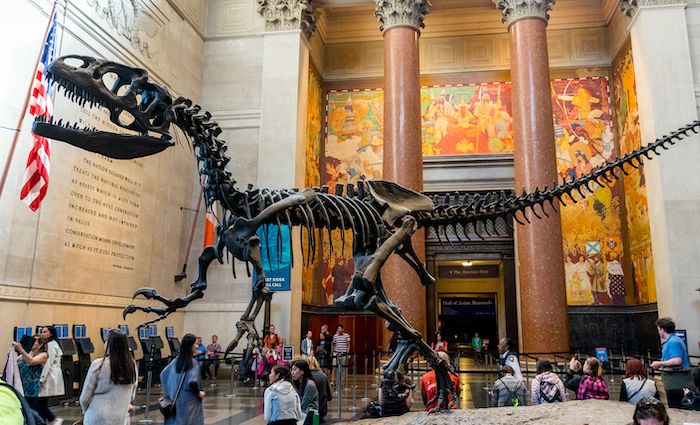 The American Museum of Natural History sits on the Upper West Side and is known for holding a vast science and the natural world collection. Check out the 94-foot-long whale model suspended in the air and the standing mammoth skeleton that dates back to 11,000 years!
This museum also has some cool ways to interact with history. One example is the 3D IMAX show that takes you into a new virtual world to experience the past like never before. Tickets start at $23 per adult. Anyone who is a resident of New York, New Jersey, and Connecticut can pay what you wish to get in.
Address: 200 Central Park West
9. Explore Grand Central Terminal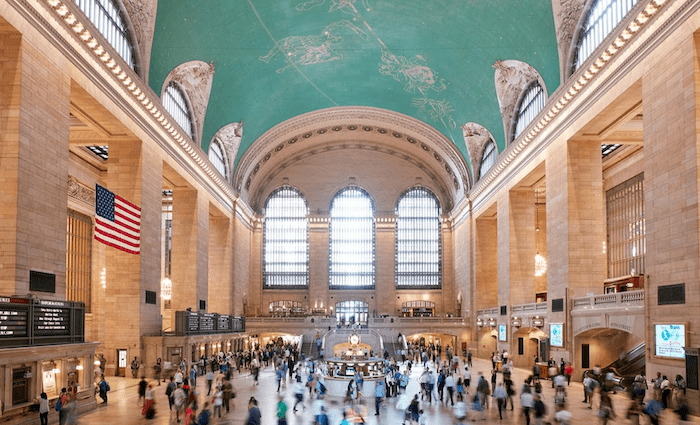 If you've ever taken a train into the city, there's a good chance you came in through Grand Central Terminal. Located at 42nd Street and Park Avenue in Midtown, this commuter rail terminal first opened in 1913. Today, it is a world-famous landmark and popular shopping and dining destination. You can also take one of the many tours around the terminal to learn its secrets and history from a professional.
The four-faced opal clock on the Main Concourse is pretty iconic. Plus, it's a popular meeting spot when visitors come into town—and there are a lot of visitors indeed. According to the terminal's website, there are roughly 750,000 visitors per day!
Address: 89 E 42nd St
8. Uncover Incredible Art at the Metropolitan Museum of Art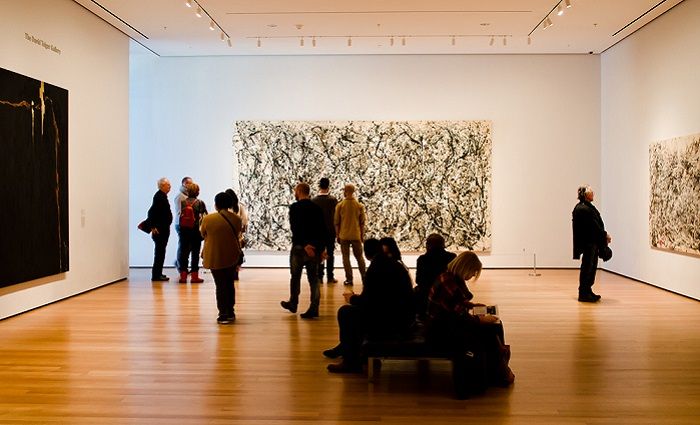 The Metropolitan Museum of Art (or the Met) is a world-renowned institution holding an impressive art collection that dates back more than 5,000 years. Founded in 1870, the museum spans about 2.2 million square feet and holds anything from live performances to rotating exhibits and more.
Wondering if a guided tour of the Met is worth it? There's definitely a lot to see here. Many opt to take a guided tour to get the most out of this massive museum and learn from an expert. Located on Fifth Avenue on the Upper East Side, Central Park is right there, which you can see perfectly at the Met's rooftop bar.
Address: 1000 5th Ave
Not ready to book a tour? Check out our New York City Guide for more info.
7. Visit the 9/11 Memorial Pools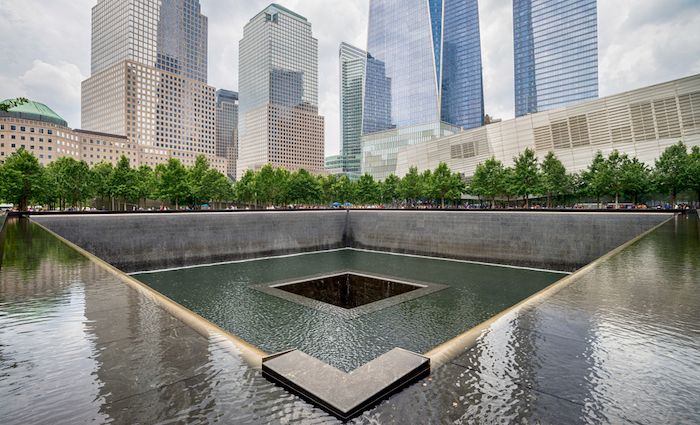 Located at the 9/11 Memorial, these two reflecting pools honor the victims of September 11. The 9/11 Memorial Pools are just about an acre each and are where the North and South Towers used to stand at the World Trade Center in Lower Manhattan.
While here, you'll also see the cascading man-made waterfalls, which descend 30 feet and are considered America's largest man-made waterfalls. Pay respect to the victims who lost their lives on 9/11 (and in the 1993 bombing) by reading their names inscribed alongside the pools.
Address: 180 Greenwich St
6. Take a Stroll Over Bow Bridge in Central Park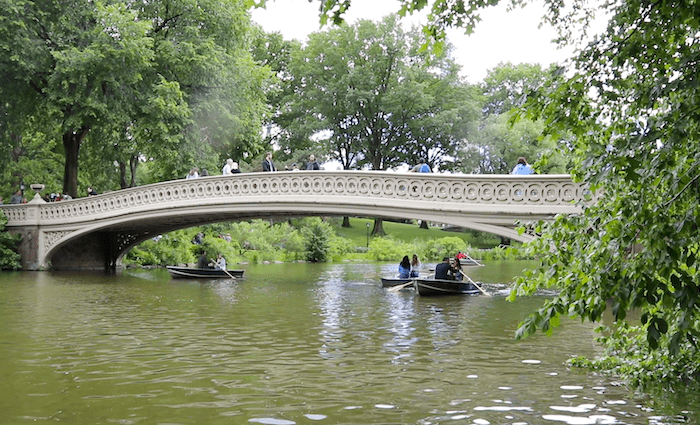 Bow Bridge was built in 1862 and has become one of the most picturesque spots in Central Park. This cast-iron bridge has a 60-foot arch reminiscent of an archery bow (hence the name) spanning the lake. Take a stroll over the bridge and you'll see what the hype is all about.
It's a romantic spot for many, as numerous wedding proposals had been said to happen here. Big films, such as "The Way We Were", have also been shot on this bridge, making it both pretty and famous.
Address: Central Park, Bow Bridge
Not ready to book a tour? Check out our New York City Guide for more info.
5. Walk Over the Brooklyn Bridge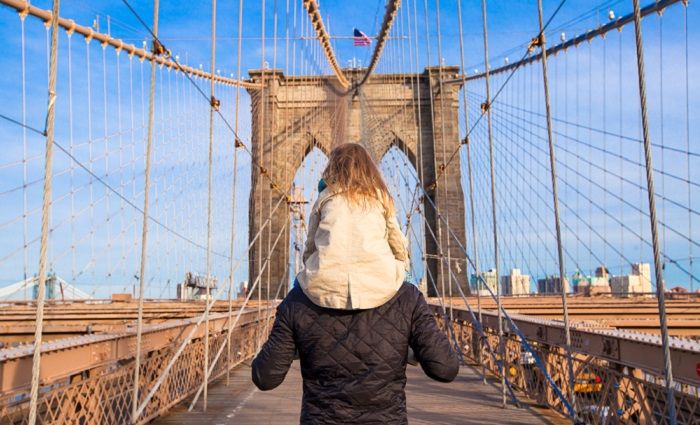 The Brooklyn Bridge was completed in 1883 and has been an icon here in New York City ever since. The bridge connects Manhattan and Brooklyn over the East River and was once considered the largest suspension bridge. It was also the first of its kind to be made out of cable and steel.
Many head to the pedestrian walkway for its views of the city and the sunset. Plus, it's a good walk, clocking in at a little over 1.1 miles. While here, be sure to snap a photo or two of the stunning stone archway.
Address: Brooklyn Bridge
4. Enjoy Live Entertainment at Radio City Music Hall
You may know Radio City Music Hall for its popular holiday show, "The Christmas Spectacular Starring the Radio City Rockettes." However, this music hall has plenty of other non-holiday-related entertainment throughout the year. Catch a concert by one of your favorite artists as everyone from Stevie Wonder to Sting has performed here.
This hall is pretty special as it's known to be the biggest indoor theatre around. But what's really cool is there are no columns to get in the way of your view of the stage. There are literally no bad seats.
Address: 1260 6th Ave
3. Capture the City From the 86th Floor of the Empire State Building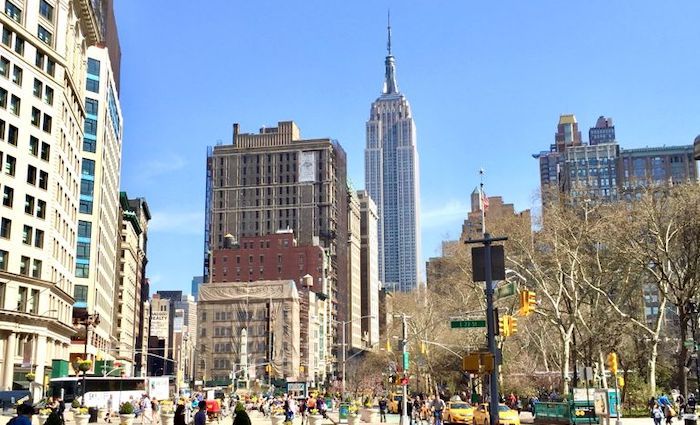 The Empire State Building is pretty legendary here in New York and one of the most popular attractions. It also has the best views of the city from the 86th floor. Here, you'll find an open-air observation deck that boasts 360-degree views of New York. You might even get a chance to see some of New Jersey and Delaware if the weather cooperates.
Keep in mind, in order to visit you need to purchase a ticket, which can start at $44 per adult. Plan ahead before going over there so you have that ticket ready in advance. However, you can always check out the Empire State Building from the outside for free.
Address: 20 W 34th St
2. Experience a Broadway (Or Off-Broadway) Show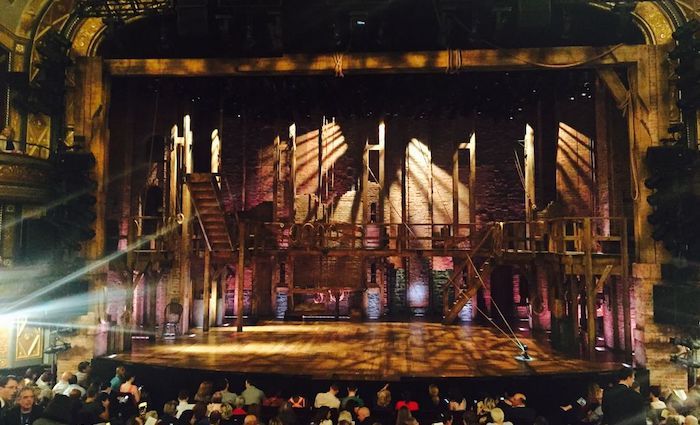 New York is the city with the best live theatre hands down. Our Theatre District offers your choice of a Broadway musical, such as "Hamilton" and "The Phantom of the Opera" or an Off-Broadway show like "Blue Man Group" and "Raisin In The Sun."
Both types of shows will surely impress. The only difference is an Off-Broadway theatre usually has less than 500 seats while Broadway can be much larger. Either way, you're going to have a good time.
Address: Theater District
1. Check Out the Statue Of Liberty and Ellis Island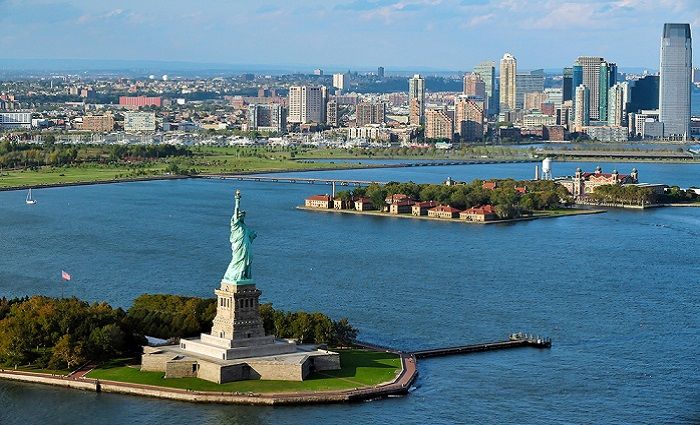 The Statue of Liberty is probably the most popular attraction in the city. Considered to be the symbol of freedom, this monument was completed in 1886 and given to us by France. It's impressive to see from the outside but really cool when you explore the interior. Do so by taking a ferry from Battery Park to Ellis island where you can check out Lady Liberty up close by booking a tour (starting at $23.50 per adult).
Ellis Island was once the nation's immigration center and processed more than 12 million immigrants coming to fulfill their dream of living in America. The island, like the statue itself, has a lot of history to be explored and is well worth the trip.
Address: Liberty Island
Not ready to book a tour? Check out our New York City Guide for more info.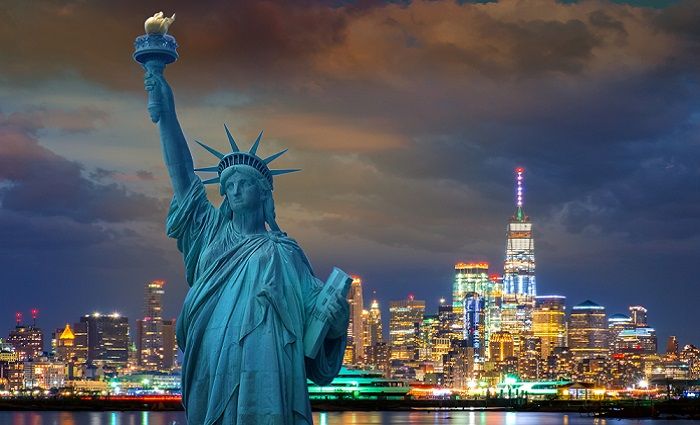 Find the best places to stay
Where to Stay in NYC
New York City is the center of the universe to those who adore this iconic city. Choose the best neighborhood to stay in as you plan your upcoming trip to the Big Apple.