Looking for a fun night out in the city with a great vibe and an even better view? There are plenty of cool rooftop bars to choose from. You may already know a few of the big ones. But we're here to help provide a wider range of options. Here are the best rooftops bars in New York City that even the locals love. 
---
The Top Rooftop Bars With Views in NYC
New York is home to some of the best rooftop bars around. Sure, rooftops used to be just a spot to go during the warm summer months. But many are open all year long with heaters and cozy lighting to help set the mood no matter the season.
From Brooklyn to Manhattan, there are plenty of places to grab a drink, like a handcrafted cocktail, served alongside killer views. Check out our list of the best rooftop bars in New York City. It's the best way to take in this vibrant city.
Westlight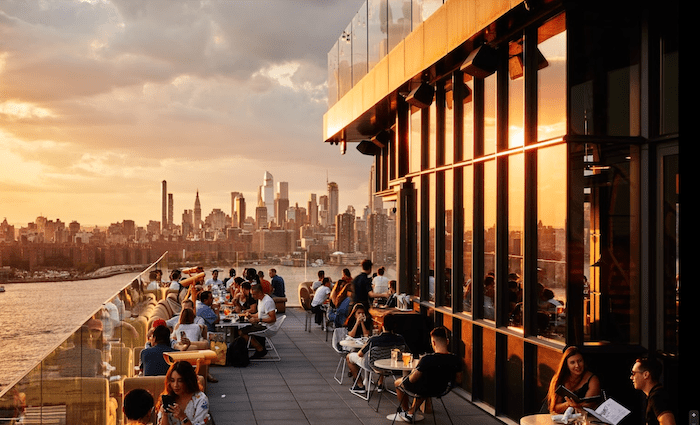 $$$ | Modern Hideout | Seasonal Chalets
Located on the 22nd floor of The William Vale, Westlight is one of the best rooftop bars in Williamsburg, Brooklyn. It's spacious and offers impressive views of New York City and the river. Enjoy the scenery indoors with the floor-to-ceiling windows or soak up the sun outdoors along the terrace and massive green lawn.
Then head upstairs to the 23rd floor when it's cold. Westlight's Winter Village has private chalets and a skating rink that will warm you up and leave lasting memories from one of the best rooftop bars in New York City.
Address: 111 N 12th St, Brooklyn
Le Bain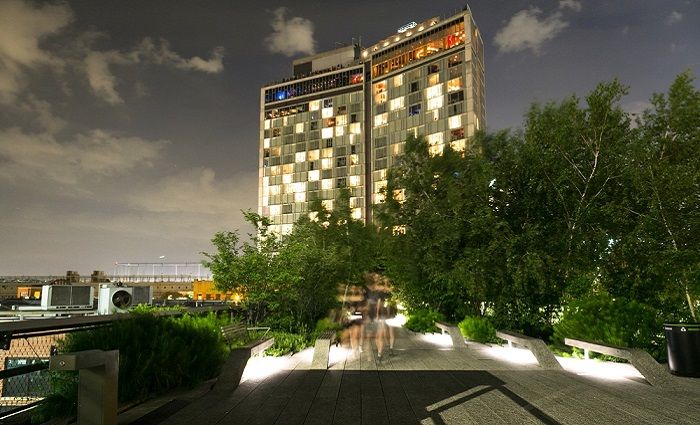 $$$ | Hip Dance Spot | Sunset Views
Sitting pretty on the rooftop of The Standard High Line, Le Bain offers some colorful sunset views. While you can come here for some drinks and conversation, we usually head here when we're aching to dance as the DJ lineup is always solid. It has more nightclub vibes than just rooftop bar vibes, but that might be what you're looking for sometimes.
Address: 848 Washington St, New York
Broken Shaker
$$$ | Tropical Getaway | Handcrafted Cocktails
The atmosphere is continuously chill at the Broken Shaker, which is why we keep going back. That and those handcrafted tropical-esque cocktails (with house-made syrups) are not to be missed. This bar wasn't a James Beard Award finalist for nothing. It sits perfectly atop the funky cool Freehand New York and has a tiki vibe with lots of lush greenery that'll have you feeling serious vacation vibes.
Address: 23 Lexington Ave, New York
A.R.T. SoHo (Arlo Roof Top)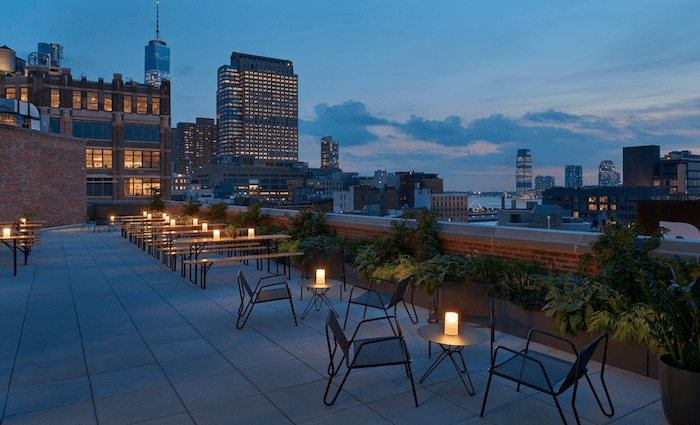 $$ | Urban Jungle | Skyline Views
Head over to Arlo Soho Hotel and you'll find A.R.T. SoHo, a modern urban retreat. What we love about this place is the mix of brick and greenery, giving off a vibe only New York can pull off. Enjoy views of the Freedom Tower while hanging out on a plush couch or communal bench drinking something strong. There's also an indoor section in case it gets too cold or you don't like drinking in the rain.
Address: 231 Hudson St 11th Floor, New York
Plunge Rooftop Bar & Lounge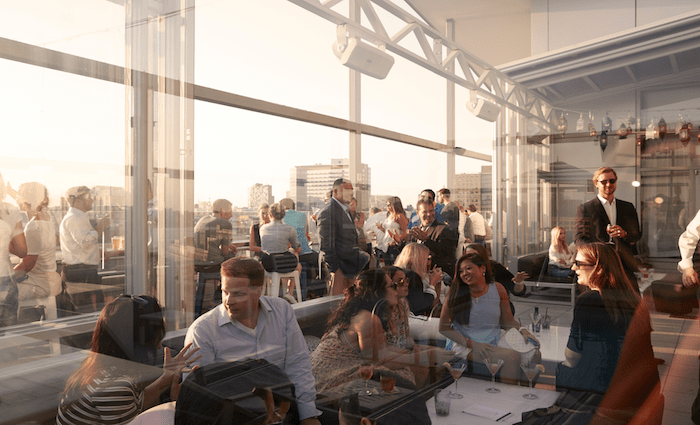 $$$ | Upscale Garden | Happy Hour
You'll find Plunge Rooftop Bar & Lounge atop the Hotel Gansevoort in the popular Meatpacking District. This place is notorious for a wild time, which may or may not include rubbing shoulders with celebs—if that's what you're into.
We go here when we're feeling a little extra fancy (yes, there is a dress code) but prefer to go when it's still light out. Say, around 4 pm when happy hour starts. Between the sunshine and sort-of cheap drinks, it's boozy bliss. 
Address: 18 9th Ave, New York
Brass Monkey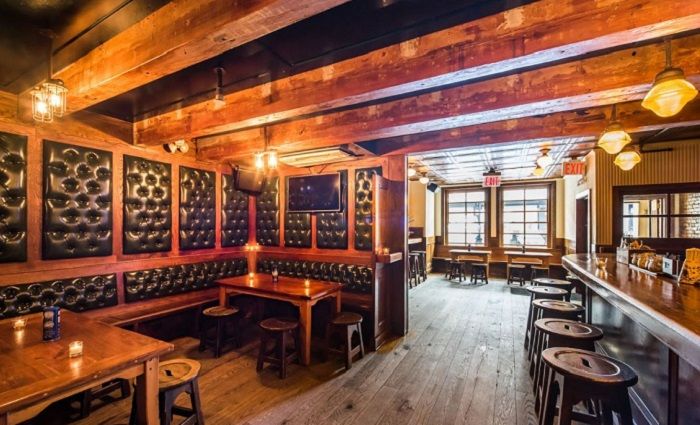 $$ | Low-Key Hangout | Extensive Beer List | Indoor and Outdoor
If you're searching for a laidback, neighborhood bar with a fun rooftop, Brass Monkey is your jam. It's not fancy by any means but casual and cool. It's also super close to the Whitney and in a great location. As you can see in the photo, the interior has serious tavern vibes with all woods and brick, but you can head to the outside deck and enjoy the bright and sunny views overlooking the Hudson.
It's a great place to go for the huge beer list, but there are also a few cocktail choices and wine selections too. The burgers and wings aren't bad either. 
Address: 55 Little W 12th St, New York
230 Fifth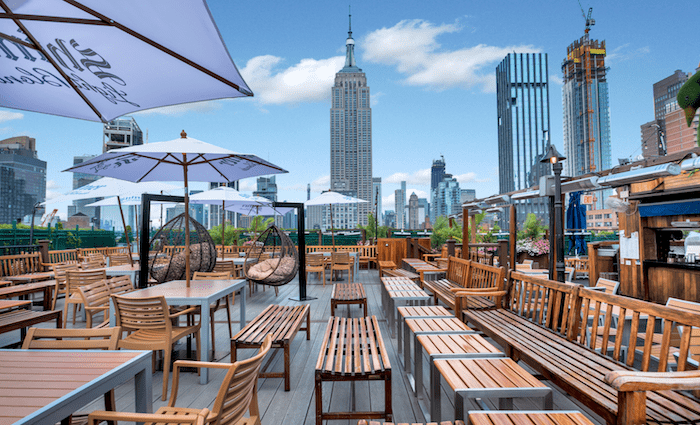 $$ | Crowded Scene | Spacious
Yeah, we know 230 Fifth can sometimes be a lot. Located in Flatiron, lots of people know about this hot rooftop bar in New York City and come here often. So be prepared to wait in line. But once upstairs you'll have plenty of room to roam about both indoors and out.
The garden-like vibe is inviting, and really, you can't get better views of the Empire State Building. (Just look at that view!) In the winter, there are also igloos, cabins, and spiked hot cocoa. It may be a crazy busy place, but it's no wonder this spot is one of the best rooftop bars in NYC.
Address: 230 5th Ave, New York
Good Behavior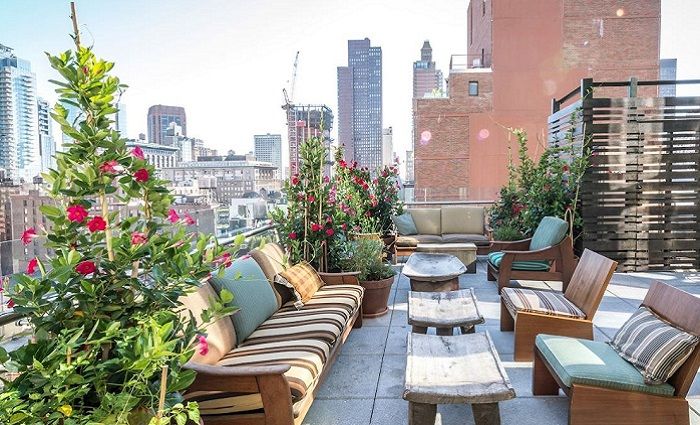 $$ | Relaxed Retreat | Inventive Cocktails
On the 18th floor of the Made Hotel in NoMad, you'll find the Good Behavior cocktail bar. Inside it's all very tropical with lots of pretty plants hanging from the ceiling. It's not as well-known as some locations, which is nice since it's also not the biggest place with a view.
On the terrace, it's an urban oasis with comfy seats and views of the neighborhood. There's a small beer and wine menu and plenty of interesting cocktails to try. House-cured olives and pork belly are also on the small food menu. For quieter vibes, don't skip this best rooftop bar in New York City.
Address: 44 W 29th St, New York
Bar Blondeau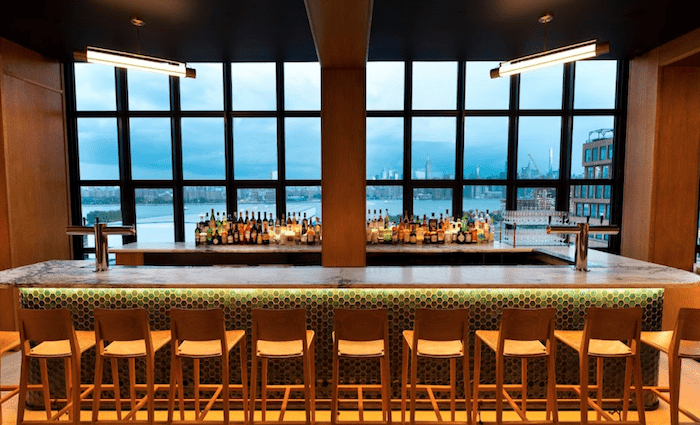 $$ | Chic Wine Bar | Heated Terrace
A stylish, French-inspired wine bar located at Williamsburg's Wythe Hotel, Bar Blondeau is a stunner. Here, you'll find a sleek interior with a wall of windows overlooking the city. There are also plenty of booths to sit when hungry. Really hungry. Like craving steak frites perhaps? There's an outdoor terrace too, with plenty of shade and heaters when the weather isn't as balmy.
Address: 80 Wythe Ave 6th Floor, Brooklyn, NY
Azul on the Roof
$$$ | Funky Cantina | Spiked Slushies
In the middle of Soho and West Village, you'll meet Azul on the Roof. And it does not disappoint. This Old Havana-inspired rooftop bar at Hotel Hugo is always a good time. String lights make it inviting with pops of color that keep it vibrant. Expect incredible views of Lower Manhattan and lots of boozy slushies to go around. This gem is easily one of the best rooftop bars in New York City.
Address: 525 Greenwich St, New York 
Mr. Purple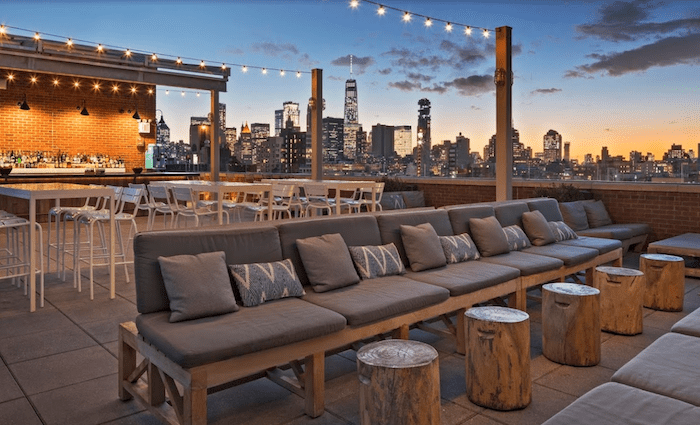 $$$ | Neutral Haven | Rooftop Pool
Make your way to Hotel Indigo on the Lower East Side to check out Mr. Purple on the roof. This artsy but chic indoor/outdoor lounge has awesome views and a pool, too. You'll just have to pay a hefty fee to use it if you aren't a hotel guest. But really, we go for their cocktails anyway. Between the classics and the specialties, there's plenty to pick from. Including frozen hot chocolate with vodka!
Address: 180 Orchard St 15th floor, New York, NY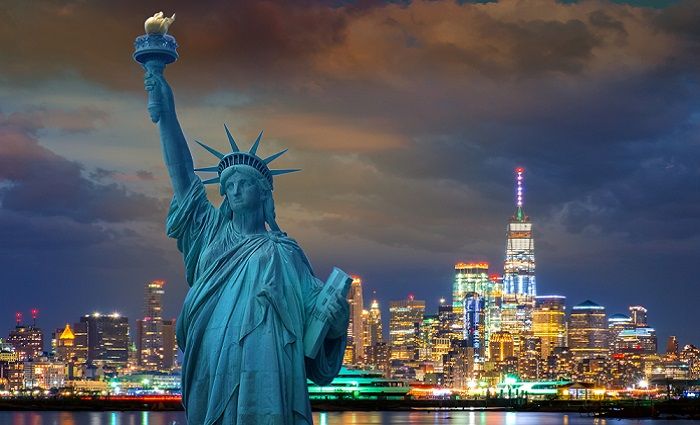 Find the best places to stay
Where to Stay in NYC
New York City is the center of the universe to those who adore this iconic city. Choose the best neighborhood to stay in as you plan your upcoming trip to the Big Apple.