Making your way to New York City and trying to figure out where to stay? Maybe you're looking for something that won't completely blow the bank account. Or you're craving the finer things in life. Regardless, we have you covered with the best hotels in New York City at every price range.
---
Pro Tip: Planning your trip to NYC? Bookmark this post in your browser so you can easily find it when you're in the city. See our guide to New York City for more planning resources, our best NYC tours for a memorable trip, and how to spend three days in NYC.
The Best Hotels in NYC This Year
Finding a hotel in New York City is no easy feat. And the ones that don't cost hundreds of dollars per night may not offer the best quality either. It's tough weeding through the over-the-top with the not-so-great in order to find exactly what you're looking for. That's why we've put together this helpful list that covers hotels of all prices ranges and throughout the city. We feature the best hotels in New York City from extravagant to reasonable and everything in between.
Our Partnership with Booking.com. If you like our content, please book by clicking on our Booking.com links. The price is the same for you, and we get a small commission that helps support our blog. We've partnered with Booking.com because they have the most options, great prices, and a solid loyalty program. Just about every hotel is on Booking, so our recommendations are not incentivized.
The Best "Super Expensive" Hotels in New York City
From the highest quality to the best-of-the-best in accommodations, these super expensive hotels are pricey for reason. They're likely to cost you $600 or more for a standard guest room, but it's worth it if you're looking to splurge. New York City is nothing if not a city that offers high-end accommodations with a price tag. And that's to say nothing of the penthouse suites you could find for over a grand per night.
Still, if money is no object, then book one of these luxury hotels that made our list of the best hotels in New York City. Or at least take a look at how luxe they are!
Mandarin Oriental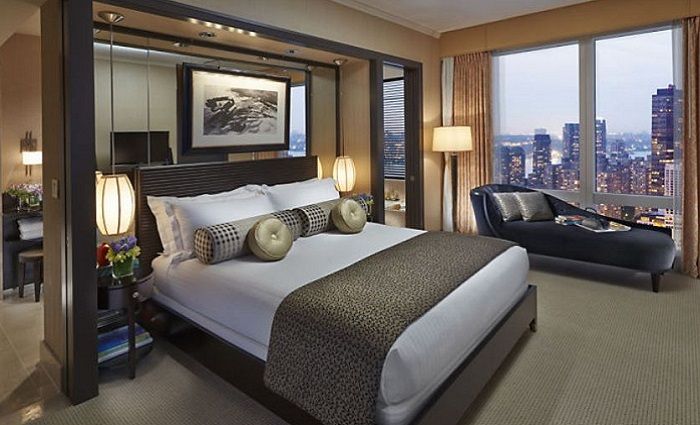 $$$$$ | 5 Star | Oh-So-Swanky | Indoor Pool
If you're looking for ultra-luxury, the Mandarin Oriental is your jam. With its massive spa and 75-foot lap pool in the fitness center, the hotel is all about its lavish accommodations and amenities. The swanky, rich decor is seen throughout the property. The guest rooms and suites are equally as elegant.
All of the rooms are pretty spacious with not just a bed but their own sitting area. The suites can come with chef kitchens and private dining areas if you're looking to stay in and cook. But it's located right on bustling Columbus Circle with shopping, museums, the park, and performing arts venues (hello, Lincoln Center).
With this prime location, we're thinking staying in might not be your first option. Especially when the hotel can set up private city tours for you. Personally, we love the property's own MO Lounge for a cocktail or two in between jaunts. If not for the drinks, for the views of Central Park.
The New York Edition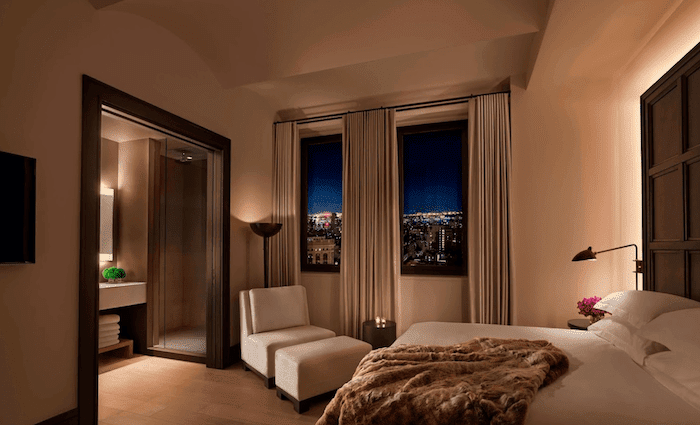 $$$$ | 5 Star | Upscale Elegance | Michelin-Starred Restaurant
Once known as the Metropolitan Life Insurance Company's headquarters, The New York Edition building is an oldie but goodie. It dates all the back to 1909 with that iconic clocktower and all. Naturally, it's been vastly reinvented with a more glamorous feel and fully equipped with the Michelin-starred restaurant called the Clocktower.
It's close to Madison Square Park so expect to get some sweet views, the best of which can be found while sipping drinks in the lobby bar. The guest rooms give off a timeless style of all nudes and neutrals. But the suites and the penthouses are where you'll enjoy the most space.
The bar at the Clocktower is a must since the bar is made with 24k gold and offers a pool table for fun. The property is near plenty of go-to spots, too, such as Eataly, Gramercy Theatre, and Irving Plaza.
The Mark Hotel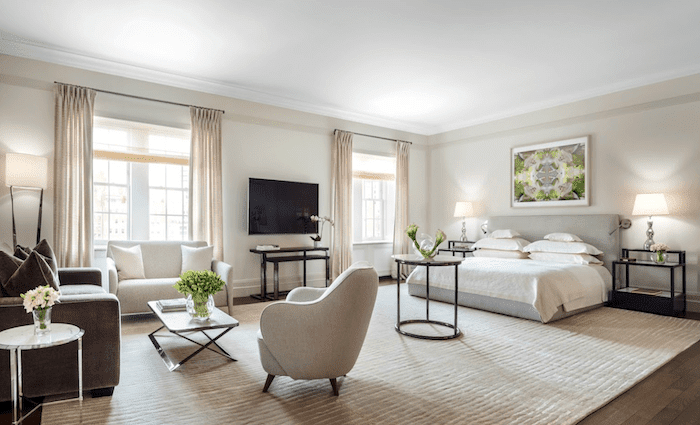 $$$$$ | 5-Star | Bright & Modern | Chef Curated Picnic Baskets
This Upper East Side stunner is located in a 1927 building and just a short walk away from Central Park. It's also near Museum Mile where you'll find everybody's favorite: the Metropolitan Museum of Art.
The rooms are sophisticated and grown-up, which makes sense for this area. They are decked out in ebony and nickel with marble bathrooms and heated towel racks. The suites are no joke with their granite bars and garden views. The Mark Restaurant by Jean-Georges is elegant and has n always-bustling outdoor patio. The Mark Bar is flashy with cow prints and bold colors but kind of fun too.
What we really love is the hot dog cart offered during the day, which just embraces a top food in NYC. Also, the hotel's own picnic basket created by the chef himself (with blanket included) is a nice touch for anyone ready to spend the afternoon in Central Park.
JW Marriott Essex House New York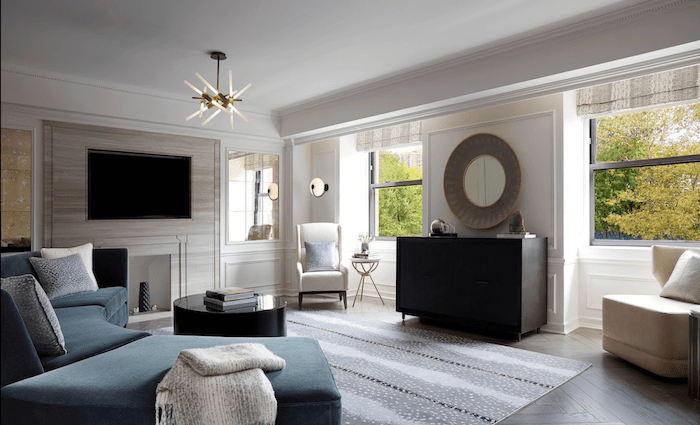 $$$$ | 5 Star | Stylishly Smart | Personalized Park Tours
When you stay at the JW Marriott Essex House you're literately walking outside to Central Park. You're also so close to Carnegie Hall and Fifth Avenue. The art-deco building with its iconic 1932 "Essex House" sign faces the park and has spacious rooms.
But the suites are most impressive. Here, you'll find living areas, two bedrooms, and private terraces that overlook, you guessed it, the park. Space like this (and views) is hard to find in the city. The rooms are bright, white, and clean with pops of color keeping with the art-deco theme.
The property's SOUTHGATE Bar & Restaurant has a late-night menu served until 1:00 am. Also, there are curated tours of the park that the hotel can create for you. It's easy to see why we think this is one of the best hotels in New York City.
The Best "Expensive" Hotels in NYC
With room prices still in the several-hundred-dollar range (think anywhere from $300-$500), these hotels are still considered expensive to some. But not without offering some serious amenities though. Check out these expensive but still some of the best hotels in New York City.
Conrad New York Downtown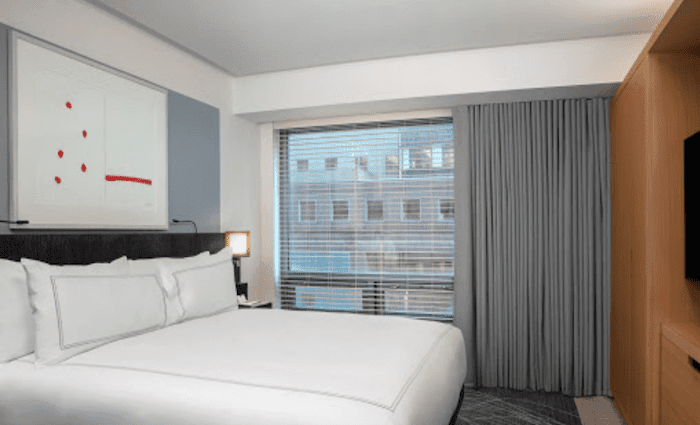 $$$$ | 5 Star | Straightforward Digs | Rooftop Bar
If you're looking to stay near the One World Trade Center, the Conrad Downtown will do the trick. The guest rooms are simple, without many frills, but they have their own touch of luxury. Plus, they offer a good amount of space.
With the suites, you'll score a separate bedroom and living space, and the option for connecting rooms. ATRIO Wine Bar & Restaurant serves international cuisine on the property's second floor and offers breakfast too.
During the warmer months, you can check out the Loopy Doopy Rooftop Bar on the 16th floor. Sip on their famous Poptail made with Brooklyn's own Mom & Icepops Boozy ice pops. And don't forget to check out the views of the Statue of Liberty from here!
The William Vale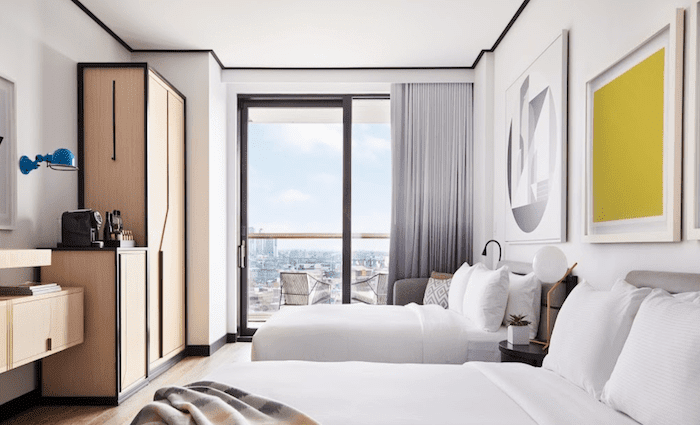 $$$$ | 5 Star | Contemporary Cool | Private Balconies
Located in Brooklyn's popular Williamsburg neighborhood, The William Vale is known for its high-end luxury. But it also boasts the longest outdoor pool found in any New York City hotel, so expect to spend some time there.
The hotel is modern and artsy with guests rooms that are bright and sunny. Bonus: they all come with a balcony and view. If you're looking for the real VIP experience there's always the exclusive Vale Garden Residence. Here, you'll have a large loft with its own terrace that's a whopping 1,632 square feet! It even has its own outdoor jacuzzi. All this for $10,000 per night if you want to splurge.
The property's Italian restaurant is called Leuca and serves solid homemade pasta. On the 22nd floor, you'll find the rooftop bar called Westlight. It has awesome city views from inside but just wait until you're outdoors with all the greenery and glass barriers.
The Bowery Hotel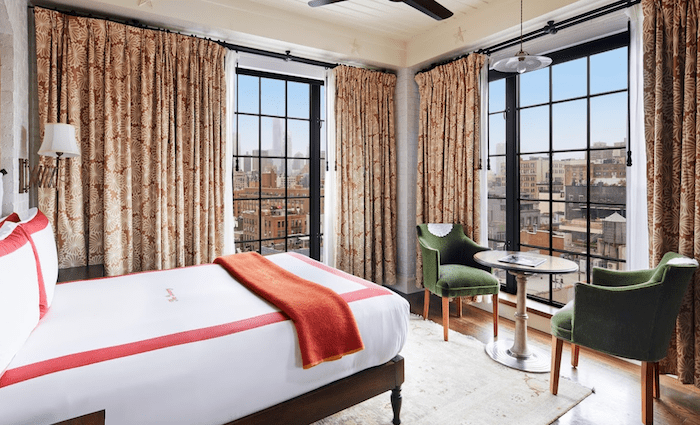 $$$$ | 5 Star | Sexy Sophistication | Marble Bathrooms
The Bowery Hotel is a classy spot with its fancy interior of rich, dark woods and blazing fireplaces. While the lobby bar with its sultry velvet couches might be dimly lit, the guest rooms are not. Marble bathrooms and antique brass fixtures in the rooms offer that luxury feel.
Also, hotels like the Bowery Garden offer more space and their own private terrace. And the loft-like suites offer even more room with a sitting area. And of course, it wouldn't be classic New York without receiving the Times at your door (free of charge).
On the ground floor of the hotel, you'll find the Italian restaurant, Gemma. It has a rustic, old-world tavern vibe that makes chowing down on pasta all the better. The property is located near music and theater venues too (think: Blue Note and The Public Theater). There's always plenty to do and see.
1 Hotel Brooklyn Bridge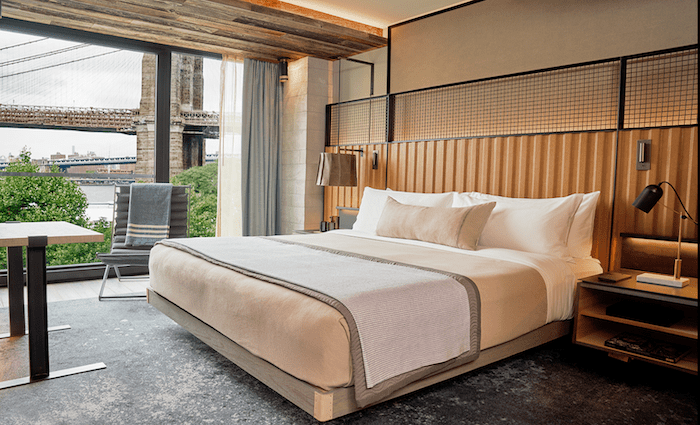 $$$$ | 5 Star | Clean & Green | Brooklyn Bridge Views
Located in the quaint Dumbo neighborhood, 1 Hotel Brooklyn Bridge is a waterfront property with great views and lots of green space. It's fancy but also really cool. Local artists helped craft the design which features reclaimed woods and lots of pretty greenery, which means it easily made our list of the best hotels in New York City.
The hotel has a strong focus on being environmentally conscious too. Organic linens and water filtration systems are found in each room, and there are cups made with recycled wine glasses and smart heating and cooling systems. Many of the rooms have large windows that offer views of the Brooklyn Bridge—an iconic spot for pictures.
And if you're here in the summer, head up to the rooftop pool. Or go any time to find The Osprey restaurants that serves farm-to-table options all year round. We love the old-school cocktail bar, Harriet's Lounge, especially now that The Polar Lounge made its debut there. There's a $25 fee to get in but when everything is made out of ice, it's worth it.
The Best "Mid-Range Affordable" Hotels in New York City
Ranging from $170-$279 a night, these hotels are more in the average urban price range for anyone heading to NYC. They're what we call "mid-range affordable" since they're just a little higher than some budgets, but way less than the luxury hotels you'll find in the city. In other words, they won't completely empty your bank account, yet they'll still provide gorgeous views and stylish digs. Here's our list of the best hotels in New York City that are more affordable.
The Standard, High Line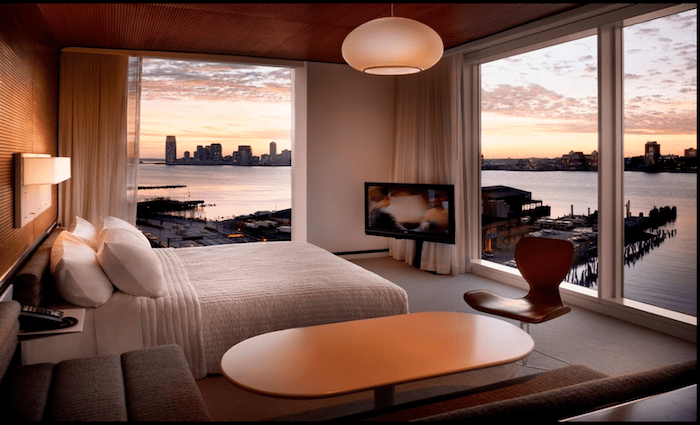 $$$ | 4 Star | Urban Chic | Prime Location
The Standard is always a win in our books. It's a cool place for a decent price. Located right above the High Line, the hotel is smack in the middle of the always bumping Meatpacking District. All the rooms are stunning with floor-to-ceiling windows that offer sunset views of the Hudson River.
And while you're already in a prime location, there's also so much to check out on the property itself. The German beer garden and the rooftop disco bar called Le Bain (with amazing sunset views) are fun to explore. And the hotel also hosts outdoor movies on Pix on The Plaza. The Standard Grill serves up all the classics, including one of the best burgers topped with Russian dressing.
Hyatt Union Square New York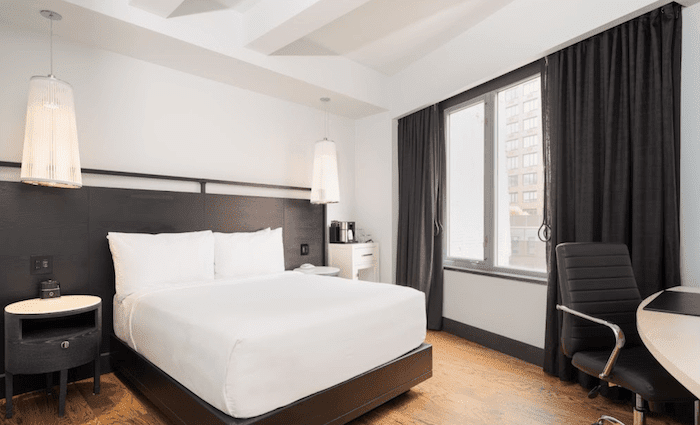 $$$ | 4 Star | Chill Vibe | Bar with Impressive Distilled Spirits List
We admit the simple rooms may be small for the price, however, the Hyatt Union Square offers large windows for decent street views of the city that never sleeps. There's also the option to upgrade to a one-bedroom suite with a private terrace.
We doubt you'll spend much time in your room anyway since this property is located in the best area: Greenwich Village, SoHo, and the East Village. It's also just one block from the subway so getting around isn't a problem. The restaurant on-site is called Bowery Road and offers a solid weekly happy hour (except on Mondays). Score $7 glasses of wine and killer sea salt fries on the cheap.
There's also The Library of Distilled Spirits. It's a must for anyone looking for choices in distilled spirits, as this spot has over 1,000 options to try.
The Roxy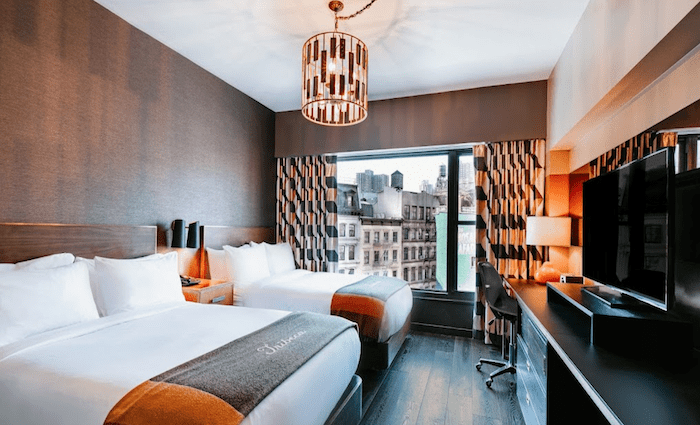 $$$ | 4 Star | Mid-Century Comfort | Weekend Brunch with Live Music
Located in Tribeca, The Roxy is truly one of a kind. It has a mid-century modern look that is both classy and cool without ever feeling like it's trying too hard. Comfort is the hotel's top priority. The standard rooms have tall ceilings and large windows for ample views of the cute neighborhood.
For someone looking for even more space, there's the Roxy Penthouse Two-Bedroom Suite—if you can snag it. This features its own sleeping and living areas. Also, there are walls made out of marble, and it has access to a VIP rooftop terrace. As for the property itself, there are tons to do while you're here. Listen to live jazz at The Django or feast on the popular weekend brunch which also includes live music.
PS if you're a Ghostbusters fan, you're only a couple blocks away from the infamous firehouse when you stay at this hotel!
W New York – Times Square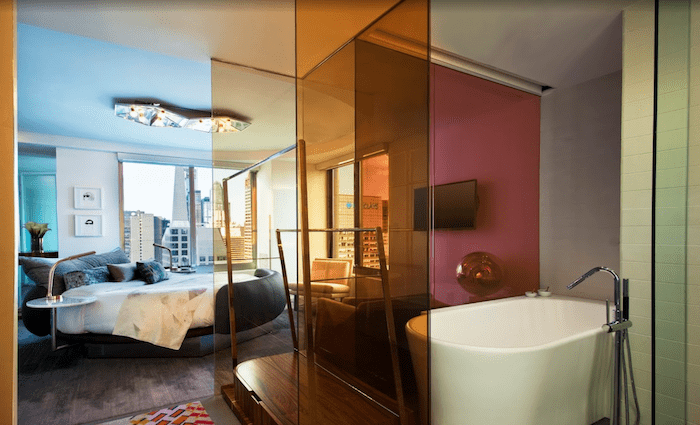 $$$ | 4 Star | Vibrant & Funky | Accessibility to Live Shows
For the person who wants to be in the midst of the chaos, The W New York in Times Square is in the middle of it all. It's right by the Theater District and Radio City Music Hall, making it easy to get to a show. Obviously, it's also close to the subway so you can move around easily (and get out of Times Square when needed).
The rooms are quite modern, but they can be small with limited views. However, the suites have more space and views, if you're looking to check out Midtown from your room. We have to admit, the Living Room cocktail bar, which is as flashy as Times Square, is pretty darn good. It has a decent food selection that pairs with the drinks rather nicely.
This is one of the best hotels in New York City for staying near Times Square without breaking the bank.
The Best "Low Cost" Hotels in NYC
In this city, nothing is really considered "low" in terms of cost. That's the price of living in the center of the universe. Still, these hotels offer some of the lowest rates—anywhere from $111 to $179. They are reasonable enough for New York City without sacrificing location, comfort, or quality. Here are the best hotels in New York City for anyone looking for a deal.
Freehand New York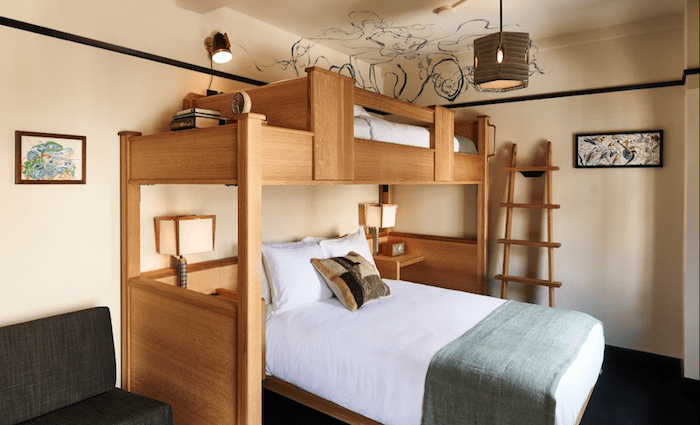 $$ | 4 Star | Artsy & Hip | Unique Room Options | Family Friendly
In the Flatiron District, you'll find the delightful Freehand New York. It has a history of being tied to many creatives as it's housed in the former George Washington Hotel. This was a place that many musicians and writers frequented back in the day. So you already know this place is going to be kind of hip.
The rooms are pretty casual but sort of cute too. If you're coming with kids, book the suites with a queen bed alongside a twin with a bunk bed. The suites feel more like a laidback apartment than a stuffy New York City hotel room.
There's a game room, happy hour, a Latin American restaurant called Comodo, and the nightclub Car Calico—all of which are good options. But what we come here for is Broken Shaker with its tiki-style handcrafted cocktails served on the rooftop. Yum.
The Marlton Hotel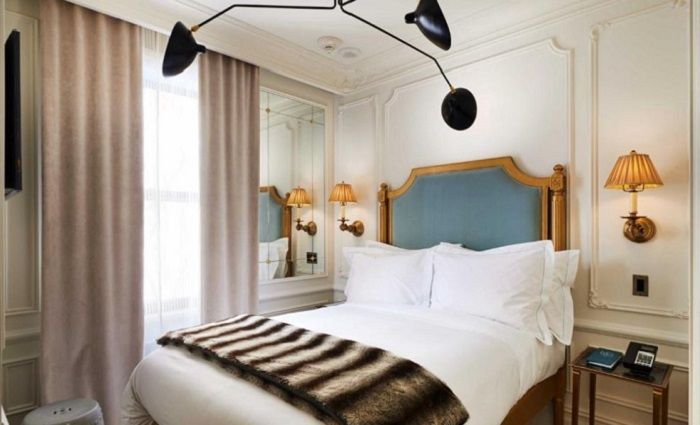 $$ | 3 Star | Boutique Bohemian | Free Breakfast
With just a quick walk to Washington Square Park, The Marlton Hotel is in a great location in Greenwich Village. It's also close to the Whitney Museum. This 1900 building is classic and chic—a mix of relaxed cigar lounge meets sophisticated library.
These cool old vibes make staying here a no-brainer. Also, the rooms that aren't too pricey don't hurt either. Especially for this area and especially when they offer free breakfast.
Speaking of rooms, they are simple and small, and they can range in size. Choose from a twin room up to a penthouse suite, which is vastly larger. Oh, and the restaurant called Margaux gives off this lush garden feel. The cocktail bar has some serious old-school charm with small booths that are tucked away for intimate conversations.
Chelsea Pines Inn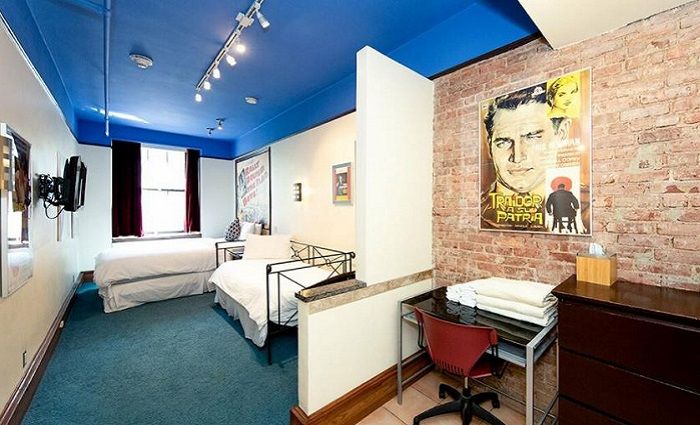 $$ | 3 Star | Quirky Hideaway | Private Garden | B&B Vibes
Nestled in an old brownstone from the the1850s, Chelsea Pines Inn is a chill B&B. The rooms won't cost you a lot, which is good since they're not spacious. We think the rooms are kind of offbeat but in a good way thanks to the old Hollywood film posters plastered to the walls. Just watch out if you're booking a single, as this type of room can be rather narrow.
But there's always the Hide Away Suite with a full kitchen and gas-burning stove. It's cozy without being cramped. No fancy cocktail bars or restaurants here. However, very pretty private garden and a free breakfast to enjoy it in. Besides, you're close to so many restaurants and bars in the neighborhood if you stay here in Chelsea.
You won't have any trouble walking around and finding a place to eat or be entertained (improv at The Pit alone?). Consider this one of the best deals for an affordable place to stay in New York City.
Moxy NYC Chelsea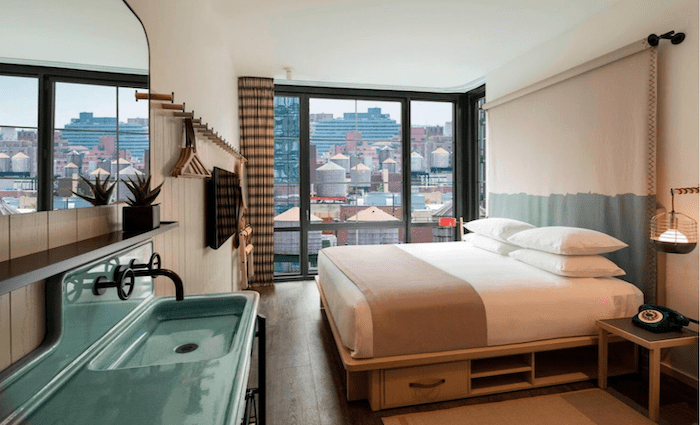 $$ | 3 Star | Trendy But Functional | Glass-Enclosed Rooftop Lounge
The Moxy NYC is trendy with rooms that are comfy and functional (meaning a little more space) without breaking the bank. You have your choice of a king room or quad bunks, or even a suite with adjoining king rooms. It's perfect for families or groups of friends looking for a deal on one of the best hotels in New York City.
It's close to a lot of local attractions, such as Chelsea Market, Chelsea Piers, the Flower District, and Hudson Yards. But there's a lot to check out on the property too. For example, TAO group's new Feroce Ristorante is a must-try. The glass-enclosed Fleur Room rooftop lounge with views of the Empire State Building is also great.
Finally, what we really like about this space is how versatile it can be. Case in point: Bar Feroce & The Secret Garden is first a chill workspace then a fun lounge come nightfall.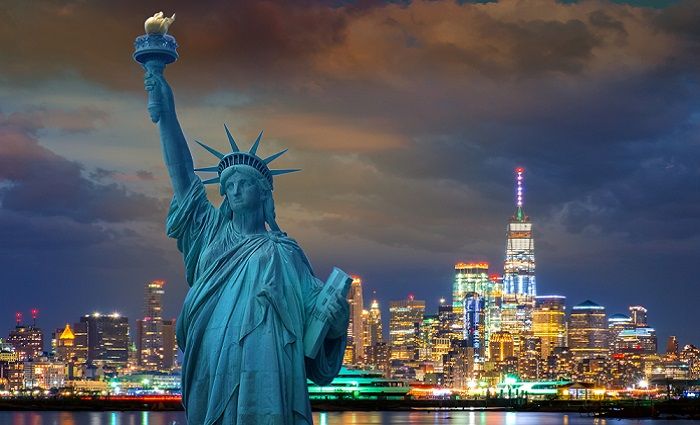 Find the best places to stay
Where to Stay in NYC
New York City is the center of the universe to those who adore this iconic city. Choose the best neighborhood to stay in as you plan your upcoming trip to the Big Apple.