There are a lot of big-ticket occurrences, larger-than-life individuals, and momentous moments that have happened in New York City. These are not them. If you want the real story of wild things about NYC, then keep reading to discover what I think are the not-so-insignificant facts about New York City.
---
Pro Tip: Planning your trip to NYC? Bookmark this post in your browser so you can easily find it when you're in the city. See our guide to New York City for more planning resources, our best NYC tours for a memorable trip, and the top things to do in New York City.
Fascinating Facts About NYC You Probably Didn't Know
So, what are some things you probably do know about New York City? Maybe that there are five boroughs here, over 8 million residents, and the Statue of Liberty was gifted to us by the French government, etc. Well, this list goes way beyond those mundane facts and dives deep into the really interesting facts about NYC.
I've been an NYC local for decades and I go out of my way to get to know this city. And now you can too! As a 12-time Jeopardy! Champion & All-Star, I'm forever keeping up on cool facts and things about New York (and other places). If this list piques your interest, check out my pub trivia book that will keep you and your friends entertained.
Not ready to book a tour? Check out our New York Guide for more resources.
15. NYC is Home to the World's Fastest Animal (Ok, Bird)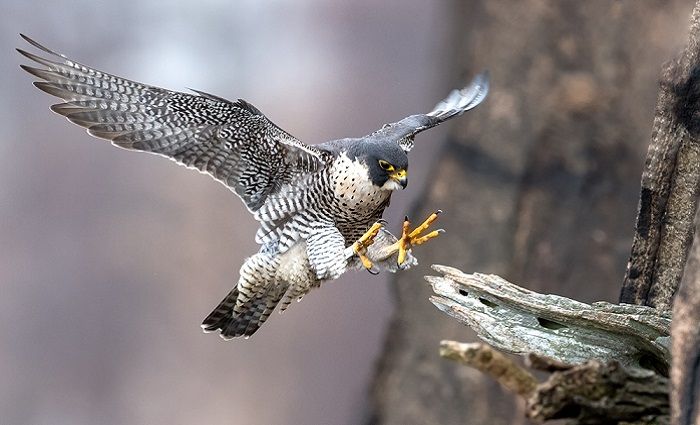 New Yorkers are fast to flip the bird, but the city is home to a flippin' fastest bird.
Although the mental Google search of the fastest animal in NYC might conjure up visions of Pizza Rat with its cheesy prey or perhaps a rogue cheetah from the Bronx Zoo, both species would be wrong. Instead, you'd have to look up!
New York City actually has the world's largest concentration of the peregrine falcon, per Smithsonian Magazine. How fast is the fastest bird? Try 200 mph (320 km/hr). It's fast.
As elaborated by The New York Times and others, after encounters with the scourge of the DDT pesticide just decades ago, the peregrine was once an endangered species. However, concentrated conservation efforts have protected these and other raptors and allowed them to thrive. A cliff-dweller by nature, the skyscraper density of Manhattan closely mimics the peregrine's favored nesting and hunting environment, and conveniently, that of its ideal prey: the rock dove, a.k.a. the common pigeon.
Another fun fact: the peregrine falcon is also the world's second-most geographically diverse bird, inhabiting nearly every corner of the world that isn't covered in permanent ice. The world's most geographically diverse? The pigeon, aka, their prey.
Through reintroduction programs, we now have dozens of nesting falcons inhabiting our bridges and swooping through our skies making peregrine falcons an absolutely appropriate re-addition to the NYC ecosystem. They are refugees seeing the opportunity in our city and taking quick advantage of it with a killer instinct. Not sure what the opportunity is? It's pigeons. They're eating a lot of pigeons.
In town for a bit and want to get a glimpse of the world's fastest bird and do some bird watching in New York City? Check out NYC Audobon's Outings page here.
14. The Guggenheim Museum is Based on a Drive-Through Tourist Attraction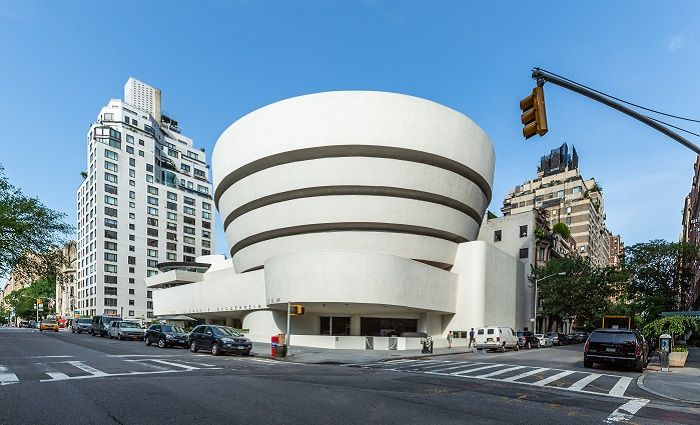 It's not a spiral by coincidence.

Frank Lloyd Wright had a long, storied relationship with the automobile that played out in his designs of gas stations, carports, garages, and showrooms. Wright loved the car, and due to his embrace and designs around the new technology, we'd call him an early adopter.
No surprise then that one of his few truly urban projects, Fifth Avenue's Solomon R. Guggenheim Museum, eschews the horizontal of his prairie style in favor of the vertical. Specifically, it's a spiral—ahem—helical main edifice inspired by several of Wright's automotive designs.
A roadway-guided mountaintop resort and innovative parking garage were expertly reversed engineered and combined with the Vatican Museums' iconic sky-lit Bramante staircase. Together they created the naturalistic lighting and serene, art-viewing experience of one of New York's most-visited attractions from a man typically known for right angles and planar structures.
The Guggenheim is not meant to be ascended but instead slowly descended. You view the artwork and the architecture itself after an elevator ride to the top of the helix. So while gliding down and enjoying a world-class exhibition, think of Wright in the back of his Lincoln Continental envisioning a smooth ride up an unrealized spiral road in the Maryland Appalachia.
After taking in the Guggenheim, hop down Fifth Avenue to the Met for a skip-the-line tour and experience another Wright creation, the recreation of the Francis Little House living room.
Not ready to book a tour? Find out if a Met tour is worth it.
13. Friends Moondance Diner Ended Up In Wyoming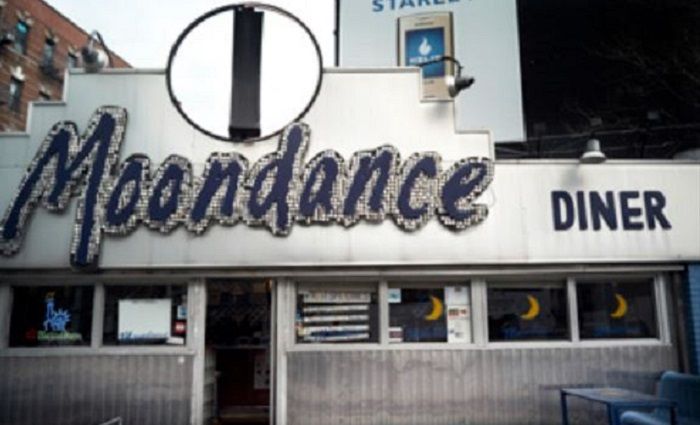 The one where the diner was relocated.
The former West SoHo icon Moondance Diner has a long history of famous film use. For a while in the show "Friends", Courtney Cox's character Monica Gellar takes a job at a singing-waitress diner. Kirsten Dunst's Mary Jane Watson takes a gig there in 2002's "Spider-Man".
And "tick tick… BOOM!" depicts the real-life story of Rent composer Jonathan Larsen's diner employment. Technically, Larsen's depiction occurred via CGI since the original Moondance had left NYC 14 years prior. It ended up in the greener pastures of…rural Wyoming?
When Moondance Diner and its iconic rotating moon sign were sold, an enterprising couple loaded the entire building upon a flatbed and trucked it to La Barge, Wyoming to reclaim its glory once again as an operating diner. Unfortunately, the business failed by 2012, and the tale of the Moondance appears to have ended there.

Want a real, still-thriving, New York City diner experience? Head over to Empire Diner in Chelsea, Jackson Hole in Astoria, or the actual singing-waitstaff diner Ellen's Stardust Diner near Times Square. Or take a Hell's Kitchen food tour to keep it on the West Side.
Not ready to book a tour? Check out how to spend 3 days in New York.
12. New York City Popularized the Menu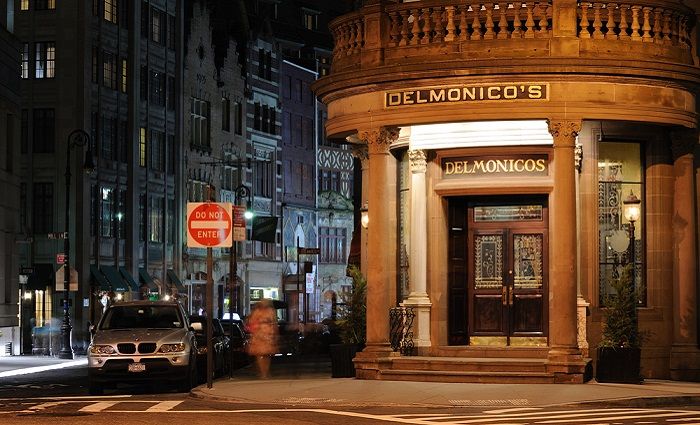 I'll have one of those, and one of those, and two of those…
It is undisputed that the modern concept of a restaurant providing a menu began in the United States with New York City's storied Delmonico's. Well, technically, the French originated menus. And the jury's out whether it was Delmonico's original 1837 location or the second 1845 home that first offered it.
But before Del's (as it was known to its well-heeled patrons), a tavern or hotel would prepare the day's meals, and what you got was what they were making. After Delmonico's, the customer could select a variety of fares. So successful was the innovation that even modern foodies mistake a budget location's offering of decidedly common cuisine to be that of Delmonico's.
Changing hands—and locations—many times in the intervening centuries, the latest incarnation of Del's is embroiled (pun intended) in a legal battle. It's left New Yorkers and visitors alike awaiting its fate. If you're confused, you'll find the real Del's at this location when it (hopefully)reopens.
Just because you can't visit Delmonico's now doesn't mean you can't sample some of New York City's other legendary and long-lived restaurants like the reconstructed Fraunces Tavern steps away, Herald Square's Keens Steakhouse, Meatpacking District's 1868-founded Old Homestead, or Hell's Kitchen's Landmark Tavern, also from 1868.
11. Part of Queens Was Basically "Built" on Pianos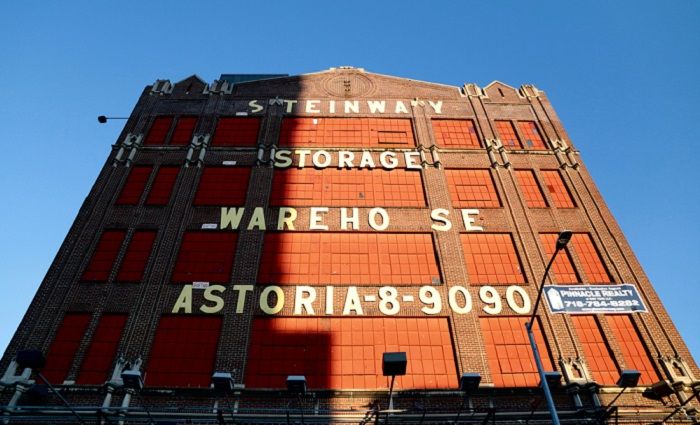 Unlike Billy Joel's "Allentown", they tore no factories down here.
In a sleepy corner of Long Island, across the East River from teeming Manhattan, a factory town emerged that bucked the trend of other corporate housing interests throughout the country. And its industry was music. Steinway Village was a residential community built by and centered around the vertically-integrated manufacturing process of Steinway & Sons. They were the foremost maker of pianos in the world.
With steel plants, sawmills, shipping and processing facilities, and a main factory surrounded by schools, streetcars, and ferries, Steinway Village not only provided for its employees and their families but it encouraged private home ownership to build the fledgling community. All this before Long Island City became part of Queens.
Much like how "Born in the USA" and "Fortunate Son" are today misrepresented as patriotic songs, so too was the term "The Gilded Age" misunderstood. As the title of a satirical Mark Twain novel highlighting the rampant greed and corruption of the Robber Baron era, rose-colored sentimentalists believed the term to be positive. They believed it referred to the wage growth of the late 19th century and conveniently ignored the endemic poverty and exploitation that occurred in factory towns like this one.
Although founded with a slightly paternalistic "we know better" attitude to keep the menfolk out of temptation's way on the other side's hedonistic Manhattan, Steinway & Sons' efforts created a solid middle-class foundation for the forthcoming 1898 consolidation of Greater New York and the company remains a cornerstone of modern Astoria.
While the Steinway Factory has yet to resume tours, you can view the existing building at One Steinway Place and schedule a virtual tour here. If you're on the other side of the East River, check out the Steinway Hall piano showroom in Midtown Manhattan.
10. NYC Has More Bridges Than the Entire State of Rhode Island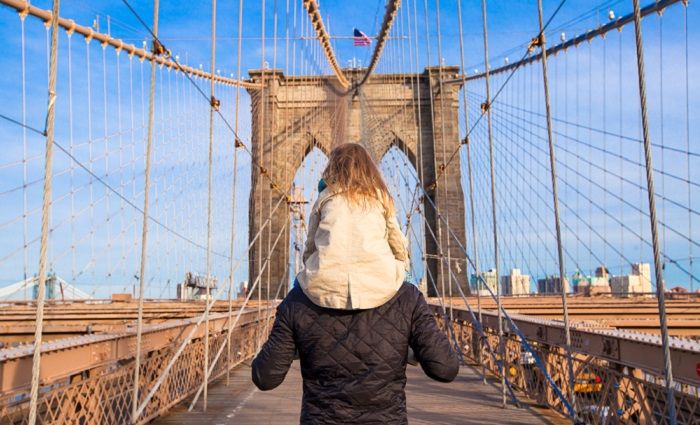 It might be a bridge too far…or not.
Yes, Rhode Island is a small state: 1,214 square miles to be exact. And within that seemingly small acreage, the Maritime State has packed in a whopping 779 bridges, according to the American Road & Transportation Builders Association.
Yet NYC, with but 472 square miles, throws down some competition with 787 bridges, which are managed directly by the New York City Department of Transportation. However, if you add in bridges managed by other municipal, state, and transportation entities like the Metropolitan Transit Authority, New York City has over 2,000 bridges!
The most commonly cited number is 2,027, but it sort of doesn't matter. The point is, at a third of the size, NYC clobbers Rhode Island with triple the number of bridges if you include all overpass, suspension, cantilever, swing, draw, stone, pedestrian, road, rail, and cycle bridges. How's that for an insignificant fact about NYC that's actually really cool?
Wondering what the most famous bridge is? It's the Brooklyn Bridge. That's the one people love to walk across when they're stretching their legs, hoping for a view beyond the concrete jungle.
Not ready to book a tour? Check out our New York Guide for more resources.
9. "Game of Thrones" Westeros is Based on Staten Island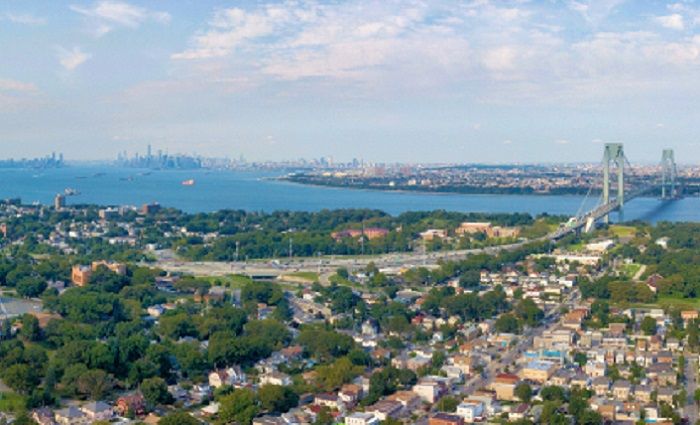 Both islands are really, really into "the family".
Fantasy author George R. R. Martin revealed in a 2013 interview on "The Conan O'Brien Show" that he was "wondering what exotic mysteries and wonders lurked on Staten Island" at one point. So he loosely modeled his map of fictional continent Westeros on that of New York's southernmost borough. (King's Landing, Winterfell, Riverrun, Denino's Pizzeria, The Mall).
And much like Westeros, Staten Island is filled with lore and history only beheld by those with the time and patience to delve into the island's history with the same gusto as those who completed Martin's weighty volumes—and just as rewarding.
Some cool facts? First, Staten Island has the world's fourth-longest boardwalk. Second, Ben Franklin and John Adams attended a peace conference here that attempted to end the American Revolutionary War in the fall of 1776. And third, it's where you'll find the oldest existing elementary school in the United States in the middle of a living historical museum village—built in 1695!
If you plan on visiting Westeros, I mean Staten Island, the Staten Island Ferry is free, serves beer, and offers you the best views of the Statue of Liberty (aside from this early-bird tour!).
Not ready to book a tour? Check out our Statue of Liberty Guide for more resources.
8. A Part of the Bronx is Still in Manhattan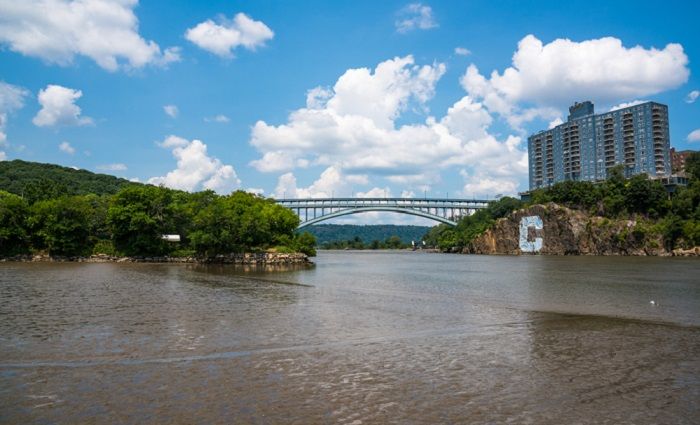 Gerrymandering isn't new.
At its heart and throughout history, New York has been the story of water—leveraging water for commerce, harnessing its watershed to hydrate a growing city, then fighting against it.
Belying its Dutch heritage, New York as an institution is an expert at reclaiming—or manufacturing wholesale—land from the water. New Yorkers know how to artificially work the land and water to maximize their city's potential. Perfect examples include expanding the island of Manhattan through landfill (looking at you, Battery Park City) and streamlining its waterways (hello there, Hell Gate rocks).
Falling into the latter category is the Harlem Ship Canal. Once surrounded on three sides by Spuyten Duyvil Creek, the northernmost tip of Manhattan, Marble Hill, was cut from its mother island by the Harlem Ship Canal in 1895. This connected the Hudson and Harlem Rivers and forged a straight route navigable by modern shipping to the East River, Long Island Sound, and the Atlantic beyond.
For the next 19 years, Marble Hill would remain a tiny island until the remnants of the Harlem River were filled in in 1914. Earlier that year, however, New York State decreed Marble Hill was part of Manhattan, and not the newly incorporated Bronx County.
So Marble Hill—although connected to and served by the Bronx—remains a political part of Manhattan despite being connected the Broadway Bridge to its parent island.
By the way, just across the Harlem River from Marble Hill is New York's largest old-growth forest in Inwood Hill Park. It offers spectacular views of Spuyten Duyvil and is adjacent to Columbia University's football stadium when you're looking for an amazing evening or autumn outing.
7. Brooklyn Once Held a Funeral for Itself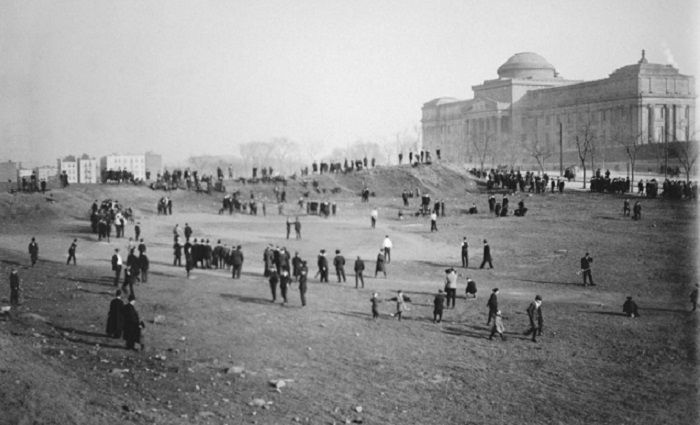 Hey! Consolidate It!
Just 277 votes. That's all it took. The difference between an independent City of Brooklyn and today's Borough of Brooklyn was a mere 277 votes. In 1898, by a vote 64,744 (50.11%) for and 64,467 (49.89%) against, the City of Brooklyn voted to join with New York and form the so-called "Greater New York".
The dissenting half of the Brooklynites were not happy about it. Songs were written, political cartoons were printed, and ultimately, the losing side bemoaned "The Great Mistake of '98".
Newly empowered New York City Hall held a massive fireworks celebration over Brooklyn Bridge commemorating its consolidation of power—orchestrated by no other than William Randolph Hearst. On the other hand, the Brooklyn City Hall held a somber, rain-soaked "funeral" for the demise of their independence.
But Brooklynites of the time must have had very short memories. Between 1851 and 1896, their city forcibly annexed the towns of Bushwick, Williamsburg, and eventually, the entirety of Kings County without remorse.
Want more Brooklyn? Check out our guide to Brooklyn here.
6. There's an Uninhabited Island with a Larger "Population" Than Austin, TX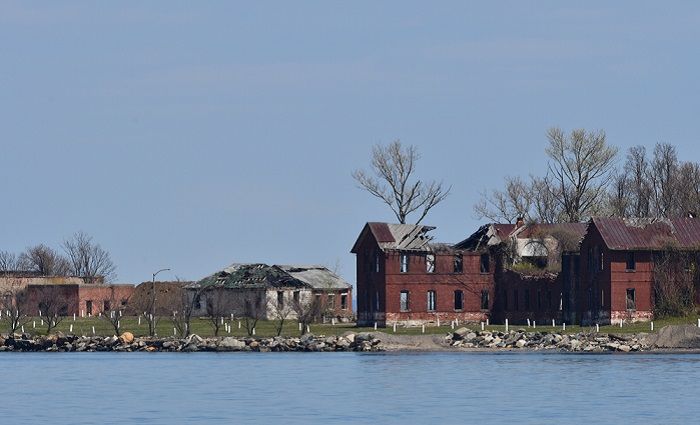 The dead tell no tales.
Are you familiar with the term "potter's field"? If not, prepare yourself for a dull pang of sadness. Potter's fields were the grim necessities of modern life. These were places where the indigent, the impoverished, or the unknown were buried. You might recognize other names like a common grave or pauper's grave.
New York is home to one of the largest potter's fields. With over 1 million souls interred at Hart Island, the 131 acres is roughly the size of Vatican City. The difference is it's filled with a population of the dead, equivalent to today's Austin, TX.
As a result, New York has the ignominious title of city with the largest pauper's grave in the world and the country's largest tax-funded cemetery. Lest we think the anonymous graves were but for the poor and forgotten, notable people have also been interred here.
For example, Disney child star Bobby Driscoll was buried there after a long battle with substance abuse left him penniless and unidentified at the time. Today, Hart Island is off-limits to all but the health officials supervising the incarcerated workers who perform the morbid task of stacking plain wooden caskets in graves that hold 100 bodies each.
5. Pinball Was Illegal in NYC for Half of the 20th Century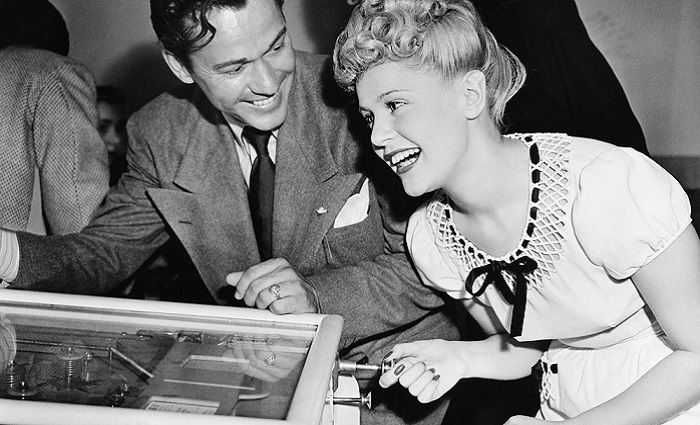 Flip it or bump it—just don't ban it.
For another fascinating fact about New York City that's almost insignificant, try this one. From 1942 until 1976, pinball (yes, that flipper, bumper, tilting arcade game) was banned in NYC. What happened was the moral crusading mayor Fiorello LaGuardia had vowed to clean up the streets. She saw the then-flipperless pinball machine as a mob-run gambling vice and a game of chance.
Her solution? She banned the games under the auspices of newly instituted wartime materials rationing. After the war, and the invention of the flipper, pinball's seedy rep would wane, but the law remained on the books until 1976. A group of lobbyists for pinball manufacturers challenged it successfully.
To wow (or woo) the city council and convince them that pinball was a game of skill not chance, pinball expert Roger Sharpe explained that applying different levels of pressure to the plunger would place the ball in different areas of the board. He then proceeded to call his first shot.
The ball landed exactly in the lane Sharpe had indicated and that was it. Pinball was legal!
Now, of course, this being New York, there's gotta be an "Aw, come on!" moment. And there is. Sharpe later explained that his called shot was luck because it was the second machine brought into the council. He had only practiced on the first.
Not ready to book a tour? Check out how to spend 3 days in New York.
4. The Guy Who Wrote "'Twas the Night Before Christmas" Hated Ninth Avenue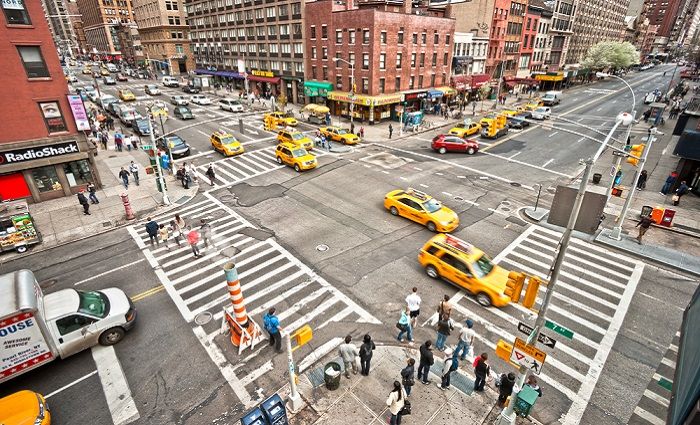 Eventually, money always wins.
"Beauty, order, and convenience." It refers to the so-called "grid plan" that aligned the island of Manhattan in rectilinear blocks of avenues and streets. Or so that's how the authors of the definitive "Gotham: A History of New York City to 1898 the Commissioners' Plan of 1811" described it.
Nearly everyone rejoiced at the time. And continue to do so when asking directions. All except one Scrooge who, ironically, invented the modern persona of Santa Claus. Clement Clarke Moore, the author of "A Visit from St. Nicholas" held a family estate called Chelsea that was to be bisected by the planned Ninth Avenue.
"These are the men who would have cut down the Seven Hills of Rome" to which I would say, "Have you ever tried to get around Rome?" Moore and his neighbors sent letters of protest to the city council without avail. But Santa's godfather would soon come around.
Once he realized he could subdivide his property and sell lots in an orderly manner, he too realized the convenience and fell in line with New York's overarching adage of "If it makes money, it stays".
3. More New Yorkers Commute Than There Are People in Madison, Wisconsin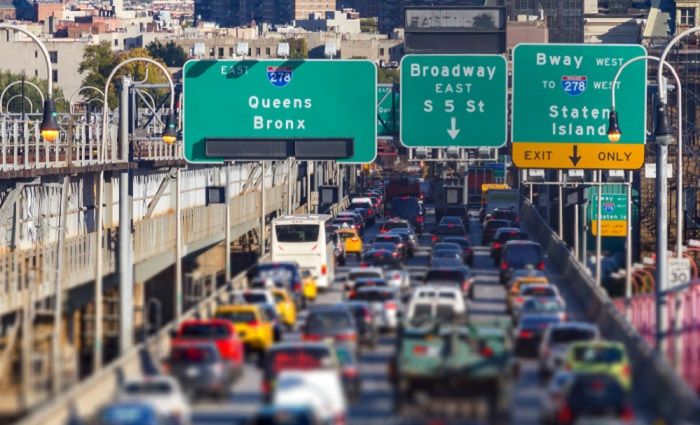 The commuter ebb and flow takes more than a New York minute.
According to the NYC government's office of planning, in 2019, 273,000 residents of the five boroughs left their homes every morning to go to work. That's right: more people leave town daily to populate the offices, hospitals, universities, headquarters of Purchase, Greenwich, Jersey City, Stamford, and Farmingdale than live in Wisconsin's 269,000-person capital city!
If you're reading this, it's possible that's even more than the number of residents in your own town too! Cool NYC fact, right? Well, I'm not done yet…
Those numbers don't even count the staggering 1 million people who enter New York every morning from those same suburbs of Westchester, Fairfield, Nassau, and Suffolk counties—plus the multitude of New Jersey locales—only to leave again that afternoon.
This means NYC ebbs and flows and pulses like a heart nearly every single day to the tune of a 1.2 million person population. Put another way, more people enter and exit New York City in a 24-hour period than the populations of all but eight major cities in the U.S.!
2. Queens is the Most Linguistically Diverse Place on Earth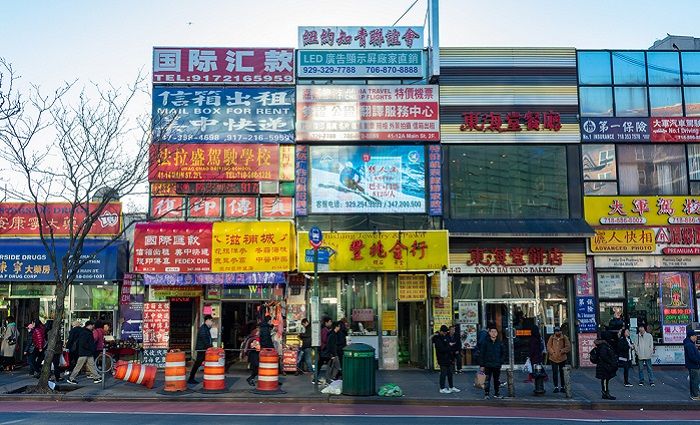 Give Duolingo a rest and just take the 7 train.
138. That's the number of languages the "Guinness Book of World Records" lists as being spoken in the "most ethnically diverse urban area on the planet" known as the Borough of Queens. Want to go even broader?
There's a reason Roosevelt Avenue ends at Flushing-Corona Meadows Park and its famous Unisphere globe. National Geographic found a whopping 300 different languages or dialects along Roosevelt Avenue alone, representing 107 different countries.
While the linguistic diversity does a spectacular job of both attracting and providing for immigrants, the visitor to NYC gets a secondary benefit of the sheer variety of cuisines. Visit Jackson Heights alone and you can sample Nepali momo, Colombian guarapo, and Filipino tinola, all in the same zip code.
If you still haven't heard enough, head to Astoria (the long-time Greek neighborhood) and into the Al-Hikmah Mosque where you can hear many of the over 700 languages and dialects of Indonesia alone. Queens' language variety provides a great service to humanity in general.
Hundreds of language dialects nearing extinction— especially those of indigenous Meso-American groups—are being preserved and thriving. Unintentionally, this borough is keeping alive diminishing cultures.
1. One of the Most Valuable Buildings on Earth is Nearly Empty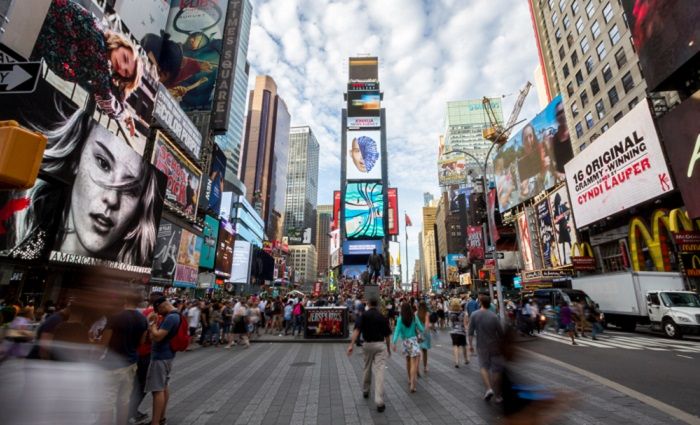 When you're so well known that no one knows you…
If you were told that a building in the middle of New York City stands nearly empty, yet still rakes in $23 million per year, your first question is probably "How can that even happen?" First of all, it's New York. Second, you've seen this building again and again and again. Every December 31st to be exact.
One Times Square, the home of the famed New Year's Eve Ball Drop, has evolved over a century. It's been the headquarters of The New York Times, the center of news and celebrations for the city, a generic mid-century office building, and now the world's most visible billboard.
This building is so valuable that its owner, Jamestown L.P., has invested half a billion dollars since 1997 to renovate it. The goal is to make it an upgraded billboard platform with an observation deck overlooking Times Square.
That won't be open for a few years yet, so for now, enjoy Times Square like a New Yorker. Avoid it at all costs. Instead, go somewhere actually cool like the New York Public Library just two blocks away on Fifth Avenue.
Want more facts to wow your friends or start a friendly competition? Check out my book called "The Ultimate Book of Pub Trivia by the Smartest Guy in the Bar".
As an Amazon Associate, we earn from qualifying purchases at no extra cost to you.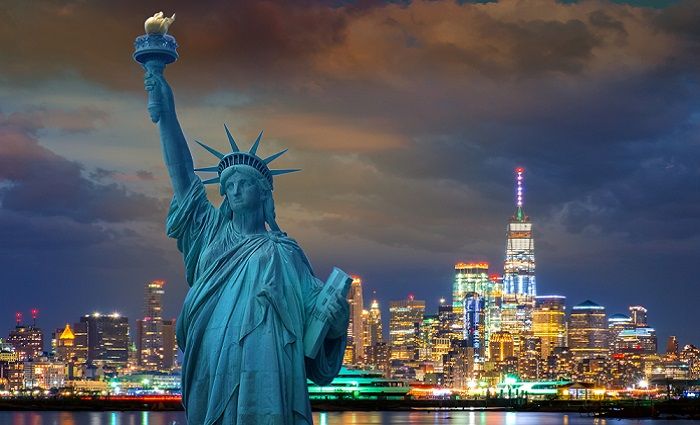 Find the best places to stay
Where To Stay in NYC
New York City is the center of the universe to those who adore this iconic city. Choose the best neighborhood to stay in as you plan your upcoming trip to the Big Apple.