While New York City is a single entity, it comprises five boroughs that each hold their own distinct character. Every area of NYC is a world within a world, and the 5 boroughs represent different aspects of the city's culture and are home to their own local essence. From the Bronx to Brooklyn, Staten Island to Queens, and that famed island of Manhattan, here is a guide to New York City's five boroughs.
---
Pro Tip: Planning your trip to NYC? Bookmark this post in your browser so you can easily find it when you're in the city. See our guide to New York City for more planning resources, our best NYC tours for a memorable trip, and the top things to do in New York City.
Everything You Need to Know about NYC's Boroughs
Even if you've never been to New York City, you've probably heard of the five boroughs: Manhattan, Brooklyn, the Bronx, Queens, and Staten Island. Each borough is about as diverse as the people who live in NYC, and only a few of them are considered popular tourist destinations.
Technically, a borough is like a mini city that has its own government, even though it's still part of a larger city. So the five boroughs here are under the umbrella government of NYC, but they also have some autonomy as well.
This article will give you an overview of the vibe of each borough as well as key attraction information. From here, you can branch out to tons of articles on things to do and places to stay in New York. Consider bookmarking it and checking out our list of top things to do in New York.
Our Partnership with Booking.com. If you like our content, please book by clicking on our Booking.com links. The price is the same for you, and we get a small commission that helps support our blog. We've partnered with Booking.com because they have the most options, great prices, and a solid loyalty program. Just about every hotel is on Booking so our recommendations are not incentivized.
Manhattan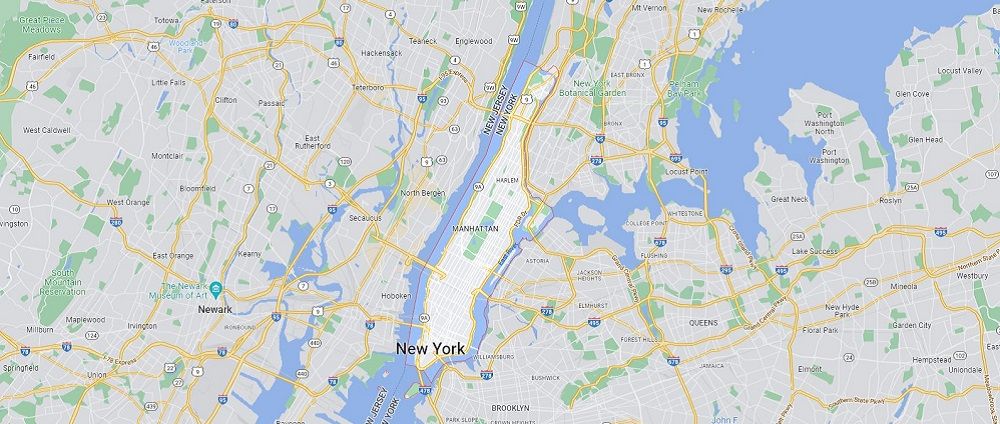 When people hear the words "New York City," they usually think of the Manhattan borough—and there's a reason for that. Manhattan is home to Broadway, dozens of museums, the Empire State Building, Central Park, and so many other iconic New York landmarks.
It's also the financial epicenter for the city (and basically the country, too), and one of the most expensive real estate areas in the world, according to Investopedia. This area is also one of the most densely populated areas. But there are many cultural and historical areas to visit here as well. Read on for some of the top things to do and see.
Top Attractions in Manhattan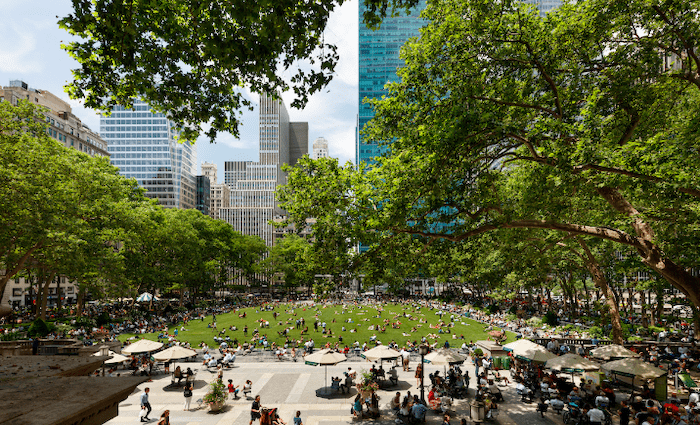 The Metropolitan Museum of Art
The Metropolitan Museum of Art is the cornerstone of New York City's cultural landscape. With over 2 million objects spanning 5,000 years of history, it's no wonder The Met attracts over 1 million visitors each year. Whether you're interested in Ancient Egypt, arms and armor, fashion, or modern painting, The Met will exceed your expectations. If you want to maximize your experience, check out a guided tour here. Looking for more museum experiences? See our guide to the best museums in the city.
Address: The Met
Broadway
Live performances and Broadway are synonymous with Manhattan. So many legends of musical theater made their names on the stages of Broadway theaters. Currently, there are 41 official Broadway theaters, though only a few are actually on Broadway. The rest are scattered throughout the west side of the island in a neighborhood called the theater district.
Most shows run eight times a week during the evenings, with matinees on Wednesdays and Saturdays. The shows come and go, some are revived and some stay for years, even decades. All the currently playing shows can be found here, so use that page to plan your trip.
Address: Broadway
9/11 Memorial and Museum
For many Americans, the fateful day of September 11th is a day forever etched in their memories. To honor the nearly 3,000 lives lost on the day of the World Trade Center attacks in 2001 (and the bombing of 1993), much of the original site of the twin towers was transformed into a memorial.
Here you'll find the iconic Memorial Pools, the names of the victims etched in stone, the Memorial Glade, the Survivor Tree, and the FDNY Memorial Wall. Nearby is the new One World Trade Center with the observation deck that is a popular attraction to see the city skyline.
And the National September 11th Memorial Museum is also close to the Memorial. It's a touching museum filled with personal histories and artifacts from the destruction. A trip to the 9/11 Memorials and Museum is a must for anyone who remembers that fateful day, not to mention the rising generation who were born after that day in 2001.
Address: 9/11 Memorial and Museum
Central Park
Running the length of 59th to 110th Streets, Central Park is an iconic 843-acre greenspace in the heart of Manhattan. The park is at the core of city life, and it holds 26 baseball fields, 29 sculptures, a zoo, a 19th-century castle, and 58 miles of pathways.
It is an unbeatable place to walk, picnic, bike, run or participate in many of the daily activities that take place throughout the park. A trip to NYC wouldn't be complete without seeing this amazing greenspace in the heart of the City That Never Sleeps. Use our Central Park walking guide to plan what to see here.
Address: Central Park
Lincoln Center
The Upper West Side's Lincoln Center is the premier venue for the performing arts in the city and one of the greatest in the world. It is home to over ten famed organizations including The Metropolitan Opera, New York City Ballet, the New York Philharmonic and the Juilliard School.
The campus also includes top-notch restaurants, a branch of the New York Public Library, gorgeous architectural details and plenty of other elements that tourists of all stripes will want to marvel at.
Address: Lincoln Center Plaza
Wall Street
In the heart of the Financial District of Manhattan, you'll find the iconic Wall Street and the New York Stock Exchange. Granted, there isn't a lot to visit specifically in this area, but it's worth noting since it's a key location for many New Yorkers. You might be surprised to learn that the New York Stock Exchange isn't actually located on Wall Street. It's on Broad Street, just half a block from Wall Street.
What's made this area famous is the Charging Bull statue staring down the little girl who stands with courage. You'll find this a few blocks away at the Bowling Green park, the oldest park in New York City. From there, you're also not far from Battery Park which has one of the best viewpoints for the Statue of Liberty.
Address: NYSE and Charging Bull
Times Square
Times Square is an iconic area for tourists, partly for its celebrity status as the best and first place to ring in the New Year in the US. But New Year's celebrations aside, Times Square is filled with happening places to eat and theatres to enjoy since Broadway is just minutes away even on foot. This is the area where you can walk along the streets below the iconic, massive video screens advertising shows, products, movies, and events.
It's also a highly-used filming location in many notable films from King Kong to Ghostbusters to Breakfast at Tiffany's. And of course we can't forget it was used as the location for Friends, Sex and the City, Seinfeld, and How I Met Your Mother though most of the filming occurred in California for those shows. But for TV and movie buffs, this is a must-see location to find places from their favorite shows.
Address: Manhattan, NY
Statue of Liberty and Ellis Island
The Statue of Liberty might be the most famous attraction in New York City. It's long been a favorite place for tourists to visit, though it takes some planning to do so since it's on an island in the middle of the Upper Bay. The statue was a gift from France and designed by French sculptor Frédéric-Auguste Bartholdi to solidify relations between nations and to celebrate the accomplishments of Abraham Lincoln.
There is now a museum located on Liberty Island, which makes the trip even more memorable. And any ticket for the Statue of Liberty should include a stop at Ellis Island, which is the original immigration processing center of the early 20th century. There are original artifacts and areas to explore to learn about the process and the people who passed through those halls.
Restaurants to Try in Manhattan
La Grenouille
$$$$ | French | Old-School
La Grenouille, not far from the Rockefeller Center or Central Park, feels like old New York. From the vases overflowing with fresh flowers to the plush red booths, this long-standing restaurant still maintains an old-time glamor.
While it's hard to go wrong with any menu choice, the Dover Sole and a soufflé make for an unbeatable dining experience. If you stay late on a weekend evening, you just might be treated to some impromptu jazz.
Address: 3 East 52nd Street, New York, NY
Nom Wah Tea Parlor
$ | Dim Sum | Cash or American Express Only
You can't talk about classic New York City restaurants without mentioning Nom Wah Tea Parlor. A Chinatown staple since the 1920s, Nom Wah serves up affordable and delicious dim sum from their no-frills storefront on Doyers street.
While there is usually a line to get into this NYC favorite, the queue moves quickly and is well worth the wait. Be sure to pair your dumplings with a pot of the signature black tea.
Address: 13 Doyers Street, New York, NY
For other recommendations, see our list of restaurants in Midtown, SoHo, and New York City.
Top Places to Stay in Manhattan
The Greenwich Hotel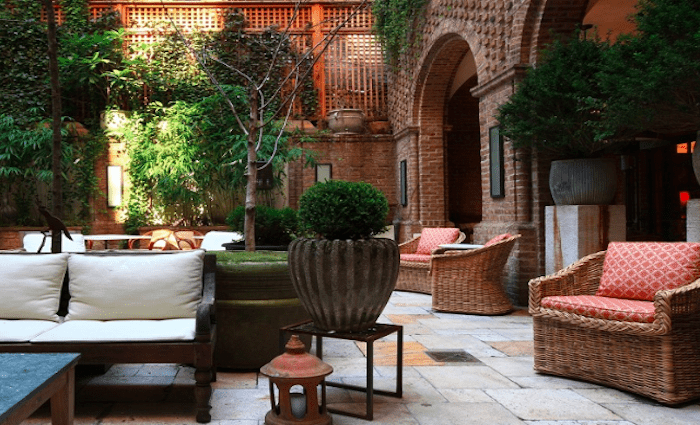 $$$$ | 5 Star | Indoor Pool | Quiet Drawing Room & Courtyard
If you are looking to stay downtown, indulge in The Greenwich Hotel. From the ivy-covered walls of its patio to the luxurious spa, this is a hotel that encourages rest and relaxation. You might even choose to do so in their inviting drawing room or the quiet, lush courtyard. This Tribeca hotel also offers a highly rated spa and a cozy on-site restaurant that serves Italian cuisine.
The Mandarin Oriental NYC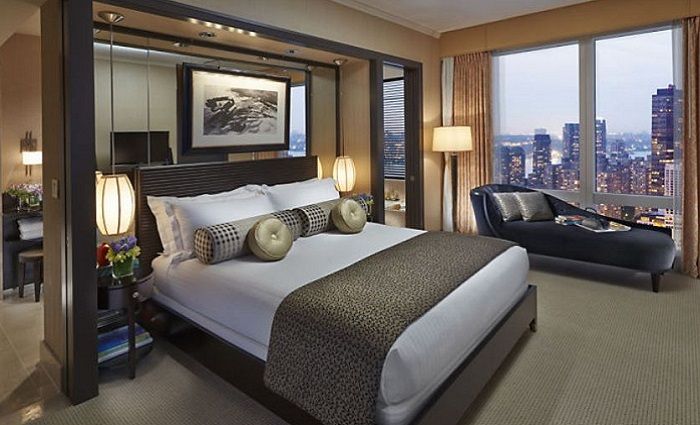 $$$$$ | 5 Star | Indoor Lap Pool | Amazing Location
Whether you're in Paris, London, or Shanghai, the Mandarin Oriental is the height of luxury. In New York City, the hotel is located in the heart of things at Columbus Circle, and its 75-foot lap pool offers million-dollar views of the city skyline. You'll enjoy any experience here whether you're hitting the gym, the spa, or the in-house restaurant MO Lounge.
Moxy Downtown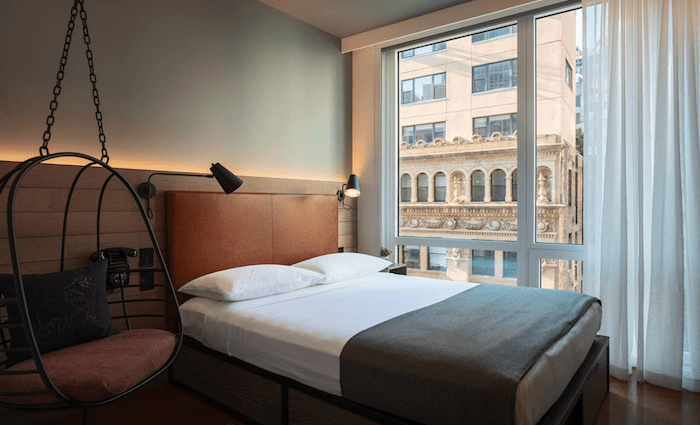 $$ | 4 Star | Sleek and Trendy | Boozy Arcade
Located within the Financial District and Chinatown neighborhood, this hotel is close to all the local attractions including the 9/11 Memorial. But it's also a cool space with lots to do like the arcade bar called Recreation. The rooms are modern and sleek with leather headboards, 10-foot floor-to-ceiling window, and a swing chair that's fun to hang in (literally).
Brooklyn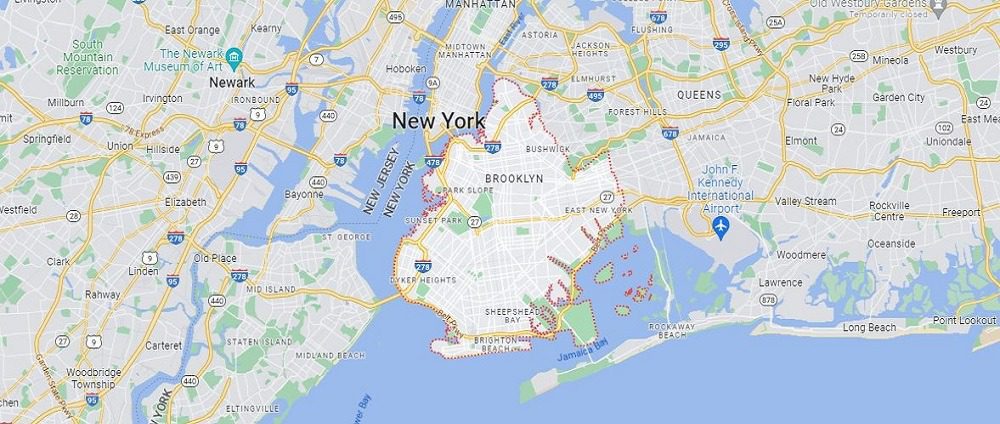 Brooklyn is like Manhattan's young, hip sibling. It may be an outer borough, but it boasts its own killer food culture, vibrant art scene and plenty of local charm. Williamsburg and DUMBO are where you'll likely spend some time, but we also recommend the beaches for a day away from it all. Great for a day trip or a longer stay, Brooklyn is worth a visit no matter what you're looking for. 
Top Attractions in Brooklyn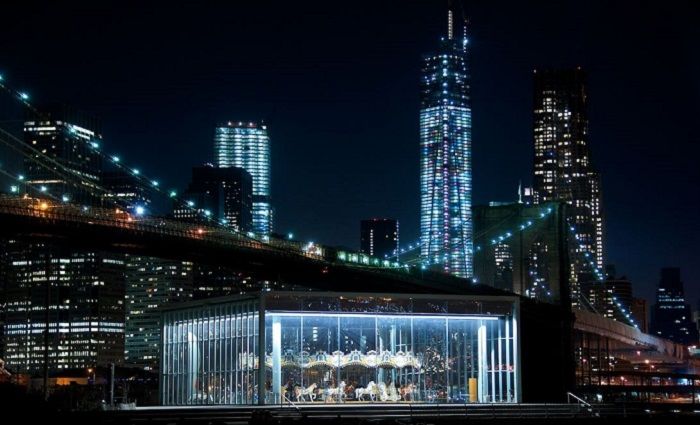 Brooklyn Museum
Located next door to the Brooklyn Botanic Garden and Prospect Park, the Brooklyn Museum is the cultural center of the borough. The encyclopedic collection is home to 500,000 objects, including a 5,000-square-foot visible storage study center.
You really can spend the day here. Enjoy a meal at the on-site restaurant or grab something quick at the casual café in between gallery visits. The museum actually made our top spot for activities in Brooklyn.
Address: 200 Eastern Pkwy, Brooklyn, NY
Brooklyn Botanic Garden
Founded in 1910, the Brooklyn Botanic Garden is a 52-acre oasis that houses over 14,000 species of plants. Each year, the garden welcomes visitors year round and hosts an array of events and special exhibits. Permanent garden features include a Japanese Hill-and-Pond Garden, a Bonsai museum, rose garden, cherry esplanade and water garden, among many others. No matter the weather, it's a wonderful place to walk around, commune with nature, and escape the concrete jungle.
Address: 990 Washington Avenue, Brooklyn, NY
Brooklyn Promenade
Brooklyn Heights is one of the most beautiful neighborhoods in Brooklyn. Its quiet, residential streets and picturesque brownstones are an ideal place to walk and take in the historic setting.
At the far west side of the heights is the Promenade, a pedestrian walkway that floats over the BQE and offers unbeatable views of downtown Manhattan, Governor's Island, the Statue of Liberty, the Brooklyn Bridge and more. The promenade stretches from Remsen to Orange street, with other entrances at Clark, Montague and Pineapple.
Address: Brooklyn, NY
Coney Island
Coney Island is the permanent fairground of New York City. Daredevils can have a day of fun at Luna Park, which is the home of the iconic Cyclone and Thunderbolt roller coasters, while less intrepid travelers can enjoy a host of games and side shows all along Surf Avenue.
Those looking to relax while the kids play can spend the day lounging on one of the city's best beaches. For food, you'll find famous and long-standing restaurants like Nathan's or Paul's Daughter that serve up no-frills hot dogs, chicken tenders, and fries along the beachfront boardwalk.
Other activities abound here, including the Coney Island Brewery tasting room and a trip to MCU Park, home of the minor league baseball team: the Coney Island Cyclones. No matter what activity you choose to partake in, the best part of Coney Island is simply the experience of being here.
Address: Coney Island, Brooklyn, NY
Restaurants to Try in Brooklyn
The River Cafe
$$$$ | Michelin Starred | Jackets Required

The River Cafe is one of the only restaurants in New York City that still has a dress code. Even Mark Zuckerberg couldn't get away with a hoodie and jeans at this Michelin-starred Brooklyn institution.
While the food is always delicious and the wine menu is top notch, it's the atmosphere that makes it truly special. With a dining room that seems to float atop the East River and an unbeatable view of the Brooklyn Bridge, this is one of those restaurants you'll never want to leave.
Address: 1 Water Street, Brooklyn, NY
Peter Luger
$$$$ | Steak | Cash Only

The steak is so good at Peter Luger that the service can be bad (or, at least, a bit neglectful), which is somehow also part of this place's charm. Be sure to stop here if you're in the hip Williamsburg section of Brooklyn.
Housed in an old beer house and boasting a vibe that hasn't changed in a century, Peter Luger is part restaurant, part time-travel experience that will satisfy any meat lover.
Address: 178 Broadway, Brooklyn, NY
Discover more of our favorite restaurants in Brooklyn Heights and Williamsburg.
Top Places to Stay in Brooklyn
1 Hotel Brooklyn Bridge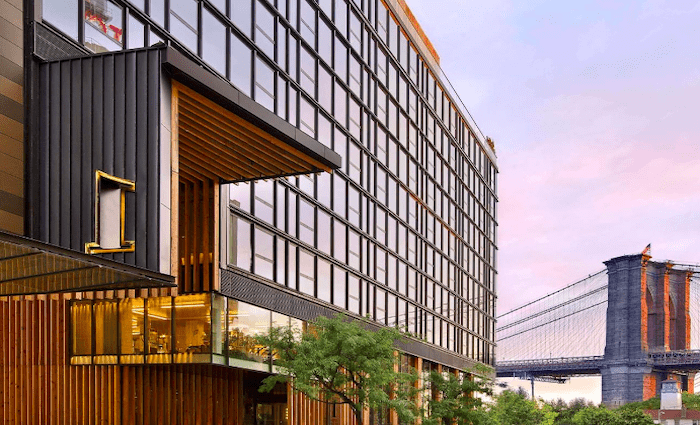 $$$$ | 5 Star | Rooftop Pool | Stunning Views | Amazing Location
Located in the hip and happening neighborhood of Dumbo, the 1 Hotel Brooklyn Bridge is an experience for the Instagram era. Prepare for moss-covered decor, floor-to-ceiling windows, and a crowd that knows how to dress. The best part about this place, however, is the bustling rooftop. Up here you will find breathtaking views of the Manhattan and Brooklyn bridges, a buzzing bar scene, and a huge pool.
The William Vale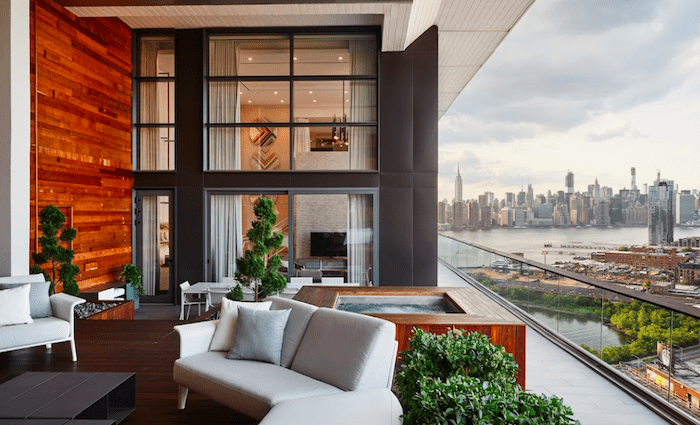 $$$+ | 5 Star | Rooftop Pool | Boutique Hotel | Hip Scene
The William Vale is popular with both travelers and locals alike and has one of the busiest rooftops in the borough. The vibe is hip and fashion-forward, and the hotel is great for a great meal, pool party, or an overnight stay. Enjoy a sit-down Italian restaurant called Leuca or Mister Dips, which is a seasonal Airstream that serves burgers and cones. Guests can also grab a quick bite at Westlight or drinks by the pool.
The McCarren Hotel & Pool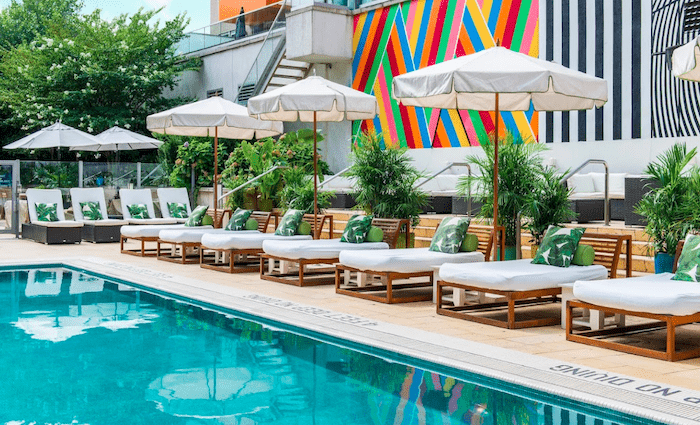 $$+ | 4 Star | Rooftop Pool | Amazing Location | Very Trendy | Local Favorite
Located right on McCarren Park, a central site of Williamsburg, the McCarren Hotel and Pool is an incredibly trendy retreat. The rooms are some of the nicest in Brooklyn, and the bathrooms are spectacular. Amenities include rooftop dining options and a happening poolside bar for party-minded travelers.
Location, photos, and booking
Discover more Brooklyn hotels here.
Queens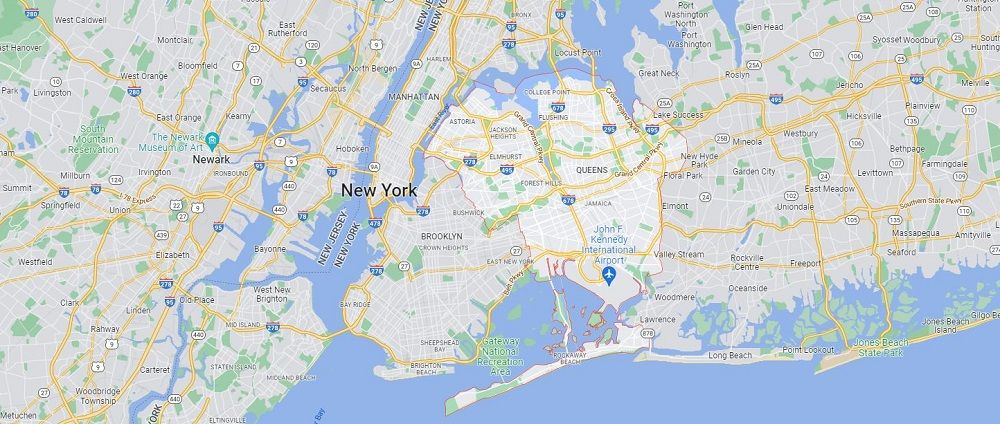 One of the most diverse places in the world, Queens is a place for authentic urban culture. While it's not as big of a tourist draw as some of the other boroughs, it's home to major landmarks like Citi Field and the USTA Billie Jean King National Tennis Center.
You'll also find a rich smattering of authentic cuisines here scattered next to fascinating sculpture parks, botanical gardens, and several popular beaches. If you're a movie buff, you'll recognize the Unisphere at Flushing Meadows Corona Park where the World's Fair was held in 1964. And if you're flying to New York City, you'll land in Queens at either La Guardia or John F. Kennedy International Airport.
Top Attractions in Queens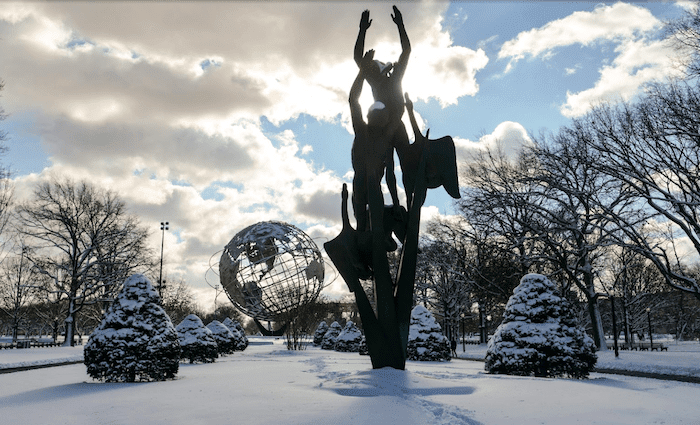 USTA Billie Jean King National Tennis Center
Located in the Flushing neighborhood of Queens, the USTA Billie Jean King National Tennis Center is most famous for being the home of the US Open. Every year from August to September, the center is flooded with tennis fans looking to cheer on their favorite players. But that doesn't mean there aren't other happenings on the calendar the other 10 months of the year.
Smaller tournaments happen regularly, and the courts are also open to anyone and can be booked for a fee. For a look back at history, it's also worth taking a walk by the former home of the US Open at the West Side Tennis Club in Forest Hills.
Address: Flushing Meadow-Corona Park, Queens, NY
Noguchi Museum
The Noguchi Museum is one of the cultural jewels of Queens and also one of the only museums in the country established by a living artist. Multi-media artist Isamu Noguchi first opened the institution in 1985, and it is home to the largest collection of his works in the world.
Comprised of sculptures, drawings, models, photographs, and designs, the collection shows the depth and breadth of his oeuvre. The museum's industrial setting (it is located in a former photo engraving plant) is an unexpected and delightful contrast to Noguchi's abstract and ethereal aesthetic.
The twelve galleries and adjacent garden were intended to be a pocket of serenity amidst the chaos of the city, and visitors will enjoy an uncrowded, relaxed atmosphere.
Address: 9-01 33rd Road, Queens, NY
Flushing Meadows Corona Park
Flushing Meadows Corona Park is basically the Central Park of Queens. There are a myriad of activities and things to see here: cycling paths, tennis courts, paddleboat rentals, soccer fields, Wi-Fi hotspots, ice skating rinks in the winter, and so much more.
It's where locals go to enjoy activities and greenspace that's a coveted luxury in the busy cities here. The other notable thing about this park is that is held the World's Fair Expos in both 1939 and 1964.
Address: Between Grand Central Pkwy and Van Wyck Expressway
Rockaway Beach
The Rockaways are like a slice of Santa Monica in Queens. Surf culture is huge here, and the beaches are free, wide and sprawling. Especially in summer, The Rockaways are an amazing place to visit for a day or extended stay. Famous for beachfront bars and restaurants and a laidback, endless summer vibe, this incongruous area of Queens will steal your heart.
Address: Queens, NY
Restaurants to Try in Queens
Rockaway Beach Surf Club
$ | Outdoor and Indoor Dining | Central Location | Great Cocktails

Rockaway Beach Surf Club is the epicenter of Rockaway cool. With outdoor and indoor space and a beachy, surfer vibe, this restaurant is popular for big parties and casual lunch stops. Their menu is no-frills, leaning heavily on staples like quesadillas and tacos, but the food is delicious.
The drinks are the real draw, however, especially their signature Bourbon Bloody Mary. Located in the heart of the Rockaway beach scene, this is a great spot to spend a summer afternoon, or even a sunny winter day.
Address: 302 Beach 87th Street, Queens, NY
Casa Enrique
$$ | Mexican | Traditional Dishes | Indoor and Outdoor Seating

Some say you can't get good Mexican food in New York unless you go to Queens. Whether or not that's true, Casa Enrique, located in the Long Island City neighborhood of the borough, makes a strong case.
The restaurant, which is near popular cultural organizations like MoMA PS1 and the Sculpture Center, serves up delicious traditional dishes from the region of Cintalapa. If you're looking for a casual and reasonably priced place with the highest quality food, Casa Enrique is the perfect fit.
Address: 5-48 49th Avenue, Long Island City, NY
The Bronx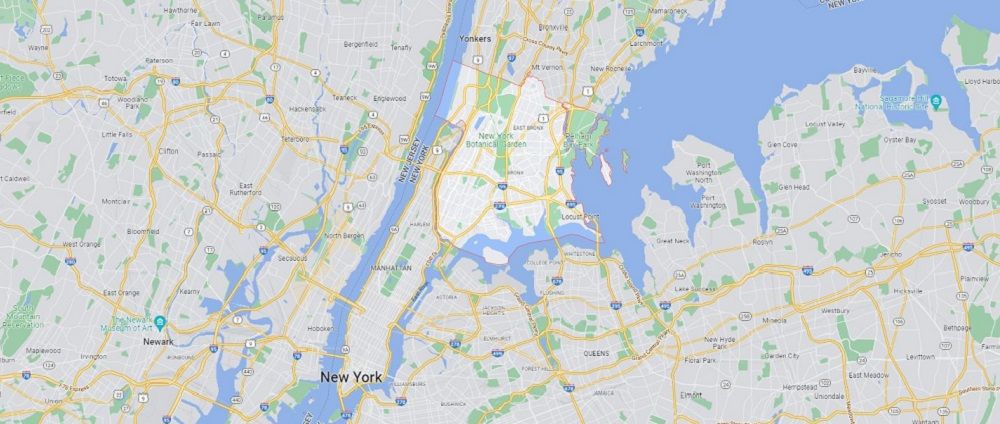 As the city's northernmost borough, The Bronx embodies New York's distinct culture. It is all at once a place of sprawling greenspaces, gritty concrete tracts, the Yankees, and the city's real Little Italy. Food, history, parks and more make this borough a great place to visit. It's located just north of Manhattan, so you don't have far to go.
Top Attractions in The Bronx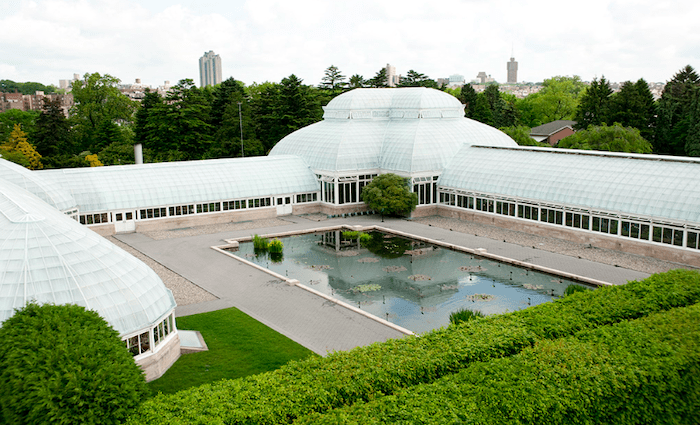 New York Botanical Garden
This 250-acre garden in the middle of The Bronx is not only a National Historic Landmark and the largest of any city in the United States, it is a refuge for so many New Yorkers.
While it draws crowds for blockbuster annual events like the Holiday Train Show and Orchid Show, the garden is also a community hub and crucial ecological site. Visitors can enjoy the famed Rock Garden, collections of over 1 million plants, a 275-year-old red oak tree, and so many other examples of natural beauty.
Address: 2900 Southern Blvd, Bronx, NY
Yankee Stadium
Sometimes referred to as "The Cathedral of Baseball," Yankee Stadium is one of the biggest baseball venues in the world. While its current location is not the original site, Yankee Stadium is a cornerstone of The Bronx and a sports haven.
And the experience isn't just the baseball games themselves. The area around the stadium is full of colorful bars, restaurants, and stores that add to the revelry of any game. An experience unlike any other, The Bronx Bombers wouldn't be themselves in any other neighborhood.
Address: 1 E 161st Street, Bronx, NY
Arthur Avenue
Arthur Avenue considers itself—and is widely considered—the real Little Italy of the five boroughs. The area in the Belmont section of The Bronx is a center of Italian-American dining and culture. Famed restaurants like Dominick's and Mario's have been around for decades, as have markets like Joe's Italian Deli.
Its even rumored Joe Pesci was discovered by Robert DeNiro while waiting tables at one of these eateries. Beyond the mainstays, the area also hosts special festivals and celebrations throughout the year.
Address: Bronx, NY
Restaurants to Try in the Bronx
Sam's Soul Food
$ | Great Location | Southern Comfort Food | Great Music

Owned by Ghana native Sam Amoah, Sam's specializes in Southern comfort food like jerk chicken, mac and cheese, and smothered pork chops. Beyond the delicious, crowd-pleasing menu, the restaurant also knows how to have a good time.
Evenings feature DJ performances and karaoke sing-alongs. Just a short walk from Yankee Stadium, Sam's is a great place to dine before or after a game at the baseball haven.
Address: 598 Grand Concourse, Bronx, NY
Dominick's
$$ | Italian | Old-School Vibe | Traditional Menu

A cornerstone of Arthur Avenue's Little Italy, Dominick's is one of the more popular eateries in the neighborhood. It's no-frills approach to dining has served it well over its decades in business, and you can expect classic Italian dishes and no written menu, but a waitstaff that will be happy to make some recommendations. With its consistency and throwback atmosphere, it's no wonder this place is favored by locals and tourists alike.
Address: 2335 Arthur Avenue, Bronx, NY
Staten Island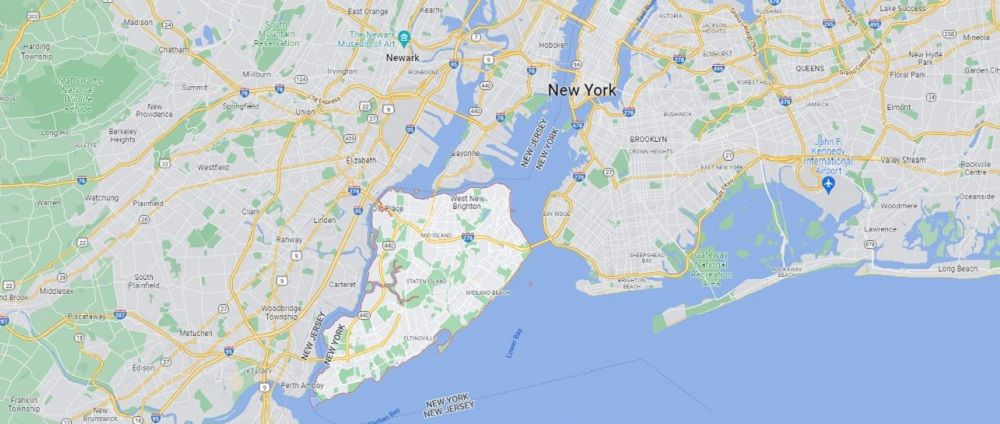 Staten Island is hardly a tourist destination compared to other NYC boroughs, and it is primarily a residential suburban area of the city. It's less a place to spend the night, and more ideal for a day trip.
Though not hugely popular for tourists to visit, there are still several attractions that make a visit worth the trip if you're looking for something new to see in NYC. So grab a seat on one of the iconic orange ferries and get to know "the borough of parks."
Top Attractions in Staten Island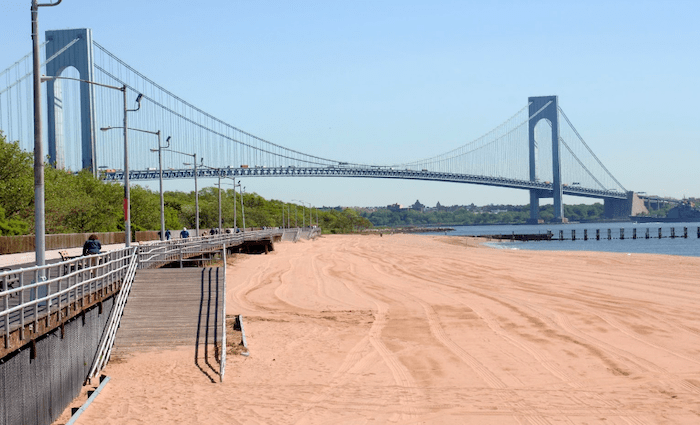 Snug Harbor Cultural Center and Botanical Garden
A former home for retired sailors, the 83-acre park on the north side of Staten Island includes 28 historical buildings, 14 botanical gardens and 10 acres of wetland. Several museums are also located within grounds of this Smithsonian affiliated park such as the Newhouse Center for Contemporary Art and the Staten Island Children's Museum.
Address: 1000 Richmond Terrace, Staten Island, NY
Fort Wadsworth
Located under the iconic Verrazzano-Narrows Bridge, which connects the island to the borough of Brooklyn, Fort Wadsworth is a former military base that has been closed since 1994. Beyond the picturesque view of the upper and lower bays, the well-maintained park is also a good spot to see historic structures and learn about military-related history. An on-site visitors center and tours from Park Rangers are available.
Address: Staten Island, NY
Historic Richmond Town
Historic Richmond Town is New York's miniature Colonial Williamsburg. The 100-acre site is dedicated to preserving the history of early America, and showing what life was like more than 300 years ago. As a living museum, entering Historic Richmond Town feels exactly like stepping back in time, and it has preserved various elements of colonial life such as craft demonstrations carried out by costumed interpreters, tavern concerts and country fairs. The area, right in the center of the island, is a great place to fully immerse yourself in history.
Address: 441 Clarke Ave, Staten Island, NY
Restaurants to Try in Staten Island
Royal Crown Bakery
$ | Italian Baked Goods and Sandwiches | Limited Seating

Staten Island's food scene is largely defined by two things: Italian cuisine and world-class subs. Foodies can find these at their best at Royal Crown Bakery. Close to the Verrazzano Bridge, this eatery serves classic Italian pastries as well as melt-in-your-mouth subs on fresh-baked bread.
Seating is limited, so Royal Crown is usually a grab-and-go place, but outdoor tables are often set up during warmer months.
Address: 1350 Hylan Boulevard, Staten Island, NY
Sagara
$$ | Sri Lankan | Restaurant and Market

Staten Island is more diverse than its reputation may make people believe. It has a large Sri Lankan population, and one of the best restaurants to give this traditional cuisine a try is Sagara.
Delicious fish cakes, dhal, and fluffy rice await anyone willing to make the trip out to the center of the island. Whether you're familiar with Staten Island's restaurant scene or not, this Michelin-recommended restaurant is worth a visit.
Address: 98 Victory Boulevard, Staten Island, NY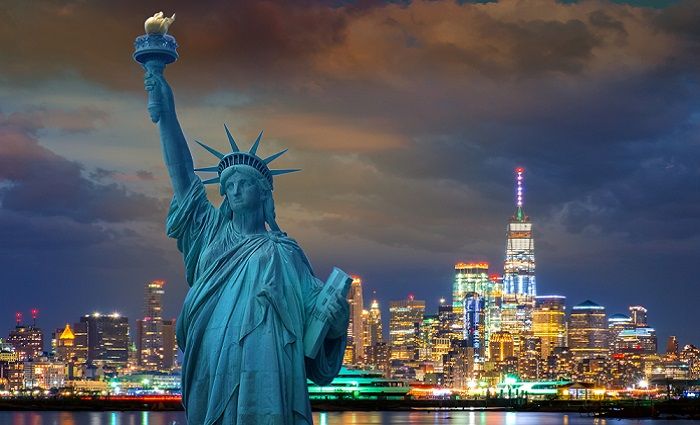 Find the best places to stay
Where to Stay in NYC
New York City is the center of the universe to those who adore this iconic city. Choose the best neighborhood to stay in as you plan your upcoming trip to the Big Apple.