Planning to visit Normandy and want to know if a guided tour of the Normandy D-Day beaches is worth it and right for you? Short answer: yes! It is absolutely worth it. This article, the more informative answer, will tell you what to expect from your unforgettable tour of the D-Day memorials at Normandy.
---
Pro Tip: Planning what to do on your trip to Paris? Bookmark this post in your browser so you can easily find it when you're in the city. Check out our guide to Paris for more planning resources, our top Normandy tours for a memorable trip, and how to take a day trip to Normandy from Paris.
What Does it Mean to "See the Normandy D-Day Beaches"?
No doubt you've heard about D-Day and the importance of this 50-mile stretch of beaches to the overall war effort. It was when the Allied forces launched their massive invasion of France on June 6, 1944. They called that momentous day D-Day when over 156,000 troops arrived by land, sea, and air on the coast of Normandy.
A tour of important sites on or near the Normandy D-Day beaches will let you follow in the footsteps of the Allied liberators of France. You'll also see how regular French citizens coped with the German occupation or even helped in the massive French Resistance movement.
Normandy tours of the D-Day sites usually include stops at Omaha Beach, Utah Beach, Pointe du Hoc, the Normandy American Cemetery, the Caen Memorial Museum, and various other memorials and museums along the way. You'll get viewpoints of the beaches and have time to explore the historical memorabilia found around these areas.
Not ready to book a tour? Find out how to visit the Normandy D-Day sites.
Areas of Interest
A thorough tour of the Normandy D-Day beaches and other sites encompasses about 50 miles of territory. It stretches from the city of Caen in the east to Utah Beach further west. As you travel along the usual route, you can imagine troops and tanks filling the now-quiet countryside with noise and chaos.
Much of your visit to D-Day sites will be along the shore of the English Channel. The French call this stretch of sea between France and England "La Manche" or "the sleeve" in English.
The serene present-day Normandy seaside is not without its scars, as you'll see at Pointe du Hoc. Perhaps you will even find the sites haunting. However, you will also be reminded of the courage and indomitable spirit of the Allied forces as they battled to restore freedom in France and Europe.
Below are a few of the key areas well worth visiting on a Normandy D-Day tour, but you can read about more things to see here.
Caen Memorial Museum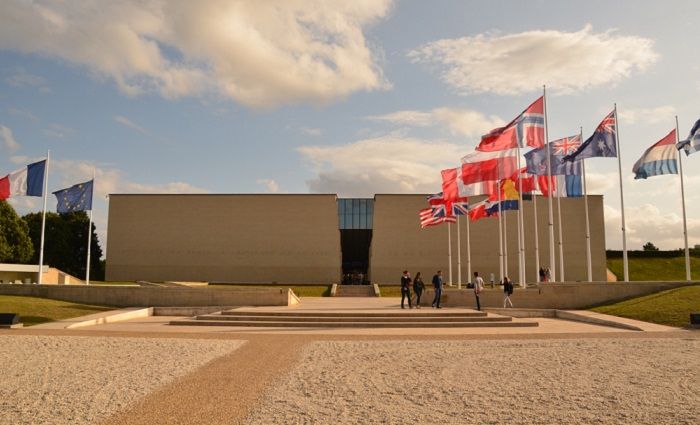 Caen is the largest city in Normandy. It is located about 10 miles inland from the English Channel and was a crucial tactical site during the war. Moreover, this battle-scarred city has been historically important since the Middle Ages since it was once the capital of William the Conqueror!
The Caen Memorial Museum tells the story of D-Day and the Battle of Normandy. It is one of the most impressive D-Day museums in France. Different areas of the museum tell different stories. For instance, one section deals with D-Day. Another area grapples with the Nazis' persecution and genocide of French Jews.
In yet another section, you'll hear stories of regular French citizens coping with life under German occupation. Overall, at the Caen Memorial Museum, you'll get the full picture of what you'll be seeing on the rest of your tour.
Omaha and Utah Beaches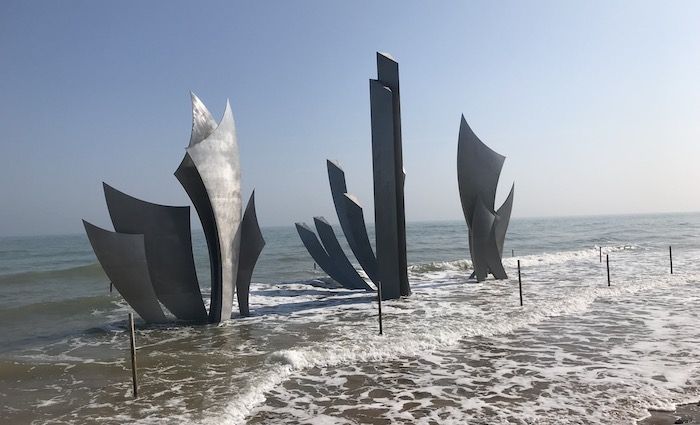 Without a doubt, you've heard of both Omaha and Utah Beaches, so we're putting them together as the two beaches that are most worth visiting. British and Canadian soldiers landed at Juno, Gold, and Sword beaches. The Americans arrived at Omaha and Utah beaches. However, the most vulnerable—and bloody—landing zone was Omaha Beach.
Utah Beach is located on the Cotentin or Cherbourg Peninsula. The invasion planners chose it because of its close proximity to the deep water port at Cherbourg. Allied forces landed on Utah Beach first. They suffered numerous casualties, although not as many as those on Omaha Beach.
The Utah Beach Landing Museum is a must-visit stop on your Normandy D-Day Beaches tour. The huge windows of the museum look out over the beach. Also, the museum's extensive collection of D-Day-related objects, including vehicles, gives you important context.
Normandy American Cemetery and Memorial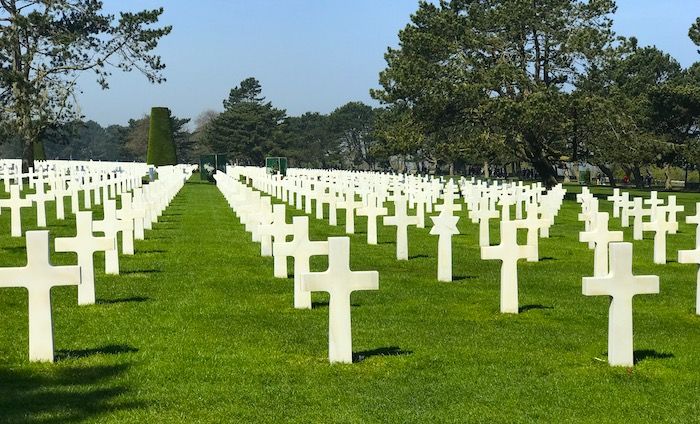 The Normandy American Cemetery and Memorial is located near Colleville-sur-Mer. The U.S. Army built the cemetery on the site of a temporary one for American soldiers shortly after D-Day.
Spanning 172.5 acres, the cemetery contains the graves of 9,386 dead, according to the official website. Most of them died on D-Day or in the extended Battle of Normandy that lasted until August 30, 1944.
The cemetery looks out over Omaha Beach. As a result, you feel the poignant connection between the now-quiet beach and the lines of white cross grave markers.
La Pointe du Hoc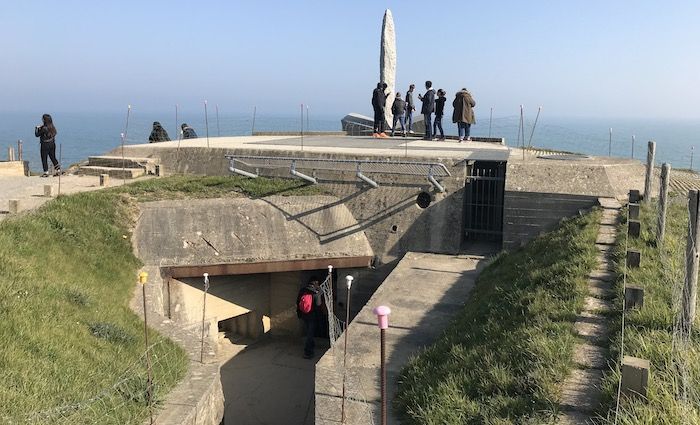 La Pointe du Hoc is a long, craggy cliff overlooking the English Channel. The Germans had fortified it and built concrete bunkers. The Allies wanted it. That's because it was an ideal outlook position and thus strategically crucial.
The battle for Pointe du Hoc left obvious scars: huge craters resulting from the Allied attack. Visitors can stand on the edge of the craters. You are also allowed to climb into the bunkers. The experience is undeniably eerie.
Not ready to book a tour? Check out the things you have to see at Normandy.
Is a Tour of the Normandy D-Day Beaches Worth It?
Short answer: Yes! It is absolutely worth it!
We're a tour company, so we are obviously going to recommend a guided tour but even more so for this particular area. In our experience, tourists like you have found tours of the Normandy D-Day beaches among the most memorable experiences of their lives—not just their travels.
Why? Because our passionate and knowledgeable tour guides can make even an ordinary experience extraordinary. They have more than just the inside scoop: they have learned what works and what doesn't.
Best of all: we make transportation easy, so you don't have to worry about navigating through Normandy from Paris. This is especially essential with a tour that involves more than one stop. As the stops are spread out over a stretch of about 50 miles, a guided tour means you don't have to worry about driving, parking, or returning to Paris.
What else is so great about these tours? We make any necessary reservations so you can concentrate on the tour itself. We're positive you will find your Normandy D-Day beach tour unforgettable.
Transportation Included
Relax! We take care of the transportation part of the tour, so you don't have to worry about finding your way around Normandy. Whether you're starting your tour from Paris or in Normandy, our well-organized tours are convenient and hassle-free!
Our tours make several stops. Since the sites are spread out over about 50 miles, a guided tour means you don't have to worry about driving, parking, or maps.
Small Group Tour
It's easy to get lost in a crowd of 50 or more fellow travelers. That's why we keep our Normandy tours small so you can enjoy a group of fewer than 15 people. The smaller group means you'll be able to have a quiet moment to appreciate where you are. Most importantly, you can interact with your guide better.
Stories and History
You've planned your trip to France. You've made reservations. And you've thumbed through guidebooks and felt overwhelmed. Where to begin? Well, thanks to a guided tour with a knowledgeable local guide, you can leave the guidebooks and brochures at home. 
Your guide will share in-depth and sometimes surprising facts and stories. For example, did you know that according to WWII historian Paul Kaplan, Hitler thought the Allied forces would try to land further north in Calais? Yep!
As a result, the now-famous landing beaches like Omaha weren't as well-fortified as they could have been. That seems unbelievable given the number of deaths of Allied soldiers, even just that first day. However, it could have been so much worse!
Museums included
If the Normandy D-Day Beach tour you choose includes some museum stops, you'll rest easy knowing that the tickets have already been arranged for you. If there's an absolute must-see museum where you're going, rest assured we'll know about it. More importantly, we'll make sure you get there and get in with no hassles.
Not ready to book a tour? Find out how to visit the Normandy D-Day sites.
Our Normandy D-Day Landing Beaches Tours
We do our best to tailor our tours for broader appeal. So, there's usually something for everyone on a given tour. That goes for our Normandy D-Day tours as well. There's plenty of activity and information that history enthusiasts will find riveting. Choose between our two popular tours of the Normandy D-Day beaches and related sites.
Staying in Paris but hoping to get out to Normandy to pay respects to the fallen troops of WWII? Then you'll love this all-inclusive day trip from Paris to Normandy. Join a passionate, local guide to see the important sites and memorials of D-Day and the Battle of Normandy.
We arrange all transportation so you don't have to worry about the details or where to go. And as an added touch, your tour includes a hearty Normandy-style lunch with a local cider tasting too!
See tour itinerary, price, and description
Hoping for a more intimate and meaningful way to experience some of the most hallowed ground for American troops? Then you'll want to book this private tour to Normandy. With just your group and local guide, you can tailor your experience to see more of what you're most interested in.
Your journey from Paris to Omaha Beach, Utah Beach, the American Cemetery, and more can be made all the more memorable on this private experience. It also includes a stop for some wonderful food of Normandy and locally made ciders from a countryside orchard.
See tour itinerary, price, and description
Recent Articles From Our Blog