Planning to visit Paris and wondering if a tour of the Musée Rodin is worth it? In this article, I'll explain why a guided tour of the Musée Rodin is totally worth it. I'll also cover what you can expect to see there. Then, you can decide whether or not a tour is right for you and which one to take.
---
Pro Tip: Planning your visit to the Musée Rodin in Paris? Bookmark this post in your browser so you can easily find it along with our Paris Guide for more planning resources. For a truly memorable visit, see our Paris Museum tours. With an expert guide, you'll see the artists and the masterpieces in a whole new light!
What Does it Mean to "See the Musée Rodin"?
Let me begin with a bold statement: I think the Musée Rodin should be ranked in the top five Paris museums. Why? It combines so many things that are specifically Parisian—it's a unique experience of art, history, and Paris.
The Musée Rodin is located in a beautiful Parisian mansion called the Hôtel Biron. It was Rodin's Paris home and studio until he died in 1917. You don't often get the chance to see where an artist lived and worked!
The breathtaking gardens make a visit to the Musée Rodin totally worth it on their own. The museum is also located in a stunning neighborhood. Over the garden wall, you can see the golden dome of Les Invalides. It's a 20-minute walk from the museum to the Eiffel Tower. What could be more Parisian?
Most important of all: you'll see artwork made by a true Parisian artist. His work is displayed throughout the museum and grounds. Imagine seeing famous sculptures such as The Thinker, The Kiss, and The Gates of Hell where they were originally created!
Not ready to book a tour? Find out how to visit the Musée Rodin.
Areas of Interest
Hôtel Biron: The Main Museum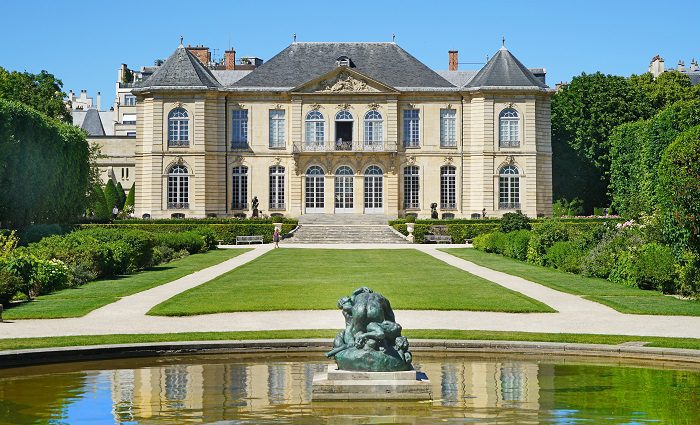 The main galleries of the museum are located in Hôtel Biron, an elegant 18th-century mansion and Rodin's home until he died. You enter through Cantor Hall, where you'll see an impressive grand staircase.
The Musée Rodin's curators have organized the 18 different galleries on two floors by themes. Rodin used a variety of materials such as plaster, clay, bronze, marble, and paper, so there's a lot of variety in the art you'll see.
While there are many, many marvelous works by Rodin in the museum, you will not want to miss these superstars:
Ground Floor:
The Age of Bronze, Room 3
Danaïd, Room 7
The Three Shades, Room 5
The Kiss, Room 5
First Floor:
The Waltz by Camille Claudel, Room 16
The Cathedral, Room 10
The Walking Man, Room 17
The Sculpture Garden
The garden of the Musée Rodin is itself a work of art! It's also an integral part of the museum. This 7-acre outdoor space is the backdrop for some of Rodin's most famous works.
For example, The Thinker rests on a raised plinth surrounded by carefully pruned box trees. I like to imagine he's enjoying a spectacular view of the Eiffel Tower from the top of his pillar.
Elsewhere in the vast gardens, you'll see a bronze version of The Gates of Hell, which is my favorite Rodin artwork. You'll also see the highly moving Burghers of Calais and the dramatic Monument to Balzac, the artist's tribute to the famous French writer.
L'Atelier Rodin
The Musée Rodin opened a new interactive space for museum visitors in 2022. It's called, L'Atelier Rodin and it's a space where you can get in touch with your inner artist. The studio provides tools, materials, and basic instructions for making art. You don't need to be talented, just enthusiastic!
L'Atelier Rodin is open during the summer only, between early June and late August from 10 am to 6 pm. Visit the museum website for more information, including specific opening dates.
Not ready to book a tour? Find out how to visit the Musée Rodin.
Is a Tour of the Musée Rodin Worth It?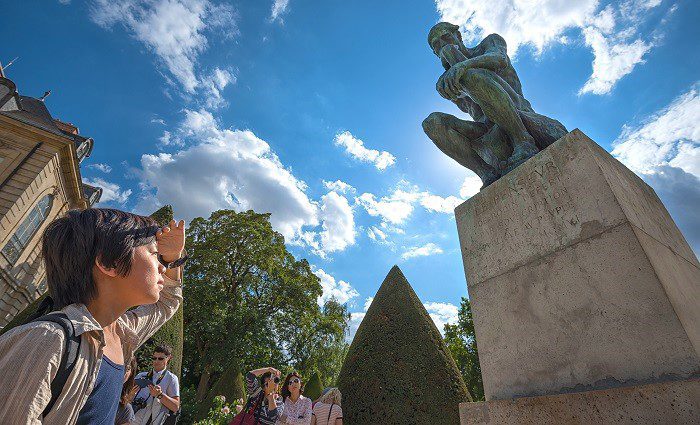 Short answer: An enthusiastic Mais, oui! ("But, yes!" as the French say).
We're a tour company, so, of course, we recommend a tour. However, we also know what it's like to visit a museum solo, feel a bit lost, and wish you had someone to help you make sense of what you're seeing. We don't want that for you, especially not when you're on vacation in Paris!
That's why all our tours are focused on giving you fun enjoyable experiences you won't forget. We know a great tour guide makes all the difference. You can search for a list of the top things to see at the museum but will it explain why Rodin is regarded as the father of modern sculpture? No, but your guide will.
And, they'll explain how Rodin worked, what he was like, who he admired, who he loved, who he shocked, and much more. They'll bring the museum to life! Here are a few more reasons why a guided tour of the Musée Rodin is totally worth it:
Skip the Line Entry
On a beautiful spring or summer day, you're likely to find a line at the entrance to Musée Rodin. People love to enjoy the gardens on nice days. So, booking a skip-the-line tour will get you through the gate and into the calm, green space on the other side of the garden wall! Why waste time waiting in line when you don't have to, right?
Stories and History
Rodin was a mover and a shaker in the Paris art world. His private life was often turbulent. While an audio guide will give you information that you could easily find yourself, a guided tour of the Musée Rodin with a knowledgeable and passionate guide will give you far more than just the basic facts about artworks and the artist.
For example, your guide will give you the insider's view of August Rodin, the French sculptor who created The Kiss and The Thinker. Believe it or not, according to Rodin scholar Gilles Néret, the great French master of modern sculpture was actually denied entrance to Paris' prestigious art school, the École des Beaux-Arts (School of Fine Arts), three different times!
Rodin really was a self-made artist who took his inspiration from other greats who came before him. Your guide will explain how Dante's Divine Comedy, Baudelaire's poetry, and Michelangelo's sculptures influenced Rodin's work in surprising ways. You'll hear all about his tumultuous relationship with his former student, apprentice, and accomplished sculptress, Camille Claudel.
This is what it means to see the Musée Rodin on a guided tour! You'll join an exclusive group of people who understand the importance of the artworks they've seen, their place in art history, and the personal journey it took for Rodin to create such exceptional works of art right here in Paris.
Great Tour Guides
The key to a great tour is a great tour guide. They can bring history to life in fascinating ways! When you couple a great guide with an incredible museum like the Musée Rodin in Paris, you get one of the most memorable experiences of your life.
An experienced guide who is passionate about art, history, and insider anecdotes will enhance your visit immeasurably! They bring historical and cultural context to some of the greatest works of art in the world. They ensure that when you visit the Musée Rodin you don't just see the end result but also the personalities, events, challenges, and techniques that produced what you see around you.
Small Or Private Groups
We've given countless tours to different group sizes, from one person to groups of 50. Take it from me, the difference in experience between the two is vast. Without exception, the smaller the group, the better the tour.
Imagine trying to hear your guide's fascinating information and see the artwork with 50 people—and in a crowded museum, no less! You risk not hearing anything at all or missing out as you stay behind the group to get a glimpse of the piece. Now, imagine a group of 15 people or fewer—much better!
Small-group tours allow us to interact, get to know each other, and make conversation. As a guide, I want to be able to answer your questions, not give lectures. And, if you opt for a private tour, you can even tailor the experience to your interests.
Not ready to book a tour? Discover the top artworks to see at Musée Rodin.
Most Popular Musée Rodin Tours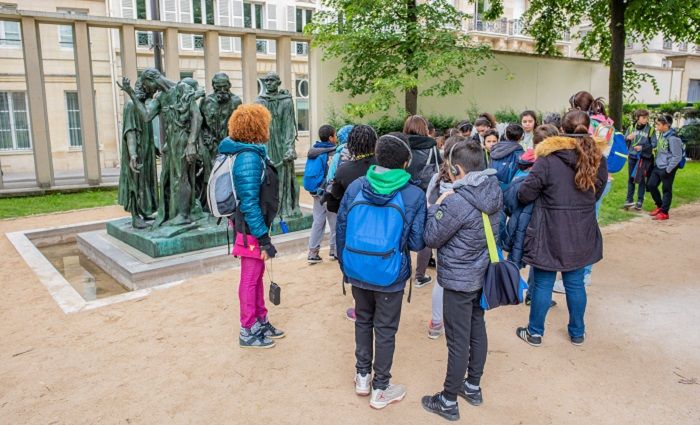 Now know why a Musée Rodin tour is totally worth it, here are your Musée Rodin guided tour options. We've tailor-made our small group tour of the Musée Rodin to give you the best experience of Rodin's opulent home-turned-museum, his masterpieces, and the man himself.
If you want a taste of life as a celebrated artist in Paris, this tour is for you. You'll get up close and personal with one of the finest sculptors in history. Explore Rodin's personal art collection with works by Europe's masters, the opulent 18th-century Hotel Biron he called home, and the french-style Sculpture Garden.
You'll enjoy the perks of skip-the-line tickets and a semi-private group of max 8 people at one of Paris' most visited museums. With your expert guide, you won't just see Musée Rodin—you'll gain a deeper appreciation for Rodin's artistry, his life story, and a bit of the history of Paris itself. There's no better souvenir than that!
See tour itinerary, price, and description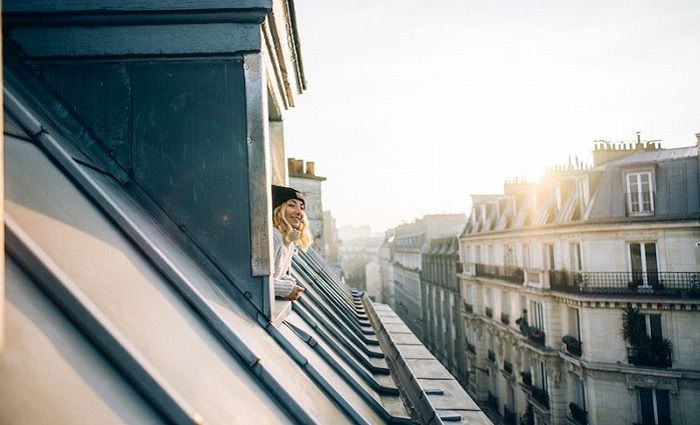 Find the best places to stay
Where To Stay in Paris
With a city as magnificent as Paris, it can be hard to find the perfect hotel at the perfect price. Explore the best hotels and places to stay in these incredible neighborhoods in Paris.