Planning to visit Paris and want to know if a tour of the Musée d'Orsay is worth it? In this article, I will explain the many benefits of a Musée d'Orsay tour, plus what you can expect to see. Then, you'll be able to decide whether or not a tour is right for you and which one to take.
---
Pro Tip: Planning your visit to the Musée d'Orsay in Paris? Bookmark this post in your browser so you can easily find it when you're in the city. Check out our Musée d'Orsay tours for skip-the-line tickets and guided tour, or see how to visit the Musée d'Orsay.
What Does it Mean to "See the Musée d'Orsay"?
Seeing the Musée d'Orsay means you're heading into a building that both looks like and holds works of art. The massive windows and skylights and the high, arched ceilings of the Musée d'Orsay hint at its former life.
Believe it or not, it was once a busy, noisy train station and hotel. It was built to welcome an influx of people coming to Paris for the World's Fair in 1900, and you'll find it located almost directly across the Seine river from the Louvre.
Historian Peter J. Gartner notes that the Musée d'Orsay looked quite modern in its day. Fast forward to 1986 when it became home to a world-class art collection. Three different Paris museums, including the Louvre, combined their collections to fill its walls. The art in the Musée d'Orsay is all from the late 19th and 20th centuries and that is what you'll see at Musée d'Orsay.
In fact, nowhere else in the world will you see so many important impressionist and post-impressionist artworks. And that's not all! You'll see the art that inspired them (like realism) and art that inspired post-impressionism and fauvism. Recognize the names Monet, Rodin, Van Gogh, and Gauguin? Some of their best works are on permanent display at the Musée d'Orsay waiting to be explored. Prepare to be dazzled!
Not ready to book a tour? Find out how to visit the Musée d'Orsay.
Areas of Interest
The bright and elegant Musée d'Orsay is located on the Left Bank of Paris. That means it's on the south side of the Seine River, just across the river from the Louvre Museum. The entrance to the Musée d'Orsay is on the west side of the long structure rather than on the side facing the river.
Inside, the main hall is a large, well-illuminated open space. Galleries line both sides of the building and are spread out over three floors. There are elevators and escalators as well as stairs for accessing the different floors. I usually recommend starting on the top floor and working your way down. However, at the Musée d'Orsay, I recommend beginning on the bottom floor and working your way up. Why? Because then you can follow artistic developments and trends from the 1850s onward.
It's amazing to see how younger artists were inspired by older ones. Even more fascinating perhaps is understanding how newer artists often rejected the artistic traditions they were taught. Some of these artists such as Manet, Degas, and Van Gogh even invented new styles! But I digress—here are the floors you need to visit at d'Orsay.
The Ground Floor/Level 0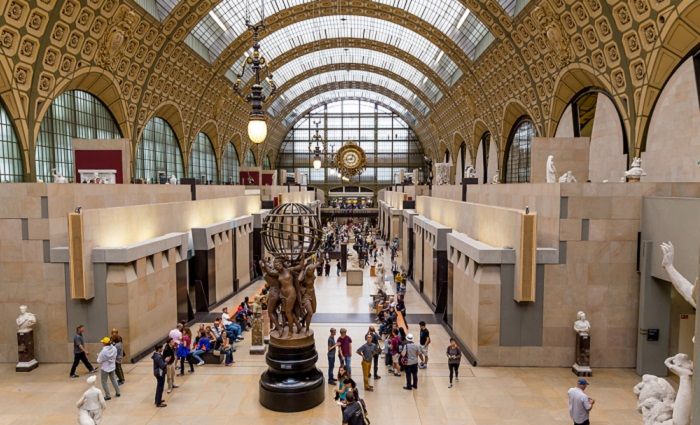 On the ground floor, Level 0, you'll find the earliest artworks dating from 1850 to 1880. Just to orient yourself, remember that there is no Level 1!
This floor is jam-packed with painting and sculpture by big names you may or may not have heard of. Consider it the floor of the influencers. Many of the impressionists and post-impressionists were taught by or at least deeply influenced by some of these artists. Remember these names: Edouard Manet, Gustave Courbet, Honoré Daumier, and Théodore Rousseau.
The first three were realist painters who painted what they saw rather than what they imagined (and were often criticized for it). Rousseau, on the other hand, was a landscape painter who embodied realism. You have to see a forest sunset painting by Rousseau to believe it! Sublime!
Level 2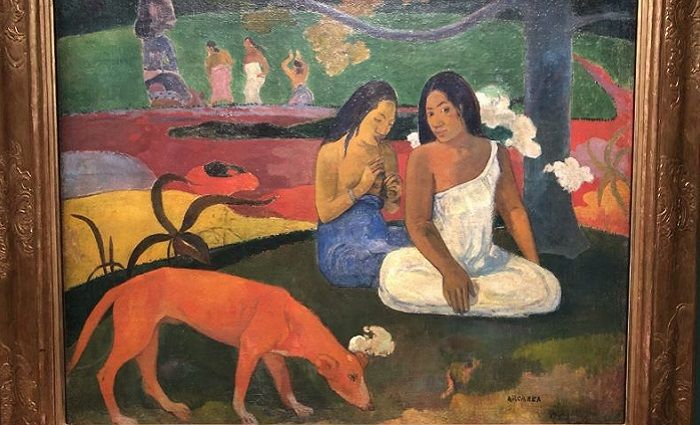 On the second floor, Level 2, you'll see decorative arts and sculpture dating from 1880 to 1910 as well as paintings grouped thematically. On this floor you'll see post-impressionism at its most colorful. Artworks by the symbolists and nabis, among others, are on display.
According to art historian Bernard Derival, many of these artists thought color had spiritual significance. They also thought the decorative arts should be as important as painting and sculpture.
Also on display on Level 2: fascinating paintings and sculptures with a general theme of Orientalism. These artworks stem almost completely from the imaginations of their creators. They come from a bygone period called Romanticism.
Nearby in another gallery, you will see Romantic paintings of historical, biblical, and mythological subjects. Such artworks are typically dramatic. They are also usually rather large in scale but you'll probably enjoy how immersive they are!
Levels 3 and 4, Northeast Corner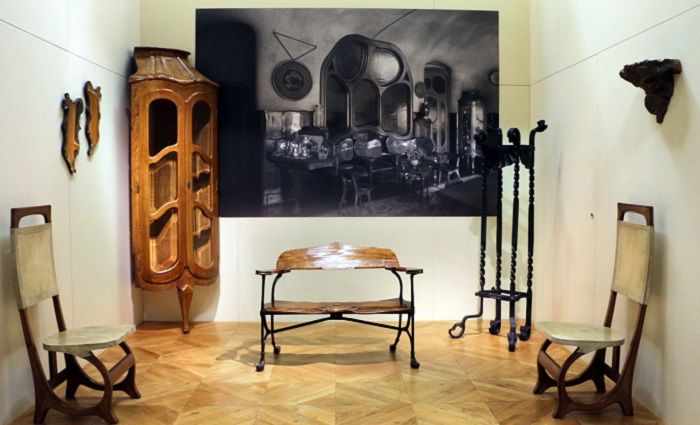 Prepare to be wowed by the art nouveau galleries on Levels 3 and 4! The Musée d'Orsay has masterfully showcased this quintessential French modernist style of decorative and fine arts. It is recognizable, writes Art Nouveau specialist Klaus-Jürgen Sembach, by its elegant, sinuous lines and emphasis on nature.
Level 5/Top Floor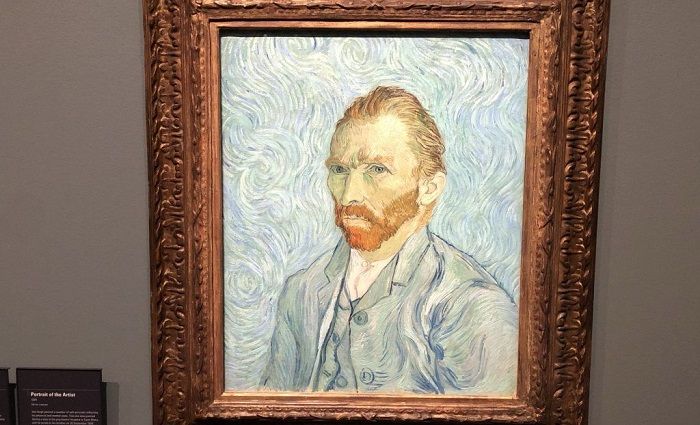 For many visitors to the Musee d'Orsay, Level 5 isn't just the top floor, it's the pinnacle of the art they love most. Not only do you have an extraordinary view of Paris toward the Louvre on Level 5, you have works of art by some Modernist masters. If you love Paul Cézanne, Edgar Degas, Claude Monet, and Auguste Renoir, you've come to the right place.
Who else is represented on this floor? The most beloved Post-Impressionists of all such as the inventor of Pointillism (painting with dots!), Georges Seurat. Then there's Paul Gauguin, who was the close friend of Vincent van Gogh.
As for Van Gogh, nowhere besides Amsterdam's Van Gogh Museum will you see so many important paintings, including The Bedroom at Arles and several self-portraits by one of the most famous modern painters of all time.
Not ready to book a tour? Find out how to visit the Musée d'Orsay.
Is a Tour of the Musée d'Orsay Worth It?
Short answer: Absolutely! A tour of the Musée d'Orsay is definitely worth it!
We're a tour company. So, you can expect us to recommend a tour, but that's because we have a lot of experience and can make your visit to any site well worth it. We know that a great tour guide can make looking at something as boring as a rock interesting.
But seriously—the Musée d'Orsay is the one of the best museums in Paris and most certainly the best place to see famous impressionist and post-impressionist art. Since it's literally filled with world class art, it's best to experience the Musée d'Orsay with a guide—just as you should at the Louvre.
Get ready for your unforgettable tour of the Musée d'Orsay by reading about the art to see at the Musée d'Orsay. Ultimately, we'd love to lead you on a tour of this incomparable museum, but if you prefer exploring on your own, then our primary goal is to enrich the global community with culture and knowledge.
There are other great advantages for why a guided Musée d'Orsay tour is worth it. You may have heard that it can be challenging to get tickets on your own. Also, lines outside of the Musée d'Orsay can be extremely long. With a guided tour, your access is guaranteed and you can skip the long admission lines.
Plus, your guide can help you get going in the right direction once you're inside as getting oriented in a big museum can be daunting! Here are a few reasons why we (and many of our customers) think a guided tour of the Musée d'Orsay is totally worth it.
Skip the Line Entry
Lines at the Musée d'Orsay are notoriously long—even when you've purchased your ticket online in advance. That's because it's an amazing museum. Save your energy for looking at the artistic masterpieces inside rather than waiting in line (sometimes for more than an hour).
The Musée d'Orsay Is Huge
According to the Musée d'Orsay, there are around 6,000 artworks in the collection. Of course, not all of them are on display at a given time. Still, there's a lot of art to see! Also, it's spread out over three levels plus the two corner art nouveau galleries. An expert guide will tell you which artworks are worth seeing so you can be sure not to miss the most important ones while still maximizing your time.
Stories and History
There as many stories as there are artworks in the Musée d'Orsay. The thing is, an audio guide will probably give you information that you could easily find yourself. But with a guided tour of the Musée d'Orsay by a knowledgeable and passionate guide, you'll get more than just the basic facts about artworks.
For example, your guide will give you the inside scoop on one of the most important and scandalous (in its day) paintings in the museum: Manet's Olympia. Art historian Theodore Reff explains why critics and a lot of the public who saw it hated Manet's painting. For one thing, the woman in the painting is looking straight at you instead of being demur. How bold!
While there is a ton of history packed into the Musée d'Orsay, there are also many stories and anecdotes that you wouldn't otherwise hear. Passionate and knowledgeable guides understand how to weave in scandals and anecdotes to keep tours exciting.
Great Tour Guides
The key to a great tour is a great tour guide. We understand that best guides can bring history to life in fascinating ways. When you couple a great guide with an incredible museum like the Musée d'Orsay in Paris, you get one of the most memorable experiences of your life.
An experienced guide who is passionate about art, history, and insider anecdotes will enhance your visit immeasurably! They bring historical and cultural context to some of the greatest works of art in the world, ensuring you see the Musée d'Orsay with greater depth and insight.
Small or Private Groups
We've given hundreds of tours to a variety of group sizes, from one person to groups of 50. I'm here to say the experience between them is vastly different. Without a doubt, the smaller the group, the better the tour is.
Why? Imagine trying to share riveting information with 50 people—in a crowded museum. It just isn't the ideal situation. Now, imagine a group of 15 people or fewer and how different the experience would be. As I guide, I want to be able to share my knowledge, including juicy gossip, with everyone in my group. I like to make the experience interactive…a conversation, not a lecture.
With a small or private group, the guide can provide more individual interaction with each person, respond to questions, and ideally become familiar with many people in the group. And if you opt for a private tour, you can also tailor the experience to the areas you're most interested in or areas that are less known by most visitors.
Not ready to book a tour? Find out how to visit the Musée d'Orsay.
Most Popular Musée d'Orsay Tours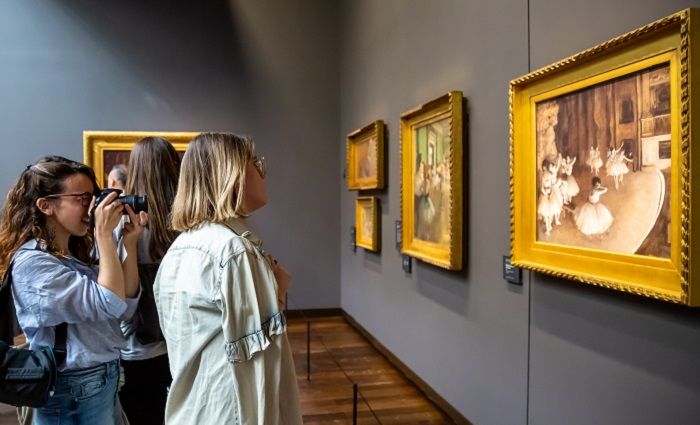 Now that you're clear about why a Musée d'Orsay tour is worth it, which one would best suit you and your group? Well, that depends on budget, time, energy, and your travel goals. Below are our most popular tours of the Musée d'Orsay.
Looking for the full Paris art lovers' experience without other travelers in your group? Then don't miss out on the beautiful Musée d'Orsay—an iconic Paris landmark that's home to Impressionist masterpieces by Van Gogh, Monet, Gaugin, Cezanne, and much more!
Join your own personal guide for an in-depth private tour of the museum's most famous works and hidden gems, and learn the stories behind the artworks and their creators from a true expert. It's simply the best way to discover the world-famous Musée d'Orsay collection!
See tour itinerary, description, and pricing
If you're looking for a budget-friendly way to tour the Musée d'Orsay, then you've found it. With just you and a small group of 8 or fewer people, your local guide will lead you on a journey of impressionism through Paris' second-largest museum.
You'll skip the long lines to get into the museum and maximize your vacation time. That means you'll also head straight to the highlights of this museum from Van Gogh and Cezanne to Degas and Rousseau. Your small group tour of Musée d'Orsay will be one to remember!
See tour itinerary, description, and pricing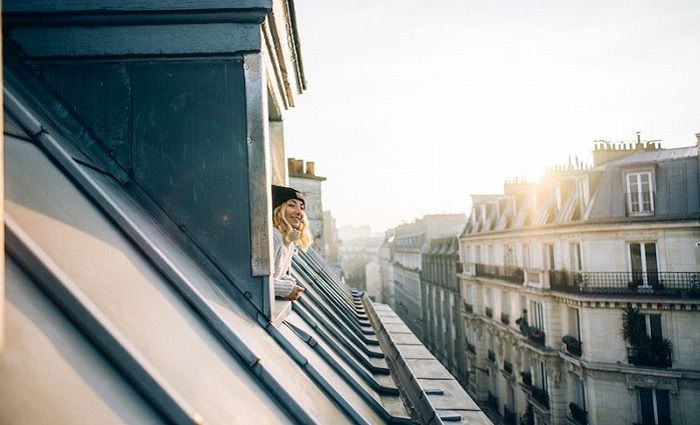 Find the best places to stay
Where To Stay in Paris
With a city as magnificent as Paris, it can be hard to find the perfect hotel at the perfect price. Explore the best hotels and places to stay in these incredible neighborhoods in Paris.