In Paris, you only need to see the Louvre, right? Wrong! There's so much more to see in one of the world's greatest cities for arts and culture! There are entire museums dedicated to Rodin, Monet, and Picasso beyond the Louvre. In this article, discover the best museums to visit in Paris.
---
Pro Tip: Planning your trip to Paris? It's easier to organize your trip with all your resources in one place. Bookmark this post along with our Paris Guide for more planning resources, our top Paris museum tours for a memorable trip, and the best things to do in Paris.
The Top 9 Paris Museums To See
Paris boasts around 130 museums from the Louvre to the Arab World Institute, the Musée d'Orsay, and even a museum created by the Louis Vuitton Company—that's right, the one that makes expensive bags.
Many of the world's greatest artists came to live and work in Paris. Here, art and culture are elevated and well-preserved. That makes it the perfect place to get lost in the halls of historical buildings housing the greatest works of art spanning various artistic movements, time periods, and cultures.
Here's a list of the top museums to visit in Paris for lovers of art and culture. To discover more cool things to do in Paris, explore the menu below.
9. Louis Vuitton Foundation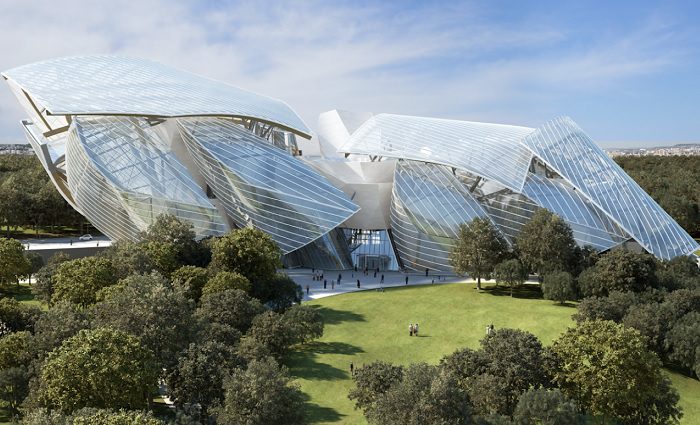 The architecture of this building alone makes a visit worth it. If you thought you were cool for going to the Paris Modern Art Museum (below), now you're in a completely new league. This is one of my favorite Paris museums for a casual visit.
The building was designed by renowned architect Frenk Gehry. Once inside, you'll find mostly modern art and very elaborate art installations. There are works of art by Jean-Michel Basquiat, Ellsworth Kelly, Olafur Eliasson, Gilbert & George, Jeff Koons, and many others.
Due to the elaborate and innovative architecture, the building hosts many Parisian events including the occasional Louis Vuitton fashion show (2015). The admission ticket costs €16, but they offer reduced prices for youths and family discounts.
Address: 8 Avenue du Mahatma Gandhi
8. Paris Museum of Modern Art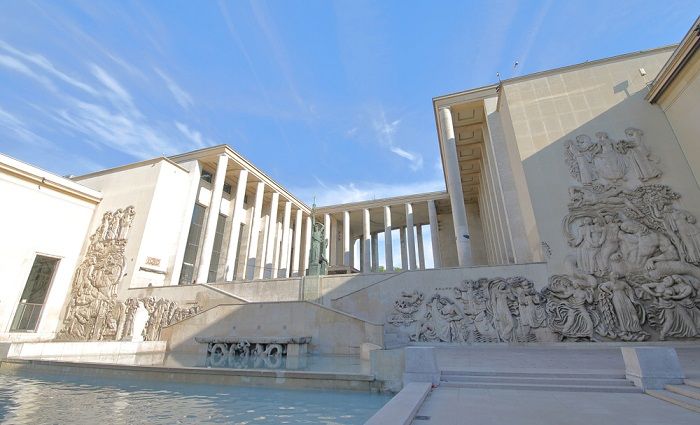 Been to Paris so many times and you're way too cool for the Louvre? Musée d'Art Moderne de Paris or MAM is one of the most fun Paris museums. It's much less intense than other massive collections and a great museum to visit with kids.
The museum has a pretty cool collection that you can pass through on your own possibly after a cocktail and before seeing the Eiffel Tower. It has a few huge works of art and a ton of other eye-grabbers. See it for yourself—I think you'll be convinced.
The Paris Modern Art Museum is technically free to visit, but they ask for a non-mandatory donation of €5 to see the permanent artwork. This museum is also great for exhibitions.
They charge between €7 to €13 for different exhibitions beyond the free permanent exhibits. While we love and appreciate classical art, we recommend visiting this museum to promote the curation and creation of modern art. One day, our modern art will be the classical art of future generations and it won't compare without our support.
Address: 11 Avenue du Président Wilson | Hours: Tues – Sun, 10 am – 6 pm (closed Mondays)
Our Best Versailles and Paris Louvre Tours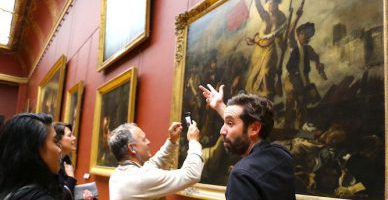 Top-Rated Tour
Secrets of the Louvre Museum Tour with Mona Lisa
The Louvre is the largest art museum on Earth and the crowning jewel of Paris, which is why it's on everyone's bucket list. Don't miss out on an incredible opportunity! Join a passionate guide for a tour of the most famous artwork at the Louvre. Skip-the-line admissions included.





See Prices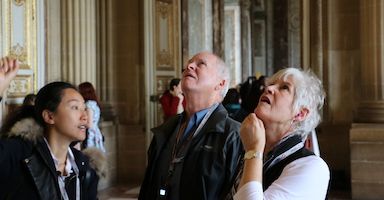 Likely to Sell Out
Skip-the-Line Palace of Versailles and Gardens Tour from Paris
Versailles isn't that difficult to get to by train, but why stress over the logistics? Meet a local guide in central Paris who will purchase your train tickets and ensure you get off at the right stop. Then enjoy a guided tour of the palace and the unforgettable gardens. Skip-the-line admissions included to the palace and gardens.





See Prices
Not ready to book a tour? See our best Paris tours to take and why.
7. Musée Marmottan Monet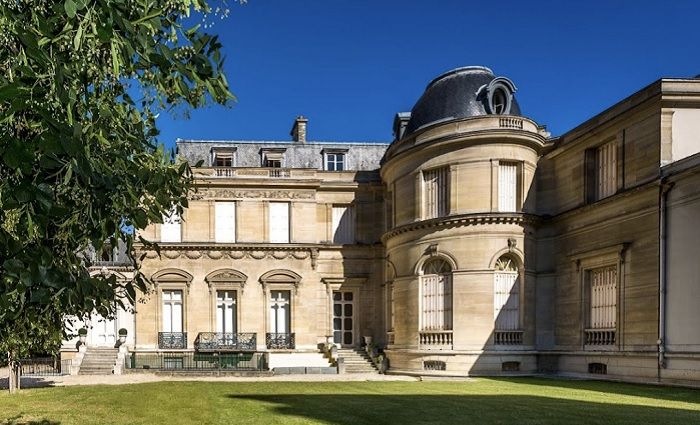 Similar to the Picasso Museum, the Monet Museum is mostly about Monet. It is the proud home of over 300 paintings by Claude Monet including one of the most influential paintings of the Impressionist movement, Impression, Sunrise. According to scholars, it is the epoch painting and namesake of the Impressionist Movement.
You will also find Nympheas and many other works by the master. The museum is only what it is today thanks to Michel Monet's (second-born son and heir) famous donation of his father's remaining works of art.
Instead of allowing the works to enter private collections, Michel left them to the state of France to be memorialized—an extremely French thing to do. If you've been to Paris a few times or love Monet, this museum is a must. Admissions will run you from €9 to €14.
Address: 2 Rue Louis Boilly | Hours: Tues – Sun, 10 am – 6 pm, late nights on Thursdays until 9 pm (closed Mondays).
6. Rodin Museum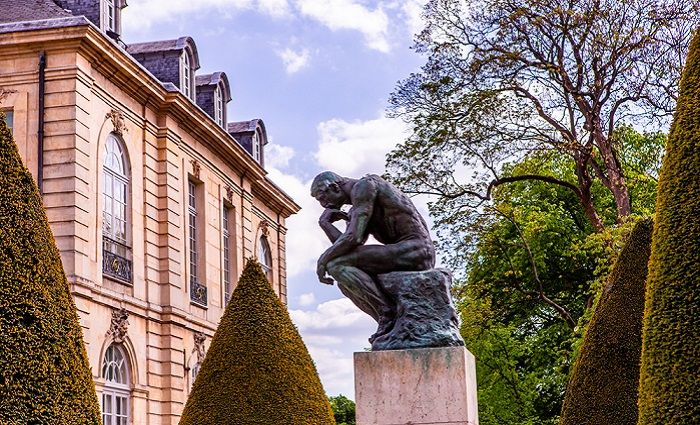 Auguste Rodin remains the most famous French sculptor to date. You've likely seen his most famous sculpture named The Thinker, located at the Rodin Museum in Paris, France. You can find the museum next to Invalides metropolitan station where there's a garden and two structures, one of which is a gift shop and café, Boutique du Musée Rodin.
Then there is the main structure, a mansion named Hôtel Biron. The name comes from a very wealthy previous owner by the name Louis-Antoine de Gontaut-Biron. Hence, Hôtel Biron.
The mansion sits in a large well-manicured garden dotted with various sculptures created by the master himself. There are also works from other artists including Rodin's prize student Camille Claudel.
Technically, there are over 6,000 sculptures in the collection but many are housed off-site. You will find The Thinker outside in the garden. This museum is a wonderful visit with a local guide, but to get you started, don't miss our art historian's recommendations for the top art you have to see here. Tickets are just €13.
Address: 77 Rue de Verenne | Hours: Tues – Sun, 10 am – 6:30 pm (closed Mondays)
Not ready to book a tour? Find out how to visit the Musée Rodin.
5. Musée National Picasso-Paris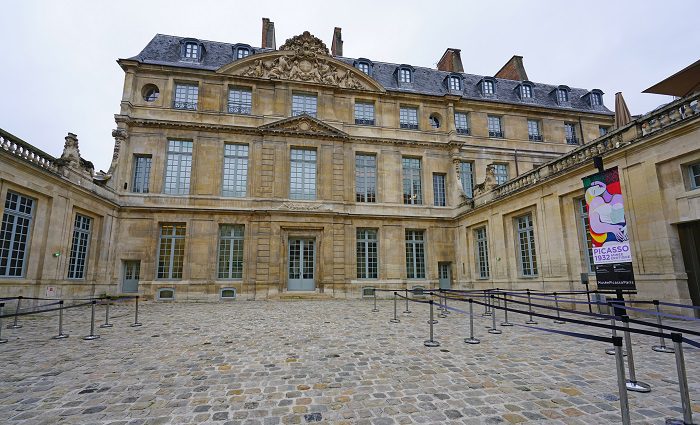 Pablo Picasso is Spanish, not French. Like most artists, he loved Paris and Paris loved him back. The City of Lights loved him so much, in fact, he has a museum named after him. The Picasso Museum is in Hôtel Salé, tucked into the Le Marais district of Paris.
The museum is home to thousands of Picasso works in all forms of media from painting to ceramics. Unlike the Rodin Museum, which contains works from many artists, the Picasso Museum keeps its collection closely tied to the master.
There are works by others, but they are mostly artists copying, mocking, or paying tribute to Picasso. The museum also features newspaper clippings and other historic items to form a sort of chronological timeline of Picasso's 70 years of dedication to the evolution of art. Tickets cost €14 but can vary when the museum takes on an exhibition.
Address: 5 Rue de Thorigny | Hours: Tues – Fri, 10 am – 6:30 pm; Sat and Sun, 9:30 am – 6 pm (closed Mondays)
4. Musée de l'Orangerie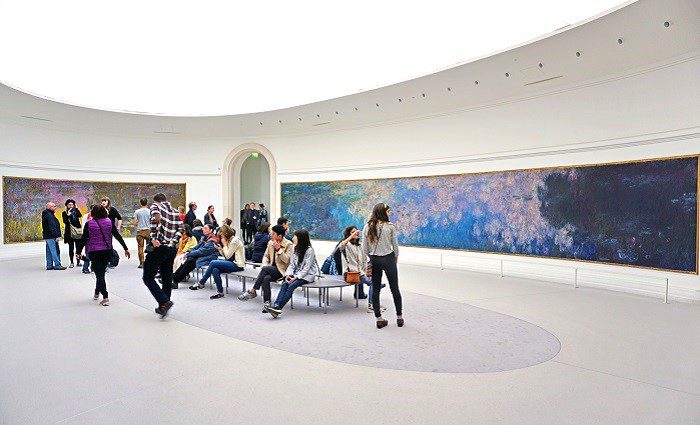 When you think of Paris, the Louvre and Versailles will definitely come to mind. You may also think of the Musée d'Orsay. When someone mentions the Rodin Museum, people normally say, "Oh yeah, I forgot about that one." Well, if you didn't study art, you've probably not heard of the l'Orangerie Museum. You do, however, know who Claude Monet is.
Monet's Water Lillies installation is not the only thing to see in the l'Orangerie Museum, but it is definitely the highlight. It may not qualify as an art installation by today's measures, but at the time it was painted (1918 post-WWI armistice) it was the only installation.
The term didn't even fully exist at the time and wasn't used in popular art culture until the 1950s. Regardless, Musée de l'Orangerie is one of my personal favorite museums to visit in Paris for a few reasons: At €12.50, the tickets are a great price, and you won't find large crowds of people, and it's near the Louvre and Musée D'Orsay. It's an easy museum to visit after your post-Louvre lunch.
Sound good? Check out the best restaurants near the Louvre or near Musée D'Orsay, for a lovely lunch before you head to Musée de l'Orangerie.
Address: Jardin Tuileries
3. Musée d'Orsay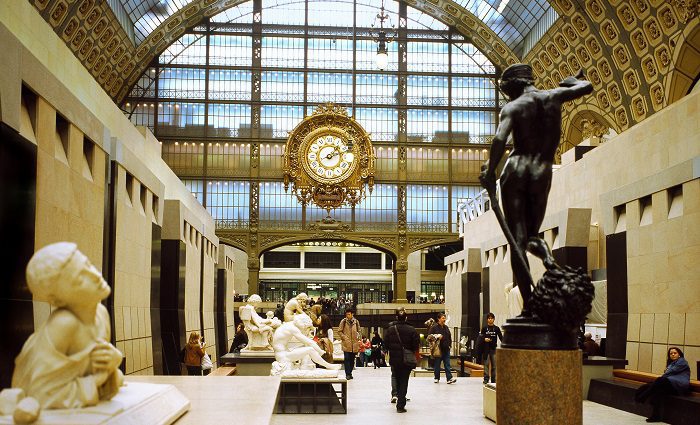 This museum is conveniently located just across the river from the Louvre, which makes it easy to find. What makes this museum so interesting is the masterpieces it houses but its history.
Formerly known as the Gare d'Orsay, or the Orsay train station, most of the architecture from the original structure remains. It was famous for being the first electrified urban train station in the world when it was inaugurated in 1900.
The museum is home to around 80,000 works of art, mostly dating from the mid-19th century to the early 20th century. It has a really cool layout and is a bit easier to see and much less intimidating than its older sibling the Louvre. You'll find far fewer crowds in this gallery.
Does it deserve a visit or a tour? It is an impressive art collection that comes in just behind the Louvre in terms of dedicated art museums. However, it may not warrant a visit on your first trip with so much to see in Paris unless you have several days in the city.
If you have a time slot of 2 to 3 hours, you should definitely visit it. Like any museum, the artworks need to be brought to life by a licensed local guide. Read more about the top things to see at Musée d'Orsay in preparation for your visit.
Address: 1 Rue de la Legion d'Honneur
Not ready to book a tour? Find out how to visit the Musée d'Orsay.
2. The Palace of Versailles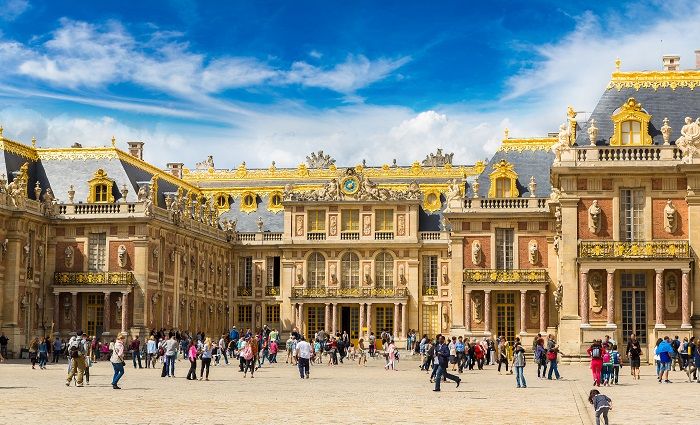 The palace of Versailles is so incredibly rich with history that it is a must-see while in Paris. It's a short ride on the RER and a 10-minute walk to the golden gates of Versailles. The structure is both a museum and a massive estate all in one. If the Louvre didn't exist, it would be the greatest museum near Paris, but we're better off with both!
It is one of the greatest destinations to visit in France and the world due to how diverse of a location it is. Not only is the museum (palace) full of art and history but the gardens are immense. Most people who visit don't see a tenth of the estate. Find out more about how to visit and what to see at Versailles.
Address: Place d'Armes
Not ready to book a tour? Find out if a Versailles tour is worth it.
1. The Louvre Museum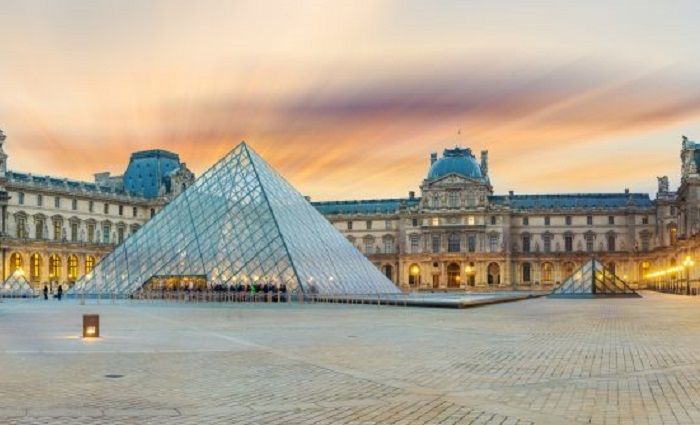 The Louvre is the largest museum on Earth boasting more than 380,000 works of art in a gallery that is 652,300 square feet (60,600 square meters). It's considered by many historians to be the greatest collection of art on Earth and, without a doubt, the top museum in Paris.
The Louvre is famous for many works of art including the Mona Lisa and the famous pyramid entrance, which was added to this beautiful complex in the 1980s. But there is so much more to see and love beyond da Vinci's famous work that's smaller than you think. Don't miss the Coronation of Napoleon, the Winged Victory of Samothrace, Venus de Milo, and many other great works that an art history guide can lead you to.
The meaning of the word "Louvre" is loosely related to a type of old window. Read more about how to visit the Louvre and check out our dedicated guide to the Louvre for more planning resources.
Address: Rue de Rivoli
Not ready to book a tour? Find out if a Louvre Museums tour is worth it.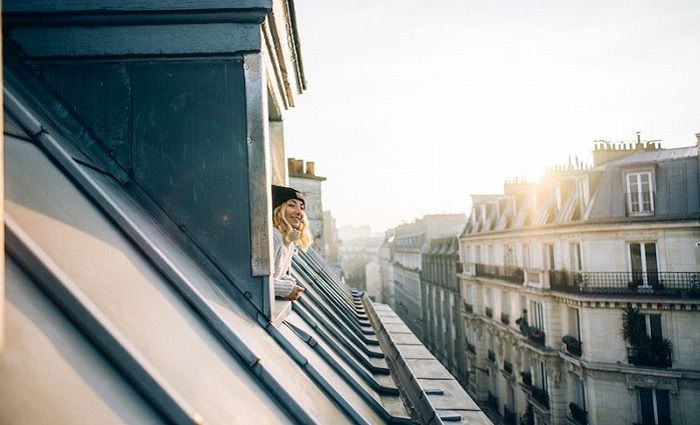 Find the best places to stay
Where To Stay in Paris
With a city as magnificent as Paris, it can be hard to find the perfect hotel at the perfect price. Explore the best hotels and places to stay in these incredible neighborhoods in Paris.