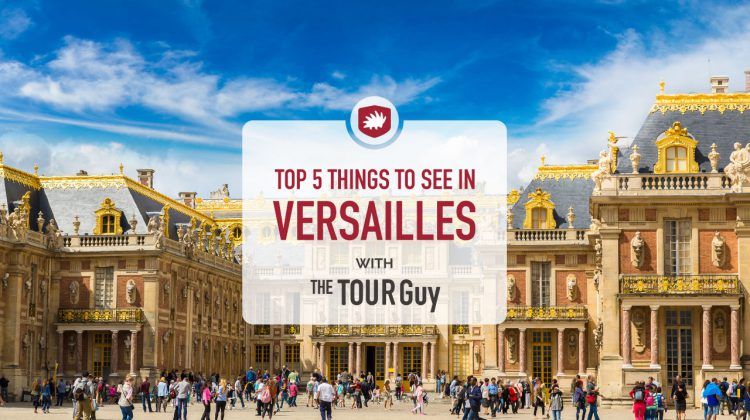 The Palace of Versailles makes a fantastic day trip from Paris, but there is so much to do and see that it can be hard to figure it all out. In this guide, you can find advice on how to buy a ticket, what to see, and where to eat. Here are the top 5 things to see in Versailles.
---
What to See in Versailles:
How to buy tickets to Versailles
The best way to purchase entrance tickets is through the Versailles official website. Ticket lines at the palace can be very long, so you should always plan ahead and buy tickets in advance. An 18€ ticket includes an audio guide and gets you access to the palace.
Access to the gardens is always free, except on select days when there are special events taking place in the gardens from April to October. On these days, you'll have to purchase a special ticket to enter the gardens.
If you choose to reserve a ticket online and you have already printed it, go straight to entrance A to enter the palace. If you didn't purchase a ticket ahead of time, head to the automated ticket machines. Many people don't realize these exist, so you'll be able to avoid some of the lines.
Which Versailles ticket should I buy?
There are a few ticket options on the Versailles website. Other than the basic entry to the palace, you'll also see tickets for the Estate of Trianon. This includes the Grand Trianon and the Petit Trianon and costs 12€.
The Grand and Petit Trianon are two smaller palaces, much smaller than the Palace of Versailles, which were built as a retreat for King Louis XVI and Queen Marie Antoinette. Most people choose not to see these palaces and rather spend more time in the beautiful gardens.
If you want to see absolutely everything, buy the passport ticket, which costs 20€ and includes entrance to both Versailles Palace and the Grand and Petit Trianon.
Guided Palace of Versailles Tour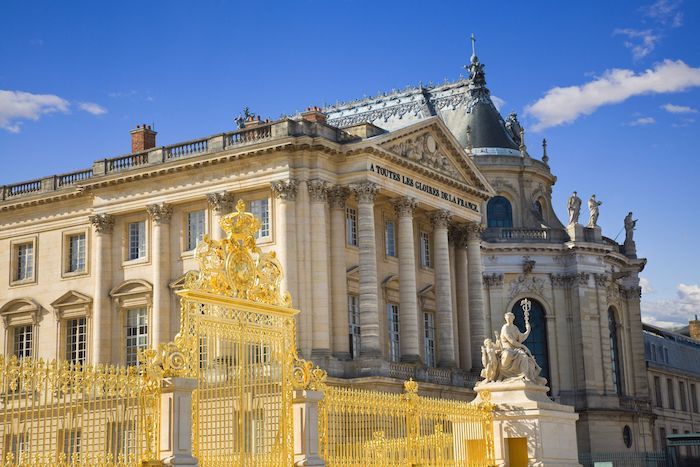 If you don't want to figure out how to book the tickets by yourself, consider joining us on our Palace of Versailles Tour from Paris with an English-speaking guide. Tickets will be included, as will round-trip train transportation and a visit to the stunning gardens of Versailles. Your guide will enhance your experience of the palace with explanations of the history, art, and details that the audio guide just doesn't provide.
Tips for visiting Versailles Palace
The Palace of Versailles can get incredibly crowded, especially during the summer months, so you want to make sure to plan ahead so that you can make the most of your time.
You should aim to arrive at the palace as early as possible, ideally at opening time if not slightly before. Crowds are usually at their peak in the late morning and early afternoon.
If you don't want to visit in the morning, we recommend exploring the gardens first in the afternoon and then visit the palace in the late afternoon or early evening to make the most of your experience.
What to see at Versailles
Gardens of Versailles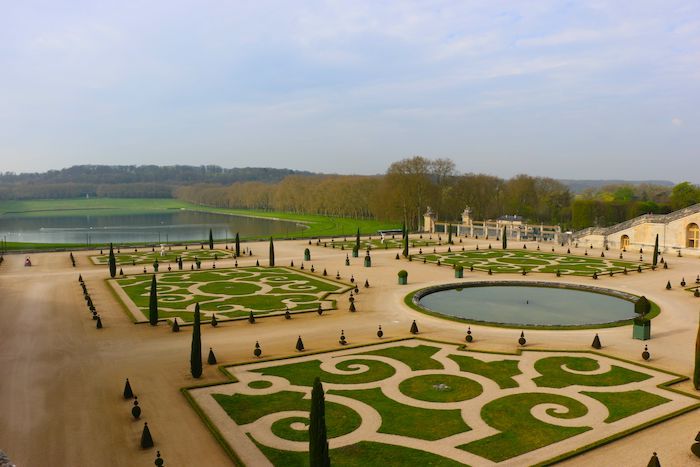 One of the best ways to enjoy the gardens of Versailles is on a bike. Bicycles are available to rent and are a great option if you really want to see all of the gardens. Golf carts are also available, which is a great option if you have limited mobility.
Another great way to enjoy the gardens is to take a picnic. The food at Versailles isn't the best, so pick up a sandwich from a bakery or check out a local market on your way to your train. You want to spend plenty of time in the gardens, but they are the most impressive in the late spring, summer, and early fall.
Picnicking is not allowed everywhere in the garden, but you'll be able to find designated picnic spots once you arrive.
Hall of Mirrors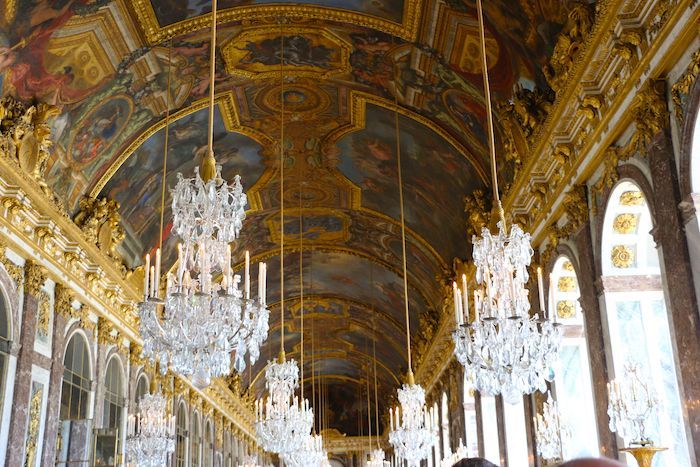 The Hall of Mirrors is one of the most famous rooms in all of Versailles, and easily the most beautiful. This breathtaking hall has not only 357 mirrors, but also an impressive history. The Treaty of Versailles was signed in the Hall of Mirrors in 1919, which ended World War I.
Gallery of Battles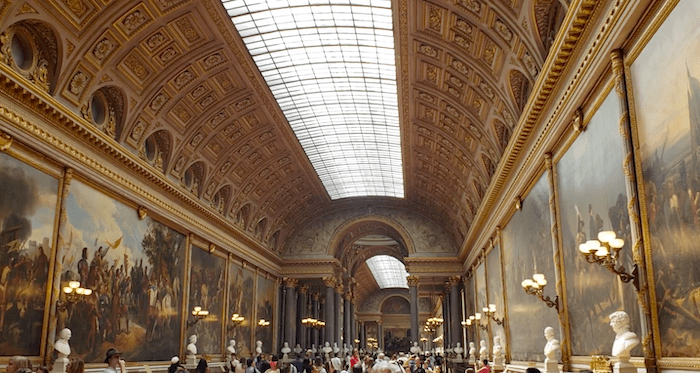 The Gallery of Battles is one of the most impressive galleries in the palace. It was created by Louis-Philippe I to glorify French military efforts in a series of paintings depicting historical events, which line every wall.
The Empire Rooms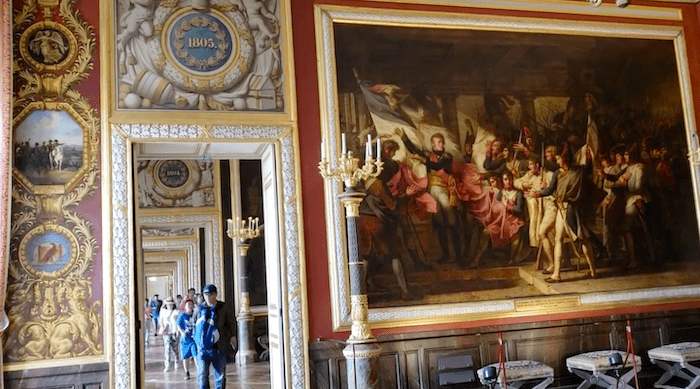 The Empire Rooms were also created by Louis-Philippe, a contemporary of Napoleon, in an attempt to gain the support of Bonapartists and former members of the empire. He collected many of the largest paintings commissioned by Napoleon in the palace's South Wing, where you can find them today, underneath the Gallery of Battles.
Trianons & The Queen's Hamlet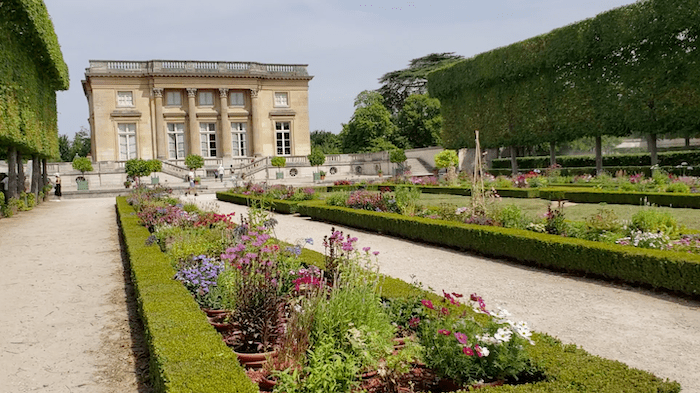 The Trianons are smaller palaces located near Versailles that were originally built as homes for the maîtresse en titre, or chief mistress of the king. The Grand Trianon was built by Louis XIV for his mistress Madame de Montespan and it is located in its own park, which also contains the Petit Trianon, built by Louis XV. Royalty often used these as retreats and summer homes, and Marie Antoinette favored the Petit Trianon as a place to relax away from Versailles.
The Queen's Hamlet was another place where Marie Antoinette went to escape the splendors of Versailles while she was queen. The Queen's Hamlet is a group of rural-style cottages as well as a functioning farm where you can still find a number of animals.
The queen would take relaxing walks here and imagine she was a commoner, although naturally she would never actually work. When many were starving in Paris, a popular saying to underscore Marie Antoinette's lavish life was "if the people are starving, let them eat cake."
What to Eat at Versailles
After a long day exploring the palace and gardens, you're certain to be hungry. There are a few different restaurant options at Versailles. You can find a number of different places selling takeaway options, like sandwiches, as well as cafes and higher-end restaurants.
Angelina, one of the more expensive restaurants, is famous for its hot chocolate. There are also bakeries, like the famous Ladurée, which serves delicious macarons. We also recommend grabbing crepes from a creperie near the palace. There are a couple of options only a block or two away which are all delicious.
If you'd rather eat once you return to Paris, consider taking our food tour of Le Marais. You'll learn about Paris's culinary heritage and taste more food than one person could possibly eat. It's the perfect way to end a day full of French culture and history.
---
I Want More Paris!
Not sure what to do in Paris? Check out our step-by-step guide about how to do Paris in a Day. If you'd rather let us guide you, check out our Paris tours.
Parlez-Vous Francais? Learn some of the most important French phrases before your trip to Paris.