Located only a short distance outside of Paris, the Château de Versailles housed the kings and queens of France until they were chased out in 1789 during the French Revolution. But luckily for us, the Palace of Versailles still stands in all its glory. However, because it's so popular, make sure you're prepared. Before you visit Versailles, read these tips and tricks.
---
How to Get from Paris to Versailles Video
Now a UNESCO World Heritage site, the Palace of Versailles received 7,700,000 visitors in 2017. Behind the Louvre, it's the second most visited monument in the Île-de-France region. And while the Palace was stripped of all its furnishings after the French Revolution, many of the palace rooms have been restored to enjoy.
While everyone tends to talk about the palace itself, the Gardens of Versailles are equally as impressive. They took 40 years to complete and to maintain the intricate design, they need to be replanted approximately once every 100 years. Today, it still takes painstaking work to manage them. For example, after a major storm in 1999, over 50,000 trees had to be replanted.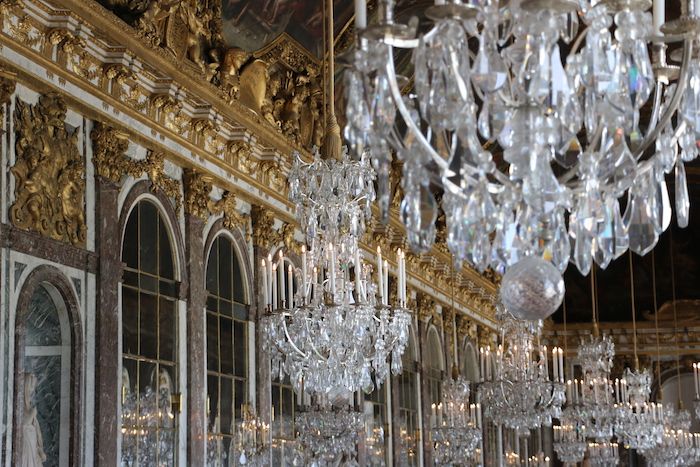 Palace of Versailles Hours
Opening hours for the Château de Versailles and its gardens differ depending on the time of year. In summer, expect more people and bigger crowds.
From November 1st to March 31st:
Palace of Versailles: Tuesday -Sunday from 9a.m. – 5:30p.m., Monday closed.
Gardens of Versailles: Everyday from 8a.m. – 6p.m.
The estate of Trianon (more info below): Tuesday – Sunday from 12p.m. – 6:30p.m., Monday closed.
From April 1st to October 31st:
Palace of Versailles: Tuesday -Sunday from 7a.m. – 8:30p.m., Monday closed.
Gardens of Versailles: Everyday from 8a.m. – 6p.m.
The estate of Trianon (more info below): Tuesday – Sunday from 12p.m. – 6:30p.m., Monday closed.
Where to Buy Palace of Versailles Tickets
The best way to book tickets on the official website. It's very important to book your tickets in advance! The line at the palace to purchase tickets can be very long otherwise. If you'd rather let someone else handle reserving the tickets, consider booking a Versailles Palace and Garden tour with an English-speaking guide. Not only does our Versailles tour include skip the line tickets, but it also includes round-trip train tickets from Paris and an introduction to the Gardens of Versailles. Your guide will point out the things you should pay attention to and give you insider information you won't get by yourself or from an audio guide.
How Much Do Tickets Cost?
If you decide to go it alone, an €18 ticket includes audio guide and gets you access to the palace. Access to the gardens is always free, except on select days when there are special events taking place in the gardens (between April and October). On these days, you'll have to purchase a separate ticket to enter the gardens. A musical fountain show ticket (when the garden's multiple fountains are synchronized to music) costs €9.50, and a musical garden ticket (when music is played throughout the gardens) costs €8.50.
Which Ticket to Buy 
You'll notice two other ticket options on the website. The Estate of Trianon ticket costs €12. This includes the Grand Trianon and the Petit Trianon. The Grand and Petit Trianon are two smaller palaces (much smaller than the Château de Versailles) which were built as a sort of retreat for King Louis XVI and Queen Marie-Antoinette. Many people choose to forgo these two palaces in order to spend more time in the gardens. If you feel you want to see absolutely everything, buy the Passport ticket. It costs €20 and includes entrance to both the Château de Versailles and the Grand and Petit Trianon.
How to Get to Versailles from Paris
The Château de Versailles is not actually in Paris, but in the city of Versailles, France. There are three ways for you to get to Versailles from Paris.
1. By train: Use the RER C to get to the Versailles Château – Rive Gauche train station. Once here, you're about a 10 minute walk to the palace, but signs will clearly indicate which way to go. The stations that connect to the RER C in central Paris are:
• Saint Michel-Notre Dame
• Gare d'Austerlitz
• Musée d'Orsay
• Invalides
• Pont de l'Alma
• Champ de Mars-Tour Eiffel
You'll need to buy a special metro ticket to get to and from Versailles – A round trip will cost you €7.10. Using a metro ticket machine, make sure you indicate that your destination is the Versailles Rive Gauche station (there are three destinations in Versailles, so you need to choose the right one). If you're worried about buying the incorrect ticket, purchase the tickets from a metro service agent. Depending on your departure location, the train will take you anywhere from 30 to 60+ minutes, so plan accordingly.
Insider tip: Purchase both your tickets (to and from Versailles) while you're in Paris. If you buy your return ticket to Paris at the Versailles station, there will likely be dozens of other people doing the same thing and the lines can get long.
Taking the Bus to Versailles
By bus: The Versailles Express bus departs near the Eiffel Tower. Purchasing a ticket on their site will get you a round-trip bus ticket to Versailles and entrance into the palace (€42) or just a round-trip bus ticket (€24). But note that all their tickets are for half-day transfers, so going this route means you'll have limited time at the palace.
A second bus option: Bus 171 will take you to the palace from the Pont de Sèvres area, accessible by metro line 9 for the cost of a normal metro ticket (€1.90, or €2 if you purchase onboard the bus). This will be a minimum 30 minute ride.
Go with a tour guide: Take all the guesswork out and arrange to visit Versailles Palace of Versailles with a tour guide.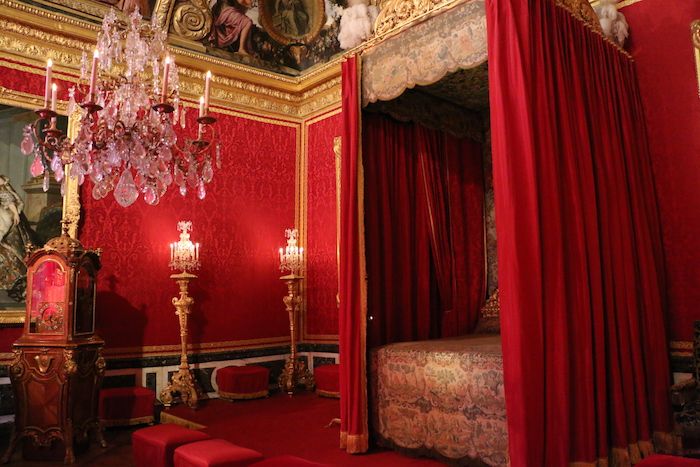 Visiting Versailles Tips
Avoid the crowds: The Château de Versailles gets most of its visitors on weekends and on Tuesdays. Especially during summer, you're going to have to get a little strategic. Arrive as early as possible to tour the palace. Yes, that might mean waking up early, but it's worth it! We suggest arriving right at opening time, if not a little before. Avoid touring the palace in the late morning and afternoon, when crowds are at their peak. If you decide to visit Versailles in the afternoon, we suggest touring the gardens first. Then, circle back around in the later afternoon or evening for the palace.
If you've reserved your ticket online and you've already printed it, go directly to entrance A of the palace with your ticket. If you didn't purchase a ticket in advance, try to go inside and buy your ticket at one of the automated ticket machines. Many people don't realize these exist.
Strongly consider packing a picnic. The food options at Versailles aren't the best. Picnicking is allowed the gardens, so bring a sandwich from a bakery or hit up a market on the way to your train to Versailles.
Don't walk, bike! Bikes are available to rent in the Versailles gardens. Electric vehicles (golf carts) are also available to rent for those with limited mobility. To find out more about these options, click here, then click on "Leisure and transport".
What to Do and See in Versailles
The amount of time you want to spend in the Gardens of Versailles may depend on the time of year. While they are beautiful year-round, the gardens are most impressive in late spring, summer and early fall when the weather is nicer.
Built for Marie-Antoinette in 1783, the Queen's Hamlet is best described as a group of rural cottages that look like they belong in a fairytale. The queen used to take long walks here to relax, and it's not hard to see why. The hamlet served as a functioning farm, and there's still a variety of animals including goats, sheep, ducks and more.
 Undoubtedly the most beautiful room in the entire palace, the Hall of Mirrors will take just about anyone's breath away. This room wasn't just famous during the French royal era – the Treaty of Versailles was signed in the Hall of Mirrors in 1919, which ended World War I.
Palace of Versailles History
The palace was originally built by Louis XIII as a hunting lodge. It wasn't turned into a palace until Louis XIII's son, the famous Louis XIV, decided to do so.
The palace used to stink. While it smells fine now, hygiene practices (or the lack thereof) in France during Louis XVI's reign meant that the palace smelled like urine, fecal matter and more. Some claim that a lack of toilets in the palace even led some visitors to relieve themselves behind curtains and pillars. Yikes!
The kings of Versailles used to have a "getting-up ceremony" every morning. Around 100 people were allowed to gather to watch the king get dressed and eat his breakfast.
So remember, to get the most out of your visit to Versailles, book your tickets in advance and arrive early. You'll want as much time as possible to explore the palace and gardens without feeling rushed, and without being shoulder-to-shoulder with other people! This piece of history deserves your undivided attention, so with the right information and a bit of planning, it's well-worth the trip.
---
I Want More Paris!
Not sure what to do in Paris? Check out our step-by-step guide about how to do Paris in a Day. If you'd rather let us guide you, check out our Paris tours.
Parlez-Vous Francais? Learn some of the most important French phrases before your trip to Paris.