As such a large city, choosing where to stay in Paris can be a little difficult.
Since Paris is split into 20 different neighborhoods or arrondissements, the city offers plenty of different personalities. This guide will provide you with the key info you need to decide where to stay in Paris.
---
Last Updated: August 20 2020
Pro Tip:
When planning trips I always make a folder in my browser with helpful articles. Bookmark this page and add it to your folder while doing your research. Here are a couple other articles to make planning easier:
I also believe in mixing in some structure while I wonder. Our guided Paris tours allow you to see the highlights of Paris while skipping the lines and crowds.
Paris' Top Neighborhoods for Hotels & Airbnbs
Out of the 20 arrondissements of Paris, we figured we would narrow it down to the top four to help you decide where to stay in Paris. I will explain the pros of each one and you can decide if you should stay at a hotel or Airbnb.
Hotel or Airbnb in Paris?
I personally have done both in Paris and I have to say I am a hotel guy for short stays (less than 5 nights) and Airbnb for long stays (over 5nights). Why?
Hotels are easy. Can I have some coffee? Could you send some bottled water up to the room? Press my shirt? Ask the front desk for advice or pass by without saying anything at all.
Airbnb on the other hand has a lot more involved. Check-in and check-out can be sometimes complicated, "can you meet me at 4pm?" or sometimes easy, "Keycode to the door is #."
There is always a little more emotion involved if it is someone's house and I am not a big fan of being reviewed as a customer. If Airbnb was significantly cheaper than hotels I would understand but they both end up being expensive with different pros and cons. Normally when meeting up with other groups an Airbnb is the way to go.
Both types can be romantic. You often can get more space with an Airbnb and my wife and I often enjoy a coffee on the balcony in the morning. Something that may have an extra cost at a hotel.
Everyone is different so you do you.
3rd/4th Arrondissement: Le Marais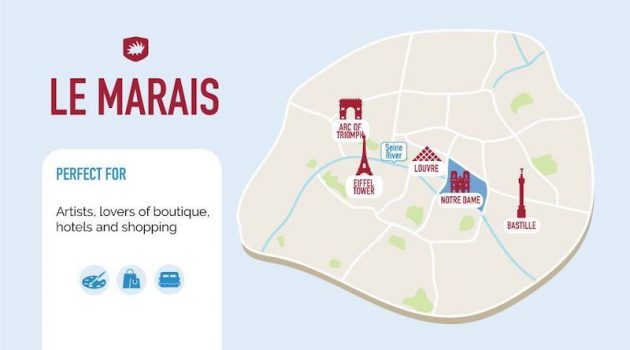 Le Marais spills over from the 3rd arrondissement into the fourth, so it's hard to pinpoint exactly which one it's really in. This neighborhood is known as one of Paris' most chic and diverse spots, and has exceptional cuisine. No wonder that this is the location of our insanely delicious Paris food tour.
Le Marais most famous for being home to the Jewish and gay quarters of Paris. If you're traveling to Paris for shopping but would rather peruse independent boutiques rather than posh designer stores, this neighborhood is for you.
In Le Marais, make sure to check out Place des Vodges, Paris' oldest square. While Notre Dame is not technically located in Le Marais, it is still considered the fourth arrondissement, so be sure to check that out as well.
Check out our more comprehensive Le Marais Neighborhood Guide.
Best Hotels in Le Marais:
–
5th Arrondissement: Latin Quarter
Home to Paris' oldest university, La Sorbonne, the Latin QUarter is a lively Paris neighborhood mainly inhabited by students. It's considered the 5th arrondissement of Paris.
This area is also home to Rue Mouffetard, a great market street where you'll be able to find cheeses, breads and pretty much anything and everything you've ever wanted to eat in France. The fifth arrondissement is on the left bank but borders the river, making it an ideal central location. Major metro stops include Saint Michel and Place Monge.
Best Hotels in the Latin Quarter:
–
6th Arrondissement: St. Germain de Pres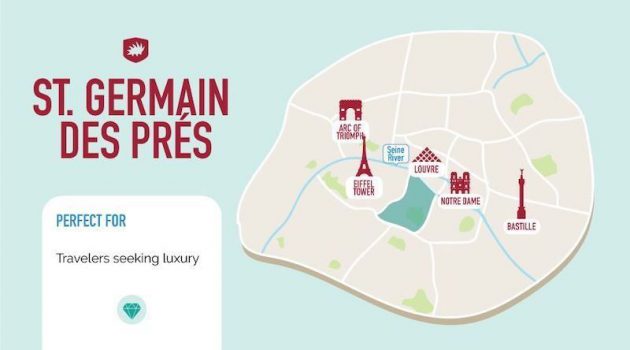 If you're seeking a classic Parisian neighborhood feel, stay in the 6th arrondissement. This area includes the Saint-Germain-des-Prés neighborhood, filled with countless bars and cafés, including the oldest café in Paris (Le Procope). The streets are filled with interesting history – this is the neighborhood where Ernest Hemingway and Albert Camus hung out, and where Pablo Picasso painted the famous Guernica.
In the 6th arrondissement, you'll only be a short walk from the beautiful Luxembourg Gardens and the Musée d'Orsay, known for its collection of impressionist artwork. You're not likely to find many budget deals in this neighborhood, but it's perfect for splurging on a Parisian getaway. Major metro stops include Saint-Germain-des-Prés, Saint Sulpice, and Odéon.
Best Hotels in St. Germain de Prés
–
18th Arrondissement: Montmarte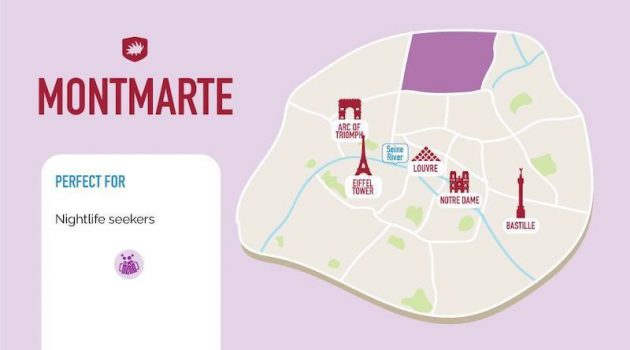 Montmartre is usually referred to as a sort of "village", with winding uphill streets and far fewer cars than the rest of the city. This is the 18th arrondissement, where you'll find the Sacré Coeur Basilica and the Place du Tertre square filled with artists.
The arrondissement borders the Pigalle area, home of the Moulin Rouge and the city's red-light district. While this makes the location not so ideal for families, the area is actually pretty safe.
Today, most of the area just south of Pigalle is trendy. Some of the trendiest bars have popped up here. Locals even refer to the area as 'SoPi'.
The 18th usually offers cheaper accommodations than the other arrondissements listed, thanks to its reputation as a working-class, diverse neighborhood. But if you choose the 18th, make sure to stay in the southern part of the arrondissement in Montmartre. Major metro stops include Abbesses and Anvers.
Best Hotels in Montmarte:
---
I Want More Paris!