Lake Como is a special place to behold and will take your breath away. It's a welcome breath of fresh air and an outdoor lovers' paradise. The natural surroundings, ambiance, and style of this part of Italy, are a nice counterbalance to the historic cities and villages of Italy. I often say, on the eighth day, God created Lake Como, but how do you decide where to stay in such a large destination? In this article, I will explain where to stay in Lake Como's top areas from my extensive experience!
---
Where to Stay in Lake Como: Best Hotels and Areas
To make things more manageable, I've broken down Lake Como into a few regions that I love and are worth visiting. They are not in any order but the hotels listed below them are my top choices and I've personally have stayed in each one.
Why Visit Lake Como? This is where Italy meets the Alps. It is a romantic area that is dotted with 19th-century villas and surrounded by majestic mountains. If you are there at the right time of year, you can be on the lake enjoying the sunshine while looking at the snow-capped Alps. Lake Como's quick proximity to Milan or Malpensa Airport makes it an ideal location for me to end my trip when I fly home from there.
How long should you stay in Lake Como? I would suggest three to five nights. A long weekend is ideal. That gives you plenty of time to relax, enjoy your hotel, explore the region and soak in the outdoors.
Our Partnership with Booking.com. If you like our content, please book by clicking on our Booking.com links. The price is the same for you, and we get a small commission that helps support our blog. We've partnered with Booking.com because they have the most options, great prices, and a solid loyalty program. Just about every hotel is on Booking so our recommendations are not incentivized.
Como (Town)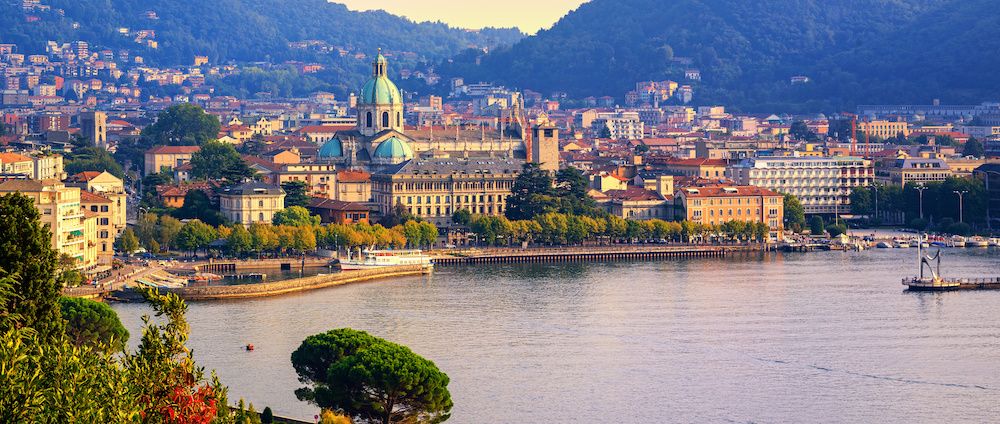 Como is the biggest town on the Lake when you are approaching from Milan or Malpensa Airport. It has a good, traffic-free old town, an interesting Gothic/Renaissance cathedral, and a pleasant lakefront with a promenade. It's an easy 10-minute downhill walk from the train station to the boat dock. Boats and ferries leave Como every year for different parts of the Lake.
Vista Palazzo Lago di Como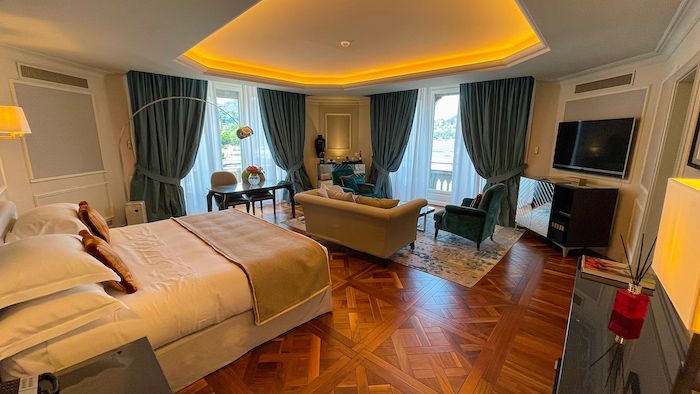 €€€€+ | 5 Star | Rooftop Restaurant | Very Posh | Butlers
The recently renovated Vista Palazzo hotel is both grand and intimate. With only eighteen rooms it has a boutique feel. The positioning of the hotel is right on Piazza Cavour facing the lake, so many of the rooms have stunning lake views. The hotel also has the only restaurant/bar terrace in Como. It's located on the rooftop restaurant Sottovoce run by Chef Stefano Mattara. Don't miss a chance for an aperitivo or dinner at this Michelin restaurant.
Palace Hotel Lake Como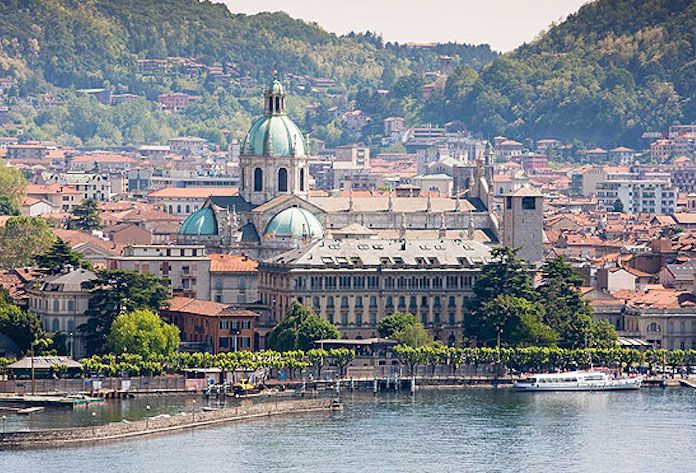 €€€€ | 4 Star | Central | Historic
This is the big hotel in town and the very first hotel I ever stayed in Como. It's very central just off Piazza Cavour on the waterfront. The rooms in both the annex and main building are comfortable. The frescoed breakfast room is stunning.
Hotel Barchetta Excelsior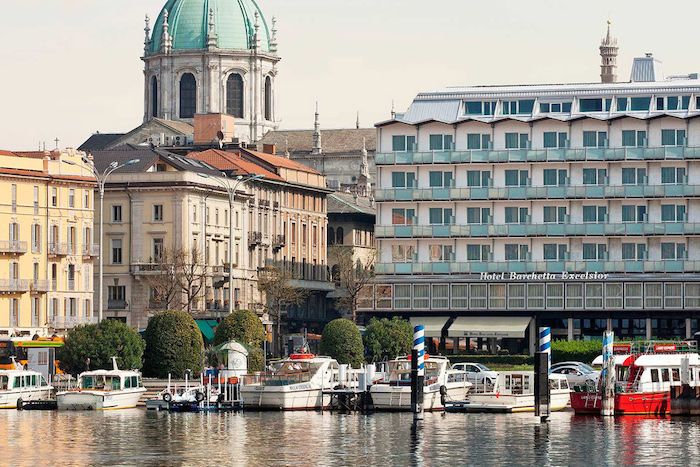 €€€€ | 3 Star | Business | Central
The Hotel Barchetta Excelsior is a no-frills business class hotel right in the center of Piazza Cavour facing the waterfront. The rooms are comfortable and clean. Breakfast on their terrace is great due to the location. Most travelers staying here are putting location, price, and convenience over romantic charm.
Tremezzo
Tremezzo is on the west side of the Lake about a thirty-minute drive north of Como. It is almost the opposite of Bellagio, so you get stunning views of the Lake. The small village is a transportation hub for ferries and boats. It's known for the 18th century historic Villa Carlotta with its famed gardens and Canova sculpture. It is also home to the most famous hotel in the region, The Grand Hotel Tremezzo.
Grand Hotel Tremezzo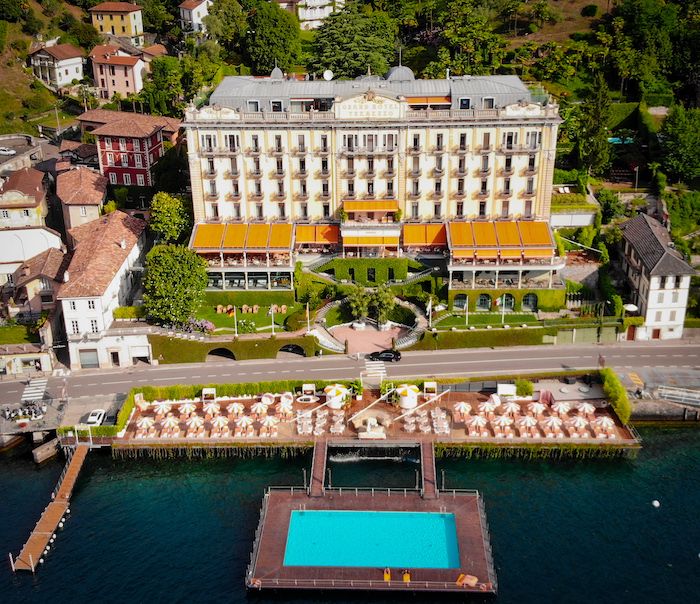 €€€€+ | 5 Star | Pools | Spa | Super Luxurious
The Grand Hotel Tremezzo was named the best hotel in Italy by Conde Nast. It has three pools, four restaurants and ninety rooms, an exquisite garden, and a beach, so there is plenty of space and privacy for their guests. The hotel is decorated in the belle époque style and some of the suites have historic furniture. Their spa is world-class and I recommend the heat treatment. Shoppers will lose their minds in their Sense of Lake boutique.
Menaggio
The small village of Menaggio captivates travelers with its timeless charm, cobbled streets, and colorful facades. Explore its historic center with artisanal shops and cozy cafes, savoring traditional Italian delicacies while immersing in the warmth of local hospitality at the Grand Hotel Victoria. The ferry port is nearby, so connecting to other villages and areas of Lake Como is easy from Menaggio.
Grand Hotel Victoria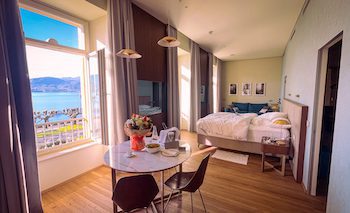 €€€€+ | 5 Star | Pools | Spa | Elegant Luxurious
The Grand Hotel Victoria is where I imagine the Roy Family from the tv show Succession would stay because of the quiet luxury vibe. Its chandeliers and molded ceilings give the property an elegant feel without being over the top or in your face. There are two pools, and this hotel has the biggest spa in Lake Como. A perfect day staying at Grand Hotel Victoria includes waking up to breathtaking lake views, enjoying an exquisite breakfast, walking around the nearby village of Menaggio, taking the ferry to Bellagio for lunch, then spending the afternoon at their award-winning spa. Add this to your list of Where to Stay in Lake Como.
Bellagio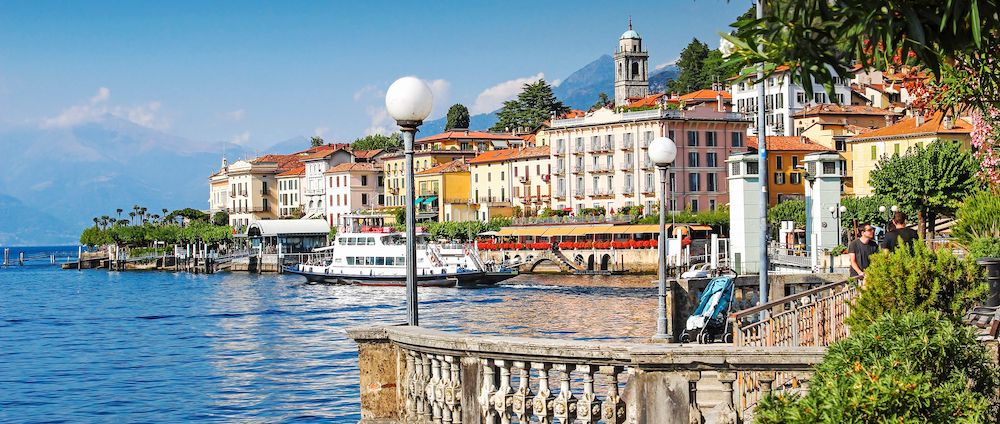 Bellagio is the pearl of the region and is geographically located in the middle of the upside-down Y-shaped lake. It oozes old-world elegance and a great place for shopping, strolling the lakeside arcades, or having a gelato. Bring your walking shoes if you decide to walk up the steep lanes from the waterfront.
Hotel du Lac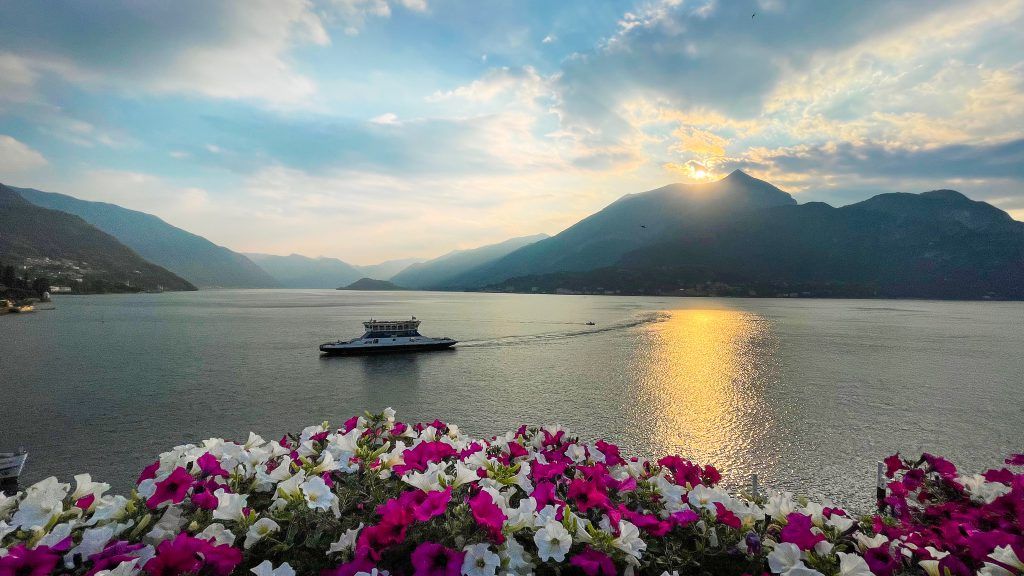 €€€ | 4 Star | Terrace | Lakeview | Incredible Value
Hotel du Lac is a family-owned lakeside property right in the heart of Bellagio. The lakeside property now has the third generation involved in the operations. Hotel du Lac a classic friendly property that has all of the modern comforts. Do not miss an opportunity to have drinks on the one and only best terrace in Bellagio.
Grand Hotel Villa Serbelloni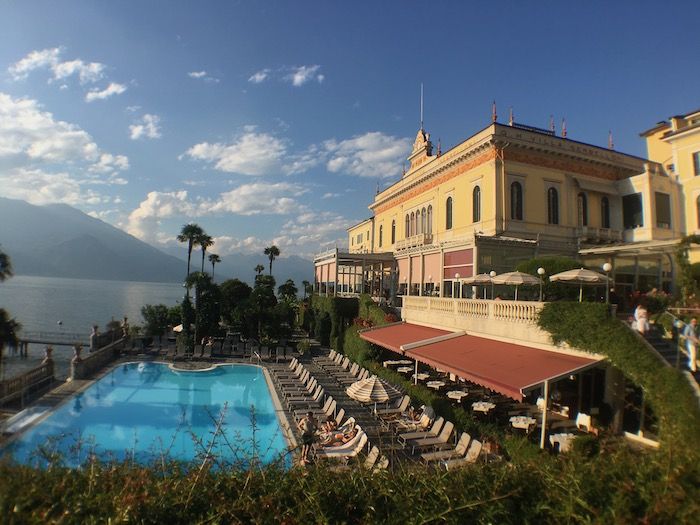 €€€€+ | 5 Star | Pool | Classically Elegant
The elegant Grand Hotel Villa Serbellioni is the grand dame of Bellagio and the only five-star hotel in the city. After over one hundred years and four generations later, this place still has not lost its classy touch. One of the best days of my life was spent lounging at their lake-facing pool and then followed by one of the best dinners ever in their restaurant.
Lezzeno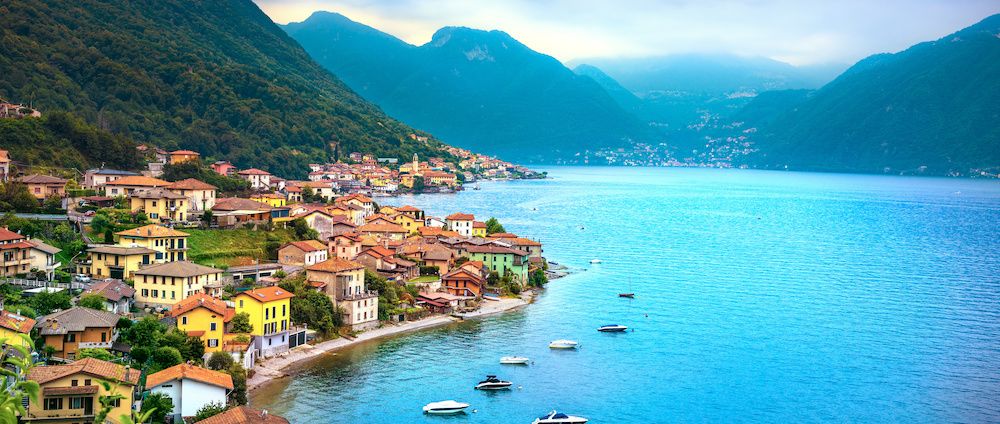 Lezzeno is the last village on the east side of the Lake as you are headed to Bellagio. If Bellagio is not your style, then chill Lezzeno might be the answer. It's a quite small village that I like to call home when I'm on the Lake. It has all of the amenities you need, transportation options, and just a fifteen-minute drive from Bellagio. Ten minutes if I'm driving!
Filario Hotel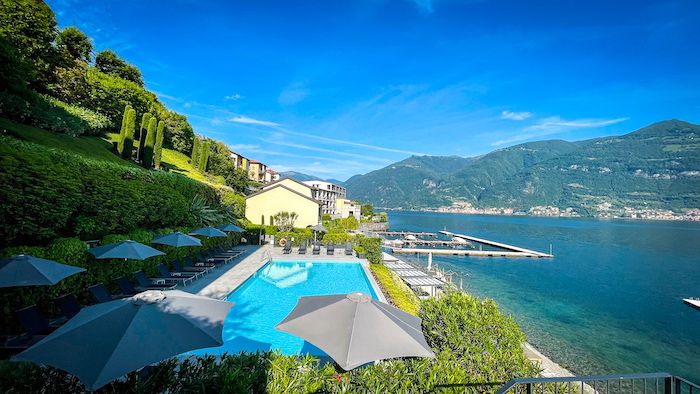 €€€€ | 5 Star | Pool | Beach | Modern
If you like clean lines and modern decor, then the Filario Hotel is the perfect place for you. It is the only property with it's own "beach" and private infinity pool. With a combination of designer lakeview rooms or apartments in the annex, there is something here for everyone. I loved my stay there because of the combination of modern design with classic Como hospitality. The lakeside breakfasts are something I still think about to this day.
Varenna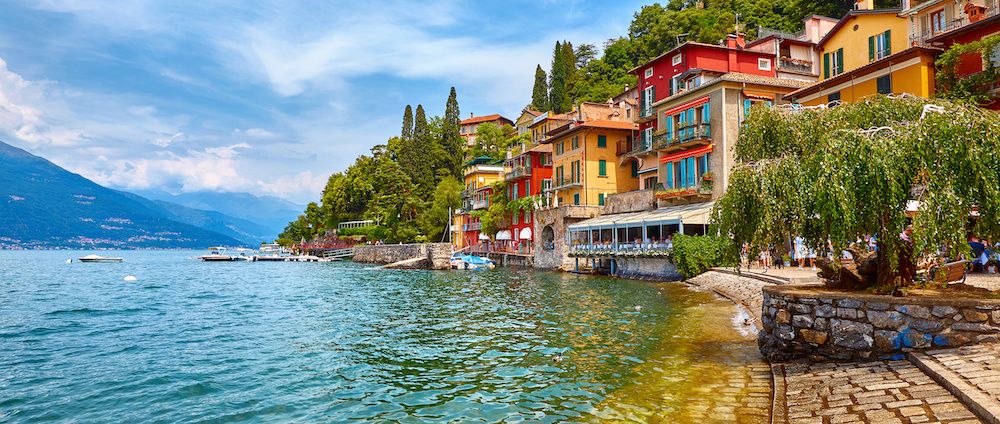 If you really want to do the whole "La Dolce Far Niente" thing (The Sweetness of Doing Nothing), then home base in Varenna. The town has about 1000 residents and it's like a mini-Bellagio but without the hype or crowds. It has a waterfront, romantic promenade, and quiet lanes. Also, some killer gelato! Even though it's a super sleepy little village, there are still plenty of transportation options. There is just something very sweet about little Varenna that I can't help but love.
Albergo Milano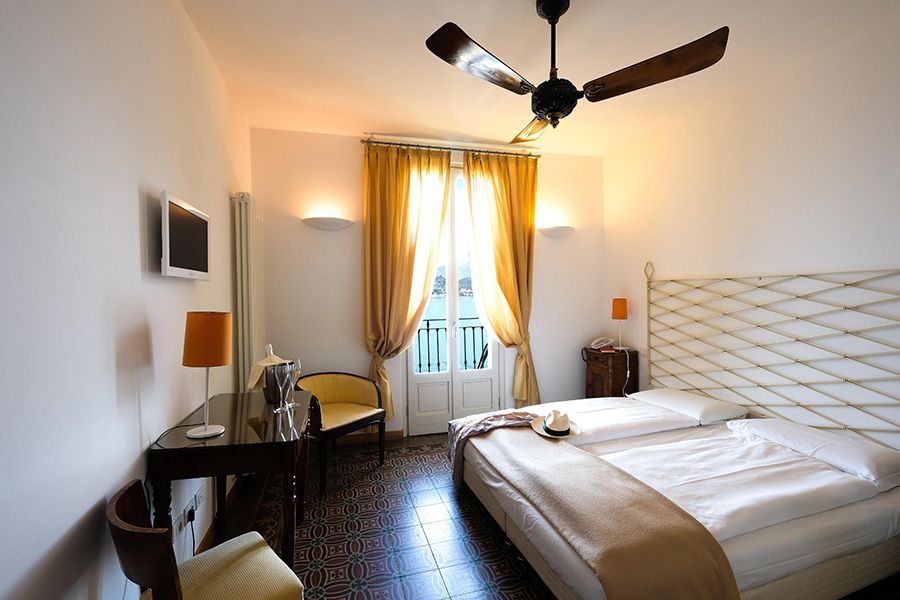 €€€ | 3 Star | Epic Views | Budget Friendly
Albergo Milano is right in the heart of Varenna. It is small with only a handful of rooms and apartments. This hotel was recently renovated and there are lots of views of the lake from the property and rooms.
"Need to Know" Lake Como Facts
Many 19th-century poets described Lake Como as heaven on earth and Greta Garbo created in a few words the modern vacation by describing it as a "that happy sunny place"
From Milan, getting there is a quick 45 min drive or 1hr train. To or From Malpensa Airport is a 45 mins drive
Lake Como is known for relaxation, outdoor pursuits and luxury hotels. For luxury travelers, there are ten five star hotels to choose from.
Having a car on Lake Como makes things easier but I only recommend driving on the small narrow cliffside roads for experienced drivers. Distances also take a lot longer to reach than they appear. With that said, the drive from Como to Bellagio is one of my favorites in Italy.
There are plenty of ferries and boat options during the day to get around the Lake to explore small towns and historic villas.
The region is incredibly picturesque and has been featured in Hollywood films like Oceans Twelve, Casino Royal and Star Wars.