With charming towns and picturesque mountains, Lake Como is an idyllic setting offering visitors breathtaking natural beauty, a wide range of activities and attractions, and plenty of great places to eat. However, the lake isn't exactly small and it's hard to know where to go for a good meal. Problem solved! Our local expert shares the best restaurants at Lake Como.
---
Pro Tip: Planning a trip to Lake Como? It's easier to organize your trip when you have all your resources in one place. Bookmark this post along with our Milan Guide for more planning resources, our awesome Lake Como day trips from Milan, and where to stay at Lake Como.
The Top Places To Eat at Lake Como
Nestled on the shores of Lake Como in northern Italy, you'll find a number of pretty towns to visit with lake views, outdoor activities, and rich cultural and culinary traditions to explore. As you plan your trip to Lake Como, don't miss visiting its namesake city.
Como is a romantic and timeless place whose natural beauty has inspired many artists and writers over the centuries. Alessandro Manzoni chose Como as the main setting for his famous Italian novel "I promessi sposi" (The Betrothed).
When it comes to cuisine, Como is a blend of tradition and modernity. It's known for dishes like the risotto alla pilota, made with Arborio rice, beef marrow, and red wine, as well as desserts like the torta di riso, a rice flour cake filled with jam and covered in marzipan. Also, try the mostarda di frutta, a sweet and spicy fruit condiment made with candied fruit and mustard.
From cozy trattorias to chic boutiques and markets, Como has something for everyone. To help you avoid the tourist traps and savor the real flavors of the city, our local expert has curated this list of the best restaurants at Lake Como. Most are located in Como, but you'll find a few in other towns like Bellagio, Cernobbio, and Colico. Buon appetito!
Figli dei fiori Bistrot (Como)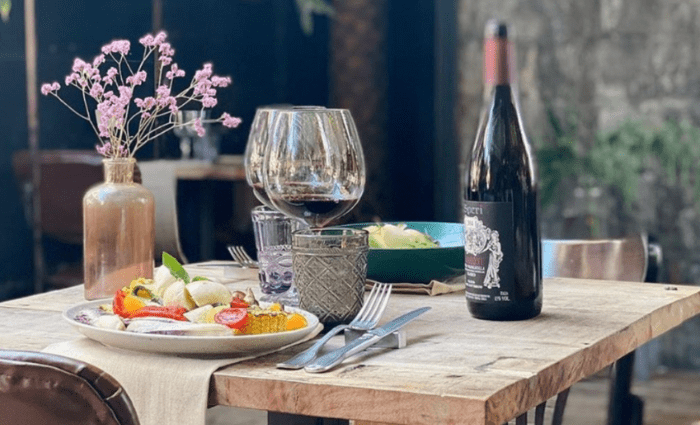 €€€ | Elegant Yet Relaxed Atmosphere | Garden Chic | High End Dining
A dear friend who loves healthy food recommended Figli dei fiori Bistrot to me and it has quickly become one of my favorite places to eat in Como. As soon as you enter the bistrot, you'll be struck by the timeless and elegant decor. It's filled with beautiful flowers and plants.
The relaxed atmosphere here is perfect for indulging in an out-of-the-ordinary lunch break or a special dinner with friends. From the selection of raw ingredients to the innovative cooking techniques, the attention to detail at this restaurant is undeniable. Be sure to try the Castelluccio lentil soup and the homemade ravioli with pumpkin on parmesan cheese cream.
Address: Via Borgo Vico, 34, Como
Kitchen (Como)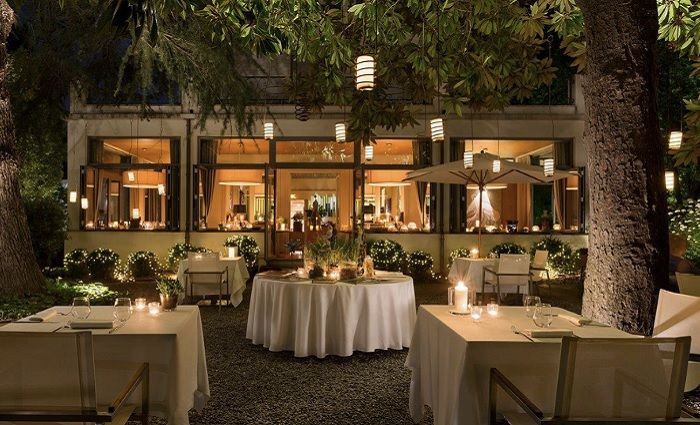 €€€ | Fine Dining | Romantic Ambiance | Park Setting | Outdoor Seating
At Kitchen, be prepared for a fine-dining experience. Each dish is carefully crafted to highlight the flavors and simplicity of each individual ingredient. The result is a modern twist on Italian cuisine.
The young and dynamic team of chefs at Kitchen are united by their passion for cooking and their Michelin-starred background, ensuring every dish is expertly prepared. The atmosphere at Kitchen is convivial yet intimate, with staff that make you feel at home.
If you're looking for a memorable dining experience, I highly recommend the Tasting Menu – Experience. It includes dishes like the scallops with pumpkin, hazelnut, Franciacorta, and black truffle, or the ravioli with Parmigiano Reggiano, nashi pear, foie gras, and balsamic vinegar.
Address: Via Per Cernobbio, 41A, Como
Materia (Cernobbio)
€€€ | Minimal Style | Haute Cuisine
Under renowned chef, Davide Caranchini, Materia values using fresh local ingredients and sources produce from the surrounding area. They even use herbs and vegetables grown in a greenhouse adjacent to the restaurant. I was very impressed by this restaurant when I dined here.
My favorites from the menu include the venison with raspberry and juniper as well as the spit roasted pigeon with radicchio, rosemary, and licorice. They are absolutely delicious! You'll find the atmosphere at Materia refined and welcoming. Also, the staff will make your dining experience memorable with their warm smiles and top-notch service.
Address: Via V Giornate, 32, Cernobbio
Tira Mola e Meseda (Como)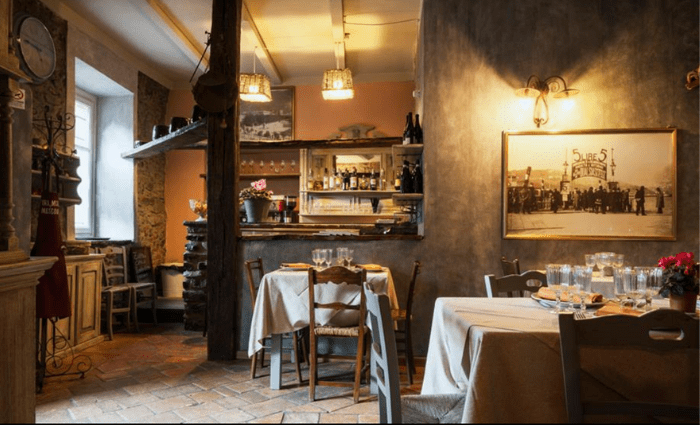 €€ | Italian Cuisine | Charming | Elegant Traditional Style
I recently visited Tira Mola e Meseda and was blown away by their high-quality dining experience. Located a short walk from the historic center of Como, you'll be struck by the welcoming atmosphere of this restaurant. It's perfect for spending time with friends or family.
The restaurant is run by a close-knit family, who add a personal touch to the dining experience. Additionally, the menu features unique and daring tastes that are skillfully blended thanks to years of training and experience.
The antipasti and other dishes, including cold cuts, the best polenta, and fried zucchini, are all standout options. The roasted veal is also a must-try. The restaurant constantly evolves its menu to meet high-quality standards. Trust me, it's a dining experience you won't forget.
Address: Via Gabriele Castellini, 17, Como
La Tana dei Pescatori (Como)
€€€ | Seafood | Hidden Gem | Romantic Atmosphere
La Tana dei Pescatori is a hidden gem near the historic center of Como that should not be missed. Located on the lakeside promenade near the Piazza del Duomo (one of the largest cathedrals in northern Italy), it's the perfect spot for a romantic dinner.
The seafood at La Tana dei Pescatori is the best you'll have during your stay in Como. The tartar mista, made with three different types of fish, is a standout starter.
If you're looking for unique and delicious seafood dishes in the heart of Como, this is a must. The seafood is always fresh, the service is impeccable, and they have a good wine selection. It's easily one of the best restaurants at Lake Como.
Address: Via Alessandro Volta, 41, Como
Ristorante Bilacus (Bellagio)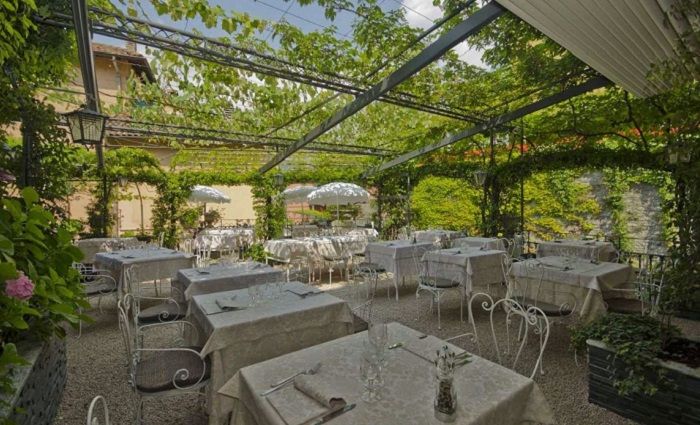 €€ | Family Run | Secluded Garden Terrace | Huge Wine List
If you've made it all the way up to Bellagio on Lake Como, then you'll need a recommendation. I suggest trying Ristorante Bilacus as they are a great little family-run place that has tasty entrées. The best part might be sitting outside under their grape vines on the terrace. It's oh, so cozy.
You'll find delicious fresh fish on the menu here. So, be sure to ask the waiter about the catch of the day! If you're in the mood for something more hearty, you can't go wrong with their veal ragu gnocchi. It's so flavorful.
Address: Salita Serbelloni, 32, Bellagio
Locanda Capolago (Colico)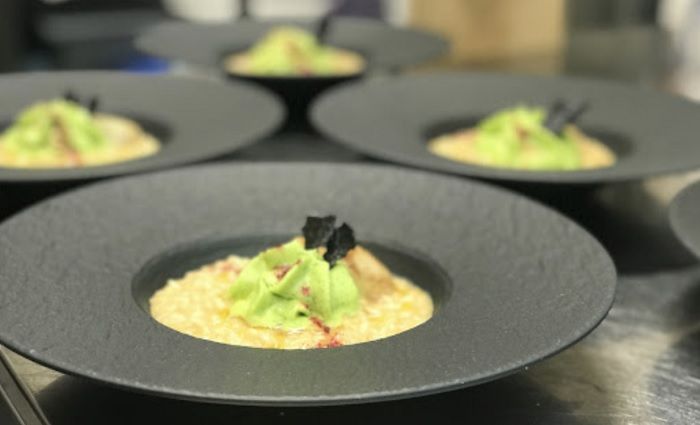 €€€ | Vegetarian Options | Experimental Cuisine | Lake Views
For a different view of Lake Como, try Locanda Capolago. You'll love its location! It has a beautiful garden where the kitchen gets some of its vegetables and herbs. Impressively, it also boasts six historic sycamore trees that tower over the entire building.
With its intimate atmosphere, it's a lovely place to spend time with friends. You can even bring your vegetarian friends and family, as they offer impressive vegetarian options.
The menu focuses on rediscovering traditional dishes from a modern perspective. The food was locally inspired, but with a creative twist. The dishes we had were all well presented and the portions were generous. I highly recommend stopping by this restaurant at Lake Como
Address: Via Municipio, 36, Colico
Quatar Pass (Como)
€€€ | Seafood | Intimate Place | Reservation Required
If you want to taste fish cooked to perfection with interesting and unusual combinations, this is the place for you. Their homemade desserts made with fresh ingredients and signature wines don't hurt either.
Quatar Pass is a very small place near the old town, but you'll be won over by the warmth and hospitality of Sara, the owner. The menu is all in Italian, but with the help of the waiter, you'll be able to choose something delicious. And trust me, the meals here are very delicious (the desserts, too)! For a quality dining experience in Como, don't miss this gem.
Address: Via Borgo Vico, 178, Como
Platea Ristorante (Como)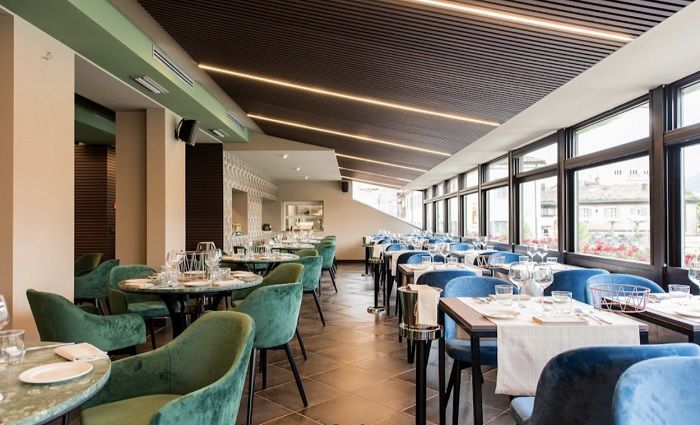 €€€ | Traditional Cuisine | Cocktails | Great Atmosphere | Lake Views
I absolutely adore dining at Platea Ristorante! It has quickly become one of my favorite restaurants at Lake Como. And, the view of the lake is absolutely breathtaking.
The staff truly go above and beyond to make your experience special and memorable. They're always happy to help you with recommendations for wine and dishes, which all adds to the lovely atmosphere.
Try the spaghetti with Luciana-style baby octopus or the carnaroli Riserva San Massimo rice creamed with pumpkin. Also, the prices are very fair for the high quality of the food. And as if that weren't enough, the cocktails at Platea are top notch. Gor for a mojito or one of their divine Negronis.
Address: Piazza Alcide de Gasperi, 8, Como
La Cava dei Sapori (Como)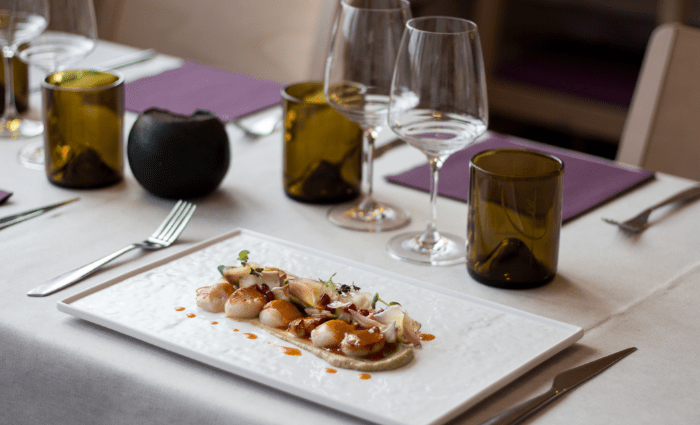 €€€ | Pizza | Experimental Cuisine | Family Run
La Cava dei Sapori is a truly exceptional restaurant that offers high-quality Italian dining. I particularly love their signature cuisine, which combines the multifaceted world of pizza. If you're a pizza fan, this is definitely for you—they're authentic and delicious!
Located near the old town, I often come here on special occasions and have always had a wonderful time. The atmosphere is warm and inviting, and the service is impeccable. The waiters here are fluent in English and happy to help.
A very cool feature of this restaurant is the glass wall between the restaurant and the kitchen. You'll be able to watch chef Ernest Dedgjonaj and his team at work as they produce their unique creations. You're sure to enjoy an evening at La Cava dei Sapori.
Address: Via Guido da Como, 2
Piazza Roma Ristorante (Como)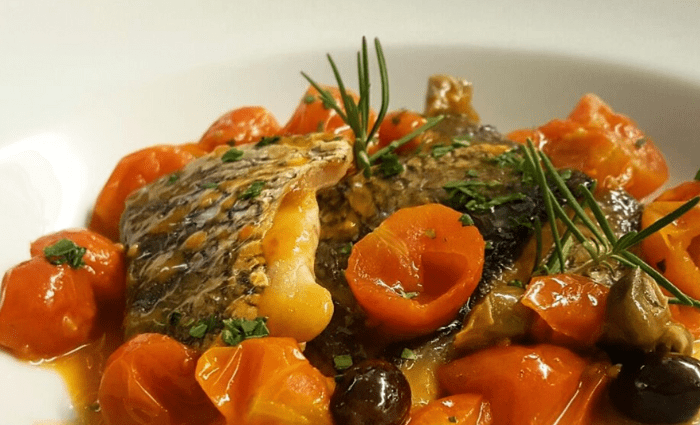 €€€ | Seafood | Romantic Atmosphere | Eclectic Style | Excellent Staff
Piazza Roma Ristorante is a must when you're in the city. It's cozy and rustic, yet elegant at the same time. With their eclectic style and high-quality food and service, you're in for an exceptional dining experience. It's one of the best dining experiences I've ever had.
Also, the staff are wonderful and very generous—they always offer a glass of delicious Prosecco! Is there a better way to start an evening out? This is the place to eat seafood. I highly recommend the roasted bell octopus and Lario's fish butter. Save room for dessert and order the tiramisu made by the in house pastry chef. Trust me, you won't be disappointed!
Address: Piazza Roma, 43, Como (Confirmed that they are open daily except Tuesdays)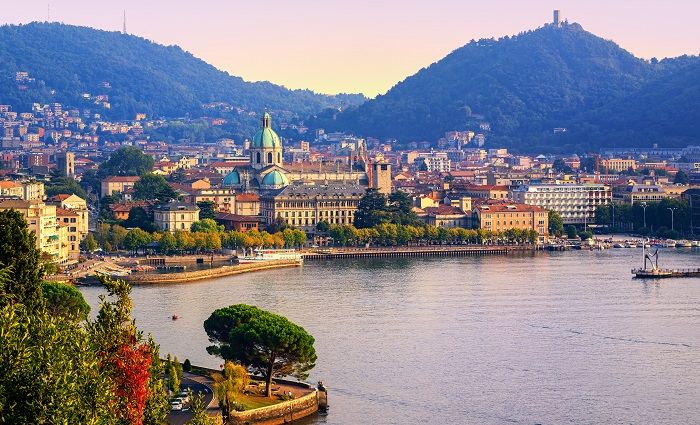 Find the best places to stay
Where To Stay in Lake Como
This gorgeous part of Italy will take your breath away but deciding where to stay on Lake Como can be tough. Use our guide to the best areas and hotels to plan your perfect stay!