Old train station or art gallery? Both! While the Musée d'Orsay is smaller than the Louvre, it houses the most famous impressionist artwork on the planet. In this guide, find out about when to go, tickets, tours, how long to budget, the history of the museum, and more!
---
Pro Tip: Planning what to do on your trip to Paris? Bookmark this post in your browser so you can easily circle back to it before your visit to Musée d'Orsay. Check out our guide to Paris for more planning resources, our best Musée d'Orsay tours for a memorable trip, and the top things to do while in Paris.
Visiting the Musée d'Orsay: What We'll Cover
The Musée d'Orsay is the home of impressionism and Paris's second-largest museum. With 3.6 million visitors in 2019, the museum houses a collection of works by the likes of Renoir, Manet, Van Gogh, and Monet, among others.
The museum has an interesting history and is an important monument in itself. In this guide on how to visit Musée d'Orsay, here's what we'll cover:
Musée d'Orsay Opening Hours and Tickets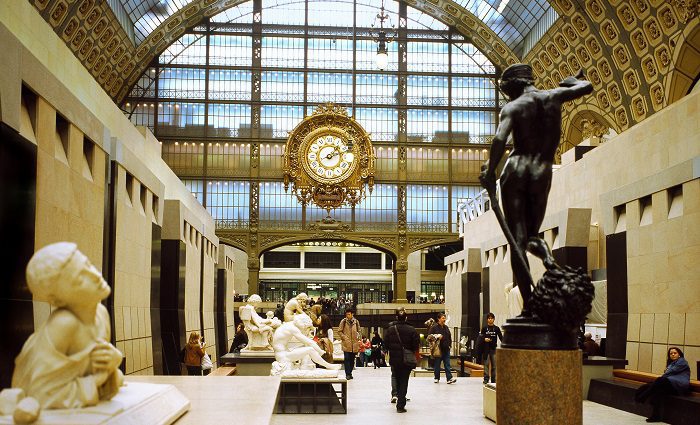 Before you plan anything else, you need to know the Musée d'Orsay opening hours. The museum is open most days of the year from 9:30 am to 6 pm (last admission at 5 pm), except on Mondays when it is closed.
The museum also has a late opening on Thursdays where the museum stays open until 9:45 pm (last admission at 9 pm). Keep in mind that the Musée d'Orsay is closed on May 1 and December 25.
Opening Hours:
Tuesday to Sunday from 9:30 am to 6 pm (last admission at 5 pm); Closed on Mondays
Pro Tip: The museum will be most crowded on Tuesdays and Sundays, so avoid these two days if possible. If you must go on these two days, then I recommend going around lunchtime (12 pm) to avoid the majority of the crowds.
Tickets:
We highly recommend purchasing your ticket in advance online. Currently, the museum averages the waiting time at the main entrance for visitors without tickets at around 50 minutes. It could be much longer in the summer months.
Adult ticket: €16 (online), €14 (at the museum)
Late opening rate: €12 (online), €10 (at the museum) for Thursdays from 6 pm
Reduced price: €13 (online), €11 (at the museum) for adults accompanying someone under 18 years old)
Free: anyone under 18 years old or under 26 years old if an EU resident
Not ready to book a tour? Check out our best Paris tours to take and why.
How Long To Spend at the Musée d'Orsay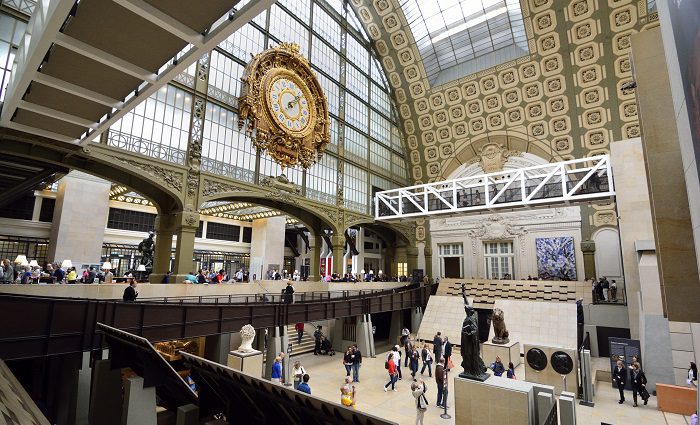 Short Answer: 2 hours
Like any museum, the amount of time you really need is a personal choice with the most important factor being how much you like the work. The museum is quite big, so my recommendation would be a two-hour visit. More than two hours without a break and you might go into art overload.
The Musée d'Orsay houses artwork on three different floors, so I'll go through each one of them and explain what you will see, so you can decide for yourself which floors you want to dedicate the most time to.
Ground floor
In the right-hand side galleries, you'll find artists such as Ingres, Delacroix, Moreau, and the early works of Edgar Degas, who would later become an important figure in impressionist painting.
In the left-hand side galleries, you'll find artwork based on naturalism, realism, and pre-impressionism. Artists in this gallery include Courbet, Corot, Millet, and Manet. The masterpieces you'll see are Millet's The Angelus (1857-1859) and Manet's infamous Le dejeuner sur l'herbe (Lunch on the Grass), which depicts a nude woman picnicking with two clothed men.
First floor or middle level
The main artists on this level are non-French artists such as Klimt and Munch. As for French artists on this level, you can see works by Maurice Denis, Ker-Xavier Roussel, and Pierre Bonnard. This level holds an important collection of pastels, decorative objects, and late 19th-century paintings.
Third floor
Major artists you can find here are Paul Gaugin, Georges Seurat, Paul Signac, and Henri de Toulouse-Lautrec. As you enter this floor, you'll notice the experimentation of new methods, which will eventually lead to impressionism. There is a small gallery dedicated to small format painting.
Fourth floor
I would say that this is the floor with the most famous paintings and probably the reason why most people come to visit this museum. The artists on this floor are the kings of Impressionism as we know it today: Edgar Degas, Claude Monet, Pierre-Auguste Renoir, Alfred Sisley, Camille Pissarro, and Gustave Caillebotte.
There are entire galleries dedicated to Monet and Renoir after 1880. On the same floor, there's the Gachet Collection where you will find the amazing paintings of Van Gogh and Paul Cezanne. You'll also find sculptures here by Edgar Degas.
Fifth floor
This last floor, if you have any energy left, is dedicated to sculpture from the 19th century and, of course, an entire wing has been dedicated to France's most illustrious sculptor, Auguste Rodin.
How To Get To the Musée D'Orsay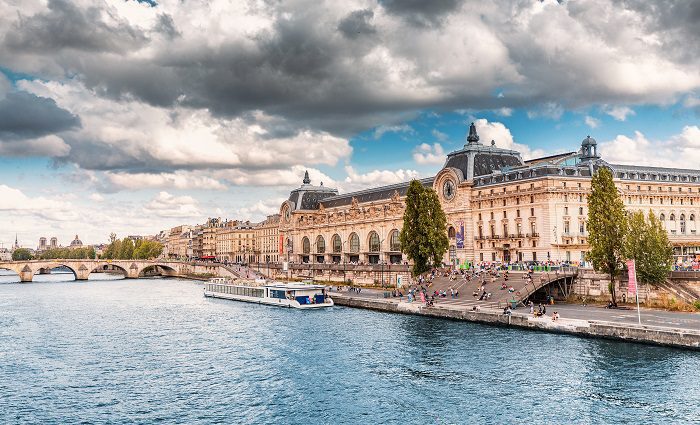 The Musée d'Orsay is easily accessible on foot, by metro, or by bus. The museum is a 12-minute walk from the Louvre Museum—it's literally right in front of the Louvre on the other side of the river. You can easily walk there.
You can also get there by metro. Take the RER Line C and get off at stop Musée d'Orsay or Metro Line 12 getting off at stop Solferino. Alternatively, you can catch any of the following buses, which all have stops by the Musée d'Orsay: 63, 68, 69, 73, 83, 84, 87, 94.
Musée d'Orsay is handicap accessible with all floors accessible via lifts or ramps. Wheelchairs and folding seats are available on deposit of an identity document at the cloakroom.
Address: 1 Rue de la Légion d'Honneur
What To See at Musée d'Orsay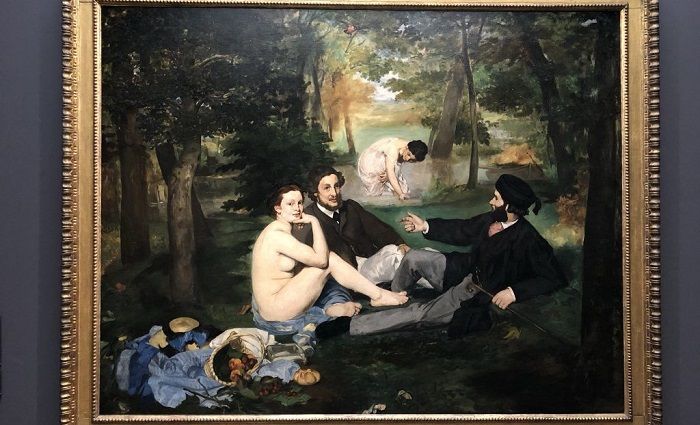 Paris's second-largest museum has a lot to see and some important works of art at that. Here are the 10 must-see works. Be sure to check out our article on the top 10 things to see in the Musée d'Orsay for more in-depth descriptions, locations, and photos of each of the listed artworks.
Card Players by Cezanne
Bal Moulin Galette by Renoir
Luncheon Grass by Manet
Starry Night by Van Gogh
Self Portrait by Van Gogh
Arearea by Gauguin
Floor scrapers by Caillebotte
Camille sur son lit de mort by Monet
Poppy Field by Monet
Women Ironing by Edgar Degas
Our Best Guided Tours of Paris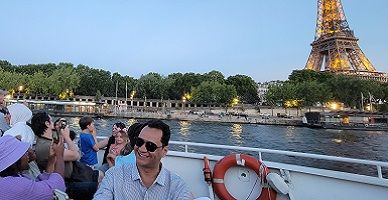 Likely to Sell out
Privileged Access Eiffel Tower Night Tour With Seine River Cruise
Sometimes the most amazing moments happen by chance. Other times, they are orchestrated by professionals. Our Eiffel Tower tour takes you on a cruise down the Seine River for incredible views of Notre-Dame and the Eiffel Tower. Champagne included, of course. Then you'll be guided to the Eiffel Tower, skip the long lines, and head up the elevator to the second floor for a night to remember.





See Prices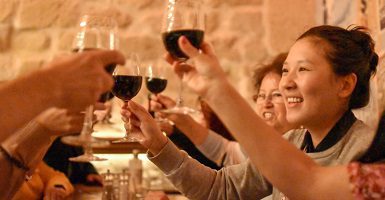 Top Selling
Ultimate Taste of Paris Food Tour in Le Marais
Embark on a culinary journey in Le Marais—one of the hippest neighborhoods in Paris. Most food tours in Paris offer cheese and wine, but we include a full, sit-down meal! Enjoy a feast of French cheeses, oysters, street food, boeuf bourguignon, crème brûlée, and more. This 3-hour food tour combines the best of Paris' culinary heritage and you won't find a better deal out there!





See Prices
Not ready to book a tour? Check out our best Paris tours to take and why.
Musée d'Orsay Tour Options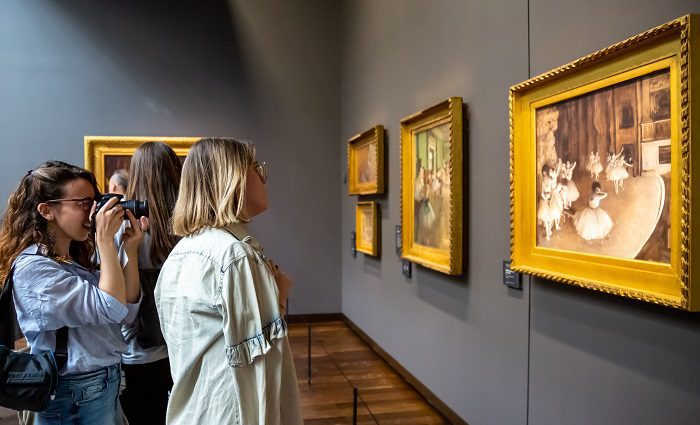 The museum does offer an audioguide in multiple languages for €5 that you can get at the front desk. If you want to maximize your experience, book a Musée d'Orsay tour to take the guesswork out of visiting and dive straight into the art and history with a passionate guide.
As a tour operator, we're a bit biased about taking tours but we do what we do because we know how much value it brings to the experience of seeing great art and monuments. With a passionate local tour guide and skip-the-line tickets, you'll experience the best of the museum within a manageable 2 hours. Taking a guided tour makes visiting the museum fun, interesting, and easy.
Whether you're an art lover or you just want to avoid the crowds at the Louvre, a private tour of the Musée d'Orsay might be just what you need. You get skip-the-line tickets and a private guide who is deeply passionate about art. They'll bring to life Paris' second-largest art museum, which was once a train station with a fascinating history. It's definitely worth visiting!
See tour itinerary, price, and description
Not ready to book a tour? Check out the top artworks to see at Musée d'Orsay.
Facts and History of the Musée d'Orsay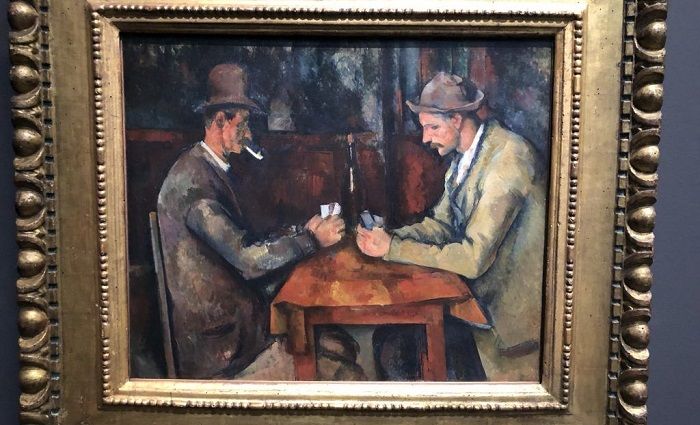 The building was originally a train station, the Gare d'Orsay.
The main hall of the museum is an amazing 452 feet long (138 meters), 131 feet wide (40 meters), and 104 feet high (32 meters).
12,000 tons of metal was used to construct the building—that's almost twice as much as the Eiffel Tower.
35,000 square meters of glass was used—the equivalent of about three Manhattan City blocks.
The museum has the largest collection of impressionist and post-impressionist artwork.
The three massive clocks in the museum are the originals from the train station.
The museum had 3.6 million visitors in 2019.
1 million cubic meters of air is treated each hour for air conditioning.
History of the Musée d'Orsay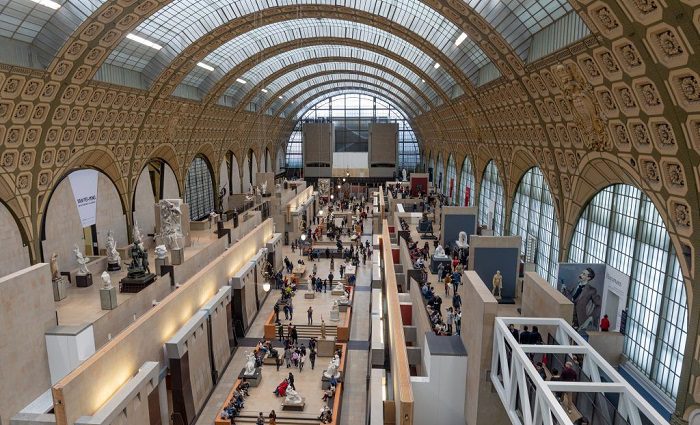 The Train Station
The current Musée d'Orsay was previously a train station (called a Gare in French) and hotel, which was built in just 2 years and inaugurated in time for the Worlds Fair on July 14th, 1900. In order to ensure that such a massive structure didn't look out of place, the particular stone chosen came from the Charente and Poitou regions.
The amenities were extremely modern for the time with ramps and lifts for luggage, elevators for the passengers, a reception area on the ground floor, electric traction, and 16 underground rail tracks.
It immediately became the head of the Southwestern French railroad network. The hotel became a popular venue for various gatherings of associations and political parties.
During the War
By 1939, the Gare d'Orsay was limited to traveling to the suburbs of Paris since its platforms were too short for the more modern and longer trains that were being built.
As World War II began, the train station was used as a mailing center to send packages to prisoners of war and was also the final destination point for those prisoners returning after the liberation of the war.
The hotel finally closed its doors on January 1st, 1973. Among the many occasions and events that took place at the hotel, one of the most famous was when General De Gaulle announced his return to power in the ballroom.
The Birth of a Museum
At this point, the train station needed a new reason for being. There were plans to demolish the area and build a huge hotel on the spot, but the Direction des Musées de France had decided that the area would be better suited to a museum that could represent artwork from the second half of the 19th century and was made official on October 20th, 1977.
On December 1st, 1986 then-president François Mitterand inaugurated the museum and it opened its doors to the public on December 9th of the same year. The collections were brought in from three main sources:
Louvre Museum: The works of artists born after 1820 or coming to prominence during the Second Republic.
Musée du Jeu de Paume: Since 1947, this museum had been dedicated to the works of Impressionism.
National Museum of Modern Art: When moving over to the Centre Georges Pompidou, it only kept artwork from artists born after 1870.
Places To Eat Inside and Nearby
Inside
Café Campana: €€ | Beautiful Setting—The Musée d'Orsay has one restaurant inside the museum itself, called Café Campana. The cafe, designed by the Brazilian Campana brothers, is a tribute to Art Nouveau and is meant to transport you into a dreamlike aquatic environment.
The menu is casual with a cafeteria-style vibe, so you'll get your meal fast. The café prides itself on seasonal, fresh ingredients and also has large salads and ice cream. It's a lovely place to take a break and refuel before continuing your museum visit.
Address: Musée d'Orsay
Nearby
The Musée d'Orsay is conveniently located near St. Germain des Prés, which is a very happening district and full of great restaurants and cafés.
Address: St. Germain des Prés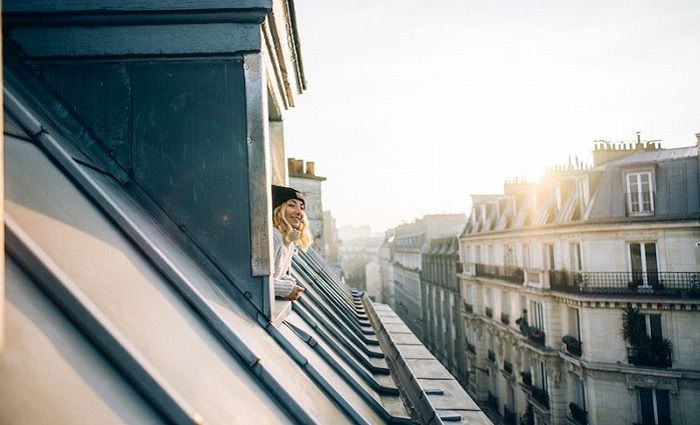 Find the best places to stay
Where To Stay in Paris
With a city as magnificent as Paris, it can be hard to find the perfect hotel at the perfect price. Explore the best hotels and places to stay in these incredible neighborhoods in Paris.