San Francisco only spans a seven-square-mile radius, but the tiny city is packed with iconic landmarks. A great way to see a lot in a short amount of time is to join a local expert guide. From Alcatraz to the Golden Gate Bridge, you'll check off bucket-list sights and hidden gems all in one day. Here's why a a tour of San Francisco is worth it.
---
Pro Tip: It's easier to organize your trip when you have all your resources in one place. Bookmark this post along with our San Francisco Guide for more planning resources, our best San Francisco tours for a memorable trip, and how to spend 3 days in San Fran (with itinerary).
What You Get on a San Francisco Tour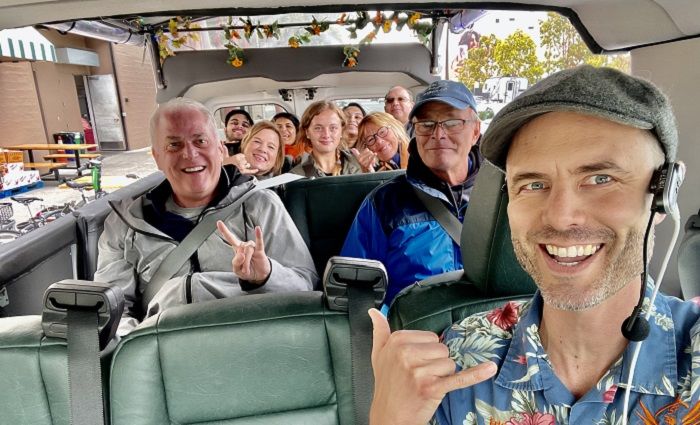 Touring San Francisco is the best and easiest way to get to know this incredibly diverse city. It's only 7 miles by 7 miles large, but it's not an ideal city for tourists to drive in. So why not let a local who loves the city help you see the sites and learn all about the culture and history here? That alone makes a San Francisco tour worth it!
On this full day tour of San Francisco, you'll explore the Golden Gate Bridge, the Painted Ladies, Palace of Fine Arts, Mission District, Alcatraz, and so much more. And since your local guide knows the city super well, they'll be able to avoid the traffic traps and areas that are closed for an event, while making it up with another cool place to see.
Not ready to book a tour? Read more in our San Francisco Guide.
Top Areas You'll Visit on a San Francisco Tour
A trip to San Francisco isn't complete without seeing the most famous attractions in San Francisco. Make it easy with skip-the-line tickets to Alcatraz Island and the best viewpoints for those selfies you're dying to capture. Here are the top attractions that make this tour of San Francisco worth it.
3. Picnic at the Painted Ladies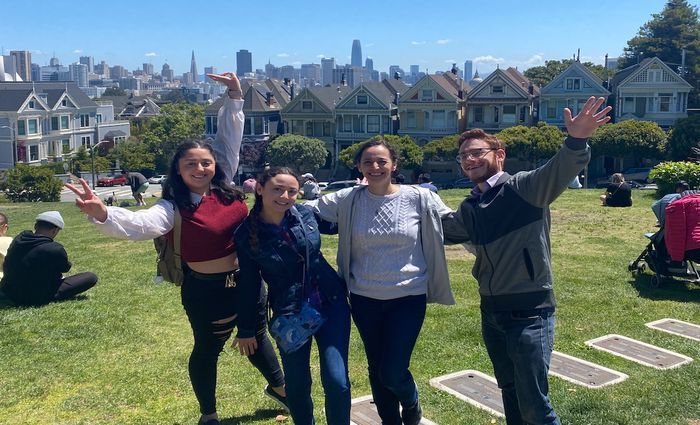 The Painted Ladies are an iconic row of victorian homes located next to a famous San Francisco park, Alamo Square. There are many nearby shops and restaurants where you can buy a picnic to-go and enjoy lunch with a view.
Sunny Alamo Square Park Makes for A Picture-Perfect Picnic
Alamo Square is located in the heart of San Francisco, on a sloped grassy knoll. Some locals will tell you it is the best place in the city for a picnic on a sunny day.
The park overlooks the Painted Ladies, which are in the foreground of a beautiful San Francisco skyline view. You'll be able to see some of the most iconic buildings from the park. Let us know whether or not you are a fan of the new tallest building in SF – the Salesforce Tower. Spoiler: most locals will tell you they hate it.
The Architecture is Famous
Originally built between 1892 and 1896, these iconic homes tell a story of the city's unique history. It wasn't until 1963 that famous artist Butch Kardum started experimenting with colors on these Victorian homes.
This eventually turned the painted ladies into a famous icon of San Francisco and gave them their name. In May 2022, the NBC Bay Area reported that one of the famous houses had sold for $3.55 million, $1 million dollars over the asking price.
A Day Tour Makes This an Easy Pit Stop Between Other Landmarks
Considering you will be traversing our hilly city all day, having a local expert guide you through the city will help you fit many more local gems into one day.
The Painted Ladies and Alamo Square Park can easily turn into a simple stop for the day, and you'll still be able to check off other places on your to-do list. Your knowledgeable tour guide will also be able to make quick stops or drive through famous neighborhoods when passing through the city en route to the main stops of the tour.
Not ready to book a tour? Read more in our San Francisco Guide.
2. Sail to Alcatraz Island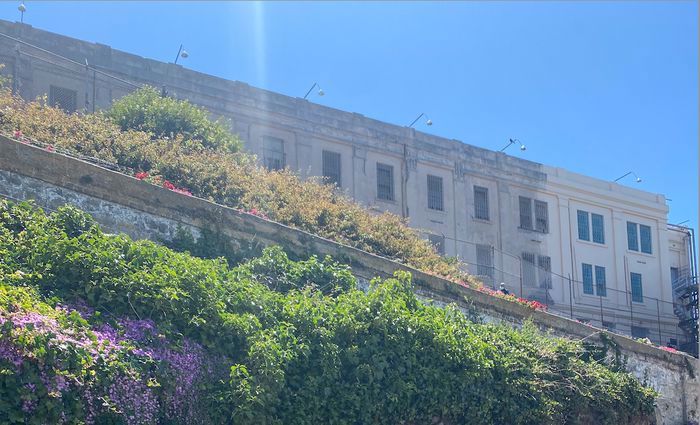 Arguably one of the most famous prisons in history, Alcatraz Island is an experience that can't be missed. Many tourists expect it to be easy: just hop on a ferry and head over to this famous island. However, you'd be disappointed to discover that you actually have to book ferry tickets—and quite far in advance.
Our full-day city tours end at the Alcatraz island ferry port and include pre-booked ferry tickets. Additionally, you'll be able to admire the island from the many vantage points throughout the day tour.
Alcatraz truly is a beautiful tragedy. The paradox of being able to see the gorgeous San Francisco skyline while being stranded in prison was created by design to torment the prisoners. On windy nights, the prisoners would even be able to hear the laughter and music from the nearby yacht club.
The guided audio tour of the Alcatraz story is told through the voices of real prisoners and guards. You'll get to peer into the cells of the prisoners, hear escape stories, and learn about how the prisoners and guards spent their free time at Alcatraz.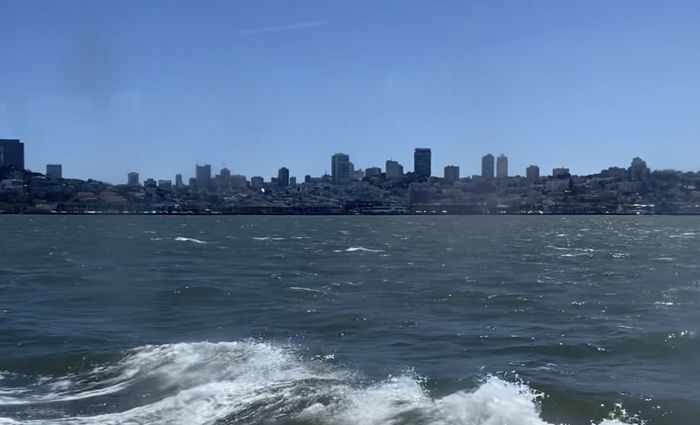 View The San Francisco Skyline
The ferry ride to Alcatraz features one of the best views in all of the Bay Area. You'll have views of Coit Tower, the Transamerican Pyramid, and both the Golden Gate and Bay Bridges.
The view from Alcatraz island itself makes for a beautiful photo opportunity as well. You'll see sailboats and windsurfers in the bay with a background of the skyline.
During the audio tour, you'll learn that Alcatraz was strategically placed with a perfect view of the city to torment the prisoners. On windy nights, prisoners could even hear all of the laughter, music, and joy that they were missing out on from the nearby city.
Walk The Cell Blocks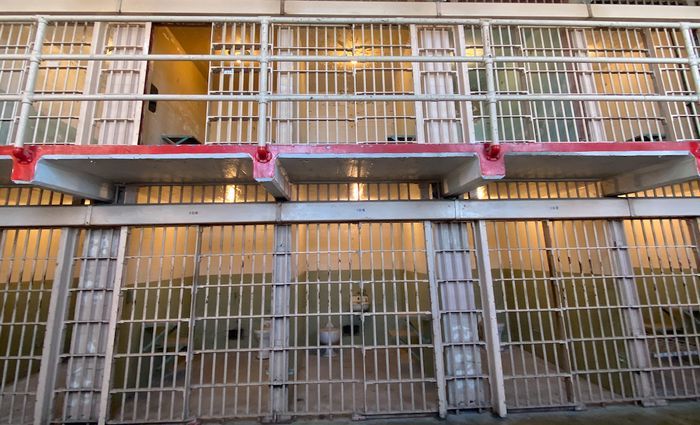 When you arrive at this famous prison, you'll receive a headset for the audio tour that will guide you around the infamous cell blocks. It's narrated by real prisoners and guards of Alcatraz.
As you walk the cell blocks, the audio guide will accompany you from cell to cell, recounting gruesome stories of chilly nights, solitary confinement, prison visitors, and what a day in the life of Alcatraz was like. Fun fact: the families of the prison guards also lived on the island and participated in school dances and parties.
Hear Stories of Famous Inmates and Escapes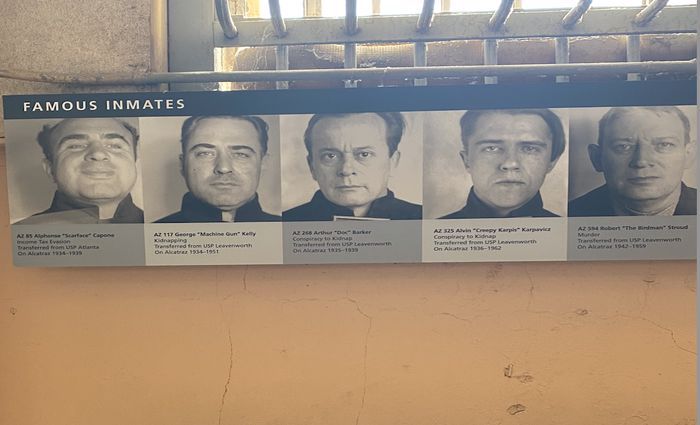 From "The Rock" to "Escape From Alcatraz", this prison is a famous setting for many Hollywood blockbuster movies. You'll be guided through two famous escapees' cell blocks.
The tour will narrate how the prisoners dug through a vent with a spoon to successfully escape from Alcatraz. Some unsuccessful stories are also highlighted during the tour of the prison.
Not ready to book a tour? Find out more about how to visit Alcatraz.
1. View the Golden Gate Bridge From Fort Point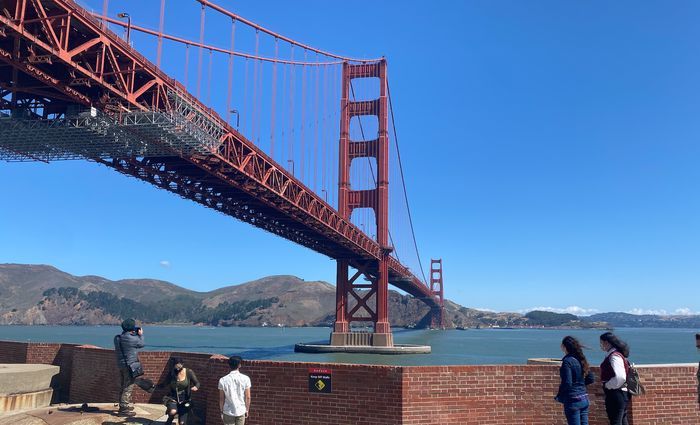 Most tourists are unfamiliar with Fort Point, which is known for the best view of the bridge. You'll be able to see the old army base, view the bridge from below, and learn some extra history about the famous bridge and surrounding areas.
This is all while the rest of the tourists are waiting in line to capture a picture near the visitors center. Fort Point is a local's secret that is usually off the beaten path. It's a great way to avoid the crowds!
Learn About the Golden Gate Bridge Construction
It's one thing to see the Golden Gate Bridge and marvel at its construction, but it's another to actually learn about it while you're standing underneath it. Your San Francisco tour will explain so many incredible details about the engineering masterpiece of its time. Did you know they held a party on the bridge after it was completed? Yep!
Not ready to book a tour? Read more in our San Francisco Guide.
Why a San Francisco Tour Is Worth It
As we've mentioned there are a few benefits to booking a San Francisco tour with a local guide from convenient transportation to local knowledge. Let's break it down even further.
Driving in The City is Not For The Faint of Heart
Renting a car and driving through the narrow streets of San Francisco is not for the faint of heart. 'Nuff said. Even the locals will tell you they refuse to drive in the city. Between traffic, one-way streets, and some of the steepest hills you've ever seen, your day in SF will be best spent enjoying the ride and letting an expert take the wheel.
Personalized Tours
Our tour guides are incredibly knowledgeable of the city's interesting history and will pass by some hidden gems en route that you'd otherwise miss. They also do a good job of incorporating specific requests into your day tour. If there's anything in particular that you'd like to see during your SF tour, don't hesitate to ask your tour guide.
San Francisco is packed with plenty of must-see places, and considering it is only seven square miles, odds are they'll be able to swing by at some point in your tour. Look no further than a personalized tour for the best possible experience you could ask for when in San Francisco.
Great Value
San Francisco is known as one of the most expensive cities in the world. Your tour guide will set you up with Alcatraz tickets, take you to the most iconic landmarks in San Francisco, and give you a local's take on many eclectic SF neighborhoods. Rest stops and lunch are taken care of too, all for a reasonable price. It really is a no-brainer.
Learn More About San Francisco
With a knowledgeable tour guide, you learn so much more about the city than you would otherwise. San Francisco is home to so many nooks and crannies full of secrets and rich history—and you'd never know it without a guide's expertise. Not only will you learn about the city's history, but you'll also be able to see many more areas of the city known only to locals while passing between San Francisco's iconic tourist landmarks.
It's a Family-Friendly Activity
Like many landmarks you'll see in San Francisco, Alamo Square Park is a fabulous stop for adults and kids alike. Kids of all ages can enjoy the fun architecture and sweeping city views. The park is a wonderful place for people (and dog) watching. Because many San Franciscans don't have backyards, the parks in the city have become hangout spots where locals get some fresh air and enjoy being outside.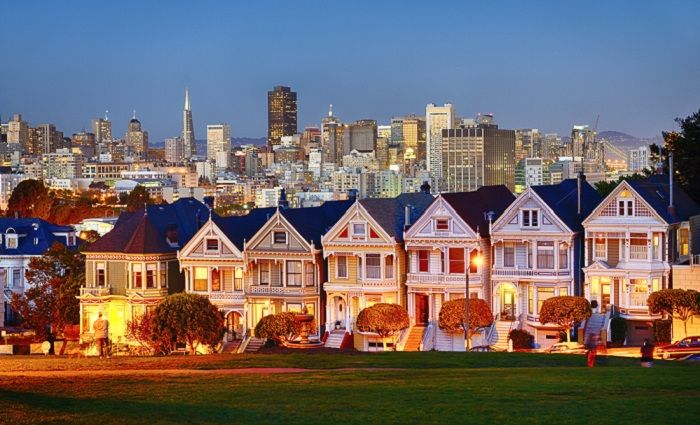 Find the best places to stay
Where To Stay in San Francisco
Make the most of your visit to San Francisco by choosing to stay in the best neighborhoods for seeing all this iconic city has to offer. You'll love our hotel recommendations.