There's a lot to organize when you plan a trip to Paris: what to see, where to stay and what to pack. One detail that you may not think about until you touch down in the French capital is how you'll get from Point A to Point B.
Paris has great public transportation, but you might feel uncomfortable using it if you're only used to driving your car on a daily basis.
We've laid out all your transport options for you so you can choose what's right for you and feel confident getting around in the City of Lights.
---
Last Updated: August 3 2020
Tips & Structured Options
Looking for a place to rest your head in the city of lights? Check out our guide to picking a place to stay in Paris!
Wandering around Paris aimlessly sounds romantic but not for four days.  Check out our best Paris tours and allow a local expert to show you around the charming city.
In this article we will go over:
Getting from the Airports to Paris
Paris Metropolitan System
Paris Bus System
Biking in Paris
Paris by Food
Taxis & Uber in Paris
Getting from the Airports to Paris
There are tons of transportation options from the three Parisian airports to the center of Paris or Gare du Nord.  Check out our full article on how to get from the airports to Paris.
Paris Metropolitan System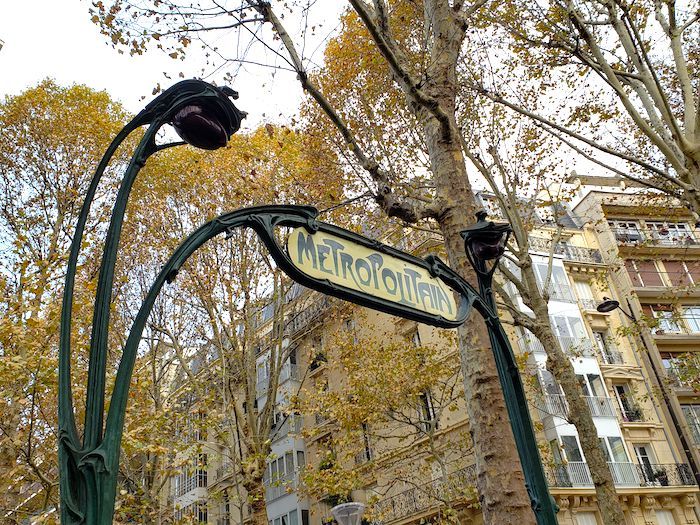 Paris's metro system is incredibly well-connected and convenient. With 16 metro lines and over 300 stations, you can cover a lot of ground in Paris using the metro.
The city's first metro line opened in 1900, so they've had quite a few years to perfect the transport system.
Cost
A single metro ticket costs 1.90€. You can save money if you purchase a carnet of 10 tickets for €14.90. You can also purchase Paris metro passes for 2 or 3-day durations (called Paris Visite), or even for 1 week or 1 month (a Navigo pass).
Whether you purchase a batch of single tickets or a 2 or 3-day pass depends on how much you actually think you'll use the metro.
Where to Buy Metro Tickets
The easiest place to purchase metro tickets is inside a metro station. Most stations have automated machines you can use (an English language option is available) and some stations also have a help desk with metro attendants who you can purchase tickets from.
Make sure to keep your metro ticket with you at all times until you've exited the metro entirely. There are occasionally checkpoints in stations or on trains, as many people jump the barriers, and if you do not have your ticket on you, you could be fined.
Pros:
Normally fast

Average 2-3 minutes between trains

Great directions inside each station
Paris Bus System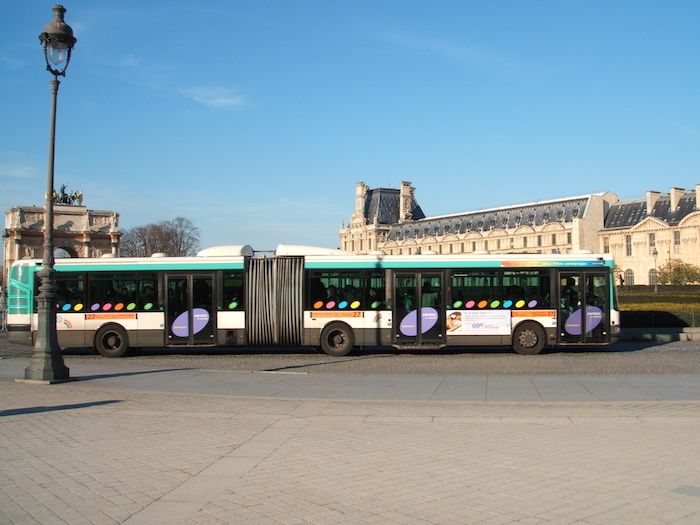 The city's bus system is also convenient, with dozens of lines connecting across the city. When you take the bus, make sure you push the red buttons when you see that your stop is coming up next.
If no one pushes the button, the bus driver may not stop. When you hit one of the red buttons, you will see the words Arret Demande light up in red above the space where the driver sits.
Likewise, if you are at a stop waiting for a bus, make sure you give a sign to the bus driver that you would like him or her to stop when you see the bus approaching, much like hailing a taxi.
Cost
The tickets you use on Paris' buses are actually the same on the metro. You can purchase the tickets from metro stations or directly from the bus driver for a slightly more expensive 2.00€.
If you want to purchase tickets from the bus driver, you need to have cash. If you're only planning on purchasing one ticket, realize that the driver most likely will not have change if you hand him a 20€ bill, so it's best to have some coins or small bills on you, and these tickets can only be used on the bus.
Pros:
Great views from the window

Buses are clean and come frequently
Biking in Paris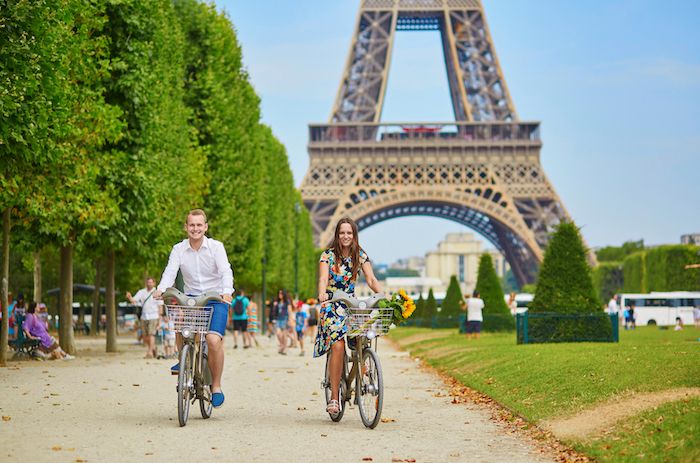 If the weather is nice and you feel like getting a little exercise in, try out Paris's bike-sharing program, Vélib.
When you return a bike to one of the stations, make sure you have correctly locked the bike back into position.
To do this, you can pull on the bike as if you were trying to remove it from the station (and make sure it can not be removed). If the bike is not placed correctly into the hold, you can get charged for extra time.
Cost
You can purchase a one-day "V-Découverte" pass or a seven-day "V-Séjour" pass. The card can be used to borrow up to five bikes at one time, which means you'll need only one pass for a family or small group.
The first 30 minutes with a mechanical bike are actually free, and the first 30 minutes with an electrical bike only come with a small fee.
Pros:
Bike sharing can be cheap
Cons:
Motorcyclists and drivers can be very aggressive. 
Paris by Foot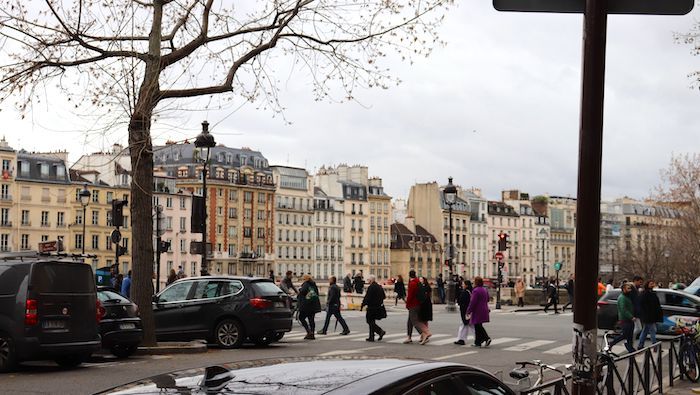 Paris is a very walkable city, and it's often just as fast to walk somewhere as it can be to take the metro or bus.
Before heading anywhere, we suggest looking up how long your walk should be and compare it with the estimated public transportation times.
Cost
Free, unless you stop for a croissant along the way.
Pros:
Great way to get acquainted with the city

Great exercise and free!
Cons:
Paris is large.  Walking is not always a reasonable option.
Taxi and Uber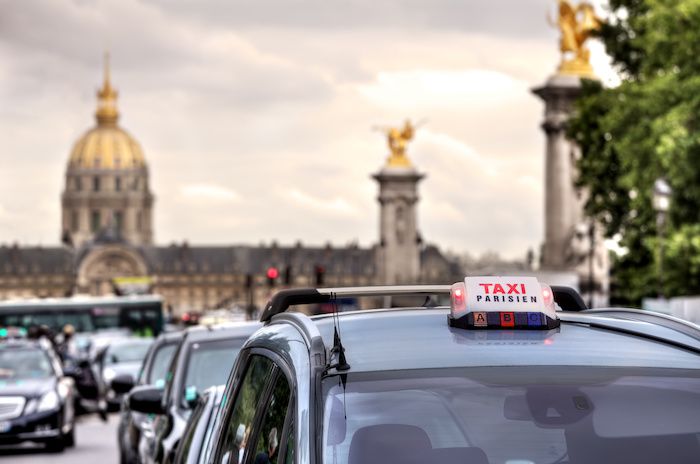 Taxis and Ubers are used frequently in Paris, and are normally a quick and easy option.
Cost
The initial cost of a taxi ride is normally about 2.60€ – this is the amount the meter will start at.
For more exact figures, you can check online or with an app from one of Paris's main taxi companies, like G7. Using the Uber app, you can see the estimated cost of your total ride.
Pros:
Most direct option from Point A to Point B

No need to worry about language barrier
I Want More Paris!
Not sure what to do in Paris? Check out our step-by-step guide about how to do Paris in a Day. If you'd rather let us guide you, check out our Paris tours.
Parlez-Vous Francais? Learn some of the most important French phrases before your trip to Paris.