Let's face it, air travel has its ups and downs. The last thing you need is more stress after a long international flight. In this guide, we'll walk you through what you need to know to get you from the main airports surrounding Paris into the city.
How to get to Paris from the Airports
Check out our video on How to Get to Paris from the Airport!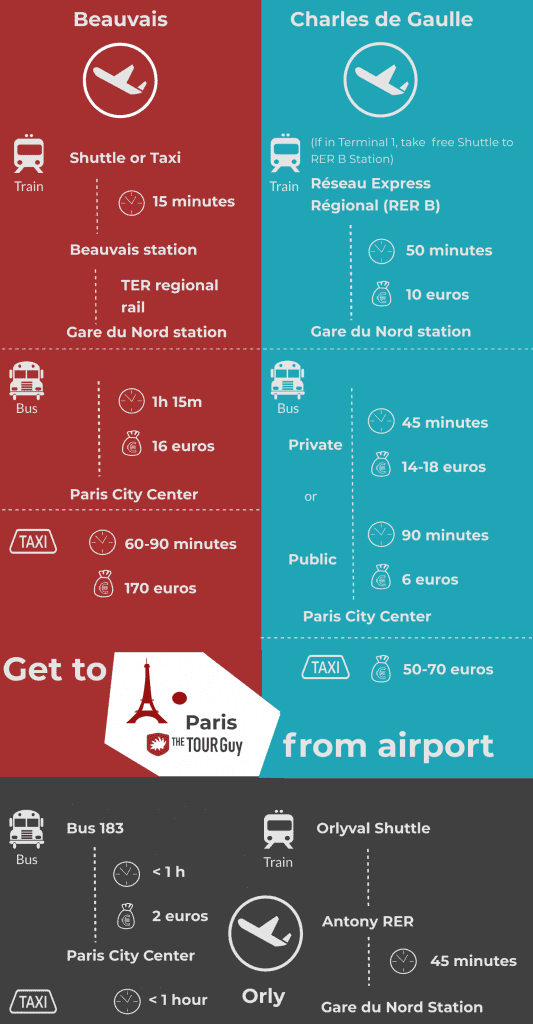 In this article we'll be covering how to get to Paris from the main airports of France:
Charles de Gaulle (CDG)
Orly Airport (ORY)
Beauvais Airport (BVA)
Pro Tip: Consider bookmarking this article in your browser so you can circle back to it when you're traveling.
Also, tours and experiences are the best way to really connect with a museum or attractions through the eyes of a local. Check out our Paris tours.
Check Out Our Best Versailles & Paris Louvre Tours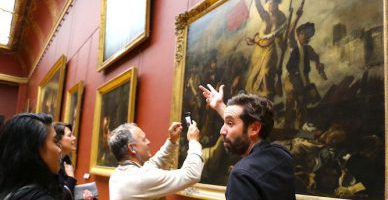 Top-Rated Tour
Royal Louvre Palace Tour with Mona Lisa & Crown Jewels
The Louvre is the largest art museum on Earth and the crowning jewel of Paris, which is why it's on everyone's bucket list. Don't be left out of an incredible opportunity! Join a passionate guide for a tour of the most famous artwork at the Louvre. Skip-the-line admissions included.





See Prices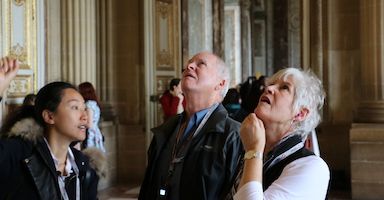 Likely to Sell Out
Skip-the-Line Palace of Versailles and Gardens Tour from Paris
Versailles isn't that difficult to get to by train, but why stress over the logistics? Meet a local guide in central Paris who will purchase your train tickets and ensure you get off at the right stop. Then enjoy a guided tour of the palace and the unforgettable gardens. Skip-the-line admissions included to the palace and gardens.





See Prices
1. Charles de Gaulle
If you're flying into France, chances are you'll be landing at the Charles de Gaulle Airport.
Located about 35 kilometers (or 22 miles) Northeast of Paris, this airport welcomes nearly 80 million passengers a year. This means it gets super hectic, especially during the high seasons.
Train
The train is our recommendation for getting to the city. It's the cheapest and fastest option available.
Once you've picked up your luggage, you'll want to follow directions for RER B, or Réseau Express Régional.
There are station stops in Terminal 2 and 3 of the airport, and a free shuttle to the station if you land in Terminal 1.
Your ticket will cost about 10€ and you can buy it in the station.You'll want to buy from the blue ticket machines labeled billeterie.
And if you have any issues with the machines, there's a ticket counter where you can pick up your ticket.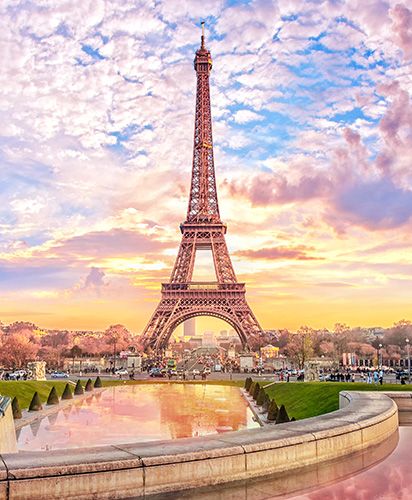 Trip Time: 50 minutes
Cost: 10.30€
You'll want to get on an express train, if possible. This will get you to the city much faster, as you won't be stopping at any of the stations en route to the city.
One last thing: it depends on the day you go, but you may not be able to find a seat. So keep in mind that you may have to stand.
Get off at the Gare du Nord stop and you'll be in the center of Paris.
Bus
There are a few private agencies running busses from the airport to Paris, and usually take about 45 minutes to get to the city center. It'll run you somewhere between 14 and 18 euro, depending on when you take it.
The public busses work just as well, but they'll take you about 90 minutes, but they're a cheaper option: usually around 6 euro cheaper.
Trip Time: 45 minutes (private) 90 minutes (public)
Cost: 14€ – 18€ (private) 6€ (public)

Taxi
You can also take a taxi from the airport to the city, though I wouldn't recommend it. It can shave some time off your trip but can cost anywhere from fifty to seventy euros.
And if there's traffic going into the city, that price is only going to increase. You might be able to find a better deal on Uber or Lyft, but don't count on it.
Taking a taxi into the city is by far the most relaxing and direct choice.
If you are a group of more than 4 expect to pay additional fees for your fare.
Trip Time: 45 minutes
Cost: 50€ (right bank) 55€ (left bank)
The Orly Airport
The Orly Airport is located about 24 km (or 15 miles) from the city center. Before Charles de Gaulle, this was Paris' main airport. It remains the busiest for domestic transport, so you'll want to find your connection to the city as soon as possible.
Train
This is our recommended route. There are four terminals at the Orly Airport. No matter where you land, you're going to want to look for signs for the Orlyval shuttle.
These run from every terminal in the airport. It will take you to the Antony RER station every five minutes. From there you can purchase a ticket, hop on the train and arrive at the Gare du Nord train station in about forty-five minutes.

Trip Time: 45 to 60 minutes
Cost: 12.10€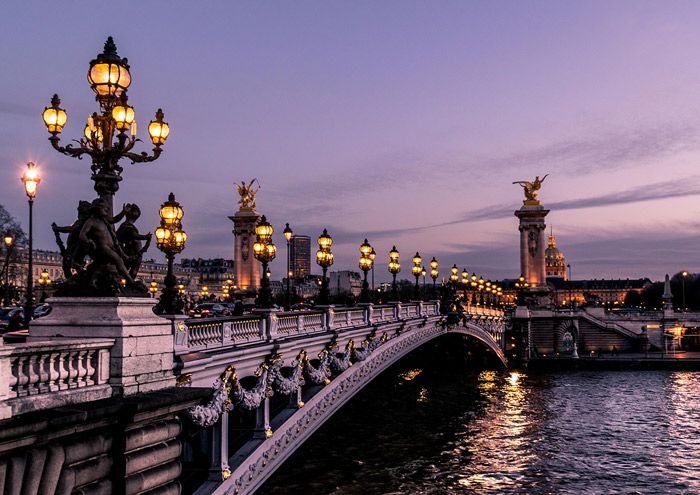 Bus
Public bus 183 connects the Orly airport to the Paris city center.
This will take you about an hour to get you to the city, and costs 2 euro.
Trip Time: 1 hour
Cost: 2€
If you're heading to a major hotel, it's worth checking out the Benefit line, which serves many of them.

Taxi
Of course, you can also take a taxi from the airport. Again, we would not recommend it because it can get kind of expensive. But this is your trip, and we totally get it if you're trying to avoid a crowded train. It shouldn't take you longer than an hour to get to the city this way, but traffic is always a factor.
Cost: 32€ (left bank) 37€ (right bank)
Our Best Guided Tours of Paris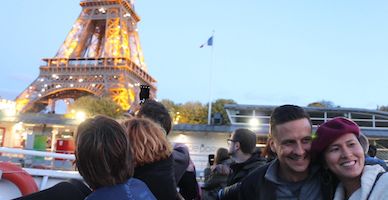 Likely to Sell out
Privileged Access Eiffel Tour with Champagne on the Seine
Sometimes the most amazing moments happen by chance. Other times, they are orchestrated by professionals. Our Eiffel tower tour cruises by the famed monument as it lights up and you drink champagne. After, you'll have tickets to enter the tower and ascend to the 2nd level with an elevator. Admissions included and we'll take care of the details… you simply pay and show up!





See Prices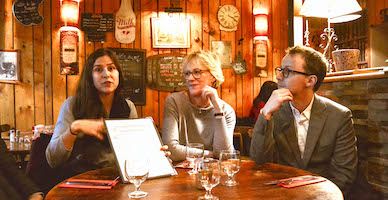 Top Selling
Le Marais Paris Food Tour with Champagne & Local French Food!
Embark on a culinary journey in Le Marais, one of the hippest neighborhoods in Paris. Enjoy a feast of French cheese, street food, boeuf bourguignon and crème brûlée, and more. This three-hour food tour combines the best of Paris' culinary heritage.





See Prices
Beauvais International Airport (BVA)
Unless you're flying domestically or from another nearby European country, you're likely not to pass through the Beauvais International Airport, located about 85 km (or 52 miles) northwest of Paris.
This makes it the farthest airport from Paris, which makes transportation really important.
Train
Especially if you're traveling light, taking the train from Beauvais to Paris is a good move. Every 1-2 hours you can pick up one of these from the airport, but you'll need to take a shuttle or a taxi from the airport to the Beauvais station. A taxi should cost about 15€ and the train will cost 17€.
It takes about 15 minutes by taxi from the airport to the train station. Then you can take the TER regional rail to the Gare du Nord station in central Paris.
Trip Time: 1h 15 mins
Cost: 32€
Bus
The shuttle service that runs from the Beauvais airport has no set times. Instead, the shuttles are scheduled in accordance with when the flights land. The ride takes you right into central Paris and is about an hour and fifteen minutes with a single ticket setting you back around 16 euros.
This is the most direct route into Paris, and definitely the one we recommend if you're not in a hurry. Traffic getting into Paris can get pretty dicey, however, so make sure to look up traffic conditions on Google Maps before you take this option.
Trip Time: 60 – 90 minutes
Cost: 16€
Taxi
There's always the option for taxis, especially if you're carrying a lot of luggage and don't want to stand with it one the train.
This option will take you about 60 to 90 minutes to take you into the city center, and is certainly the most direct route to your hotel.
The drawback is, of course, the price, which can range over 170 euros. So we don't recommend this unless you really need it (and if you don't mind the price!)
Time: 60 – 90 minutes
Cost: 170€+

So there you have it. With this info, you should be able to make your way easily from the major airports to the city center of Paris. When you get there, there's tons to see. We definitely recommend our tour of the Louvre or the Eiffel Tower. Have fun in the City of Lights!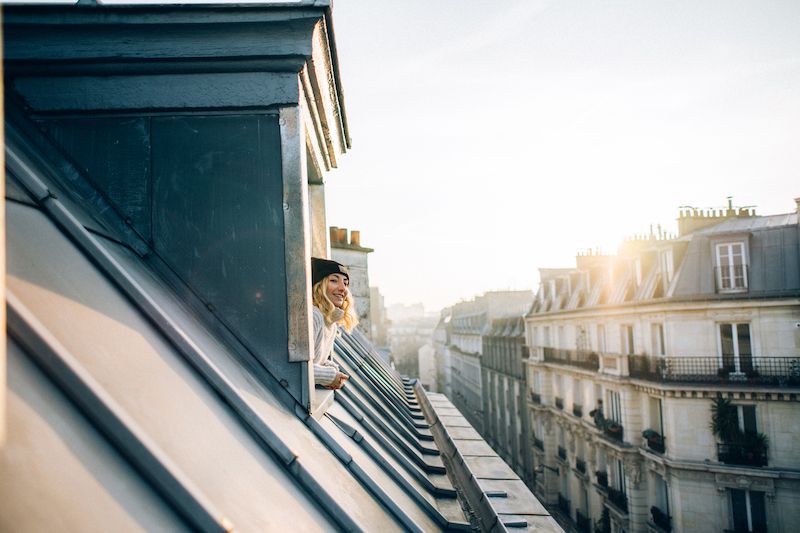 Find the best places to stay
Where to Stay in Paris
With a city as magnificent as Paris, it can be hard to find the perfect hotel at the perfect price. Explore the best hotels and places to stay in these incredible neighborhoods in Paris.