Falafel is the most popular street food in Paris, hands down. Most well-known for Israeli-style falafel sandwiches, competitors vie fiercely with another in the Jewish Quarter of Le Marais where more than a hundred thousand European Jews settled after WWII. As a result, this is where the culinary traditions of the Jewish community continue to thrive. We've compiled a list of some of the tastiest falafel in the city for you to try.
And the best part? All of them are under eight euros!
---
While the information provided in this post is free, we also sell tours at reasonable prices. Seeing (and eating) in Paris is a once-in-a-lifetime experience. Sample everything from cheese to the best falafel in Paris on a guided foodie tour in the Marais.
Skip the lines, the crowds and the uncertainty. As Paris locals, we're here to show you the best eateries in Paris.
What is the Big Deal Over Falafel in Paris
A Middle Eastern dish, the origins of falafel are debated. While we can't say for certain who first invented the recipe, they are made of mashed chickpeas, spices and sometimes fava beans.
Falafel should have a nice crunch on the outside – a result of deep frying – with a moist and flavorful interior. Often served with tahini sauce, a rich paste made from roasted sesame seeds, falafel is flavored with garlic and lemon.
If the rest of your visit to Paris is filled with hearty meals of bœuf bourguignon and crêpes, a break for a non-traditional meal is just what you need.
L'As du Fallafel
Known to many Parisians as the best falafel in the city, L'As du Fallafel is situated on the famous Rue des Rosiers in the heart of Paris's historic Jewish district, the Marais. While the falafel restaurants on this street are numerous, the line at L'As du Fallafel is always longer than the others.
Lunch at this falafel stand is a singular experience, from the long queues to the raucous staff. And most importantly, the falafel is always perfectly deep-fried! In case anyone in your group isn't into falafel, the restaurant also offers shawarma dishes. Food can be ordered outside and taken to-go, or you can try to grab a seat inside.
Address: 32-34 Rue des Rosiers, 75004 Paris | Tel: +33 1 48 87 63 60
Hours: Sun – Thurs 12PM – 11PM | Fri 12PM – 4PM
Chez Hanna
Also located on Rue des Rosiers is Chez Hanna. While not quite as renowned as L'As du Fallafel, Chez Hanna's falafels are nearly as good. Plus, the restaurant interior is a little nicer and the service is less rushed.
So, if you're looking for more of a sit-down meal, this is the better choice. If you pay a visit to Chez Hanna, try the falafel pita sandwich, the turkey shawarma and the Israeli mint lemonade. Or, try the wine and beer to wash down your Middle-Eastern fare.
If you'd rather sit down and enjoy your meal in a less chaotic environment, this is your best bet.
Address: 54 rue des Rosiers, 75004 Paris | Tel: +33 1 42 74 74 99
Hours: Every day | 11:30AM – 12AM
Chez Marianne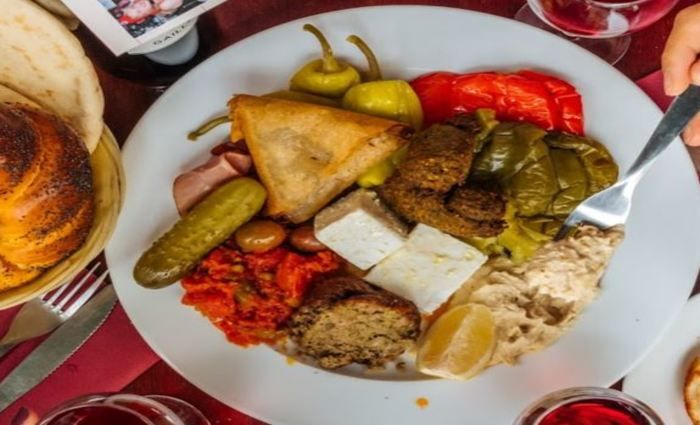 Another popular restaurant in the Marais, this trendy eatery is also well known for their falafel. You can either sit inside or grab a pita sandwich from the kiosk outside.
If you don't want to get messy with tahini and hummus dripping down your hands in the street, there are tables available for an extra charge. One of the more original kosher eateries in Rue des Rosiers, Chez Marianne serves up sampler plates of falafel, hummus, baba ganoush and more.
In addition, if you love sweets, Chez Marianne offers several types of Jewish cakes and pastries from Eastern Europe. A perk of this place is that it's open every day, in comparison to its competitors who aren't.
Address: 2 rue des Hospitalières St Gervais, 75004 Paris | Tel: +33 1 48 87 63 60
Hours: Every day | 9:30AM – 9PM
Our Best Guided Tours of Paris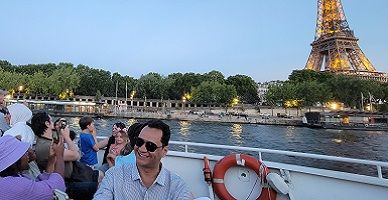 Likely to Sell out
Privileged Access Eiffel Tower Night Tour With Seine River Cruise
Sometimes the most amazing moments happen by chance. Other times, they are orchestrated by professionals. Our Eiffel Tower tour takes you on a cruise down the Seine River for incredible views of Notre-Dame and the Eiffel Tower. Champagne included, of course. Then you'll be guided to the Eiffel Tower, skip the long lines, and head up the elevator to the second floor for a night to remember.





See Prices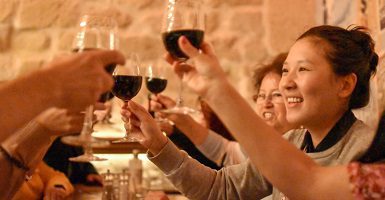 Top Selling
Ultimate Taste of Paris Food Tour in Le Marais
Embark on a culinary journey in Le Marais—one of the hippest neighborhoods in Paris. Most food tours in Paris offer cheese and wine, but we include a full, sit-down meal! Enjoy a feast of French cheeses, oysters, street food, boeuf bourguignon, crème brûlée, and more. This 3-hour food tour combines the best of Paris' culinary heritage and you won't find a better deal out there!





See Prices
Cook'n Saj
A small restaurant started by two brothers which has quickly become one of the top Lebanese food spots in the city. Cook'n Saj offers a variety of dishes other than falafel, such as burgers, salads and grilled chicken, so it'll please everyone in your travel group. However, their falafel is top-notch and topped with a great combination of cornichons, mint and tahini sauce.
This is one of the only falafel spots within a few minutes walk of the Saint-Germain-des-Prés neighborhood, a zone popular with tourists but more difficult to find affordable food in, so this is a great deal.
Address: 5 Rue Bernard Palissy, 75006 Paris | Tel: +33 7 52 62 70 81
Hours: Tues – Fri 12PM – 4PM | 7PM – 10:30PM | Sat 12PM – 10:30PM
Maoz Vegetarian
The creators of Maoz were inspired to provide healthy, nutritious but delicious vegetarian food for all. There's no meat available at this spot, so if you're a vegetarian or vegan than this spot is for you! They serve more than 15 signature salads and sauces, and their star sandwich is the falafel pita! We suggest getting creative and adding some babaganoush, hard boiled egg or feta cheese to your sandwich.
Technically Maoz is a chain, with a few restaurants located on the East Coast of the US as well, but this is one of just two restaurants they have in France. We recommend their falafel wholeheartedly!
Address: 36 Rue Saint-André des Arts, 75006 Paris | Tel: +33 1 43 26 36 00
Hours: Sun – Wed 11AM – 11PM | Thurs – Sat 11AM – 2AM
Big Falafel – Paris 11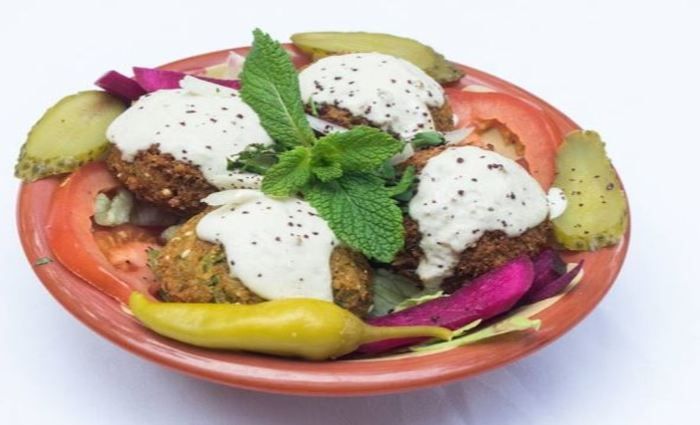 A falafel restaurant specializing in Lebanese and Korean fusion cuisine. The focus here is falafel, but they offer tons of spin on the falafel like a falafel wrap, Korean falafel burger, falafel bibimbap…the list goes on and on! You'll get to see the falafel fried right in front of you, so it comes out fresh with a great crunch.
This restaurant is located in Paris's trendy 11th arrondissement, popular with artists and hipsters. It's also within about a ten minute walk of the famous Père Lachaise cemetery, so it's a great stop in between sight seeing.
Address: 92 Rue Saint-Maur, 75011 Paris | Tel: +33 1 77 32 93 28
Hours: Mon – Sat 11:30AM – 4PM | 6PM – 10PM
Oh Falafel du Liban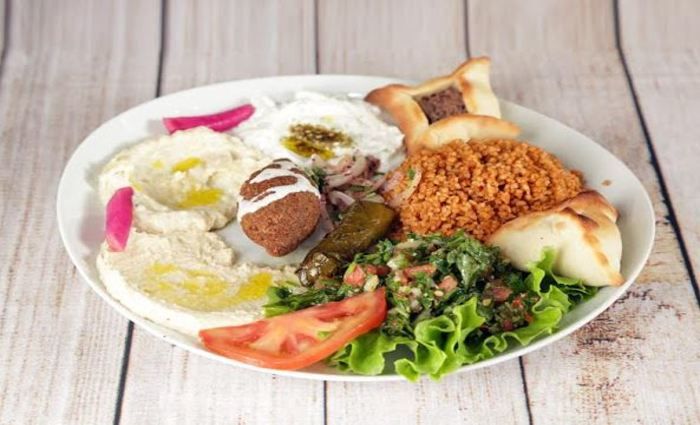 Just a few minutes walk from the beautiful Place des Vosges square, you'll stumble upon Oh Falafel du Liban. This is a very small spot which could be easily missed but is well worth the stop. The ingredients are fresh, the falafel aren't overly greasy, and the servings are generous. They also have a great tabbouleh salad. The owner is often working behind the counter and provides awesome service. Plus, this is a very budget-friendly for the neighborhood! If it's a nice day, we recommend taking your falafel sandwich to-go and eating at Place des Vosges.
Address: 58 Rue Saint-Antoine, 75004 Paris | Tel: +33 9 52 40 58 68
Hours: Every day | 11AM – 11PM
Au Vieux Cèdre
Extremely tasty falafel with fantastic prices. This is one of the cheapest spots on our list, with most sandwiches costing less than five euros. Besides falafel, they also have a great spicy shawarma and eggplant. They also often serve complimentary tea to customers who are waiting for their orders!
Au Vieux Cèdre is air conditioned, which travelers will appreciate if visiting on a hot day. Another plus is that this spot is open until 2am every day – a rarity in Paris!
Address: 2 Rue Blainville, 75005 Paris | Tel: +33 1 46 34 55 67
Hours: Every day | 11AM – 2AM
Le Daily Syrien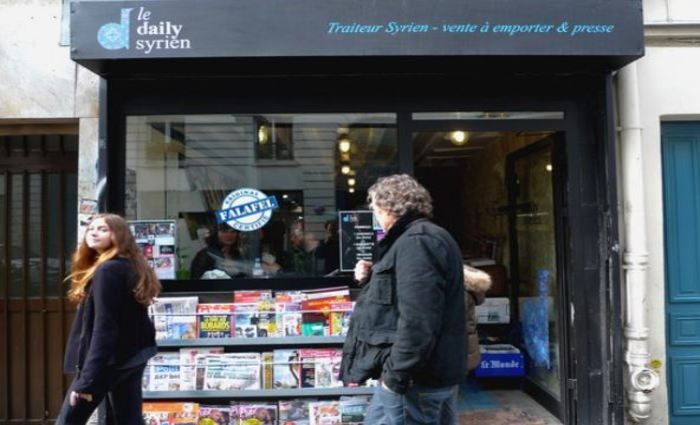 Top notch Syrian street food! This casual restaurant also sells newspapers, so don't be confused by the news stands located just outside the front entrance. The star here is the falafel sandwich, but there's a variety of foods like shawarma, hummus and delicious breads. The falafel is made to order and cooked in front of you, so you know it's fresh.
This small spot is located within walking distance from Gare du Nord, the train station visitors will need to take when traveling to or from London, and is by far the best falafel in the neighborhood!
Address: 55 Rue du Faubourg Saint-Denis, 75010 Paris | Tel: +33 9 54 11 75 35
Hours: Sun – Mon 11AM – 11PM | Tues – Wed 11AM – 12AM | Thurs – Sat 11AM – 1AM
Assanabel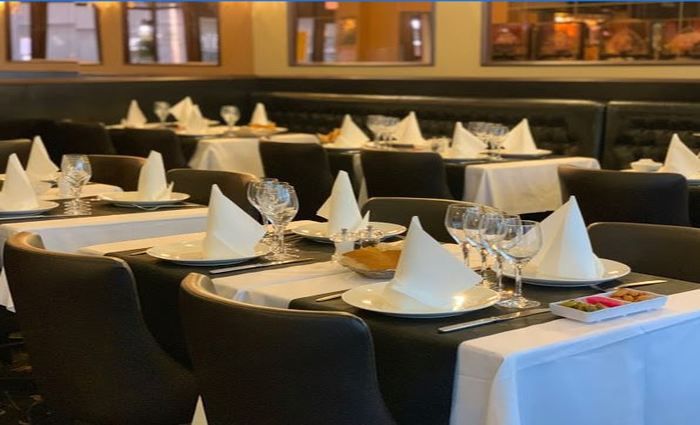 Assanabel is one of the only nicer sit-down options on our list, where you can find tablecloths and folded napkins on the tables. While falafel is not necessarily the top menu item here, it's still high quality. The food presentation is great and portions are generous. You won't leave hungry!
This is a perfect option for those travelers looking to try falafel and Lebanese cuisine in Paris who want more than just a to-go spot.
Address: 6 Rue Pierre Chausson, 75010 Paris | Tel: +33 1 42 08 34 67
Hours: Every day 12PM – 2:30PM | 7PM – 11PM
Chez Farhat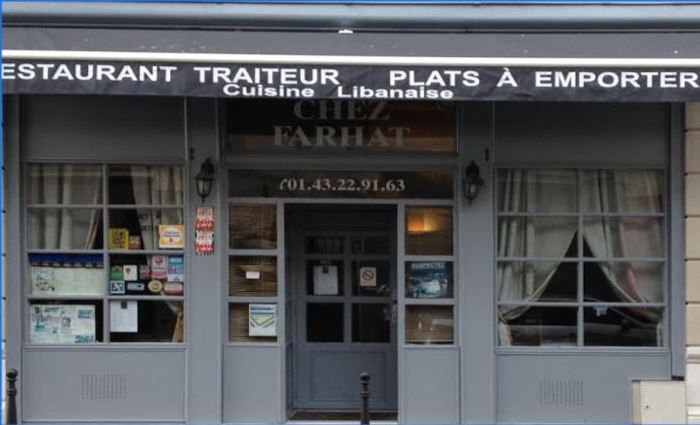 Chez Farhat is another spot where you can expect a true restaurant experience. The chef, Chef Farhat, prepares and cooks everything himself and has been doing so since he opened his restaurant in 1993. While a falafel sandwich isn't available here, you can order just the falafel themselves as an appetizer or to accompany your main dish. You're guaranteed to have a cozy, delicious and authentic experience here with Chef Farhat!
Address: 10 Rue Raymond Losserand, 75014 Paris | Tel: +33 1 43 22 91 63
Hours: Mon 7PM – 12AM | Tues – Sat 12PM – 2:30PM | 7PM – 12AM
Not ready to book a tour? Check out Paris Guide for more resources.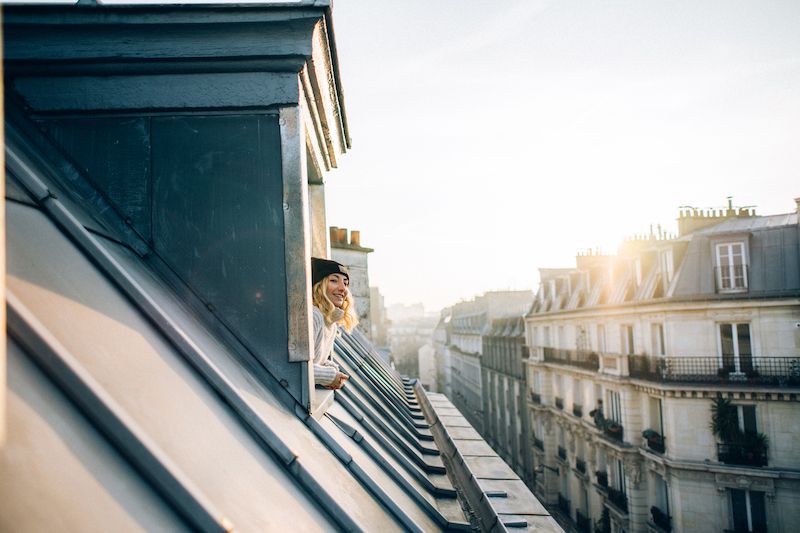 Find the best places to stay
Where To Stay in Paris
With a city as magnificent as Paris, it can be hard to find the perfect hotel at the perfect price. Explore the best hotels and places to stay in these incredible neighborhoods in Paris.
---
I Want More Paris!
Not sure what to do in Paris? Check out our step-by-step guide about how to do Paris in a Day. If you'd rather let us guide you, check out our Paris tours.
Parlez-Vous Francais? Learn some of the most important French phrases before your trip to Paris.