Steak frites literally translating to "steak and fries" and it is just that: a plate with a cut of meat and French fries.
The French excel at intricate dishes but this simple one is a must try during your trip. In this guide, find out a little bit about this popular dish and where to get the best steak frites in Paris.
You can also check out our Ultimate Guide for Where to Eat in Paris or our very own Le Marais Paris Food Tour.
---
What are Steak Frites?
Steak frites is most frequently found on brasserie and casual dining restaurant menus, but you can also find this dish in more pricey or elegant locations.
Before diving into the best steak frites restaurants, it's a good idea to know some vocabulary in case you stumble into a brasserie that doesn't offer menus in English.
The most common French cuts of beef are the entrecôte (rib steak), the faux filet (the rough equivalent to a sirloin steak), and rumsteak (rump steak).
Many Parisians also love bavette (skirt steak) and onglet (flank steak).
And for the frites, you'll find just a normal side of French fries. Why fix an already delicious side dish?
Best Steak Frites in Paris
Now that you're ready to order your favorite cut of meat, let's explore some of the best steak frites that Paris has to offer!
Le Relais de l'Entrecôte
This restaurant has become synonymous with steak frites, because that's all they serve!
That's right – Le Relais de l'Entrecôte owes its reputation to its single course menu: a walnut salad followed by an extra tender sirloin steak with its famous secret sauce, and delicious homemade french fries.
When you sit down, you'll be asked how you want your steak cooked and what you like to drink, but that's all.
It's worth noting that if you finish your fries and steak, you'll receive second helpings free of charge. But be warned: none of this brand's three locations in Paris take reservations.
Plan on going right at opening time or later in the evening if you don't want to have to wait in line.
Au Bœuf Couronné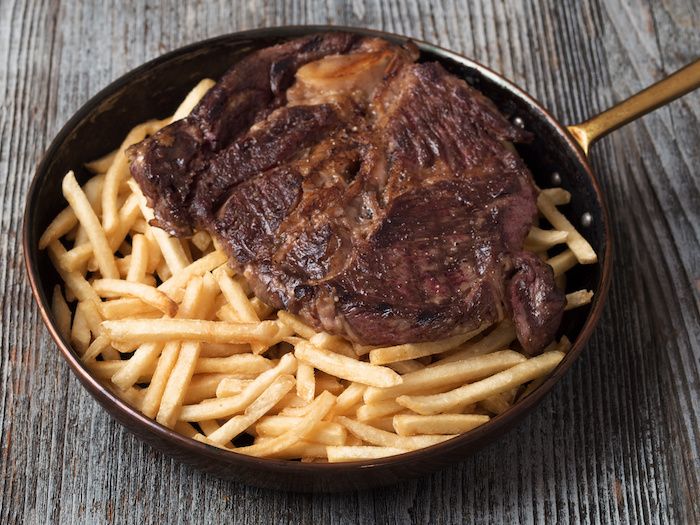 Our next restaurant is still in Paris, but located in the 19th arrondissement in an area referred to as La Villette.
In 1867, La Villette became the epicenter of livestock markets and slaughterhouses in Paris.
While this is no longer the case – the markets shut down in the 1970s and today, the former main slaughterhouse is a popular event space.
All of Au Bœuf Couronné's beef cuts come from cows raised in France, and are matured for 20 days by their butcher.
Their menu has a variety of beef cuts, ranging in size from a 300 gram (10 oz.) hanger steak to a 1200 gram (42 oz.) grilled prime rib to be shared by two people.
Of course it's no surprise that this makes our list of the best steak frites in Paris.
Sur La Braise
Offering beef originating from Australia, Argentina, France and more, Sur La Braise has everything a meat lover dreams of.
The restaurant prides itself on its knowledge of beef, and you'll notice its menu includes small details, such as the difference between tastes in grass fed and grain fed beef, to help you choose which plate is right for you.
While this restaurant is less specifically known for steak frites and more for being a top chophouse, its selection of meats are so delicious that they warranted a spot on our steak frites list!
L'Aller Retour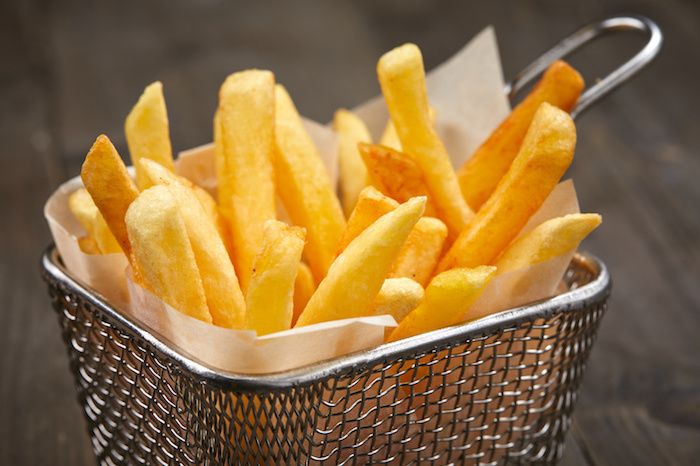 Back to basics: l'Aller Retour focuses on meats, and each dish is served with crispy fries and either a small salad or vegetables.
More moderately priced, with plates ranging from 14 to 24 euros, l'Aller Retour is set in a warm and dimly-lit restaurant, giving a more intimate feel.
In addition to meats, the restaurant also offers over 80 types of wine. This is the perfect spot to come to if you are looking for classic steak frites with a slightly more elegant feel.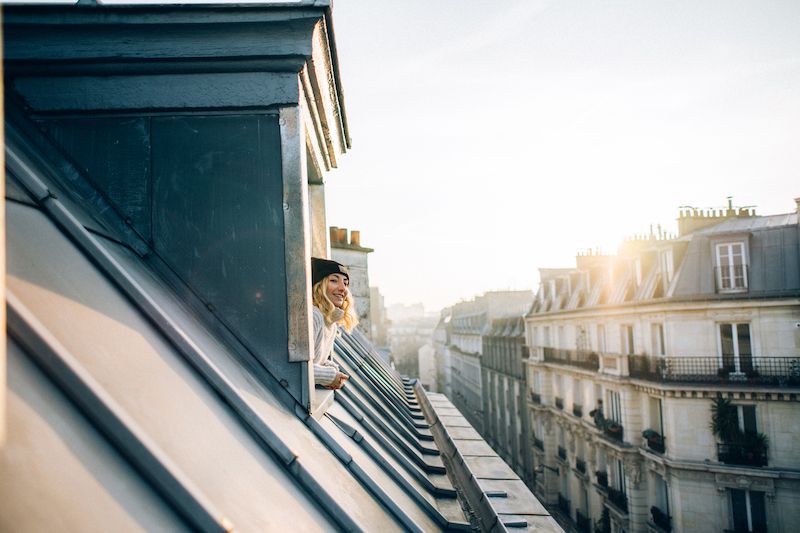 Find the best places to stay
Where to Stay in Paris
With a city as magnificent as Paris, it can be hard to find the perfect hotel at the perfect price. Explore the best hotels and places to stay in these incredible neighborhoods in Paris.
---
I Want More Paris!
Not sure what to do in Paris? Check out our step-by-step guide about how to do Paris in a Day. If you'd rather let us guide you, check out our Paris tours.
Parlez-Vous Francais? Learn some of the most important French phrases before your trip to Paris.