When we think of Paris, we naturally think of a romantic city with Amazing Food and Awesome Night Life.
The options for eating, drinking and being entertained are infinite in the City of Lights.
This guide will break down for you every thing you need to know about Eating and the Nightlife in Paris.
---
Last updated: 9/1/20
Tips & Structured Options
From this article, you can branch out to tons of articles on places to eat in Paris. Consider bookmarking it and also checking out our 7 best restaurants in Paris from a Frenchman.
We're a tour company and believe the best way to see a major attraction is through the eyes of a local guide. It is probably not possible to do every tour in one trip, but we'll still recommend them throughout. Check out our Paris tours and other great experiences.
What This Article Covers
Classifications & Types of Paris Restaurants
After Dinner Entertainment
How to get home after
Whether you have been to Paris five times or this is your first time, this guide covers everything you need to know about eating and having fun at night. I will go over some classic spots as well as some not so classic. Locals could even use it to impress their better half.
Paris is not called the city of lights for nothing. When the sun goes down, the city truly wakes up and is ready to go all night long, so get ready! I've put together a few numbers just so you can wrap your head around what we are going to talk about today.
1 Classifications & Types of Paris Restaurants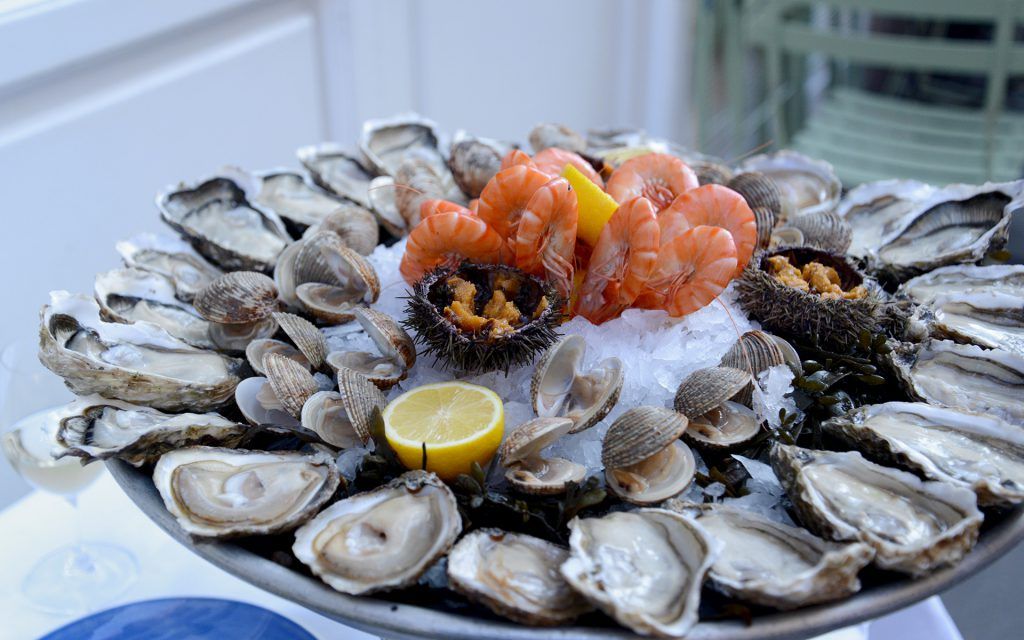 What's the difference between a restaurant and a Bistro? I pondered the best way to break down dining in Paris and I think the only real way to do this is to break it down by the kind of eatery that you will go to. So I think first you need to understand what kind of establishments exist in this Gourmand city. They are the following:
Restaurant
This name is quite generic and includes everything from Michelin starred establishments to a more casual atmosphere. In general a restaurant is where you will go for at least a three course meal with no rush to eat.
Bistro
Originally a family owned joint with local fare. Known to be chaotic eateries with a robust crowd and everyone sitting next to each other. Legend has it that the word originates from the Russian word pronounced the same which means- Fast!
Nowadays you have big name chefs who have taken over and reinvented the Bistro brand, but you still might be sharing a table with someone else.
Brasserie
The word in French means Brewery and originally most were owned by the Alsatians ( Eastern province in the mountains) so dishes revolved around Sausage, Sauerkraut and fresh beer.
Today you can still find some and while they have changed the food a bit, they are still big establishments and great with a group of friends.
Cafe
These are places you find on every corner- No frills with cheaper, down to earth food. Open all day long from Breakfast to late night. You can order just a drink or a whole meal.
Wine Bar
As the name implies- these are smaller, more intimate establishments where you can enjoy a glass or bottle of wine at a small table with some snacks or small plates of Cheese and Charcuterie.
Pâtisserie
These are traditionally pastry shops. Sometimes there are tables to order and eat inside, but usually it's pick up and get out. From cakes, to chocolates, to everything else sweet, it's your sweet tooth's best friend.
Now that you have a good understanding of the different kinds of dining you can find, let's get to the fun part with some recommendations. I will break it down by giving 2 of my top recommendations for each category, then there are supporting blogs about a more comprehensive guide to different parts of the city.
Top Restaurants
L'oiseau Blanc– Inside of the 5 star palace hotel- Le Peninsula- They just received their first Michelin star in January 2020. Enjoy a fine dining experience on a rooftop with full on views of the Eiffel Tower and everything else! Dress code is labeled Chic and Elegant some come dressed to kill.
Address: 19 Avenue Kléber
Septime- Low key, but amazing. Their menu consists of " Carte Blanche" dining, which basically means it's a tasters menu of 7 dishes. I highly recommend getting the tasting wine menu to compliment each dish. If you are looking for inspiration in creating a Minimalist website, take a look at theirs.
Address: 80 Rue de Charonne, 75011 Paris
---
Top Bistros
Allard– Originally a family restaurant, it was taken over by The King of French cuisine, Alain Ducasse, wanted to take a break from Michelin star dining and continue the French bistro tradition. Make sure you try their signature dish which is the Duck with olives. The baby potatoes also melt in your mouth.
Address: 41, rue Saint-André des Arts, 75006 Paris
Pharamond– I just love the interior of this place and of course the food as well. If ever you wanted to try Escargots, Boeuf Bourguignon or Steak Tartare, you have come to the right place.
Address: 24, Rue de la Grande Truanderie 75001 Paris
---
Top Brasseries
Brasserie Bofinger- Enjoy the Belle Epoque decor… and the food too! This place has been serving food since 1864, so they must be doing something right! While you will find many tourists, many locals come here too!
Address: 5-7 Rue de la Bastille, 75004 Paris
Brasserie Floderer– Dark wooden walls and Waiters dressed in the traditional long aprons are what greet you when you enter this typical Alsatian establishment. While you should of course try the typical Alsatian fare like sausages with sauerkraut, I would recommend oysters here…Lots of them.
Address: 7 Court of the Small Stables, 75010 Paris
---
Top Cafes
Les Deux Magots- This cafe is quite famous, not only in modern times, but has been for about 100 years. Back in the day, you would have seen the likes of Picasso and Hemingway hanging out with a coffee or liquor of choice. Open almost 24 hours a day, you can get breakfast, lunch, dinner or swing by for tea time.
Address: 6 Place Saint-Germain-des-Prés, 75006 Paris
Cafe Mabillon– I used to go here, especially in the wintertime, because they have an awesome Chocolaut Chaud ( Hot Chocolate). Their typical decor is dark wood and dark overall ( not much lighting inside). You can also sit outside and enjoy just a drink or a whole meal. They also are open 24/7 so if you find yourself hungry at 3am, head on over!
Address: 164 Boulevard Saint-Germain, 75006 Paris
---
Top Wine Bars
Bonvivant– I happened to chance upon this place one night just walking down the street. It's a local's wine bar, with a great wine selection by glass or bottle. They also have a great menu mixing it up with the usual cheese, meats and even ceviche when I was there. If you want to hang at a really chill, local place, go there.
Address: 7 rue des écoles, 75005 Paris
11eme Domaine– Another small, local place with a great selection of wines. These are the old school Bar a' Vins where the pace slows down a bit, you have intelligent conversation, and enjoy the finer things in life.
Address: 14 rue des Trois Bornes 75011 Paris
---
Top Pâtisseries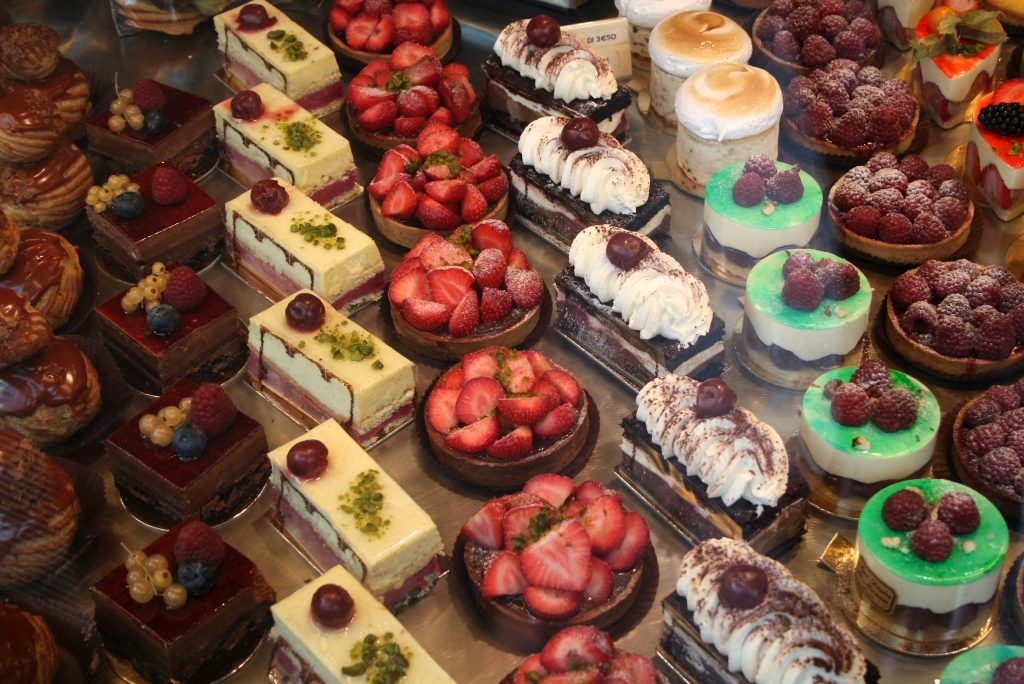 Fouquet- Making sweets since 1852, you can't go wrong if you come here with a sweet tooth. Everything looks beautiful and at the same time is delicous. From chocolates to caramels, to fruit pate's, you can't go wrong. They also have 4 different locations, so there is no excuse not to go to one. You won't regret it.
Address: 36 rue Laffitte – 75009 Paris
Pôilane So this place is more a bakery I would say, so you can indulge your regular sweet tooth above, and come here for your breads, croissants and pies.
Address: 8 RUE DU CHERCHE-MIDI 75006 PARIS
For more detailed info about particular areas of the city to eat, check out these articles:
2. Nightlife
So you have eaten and you would like to continue the soiree in the City of Lights? Not to fear, we got you covered. Let's break down the type of establishments you will encounter when the sun goes down and the top places for each category.
Top Cabarets
France invented this kind of entertainment back in 19th century. It consists of a show of some type, usually with women and they are usually topless. You can enjoy the show with just a drink, or sit down and have a meal as well during the show. If you haven't been before, it is definitely worth it.
Moulin Rouge– The classic and supposedly the first real Cabaret show dating back to the late 19th century. They have 2 shows a night and I recommend having dinner as well to make a night out of it.
Address: 82 Boulevard de Clichy, 75018 Paris
Crazy Horse– This Cabaret is known as the "sexiest", meaning you will find barely any clothes throughout the entire show. There are also no dining options here, but it is usually sold out, so bring your mom to the Moulin Rouge and your girlfriend/ boyfriend to Crazy Horse.
Address: 12 Avenue George V, 75008 Paris
---
Top Night clubs
In French known as " Discotheque" or " Boite de Nuit", for those of you that just need to dance, there are plenty in Paris. Music is almost 100% techno. The trend used to be massive clubs on the fringes of the city, but the new trend is concentrating them in the city.
While the crowd you will usually find in Paris clubs are in their 20's, there are quite a few clubs who cater to a bit more " Mature" crowd- meaning 30s and 40s.
Rex club– This place has been around for a while. My own disclaimer that I haven't been here since the year 2000, but it was jamming back then and from what I have read others write, it still is. Techno sounds throughout.
Address: 5 Boulevard Poissonnière, 75002 Paris
La Bellevilloise– Originally a worker's co-operative, today you have two floors that play various types of music from 80's to reggae to techno. They also have 2 restaurants inside and do a Jazz Brunch every Sunday.
Address: 19-21 Rue Boyer, 75020 Paris
---
Top Cocktail Bars/ Speakeasy
Cocktail bars need no introduction and a speakeasy is the reinvention of the cocktail bar during prohibition times in the States.
The most famous cocktail bars will be in the 5 star Palace hotels in the city, but if you are not looking to spend 30€ on a cocktail, then there are plenty of nice establishments and I would highly recommend the Speakeasy vibe.
Le bar de l'hotel- If you are looking for something small, intimate and really, really good cocktails, then this is your place. It also happens to be where Oscar Wilde lived and died. The plush couches and dimmed lights create that perfect atmosphere for a drink or two and some reflection on life.
Address: 13 Rue des Beaux Arts, 75006 Paris
Little Red Door– Yes there actually is a little red door, but you don't use it to enter. This speakeasy has all the elements you are looking for- Poorly lit room and great drinks. The staff is super cool and will come over and discuss the various drinks they have and could even have a seat to chat with you a bit longer.
Address: 60 Rue Charlot, 75003 Paris
---
Top Jazz Bars
Paris is known internationally for its Jazz scene and everyone knows that Jazz happens in Jazz Bars. You will find a handful in the city that are iconic and have been around for more than 50 years.
Duc des Lombards– Great food, Great drinks and of course amazing Jazz Music. This classic venue is where all aspiring jazz players dream about playing. If you like Jazz, then don't miss this place.
Address: 42 Rue des Lombards, 75001 Paris
Le 38 Riv- This place is just cool. No other way to describe it. It feels like you have gone back in time, since you go down into a little cave and watch these jam sessions that are awesome.
Address: 38 Rue de Rivoli, 75004 Paris
---
Top Pubs and Dive Bars
For the very informal drinker, who is not looking for any of that fancy stuff. Someone looking for a simple drink without any interest in the Aesthetic value.
Stolly's- An Irish pub right in the middle of the Marais- who would have thought? Drinks are cheap and the crowd is mixed ex pat and local. It's a small place that gets pretty crowded with loud rock music.. and a terrace.
Address: 16 Rue Cloche Percé, 75004 Paris
Le Pantalon Bar– An eccentric bar in the Latin Quarter with cheap drinks. Popular with art students and hipsters, it seems that everyone who goes in here smokes, so be prepared for that, but if you have decided to go to a dive bar, what else would you expect? No website-
Address: 7 Rue Royer-Collard, 75005 Paris
3. How to get home after
Uber
There is Uber in Paris and it works the same as everywhere else. Download the app and you will see plenty of cars to take you home. It's a bit more expensive than a standard taxi, but a 10 minute ride would only cost you a euro or two more.
Looking for more in depth info about Ubers in Paris? Check out this article to learn all about Ubers in Paris:
Taxi
Standard taxis can be found at various taxi stations, in front of any big hotel or hailed down on the street. Make sure you ask them before you get in if they accept credit card ( if that's the way you want to pay). Also, unless you are coming from the airport which has a fixed price, make sure they go by the meter and you don't negotiate a price beforehand.
Looking for more in depth info about how to get to/from the airports in Paris? Check out this article to learn everything about transportation to/from the airport:
Metro
In general, this is the fastest way to get around the city as it avoids traffic. The ticket costs 1.90€ and if you are going to take a few trips, then I recommend buying a carnet of 10 tickets for 14.90€. For over the year that I lived in Paris and all the subsequent times going back there, I never had problems even in the late night. During the week the last trains run around 1am and on Friday and Saturdays the last train is usually at 2am, but make sure you check upon arrival at the station.
Looking for more in depth info about how to use the metro? Check out this article that will give you all you need to know about the Metro in Paris:
Night Bus
If your night was really long and you find yourself on the street after 2am or you don't like being underground, then Paris also has an extensive bus system to take you pretty much anywhere you need to go. When the metro closes, the Noctilien bus system takes over. It runs until 5.30am when the metro opens back up again the following day.