In Montmartre? You've probably just visited Sacré-Cœur and your hunger has snuck up on you. Not to worry, our local foodie Erica has listed the best restaurants near Sacré-Cœur in Montmartre so you can find an authentic place to eat!
---
Pro travel tip: If you're heading to Paris, bookmark this article in your browser so you can circle back to it when it's time to make restaurant reservations. After you sit down and it is time to choose what to eat, check out our post on the foods you have to try in Paris.
We also offer an array of highly-rated Paris tours which feature some of the city's most famous landmarks.
The Sacré-Cœur Basilica (or 'Sacred Heart Basilica' in English) is one of the city's must-see monuments. The neighborhood the basilica is located in, known as Montmartre, is incredibly charming and filled with winding, cobbled streets and artists selling handmade paintings. Being one of Paris's most charming neighborhoods, though, comes with a price: Montmartre is usually teeming with tourists. Use our guide to navigate your way past the tourist traps and straight inside the top places to eat near Sacré-Cœur!
11 Unique Restaurants to Eat Near Sacré-Cœur
There are two things you need to know when eating in Montmartre near the Sacré-Cœur Basilica. First, many restaurants are closed one to two days per week in this area; usually Sunday and/or Monday. The second is you should always make an RSVP or call ahead when possible. Why? Making a reservation in advance is part of Parisian culture and you don't want to assume there will be tables open.
Once you get past those two hurdles, you are making a great choice by eating in Montmartre. Even with the tourists, this area has much more of an authentic village feel that you won't get anywhere else in the city. Plus, you can easily combine a day in Montmartre with a stroll to check out the infamous Moulin Rouge, which is only about a 15-minute walk away.
Le Moulin de la Galette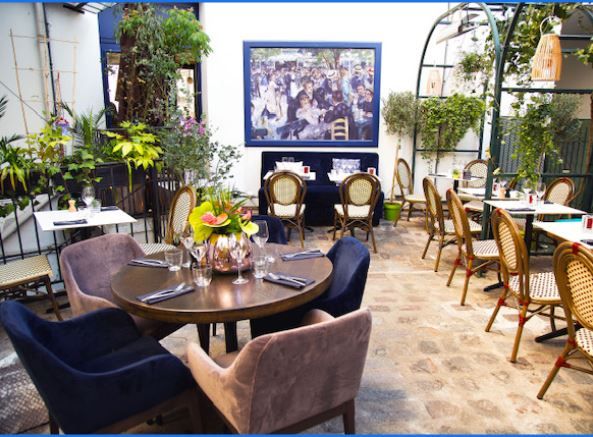 €€€ | Traditional French Restaurant | Outdoor Seating |? from Sacre Cœur
Taking a seat at Le Moulin de la Galette means great food but also impressive history. This place was once a windmill (moulin means 'windmill' in French), then a popular spot for drinking and dancing which famous painter Renoir featured in one of his masterpieces. Today you won't find anymore dancing, but you will find a modern restaurant serving up traditional French food. The manager recommends their sea bass dish, but you can't go wrong with a good boeuf bourguignon either!
Address: 83 Rue Lepic, 75018 | Tel: +33 1 46 06 84 77
Hours: Wed – Sun 12PM – 9PM
Terrass"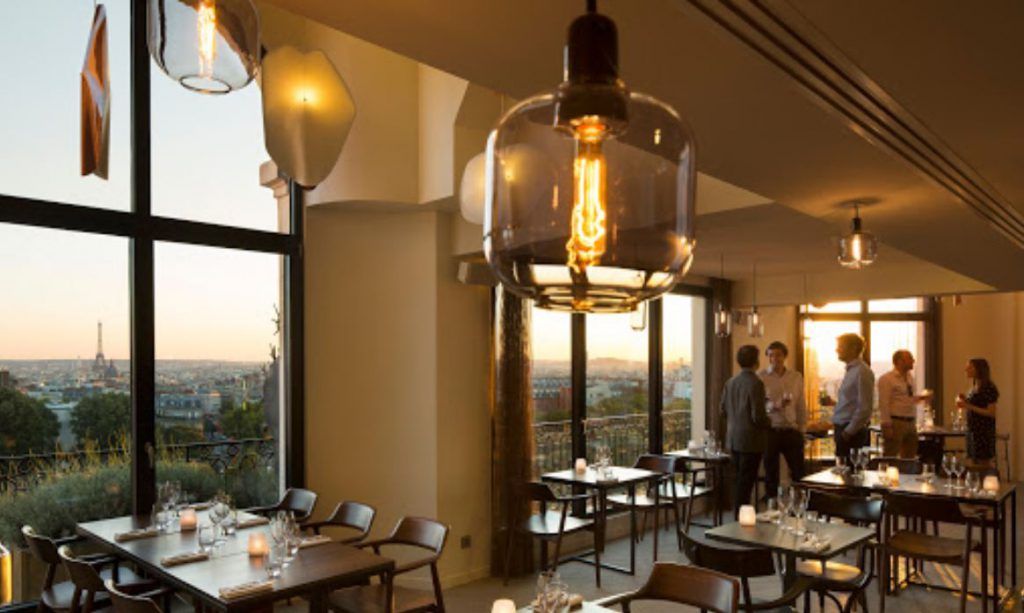 €€€ | Hotel Restaurant & Bar | Outdoor Seating
We know a hotel restaurant might not be your first thought for dinner when you're in Paris, but we promise this one is worth it. Terrass" has a fabulous view of Paris from their dining and bar area. When the weather is nice, you can sit at one of the rooftop tables on the eighth floor, but they also have an indoor panoramic dining room if you visit in the off season.
You don't need to be a client at the hotel in order to eat or drink here, but reservations are highly recommended. This is the best restaurant with a view near Sacré-Cœur in Montmartre – super cool!
Address: 12-14 rue Joseph de Maistre, 75018 | Tel: +33 1 46 06 72 85
Hours: Tues – Fri 12PM – 2PM | Tues – Sat 3PM – 10PM
---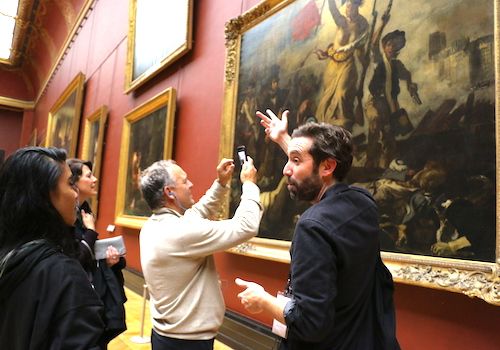 ---
La Vache et le Cuisinier
€€ | Traditional French Restaurant | ? from Sacre Cœur
This cozy and unassuming restaurant is a short downhill walk from the Sacre Cœur Basilica. Come here if you're craving any sort of meat – their menu features beef, lamb, duck, quail and more. While located in a touristy zone, you'll feel far from the crowds once inside their quaint dining space.
Address: 18 Rue des Trois Frères, 75018 | Tel: +33 1 42 62 22 15
Hours: Sun – Mon 7PM – 12AM
Grenouilles
€€ | Traditional French Restaurant | Outdoor Seating | ? from Sacre Cœur
A local sandwich spot that's perfect for those of you who want to eat on the go or want to opt for something other than a sit-down dining experience on your trip. Grenouilles offers traditional baguette sandwiches and crêpes. Our recommendation is the raclette cheese and ham sandwich – the cheese wheel is melted and then scraped off directly onto your sandwich!
They also have a small selection of Parisian craft beers, which will give you a break from all the French wine you'll enjoy while in Paris. This place is literally only about a 2 or 3-minute walk from the basilica, so you can't miss it. This is our pick for the best sandwich "restaurant" near Sacré-Cœur in Montmartre.
Address: 55 rue du Chevalier de la Barre, 75018 | Tel: +33 9 52 23 84 17
Hours: Sun – Thurs 9AM – 7:30PM | Fri – Sat 9AM – 10PM
L'Arcane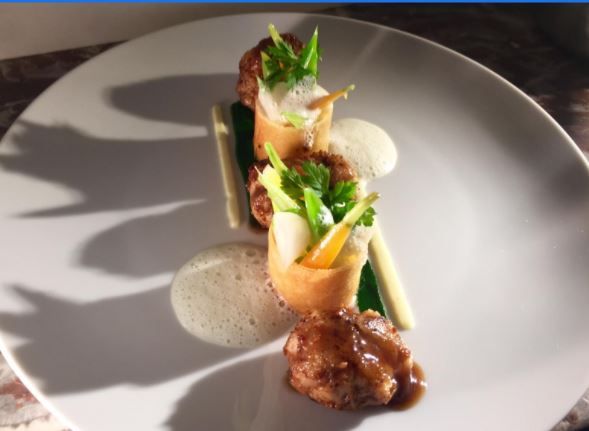 €€€ | Modern French Restaurant | One Michelin Star | ? from Sacre Cœur
Boasting one Michelin star, L'Arcane is an excellent choice for splurging on quality French food. The restaurant offers a 5 to 7 course surprise chef menu, as well as à la carte options. They're also well known for their impressive wine list. While L'Arcane specializes in haute cuisine, the atmosphere is relaxed and inviting, so no need to worry about stuffy service.
Address: 52 rue Lamarck, 75018 | Tel: +33 1 46 06 86 00
Hours: Tues – Sat 7PM – 10:15PM | Fri – Sat 12PM – 1:45PM
In Bocca al Lupo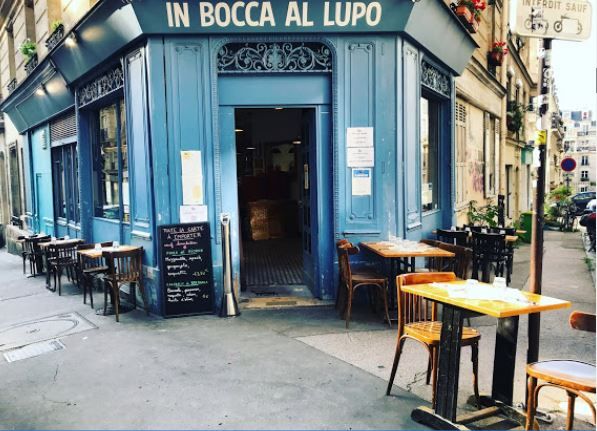 €€ | Pizza | Some Outdoor Seating | Family Friendly
Need a break from French food? It's worth trying some pizza from this restaurant, where the Italian servers will make you feel right at home. Everything is made fresh with traditional ingredients, so don't be afraid to try some burrata or tiramisu while you're there. This is definitely the best Italian restaurant near Sacré-Cœur in Montmartre and super family-friendly.
Address: 14 Rue Francœur, 75018 Paris | Tel: +33 1 42 64 57 92
Hours: Tues – Sat 12PM – 2PM | Tues – Sat 7PM – 10PM
Can Alegria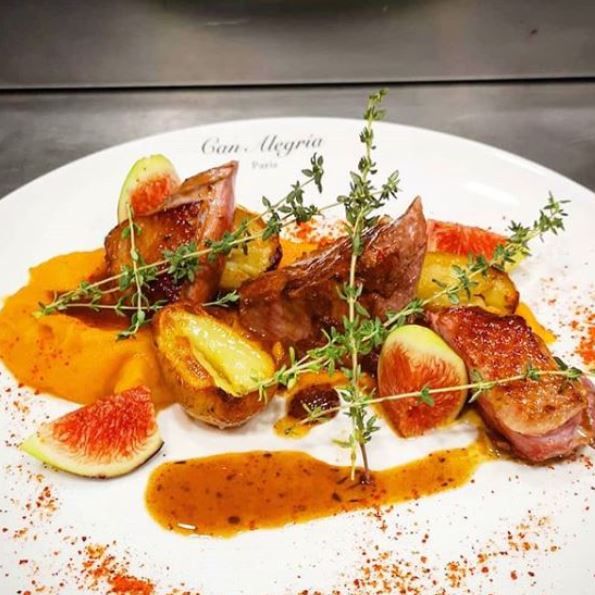 €€ | Mediterranean Cuisine
A bit farther down from Montmartre, you'll find Can Alegria, a chic yet cozy spot specializing in Mediterranean cuisine. Think chicken with morels, ratatouille, grilled octopus or maybe a slow-cooked lamb shank. The streets surrounding Can Alegria are filled with lots of hip bars which young couples and groups of friends traveling together will find worth exploring.
Address: 73 Rue Jean-Baptiste Pigalle, 75009 | Tel: +33 6 13 10 51 90
Hours: Mon – Sat 6:30PM – 1AM
La Boîte aux Lettres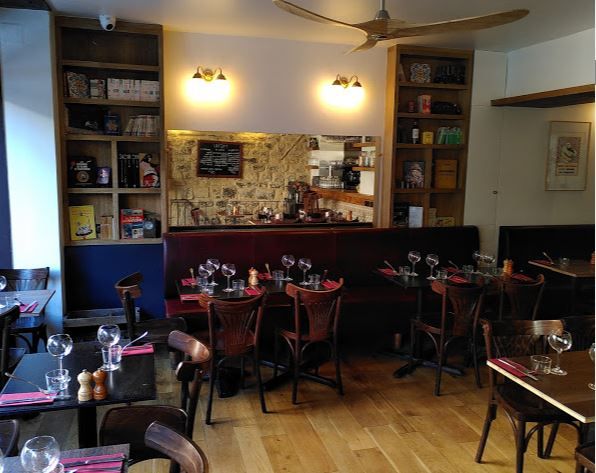 €€ | French Bistro | ? from Sacre Cœur
It doesn't get more French than this place! People are usually wowed by the foie gras starter here, as well as their cut of beef that is served with a foie gras sauce. While only a 3 minute walk from the famous Place du Tertre artists' square, the bistro is a far cry from a tourist trap. They normally offer a three course dinner for 35 euros, which is a great price for Parisian standards.
Address: 108 Rue Lepic, 75018 | Tel: +33 1 42 51 76 84
Hours: Mon – Sat 12PM – 2:30PM | 7PM – 11PM
La Part des Anges
€€ | French Bistro | Some Outdoor Seating
La Part des Anges is another one of Montmartre's great no-fuss bistros. Drop in to try a classic French duck dish, like magret de canard, or one of their homemade desserts. They usually have an awesome pain perdu, a version of French toast with salted caramel which is served as the dessert course in France.
Address: 10 rue Garreau, 75018 | Tel: +33 1 55 79 98 53
Hours: Tues 7PM – 2AM | Wed – Sat 11AM – 3PM | 7PM – 2AM
---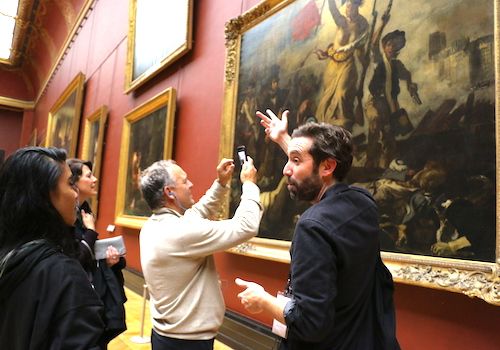 ---
Lobster and Co Paris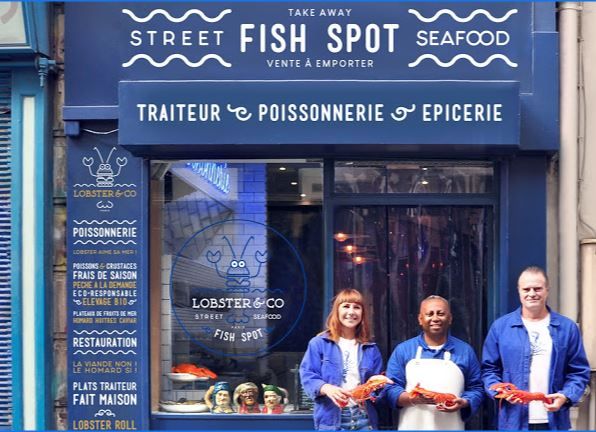 €€ | Casual Seafood Spot | Limited Outdoor Seating
Street seafood in Paris? Why not! If lobster rolls or salmon burgers are your thing, Lobster and Co has you covered. Don't let their emphasis on street food fool you though – this is also a great choice to try French oysters and other types of seafood.
The restaurant opened in 2020 and has received rave reviews so far. The location is quiet and unassuming, a bit farther from the basilica at the foot of Montmartre, so it's also a nice option if you want to get away from the crowds. This is definitely the best lobster restaurants near Sacré-Cœur in Montmartre. Great for a quick but delicious meal!
Address: 69 Rue Marguerite de Rochechouart, 75009 | Tel: +33 6 95 06 06 56
Hours: Tues – Fri 10:30AM – 2:30PM | 5PM – 9PM | Sat 10:30AM – 9PM | Sun 10AM – 2:30PM
Brasserie Bellanger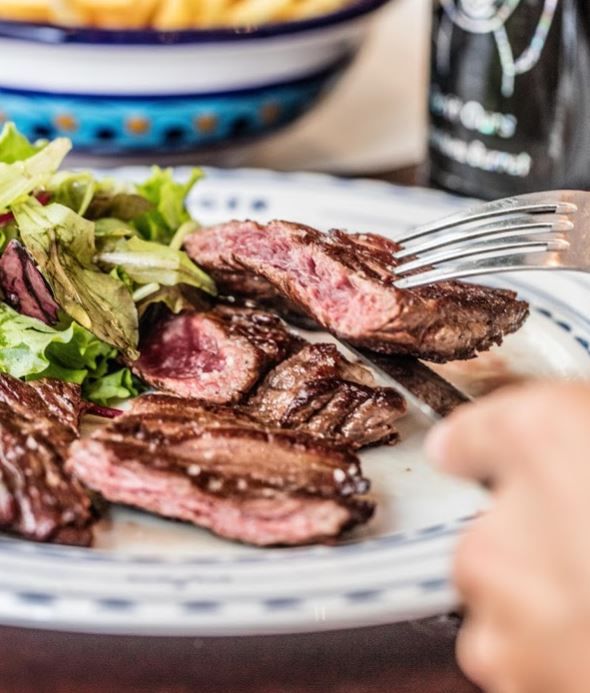 €€ | Brasserie | Some Outdoor Seating
Brasserie Bellanger prides itself on being a traditional French brasserie with a limited yet delicious menu that changes on a weekly basis, no high prices, and typical French food. The owners place a lot of value on their local producers and you can even find a map of all the producers they source from on their website. This brasserie is about a 15-minute walk from the basilica, and a few of the streets on the way over there might not seem the most tourist-friendly (after all, we are right next to Paris's red-light district, so they can get a bit colorful!), but don't get too nervous. This area is still filled with many friendly Parisians, and Brasserie Bellanger is very well known in the neighborhood. Plus, they're open 7 days a week – a rarity in Paris!
Address: 140 Rue du Faubourg Poissonnière, 75010 | Tel: +33 9 54 00 99 65
Hours: 8AM – 12AM, Every day