Prague Castle is the most important Czech castle and one the most important castles in the world! According to the Guinness Book of Records, it is the largest ancient castle in the world and, in my opinion, one of the most enchanting. If you are in Prague, you must visit and when you do, you'll find this list of the best restaurants near Prague Castle very handy!
---
Where To Eat Near Prague Castle
If you visit Prague, which I believe is the most beautiful city in the heart of Europe, you definitely need to go to Prague Castle. Walking to the castle through medieval-style alleys and dreamy towers, you will feel like you are in a real fairy tale. That said, even characters from a fairy tale have to eat, right?
You will find a wide range of restaurants and traditional taverns offering international and local dishes, including beer. For the best restaurants near the castle to have lunch, a romantic dinner, or a great place to try typical Czech dishes, these are the options.
Terasa U Zlaté Studně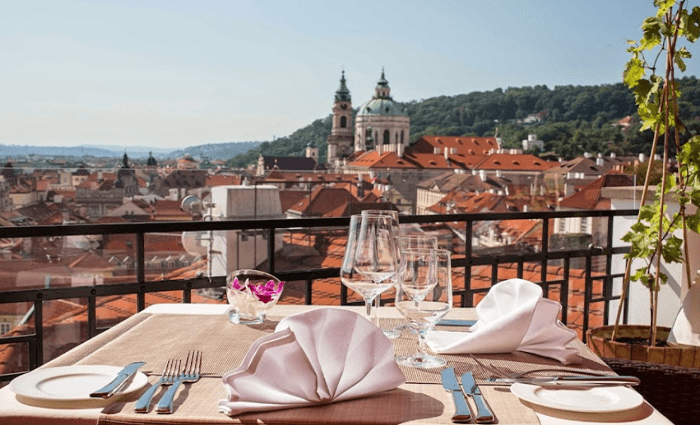 €€€€€ | Terrace | Caviar | Lobster | Wine List
Its historic building dates back to 1528 and later housed a small pub, which was later remodeled. The architects who worked on its reconstruction infused the Renaissance style with the modern.
This restaurant has a beautiful roof terrace giving you a beautiful view of the typical roofs of Prague and direct access to the castle garden. Characterized by delicious cuisine such as royal ossetra black cavier, lobster, deer, and also a large selection of wines from around the world.
Address: U Zlaté studně 166/4, 118 00 Prague
Kuchyň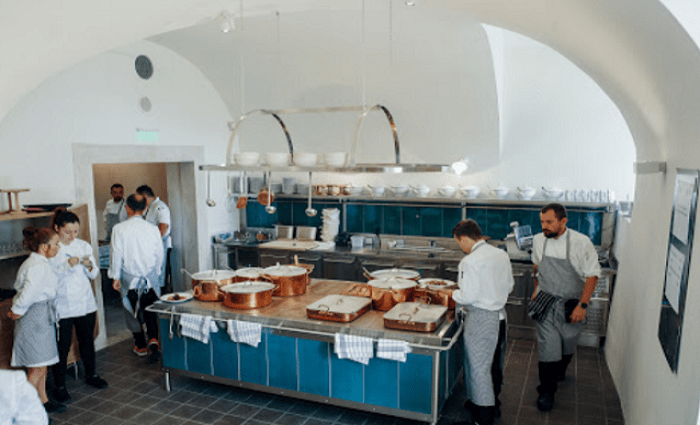 €€ | Beer Menu | Czech Cuisine | View
Inside this restaurant you will feel like nobility, enjoying the flavors of the past and authentic traditional Czech food from the hands of its excellent chef Marek Janouch. Also, you can taste a carefully treated draft beer, complemented by a fabulous view.
The star of their menu is veal. They also offer a duck option with bread dumplings in their main dishes, which is very typical in Czech cuisine. You enter the restaurant through the terrace of the Salm palace and if you are very hungry, I recommend you make a reservation.
Address: Hradčanské nám. 186/1, 118 00 Praha
Coda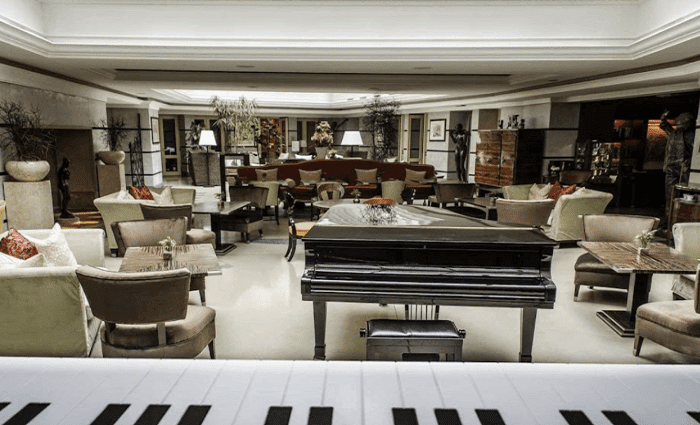 €€ | Live Piano | Czech Cuisine
Coda is a restaurant where one of the high points is its refined decor—you will find original works of art. Spend a fantastic evening in this elegant space accompanied by live piano music and an international menu that also offers typical Czech food with a modern twist. They also offer a seasonal menu.
The most prominent dishes are roast duck, as well as foie gras, fish, venison, and beef tenderloin as the most expensive option. The kulajda dish from the Czech menu is very good. As for the wines, there is an exquisite selection of sparkling wines and champagne.
Located very close to the Prague Castle and inside the Hotel Aria Music, you can enjoy a meal on a lovely terrace in the summer with an unbeatable view of the beautiful Mala Strana neighborhood.
Address: Tržiště 9, 118 00 Praha
Vegan's Prague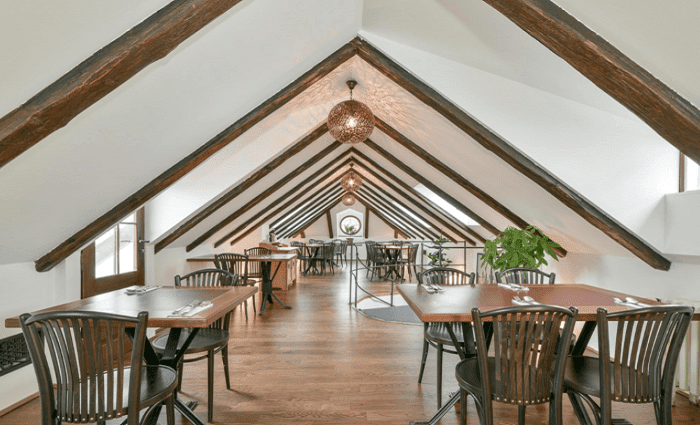 €€ | Healthy Food | Gluten Free | Vegan | Terrace
Vegan's Prague is located in the historic center of the castle suburbs. To reach the rooftop, go up some stairs inside the picturesque building. It is ideal for enjoying vegan gastronomy and healthy, gluten-free food. From its small terrace, you'll also get captivating views of the castle complex and the most beautiful historic district in Prague called Mala Strana.
Address: Nerudova 221/36, 118 00 Praha
Restaurace U Mecenáše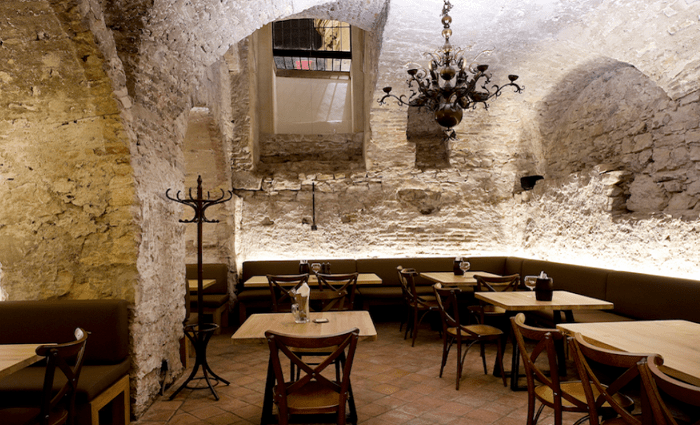 €€ | Czech Cuisine | Beer | Carnivorous Menu
Considered one of the oldest restaurants in Prague, it has a cozy atmosphere and Renaissance style. The space has been remodeled though, you feel the contrast of the modern with the old. It also has a fabulous view of Prague Castle!
The menu offers traditional Czech food specialties of excellent quality and with a novel touch. The beef, pork, and duck stew are the most recommended, along with good draft beer and some great local wines from the Moravian region.
Address: Malostranské nám. 10, 118 00 Prague
Villa Richter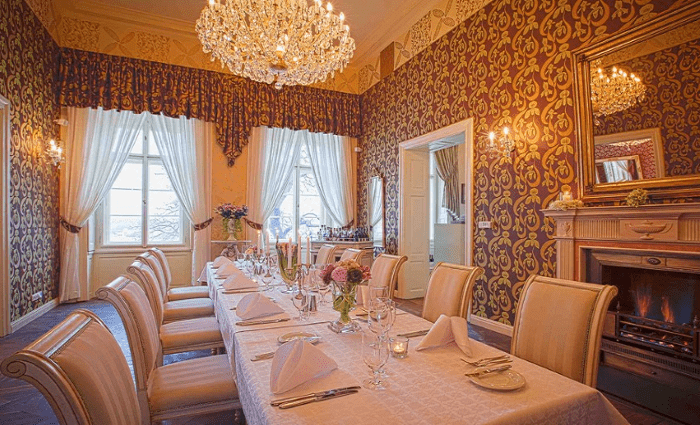 €€€€ | Terrace with Vineyard Views | Extensive Wine List | Classic Interior | Czech Cuisine
The advantage of this space is its privileged location within the St. Wenceslas vineyard, one of the oldest vineyards in the Czech Republic and part of the Prague Castle. Villa Ritcher restaurant has an impressive panoramic view of Prague and the vineyard.
This beautiful villa features the Piano Nobile Restaurant and the Terra Restaurant. The Piano Nobile is located on the top floor with a unique interior. Consisting of a greenhouse with tropical vegetation, private lounges, and a terrace. The Piano Terra is in the lower part of Richter's villa with a unique view and terrace. The menu offers a variety of international dishes and Czech cuisine including fish, beef, duck, and some seasonal dishes. They also offer wedding and group banquets.
In the basement, there is a Wine Tresor where more than 700 types of rare wines are stored in the cellar carved in the rock. In addition to world-renowned wines, there are also a number of excellent wines from lesser-known wine regions.
During the warm months, you can enjoy outdoor seating on the pergola, which has views of the most beautiful parts of Prague. It is a fabulous place to have a glass of wine from the oldest vineyard or try some grilled delicacies. At the Bistro, there are also self-service refreshments at the entrance to the vineyard for all who do not have time to stay longer but want to experience the atmosphere of a vineyard in the middle of the city.
Address: Staré zámecké schody 6/251, 118 00 Prague
Restaurant Lví dvůr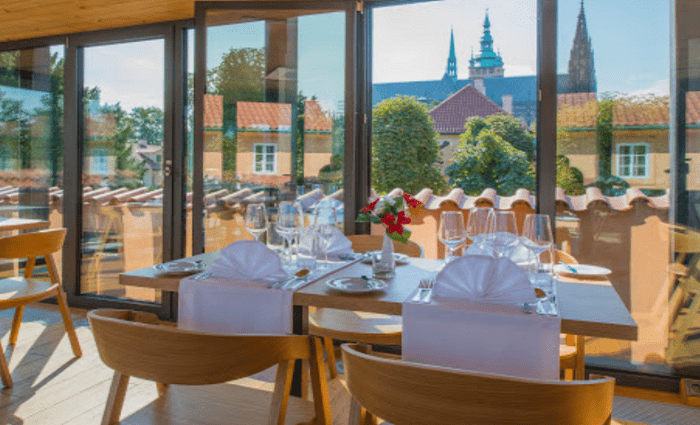 €€€ | Romantic Atmosphere | Terrace | Wine | Czech Food
Lvi Dvur is in a Renaissance-style building that dates back many years. It has a family atmosphere but is also perfect for a romantic dinner and is large enough to accommodate groups. From the terrace, you have an enchanting view of the gardens and the Cathedral of the Castle. It also has a glass-covered terrace area, giving it a cozy atmosphere. It consists of a lower restaurant and an upper one.
Traditional Czech cuisine is served, including duck, beef, chicken, fish, suckling pig, and the typical domplinas or homemade flour buns. There is also a variety of Czech wines in addition to wines from South Africa and France, sparkling wines and champagne, as well as local draft beer.
Address: U Prašného mostu 51/6, 118 00 Prague
Aquarius Restaurant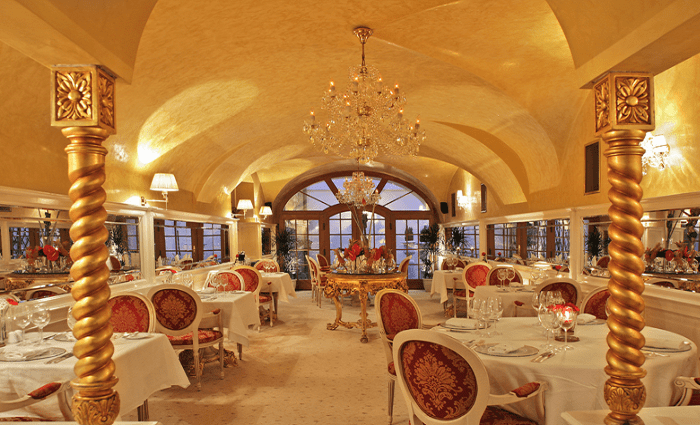 €€€€ | Classical Style | Italian | Mediterranean | Extensive Wine List
Aquarius Restaurant has a refined style and a touch of glamor. Here, you will enjoy an exquisite menu with its speciality Italian dishes and Mediterranean cuisine.
The most prominent options on their menu are the carpaccio starter and veal main dish, as well as the pasta and risotto. It has a large selection of good Czech and European wines. In this restaurant, you will feel as if you are inside a palace right in the center of Mala Strana.
Address: Tržiště 19/303, 118 00 Prague
U Pivrnce Hradčany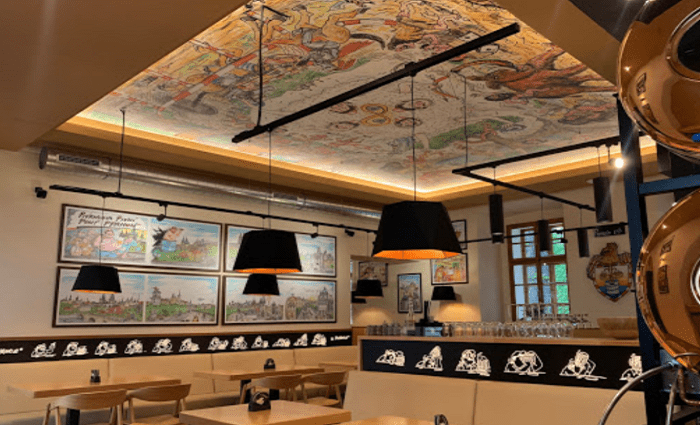 €€€ | Pork Knuckle | Beer | Terrace | Czech Cuisine | Peculiar Decor
The style of this restaurant's decor evokes the humor of a character named Ruda Pivrnec, created by a well-known Czech artist, who symbolizes the characteristic Czech who knows how to enjoy a few beers.
The restaurant has a large terrace and typical Czech food where you can enjoy traditional pork knuckle, as well as other classic local dishes and don't forget to refresh yourself with an excellent draft beer.
Address: Hradčanské nám. 12, 118 00 Prague
St. Martin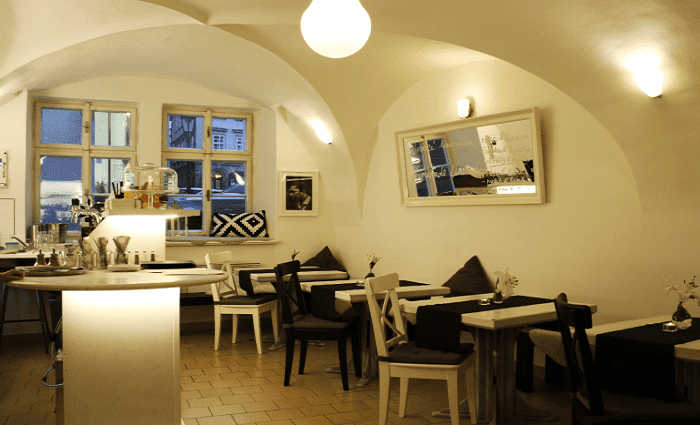 €€ | Brunch Menu | Czech Cuisine | Vegetarian | Fried Cheese | Beer
St. Martin offers a brunch menu, vegetarian food, and some local dishes. It is characterized by its unique presentation and decoration of its dishes. This bistro-type restaurant has a cozy atmosphere where you can enjoy a quick dinner. Try the succulent pork or a beef burger.
You can count on a light dinner in a relaxing atmosphere at a reasonable price. Their menu is not that extensive, but it is worth trying. You can also explore traditional Czech flavors from simple fried cheese to delicious duck in a different style from the typical local restaurants on the route to the castle.
Address: Vlasska 7, 118 00 Prague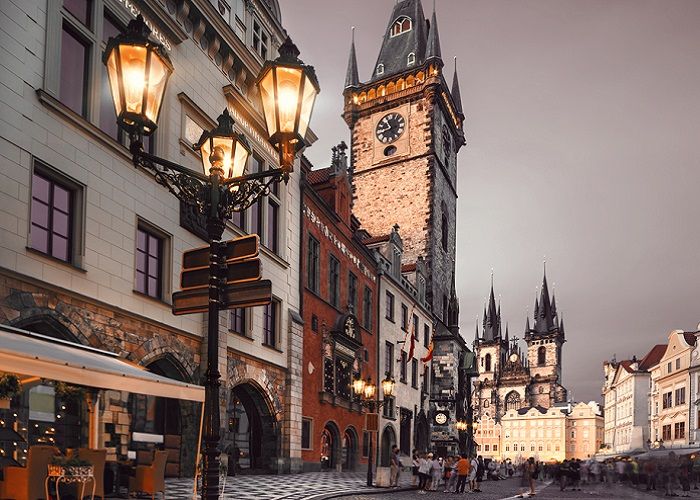 Find the best places to stay
Where to Stay in Prague
Prague has a rich cultural history that is seen in both the Old Town and New Town areas of the city. Plan where to stay in this magnificent old city in the best neighborhoods.